You don't need a lot of time or a special pan to make delicious Spanish Paella.
I always thought of paella as an exotic, difficult-to-make dish – I think because my mother-in-law was my role model. She made one that was so impressive I was in awe. She had the special special pan for paella and it would come out of the oven bursting with chicken, lobster, shrimp, sausage, and mussels. I have her recipe, and I promise to share it at some point in the future.
For now, life feels pretty hectic, so I am happy to announce that paella doesn't have to be complicated or time-consuming, and you don't need a special pan.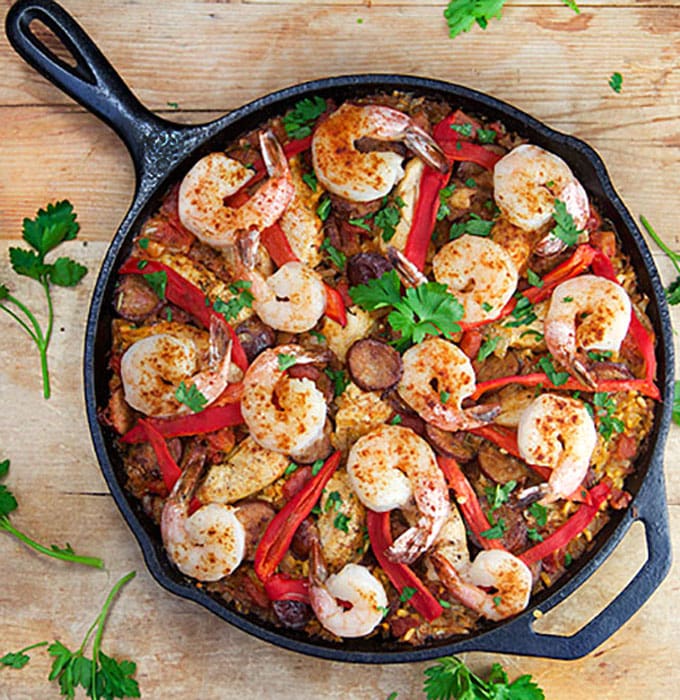 In Spain, where paella originated, it is actually a common weeknight dinner. Paella isn't defined by the seafood and meats it contains. In fact when it was created in the mid nineteenth century – by workers in the fields of Valencia, Spain – it contained whatever local ingredients were available – usually snails and rabbit.
The saffron-infused short-grain rice and aromatic vegetables are what make paella paella – then it's up to the chef to determine the combination of meat, poultry, seafood or vegetables.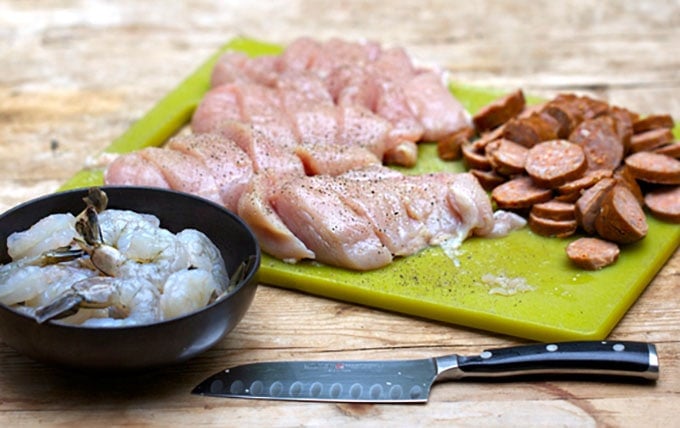 Paella was originally cooked over an open fire, imparting a nice smokiness to the dish. Smoked chorizo sausage and woody, smoky spices like paprika and rosemary make up for the lack of a wood fire.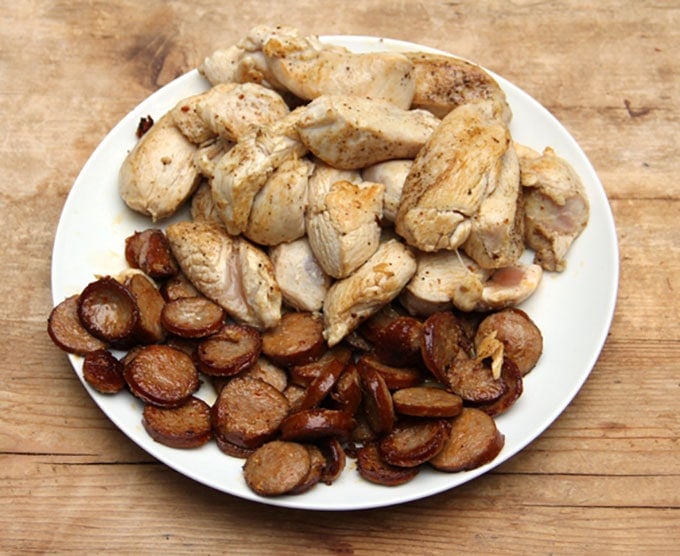 I tested this recipe with bone-in thighs and boneless skinless breasts. I have a slight preference for thighs. My kids prefer the boneless breasts. It's a matter of personal taste, so I decided to give you both options in the recipe.
I love this for a weeknight dinner, because it all happens in one big pot and it can and should be eaten family style. The pot comes out of the oven looking really good! All you need to do is set it in the middle of the table on a trivet with a large serving spoon, and let everyone dig in.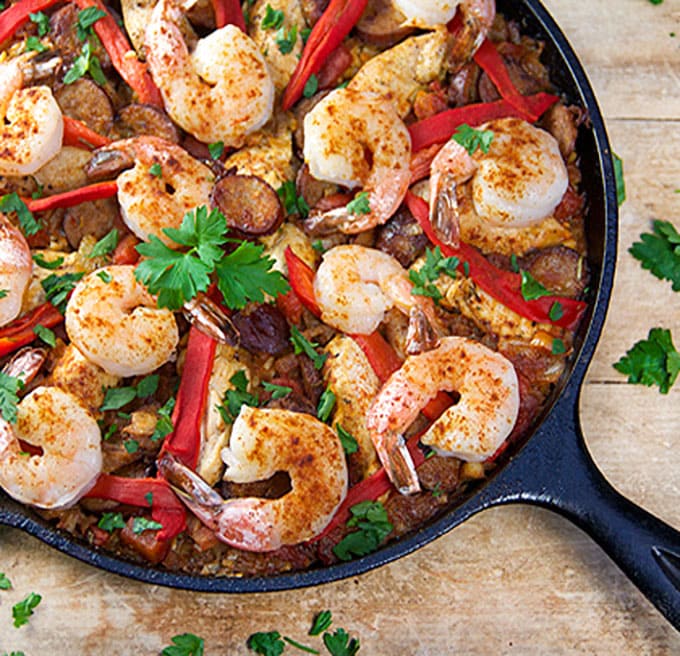 You might also enjoy this one-pan Indian Chicken Biryani or this one-pot Jollof Rice with Chicken from Ghana.
Stay in touch on Facebook and Instagram for the latest delicious updates.
Here's the recipe for Easy Spanish Paella. If you try this recipe please come back to leave your rating and remarks in the comments. Your feedback is greatly appreciated.
Print
EASY SPANISH PAELLA
Spanish one-dish dinner with rice, chicken, shrimp and sausage
Author:
Prep Time:

15 mins

Cook Time:

45 mins

Total Time:

1 hour

Yield:

6

Category:

Main Course

Cuisine:

Spanish
Ingredients
Olive oil
6-8 ounces smoked chorizo sausage, cut crosswise into 1/4-inch discs.
1 1/2 boneless, skinless chicken breasts (about 1 1/2 pounds) sliced crosswise into 2-inch wide strips. or 6 chicken thighs with bones, skin removed.
Kosher salt
Fresh ground pepper
1 medium yellow onion, chopped (about 1 1/2 cups)
2 large cloves of garlic, minced (about 1 tablespoon)
1 teaspoon finely-chopped fresh rosemary
Pinch of saffron
1 teaspoon smoked Spanish paprika
1 cup canned diced tomatoes
2 cups aborio rice, rinsed of excess starch
3 cups low-salt chicken broth (I like Swanson's)
12-14 medium shrimp, peeled and deveined
1-2 roasted red peppers from a jar, sliced into strips or sliced pimientos from a jar.
2 tablespoons chopped parsley, optional garnish
Instructions
Preheat oven to 400ºF
Heat 1 tablespoon oil in a large oven-proof skillet (at least 12″) Cook sausage, stirring, over high heat, until browned, about 2 minutes. Transfer to a plate and set aside.
Season chicken with 1 teaspoon of salt and sprinkles of black pepper, to taste. Add 1 additional tablespoon olive oil to skillet. Add chicken and sear on all sides, about 2 minutes total. Remove to the plate with the sausages and set aside. (for thighs, season as above and brown 4 minutes per side)
Lower heat to medium-low, add onions, and cook, stirring, until the onion softens, 3-4 minutes. Add garlic and rosemary and cook, stirring, until fragrant, about 30 seconds. Add rice, Saffron (rubbing it between your fingers so it breaks up as it falls into the pan), paprika, tomatoes, and 1 1/2 teaspoons salt. Stir everything just to combine. Pour broth over mixture. Add chicken strips and sausages evenly around the pan, pushing them down into the rice so just their tops are showing through. Bring the mixture to a boil and transfer the skillet to the oven. Cook for 8 minutes, uncovered.
Remove pan from the oven. Decorate the top with strips of red pepper and raw shrimp. Sprinkle shrimp lightly with salt and smoky paprika. Return the skillet to the oven. Cook for 8-10 minutes longer, until shrimp and chicken are cooked through. Remove from oven and sprinkle with parsley, if you like. Serve hot.