Gazpacho is one of the best ways to enjoy ripe, juicy, summer tomatoes. When tomatoes are in season there's nothing better than chilled fresh tomato soup, pureed with some veggies for crunch, plus vinegar, lime juice and spices. Gazpacho is healthy, low-fat, full of flavor, and refreshing, a perfect summer appetizer or first course. I've added a chopped salad topping of cucumber, radish and avocado and the tastes, textures and colors are great together.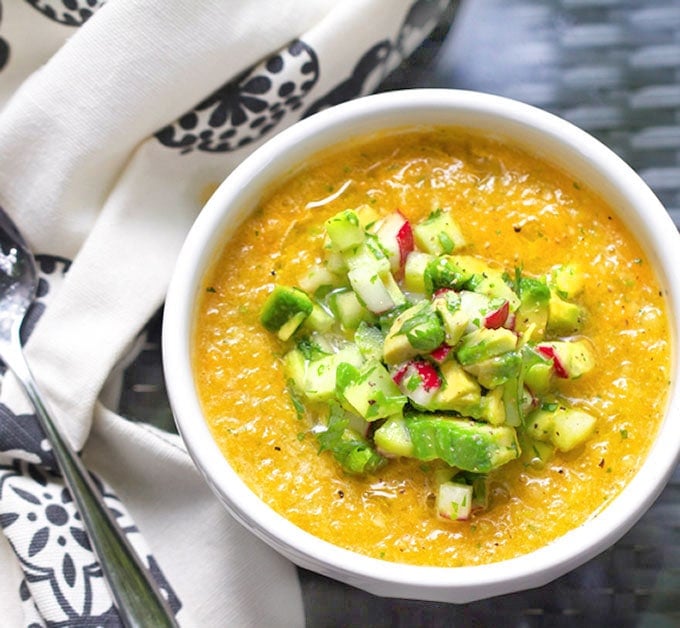 I chose to make a yellow gazpacho because I've been seeing lots of great-looking yellow tomatoes at the market, and I thought it would be  beautiful, as well as delicious. Turns out I was right!  And don't worry if you can't find yellow tomatoes - you can use green or red ones too.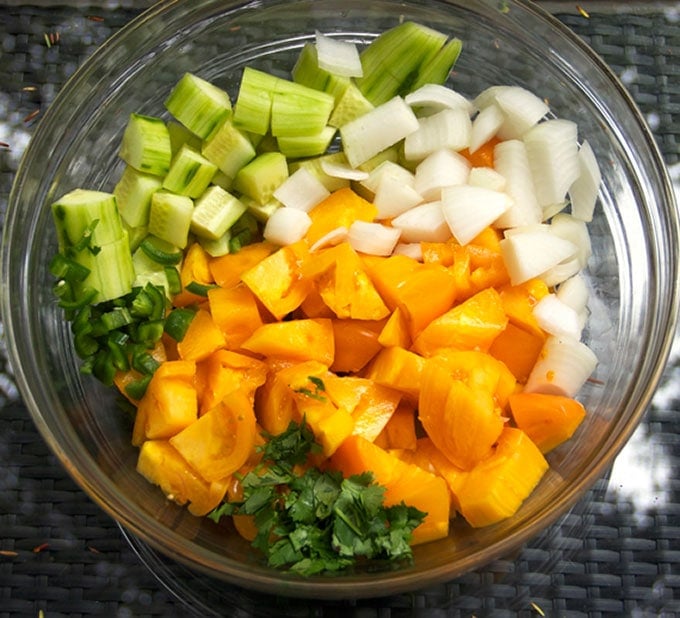 Gazpacho originated in the Andalusian region of southern Spain, where it was the food of poor field workers. The original version consisted of stale bread, garlic, oil and water - all pounded with a mortar and pestle. Gazpacho has evolved over the years, taking many different forms, including a version with almonds and no tomatoes. Chilled, tomato-based Gazpacho has become extremely popular in Spain and Portugal and is the one that most of us know and love today.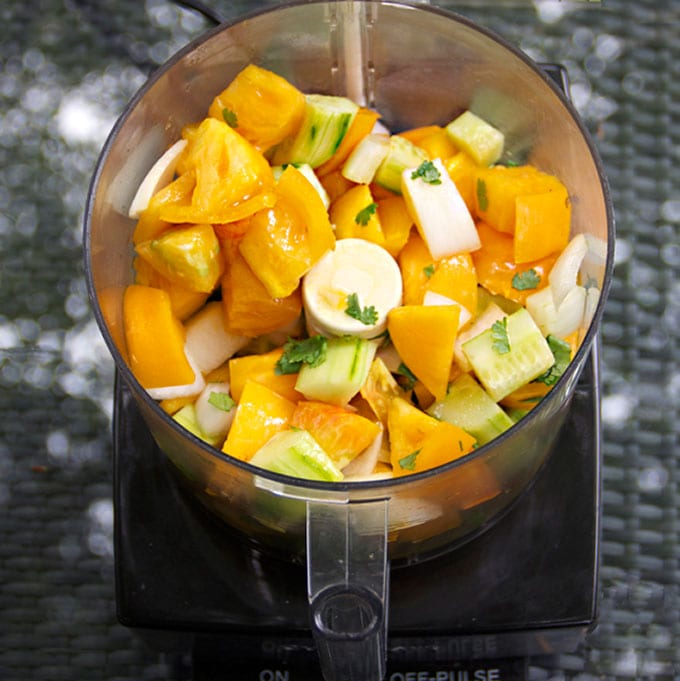 Contrasting colors and textures add to the excitement of this dish. The first layer of the soup is a puree of  yellow tomatoes with a few vegetables for crunch and some vinegar, lime juice, and spices - for added flavor.  Be sure to puree the tomato mixture in two batches so you don't overflow your food processor.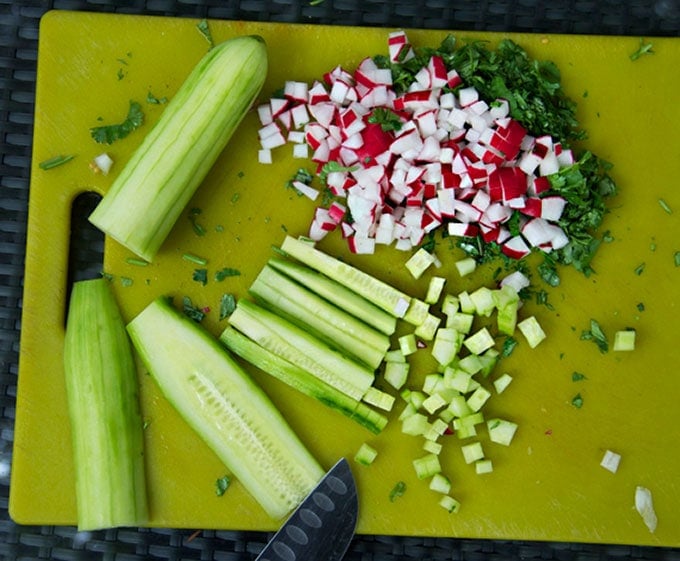 The next layer is an assortment of diced vegetables - cucumber, radishes, avocado and cilantro.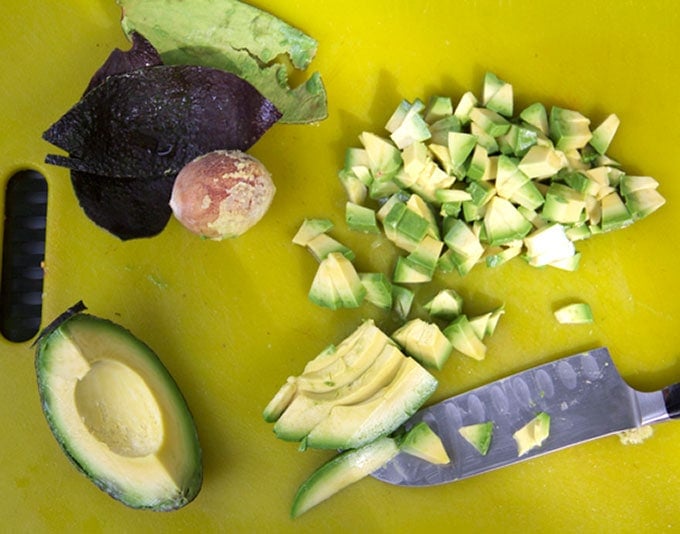 There's a good variety of flavor, textures and colors in this mix.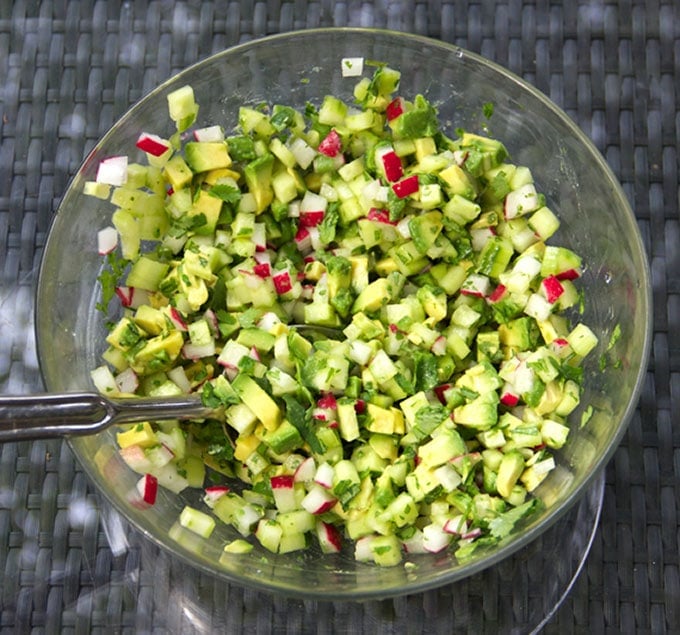 For the final layer, drizzle on some good quality fruity olive oil, a sprinkle of salt, and some grinds of fresh pepper.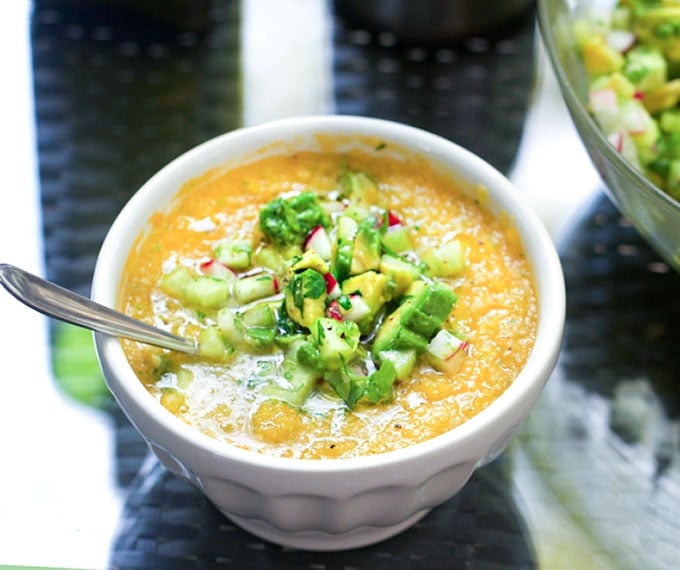 If you can't find yellow or green tomatoes, red ones work really well too.  Just add 1 ½ cups of tomato juice to the final puree for a rich red color.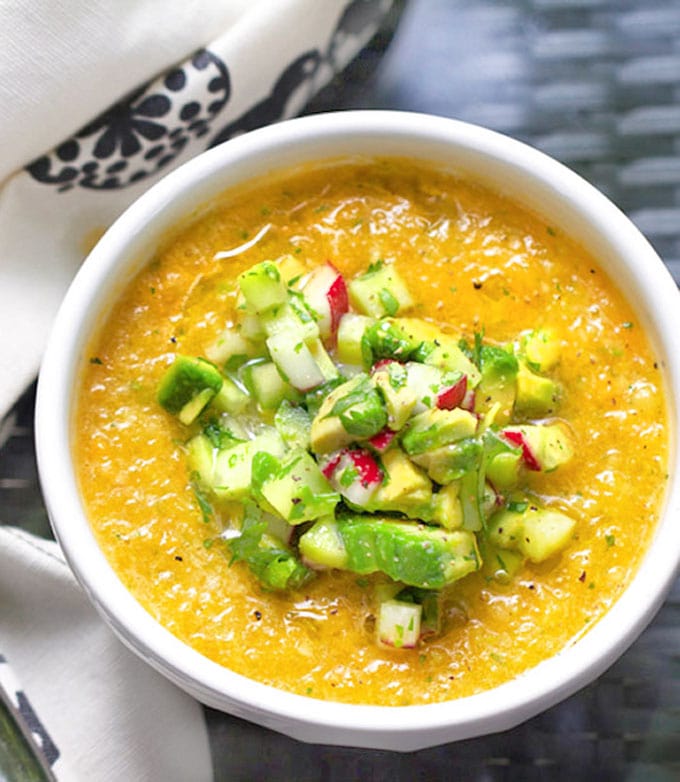 Here's to fresh seasonal summer dining!
If you try this Gazpacho recipe I hope you'll come back to leave a comment and rating. I'd love to know what you think!
Print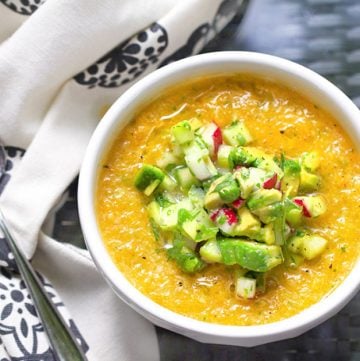 Gazpacho with Cucumber Radish Avocado Topping
---
Description
Chilled fresh tomato soup with a topping of chopped cucumber, radish and avocado. Make ahead. Low-fat.
---
For the Soup

2 ½

pounds ripe yellow, green or *red tomatoes, cored and chunked

1

english cucumber, peeled and chunked (plus

½

cucumber for topping)

½

medium white onion, chunked

1

jalapeno pepper, washed, seeded, deveined and roughly chopped

2 tablespoons

chopped cilantro (plus more for topping)

3 tablespoons

white wine vinegar

2 tablespoons

fresh lime juice
A dash or two of Tabasco sauce
*1 ½ cups tomato juice, only for red tomato gazpacho
Salt and pepper, to taste
For the Topping

½

english cucumber, peeled and ¼-inch diced

½

bunch radishes (

4

or 5), washed, ends trimmed, ¼-inch diced

3 tablespoons

roughly chopped cilantro

1

ripe avocado, ¼-inch diced
The juice of ½ a lime
Kosher salt and fresh ground pepper, to taste

2 tablespoons

good quality extra virgin olive oil
---
Instructions
Make The Soup: Put the chunked tomatoes, cucumber, onion, jalapeño and cilantro in a large bowl. Stir to combine. Scoop half of the mixture into the bowl of a food processor with the chopping blade attached. Add the vinegar. Puree for about 15 seconds, or to your desired consistency. (I like it very finely chopped but with a bit of texture) Pour the contents into a second large bowl. Add the other half of the tomato mixture to the food processor. Add the lime juice. Repeat the puree to your desired consistency. Add to the bowl with the puree. Stir to combine. *Note: if you're using red tomatoes, stir in 1 ½ cups tomato juice. Add tabasco, salt, and pepper, to taste. Cover and chill for at least 3 hours - it's best served icy cold. (note: if you want thinner gazpacho, add ice cold water, a few tablespoons at a time, until you get the desired consistency)
Make The Topping *Note: best to make this no more than an hour before serving, so the avocados don't turn brown. Place the chopped ingredients into a small bowl. Squeeze the juice of half a lime over them to prevent the avocado from browning, and toss to combine. Cover and chill for up to 1 hour.
Ladle the puree into 6 cups or bowls. Divide the topping ingredients among the 6 bowls. Drizzle olive oil on top. Sprinkle with salt and fresh ground black pepper. Enjoy!
Prep Time:

25 mins

Category:

Soup

Cuisine:

Spanish