Tachin Joojeh is a Persian chicken and rice casserole with caramelized onions. The casserole is cooked upside down. When it's flipped over, the bottom layer, with its beautiful golden crust, becomes the top.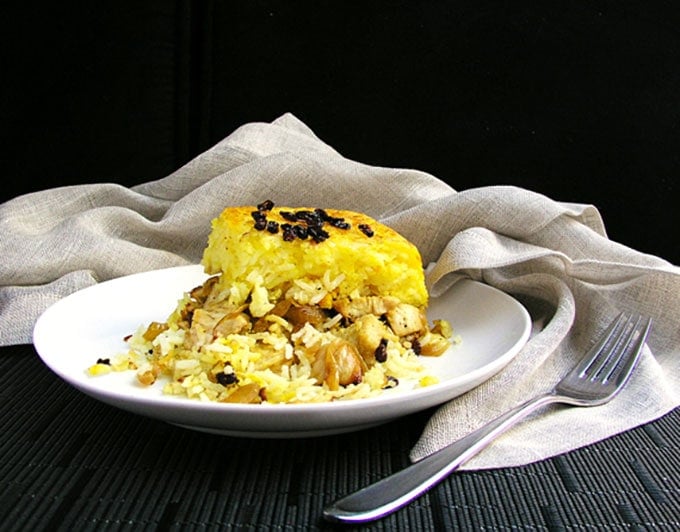 Soon after I got married - more than 20 years ago - a friend gave me a cookbook about Sephardic cooking. I remember thinking the recipes were strange and intriguing. I hadn't thought about that book in years - maybe even decades. It suddenly popped into my mind a few days ago, when I was researching recipe ideas for "Panning the Globe".
I was pretty sure I'd never find it in my house, but I did. It still had yellow post-it notes marking the recipes that had interested me way back when: "Sfongo": Turkish baked spinach and potato casserole, 'Khoresht Zardaloo": Veal and Apricot Stew from Iran, "Kadoo Bichak": Baked Pumpkin and Onion Dumplings from Uzbekistan,"Cous Cous Judgja" from Morocco, and Tachin Joojeh from Iran. It made me smile to be reminded that this journey I'm on with my blog, to explore the exciting food and flavors of unknown countries, started a long time ago.
The term "Sephardic" refers to Jews who were expelled from Spain and Portugal in the late 15th century because they refused to convert to Christianity. It is estimated that 100,000 Jews left Spain and Portugal at this time, and settled in North Africa, Greece, and throughout the Middle East (then the Ottoman Empire).
I'm noticing a pattern in my research that immigration and cultural diversity leads to wonderful, interesting recipes.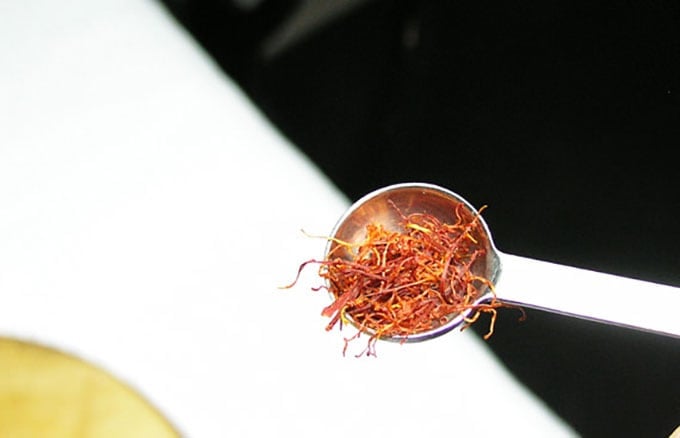 Tachin Joojeh get's its delicious flavor and beautiful yellow color from saffron. Saffron is the world's most expensive spice. Luckily a little saffron goes a long way.
Saffron is made from the stigmas of little purple crocus flowers. Each flower has only three stigmas. They are delicate and must be harvested by hand. It takes 450 to 500 stigmas to make two tablespoons of saffron threads.
Saffron is frequently used in Persian cuisine and Iran is one of the world's largest producers of the spice.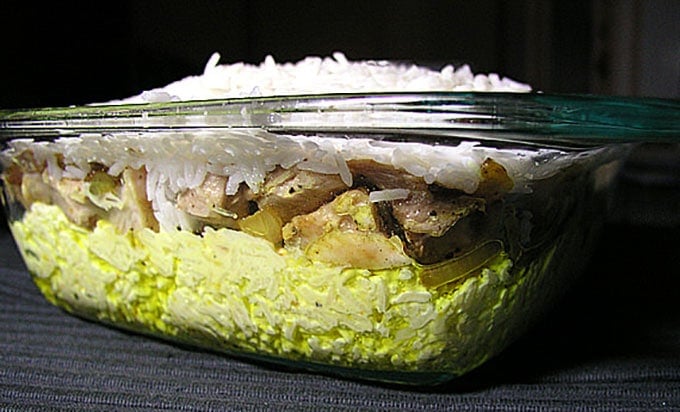 Looking back to my newlywed days, I remember making "Tachin Joojeh". My husband and I liked the name, but even more compelling was the description of the rice, egg and yogurt layer which forms "a firm crust at the bottom of the casserole".
When you flip your Tachin Joojeh onto a platter and lift the casserole dish off, you will probably stand back and sigh, as I did, admiring the firm brown and yellow crust and the juicy chicken and onions and steamed rice layers that descend beneath it.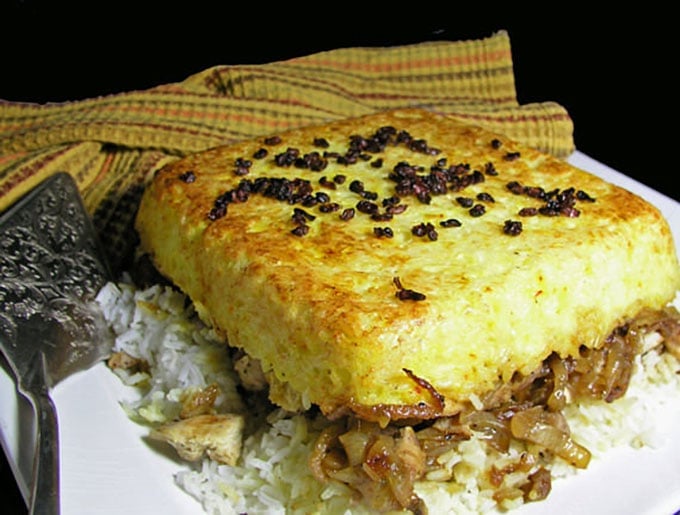 And here's how it looks if you use a rounded bowl-type casserole.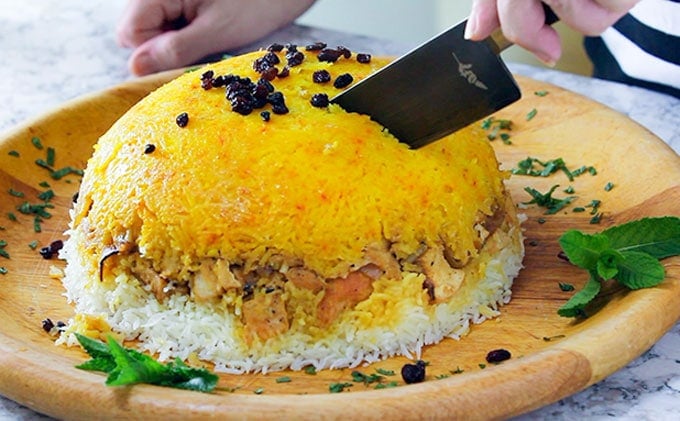 Many countries have wonderful chicken and rice casseroles. Some of my favorites are Indian Biryani, Spanish Arroz Con Pollo, and Jollof Rice from Ghana. Tachin Joojeh is at the top of my list.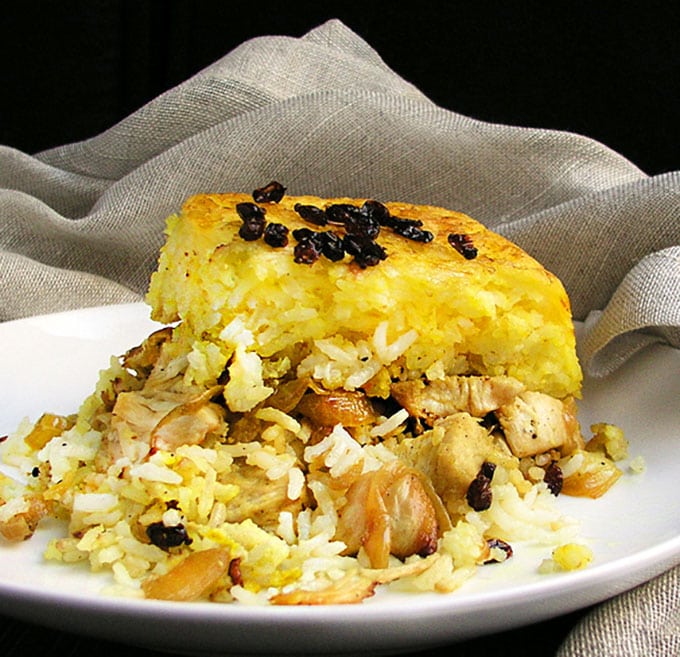 Here's the recipe for Tachin Joojeh: Persian Layered Chicken and Rice with Yogurt. If you make this, I hope you'll come back to leave a review and let me know what you think!
Print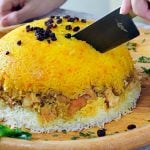 Persian Layered Chicken and Rice with Yogurt (Tachin Joojeh)
---
Author:

Lisa

Total Time:

1 hour 35 mins

Yield:

6

1

x
Description
A festive chicken and rice casserole with caramelized onions. Worthy of a special occasion. Serve with garlicky yogurt sauce on the side.
---
Yogurt Sauce

2 cups

plain yogurt, whole milk or low-fat

2

garlic cloves, pressed

2 tablespoons

fresh lemon juice

½ teaspoon

salt

½ teaspoon

dried crumbled mint or basil to sprinkle on top (optional)
Chicken and Onions

3

boneless skinless chicken breast halves (about

1 ½

pounds)

2

large onions, halved and sliced thin

3 tablespoons

olive oil (divided, see instructions)

1 ½ teaspoons

salt (divided, see instructions)

⅛ teaspoon

turmeric
fresh ground pepper, to taste
Tachin

2

-quart glass (see-through) casserole

2 cups

long grain Basmati rice, swished with water and drained 6 or

7

times

2

egg yolks (whites are not needed for this recipe)

¾ cup

plain whole milk yogurt

¼ teaspoon

saffron threads crushed with ¼ teaspoon salt with a mortar and pestle or with the curved back of a fork.

2 teaspoons

salt (divided - see instructions)
Fresh black pepper to taste

2 tablespoons

olive oil

2 tablespoon

melted butter

2 tablespoons

barberries (or substitute currants)
some olive oil to sauté the barberries
---
Instructions
Preheat oven to 400 F
Yogurt Sauce In a medium bowl mix yogurt, garlic, lemon juice and salt. Sprinkle mint or basil on top (optional) Keep in fridge until ready to serve.
Chicken and onions Season chicken on both sides with 1 teaspoon salt and a few grinds of pepper. Heat 2 tablespoons oil in large skillet over medium heat until very hot. Add chicken - it should sizzle - and cook 6 minutes per side, or until no longer pink. (It will be golden brown on the outside and tender and juicy on the inside) Remove from heat, cut into bite-sized cubes and set aside. Add 1 tablespoon oil to skillet, add onions, ½ teaspoon salt, turmeric and a few grinds of pepper. Cook, stirring occasionally, 6-7 minutes over medium heat until onions soften and turn golden brown. Mix with cubed chicken and set aside.
Tachin: step one Put rinsed rice and 1 teaspoon salt in a medium saucepan and add water to cover by 2 inches. Bring to a boil, lower heat and cook, covered, for 7 minutes. Pour into a strainer, drain, rinse with cold water to stop cooking and set aside.
Tachin: step two Whisk egg yolks, yogurt, saffron, ½ teaspoon salt and a few grinds of pepper in a medium bowl. Add half the cooked, drained rice, mix thoroughly and set aside.
Tachin: step three Swirl melted butter and olive oil in the 2-quart casserole to coat bottom and sides. Add yogurt & rice mixture and smooth it out into an even layer with the back of a spoon. Add chicken and onion mixture next, making an even layer. Add 1 teaspoon olive oil and ½ teaspoon salt to the remaining plain white rice, stir to combine and add to top of casserole, pressing it down gently. Cover casserole with lid or a double layer of foil and bake in the lower third of preheated oven for 45-50 minutes, until a light brown crust forms on the bottom. Remove from oven. Carefully flip casserole upside down onto a platter. Cover the top with a clean dish cloth while you give the Barberries a 1 minute stir in a frying pan with a bit of oil. Toss them on top of the Tachin to garnish. Cut Tachin into six servings and enjoy with yogurt sauce on the side.
Notes
[Originally published November 2012. Updated September 2018 with a video, some new photos, added nutritional information, a few tweaks to the written post and double the onion in the recipe.]
Nutrition Information shown is an estimate calculated by an online nutrition calculator. It should not be considered a substitute for the advice of a professional nutritionist.
Prep Time:

25 mins

Cook Time:

1 hour 10 mins

Category:

Festive Main Course

Method:

oven

Cuisine:

Iranian
Keywords: Chicken, Rice, Casserole, Recipe