This seafood boil recipe has shrimp, lobster, crab legs, clams, sausages, corn and potatoes, all cooked in one big pot in a rich spicy broth. If you're feeding a crowd, there's nothing easier or more fun than a seafood boil. To serve, just pour the whole delicious one-pot feast out onto the table and invite everyone to dig in!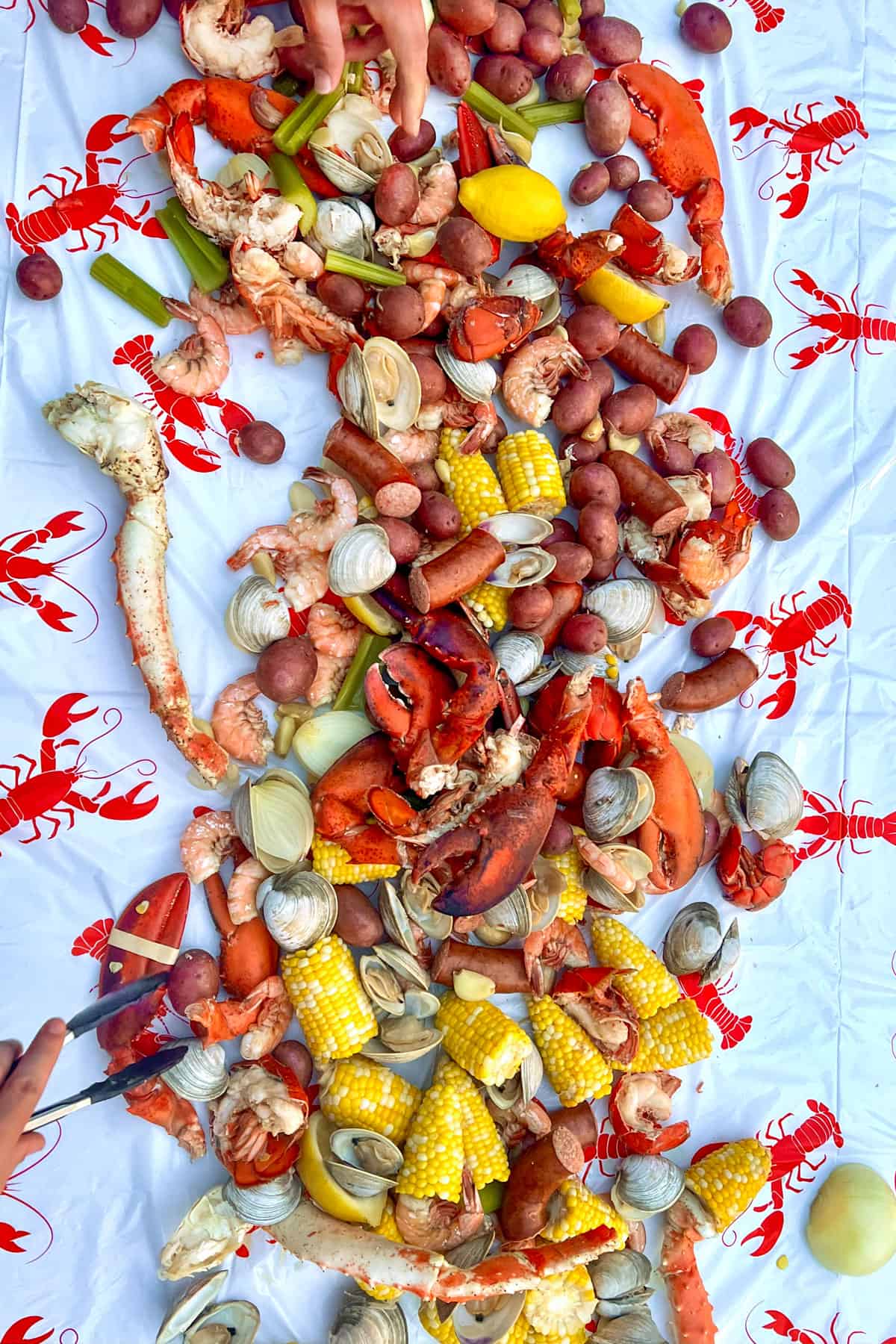 What is a Seafood Boil?
A seafood boil is a cooking method where a mixture of seafood, vegetables, sausages and seasonings are boiled together in one pot, to create a flavorful and hearty feast.
Seafood boils are a beloved tradition all across the United States. From the spicy Cajun crawfish boils of Louisiana to the coastal clam bakes of New England to South Carolina's Low Country Boils, each region puts its own unique twist and name on this tasty dish. But they all share the same goal - cook up a big exciting potful of well-seasoned seafood, potatoes, corn and sausages and serve it family-style for all to gather around and enjoy.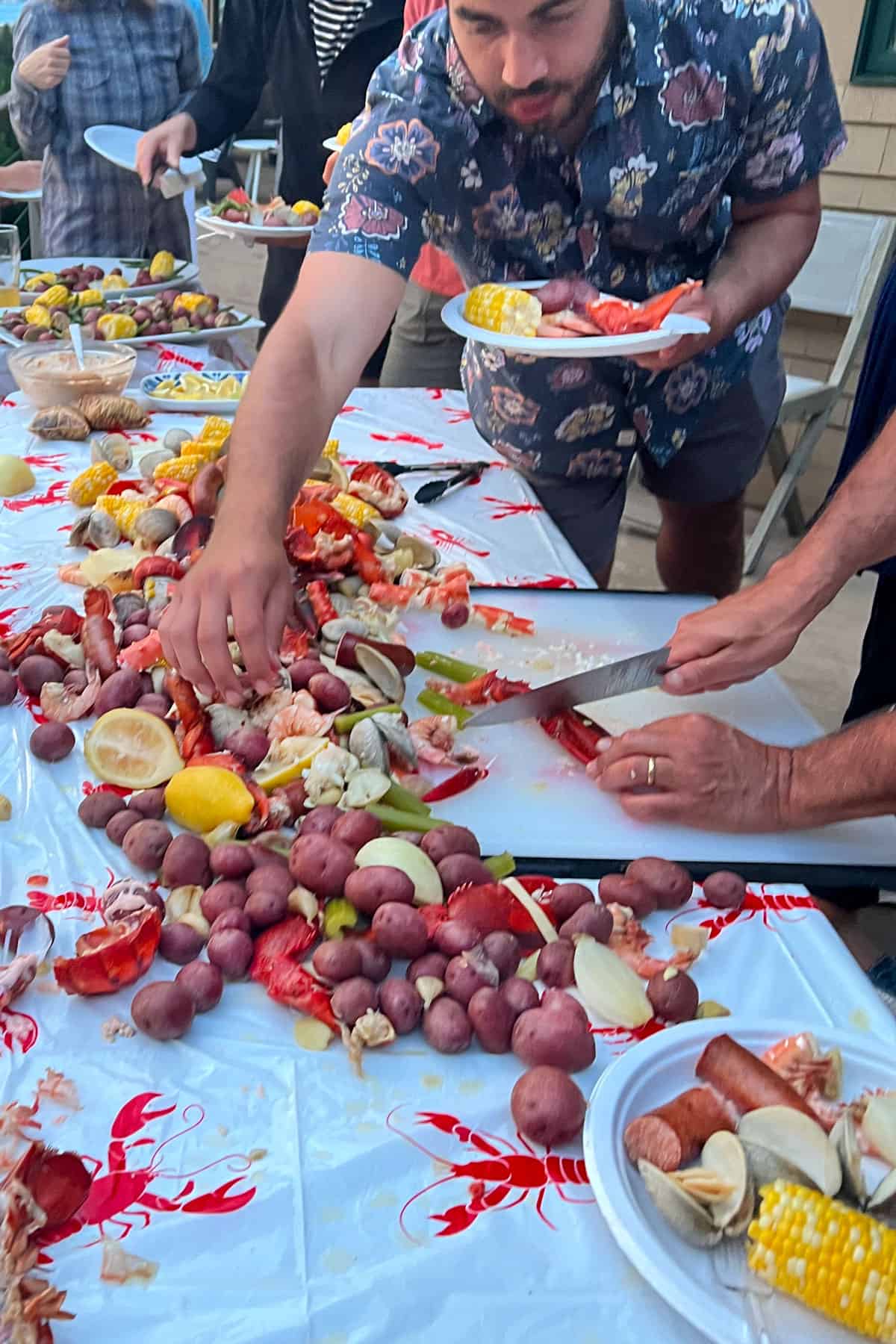 What Ingredients are in a Seafood Boil?
The Seafood
Common seafood options for a boil include shrimp, crab, crawfish, clams, mussels, and lobster.
We use shrimp, lobster, crab legs and clams for this recipe, but you can use just one or two types of seafood or as many as you like. As long as you know the cook time for each item of seafood (see our timing chart below) you'll be able to layer ingredients into the pot at the right time to ensure a delicious outcome.
Shrimp - I recommend using unpeeled shrimp for a seafood boil. Many popular online seafood boil recipes call for using peeled shrimp - I disagree. First of all, it's not hard to peel boiled shrimp - especially if you use EZ-peel shrimp. More importantly, the shrimp shells add delicious flavor to the boiling liquid and protect the shrimp from overcooking.
Lobster - I use Maine lobsters for our boils - just the tails and claws. If you don't have access to live lobsters, look for frozen lobster tails and claws at the market. Defrost them overnight in the fridge. Cut the tails in half so there's more to go around.
Crab - I like using king crab legs for our boils because they're long and festive-looking with delicate sweet meat. But they are also very expensive. Other types of crabs such as Snow crabs or Dungeness crabs are also delicious in a seafood boil and they cost less.
Clams - Clams are delicious in a seafood boil. We use local Quahogs. Be sure to discard any clams that don't open.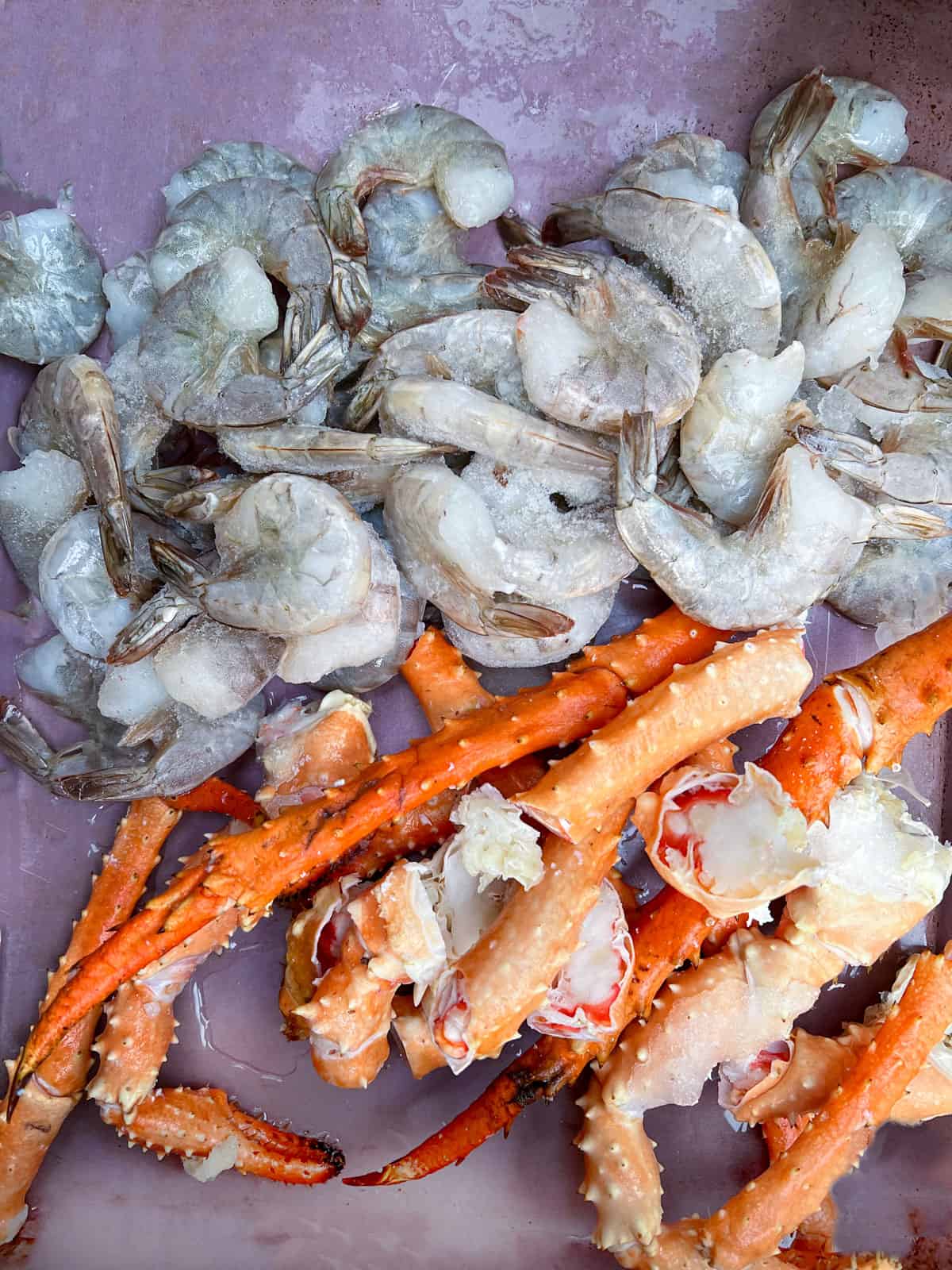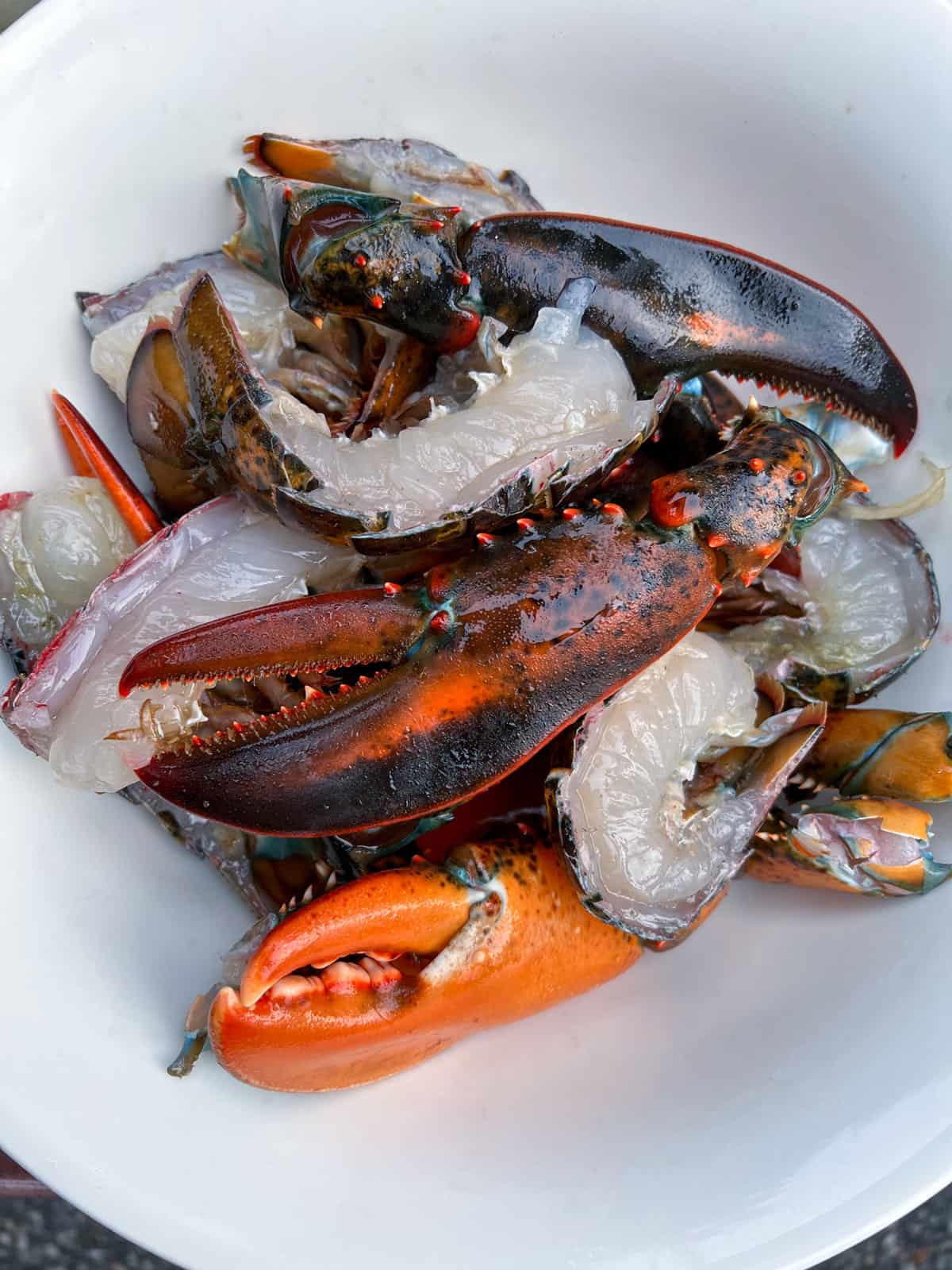 Other Ingredients for a Seafood Boil
In addition to seafood, this boil contains corn, potatoes and sausages plus onions, garlic, celery and spices to flavor the cooking water.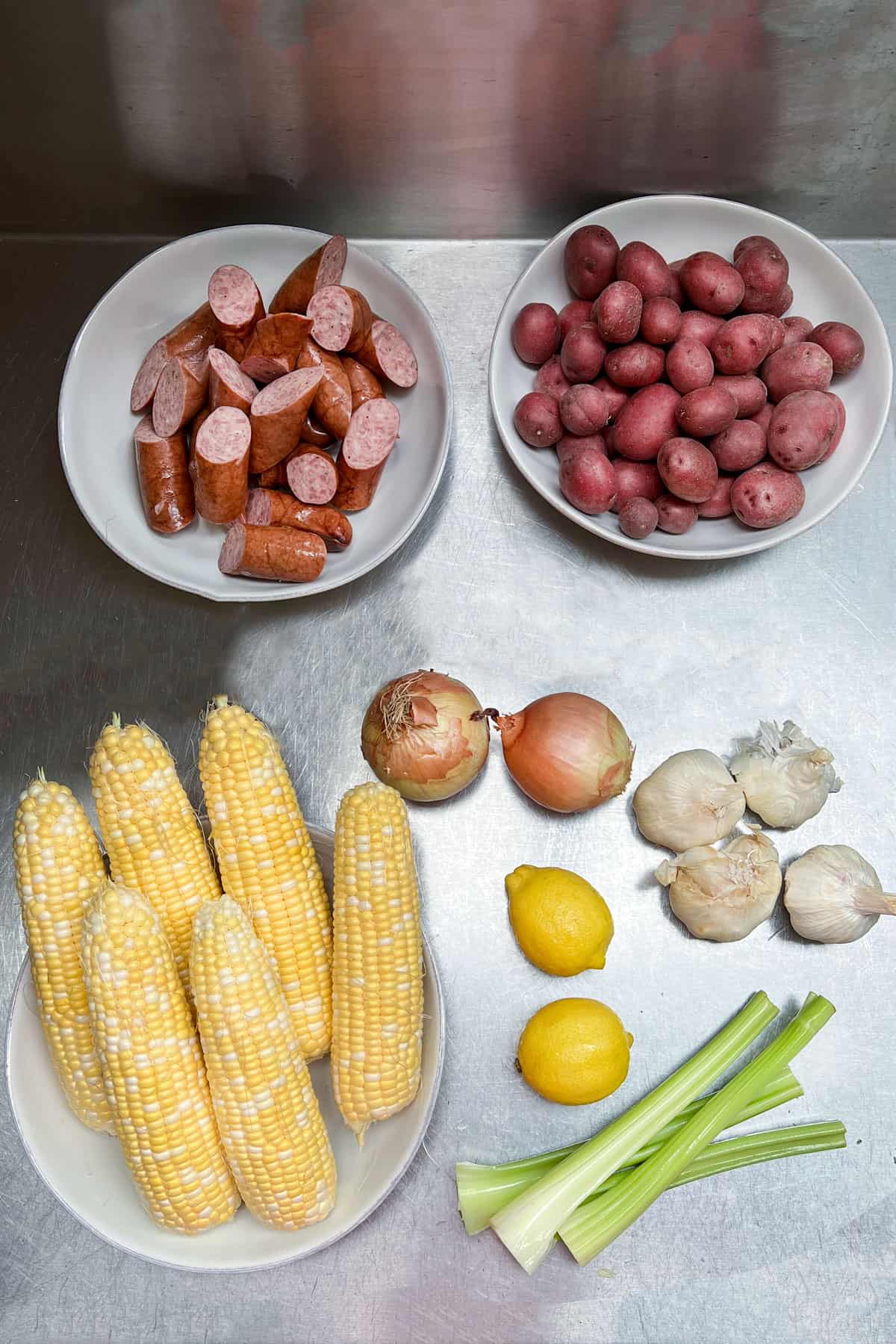 Onions, celery, garlic and lemons - These ingredients go into the pot first, along with salt, cayenne and other spices to create a flavorful broth for the boil.
Spices - Many companies make spice mixes for seafood boils. I like Zatarain's Crawfish, Shrimp and Crab Boil Spice Mix. Another popular spice mix for a seafood boils is Old Bay Seasoning.
Salt and Cayenne - Salt is an important ingredient in a boil to enhance all the flavors of the seafood, vegetables and sausages. Cayenne is how you turn up the heat.
Corn - Fresh corn on the cob is traditional and delicious in a boil and it adds bright color.
Sausages - Kielbasa is my first choice but Andouille or Chorizo will work well too. These types of sausages are fully cooked when you buy them.
Potatoes - I like using baby red or yellow potatoes. They cook quickly and soak up all the delicious flavors of the broth. If you use larger red or gold potatoes, I suggest you cut them in half.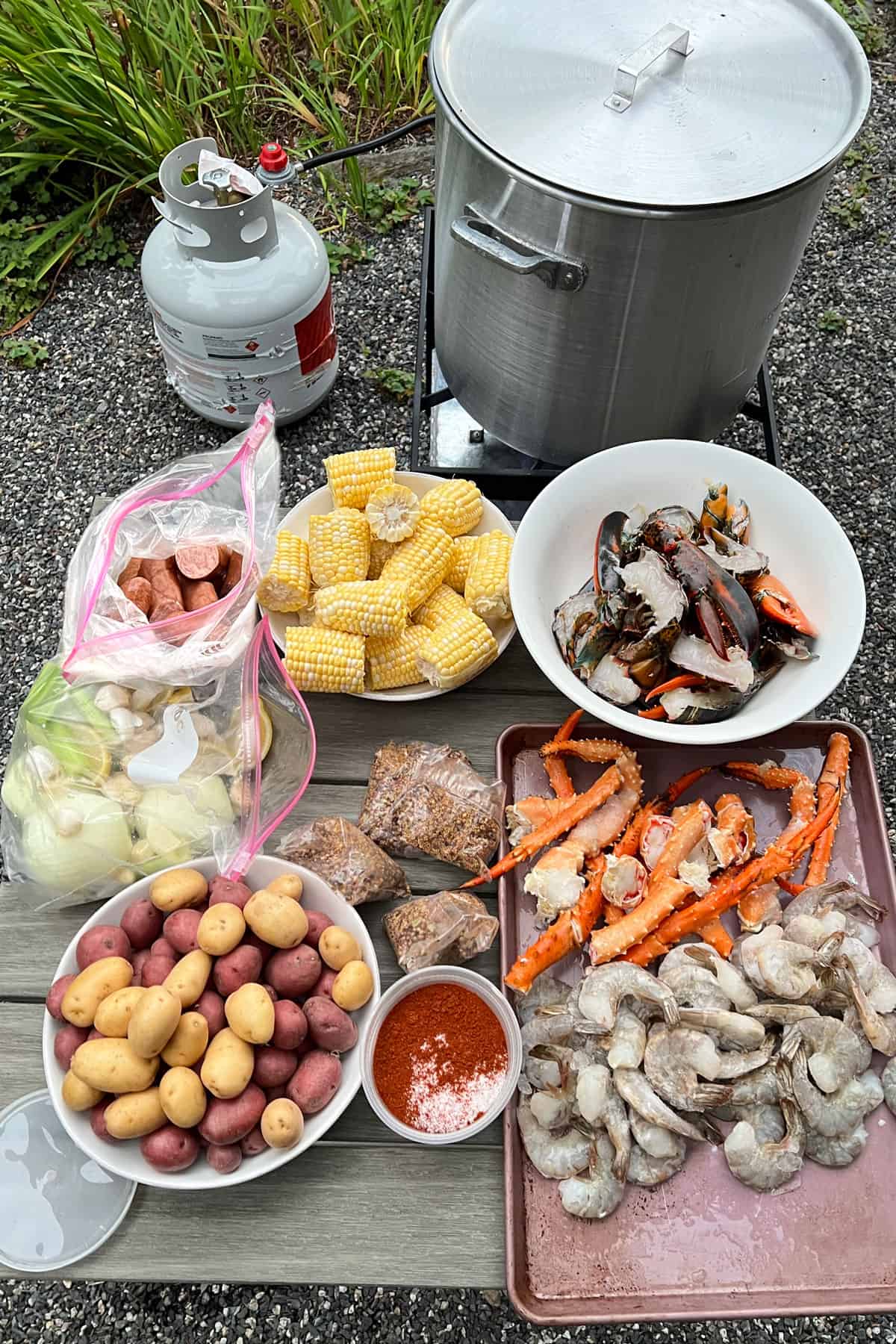 Prepping Tip:
Organize ingredients based on when they will get dumped into the pot, placing them together in a bowl or bag if they are slated to go into the boil at the same time.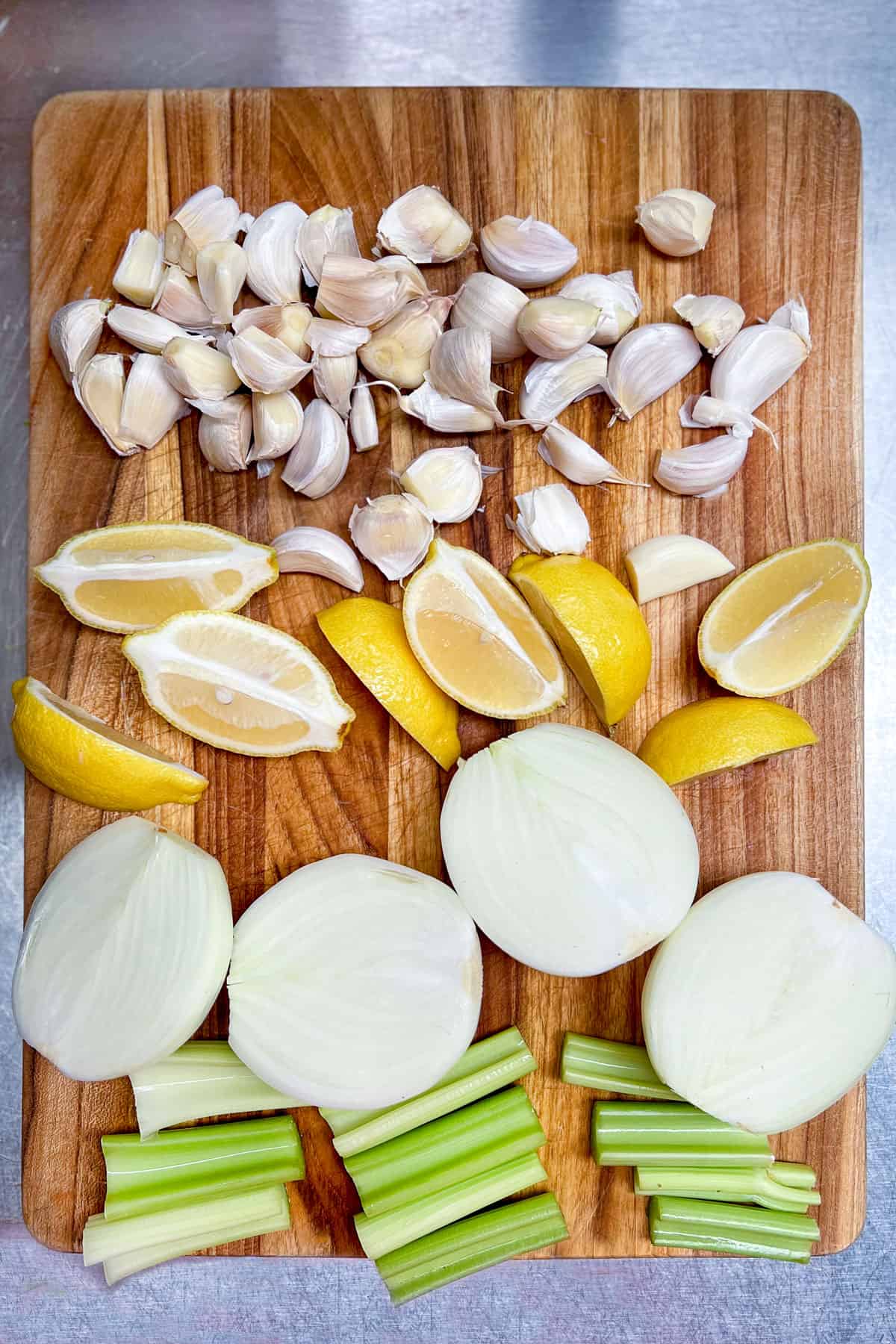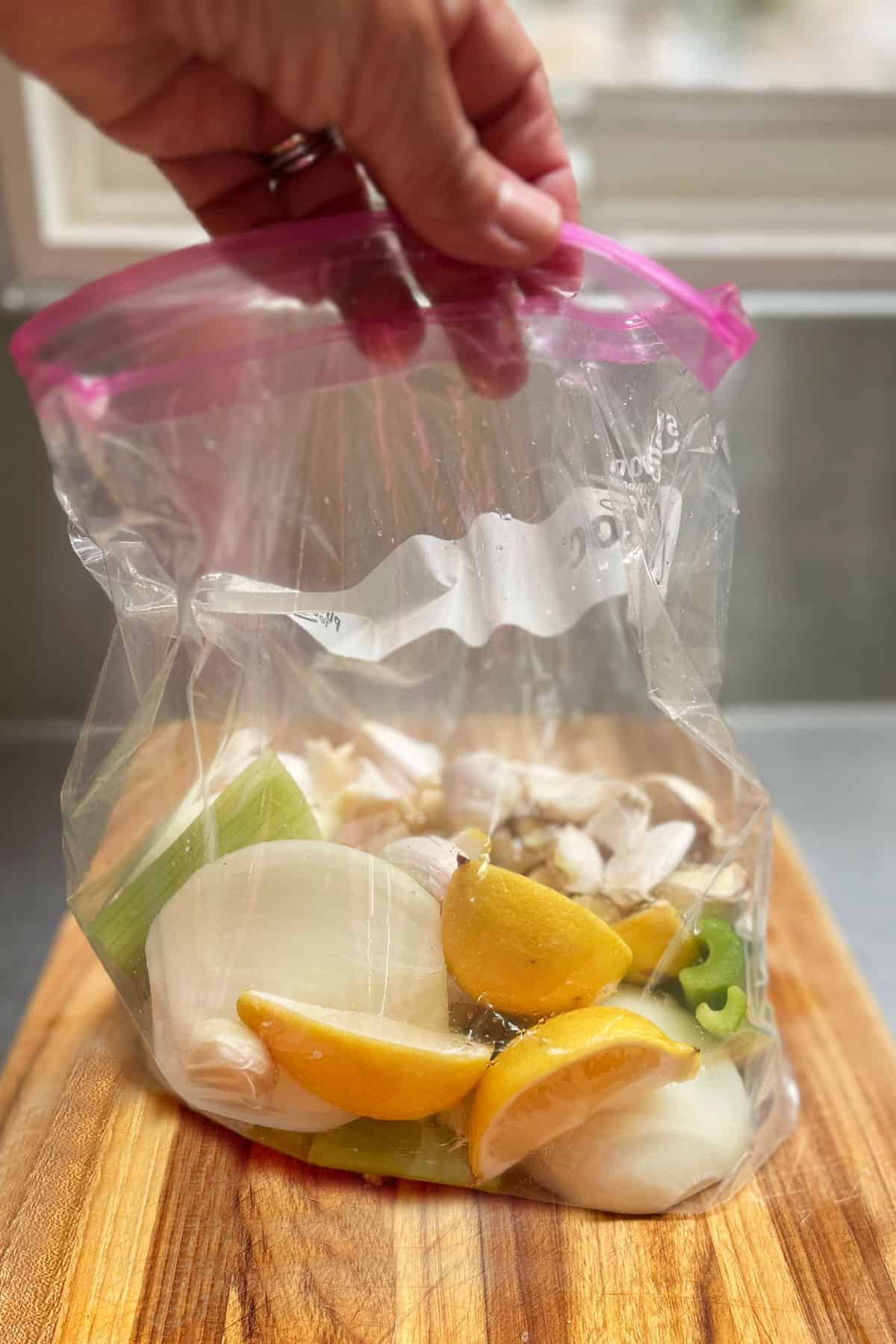 How to Make a Seafood Boil
A seafood boil sounds so easy to make, and on the surface it is. You throw a bunch of ingredients into a pot and boil them. But timing is crucial to achieve the best result.
Each ingredient needs to go into the pot at the right time to be cooked perfectly. Figuring that out can be complicated when you have lots of ingredients, so I put together a seafood boil timing chart below that you can use as your guide.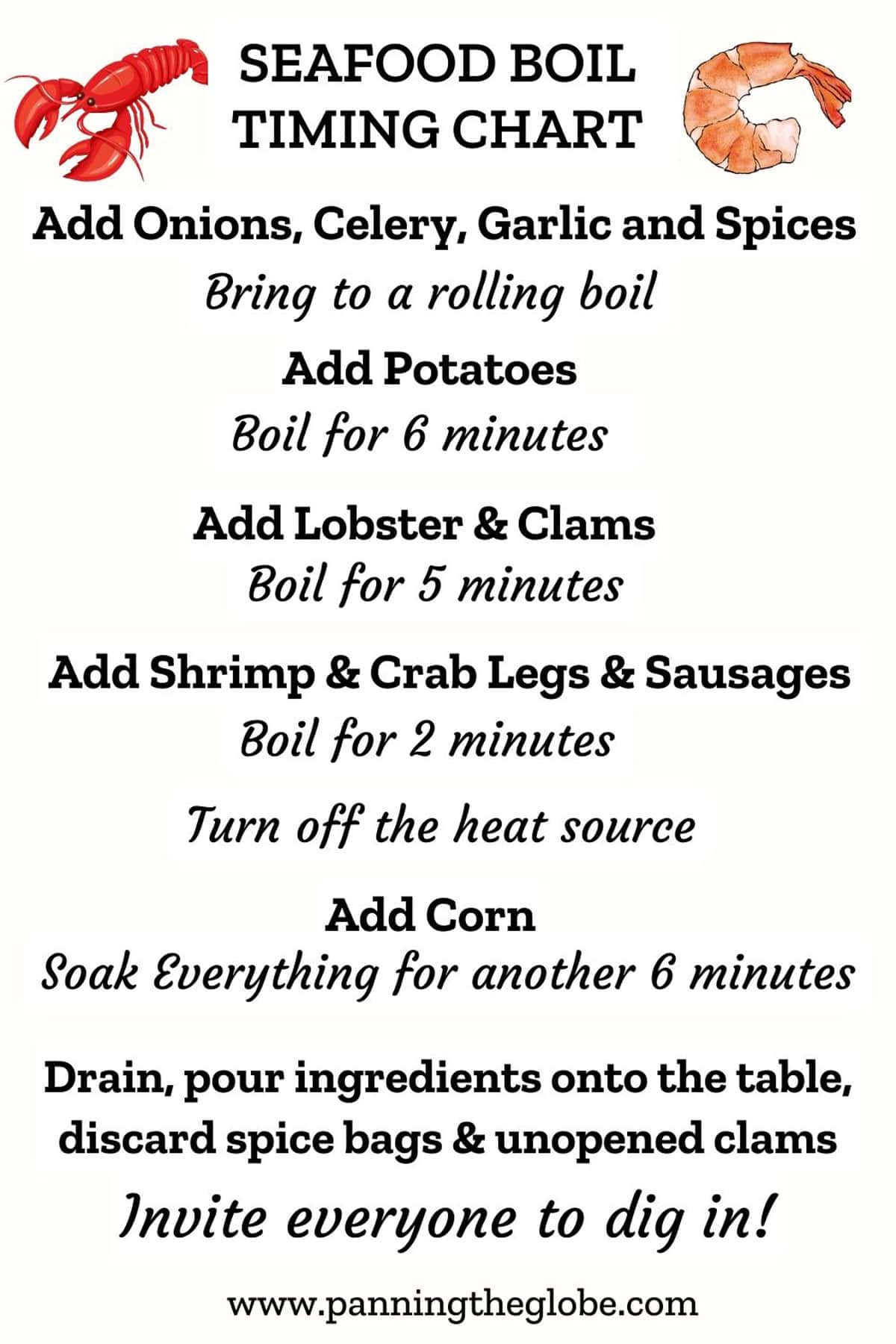 Please keep in mind that timing can vary slightly depending on various factors. For example, you will need to add a minute or two of boiling time if the lobster or shrimp is frozen. Large potatoes will need a few minutes more than tiny ones.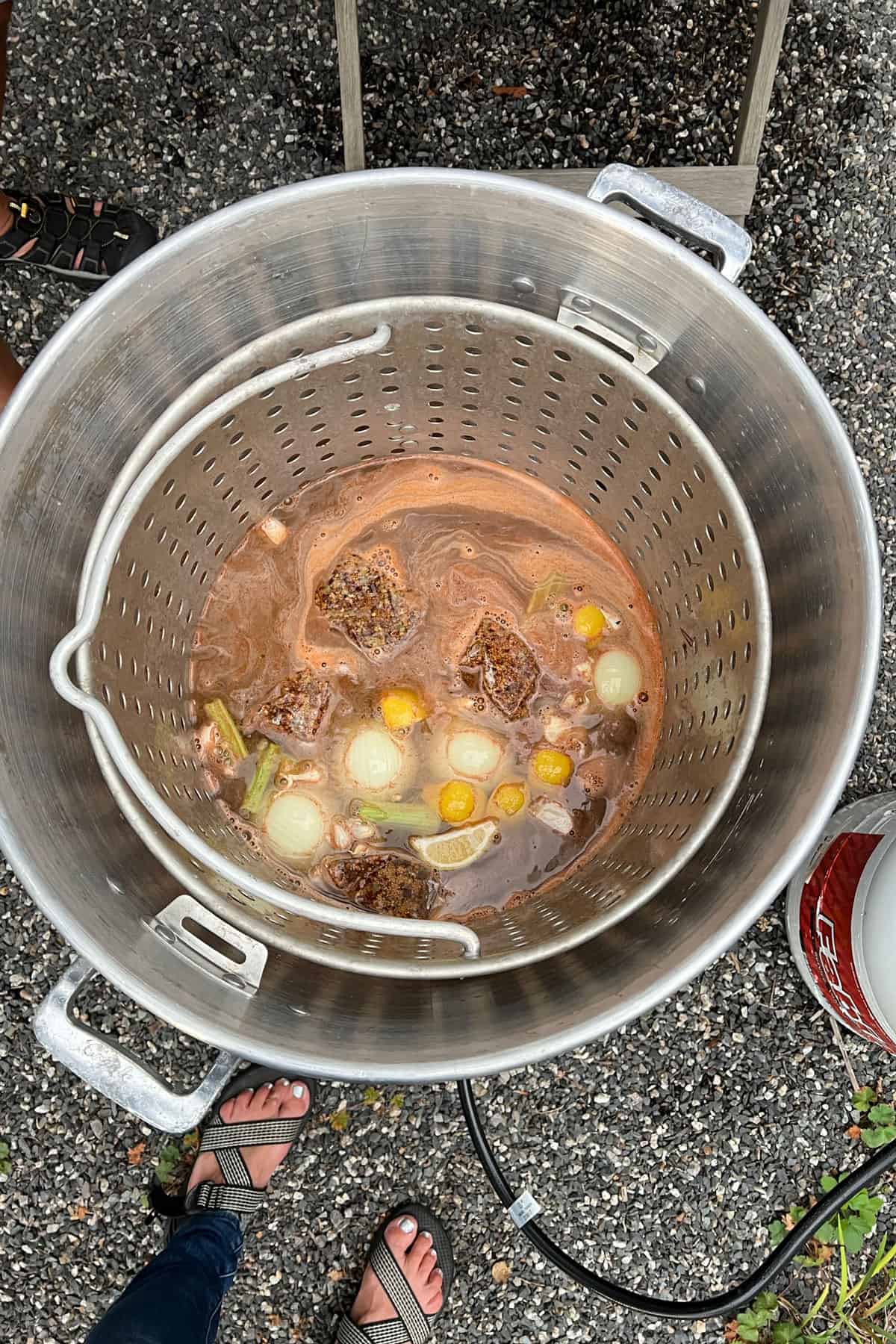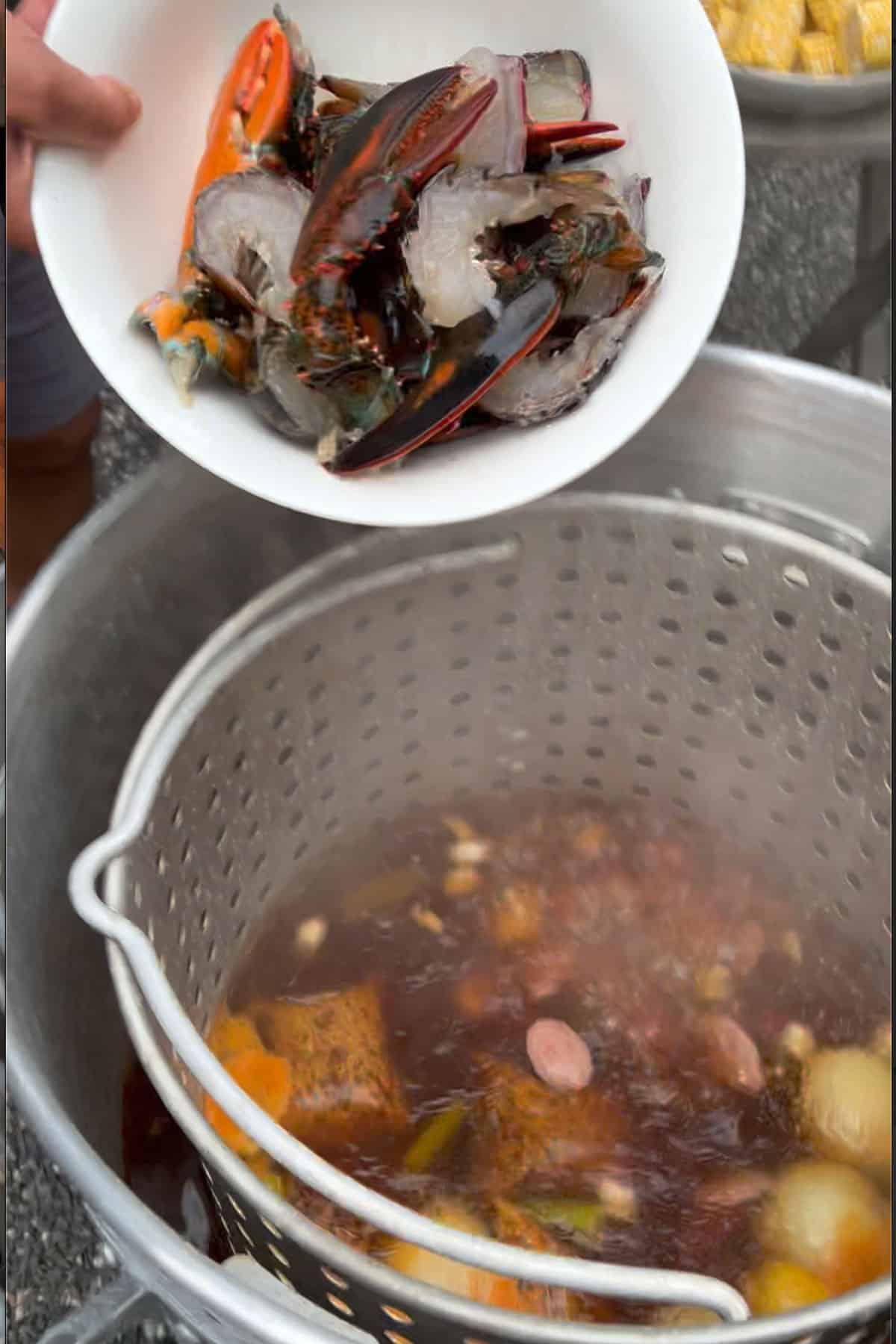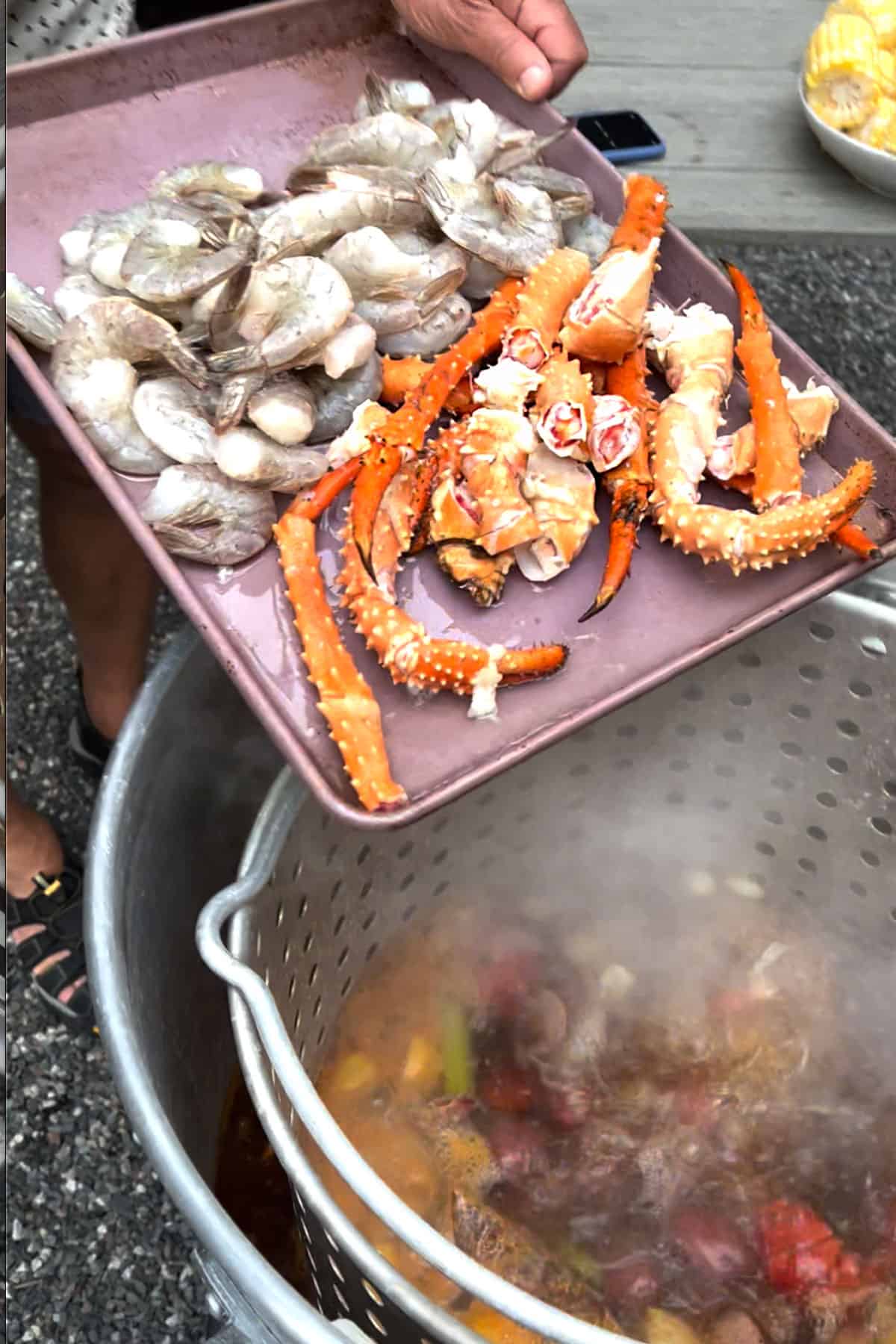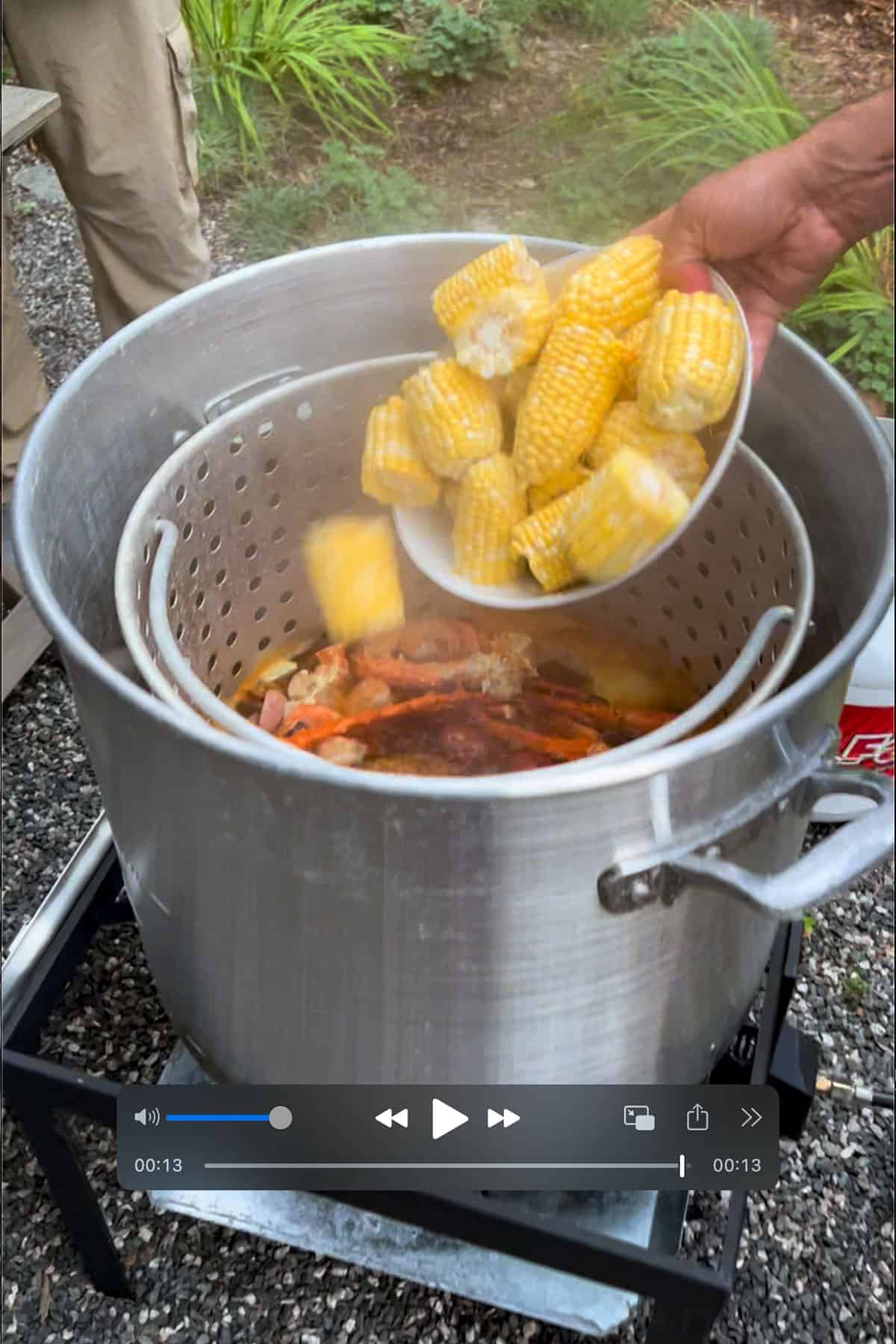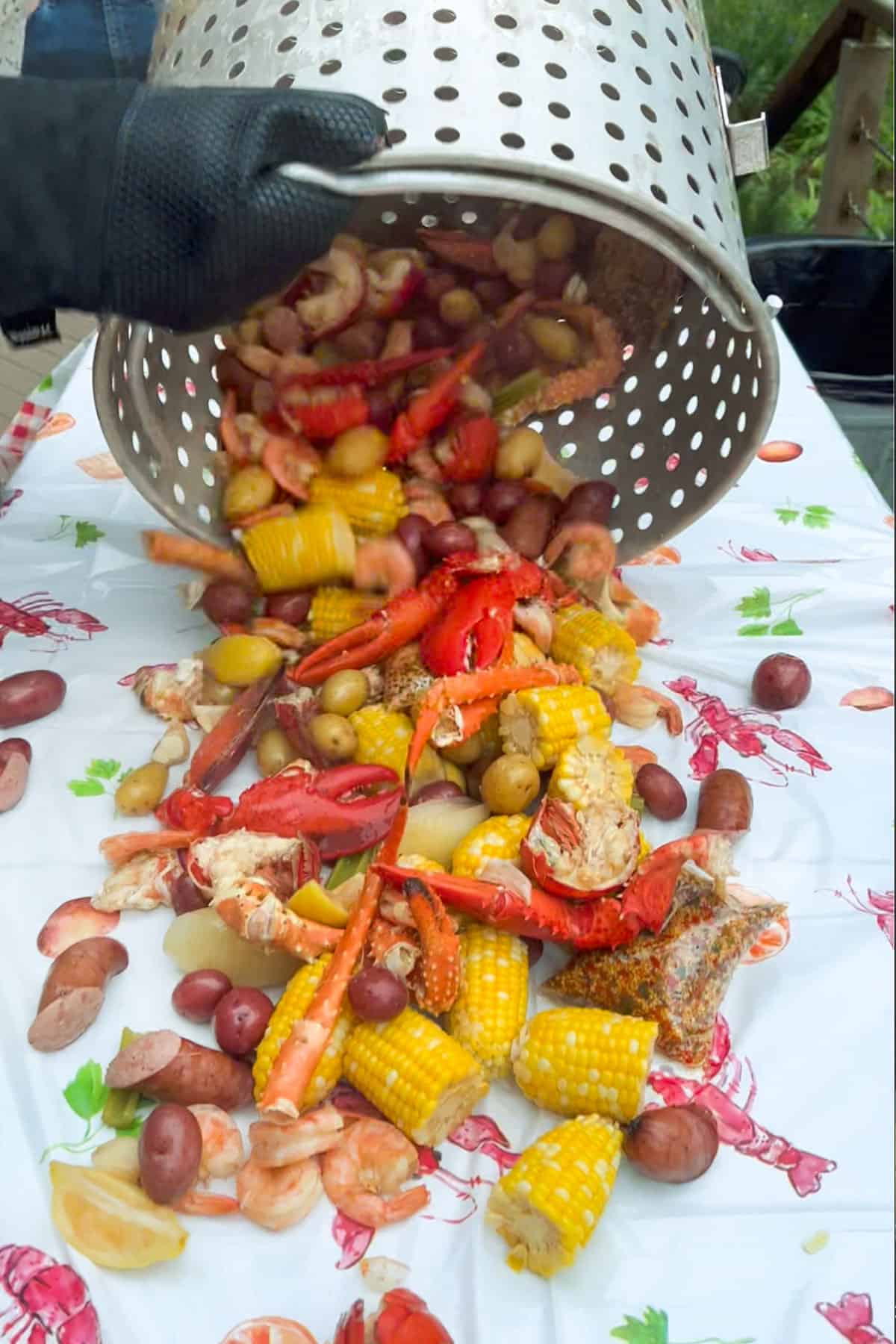 Two Important Tips for Making a Seafood Boil
Plan Ahead: A seafood boil is difficult to pull off at the last minute. You may need to go to several stores to source the seafood items, you might have to order the spice mix online. If you are using frozen seafood, you'll need to defrost it overnight. Give yourself enough time to get organized. (see below for a list of resources)
Make a timing chart or use ours: Adding each ingredient to the pot systematically according to how long it needs to cook is essential for a successful boil with tender seafood, sausages and vegetables.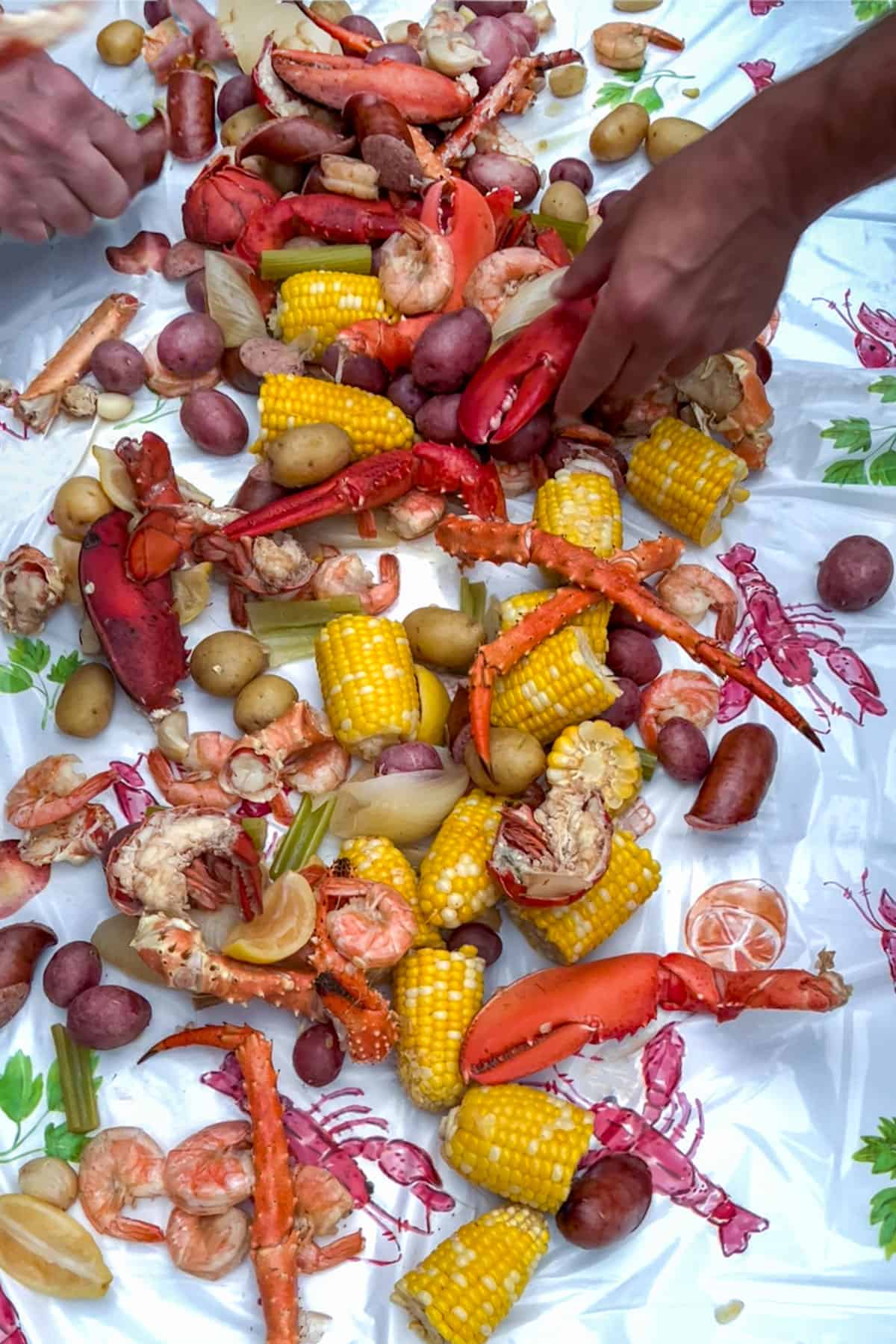 Equipment and Special Ingredients
Here are some things you may want to consider purchasing for your seafood boil.
Spice Mixes: The most popular spice mixes for a seafood boil can be hard to find at the grocery store but are easy to source online. For this recipe I love Zatarain's Crawfish, Shrimp and Crab Boil Bags. Old Bay Seasoning is another popular choice.
Plastic Table Covers: Although it's traditional to use newspaper to cover your table for a seafood boil, I also like using plastic table covers. My favorites are this 4-pack of lobster boil table covers and this 3-pack of lobster boil table covers. They're festive and handy for cleanup.
Seafood Crackers: It's handy to have a few tools on the table for cracking the lobster and crab shells.
Napkins: You'll need plenty of napkins for this meal. These seafood themed napkins are fun!
Outdoor Propane-fueled Seafood Boiling Pot with Strainer
While this is not essential for serving a dozen people or less, there is something special about doing the boil outdoors. We have a Creole Feast 80 Quart Seafood Boiling Kit with Strainer. I received it as a birthday present and I love it. It hooks up to a propane tank, the same kind that you use for your gas grill. It gets an enormous pot of water boiling fast. It's a great investment if you cook this kind of thing from time to time. 80 quarts is huge though! There's also a 60 Quart version.
Answers to Common Seafood Boil Questions
Can I use frozen seafood for a seafood boil?
Yes. Mussels and clams should be fresh but frozen lobster, crab and shrimp are great choices for a seafood boil. For best results, defrost frozen seafood in the fridge overnight.
Is frozen seafood precooked?
Frozen shrimp comes raw or pre-cooked so be sure to buy raw. Frozen crab legs are almost always precooked. To be sure, If the shell is orange or red, it's precooked. Frozen lobster claws and tails are most often pre-cooked. If the shells are a bright red color and the meat is opaque, they are precooked.
TIP: Be careful not to overcook frozen seafood. If you use precooked seafood in a boil, it only needs to be heated through, so it requires very little boiling time.
Is frozen unpeeled shrimp deveined?
Yes. Look for EZ-Peel frozen shrimp. Even if the package doesn't describe the shrimp as deveined, by definition an EZ-peel shrimp is a raw shell-on deveined shrimp. There is a knife-cut along the back of the shrimp and the large intestine is removed.
What dipping sauces pair well with a seafood boil?
Popular choices include melted butter, cajun spiced butter, garlic butter, cocktail sauce, tartar sauce, remoulade sauce, and garlic aioli. I have also used the chipotle aioli from this sweet potato recipe, with great results.
What pot should I use for a seafood boil?
If you're making a seafood boil for up to 6 people, you can get away with a 12-quart spaghetti pot, but if you're hosting a larger crowd, you'll need a very big pot and preferably one that includes a steamer basket. For an indoor seafood boil, you can use a 24-quart pot.
What seasonings are essential for a seafood boil?
Common seasonings include Old Bay seasoning, Cajun seasoning, garlic powder, onion powder, cayenne pepper, bay leaves, thyme sprigs and lemons. And be sure to use lots of salt.
Is it possible to make a vegetarian boil?
Yes. To make a vegetarian boil, use the same broth base that you use for the seafood boil: onions, garlic, celery and spices. In addition to potatoes and corn, use plant-based sausages. Be sure to brown the sausages in a pan to firm them up before you slice them for the boil. I like to add green beans to the vegetarian boil. You can also add eggs. Give them about 10 minutes to get hard boiled.
How to serve a seafood boil
A seafood boil is the ultimate fun, laid-back meal, traditionally served by pouring the entire contents of the pot onto a newspaper-lined table and inviting everyone to gather around. I like to offer paper plates for those who may want to sit down, but standing around the table and eating with your hands is encouraged!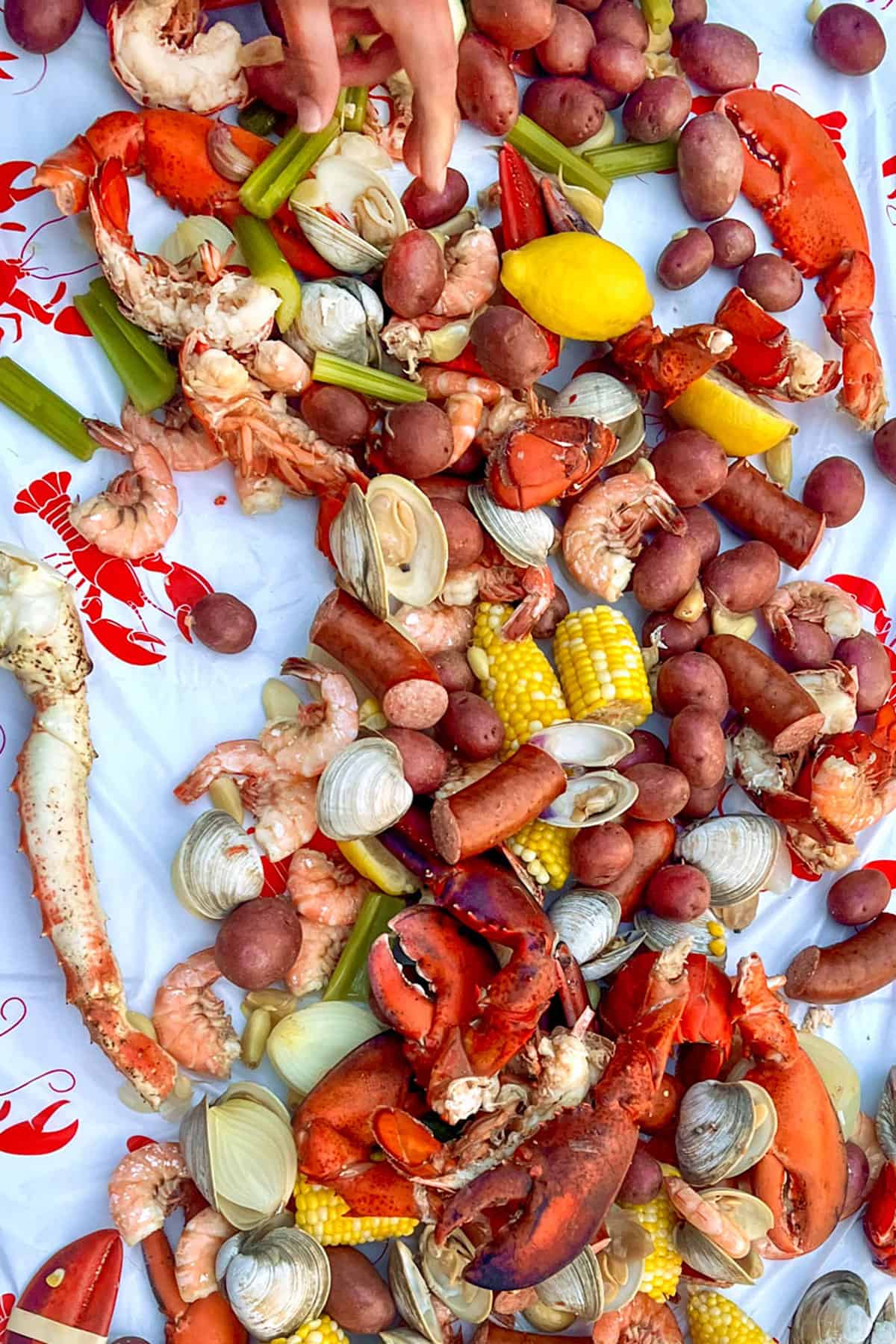 What to serve with a seafood boil?
You can absolutely serve a seafood boil on its own - it's a hearty, satisfying meal unto itself. However, if you want to add sides, bread goes really well, coleslaw is a great choice and so is a green salad.
Here's the Seafood Boil Recipe. If you make this, I hope you'll come back to leave a star rating and a comment. I'd love to know what you think!
Print
Seafood Boil Recipe
---
Author:

Lisa Goldfinger

Total Time:

1 hour 5 minutes

Yield:

12

-

14

Servings

1

x
Description
Here's how to make a delicious festive seafood boil that contains shrimp, lobster, crab legs, clams, sausages, corn and potatoes, all cooked in one big pot in a rich spicy broth.
---
For The Remoulade Sauce
½

cup

mayonnaise

½

cup

plain yogurt
The zest of 2 limes

3 tablespoons

fresh lime juice

1 tablespoon

capers, chopped

½ teaspoon

kosher salt
Freshly ground pepper, to taste
For the boil
4

heads of garlic

2

large yellow onions, peeled and halved through the stem

3

celery stalks, cut into

3

-inch pieces
4

3

-

ounce

bags of Zatarain's Crawfish Boil Spice Mix

1 ½

cups

Morton's kosher salt

1

-

2

tablespoons cayenne pepper

2 ½

pounds

baby red-skinned potatoes

4

lobster tails, halved lengthwise

8

lobster claws, with "knuckles" if possible

3

pounds

small fresh clams, scrubbed (quahogs)

2

pounds

large or jumbo unpeeled shrimp

1

pound

of king crab legs (or other crab legs)
2

12

-

ounce

kielbasa sausages, cut into 3-inch pieces

6

ears of husked corn on the cob, cut into thirds
---
Instructions
Whisk the remoulade sauce ingredients in a bowl. This sauce can be made up to 6 hours ahead. Cover and chill until ready to use.
Slice about ¼ inch off the top of each garlic bulb to expose some of each clove. Break the cloves apart and discard any excess skin. No need to peel them fully.
Fill a very large (24-quart) pot with approximately 10 quarts of water and set over high heat. Add spice pouches, cayenne, salt, onions, celery and garlic cloves. Squeeze lemon wedges over the pot and drop them in. Cover the pot and bring to a rolling boil.
Add the potatoes, cover and cook for 6 minutes.
Add the lobster and clams, cover and cook for 5 minutes
Add the shrimp, crab legs and sausages, cover and cook for 2 minutes
Turn off the heat, add the corn, cover and leave everything to soak for 6 minutes.
Drain the broth from the pot and pour the seafood boil out onto a large table or onto platters. Discard the spice pouches and any unopened clams. serve immediately, with a bowl of remoulade sauce on the side.
Notes
Buying Shrimp: Frozen shrimp is an excellent choice for a boil. Look for EZ-peel frozen shrimp which is raw, shell-on, deveined shrimp. Defrost it in the fridge overnight.
Buying frozen lobster tails and claws: Frozen lobster is a good choice for a boil if you don't have access to live lobsters or if you don't welcome the task of turning live lobsters into tails and claws. (Note - there is a humane way to do which can be found on youtube). Defrost frozen lobster in the fridge overnight.
Buying frozen crab legs: Frozen crab legs are a good choice for a boil. Defrost them in the fridge overnight.
What sausages are best for a boil? Look for smoked sausages that are fully cooked. Kielbasa is my first choice. Chorizo and Andouille will also work well. They should be fully cooked when you buy them.
You'll find more details and photos in the post, explaining how to host a festive seafood boil.
Nutrition Information: The information shown is an estimate provided by an online nutrition calculator and is not a substitute for the advice of a professional nutritionist.
Prep Time:

40 min

Cook Time:

25 minutes

Category:

Dinner

Method:

Boil

Cuisine:

Cajun
Keywords: how to make a seafood boil for a large crowd