Jollof Rice is a casserole of boneless chicken, rice and vegetables oven-baked in a mild tomato curry sauce, gently spiced with ginger, curry and red chili pepper. It's a whole delicious healthy dinner in one-pot, perfect for feeding family and friends.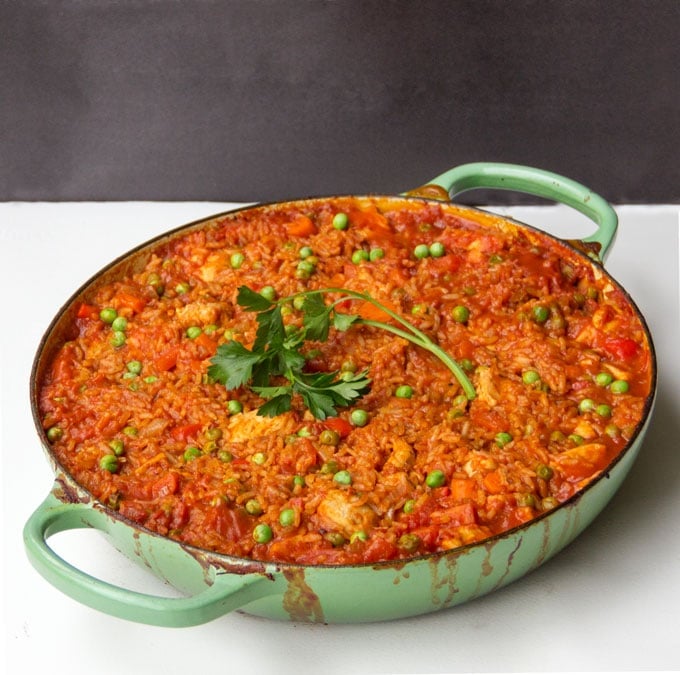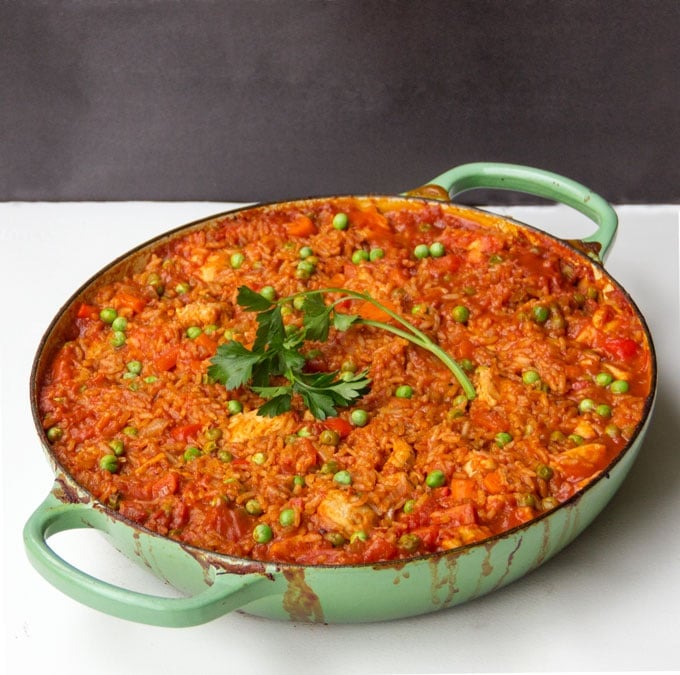 I discovered the recipe for Jollof Rice in my newest cookbook: The Ghana Cookbook.  It's a popular West African dish and I can see why that is. I made it several times, as I often do to test and tweak new recipes, and it quickly became a family favorite. When it first landed on the dinner table, none of us had ever tasted or even heard of Jollof rice before, yet it felt familiar. It's that comforting one-pot chicken and rice dish that I've always been attracted to, which is why I have a growing collection of these types of dishes from all around the world: arroz con pollo, jambalaya, paella, tachin joojeh, and Plov. 
HOW TO MAKE JOLLOF RICE
The basic ingredients are chicken, aromatics, vegetables, spices, tomato sauce, and rice. The recipe is easy to prep. Just a bit of chopping and sautéing and then everything is packed into one pot and baked in the oven, where the chicken, garlic, onions and spices release their flavors into the sauce and the rice soaks it all in. Out comes a delicious comforting casserole, a whole balanced meal packed into one pot, that no one can wait to dig into. And having only pot to wash is a nice perk.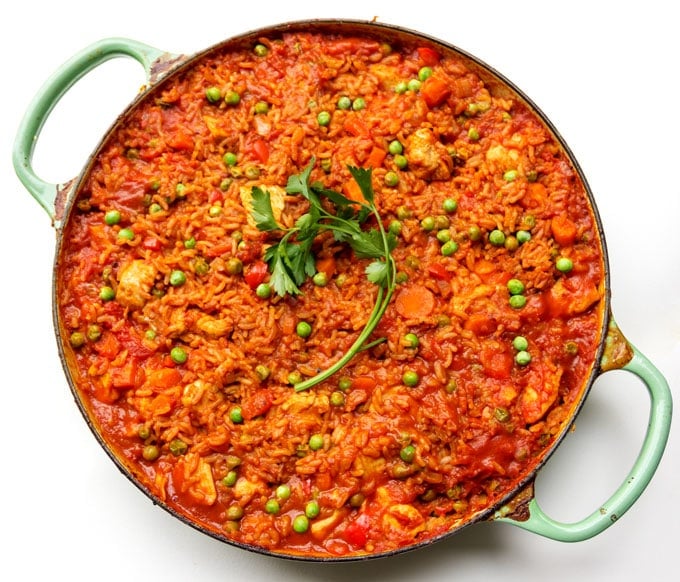 The Ghana Cookbook is one of those great cookbooks that makes you feel confident that you've found the utmost authority on the subject, that you're getting the inside scoop on the best and most authentic Ghanaian recipes. The book is a collaboration of two authors. Fran Osseo-Asare is an American woman who fell in love in love with a Ghanaian man in the late 1960's, married him in the early '70's, became enamored with Ghanaian cuisine, and has since written several books on sub-Saharan African cuisine and is an internationally-recognized expert on the subject.
Co-author Barbara Baëta is a culinary star of Ghana. She has a Ghanian cooking school and a catering company and for decades she has cooked for Ghana's foreign dignitaries and guests, including Barack Obama, to showcase the country's cuisine.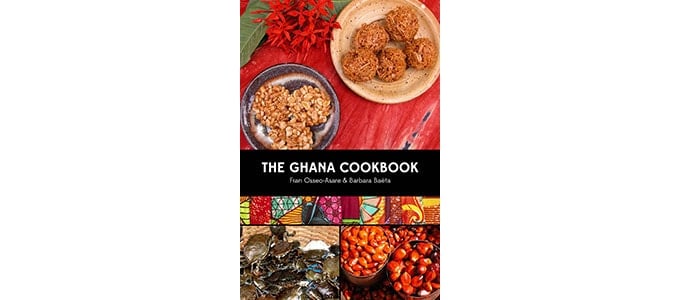 There were many tempting Ghanaian recipes in the book that I sticky-noted: "Sesame Soup with Poultry," "Vegetarian Peanut Soup," "Light Soup with Lamb, Eggplant, Mushrooms, and Zucchini," to name a few. I also tried out a simple recipe for Ghanian rice balls to go with a soup I was making: cook rice, using a bit of extra water so it stays moist. Mash it with a potato masher. Roll it into balls. Use it to float in soups and stews, as you might use potatoes or dumplings. Lovely!
Africa has many Proverbs that have been passed on from generation to generation for centuries and are used often in everyday talk. The proverb "The good soup comes from the good earth" refers to the emphasis in Ghana's cooking tradition on using fresh, locally sourced, seasonal ingredients. Also worthy of note for those with special diets is that, due to the limited availability of wheat and dairy in Ghana, many of the recipes in The Ghana Cookbook are naturally gluten-free, dairy-free, and vegan.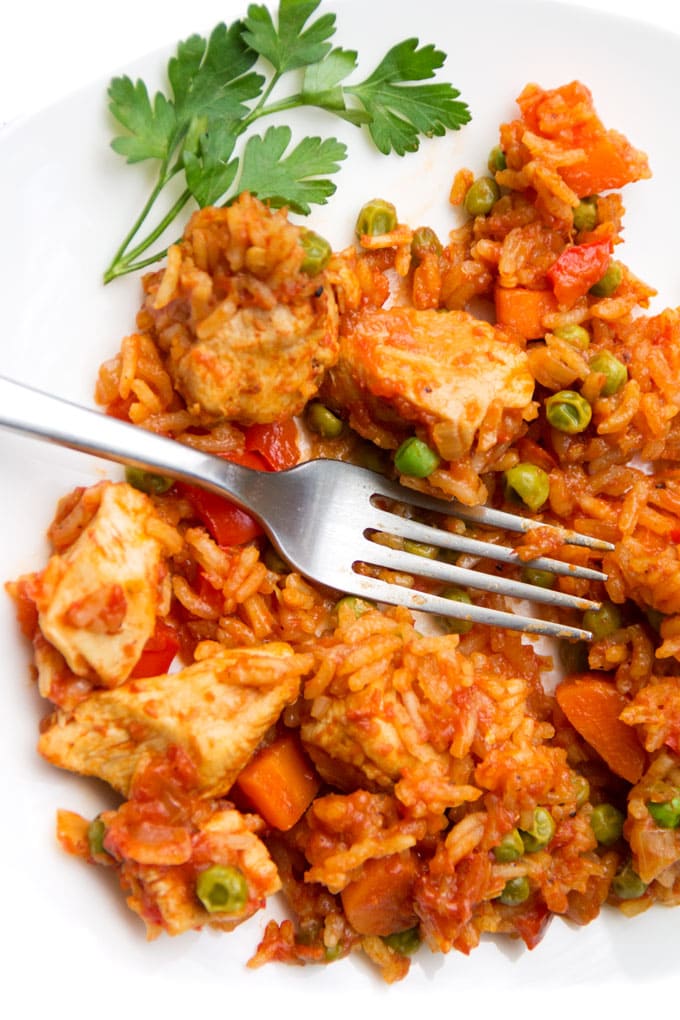 Jollof Rice is a great dish for the whole family. It's a healthy balanced meal in one pot, full of interesting flavors yet mild enough to be pleasing even to those with more picky palates. I like to serve it with a simple green salad on the side.
You may also like this delicious Ghanaian Peanut Stew with Chicken
More Delicious Chicken and Rice Recipes
Here's the recipe for Jollof Rice with Chicken. As always, I'm hoping you'll cook this and then come back and leave a comment to let me know what you think.
Print
Jollof Rice with Chicken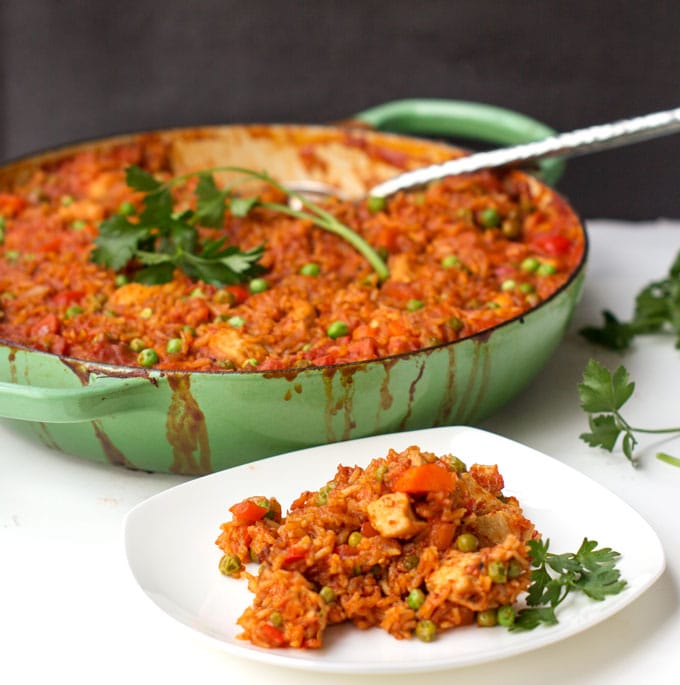 Jollof Rice is a delicious casserole of chicken, rice and vegetables in a mild tomato curry sauce. It's a great dish for the whole family, a healthy balanced meal in one pot, full of interesting flavors yet mild enough to be pleasing even to those with picky palates. (gluten-free, dairy-free recipe)
Author:
Prep Time:

15 mins

Cook Time:

45 mins

Total Time:

1 hour

Yield:

6-8

Category:

Dinner

Cuisine:

Ghanaian
Ingredients
2 pounds boneless skinless chicken breast, cut into 1 1/2-inch cubes
1 tablespoon minced garlic, divided
1 tablespoon finely minced or grated ginger root, divided
2 teaspoons kosher salt, divided
1/2 teaspoon Aleppo pepper or crushed red pepper flakes
1/2 teaspoon freshly ground black pepper
5 tablespoons cooking oil (I used canola)
1 red bell pepper, trimmed of ribs and seeds, chopped (1 1/2 cups)
4-5 carrots, scraped and sliced into thin rounds (1 1/2 cups)
1 medium yellow onion, finely chopped (1 cup)
1 teaspoon curry powder (I use Madras Curry Powder)
1 6-oz can tomato paste
1 bay leaf
3-4 cups low-salt chicken broth, divided
2 cups long grain raw long-grain white rice, rinsed
2 cups tomato puree (I use San Marzano plum tomatoes and puree them in a blender)
1 cup frozen peas, defrosted
Instructions
Preheat oven to 350ºF.
Marinate the Chicken: In a large bowl, toss chicken with 1 teaspoon of the garlic, 1 teaspoon of the ginger, 1/2 teaspoon salt, 1/2 teaspoon Aleppo or crushed red pepper, and 1/2 teaspoon black pepper. Leave to marinate for 10 minutes.
Brown the Chicken: Heat 2 tablespoons oil over medium high heat in a large heavy oven-ready pot or Dutch oven, with a lid. Add half the chicken and cook for about 3 minutes, tossing occasionally, until lightly browned but not cooked through. Transfer to a plate. Add 2 more tablespoons of oil to the pot and repeat with the rest of the chicken.
Add the Rest of the Ingredients and Bake: Heat the remaining tablespoon of oil and add the rest of the garlic and ginger, the bell pepper, carrots and onion. Cook, stirring, for 3 minutes until slightly softened and fragrant. Add the curry powder and cook, stirring, for 30 seconds or so. Add tomato paste, 1 cup of chicken broth, the remaining 1 1/2 teaspoons salt and the bay leaf. Stir to combine. Add the raw rice and stir well so all the grains are coated. Add the chicken back to the pot, along with any accumulated juices. Stir to combine with the rice and veggies. Gently stir in the tomato puree and 2 cups of chicken broth. Bring to a boil. Turn off the heat. Cover the casserole bake in the oven for 20 minutes. Remove from oven, (leave the oven on) add peas and stir through. If rice looks dry, add another half cup of broth. Cover and return to the oven for 15-20 minutes longer, or until the rice is tender.
Serve hot with a side of sautéed greens or a simple green salad.
If you're interested in knowing more about this lovely green pot, it's The Le Crueset 5-quart Round Braiser – the newest addition to my Le Crueset collection. It's a wonderful pot for cooking this type of casserole and it looks great on the table too, if you're serving family-style.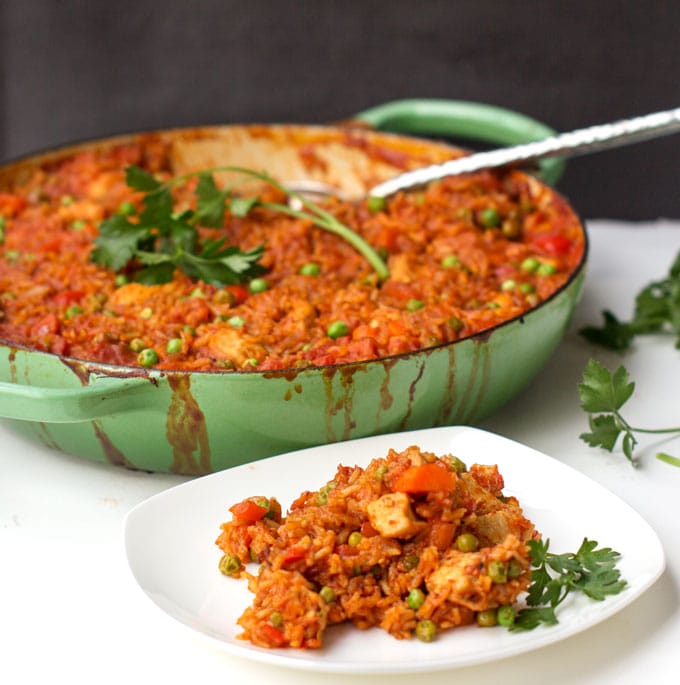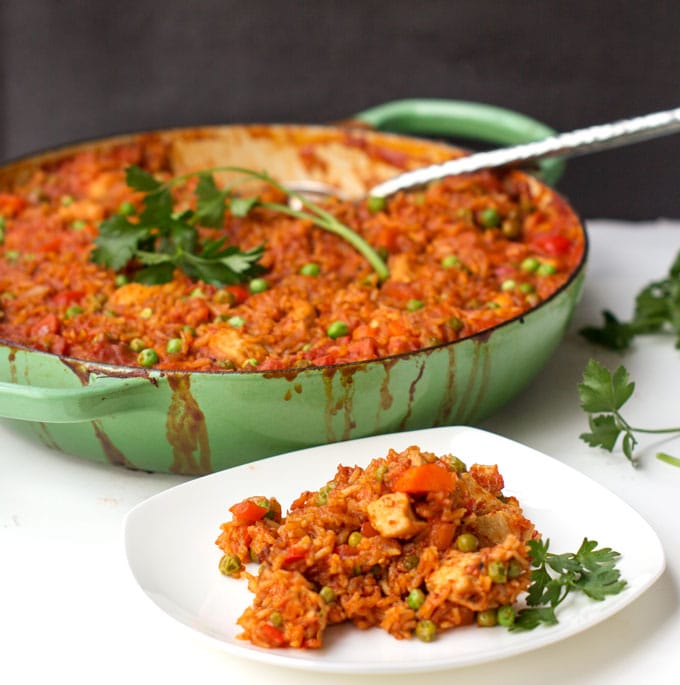 This post may contain affiliate links meaning that when you click on a link and make a purchase on Amazon, a small percentage is payed to Panning The Globe, at no cost to you. We're deeply grateful for your support of this site. Recipe adapted from The Ghana Cookbook .The Ghana Cookbook was gifted to me by Hippocrene Books. All opinions are my own, always.