Chicken Plov is a scrumptious chicken and rice casserole recipe from Uzbekistan, with lots of carrots, onions, herbs and delicious spices.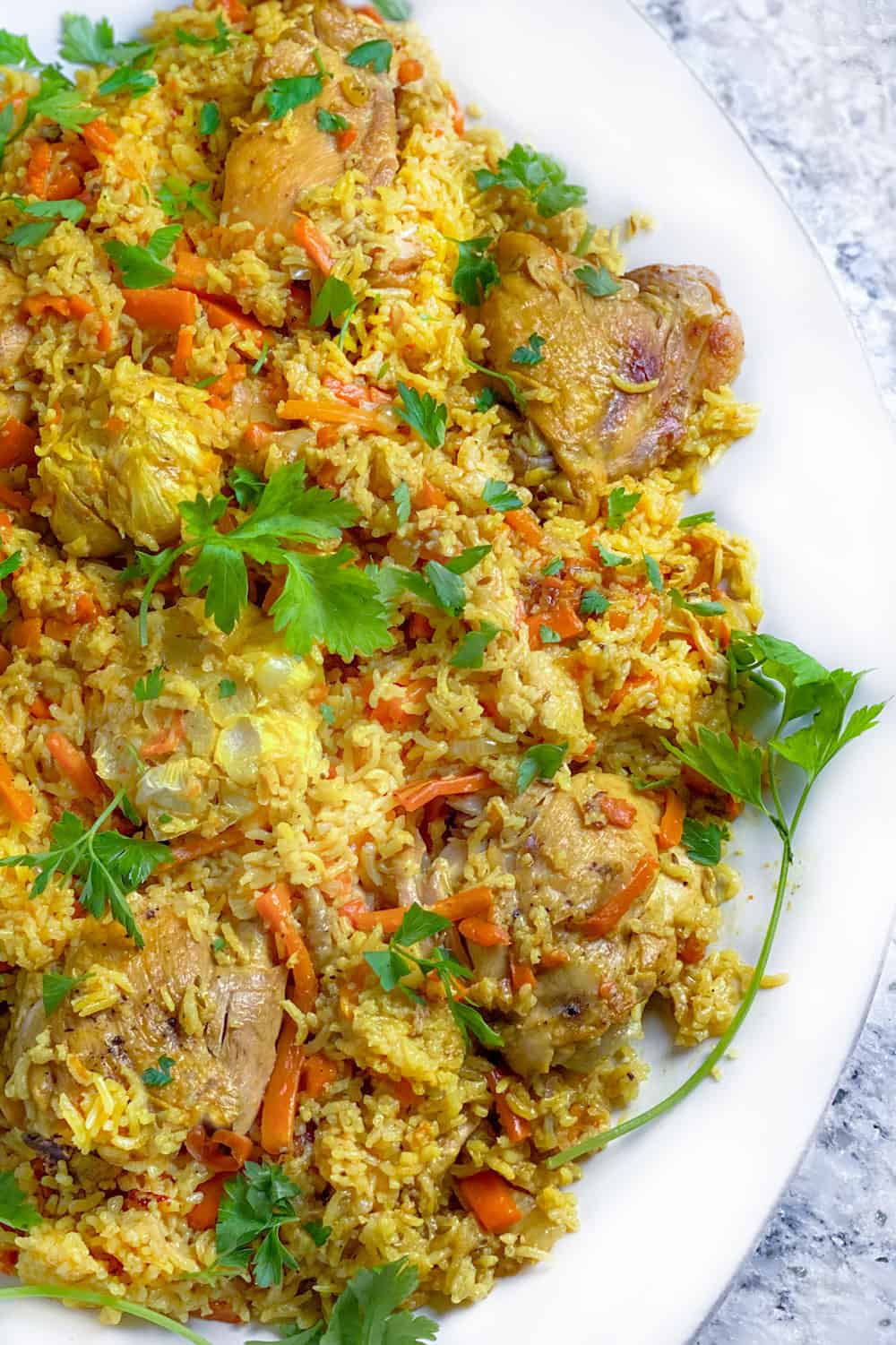 Many countries have their own take on chicken and rice casserole and I love them all. Spanish Aroz con pollo, Persian Tachin Joojeh, West African Jollof Rice with Chicken, and Indian Chicken Biryani, to name a few. I love the way the natural chicken juices flavor the rice. And while these dishes are distinctive by their unique use of vegetables and spices, each one - Chicken Plov included - is a comforting chicken and rice casserole that somehow feels familiar.
Happy Anniversary to Panning The Globe! I'm celebrating with this delicious chicken plov recipe. On September 18, 2012 I posted my first recipe on this site, which was a Lamb Plov recipe. I remember how incredibly nervous I was to hit the "publish" button. My heart was pounding. The thought of my post being out there for the world to see - my recipe, my words, my photos - filled me with excitement and anxiety. The irony of it all was that there was nobody looking. My Plov post was just sitting there in cyberspace all alone.
But not for long! My husband, kids and close friends were right on it!! And somehow, from there, the news spread.
Years later and I still get a little fluttery and nervous when I hit "publish," but just a little. And now - thanks to you - there are thousands of people visiting Panning The Globe every day! (smile!) I adore exploring the world through food. There's so much to learn, so many interesting cooking techniques to try, new flavors to experience, exotic spices, fascinating stories of how a dish came to be.
How to Make Chicken Plov
Chicken Plov is cooked in one pot on top of the stove.
12 bone-in chicken thighs are browned in a large pot and then set aside while sliced onions and carrots are added to the pot and sautéed. When the veggies are softened, the chicken is added back to the pot, along with ¾ cup of water and spices: cumin seeds, paprika, hot paprika, turmeric, salt and pepper. The pot is covered and the chicken is simmered for 15 minutes.
The pot is uncovered and 2 cups of basmati rice is sprinkled on top. (The rice has been rinsed to remove excess starch).
2 whole garlic bulbs that have had their tops sliced off are pushed down into the rice layer, exposed side first, so they can flavor the casserole as it cooks.
3 cups of boiling water are poured onto a wooden spoon that leans into the pot. This allows the water to flow gently into the pot without disturbing the rice layer and garlic bulbs.
The pot is heated to a simmer and cooks for 25-35 minutes, until the rice is tender and the chicken is cooked through.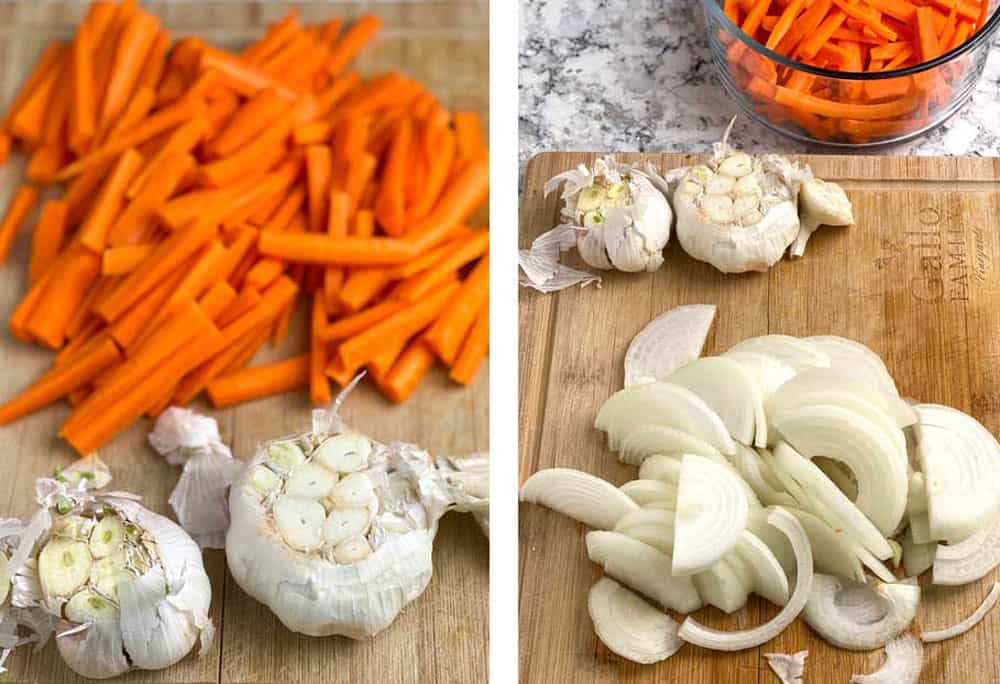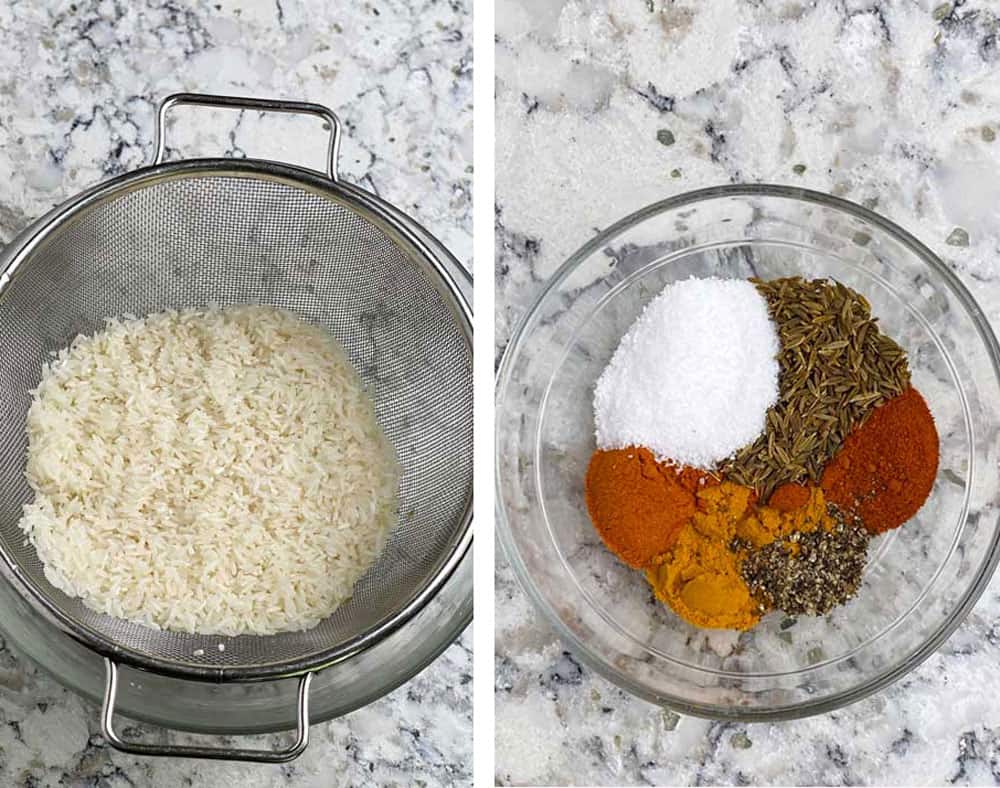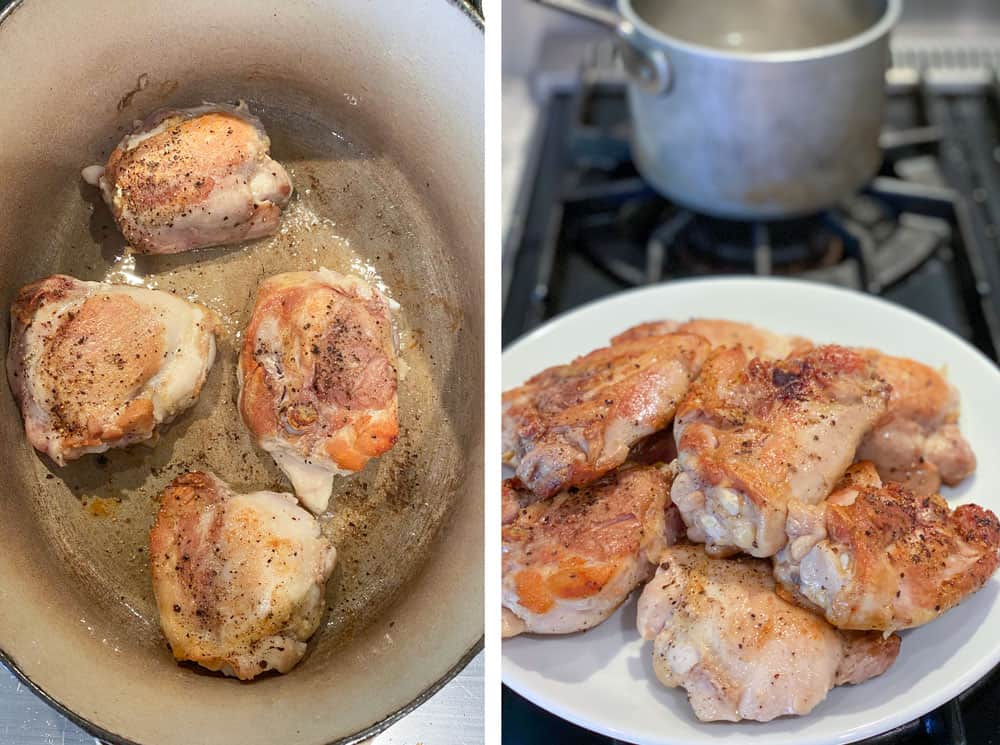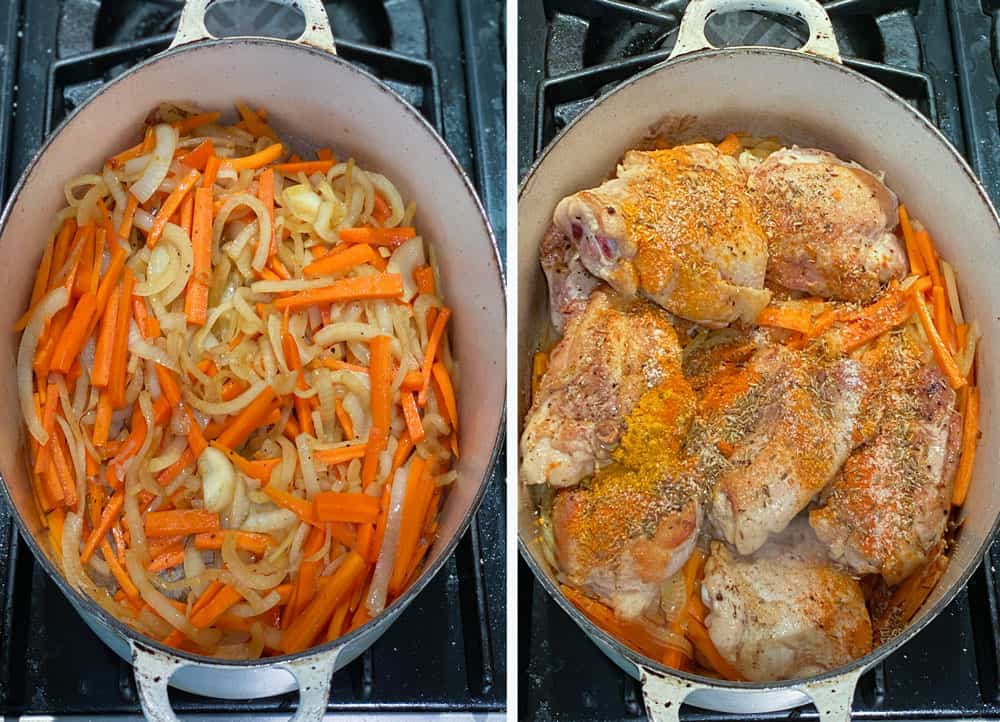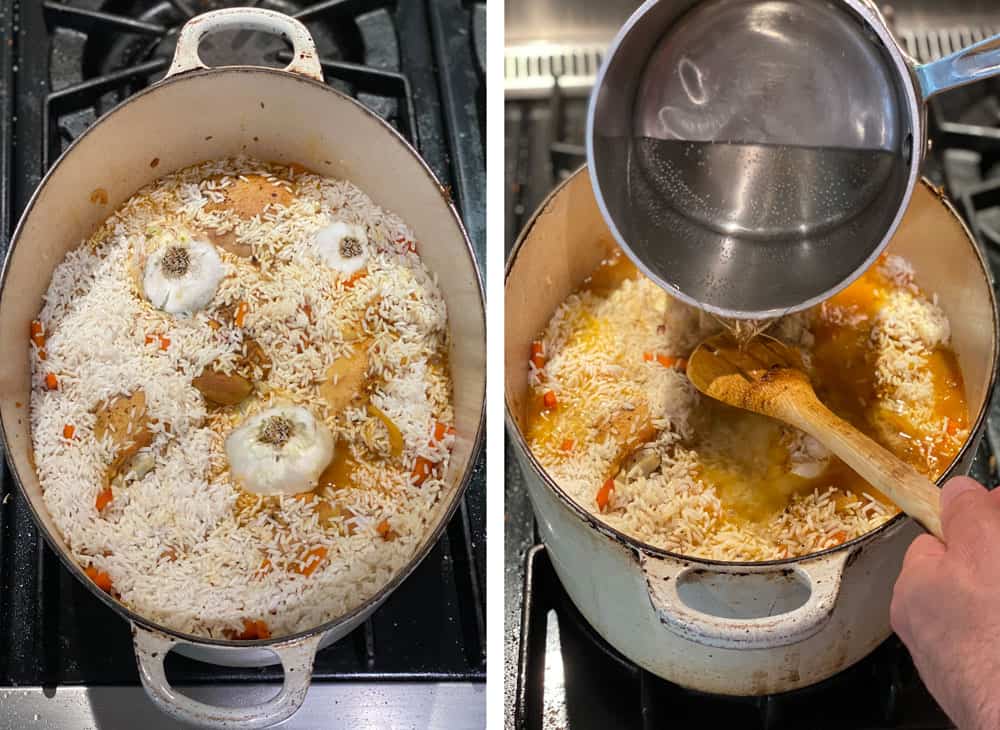 How to serve Chicken Plov
Pull out the garlic bulbs and stir rice and chicken together. Mound the Plov onto a serving platter with the garlic heads on top. Garnish with parsley sprigs. When you divide the Chicken Plov among individual plates, be sure to include several delicious garlic cloves on each plate.
A green salad with a bright citrusy dressing is delicious alongside Chicken Plov.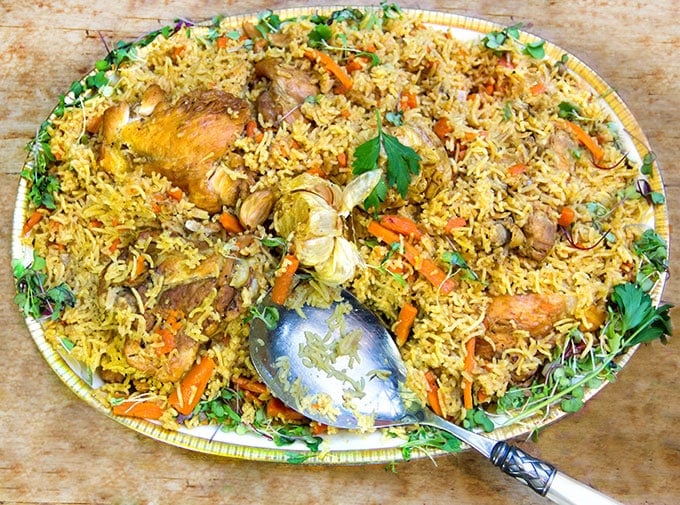 I love sitting down with my family to a giant platter of Uzbek Plov for dinner. We all smile at the sight of it - a yellow mountain of chicken and rice with whole garlic heads on top. We love saying the word "Plov". And then we dig in and enjoy the interesting spices and flavors from the exotic far-away land of Uzbekistan where the dish originated.
I hope I've done a good job of spreading my excitement for Global cuisine to you. I look forward to the next three years and beyond. I'm incredibly grateful to you and thrilled that you are here, reading, cooking, commenting and making this endeavor worthwhile. Thank you!
Here's the Chicken Plov Recipe. If you try this recipe I hope you'll come back to leave a star rating and a comment. I'd love to know what you think!
Print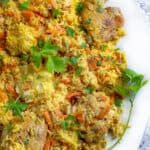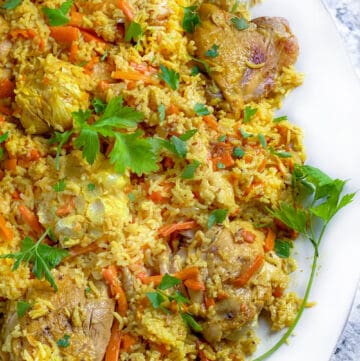 Chicken Plov Recipe
---
Author:

Lisa

Total Time:

1 hour 25 mins

Yield:

6

1

x
Description
A comforting casserole of chicken and rice with carrots, onions, herbs and spices.
---
2

small heads garlic

2 cups

Basmati rice, rinsed several times and drained (see notes below)

4

-

5

tablespoons vegetable oil, divided

12

bone-in chicken thighs, skin removed (or leave the skin on for more flavor, if you prefer)

1 tablespoon

kosher salt, divided
Fresh ground black pepper

1

pound carrots, peeled and cut into matchsticks or chopped (

5

medium carrots)

2

large onions, peeled, halved and thinly sliced

1 tablespoon

cumin seeds

½ teaspoon

paprika

½ teaspoon

Hungarian hot paprika

½ teaspoon

turmeric (for color)

3 cups

boiling water
Parsley sprigs to garnish, optional
---
Instructions
Slice off about ¾ of an inch from the top of each garlic head, exposing a cross section of the inner cloves. Set aside.
Season chicken with 1 teaspoon salt and several grinds of pepper. Heat 2 tablespoon of oil over medium heat in a Dutch Oven or heavy pot with a lid. Brown chicken in batches (4-5 thighs at a time) for 3-4 minutes per side, adding more oil as needed. Set thighs on a plate. Don't clean pot as you'll continue to use it.
Add a tablespoon of oil to the pot if it looks dry. Add carrots and onions. Cook, stirring occasionally, for 10 minutes, until the vegetables have softened.
Return chicken to the pot along with any accumulated juices. Add the next 6 ingredients: cumin seeds (1 tablespoon), paprika (½ teaspoon), hot paprika (½ teaspoon), turmeric (½ teaspoon), 2 teaspoons salt and ¼ teaspoon pepper. Stir to combine and cook for 1 minute or two, stirring, until fragrant. Add ¾ cup water. Bring to a simmer. Cover pot and cook gently for 15 minutes.
Uncover the pot and, using the back of a wooden spoon, flatten the chicken and vegetables into the bottom of the pot. Sprinkle the rice into the pot, creating a flat even layer over the chicken and vegetables, with the help of the wooden spoon.
Push the garlic bulbs, exposed side first, down through the rice till only their bottoms are exposed.
Pour the 3 cups of boiling water slowly over the handle of the wooden spoon, letting it fall gently into the pot so as not to disturb the rice layer on top. Poke a few holes in the rice layer with the thin handle of the wooden spoon. Cover the pot, and simmer for 30-35 minutes, or until the rice is tender and the chicken is cooked through.
Remove from heat. Pull out the garlic bulbs and stir rice and chicken together. Mound the Plov onto a serving platter with the garlic heads on top. Garnish with parsley sprigs.
Notes
How to rinse rice: put the rice in a mesh colander. Put the colander into a large bowl and fill the bowl with water. Swish the rice around with your hand and you will see the water get cloudy. Lift the colander and pour out the cloudy water. Repeat the process two or three times, until the water remains fairly clear when you swish the rice.
Prep Time:

30 mins

Cook Time:

55 mins

Category:

Dinner

Method:

Simmer

Cuisine:

Uzbekistan
Keywords: Chicken and rice casserole with carrots and spices
This recipe first appeared on Panning The Globe on September 18, 2015. The post was updated on September 9, 2020 with new photos and additional information in the written post, Same delicious recipe!