This Tex-Mex tortilla casserole is a delicious, quick and easy one-pot dinner.  I have to share it with you because everyone needs a recipe like this in their repertoire.
Cooking has been an enjoyable creative outlet for as long as I can remember. Elaborate recipes with lots of ingredients are generally a fun adventure for me, with the promise of something great at the end.  I hadn't ever thought about the concept of quick and easy meals before I had kids.  In fact, when my first son was born, I had every intention of making elaborate gourmet dinners every night. I can laugh now, looking back at myself singing and dancing around the kitchen with the baby strapped to my back, while trying to chop and sauté – Raffi songs blasting on the stereo. It was stressful and exhausting, and sometimes I would end up with an unhappy baby and a half-cooked dinner.
This Tex-Mex tortilla casserole was my first ever "quick, easy one-pot wonder" recipe. It was given to me 21 years ago by my neighbor Nava Atlas, who is a vegetarian cookbook author. It's a perfect weeknight dinner that can be on the table in half an hour, start to finish.  Move over Rachel Ray!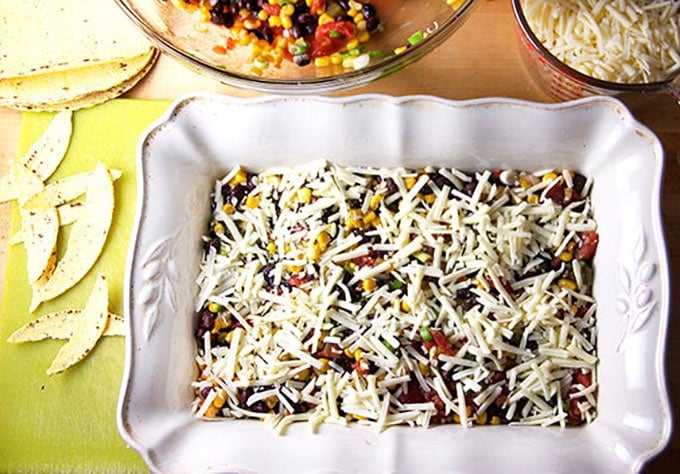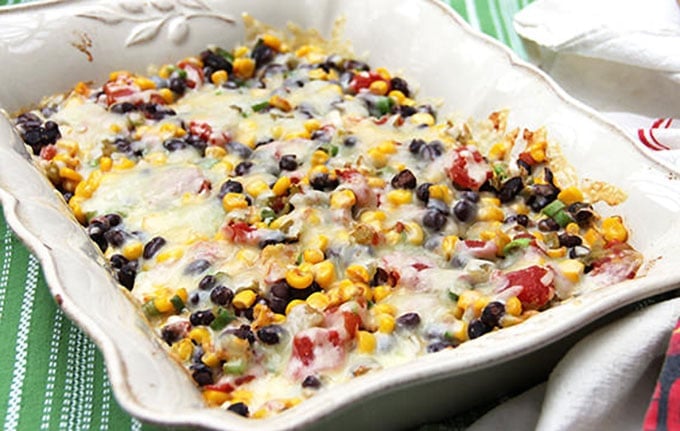 I've learned over the years that taking the easy way out doesn't mean you can't enjoy a good tasty meal.
TEX-MEX TORTILLA CASSEROLE
Quick, easy, healthy and delicious vegetarian main course
Recipe type:
Quick and easy weeknight dinner
Ingredients
1 15-ounce can black beans, drained and rinsed
1 14-ounce can stewed or diced tomatoes
1 4-ounce can chopped mild green chilies
2 cups frozen corn kernels, defrosted (10-ounce bag)
I bunch scallions, chopped (set aside a handful to sprinkle on top)
1 teaspoon chili powder
1 teaspoon ground cumin
½ teaspoon dried oregano
½ teaspoon salt
12 corn tortillas
2 cups shredded Monterey Jack cheese or Cheddar cheese
Toppings: Salsa, Sour cream or yogurt, scallions
Instructions
Preheat oven to 400º F. Combine beans, tomatoes, chilies, corn, scallions, chili powder, cumin, oregano and salt in a large bowl.
Lightly oil a 2-3 quart casserole dish. Line the bottom with 6 tortillas, allowing them to overlap in the middle. You can cut off some of the round edges so the tortillas fit against the edge of your casserole dish. Scoop on half the bean mixture. Sprinkle half the cheese on top. Add another layer of tortillas; the rest of the bean mixture. The rest of the cheese.
Bake in the center of the oven for 12-15 minutes, until the cheese is bubbling.
Cut into squares and serve with your favorite salsa and sour cream or yogurt to spoon on top.