Homemade hummus is so much better than store bought. You can taste the fresh bright flavors of chickpeas, tahini, lemon and garlic. And the recipe is easy. 15 minutes of prep and you'll be dipping into the most delicious hummus!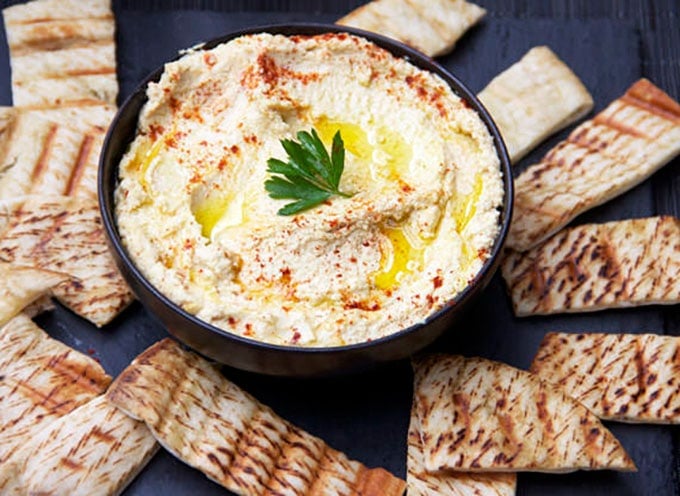 "Hummus" is an Arabic word meaning "chickpeas."  It is extremely popular fare throughout the Middle East. The recipe consists of cooked chickpeas blended with tahini (sesame paste), lemon juice, garlic and salt. I occasionally buy a container of hummus for my kids to snack on after school. It's healthy – high in protein and fiber and low in fat. The fat is the good kind that, with heart-healthy benefits. I've always liked hummus but I can't say I was ever excited enough about it to warrant serving it at a dinner party…until now. 
Homemade hummus is something special – fresh tasting and SO delicious. It's also really easy to make if you have a food processor. All you need is two cans of chickpeas, lemon juice, tahini (sesame paste), garlic, olive oil and salt.
Hummus is a popular dish throughout the Middle East. Israel and Lebanon have long engaged in a battle over who rightfully "owns" hummus. In 2010 Lebanon got the upper hand when they filled a satellite dish with almost 9,000 pounds of hummus, stealing the Guinness World record from the Israelis.
I haven't been to Lebanon to try their hummus, but if my research is correct, I've gotten fairly close. Now I know what all the fuss is about. It's creamy, garlicky, and has a fresh hint of lemon. With a drizzle of olive oil and a sprinkle of paprika and warm toasted pitas, it is a beautiful, healthy and delicious dish, definitely worthy of serving to guests!
If you want to take your hummus to the next level, try this Turkish hot layered hummus recipe.
Here's the recipe for homemade hummus. If you make this, I hope you'll come back to leave a comment and let me know what you think!
HUMMUS
Fresh creamy homemade hummus
Author:
Panning The Globe
Ingredients
2 15-ounce cans chickpeas, drained and rinsed or 3 cups of cooked chickpeas, drained (soak 1 cup dried chickpeas overnight and cook per package directions, making sure to add 1 teaspoon baking soda to cooking water to soften the chickpeas)
⅓ cup tahini (sesame paste)
4 tablespoons fresh lemon juice (2 lemons)
2 large cloves garlic, peeled and cut into quarters
¼ cup cold water
1¼ teaspoons kosher salt
2 tablespoons good quality olive oil plus more for drizzling on top
Paprika for sprinkling on top
Optional toppings: a handful of cooked chickpeas or a handful of toasted pine nuts or a tablespoon of chopped parsley
Instructions
Put chickpeas, tahini, lemon juice, garlic, water and salt into the bowl of a food processor. Process for 30 seconds. Scrape down the sides of the bowl. Process 30 seconds longer. Add 2 tablespoons oil and process for another minute or so, until smooth.
Put hummus into a bowl. Drizzle generously with olive and sprinkle with paprika.
Serve with grilled or toasted pita. (I like to brush pita with olive oil and heat on a grill pan or on the barbecue grill. Then slice with a pizza cutter)
Enjoy!