Cauliflower shawarma is the vegetarian approach to the irresistible, hugely popular Middle Eastern street food called shawarma. You can make this incredible vegetarian dish in your oven or on your grill. Either way you cook it, it's likely to become a summer favorite!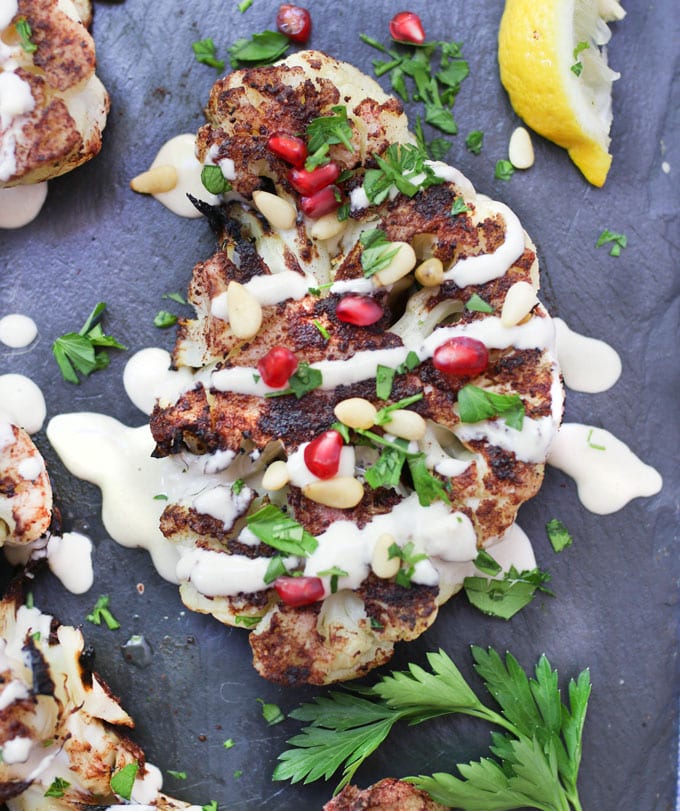 WHAT IS SHAWARMA?
Shawarma is [usually] a meat-centric dish of beef, lamb or chicken cooked on a rotisserie, sometimes grilled, shaved onto a plate or stuffed into a wrap and served with a variety of accompaniments such as tahini, hummus, herbs and cucumbers.
I was blown away when I first encountered cauliflower shawarma at a London restaurant a few blocks from my flat. The Berber & Q Shawarma Bar is one of those places that you want to go back to again and again to eat the same exact thing because it's THAT good!
Intensely flavorful smoky cumin-scented grilled meats, vegetables and dips are served with technicolor toppings, delicious drizzles of tahini, pomegranate molasses, olive oil and lemon, sprinkles of pomegranate seeds, spices and fresh herbs. Their signature dish and the one that I have come to adore the most is their Cauliflower Shawarma. The recipe is in their cookbook Berber & Q.
I've made cauliflower shawarma many times over the summer, testing and retesting the recipe and inviting my family and friends to weigh in.
The first couple of times I made it exactly as the cookbook suggested, coating a whole cauliflower with shawarma-spiced butter and grilling it.
It's visually gorgeous cooked this way, big and bold and dripping with tahini sauce, like frosting on a cake. But my taste testers and I felt that all the great flavor was on the outside only. We all wanted more delicious shawarma flavor throughout.
After lots of trial and error, my favorite way to make this dish is to slice the cauliflower into thick steaks before hmearing it with shawarma-spiced butter and finishing on the grill or in the oven. This version got all thumbs up from my testers.
HOW TO MAKE CAULIFLOWER SHAWARMA
I'll explain the pros and cons of making it in the grill vs in the oven
The first step is to boil a whole cauliflower for about 7 minutes. The goal here is to pre-cook the cauliflower to the point where it can be sliced and seasoned and only needs a few minutes of final cooking in the oven or on the grill.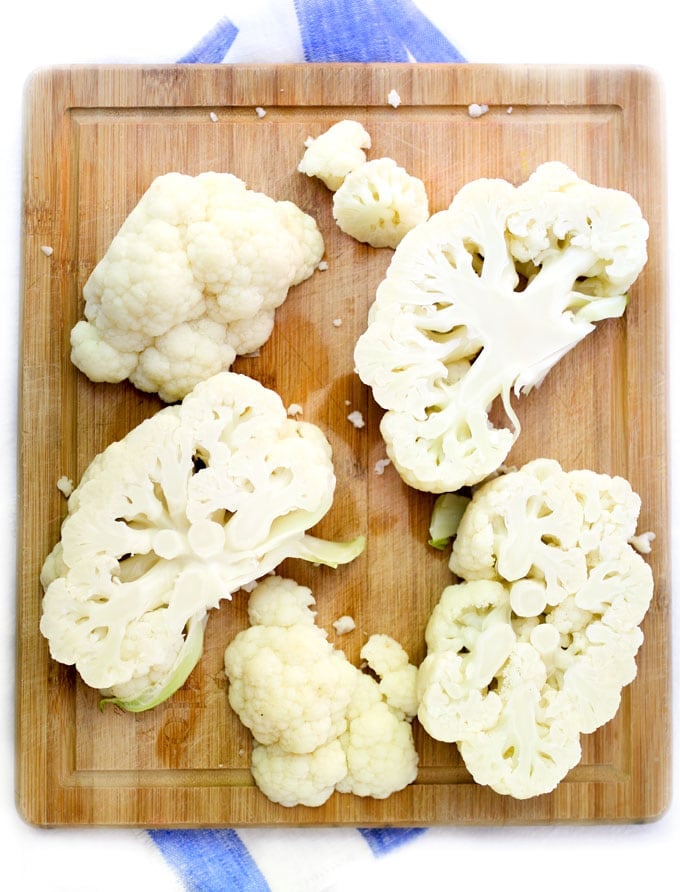 The way you get all the great flavor into the cauliflower is by coating it in shawarma spiced butter. This delicious spiced butter consists of softened butter mixed with cinnamon, sumac, cumin, allspice, fresh garlic, salt and a pinch each of nutmeg and cardamom.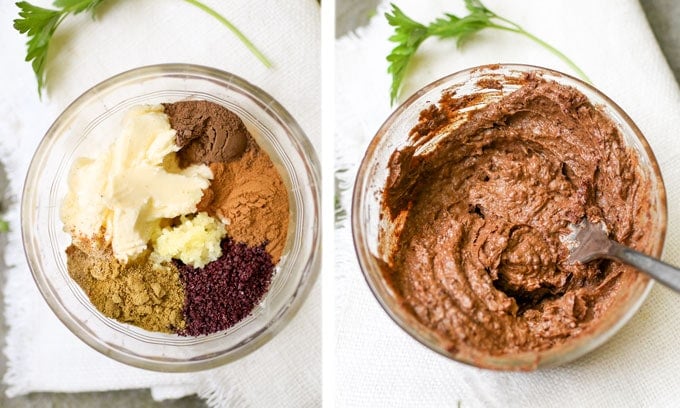 Once you pre-cook the cauliflower, slice it and coat it with shawarma spiced butter.
Now it's time to cook the cauliflower shawarma with high heat, to toast and blacken the spices. I tested this recipe in the oven and on the barbecue. The oven method is a bit easier to control because the cauliflower sits on a baking sheet. With the grill you have to be a bit careful or risk losing a stray cauliflower floret or two through the grates. But both methods worked well, yielding delicious results.
OVEN METHOD
Oil a rimmed baking sheet and arrange the cauliflower steaks on top. Brush the steaks generously on one side with the shawarma spiced butter and pop the baking sheet in the oven close to the grill/broiler element.
Cook for a few minutes until the spices start to blacken. Flip. Brush the other side with spiced butter and continue to cook for a few minutes longer, until the cauliflower shawarma is golden brown, blackened in spots, and heated through.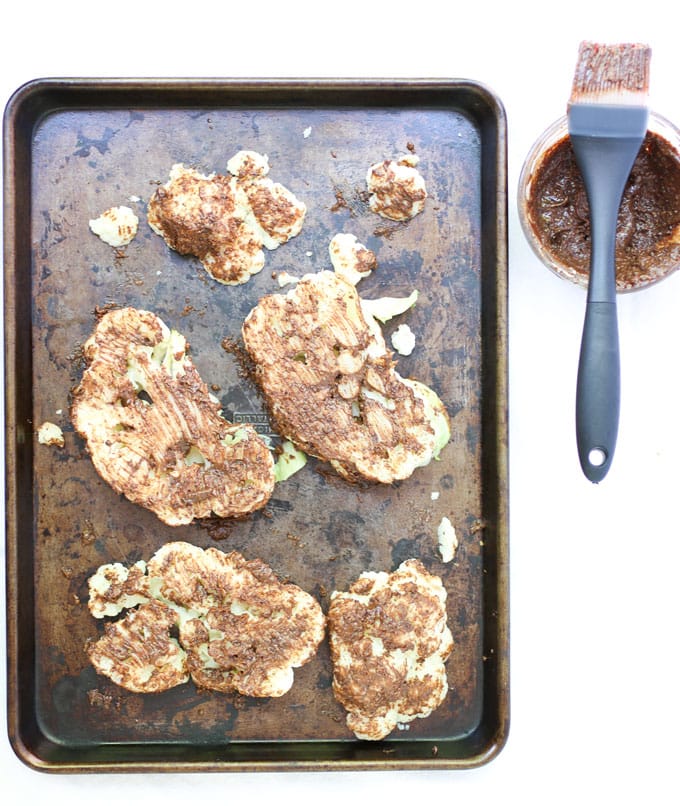 BARBECUE METHOD
Transfer the cauliflower steaks to a hot grill, spiced-side down.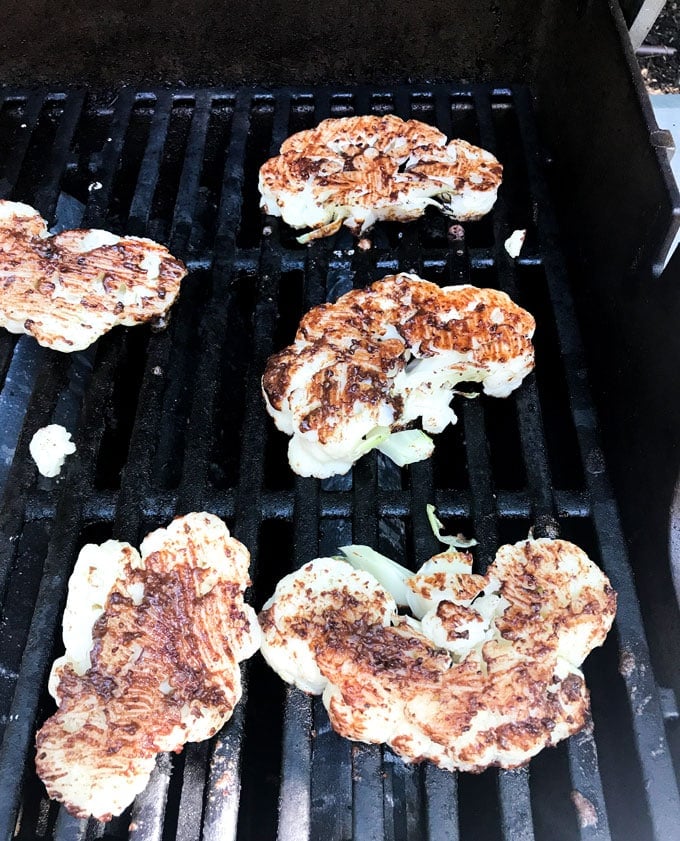 Brush the tops generously with spiced butter and grill for a few minutes on each side until golden brown and blackened in spots.
Cauliflower shawarma is best served hot.
Top the shawarma with drizzles of lemony tahini sauce and sprinkles of toasted pine nuts, pomegranate seeds and parsley. A drizzle of pomegranate molasses and olive oil and a squeeze of lemon juice is good too.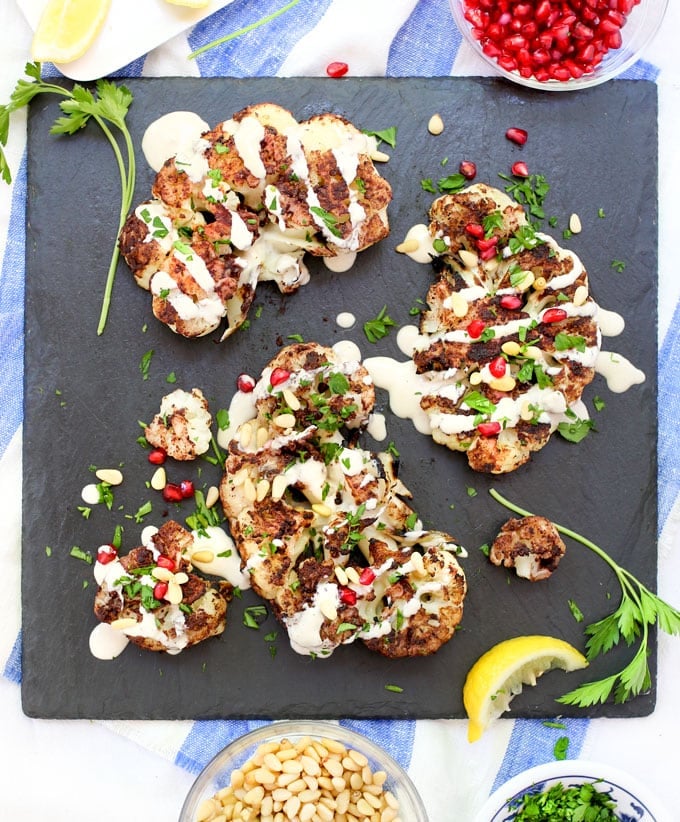 PREP AHEAD
The spiced butter and tahini sauce can be made up to one week ahead of time.
You can pre cook the cauliflower several hours ahead.
Bring the butter and cauliflower to room temperature and proceed with slicing, spicing and finishing on the barbecue or in the oven.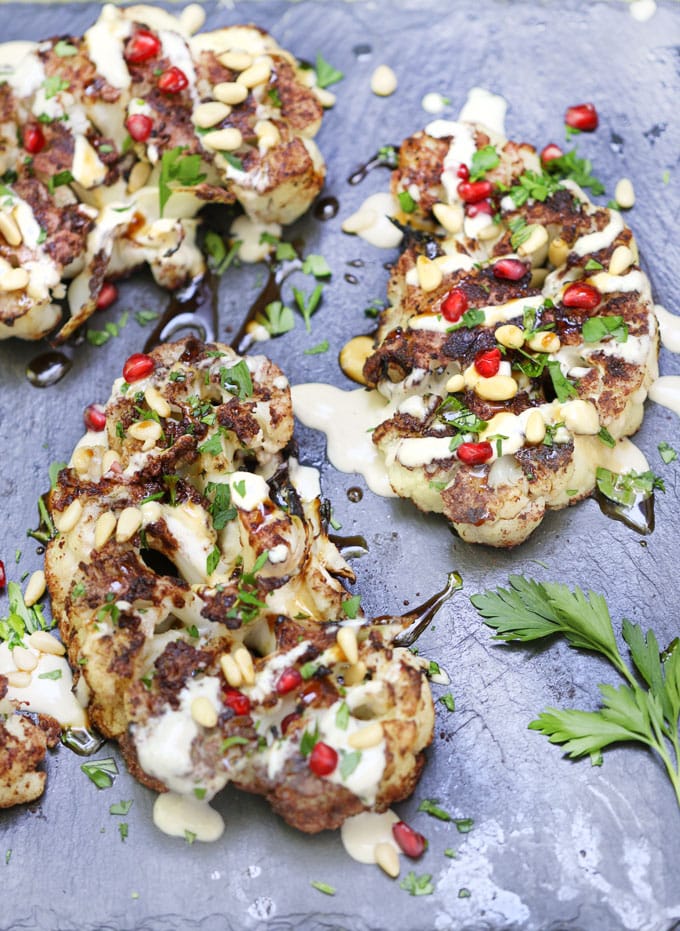 SERVING SUGGESTIONS
At Berber & Q they serve cauliflower shawarma in a bowl or in a wrap. I usually order the cauliflower shawarma bowl which comes with tahini sauce and toppings plus chopped tomatoes, fresh herbs, Middle Eastern Mejaderah rice with lentils, and a boiled egg.
This Mediterranean chickpea salad would be delicious with cauliflower shawarma. Other delicious sides with this dish are Baba Ganoush, hummus Moroccan Raw Carrot Salad, or this Mediterranean Rice Salad. And here's a delicious Chicken Shawarma recipe, in case you're interested.
Here's the recipe for cauliflower shawarma. If you try this recipe I hope you'll come back to leave a rating and a comment. I'd love to know what you think.
Print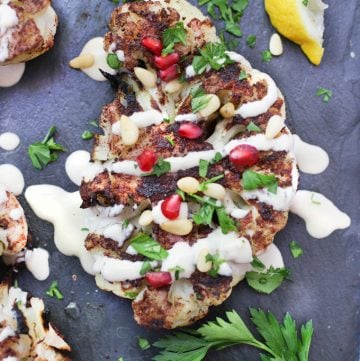 Cauliflower Shawarma with Lemon Tahini Sauce
---
Author:

Lisa

Total Time:

40 minutes

Yield:

4

servings

1

x
Description
Cauliflower Shawarma with lemon tahini sauce. An easy, delicious, vegetarian shawarma recipe for oven or barbecue. Serve in a bowl or wrap, with fresh vegetables, an chopped salad and hummus.
---
1

whole large cauliflower
Kosher salt

FOR THE SHAWARMA SPICED BUTTER

3 tablespoons

unsalted butter, softened to room temperature

1

garlic clove, squeezed through a garlic press or finely minced

1 tablespoon

ground cinnamon

1 tablespoon

ground sumac

1 ½ teaspoon

ground cumin

½ teaspoon

allspice
a pinch or two of ground nutmeg
a pinch or two of ground cardamom

FOR THE LEMON TAHINI SAUCE

½

cup

tahini

3 tablespoons

fresh lemon juice

1

large garlic clove, squeezed through a garlic press or finely minced

½ teaspoons

kosher salt

⅓

cup

ice water
FOR THE GARNISH

2 tablespoons

pomegranate seeds

1

-

2

tablespoon toasted pine nuts

1

-

2

tablespoons chopped parsley leaves

1

-

2

tablespoons pomegranate molasses (optional)

1

-

2

tablespoons extra virgin olive oil (optional)
lemon wedges, optional
---
Instructions
Make the shawarma-spiced butter by combining the softened butter, garlic and spices in a bowl. Whip with a fork until well-mixed and uniformly colored. Set aside or store in the fridge, covered, for up to two weeks. Bring to room temp before using.
Trim off the outer cauliflower leaves. Place the cauliflower in a large pot and add cold water to cover. Stir in a teaspoon or two of salt. Bring to a boil over a high heat. Once it comes to a boil, turn the heat down to a gentle boil and continue to cook for 7 minutes or until you can pierce it with a knife if you push firmly. The goal is to partially cook the cauliflower before slicing, spicing and finishing it in the oven or on the grill. Transfer the cauliflower to a colander set over a plate to drip dry and cool.
While the cauliflower is cooking and cooling, prepare the tahini sauce: Whisk tahini, lemon, garlic and salt and gradually add ice-cold water, a tablespoon at a time while whisking. The tahini will be lumpy and thick at first but as you add liquid and continue to whisk it will gradually turn into a smooth sauce. Thin to your desired consistency with water and set aside. Tahini sauce can be made up to a week ahead. Keep covered in the fridge.
To Finish in the Oven: Heat the oven to high: broil/grill. Oil a rimmed baking sheet. When the cauliflower is cool enough to handle dry, slice it into ¾-inch thick "steaks" and set them on the baking sheet. Brush slices generously with half the spiced butter. Bake on the top shelf of the oven, right under the heating element, for 3-4 minutes or until the tops are starting to blacken in spots. Flip the steaks and brush the other side with remaining butter. Cook for 3-4 minutes longer until golden brown and blackened in spots. T
To Finish on the Grill: When the cauliflower is cool enough to handle and dry, slice it into ¾-inch thick "steaks." Set them on a tray and brush the tops generously with half the spiced butter. Set them on the grill spiced-side down. Brush the other side with remaining butter. Grill them for 3-4 minutes per side, until golden brown and blackened in spots.
Serve hot, drizzled generously with tahini sauce and sprinkled with pine nuts, chopped parsley and pomegranate seeds. Add a drizzle of olive oil and pomegranate molasses and a squeeze of lemon juice, if you like. Season with a little sea salt, if you like.
Prep Time:

20 mins

Cook Time:

20 mins

Category:

Vegetarian Main Dish

Method:

oven or grill

Cuisine:

Middle Eastern
Keywords: cauliflower, middle eastern, mediterranean