Ever wonder how to toast pine nuts so they come out golden brown and perfect every time? Here are two easy methods, one using the oven, the other a skillet. So much flavor is packed into each little toasted nut - they will take your recipes to the next level of deliciousness.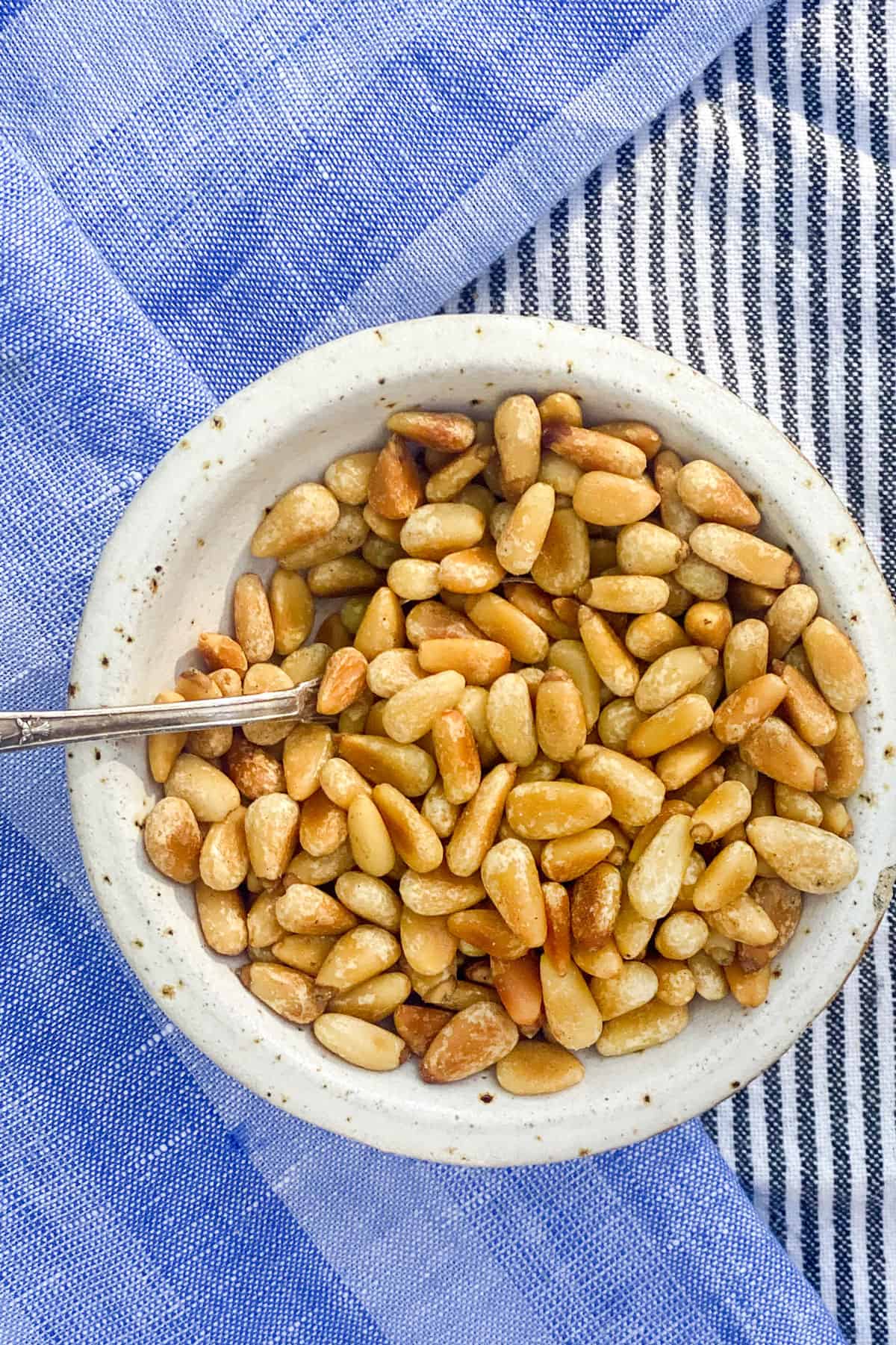 Toasted Pine Nuts are a treasured ingredient in many Italian and Middle Eastern dishes, most often used for making pesto or as a garnish, sprinkled over colorful salads, roast chicken, hummus and shawarma, for a crowning layer of delicious flavor.
Where Do Pine Nuts Come From?
I hadn't originally planned on getting into the details of what pine nuts are or where they come from, but it's so interesting that I had to share.
The first thing I discovered in my research, which totally surprised me, is that pine nuts are the seeds of pine trees and they grow inside pine cones. I'll never look at pine cones the same way now that I know that each little scale on a pine cone contains one or two little pine seeds, also called pine kernels, pignoli nuts, or pine nuts.
In order to get pine nuts out of pine cones, the scales of the pinecone have to be opened, which can be difficult. But that's not all. Once the scales are opened, each pine nut is encased in a hard shell, yet another layer of armor to get through in order to reach the tiny delicious morsel within.
If you're interested, here's how to forage pine nuts and how to harvest your own pine nuts. Give it a try sometime and you'll understand why pine nuts are so expensive. It's not easy. Buying them at the store and toasting them is the easy part!
How to toast pine nuts in the oven
When you toast pine nuts in the oven at a low temperature, you can count on getting evenly colored, golden toasted pine nuts with almost no effort other than turn on the oven, pour the nuts out onto a rimmed baking sheet, pop them into the oven, and check on them a few times.
Because the heat is low and evenly distributed, you don't have to worry that the pine nuts will suddenly burn. Toasting pine nuts in the oven is the easiest and most reliable method.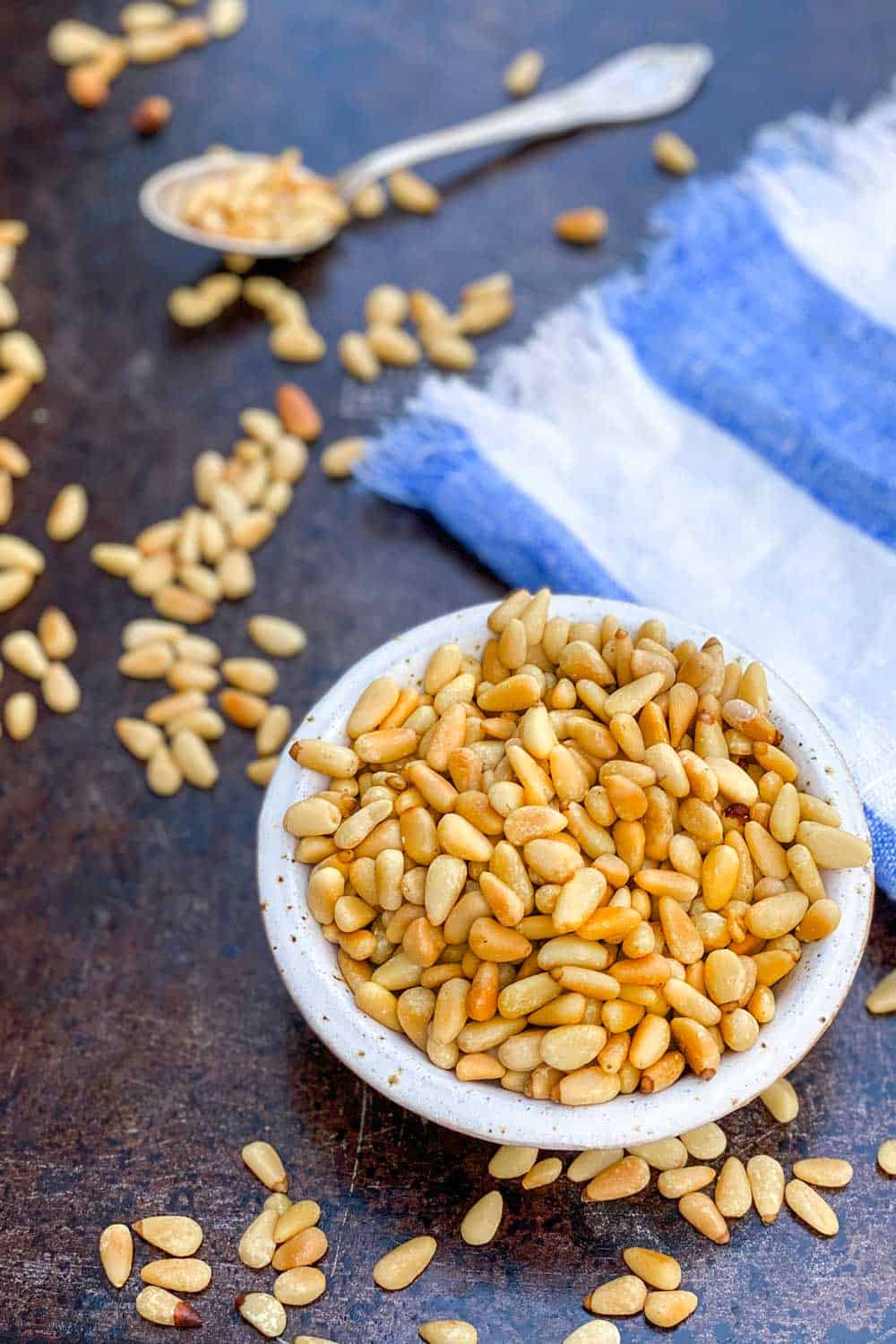 Hot to toast pine nuts in a skillet
Toasting pine nuts in a skillet is the quickest method. It takes less than 5 minutes but requires constant tossing and stirring to ensure the nuts toast evenly and don't burn. Pine nuts toasted in a skillet develop a rich array of color, with light areas and darker browned spots. If you don't mind standing over a skillet for 5 minutes, this is a great way to toast pine nuts.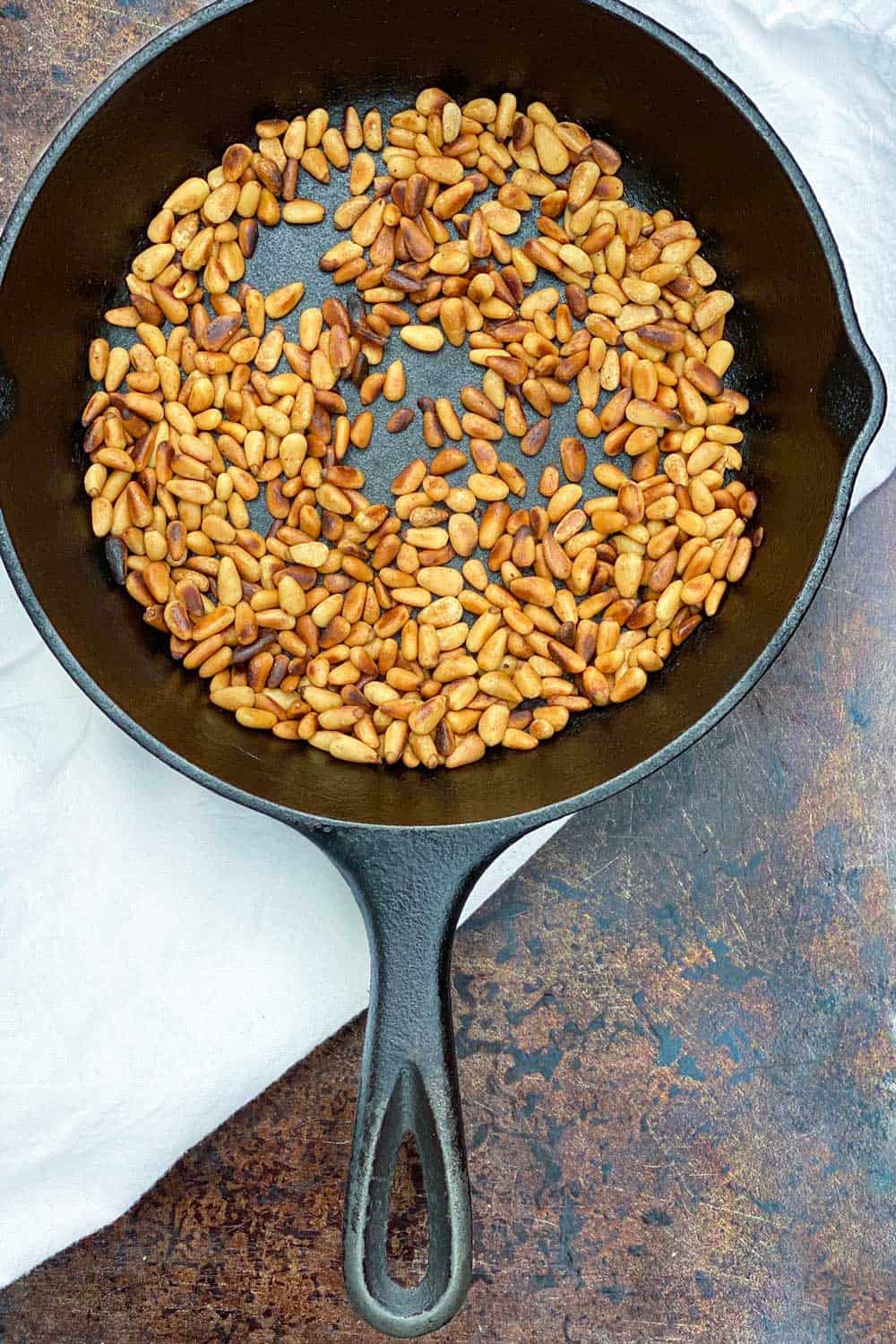 Though it's relatively easy to toast pine nuts, sometimes it may feel like a laborious task, especially on the heels of cooking an elaborate meal. But it's so worth the effort. Raw pine nuts have a pleasant mildly sweet flavor but once they're tossed in a hot skillet or spread out on a baking sheet and roasted, they become golden brown and aromatic, with rich heavenly toasted nut flavors, and they will enhance whatever dish they are sprinkled upon.
To avoid the danger of cooking fatigue and the temptation to toss raw, bland pine nuts over your cooking creations (I've done that more than once!), be sure to toast the pine nuts before cooking the meal - hours, days or even weeks before. Toasted pine nuts last for a long time if you store them correctly.
How to store toasted pine nuts
Don't store toasted pine nuts at room temperature. Pine nuts contain a high amount of (healthy) unsaturated fat, which is prone to going rancid when exposed to oxygen, light and heat. If you plan to keep them in your pantry, make sure they're in a sealed bag with all the air squeezed out, and kept in a cool dark place. But it's much safer to store them in the fridge or freezer.
Store toasted pine nuts in an airtight container in the fridge for up to a month. Let them come to room temperature and use them in your recipes. They will be delicious.
Store toasted pine nuts in an airtight container in the freezer for up to 3 months. They freeze really well. When you're ready to enjoy them, let them defrost at room temperature and they will be just as crunchy and delicious as they were before you froze them.
Here's how to toast pine nuts. If you try either of these methods, I hope you'll come back to leave a star rating and a comment. I'd love to know what you think.
Print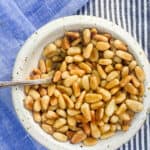 How To Toast Pine Nuts: Two Easy Methods
---
Author:

Lisa

Total Time:

11 minutes

Yield:

1 tablespoon

per serving

1

x
Description
Here are two easy methods for toasting pine nuts to golden brown perfection, one using a baking sheet in the oven, the other using a skillet on top of the stove.
---
1

cup pine nuts (16 ounces), or any amount up to 1 cup for the skillet method, or up to 2

cups

(32 ounces) if using the oven method.
---
Instructions
THE OVEN METHOD:
Place an oven shelf in the center position and Preheat the oven to 350ºF.
Pour pine nuts onto a rimmed baking sheet and cook them for 8-12 minutes, tossing and checking for doneness after four minutes and every 2 minutes thereafter, until they are as golden brown as you want them to be.
Remove them from the oven and transfer them to a bowl or they will continue to brown from the heat of the baking sheet. When cool, store them in an airtight container until you're ready to use them. (see notes below on how to store pine nuts).
THE SKILLET METHOD:
Preheat a large heavy dry skillet (preferably cast iron) over medium heat for 1 minute.
Pour the pine nuts into the dry skillet (don't add oil or butter) and toast them, stirring often, with a wooden spoon. After a minute and a half or two, they will look oily and start to get some browned spots. At this point turn the heat down to medium low and keep a very close eye on them, stirring them constantly.
As soon as all the nuts in the pan have some deep golden brown spots, turn off the heat and transfer them to a plate, so they don't continue to cook from the heat of the skillet. When cool, transfer them to an airtight container and store them until you're ready to use them. (see notes below on how to store pine nuts).
Notes
How to store toasted pine nuts
For best results, store toasted pine nuts in an air-tight container either in the fridge or freezer. They will keep for a month in the fridge and up to 3 months in the freezer.
Prep Time:

1 minute

Cook Time:

8 minutes

Category:

Garnish

Method:

Toast

Cuisine:

Middle Eastern
Keywords: toasted pine nuts, how to toast pine nuts