These super healthy, earthy, delicious, gluten free seeded crackers are great for snacks or for an appetizer with goat cheese, hummus, smoked fish or almost any other topping.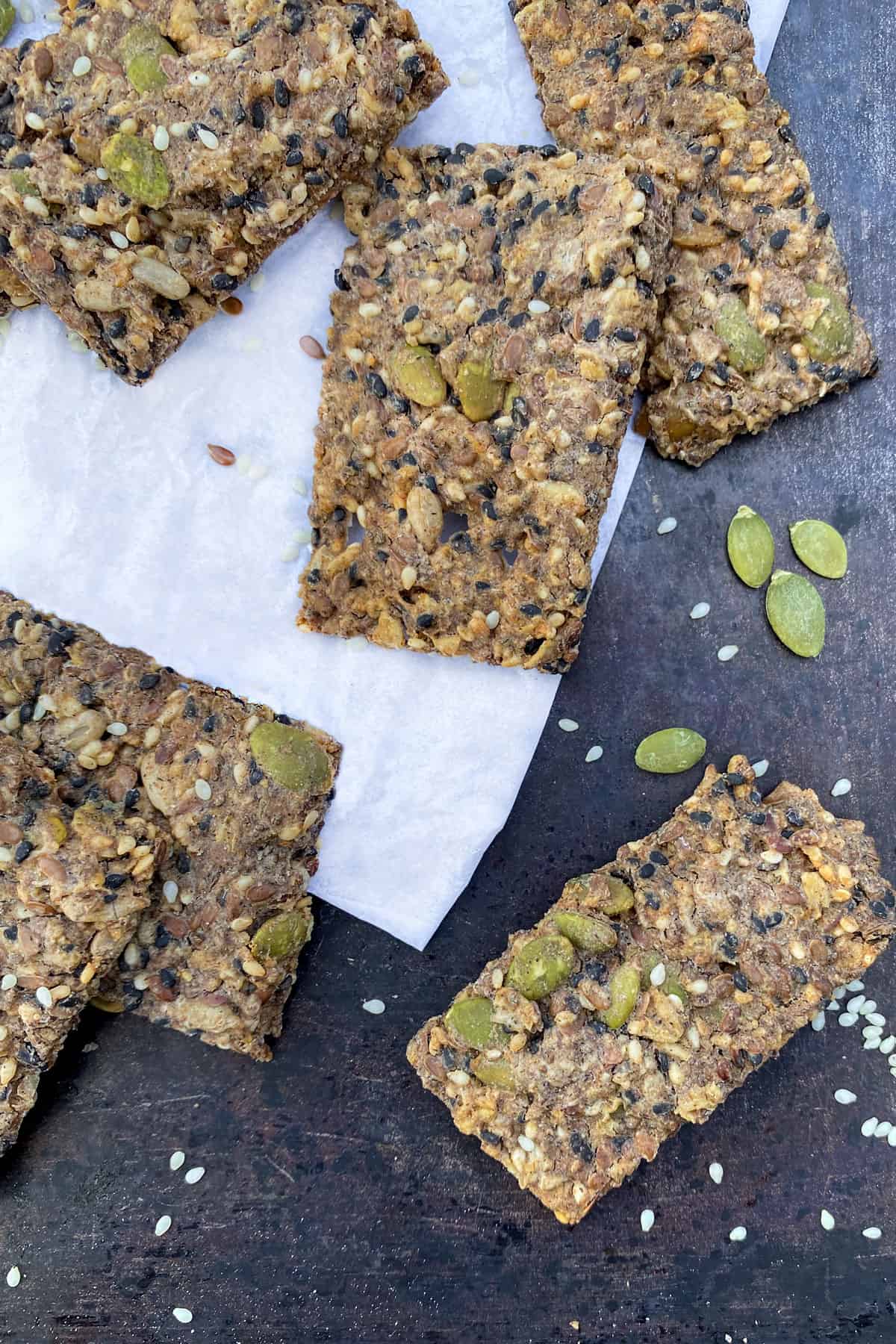 Hi everyone. This is Lisa's husband, Eddie, making another guest blog appearance. Usually, I am the mixologist on the site, but I dabble in baking from time to time and honestly this recipe is so easy anyone can make it.
Essentially making these crackers just entails mixing rolled oats and a bunch of different gluten-free flours and seeds (all half a cup!) together with some salt, binding them with water and a little olive oil, spreading them out on a sheet pan and baking them. And that's the beauty of the recipe - all of these wholesome ingredients coming together to create a delicious healthy snack with minimal effort.
As for the gluten-free part, I myself am a recovering gluten glutton. I have found it difficult to find gluten-free offerings that have the same flavor and texture as "the real thing", but when it comes to these crackers nothing is lost. They have become my go-to snack when they are in the house and they are great with anything from hummus to goat cheese to smoked salmon or mackerel.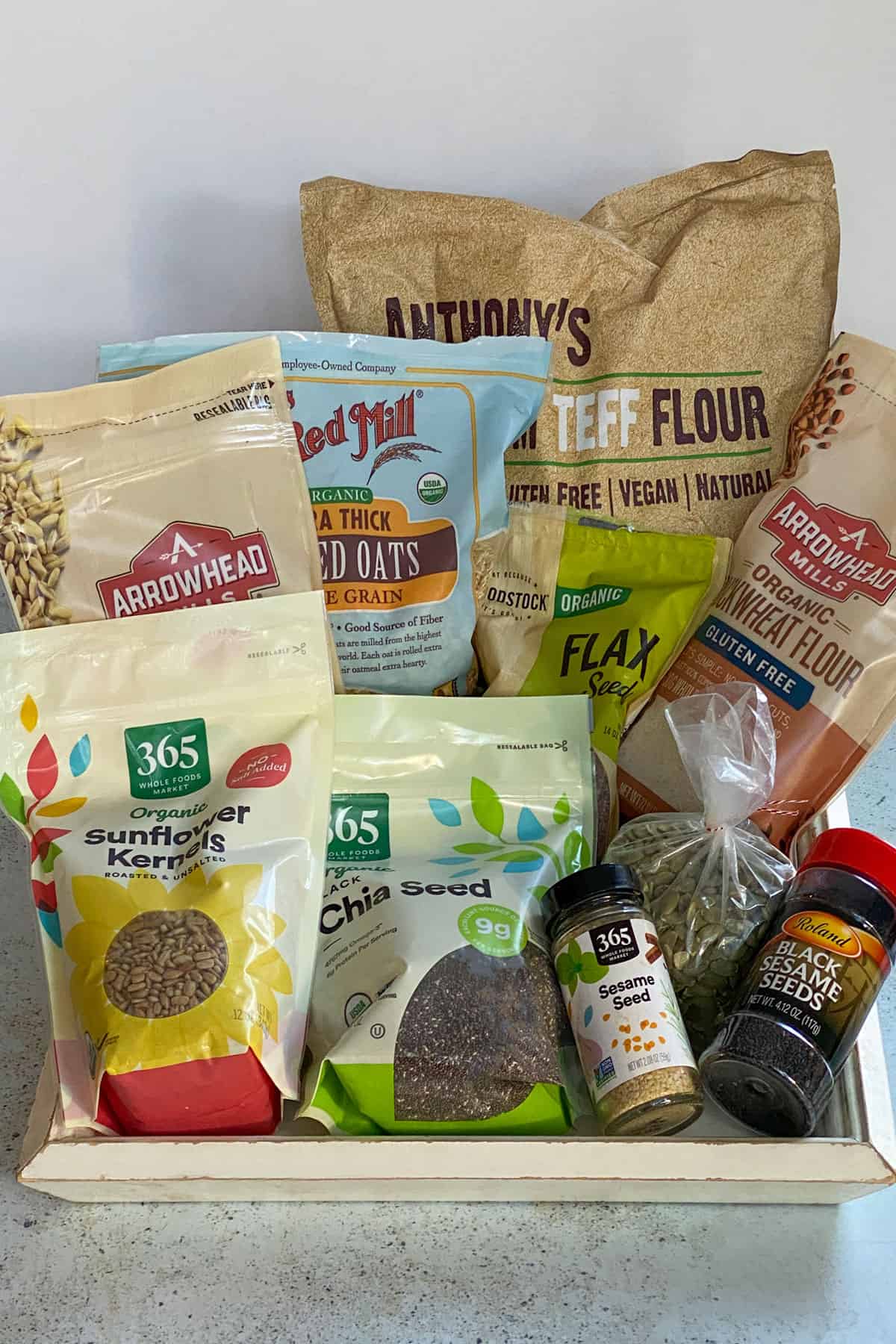 This recipe came to me from my friend David who brought them to our house on a visit. I was dubious at first when he told me how healthy they were, but having a few, then a few more, I decided they were so great I needed to learn how to make them myself. The recipe he later sent was entitled Ceci's Amazing Crackers (aka Ruti's Amazing Crackers). The story I learned is that every time this recipe gets shared, someone makes their own modification and changes the name to their own, with attribution to the last source. So I am carrying on that tradition here.
HERE'S WHAT YOU NEED TO MAKE THESE:
Rolled oats (gluten free)
Teff flour: Teff is an ancient grain that has edible seeds which are ground into flour. It's high in protein and minerals and naturally gluten free.
Buckwheat flour: If you're not familiar with buckwheat, it has nothing to do with wheat. The edible triangular seeds of the buckwheat plant (also know as Fagopyrum esculentum) are what we call buckwheat. It's has a wonderful nutty flavor, lots of protein and fiber, and it's naturally gluten free.
Oat flour (gluten free)
Sunflower seeds: raw or toasted sunflower seeds can be used however if the toasted ones are salted, I suggest you use ¼ teaspoon less salt in the recipe.
Pumpkin seeds (also called pepitas)
Flax seeds (whole)
Chia Seeds
Sesame seeds
Black sesame seeds
Olive oil
Kosher salt
HOW TO MAKE EDDIE'S AMAZING GLUTEN FREE SEEDED CRACKERS
In a large bowl, mix together all the ingredients (I just love recipes that start this way). I will say it is important to first mix the dry ingredients (flours, seeds and salt) to ensure they evenly distributed before adding the water and olive oil.
Mix thoroughly until all the ingredients are fully incorporated, then spread out onto two parchment covered sheet pans, aiming for a thickness of about ¼".
Place into an oven pre-heated to 350 degrees and bake for 10 minutes. Remove from the oven and cut horizontally and lengthwise into rectangles, then place back in the oven for an hour.
They should be crisp at this point so they would break if you tried to bend them (they will continue to harden further out of the oven). If so, take them out of the oven and let them cool; if not give them another ten minutes. Once they have cooled to room temperature break them apart and enjoy!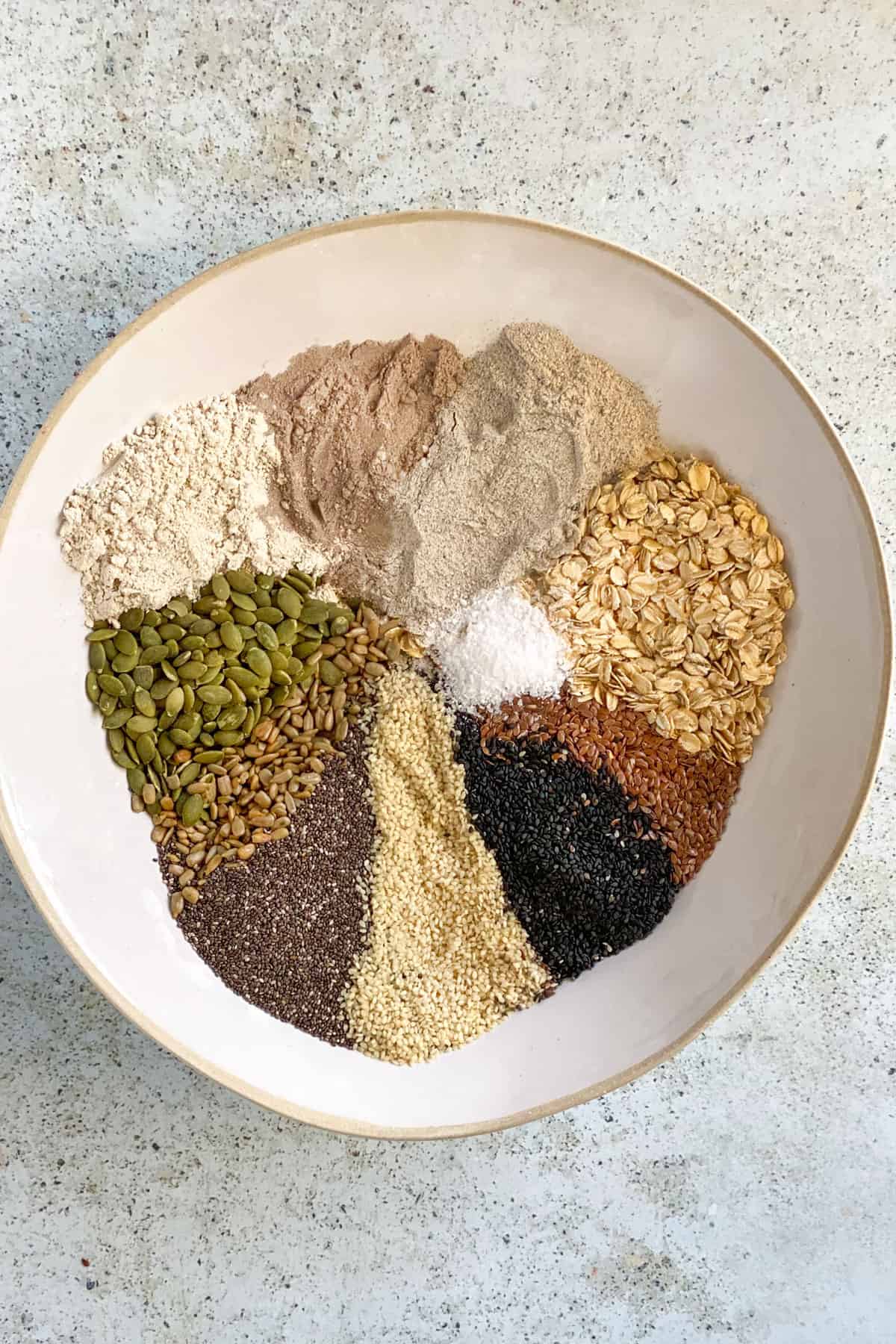 I use the back of a wooden spoon to smooth out the dough. A spatula or pie knife would work well, too.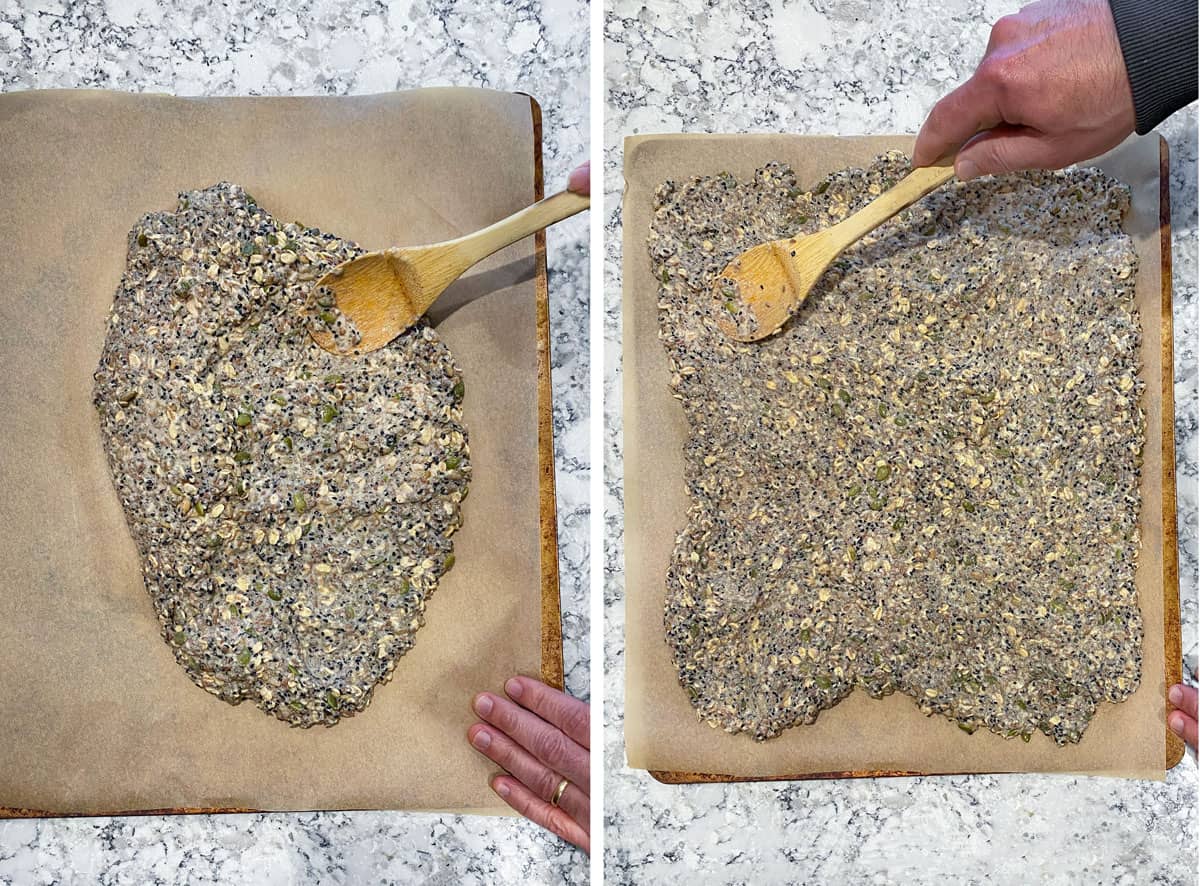 A pizza cutter works well for cutting the dough. If you don't have one, a stainless steel pastry cutter would work well, too.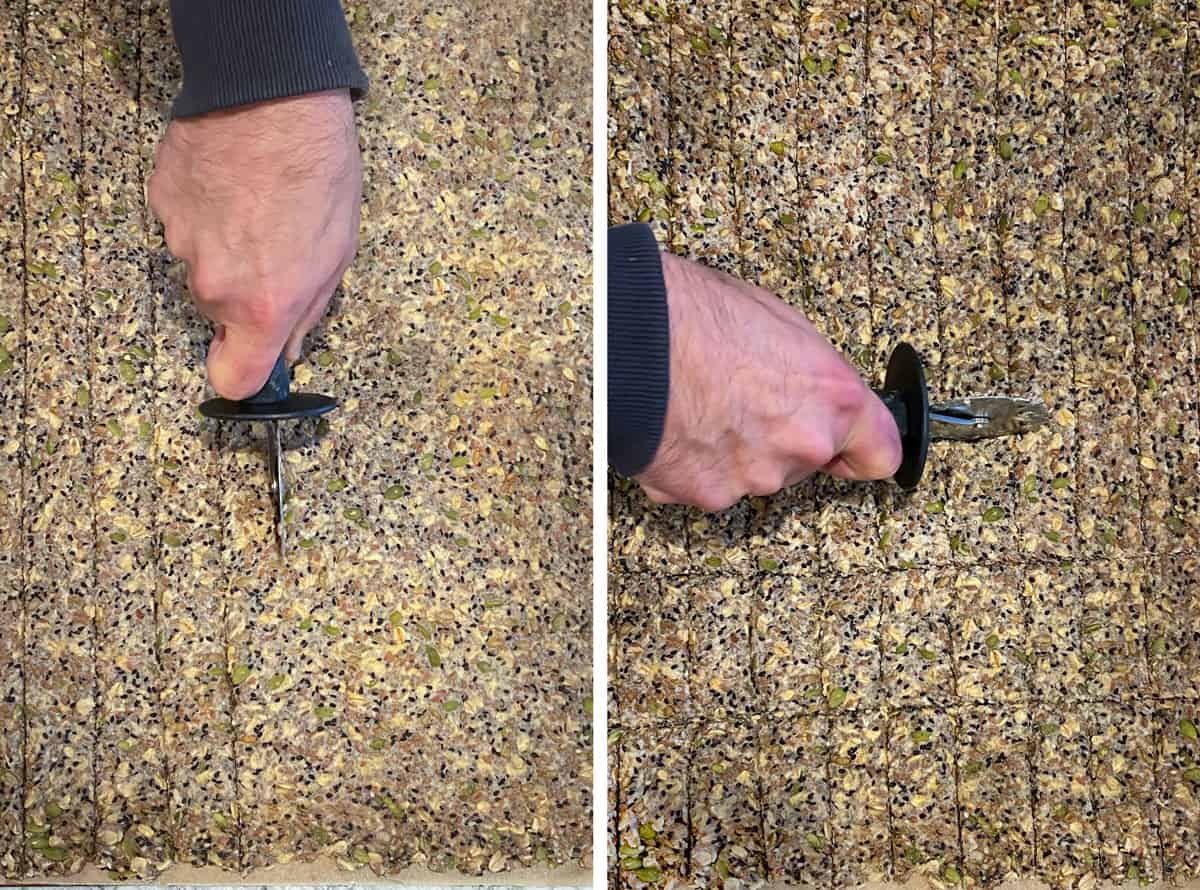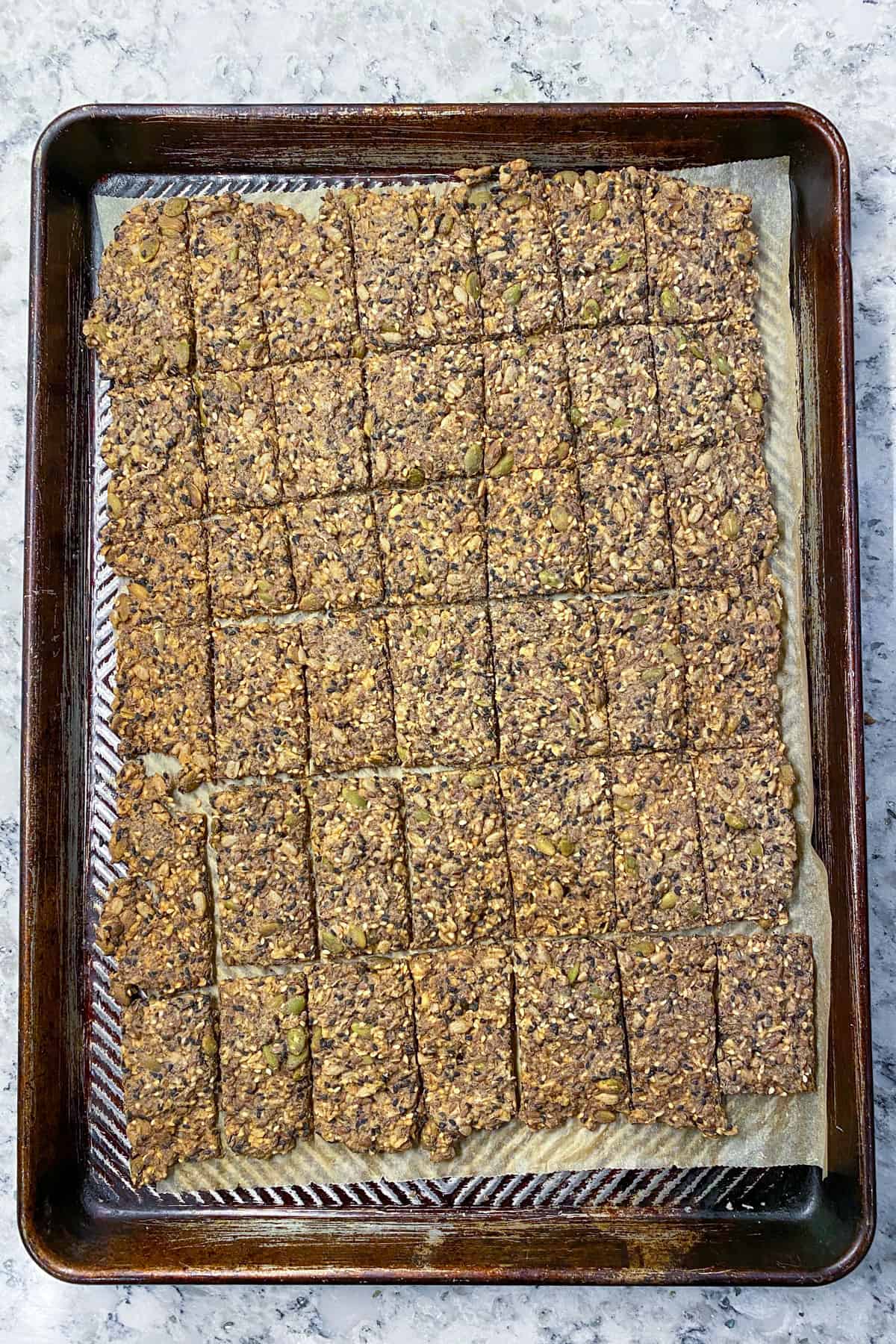 Here's the Gluten Free Seeded Crackers Recipe. If you cook this, Lisa and I hope you'll come back to leave a star rating and a comment. We'd love to know what you think!
Print
Eddie's Amazing Gluten Free Seeded Crackers
---
Description
Super healthy, tasty, homemade seeded crackers. Great for snacking or for an appetizer with dips and toppings.
---
1 ½

cups

rolled oats (gluten free)

½

Teff flour (if you can't find in store, this can be ordered online)

½

cup

oat flour (gluten free)

½

cup

buckwheat flour

½

cup

sunflower seeds

½

cup

pumpkin seeds

½

cup

flax seeds

½

cup

chia seeds

½

cup

sesame seeds

½

cup

black sesame seeds

2 teaspoons

kosher salt

2

-

½

cups

water

3 tablespoons

olive oil
---
Instructions
Preheat the oven to 350º F.
Mix all the dry ingredients in a big bowl
Mix in the water and the oil
Spread the mixture as evenly as you can onto two cookie sheets or non-rimmed baking sheets (non-stick, or lined with parchment paper) using the back of a wooden spoon or a pie knife, to a thickness of about ¼ (about as thin as possible)"
Bake for 10 minutes
Remove and cut into cracker-sized squares/rectangles (mine are about 1-¼" X 2-½") using a pizza cutter or a pastry cutter
Return to the oven for an hour, switching the positions of the baking sheets halfway through to ensure even baking – they should be crisp at this point so they would break if you tried to bend them (they will continue to harden further out of the oven).
If the crackers are still not crisp after an hour, leave in for ten more minutes or until done
Store in an airtight container for up to 2 weeks
Notes
If by chance your crackers still have some chewiness when they have cooled, you can put them back in the oven, even a day or two later(!) to make them drier/crisper.
Prep Time:

20 minutes

Cook Time:

1 hour 10 minutes

Category:

Crackers

Method:

Bake

Cuisine:

American
Keywords: homemade healthy crackers, gluten free crackers, seeded crackers