Thick Greek yogurt tenderizes the chicken. A smoky pepper and lemon-garlic combination infuses it with intense bright flavor.  It comes off the grill golden, tender, flavorful, delicious.  It is truly one of the best chicken dishes I have ever tasted.  And it's so easy.  Mix some spices with yogurt.  Slice some lemons.  Smash some garlic cloves.  Mix it all together with the chicken.  An hour in the fridge.  12 minutes on the grill. Voila!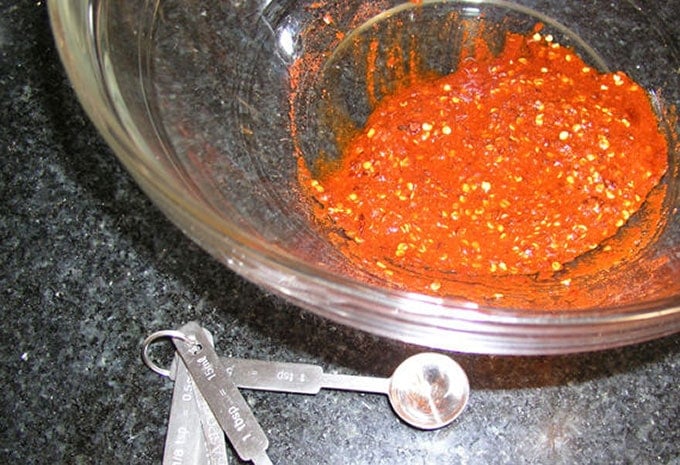 Flattening garlic is a really easy way to get the skin off.  Using one hand, hold the clove down against the cutting board with the flat side of a broad knife.  With the heel of your other hand, pound the knife, crunching down on the garlic.  When you lift the knife the skin on the clove will be loose and you can just pull it off.
In my quest for understanding the magic of this recipe, I discovered that yogurt is an ideal marinade base for beef and poultry.  Any dairy – yogurt , milk, buttermilk – is an excellent tenderizer, partly because is is not very acidic.  Acidic marinades can actually toughen meat. According to Fine Cooking contributor Shirley Corriher, dairy products are the only marinades that truly tenderize.  She goes on to explain that calcium seems to activate enzymes in the meat, causing the proteins to break down.  I have to assume all that "breaking-down" makes way for the delicious flavors of pepper, lemon, and garlic to move in.
Turkish BBQ often involves threading the meat on a skewer before grilling – the kebab – and serving it with rice.  Part of my love for this recipe is the ease of preparing it but if you want a more authentic presentation, you can cut the chicken and thread it onto skewers before grilling.  But don't forget to throw the marinated garlic and lemons on the grill too – those are delicious!