This Mexican salsa fresca recipe is incredibly delicious and really easy to make. You'll need tomatoes, jalapeños, onions, cilantro and fresh lime juice. Finely dice the vegetables, squeeze in the lime juice, season with salt and, in about 15 minutes you'll have a fantastic zesty salsa to top all of your favorite Mexican dishes and more. Salsa fresca is also amazing for dipping tortilla chips into!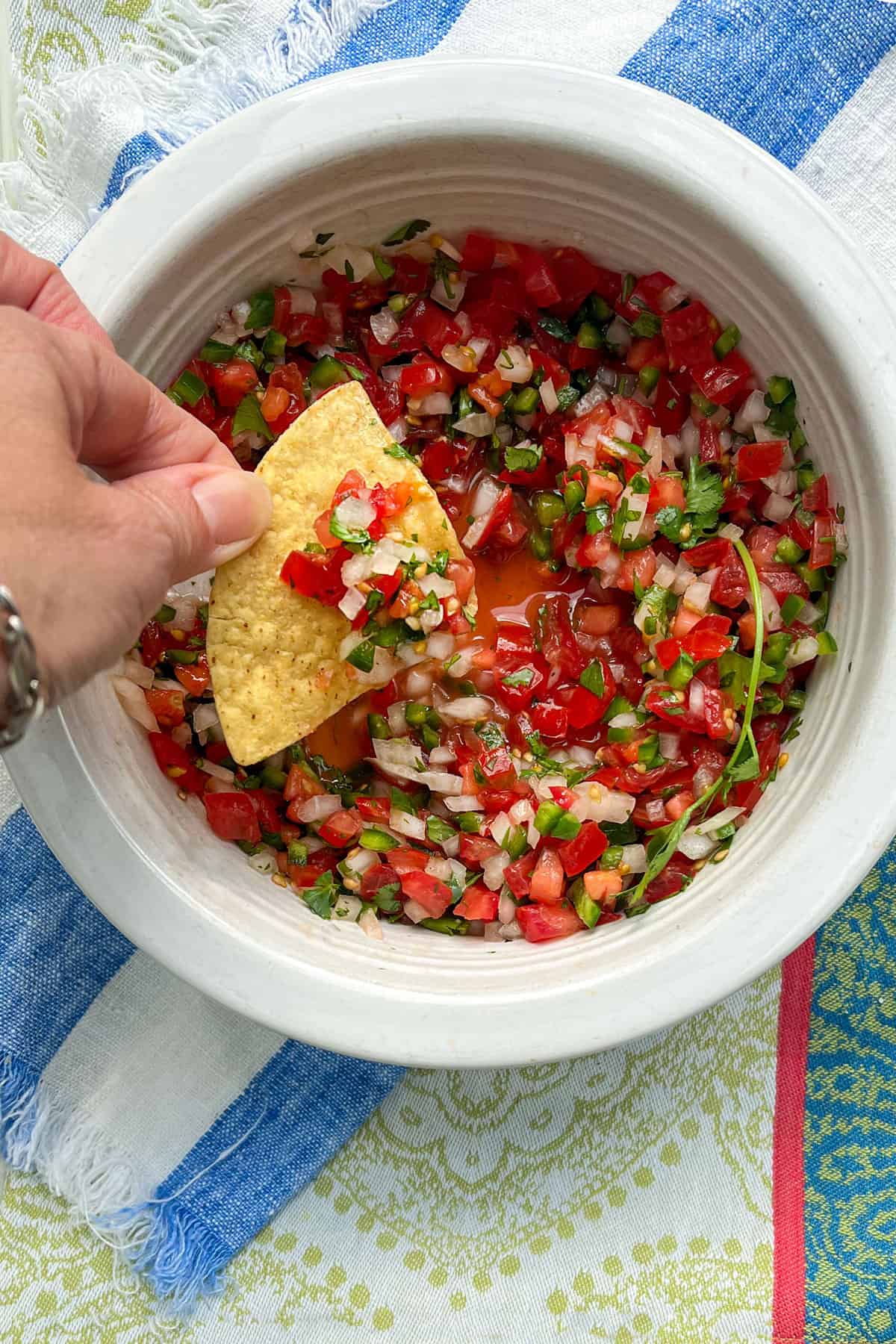 Jump to:
If you're a fan of Mexican cuisine, then you're probably familiar with the vibrant and zesty flavors of salsa fresca (fresh salsa), also known as pico de gallo and salsa bandero. I love this salsa so much and make it all the time. It's one of my favorite quick appetizer recipes that's easy to throw it together in a flash when company is coming. I often serve guacamole and salsa fresca side by side, with a basket of chips for dipping - buonissimo!
Salsas are integral to Mexican cuisine, and not just for dipping chips. A vibrant salsa adds a layer of zesty flavor and heat that can take a dish from great to amazing. Of all the Mexican salsas, salsa fresca is the easiest to prepare because it's made with just a handful of ingredients and you don't have to seed the tomatoes or cook or puree anything - just dice and enjoy.
Ready to make this delicious fresh salsa? Let's get into the details.
Ingredients 🍅
Classic salsa fresca has 5 ingredients: tomatoes, onions, jalapeños (or Serranos), cilantro and lime juice. When the ingredient list is this short, freshness and quality are more important than ever. The best tomatoes make the best salsa fresca, plain and simple.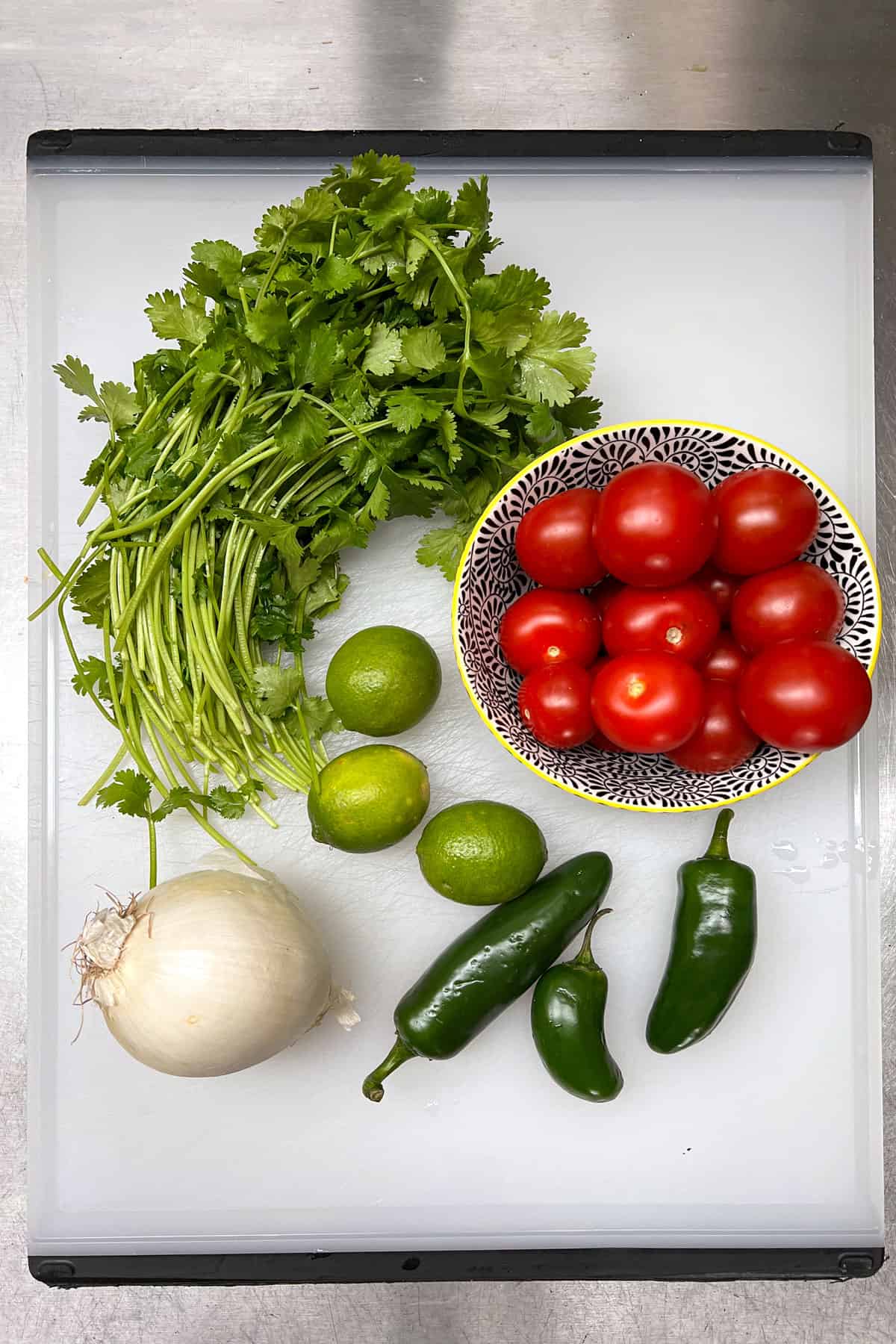 Instructions 🌶
Finely dice the tomatoes and add them to a mixing bowl. Tomatoes can be a challenge to slice and dice. Some people find that a serrated knife works well for the task. I prefer to use a sharp chef's knife. If you want some tips, here's a short helpful "how to dice tomatoes" tutorial.
Remove the pith and seeds from the jalapeños (unless you like a lot of heat in which case include the seeds in the salsa). Finely dice the jalapenos and add them to the bowl.
Dice the onion and chop the cilantro and combine everything together. Add the fresh lime juice and salt and then let the salsa sit for 5-10 minutes to allow all the flavors and textures to meld.
Serve this salsa at room temperature for fullest flavor.
Fun fact 🇲🇽
Pico de gallo (salsa fresca) is sometimes called Salsa Bandero which translates from Spanish to English as "flag sauce." The green, white and red colors of this fresh salsa are the colors of the Mexican flag, hence the name.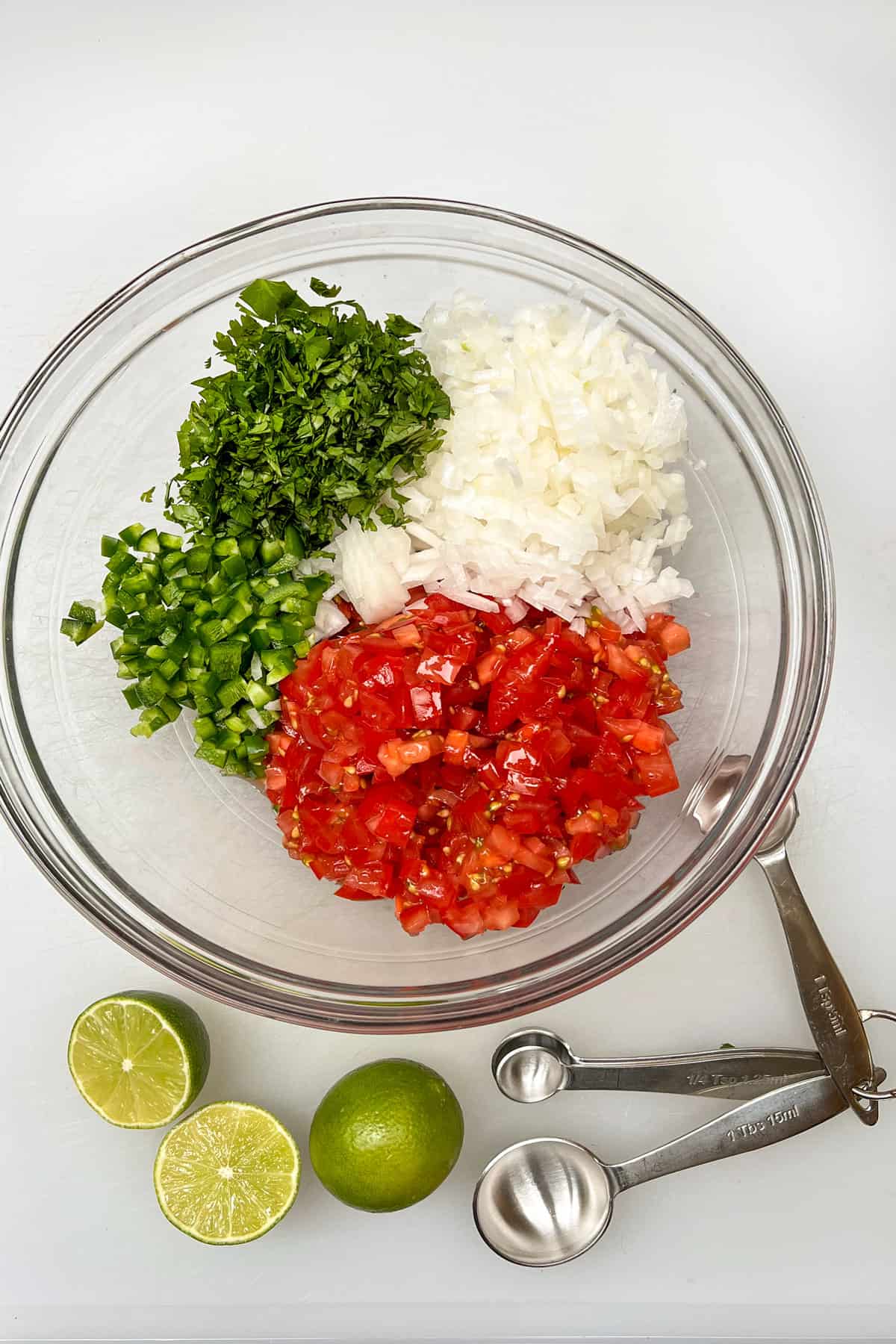 Storage 🌿
Salsa fresca will keep in the fridge for up to 4 days in an airtight container. For the brightest colors and flavors, enjoy this fresh vibrant salsa within a few hours of making it.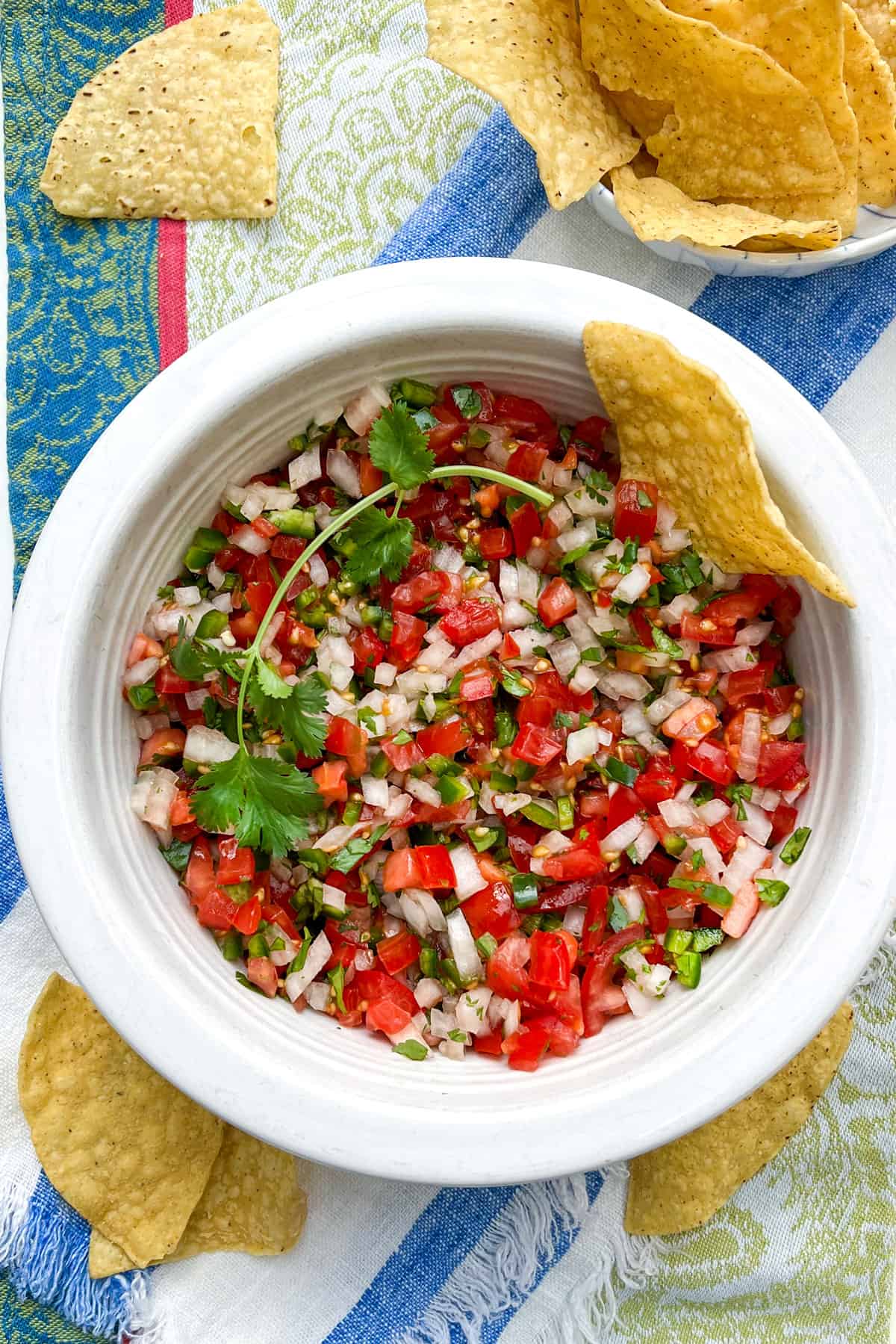 Variations 🍑
Though I love this classic salsa fresca recipe exactly as it is, occasionally I get inspired to add a clove garlic, a glug of olive oil or pinch of cumin and I encourage you to do the same. Experiment and have fun with this dish if you want to. Use the ingredients you have on hand or tweak this recipe to suit whatever you're planning to serve with the salsa.
Here are some fun ideas for variations on the salsa fresca theme:
Olive Oil - a generous drizzle of olive oil will enrich this light juicy salsa.
Garlic - some purists will say "no garlic in salsa fresca" but I say "if you like garlic, add it." It's delicious!
Spices - cumin and chipotle chili powder are two of my favorite spices for changing up this fresh salsa. Add a pinch at a time until you're happy.
Fruit - instead of using the two cups of tomatoes listed in this recipe, use just one, and add a cup of diced mango, nectarines, pineapple or peaches - for a delicious fruit pico de gallo. Be sure to include a little garlic which will sing along with the sweet tanginess of the fruit.
Onions - white onions have an authentic Mexican flavor but scallions are also delicious here and so are red onions. The red onions add great color, too.
Avocado - Add cubes of avocado to make a rustic avocado salsa fresca, or add a few tablespoons of salsa fresca to smashed avocados for instant guacamole!
Serving Suggestions 🥑
Use salsa fresca to top tacos and fajitas, carnitas, Mexican red rice, huevos rancheros or enchiladas but don't limit yourself to Mexican food. Burgers, sandwiches, soups, grilled chicken, steak and fish will all benefit from a few spoonfuls of zesty salsa fresca.
This fresh salsa will elevate a simple dinner of rice and black beans to a whole new level!
One of the best ways to eat this delicious salsa is to simply scoop it up with salty crunchy tortilla chips. A frozen grapefruit margarita will be amazing to sip as you dip.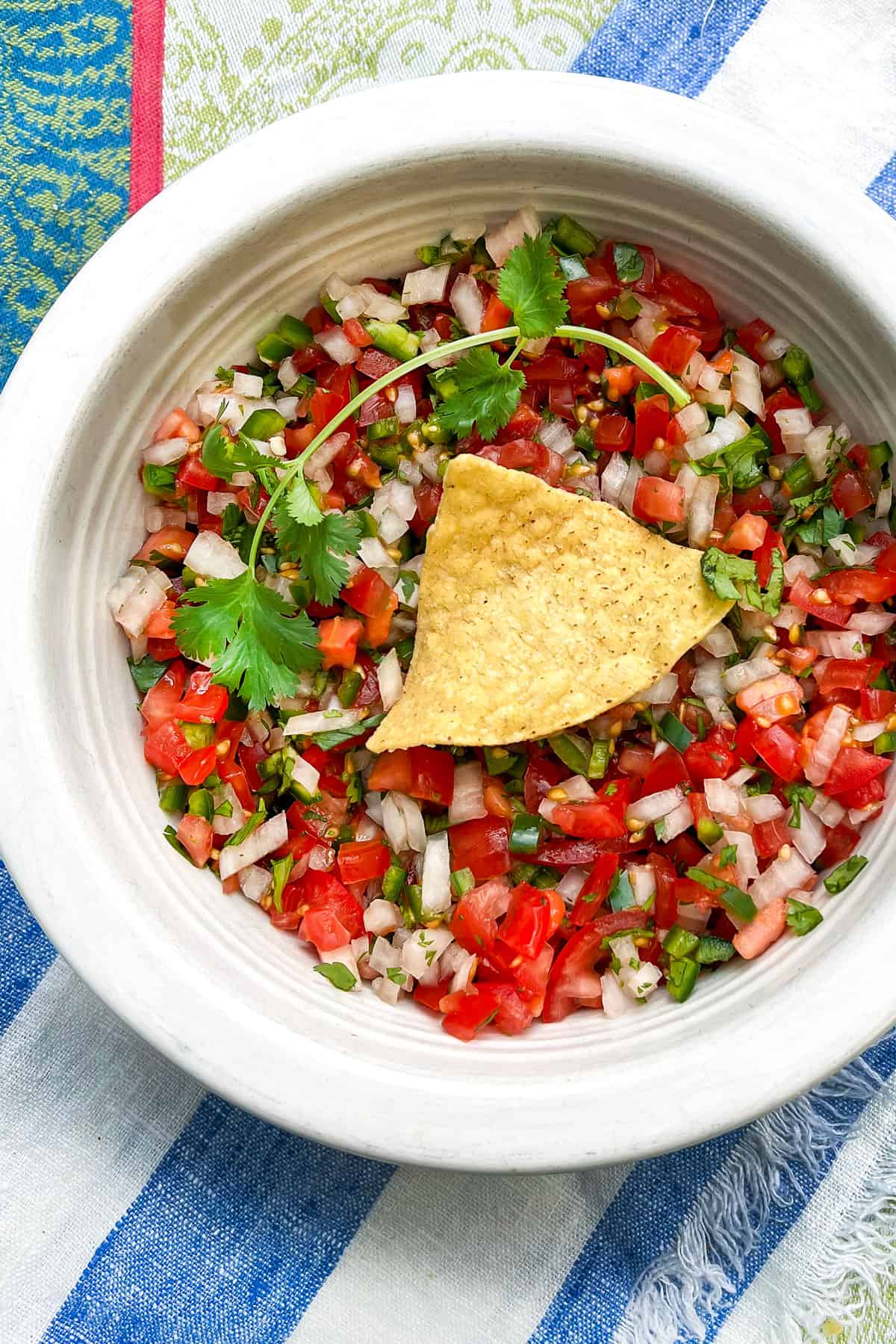 If you try this salsa fresca recipe, I really hope you'll come back to leave a star rating and a comment. I'd love to know what you think!
Print
Salsa Fresca Recipe
---
Author:

Lisa

Total Time:

15 minutes

Yield:

6

servings

1

x
Description
This simple vibrant Mexican salsa is made from fresh raw ingredients, takes very little time to prepare, and will add zesty flavor and heat to anything you serve it with. Nothing beats this juicy fresh salsa for dipping crunchy tortilla chips - especially in the summer when tomatoes are at their ripest and best.
---
1

pound ripe tomatoes, finely diced (2

cups)

½

white onion, finely diced (¾

cup)

2

jalapeños, seeds and ribs removed and finely diced (½ cup)

⅓

cup

chopped cilantro leaves or more, to taste (from 1 bunch)

2 tablespoons

fresh squeezed lime juice or more, to taste (from

2

juicy limes)

½ teaspoon

sea salt or Kosher salt or more, to taste
Optional Add-Ins
1

-

2

tablespoons extra virgin olive oil

1

garlic clove, finely minced or pressed through a garlic press
*Read the notes below before you shop for ingredients.
---
Instructions
Combine all the ingredients in a medium bowl. 
Taste and adjust the flavors to your liking by adding additional salt, lime juice or cilantro
Let the salsa sit for 5-10 minutes to allow the flavors to meld.
Serve this salsa fresca soon after it's made when the colors and flavors are their brightest and freshest. Serve it as a dip with tortilla chips; as part of a Mexican meal, or as a topping for eggs, burgers, sandwiches, soups, grilled chicken, fish or beef.
Notes
Tomatoes: Use the ripest most flavorful tomatoes you can find. I often use Little Guys cherry tomatoes or Backyard Farms cocktail tomatoes because both of these brands tend to have delicious ripe tomatoes all year long. The smaller tomatoes are a bit more challenging to chop than large ones. You'll need a sharp knife and a little patience.
White Onion - You can substitute red onions or even scallions. If the sharp bite of onion bothers you, soak the chopped onion in cold water for 5 minutes and then drain out the water. This is a great trick for mellowing the sharpness of onions when using them raw in a recipe. 
Jalapeños - The hottest part of a chili pepper is the white ribs and the seeds. I always cut away the ribs and remove the seeds because I can't take the heat. If you like a lot of heat, by all means use the seeds. Or you can amp up the heat even more by using Serrano chilies which are about 4X hotter than jalapeños.
Cilantro - I don't recommend substituting another herb here. If you are not a fan of cilantro, omit it and add a clove of finely minced garlic and a few pinches of cumin - delicious!
Lime Juice - It's hard to determine how much lime juice is needed before tasting the salsa, as some tomatoes are already quite tangy and others have little to no tang. Also, some limes are very juicy and other are dry. I suggest you buy 2 or even 3 limes. Add a tablespoon of juice at a time until you're happy with the balance of flavors in the salsa.
Storage: Salsa fresca will keep for 4 days in the fridge in an airtight container. The colors and flavors lose a bit of vibrance over time but the salsa is still delicious.
Prep Time:

15 minutes

Cook Time:

no cook

Category:

Salsa

Method:

Mince

Cuisine:

Mexican
Keywords: quick fresh raw salsa, summer salsa