Everyone who cooks Mexican food needs a great Mexican Red Rice recipe in their repertoire. This one is my favorite. Made with just few simple ingredients, the layers of flavor in this dish are created by toasting the rice, caramelizing the tomato paste and adding a fresh spicy chili pepper to the cooking pot.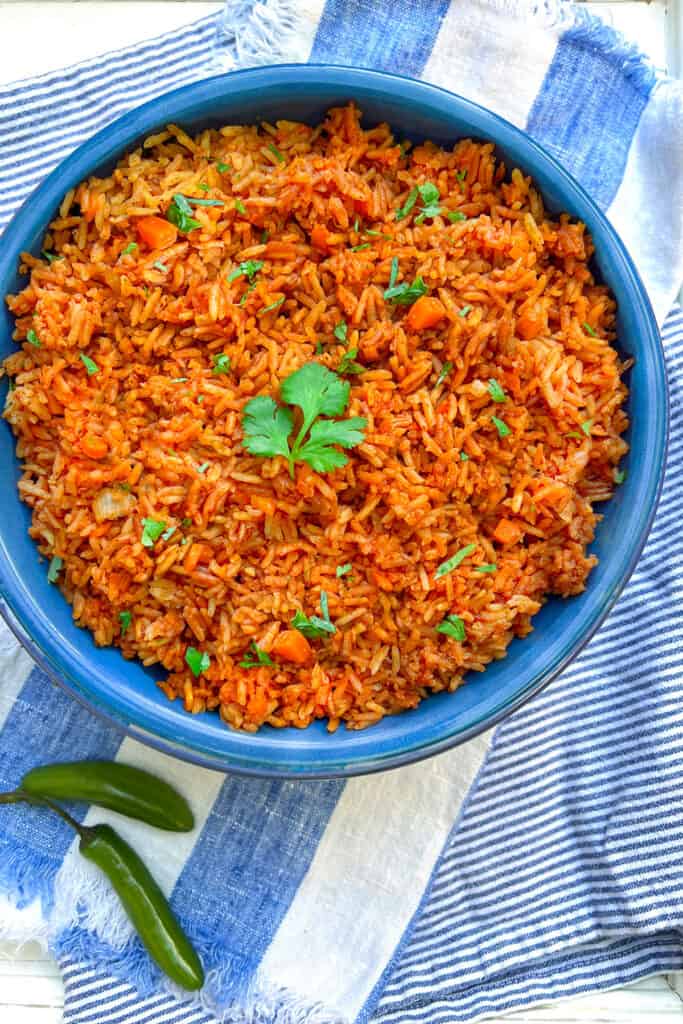 Mexican Red rice, also called Mexican rice, tomato rice, arroz rojo, or arroz ala Mexicana, is an extremely popular Mexican side dish, and when you cook this, you will see why. Easy to prepare and super satisfying to eat, this fluffy, flavorful vibrant red rice is the absolute perfect accompaniment for fajitas, tacos , carnitas or practically any other Mexican main dish.
Mexican red rice is made by simmering long grain white rice in tomato broth with onions, garlic and vegetables, usually carrots and peas. Although making Mexican red rice isn't difficult, if you get it wrong, you can end up with mushy bland rice - a very sad situation. Don't worry - I'll give you some tips and tricks to make sure that doesn't happen to you!
Authentic Mexican Red Rice
There are quite a few different approaches to making Mexican rice. The most common and simplest of the authentic Mexican red rice recipes use a puree of tomatoes, onions, garlic and water as the cooking liquid for the rice, and add diced carrots and peas to the pot when the rice is half cooked.
Other authentic arroz rojo recipes call for sautéing the rice with aromatics and then cooking it in chicken broth, with a couple tablespoons of tomato paste stirred in, plus a sprig of cilantro and a fresh chili.
Whether or not to rinse the rice is up for debate. Some Mexican chefs rinse the rice and then sauté it with the aromatic vegetables. Others toast the dry un-rinsed rice in a dry pan, then remove it while they sauté the vegetables.
I tried several different methods and finally, through trial and error, I arrived at this Mexican rice recipe, which is easy and delivers consistently excellent results.
What I love about this Mexican Red Rice
This rice is light and fluffy with delicate sweet flavors of tomatoes, carrots, onions and garlic. You can taste the subtle heat of the chili pepper in every bite. I wanted something green for color, but opted to omit the traditional peas and instead added chopped cilantro, for a final fresh, bright layer of flavor.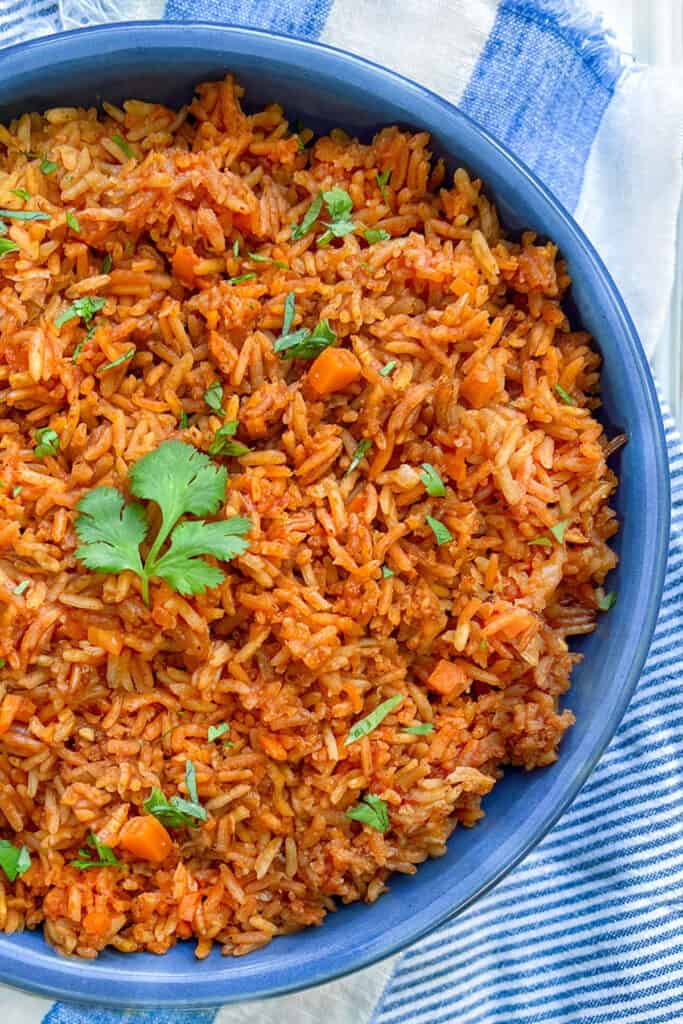 How To Make Mexican Red Rice (arroz rojo)
Follow these steps to make the best fluffy flavorful arroz rojo, with grains of rice that are distinct from one another, have perfect texture and great flavor. (For exact amounts and printable directions, see the recipe card below.)
Toast the rice - Before adding any liquid, toast the raw rice in a dry pan. This toasting process firms up the starches in the grains of rice, so they keep their shape as they cook. In addition, toasting imparts a subtly nutty flavor to the rice, which is lovely in the final dish.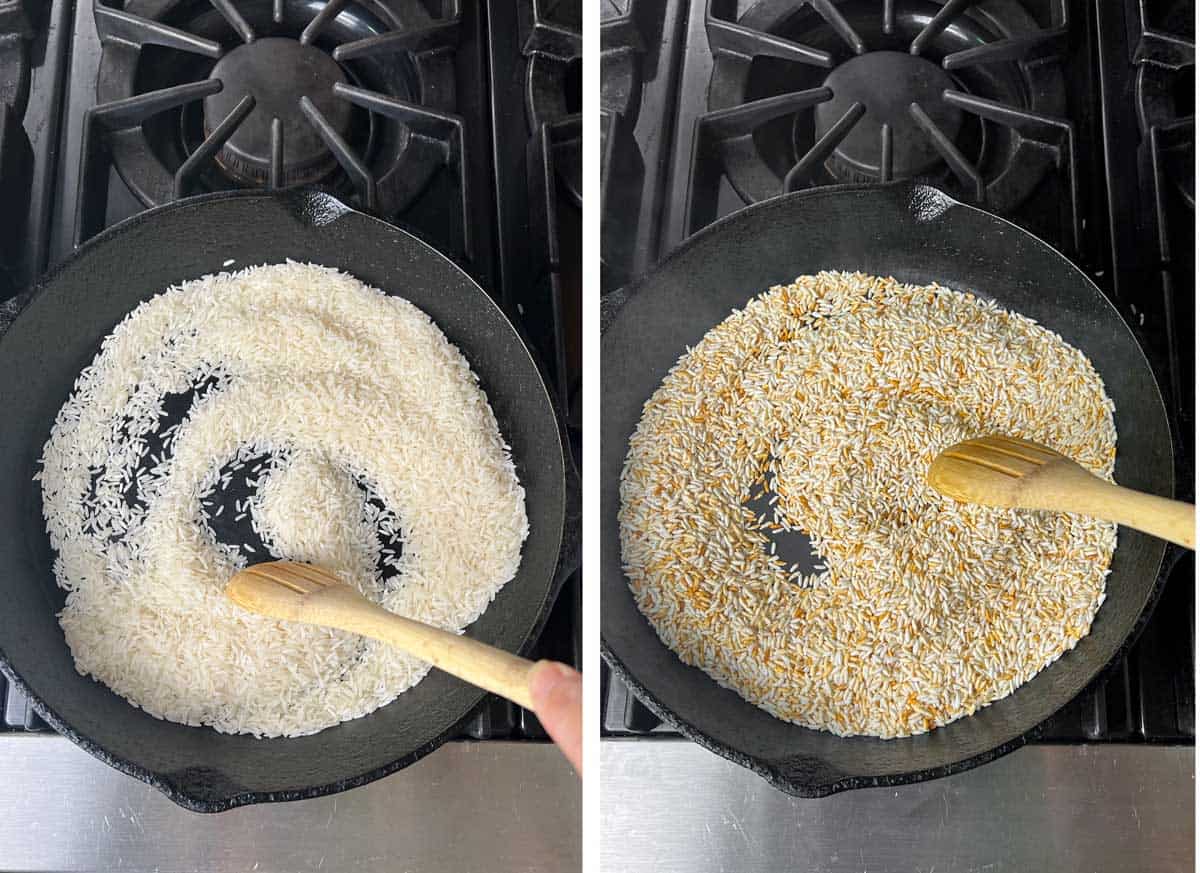 Gather all of the ingredient together, near the stove. The recipe will move quickly from here: the toasted rice, chicken or vegetable broth, carrots, onions, garlic, tomato paste, a fresh serrano chili, and salt.
For equipment, you'll need either a large cast iron skillet and a heavy pot with a lid, or you can make this entire recipe in a Dutch oven.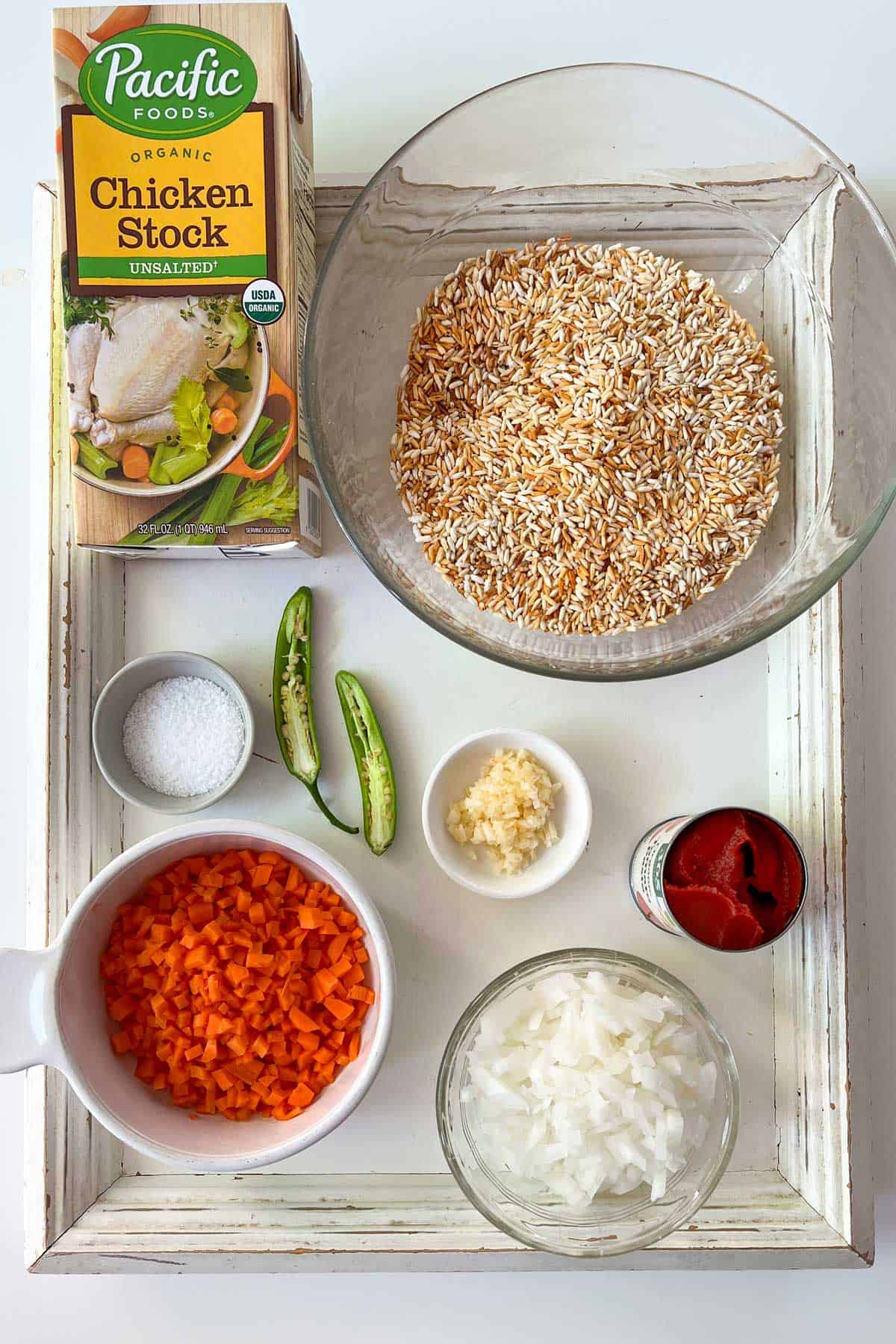 Sauté the onions, garlic and carrots - sautéing the vegetables in oil brings out their natural sweetness. Then when you cook them with the rice, their sweet delicious flavors permeate.
Caramelize the tomato paste - Add the tomato paste in with the veggies and cook it for a few minutes, until the color deepens. I have a great love of tomato paste - especially with rice. When you caramelize it, it develops a rich tomato flavor that is out of this world.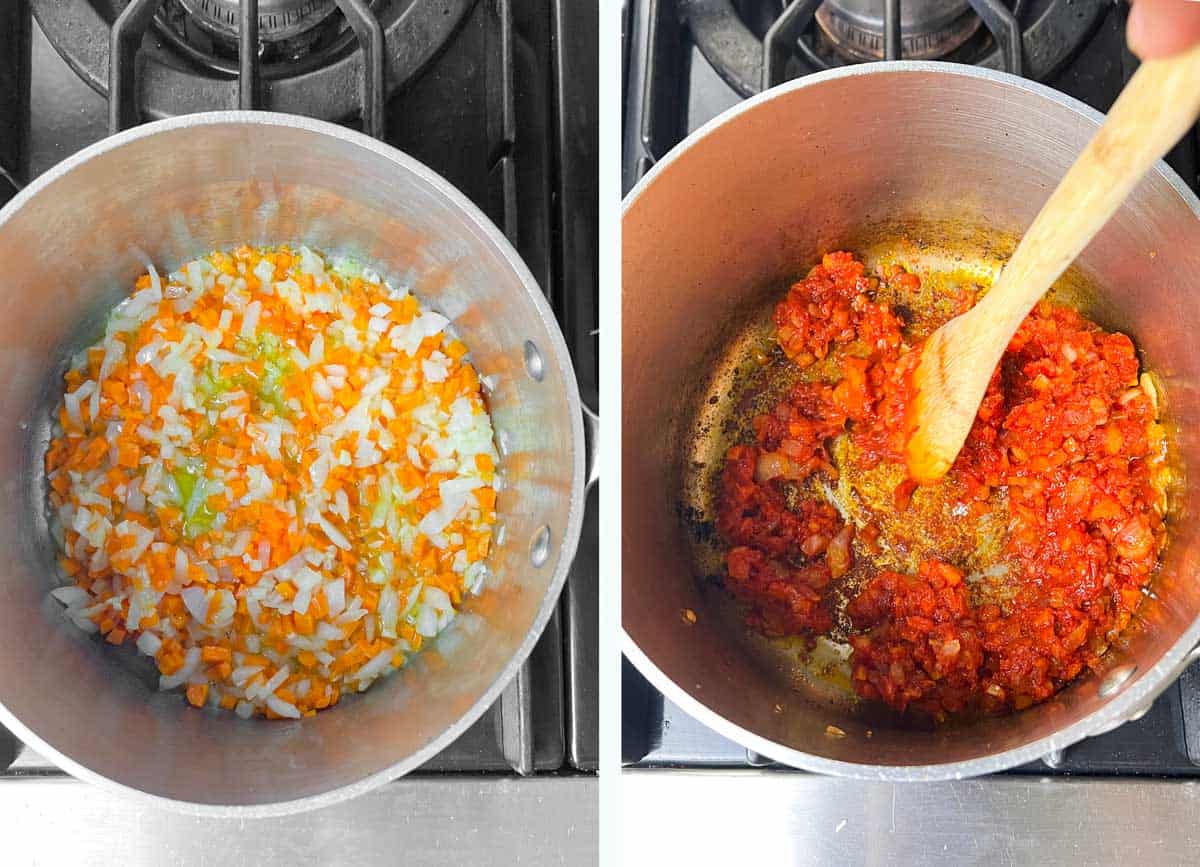 Add the toasted rice, broth and chili pepper to the pot - Rather than using the usual 2:1 ratio of broth to rice, this recipe uses a 1½:1 ratio. This prevents the rice from absorbing too much liquid which can result in mushy rice. Don't worry, even after all the water is absorbed, the rice will finish cooking in the steam that's trapped in the pot.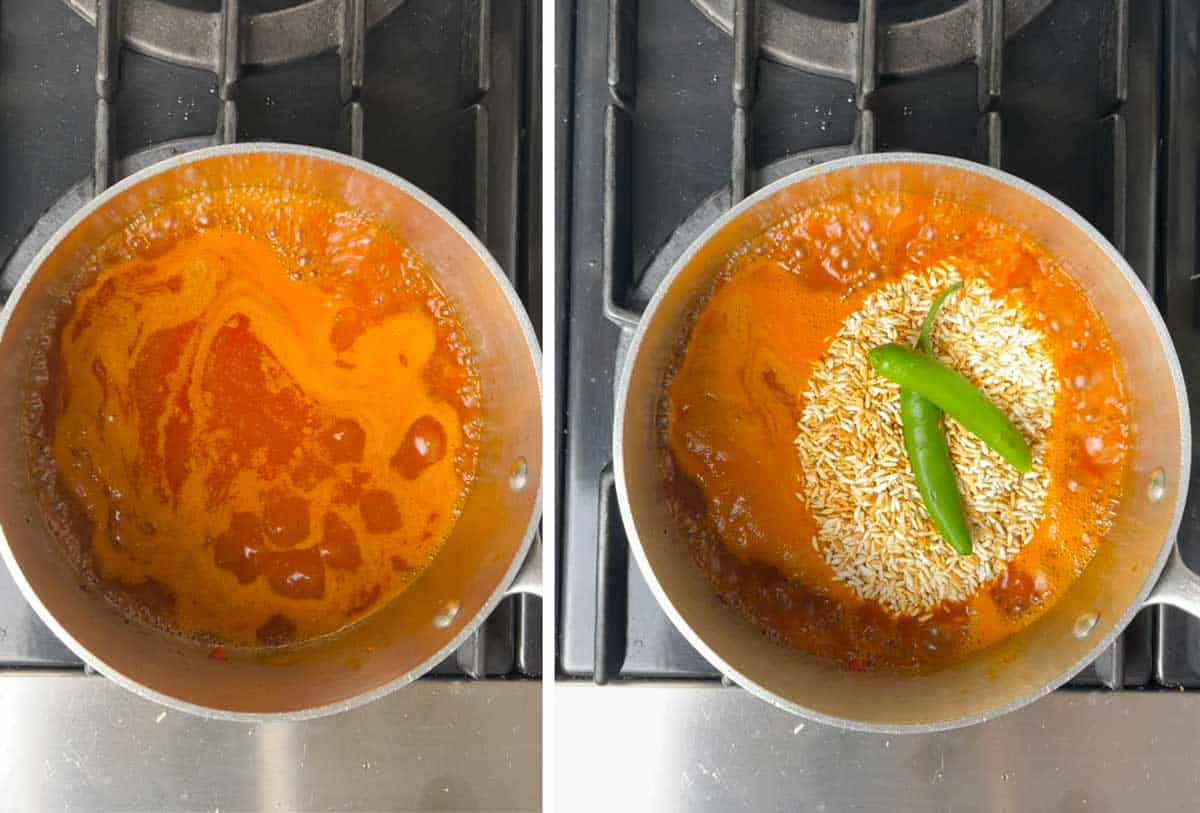 Let the rice rest after it comes off the stove - Don't skip this final step of allowing the rice to rest, covered and undisturbed, for 10-15 minutes after it has finished cooking. Lots of good things happen during this stage. The rice finishes cooking in the steam left in the pot, and the heat and moisture in the pot distribute evenly from bottom to top, so the rice gets evenly cooked throughout. Be sure your pot has a tight-fitting lid so the steam doesn't escape. If not, place a clean dish towel between the pot and the lid.
Gently fluff the rice with a fork

.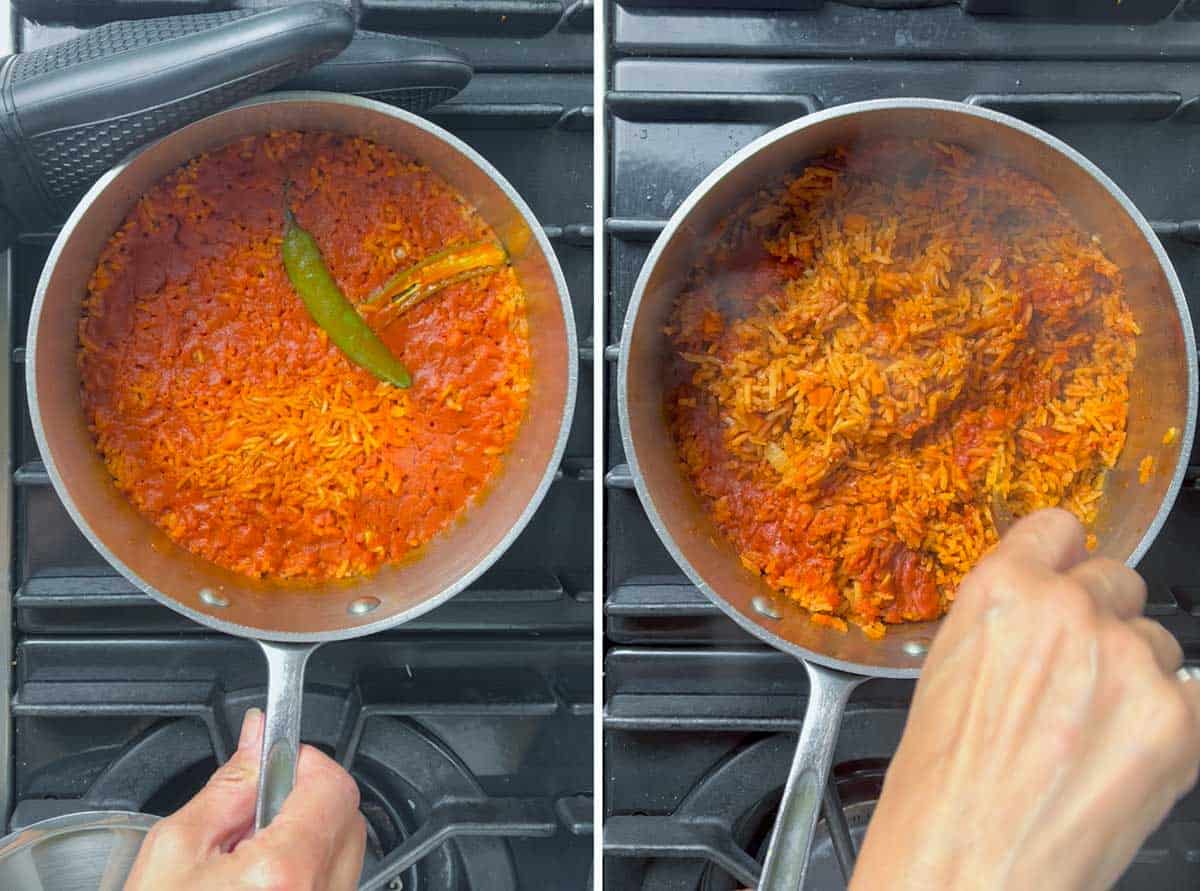 Stir in chopped cilantro just before serving - for a burst of color and fresh flavor
Common Additions and Variations
For more distinct flavor or spice, add a teaspoon or two of cumin and/or chili powder, or a chopped chipotle pepper from a can of chipotles in adobo.
If you want to use peas, corn or other vegetables, stir them into the pot when the rice is halfway cooked.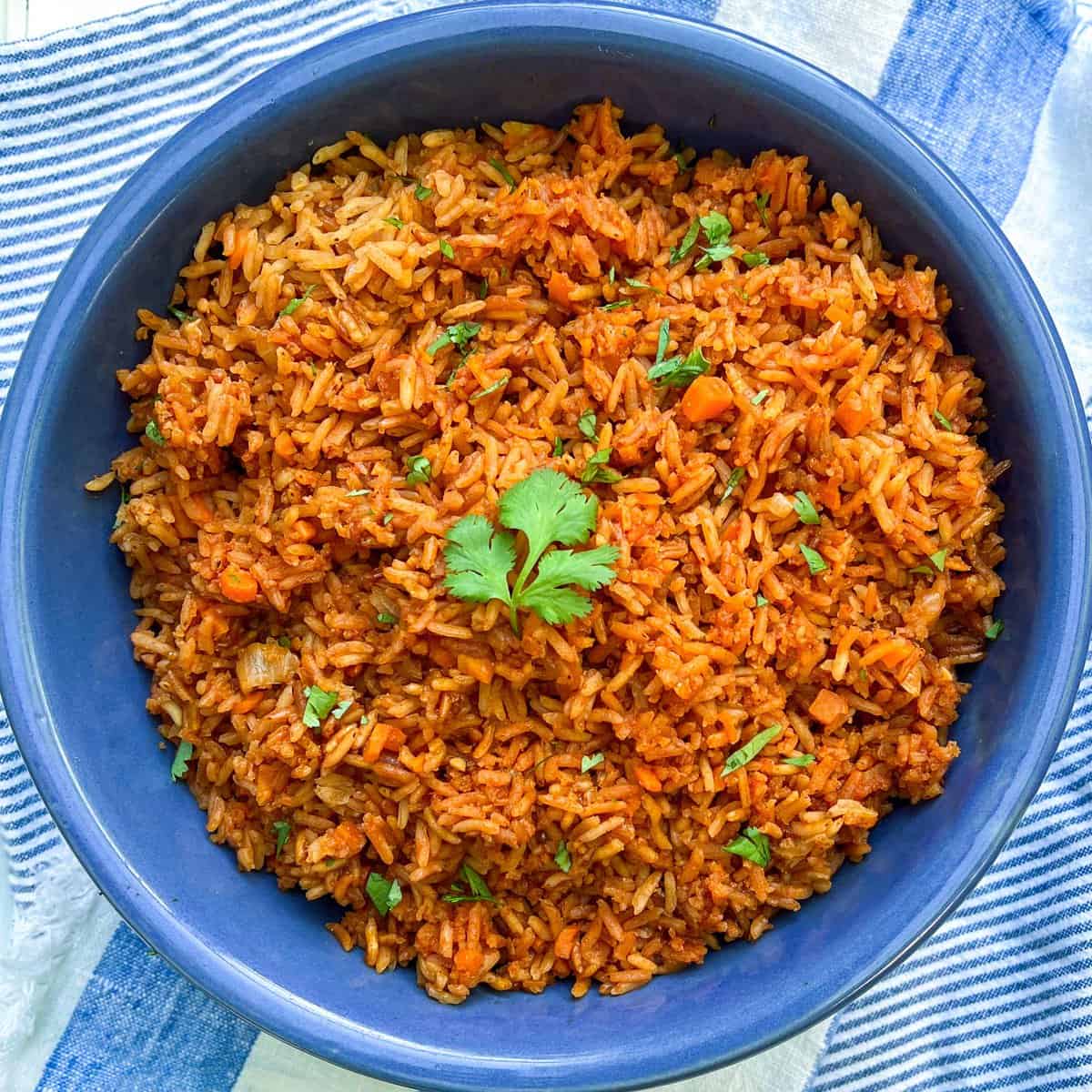 Other delicious Mexican side dishes
Here's the Mexican red rice recipe. If you cook this, I hope you'll come back to leave a star rating and a comment. I'd love to know what you think!
Print
Mexican Red Rice
---
Author:

Lisa

Total Time:

50 minutes

Yield:

8

-

10

servings

1

x
Description
This fluffy flavorful red rice is the perfect side dish with virtually any Mexican main.
---
For Equipment: you'll need either a large heavy skillet and a large heavy lidded pot, or you can cook this entire recipe in a Dutch oven.
2

cups

long grain white rice

¼

cup

vegetable oil

½

medium white onion, finely chopped (

1 cup

)

2

carrots, finely chopped (

1 cup

)

3

garlic cloves, finely chopped (a heaping tablespoon)

2 teaspoons

kosher salt or more, to taste

6

-ounce can of tomato paste (

½ cup

)

3

cups

low sodium chicken or vegetable broth

1

fresh Serrano pepper, halved lengthwise (or use two, if you want more than subtle heat)

2

-

3

tablespoons chopped cilantro leaves, optional
---
Instructions
Heat the Dutch oven (or skillet) over high heat. Add the dry rice and toast it, stirring constantly with a wooden spoon, until about half of the grains are golden brown, about 6 minutes. Smoke rising from the pot is normal, as long as the rice isn't turning black and starting to burn. If it is, lower the heat. Transfer toasted rice to a heatproof bowl.
Heat the oil in a Dutch oven or heavy pot, over medium heat. Add onion, carrots, garlic and salt, and cook, stirring occasionally, until the veggies soften and just start to brown, about 6 minutes. Add the tomato paste and cook, stirring constantly with a wooden spoon, until it deepens in color and caramelizes, 3 minutes or so.
Add the broth and bring to a boil, whisking to blend the tomato paste into the broth, and scraping the bottom of the pot with the wooden spoon to release any stuck browned bits.
Stir in the rice and Serrano chili. When the pot returns to a  boil, reduce heat to simmer, cover, and cook undisturbed for 15 minutes. 
Remove the pot from the heat and let the rice steam, covered, for 15 minutes. (If your pot doesn't have a tight-fitting lid, place a clean dish towel between the pot and the lid).
Remove the chili and gently fluff the rice with a fork. Toss the rice with cilantro, if using, and serve.
Notes
For spicier red rice - In step #2, when you add the tomato paste, you also can add ½ teaspoon to 1 teaspoon of chili powder and/or ground cumin; Or add one seeded and chopped chipotle chili from a can of chipotle chilies in adobo.
Popular Mexican Rice Add-ins: peas and corn. Stir ½ cup of veggies into the pot when the rice is halfway cooked. 
Prep Time:

20 min

Cook Time:

30 min

Category:

side dish

Method:

simmer

Cuisine:

Mexican
Keywords: Mexican rice cooked in tomato sauce, Mexican red tomato rice