Fresh ginger, coconut milk and basil add wonderful flavor to this fragrant Thai green curry chicken recipe. Fluffy white rice is all you need to complete the meal. Perfect for weeknights when you want something quick and delicious.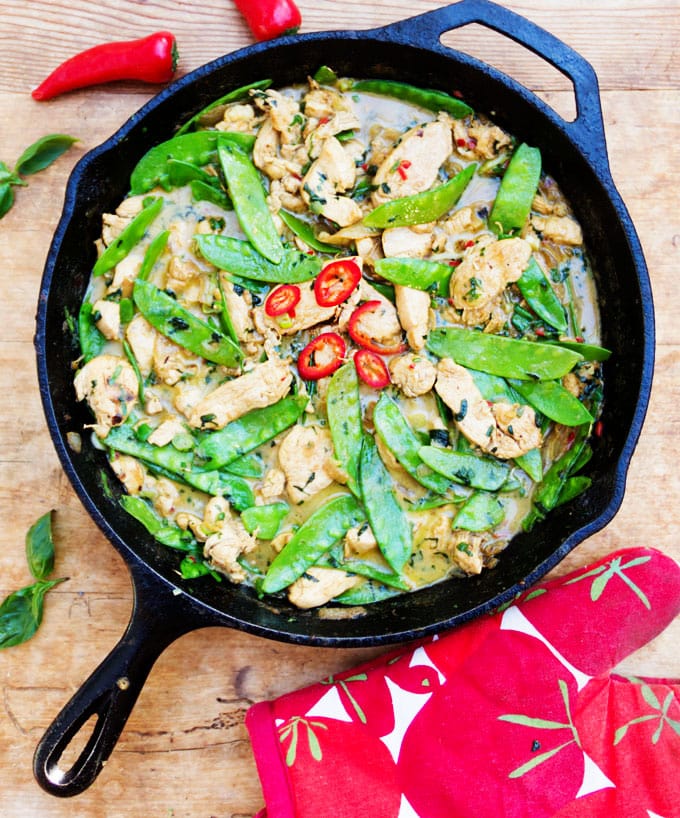 I spent most of last week in the kitchen with a recipe for 
Thai steamed fish
but I'm not quite ready to leave the land of coconut milk and curry. I've been wanting to share this recipe for Thai green curry chicken for the longest time so here you are!
It's a saucy flavorful stir fry of sliced boneless chicken and snow peas that simmers briefly with coconut milk, basil, cilantro, ginger and a good amount of delicious Thai green curry paste. I love it over a bed of fluffy white rice to soak up all the fragrant coconut curry sauce. Happiness for the diners and for the cook who can throw it together in a flash!
I've been really pleased with using store-bought Thai curry paste for this recipe. I've gotten great results with
Maesri Thai Green Curry Paste
and with
Thai Kitchen Green Curry Paste
. The Maesri is spicier than the Thai Kitchen so I recommend that you add a tablespoon at a time to your sauce and test for your desired degree of heat.
You really don't need much more than a great green curry paste and coconut milk to make a delicious Thai curry sauce, but adding aromatics like onions and ginger, and fresh herbs like basil and cilantro, takes the dish to deliciously high heights that, in my opinion, are well worth the extra effort. Once you have everything chopped and ready it takes only 15 minutes to cook this curry.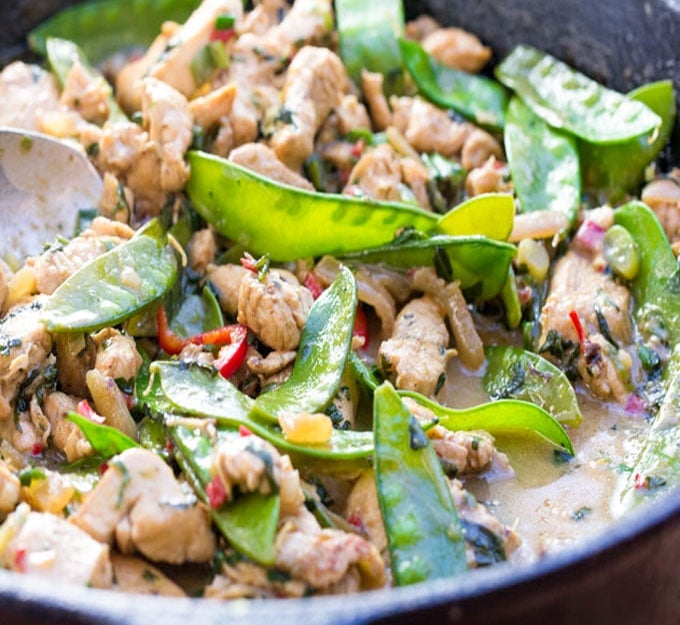 There's a wonderful harmony of many complex flavors in the sauce – a quality that is prized in Thai Cuisine.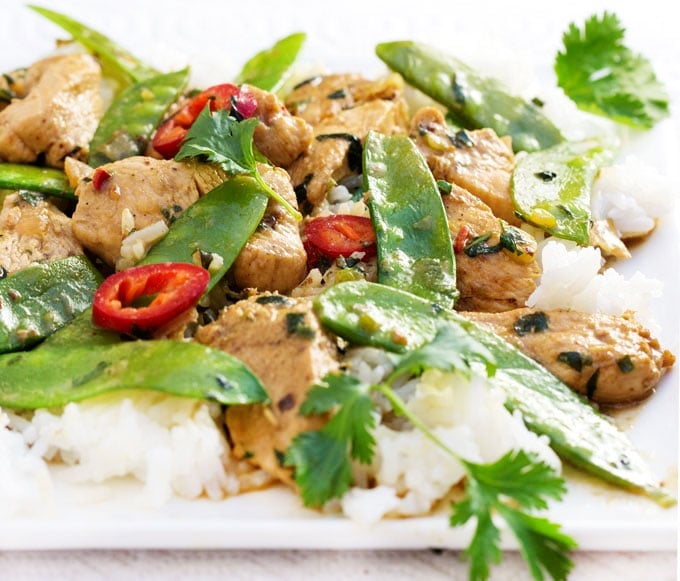 If you're a fan of Thai food, here are a few more delicious Thai recipe you might enjoy:
As always, I would love to hear back from you if you cook this. Please come back to rate the recipe and leave a comment so I know how it turned out.
Now here's the recipe for Thai green curry chicken with snow peas.
Print
Thai Green Curry Chicken with Snow Peas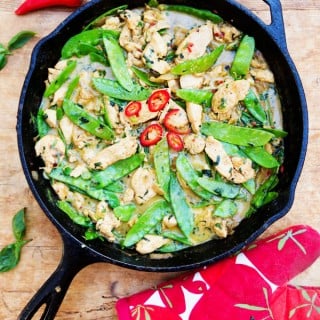 Boneless chicken and snow peas in a fragrant spicy thai curry sauce.
Author:
Prep Time:

30 mins

Cook Time:

15 mins

Total Time:

45 mins

Yield:

4-5

Category:

Lunch or Dinner

Cuisine:

Thai
Ingredients
2 tablespoons olive oil or coconut oil
1 medium yellow onion, halved and thinly sliced
1 1/2 tablespoons minced fresh ginger root (from a 2-inch piece)
1 1/2 pounds boneless, skinless chicken breasts, sliced crosswise into 1/2-inch pieces
1 can unsweetened coconut milk
1/2 cup low salt chicken broth
3 tablespoons store-bought Thai Green Curry Paste*
1 teaspoon brown sugar
1 teaspoon Thai fish sauce
1-2 red chili peppers, seeds and ribs removed, finely chopped – I love using red fresno peppers. Thai red chilies or red jalapeño peppers are also great choices.
1/3 cup packed fresh basil leaves, roughly chopped
2 tablespoons chopped cilantro leaves
8 ounces snow peas (about 2 1/2 cups), stringed
6 green onions, trimmed and thinly sliced crosswise
Optional Garnish:
Additional chili peppers, sliced crosswise
A sprinkle of slivered basil
Suggested Accompaniment
Cooked white rice
*Note: See post for green curry paste recommendations. Also note that store-bought curry pastes differ dramatically in heat, so add 1 tablespoon at a time and test for your desired amount of heat.
Instructions
Heat oil in a large skillet or wok over medium-high heat until hot but not smoking. Stir-fry onion and ginger for two minutes or so, until fragrant. Add sliced chicken and stir fry for 3-4 minutes until it all loses its pink color. Transfer chicken and onions to a bowl and set aside.
Add coconut milk, chicken broth and curry paste to the skillet. Bring to a boil. Lower to a gentle simmer and cook for 3 minutes or so, to thicken the sauce. Stir in sugar, fish sauce, basil, cilantro and chopped chili peppers. Return chicken to skillet and cook, stirring, for a minute. Add snow peas and simmer gently for 3-4 minutes longer, or until chicken is cooked through. Remove from heat. Stir in scallions. Season with a little salt, to taste.
Serve with rice and garnish with chili peppers and basil, if you like.
If you enjoy recipes like this, here's another delicious version of  Green Curry Chicken from Cooking Light. It's served in bowls with bok choy and rice noodles, and it comes together in less than 30 minutes!