Steamed fish can be a beautiful thing. Steaming is a simple, healthy cooking method that works especially well with fish. The gentle steam cooks delicate fish fillets to tender perfection. If you don't own a steamer, no problem. I'll show you how you can steam fish on a plate in a regular old pot or a wok.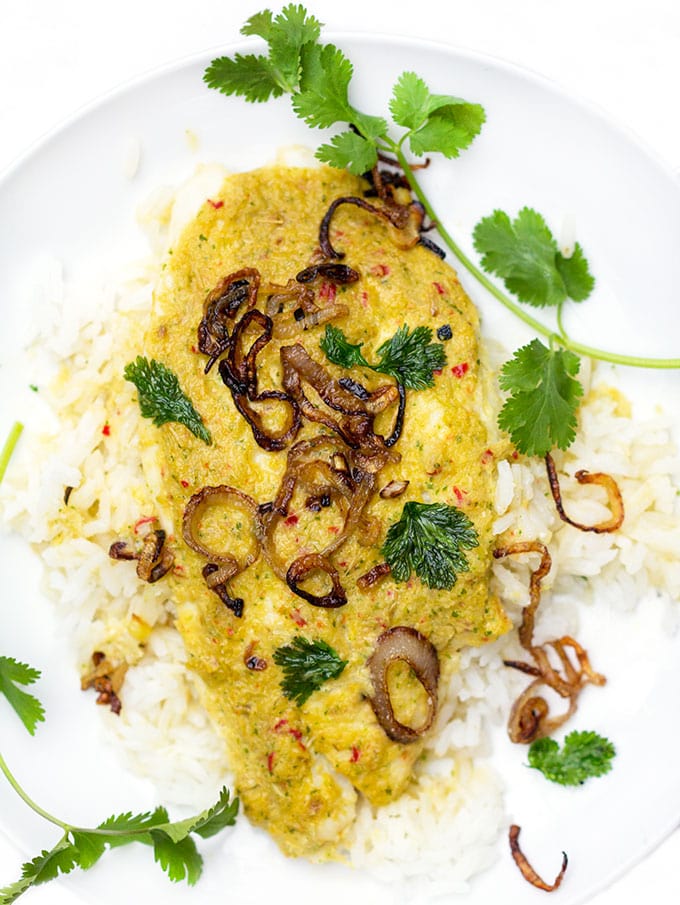 I used flounder for this recipe, but any thin white fish fillets will do. I coat them with a fragrant Thai coconut sauce that's whipped up in a blender. Then they're steamed and topped with a bit of delicious decadence - fried shallot rings and cilantro. I recommend serving them over fluffy jasmine rice with a simple green vegetable, like spinach, snow peas or broccoli, on the side.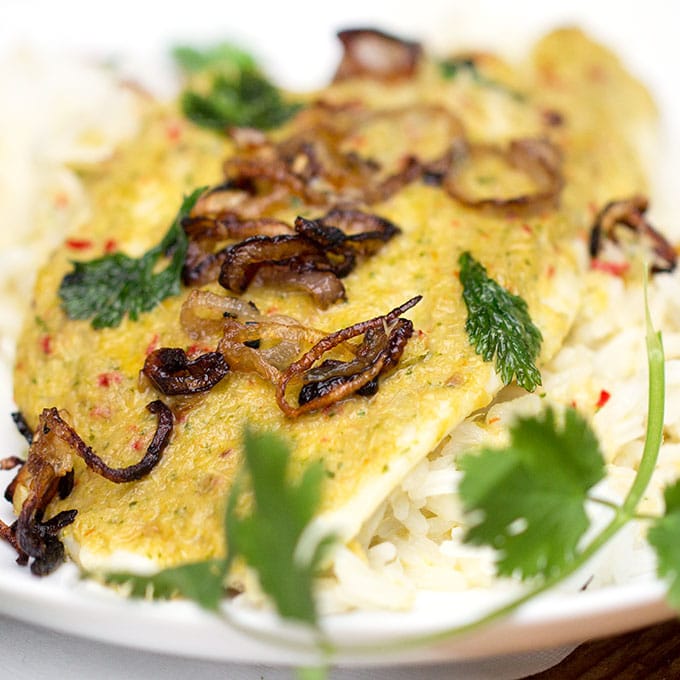 If you have a steamer then you'll probably want to use it for this recipe. If you don't, it's easy to make a steamer in your wok or in a large pot, as long as it has a lid to keep in the steam.
Fill the bottom of the pot with about two cups of water and put a small ramekin in the middle. This will be a platform for your plate of fish. If you don't have a ramekin you can improvise with any small heatproof bowl or object.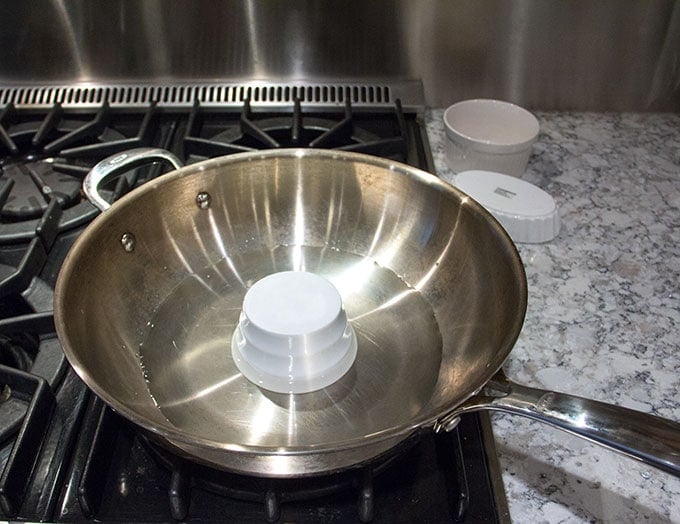 The idea is to raise the plate at least ½-inch above the water level. Be sure you choose a round heatproof plate or glass pie pan. If using a plate, make sure it slants up around the edge so any sauce that accumulates will stay in the dish.
The fish is coated with a fragrant puree of shallots, ginger, red chili pepper, lemongrass, coconut milk and cilantro.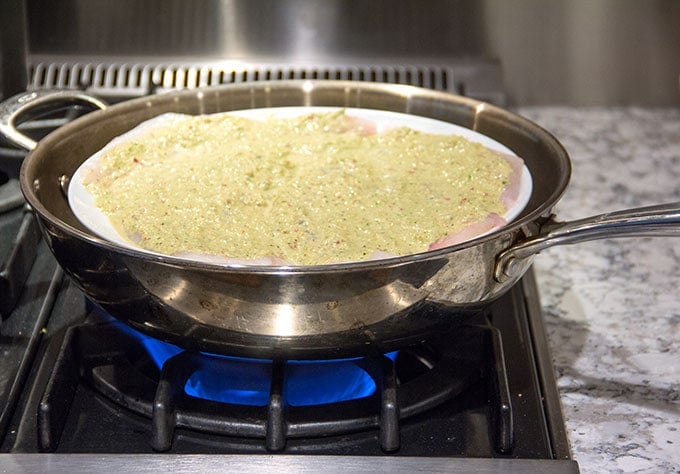 Once the water is boiling under the plate, cover the pot and your fish will steam. It takes only 6-10 minutes, depending on the thickness of the fillets.
I love the fresh taste and the delicate flakiness of this steamed fish. The coconut sauce has a lovely balance of complex flavors that is the hallmark of Thai cuisine.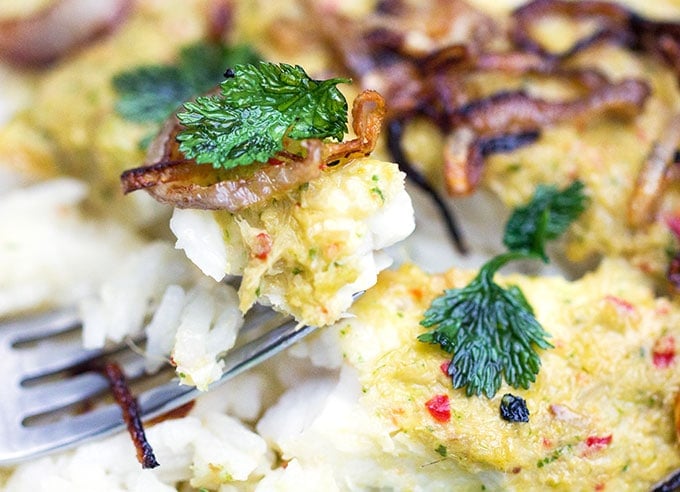 If you're interested in learning more about steaming fish, chicken, vegetables and more, check out this Cooking Class on Stovetop Steaming - by Cooking Light
Want more delicious Thai dishes on your table? Here's the link to more of Panning The Globe's Thai recipes
Here's the recipe for Thai steamed fish in coconut sauce. If you cook this I hope you'll come back and leave a comment to let me know how it turned out!
Print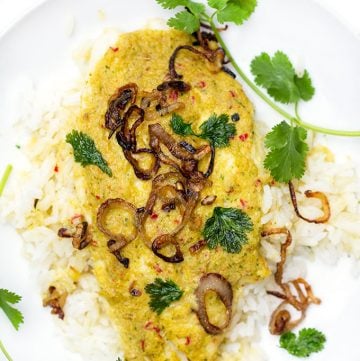 Thai Steamed Fish in Coconut Sauce
---
Author:

Lisa

Total Time:

35 mins

Yield:

4

1

x
Description
Steamed fish fillets with fragrant Thai coconut sauce
---
4

5

-

ounce

skinless white fish fillets such as halibut, snapper or flounder

2 tablespoons

cooking oil, divided

2

large shallots, 1 chopped (

¼ cup

) and one thinly sliced

1 ½ tablespoons

chopped ginger root

1

stalk of lemon grass, tough outer layers removed, roughly chopped

1

small thai red chili (substitute a red jalapeño) seeded and chopped

½

cup

coconut milk from a can (shake can well to mix before opening)

2 teaspoons

Thai fish sauce

15

springs of cilantro, leaves separated from stems, divided (you'll use leaves for the garnish and some of the stems to make the sauce)
Coarse salt
Freshly ground black pepper
Serve with hot steamed white rice (I recommend jasmine rice)
---
Instructions
To Make the Coconut Sauce: Heat 1 tablespoon of oil over medium heat in a small skillet. Add chopped shallot, ginger, lemon grass and chili. Stir-fry for 3 minutes or until fragrant and lightly colored. Scrape into a small food processor or blender. (don't wash skillet - you'll use it for the topping) Add coconut milk, fish sauce and 8 stems of cilantro. Process for 30 seconds or so, until everything is finely blended into a thick sauce.
To Steam the Fish: *Arrange the fish fillets in a single layer on a heatproof plate or glass pie pan. Spread the coconut sauce evenly over the fish fillets. Place plate in a steamer and turn the heat to high. Once the water is boiling, cover tightly and steam fish for 6-8 minutes or until it's just opaque. Test with a knife. If the knife goes in easily, with no resistance, the fish is done. Remove from heat and remove cover.
To Fry the Shallots and Cilantro: While the fish is steaming, line a plate with a paper towel. Heat remaining tablespoon of oil in the skillet over medium-high heat. When hot, stir-fry the shallots until browned, 3 minutes of so. Transfer to paper towel lined plate. Add the cilantro leaves and fry them for just a few seconds. Transfer them to the plate.
To Serve: Carefully (I used two spatulas) transfer fish fillets to four plates.(I like to plate them over a bed of rice) Sprinkle with a tiny pinch of salt and a generous sprinkling of pepper. Scatter fried shallots and cilantro on top. Spoon extra sauce over the rice.
* See post for more details on how to set up a steamer
Prep Time:

25 mins

Cook Time:

10 mins

Category:

Lunch or Light Dinner

Method:

Steam

Cuisine:

Thai