Chicken Adobo is the most popular and famous dish in the Philippines. Chicken is braised, low and slow, in tangy, vinegary garlic sauce until it is meltingly tender and falling off the bone. It's incredible! And the good news is, it's easy to make Filipino chicken adobo at home with common ingredients.
Have you ever eaten Filipino food? I hadn't until I started testing recipes for this post.
I Googled Filipino restaurants in Massachusetts and there's only one. After more research I discovered that there aren't many Filipino restaurants in America. Yet according to the Census Bureau, Filipinos are the second-largest Asian group in the USA, totaling 3.4 million people (based on 2010 estimates).
The Philippines is an archipelago of over 7,000 islands in southeast Asia, not far from Thailand. We all know and love Thai food.
I can't say why Filipino food isn't more prominent in the culinary scene here. But If this chicken adobo is any indication, Filipino food rocks, and we should all be enjoying it!
WHAT IS ADOBO?
'Adobo' can refer to many different things. Here's the scoop
Adobo is the name of a popular Caribbean spice mix that usually contains salt, garlic powder, oregano and pepper.
Adobo is the name of a Mexican paste or sauce that contains chipotle chilies, which are dried smoked jalapeño peppers. it's often called 'chipotle in adobo.'
Adobe is a popular Filipino dish named after a cooking technique that entails stewing meat, chicken or vegetables in garlicky, peppery vinegar sauce.
Want to know more about what is adobo? Here's a good article on the subject from Food and Wine: What is Adobo?
HOW TO MAKE CHICKEN ADOBO:
Filipino Chicken adobo is a simple dish with only 6 main ingredients. Chicken thighs are marinated in vinegar and garlic for a half hour, browned, and then stewed for an hour with onions, garlic, vinegar, soy sauce and fish sauce.
The key to making this wonderful, richly flavored fork-tender chicken is in the braising technique. Bone-in, skin-on chicken thighs are perfect for braising. When you brown chicken thighs over high heat, you create a delicious layer of flavor in the skin and you seal in the juices. Plus you get lots of tasty browned bits on the bottom of the pan, which will flavor the sauce.
Marinate The Chicken: Start by marinating the chicken thighs for 30 minutes, with white vinegar and garlic.
Brown The Chicken: Next, sauté the chicken pieces in your dutch over or heavy pot, over high heat.
Sauté The Aromatic Vegetables: Transfer browned chicken to a plate, add onions and garlic to the pot and sauté until tender.
Braise The Chicken: Add the chicken back to the pot along with reserved marinade, soy sauce, fish sauce, black pepper, bay leaves and water. Simmer, covered, for about an hour, until the chicken is falling off the bone and the sauce is rich and dark.
HOW TO PEEL
GARLIC THE EASY WAY
There's a whole head of garlic in this chicken adobo recipe. Peeling garlic can be tedious but there's a technique I'm going to tell you about that makes it easy to get the papery skins off.
You'll be amazed at how easy is it to peel a whole head of garlic when you use this technique. It changed my life when I learned this!
Place a clove of garlic on your work surface.
Lay the flat side of the blade of a large heavy knife over the garlic clove.
Use the heel of your hand, CAREFULLY, to pound the knife once or twice until the clove is flattened a bit.
That will loosen the papery skin so you can easily pull it off.
Another benefit of this technique is that the garlic cloves are left bruised and tender, so they're easier to chop.
I just have to mention that during every step of making this chicken adobo recipe, the smell is intoxicating - even my 16-year-old was lured downstairs to ask 'what's cooking?'
WHAT IS THE ADOBO COOKING METHOD?
The adobo cooking method was originally invented as a way to preserve meat before there was refrigeration. Harmful bacteria can not survive in an acid environment so vinegar was, and still is, a perfect natural preservative for foods.
Adobo has stood the test of time. Despite the invention of refrigeration, adobe remains extremely popular in Filipino cuisine.
Many consider chicken adobo to be the national dish of the Philippines.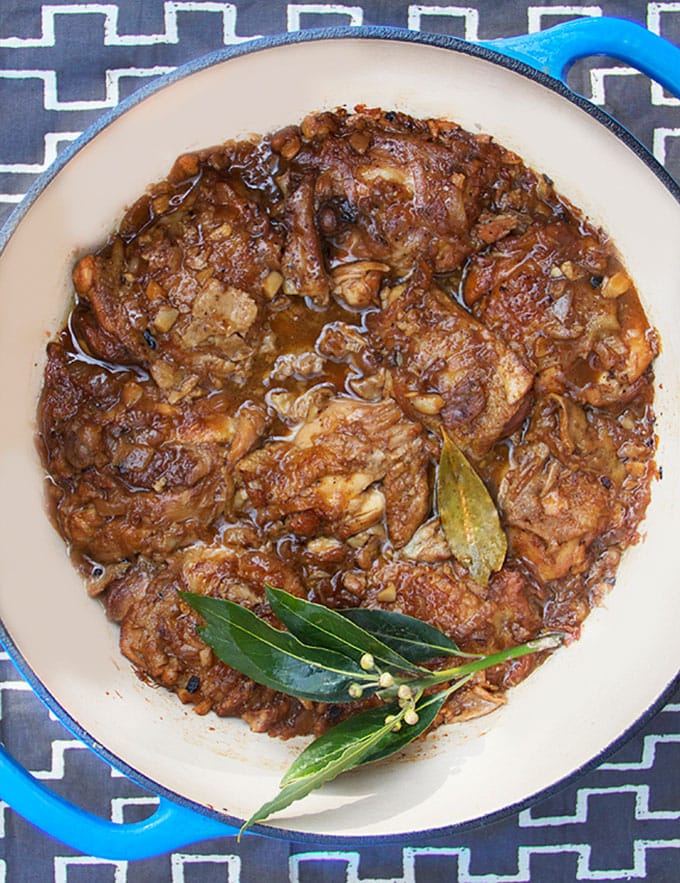 I knew I would love chicken adobo before I even tried it. I have a thing for super tender chicken braised in vinegar sauce.
WHAT TO SERVE WITH CHICKEN ADOBO
Here are some side dishes that go beautifully with Filipino chicken adobo:
A side of rice, quinoa or mashed potatoes is a must! You'll want something starchy to soak up the delicious sauce
A simple citrusy green salad is a perfect side dish with chicken adobo.
This shredded raw carrot salad is also a great choice.
To garnish, I recommend chopped cilantro or chopped scallions or both.
Here's the recipe for Filipino Chicken Adobo. If you try this recipe, I hope you'll come back to leave a star rating and comment. I'd love to know what you think!
Print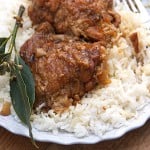 Filipino Chicken Adobo Recipe
---
Author:

Lisa

Total Time:

1 hour 45 mins

Yield:

5

-6

1

x
Description
Tender braised chicken thighs in a tangy flavorful vinegar sauce. Serve it with white rice to soak up all the delicious sauce.
---
4

pounds chicken thighs (with bones and skin)

1 ½ cups

distilled white vinegar

1

head of garlic, peeled and roughly chopped (about

6 tablespoons

chopped), divided

2 tablespoons

light olive oil or vegetable oil

1

medium yellow onion, halved and thinly sliced (

1 ½ cups

sliced onion)

½ cup

soy sauce

1 tablespoon

plus 1 teaspoon Thai fish sauce or Filipino fish sauce

1 teaspoon

freshly ground black pepper

2

dried bay leaves
---
Instructions
Marinate The Chicken Thighs: Put chicken in a non-reactive bowl or casserole. Combine the vinegar and 1 tablespoon of the chopped garlic and pour it over the chicken, and toss, to coat. Marinate the chicken for 30 minutes, in the fridge or in a cool place. Remove chicken from the marinade, allowing excess liquid to drip back into the bowl, and transfer the chicken to a clean plate. Reserve the marinade.
Brown Chicken: pat chicken dry with paper towels. Heat 2 tablespoons oil over medium heat in a large dutch oven or heavy pot with a lid. Brown chicken in batches (4-5 pieces at a time), starting skin side down for 3-4 minutes. Then turn it and brown it for just a minute on the other side. Transfer chicken to a plate and set aside. Pour out all but 2 tablespoons fat from the pot. (hint: It's easier if you pour it all out, into a small bowl or coffee cup, and then add back the 2 tablespoons).
Add Aromatics: Turn the heat down to medium-low, add onions and remaining garlic to the pot and sauté, stirring occasionally, for about 10 minutes, until the onions are softened.
Braise: Return the chicken to the pot along with any accumulated juices, reserved vinegar-garlic marinade, soy sauce, fish sauce, 1 teaspoon of black pepper, 2 bay leaves and ¼ cup of water. Stir to combine, bring to a boil, lower to a simmer, cover and cook at a low steady simmer for 1 hour or until the chicken is tender and the sauce is a rich brown color. Serve over rice.
Prep Time:

30 mins

Cook Time:

1 hour 15 mins

Category:

Main Course

Method:

braising

Cuisine:

Filipino
Keywords: Filipino Chicken Adobo, braised chicken adobo, filipino chicken stew, authentic chicken adobo
[This Chicken Adobo Recipe first appeared on Panning The Globe in March 2014. It has been updated with clearer instructions, tweaks to the written post and added nutritional information]