This "Buddha Bowl" is the ultimate satisfying nutritious meal, filled with a rainbow of roasted veggies, kale, quinoa, luscious lemony dressing and a very special vegan pecan parmesan that is do die for!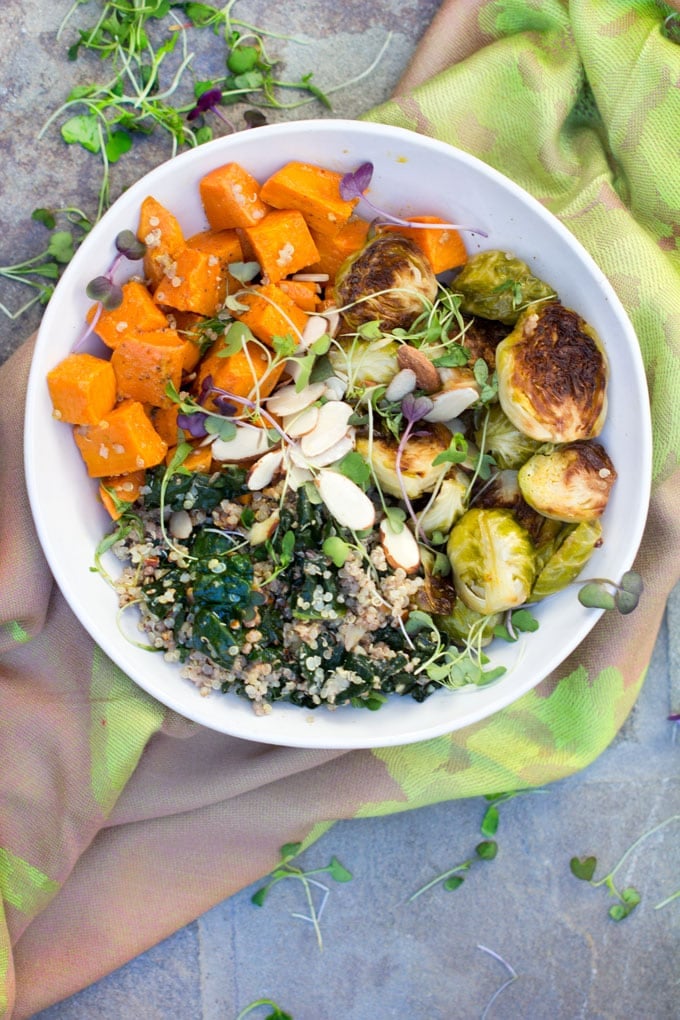 I rarely get so excited about a new food concept that I make a beeline for the grocery store to get right to it. That's what happened to me when I discovered Buddha bowls. I'm not the only one. Buddha bowls are all the rage.
What is a Buddha bowl and where did it come from?
I did some research and I still can't tell you definitively.
Some say it's a revival of the brown rice and veggie "hippie bowl" of the 1960's.
The urban dictionary defines a buddha bowl as "…a bowl which is packed so full that it has a rounded "belly" appearance on the top much like the belly of a buddha."
The common denominator is that a Buddha bowl is a big beautiful bowl of delicious food that's super good for you.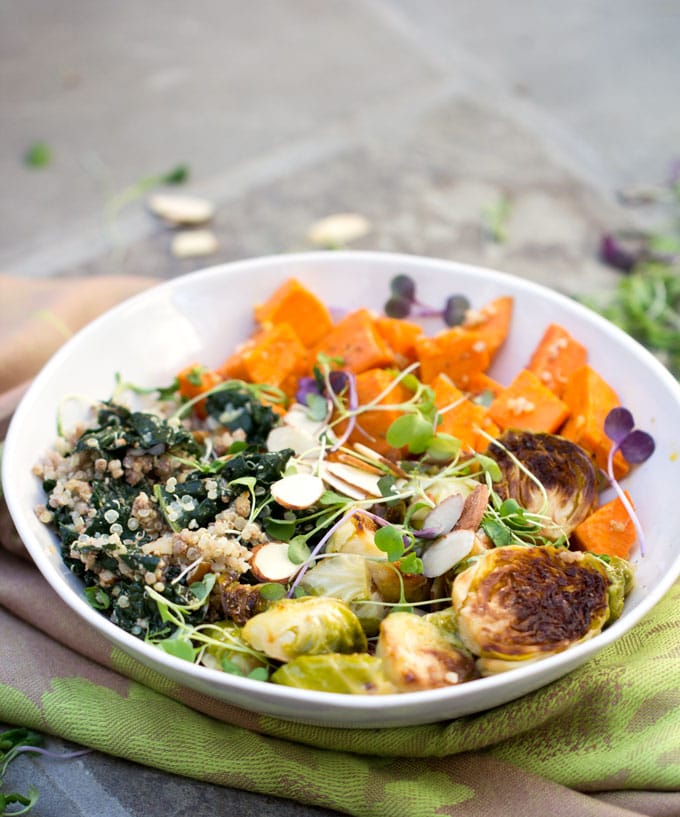 'Buddha bowl' is such a great name for a dish. It evokes a sense of serene wisdom and spiritualism, of simplicity and healthfulness. It has mystique. Just tell someone you're making buddha bowls for dinner and they will immediately be intrigued and want to know more. And they'll probably go home and make buddha bowls for dinner that night.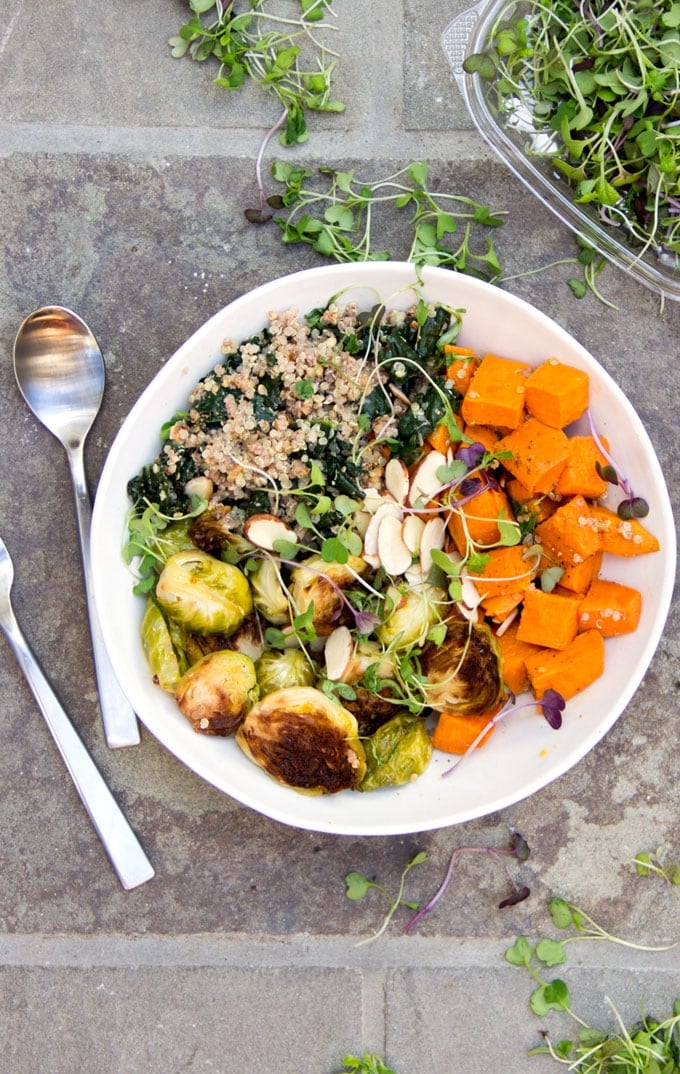 When I develop a 'bowl' recipe, I think carefully about shapes, colors, textures, nutritional balance and, of course, flavors. Everything has to work well together in every way.
All those same considerations go into composing a Buddha bowl, plus one more – making sure it's packed with only super healthy ingredients. When eating a delicious Buddha Bowl, there's extra enjoyment in knowing that you're doing something great for your body.
For the ultimate bowl of health and happiness, I designed this buddha bowl with two of my favorite roasted veggies: Brussels sprouts and sweet potatoes. For a contrast in texture and flavor, I combined tender raw dinosaur kale with cooked quinoa, and tossed the mixture with a scrumptious lemony dressing and vegan toasted-pecan 'parmesan'. slivered pecans and micro greens add a final layer of healthy crunch.
How To Make A Sweet Potato Brussels Sprout Buddha Bowl:
Start by roasting the vegetables. You can get everything else prepped while they cook.
Trim and halve the Brussels sprouts. Toss them with olive oil and a pinch of salt, spread them out on a rimmed baking sheet, and roast for 25-30 minutes.
Peel three medium sweet potatoes and cut them into 3/4-inch cubes. Toss with olive oil and salt and roast for 25-30 minutes
While the veggies are roasting, cook the quinoa and wash and slice the kale.
As soon as the quinoa is done cooking, while it's still piping hot, toss it with the raw kale. The kale will soften and cook a bit from the heat of the quinoa and it will be the perfect texture for the buddha bowl.

The dressing is made in two stages.
Part one is a simple mixture of olive oil, lemon juice, dijon mustard, salt and pepper. Whisk that up and toss it with the kale-quinoa mixture.
Part two is the vegan "parmesan" made from toasted pecans that are ground in the food processor or blender, and mixed with a little olive oil and nutritional yeast. Pour that on top of the kale-quinoa just before serving, and toss to combine.
A Note About Nutritional Yeast:
If you've never cooked with nutritional yeast, you are in for a treat. It's not what you think of when you think of yeast. Nutritional yeast is a deactivated yeast that's used as a flavoring ingredient in cooking. Many vegan cooks add it to soups or stews to give a savory, umami boost to their recipes.
Nutritional yeast mimics the flavor of cheese. Try sprinkling it on popcorn or on kale chips! As a bonus, it's full of "nutrients," hence the name "nutritional."
I buy it at my local Whole Foods. It's also available to order from Amazon.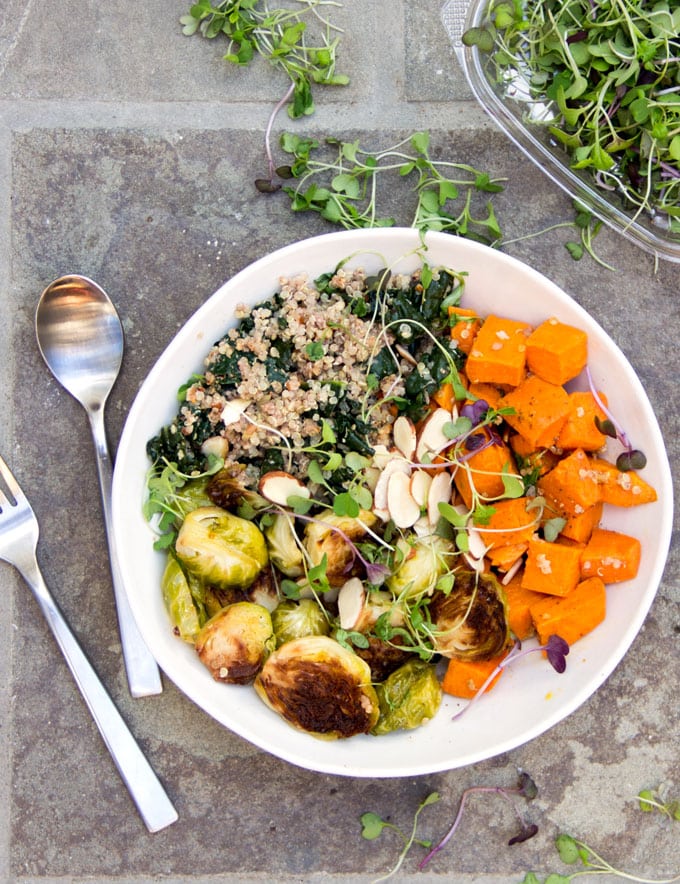 As long as we're on the topic of Buddha bowls, I have to share a few of my favorite quotes from The Buddha:
"Peace comes from within. Do not seek it without."
"Holding on to anger is like grasping a hot coal with the intent of throwing it at someone else; you are the one who gets burned."
"The mind is everything. What you think you become."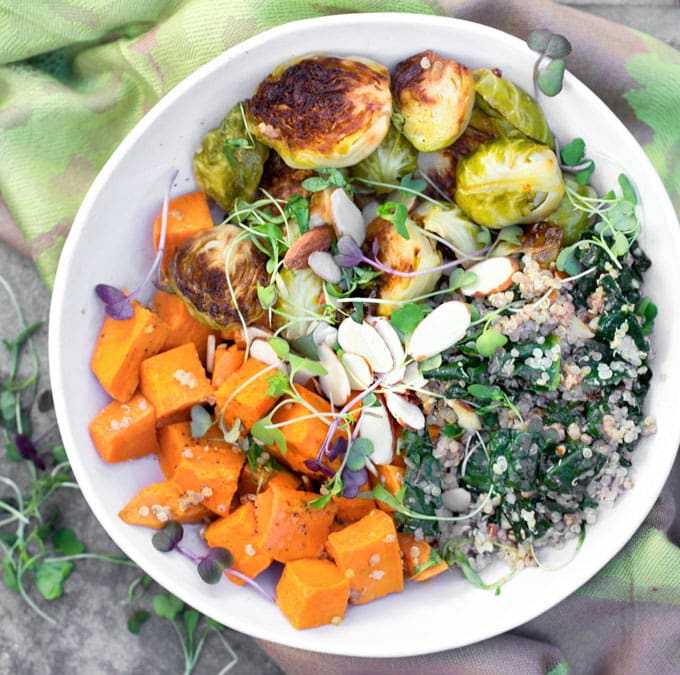 Here's the recipe for the Sweet Potato Brussels Sprout Buddha Bowl. If you make this, I hope you'll come back to leave a star rating and a comment. I'd love to know what you think!
Print
Sweet Potato Brussels Sprout Buddha Bowl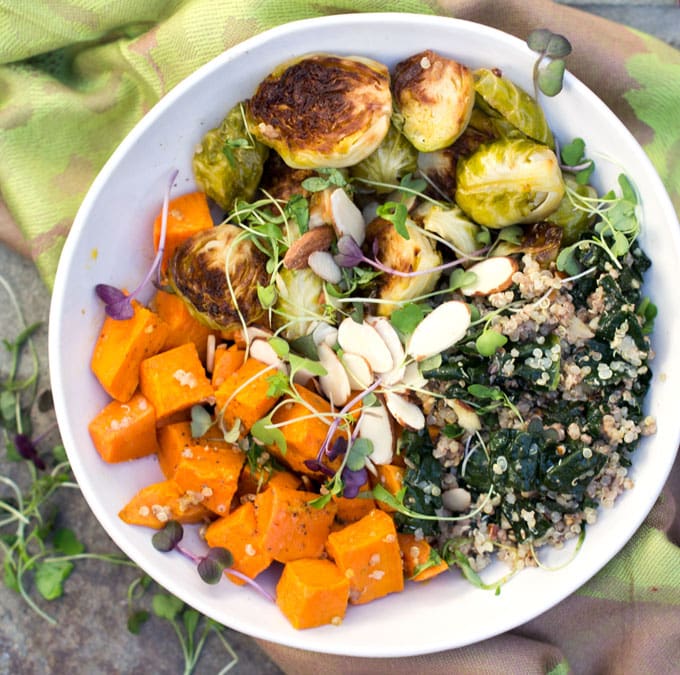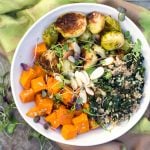 A vibrant healthy bowl composed with roasted veggies, kale, quinoa, lemony dressing and vegan toasted pecan "parmesan."
Author: Panning The Globe
Prep Time:

30 mins

Cook Time:

40 mins

Total Time:

1 hour 10 mins

Yield:

4

-

5

1

x
Category:

lunch or dinner
Scale
Ingredients
For The Buddha Bowl Ingredients:

3

medium sweet potatoes or yams (about

2 1/2

pounds) peeled, cut into 3/4-inch cubes

1 1/2

pounds brussels sprouts, trimmed of ends and damaged leaves, and halved

1

bunch dinosaur kale (also called Lacinato kale), thick stems removed, leaves washed, dried, stacked and thinly sliced

1 cup

raw quinoa, rinsed and drained
For The Vegan Lemon Parmesan Dressing:

1 cup

raw pecans, toasted over high heat in a heavy dry skillet for a few minutes (toss & watch constantly to prevent burning)

1 1/2 tablespoon

s nutritional yeast

5 tablespoon

s extra virgin olive oil, divided

2 tablespoon

s lemon juice (

1

juicy lemon)

1 teaspoon

dijon mustard

1/4 teaspoon

kosher salt or more, to taste
Freshly ground black pepper, to taste
Optional Garnishes:
Slivered almonds
Sweetened dried cranberries or cherries
Micro greens
Instructions
Roast the Sweet Potatoes and Brussels Sprouts: Preheat the oven to 400ºF.
Toss the sweet potato with 3 tablespoon olive oil and a sprinkle of salt (optional). Spread them out in a single layer on a low-sided roasting pan. Toss the brussels sprouts with 3 tablespoons olive oil and a sprinkle of salt (optional). Spread them out, cut side down, in a single layer on a low-sided roasting pan. Roast the two trays of vegetables, undisturbed, for 25-30 minutes or until they are tender and starting to brown. The sweet potatoes may need 5 more minutes in the oven than the brussels.
Cook the quinoa: While the veggies are roasting cook the quinoa per package instructions (1 cup quinoa with 2 cups water for about 14 minutes). While the quinoa is cooking put the sliced kale into a large bowl. When the quinoa is ready, immediately add the hot quinoa to the bowl with the kale and toss to combine. The kale will soften and cook a bit from the heat of the quinoa. Set aside.
Make the Vegan Lemon Parmesan Dressing: Using food processor or blender, finely chop the toasted pecans. Add the nutritional yeast, salt and 1 tablespoons of olive oil and pulse to combine.
In a separate small bowl whisk the remaining 4 tablespoons of olive oil with the lemon juice, dijon, salt and pepper. Pour the mixture over the kale-quinoa and toss to combine. Sprinkle the pecan parmesan on top just before serving, and toss.
Assemble the Buddha Bowls: Divide the quinoa/kale mixture between 4-5 bowls. Divide the sweet potatoes and brussels sprouts between the bowls, each in their own pile so you can see all the wonderful colors and textures. Sprinkle garnishes on top: cranberries, almonds, micro-greens or all three. Season, to taste, with salt and pepper.