It's easy to make Korean bibimbap at home, a bountiful rice bowl with delicious Bulgogi beef, loads of vegetables, spicy sauce and a fried egg on top.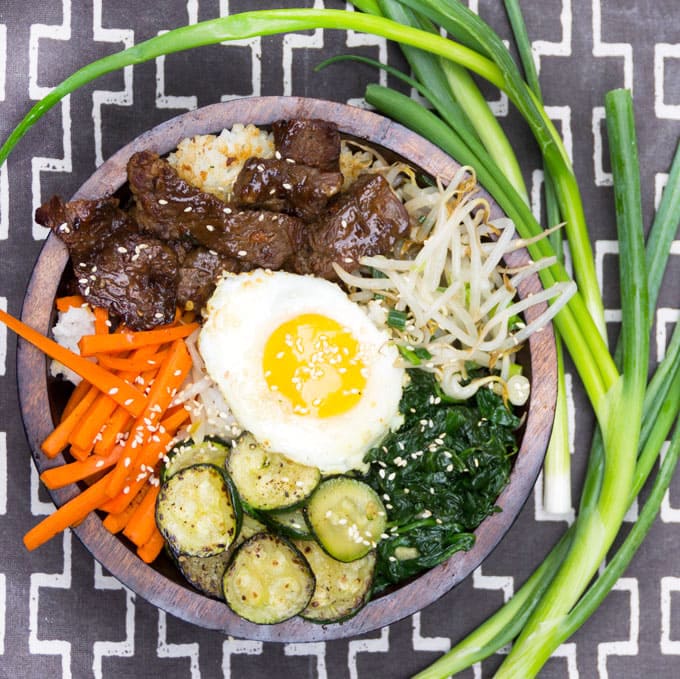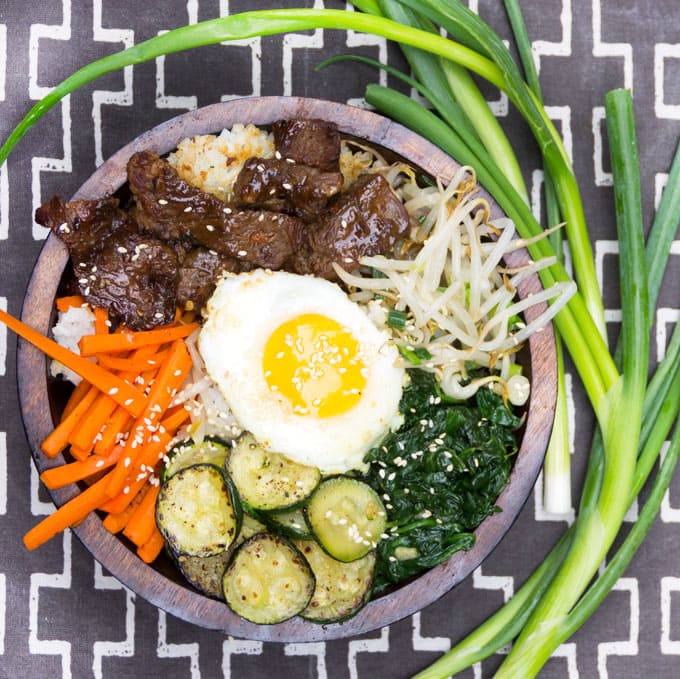 Thanksgiving has come and gone. I felt very thankful to have a few days to spend with my family and for an abundance of good food and happy times. My house feels so quiet and calm now. Even the dog is extra lazy and content. There's nothing like the excitement of the holidays and also the peacefulness that follows.
After a week of traditional American food I think it's time for something completely different, so here's a recipe from halfway across the world: Korean Bibimbap. It's easy to see why this dish is extremely popular: a layer of rice topped with a smorgasbord of beef, vegetables, an egg and delicious spicy sauce to bring it all together. It's an exciting prospect, especially when the beef is marinated in the style of irresistible Korean bulgogi.
"Bibimbap" means means "mixed rice" in Korean. The "mixed" part happens just before you dig in. But first, before mixing everything together with spicy sauce, you get to appreciate the beautiful arrangement of delicious components that make up the dish.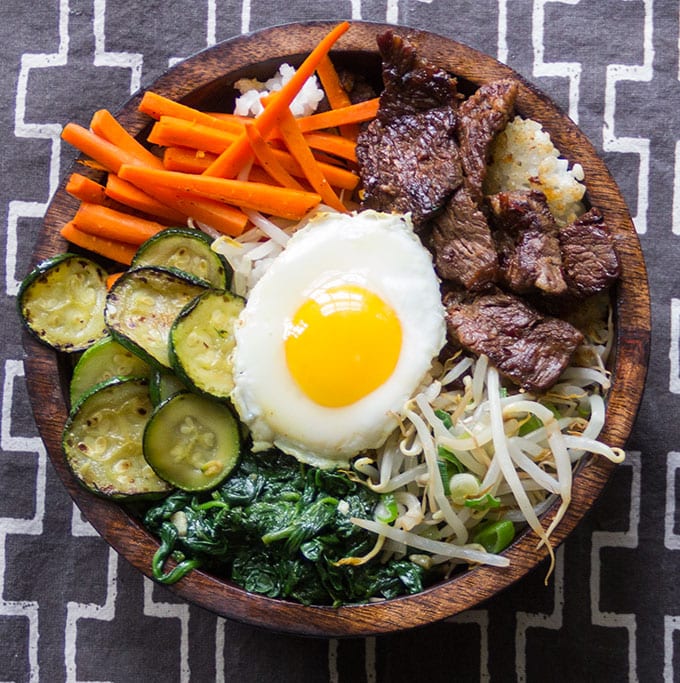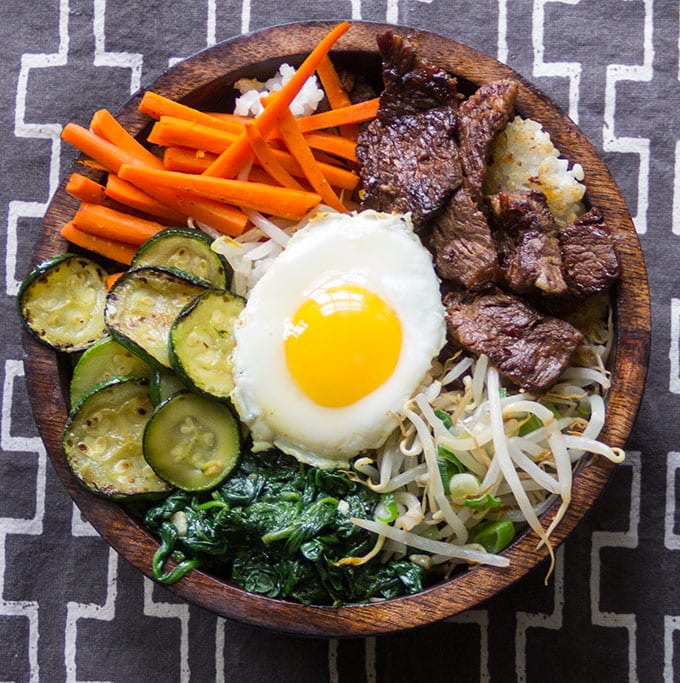 The first time I had Bibimbap was about five years ago at a Korean restaurant in Lexington MA called Dabin. I had never heard of Bibimbap and I was completely charmed by everything about it. The two things that stood out the most were the rice and the beef. The beef was the flavor nucleus of the whole bowl. It had that intense irresistible sweet and salty deliciousness of Bulgogi. The rice was special because it had a crisp crunchy crust on the bottom, created by the intense heat of the stone bowl it was cooked in.
How To Make Korean Bibimbap At Home
You can easily get the same results at home by browning cooked rice in a hot cast iron skillet with a little sesame oil. Or, if you want to go all out, you can purchase individual stone bowls called dolsots for your Bibimbap. But even if you're pressed for time and want to skip making the crisped rice, the Bibimbap will still be great!
Korean Bibimbap was not designed to be a complicated time-consuming meal. On the contrary, it was a recipe created to make use of leftovers. Leftover rice is repurposed and crisped up. Leftover vegetable side dishes, called banchan, are the toppings.
Bibimbap is a very flexible dish that can be as simple or elaborate as you choose. The beef is really special so I would definitely include that. But you can select just a couple of vegetables or many. Use leftover vegetables from last night's dinner. Add kimchi, if you have some. A sprinkling of thin ribbons of nori make a great garnish. Add some toasted sesame seeds over everything, if you like.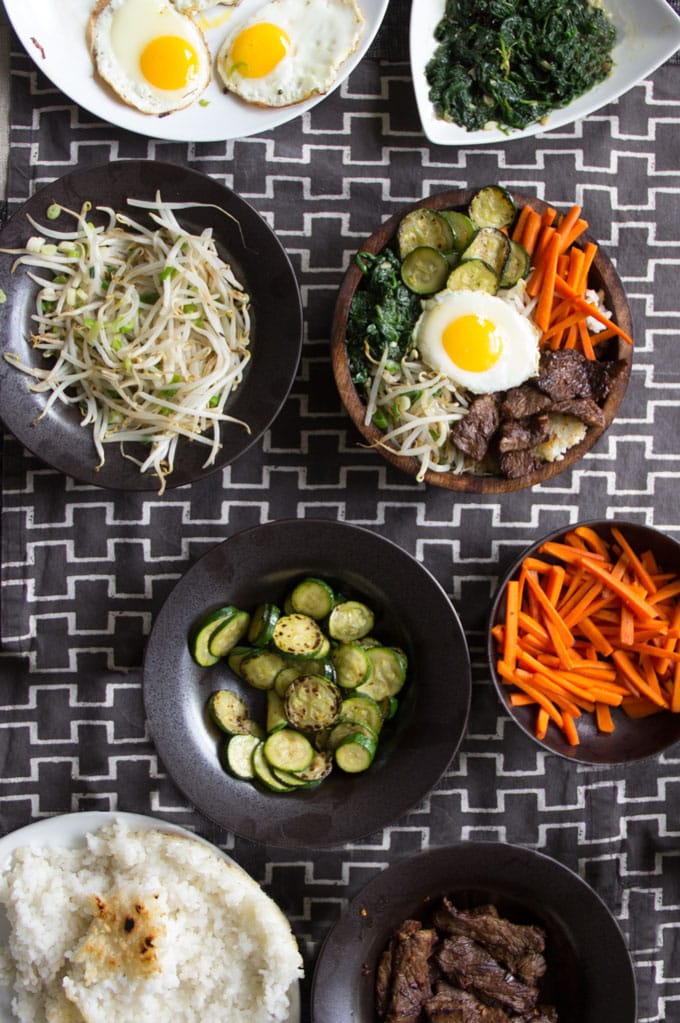 The sauce for bibimbap features the spicy Korean fermented hot pepper paste called Gochujang. It's typically mixed with a little vinegar and sesame oil – sometimes sugar. But you can also use it straight if you like a lot of heat.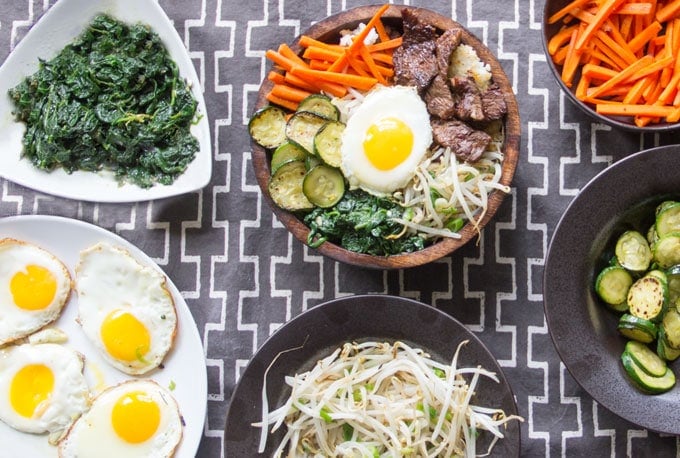 I just have to say, I love Korean food. Some of my long-time favorite recipes are Korean, like this Korean Beef Lettuce Wraps Appetizer which I make every year on New Year's Eve; Korean BBQ Burgers with Pickled Onions, Radishes and Miso Mayonnaise – the only burgers my family ever want; and my new favorite weeknight dinner: Korean Chicken Stew with Gochujang Sauce. And now Bibimbap!
Here's the recipe for Korean bibimbap. If you make it I hope you'll come back to leave a rating and a comment. I'd love to know what you think!
Print
BIBIMBAP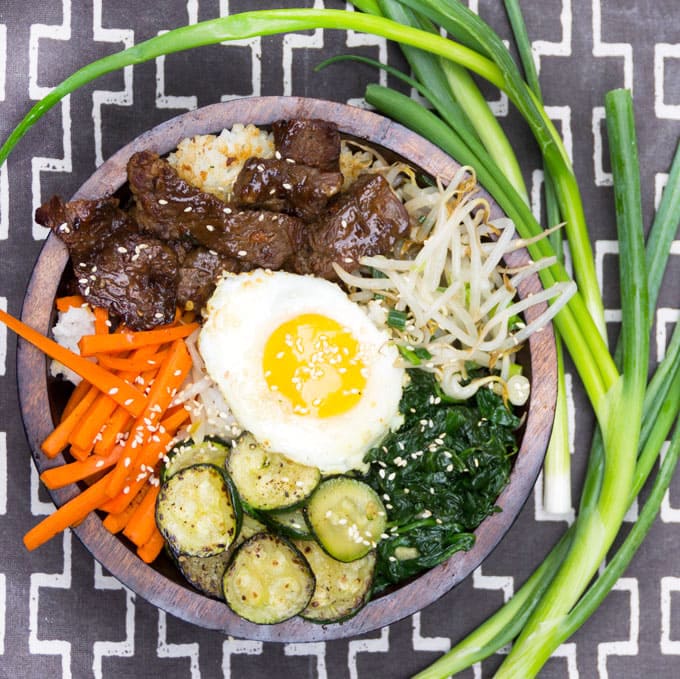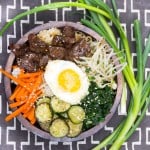 Korean rice bowl with delicious Bulgogi marinated beef, assorted vegetables and fried eggs on top.
Author: Panning The Globe
Prep Time:

45 mins

Cook Time:

30 mins

Total Time:

1 hour 15 mins

Yield:

5

1

x
Category:

Main Dish

Cuisine:

Korean
Scale
Ingredients
4 1/2 cup

s steamed sushi rice or short grain rice (from

1 1/2 cup

s raw rice) follow package directions.

1 tablespoon

sesame oil for crisping the rice, if you choose to do that.
Beef and Marinade

1

pound beef tenderloin (or substitute ribeye, sirloin or flank) thinly sliced (1/8″)

2 tablespoon

s brown sugar

2 tablespoon

s soy sauce

1 tablespoon

sesame oil

2 teaspoon

s crushed garlic (

2

medium cloves)

½ teaspoon

crushed red pepper flakes
For the Sauce:

5 tablespoon

s Korean gochujang (fermented hot pepper paste)

2 tablespoon

Asian sesame oil

2 tablespoon

s vinegar (white or cider)
For the Vegetables

2 tablespoon

s cooking oil, such as canola, divided

3

carrots, peeled and cut into matchsticks (see this post for how to cut carrots into matchsticks)

2

medium zucchini, sliced into thin rounds

1

garlic clove, minced

1

pound fresh baby spinach

1 teaspoon

sesame oil

1 teaspoon

s soy sauce

1 1/2 cup

s fresh Mung bean sprouts

5

eggs, cooked over easy or sunny side up.
Optional Garnish:

3 tablespoon

s toasted sesame seeds
A sheet of nori cut into thin ribbons
Instructions
Note: Be sure you have your rice cooked and ready.
Marinate the Beef: In a shallow bowl, combine all the marinade ingredients. Add the beef and toss to coat. Marinate for at least 30 minutes at room temp or up to 24 hours in the fridge, covered.
Make the Sauce: Whisk the goghuchang, oil and vinegar. Set aside. (can be stored in the fridge for up to a week)
Cook the Spinach: Cook the fresh spinach in a large pot of boiling water for 1 minute or so, until bright green and wilted. Strain in a colander. When cool enough to handle, squeeze by hand, to remove excess water. Toss spinach with 1 teaspoon sesame oil and 1 teaspoons soy sauce. Set aside.
Cook the Sprouts: Cook the sprouts in a pot of boiling water for 1 1/2 minutes. Drain and toss with 1/2 teaspoon sesame oil and salt and pepper, to taste. Sprinkle with 1/2 teaspoon sesame seeds.
Crisp the Rice: Spread 1 tablespoon sesame oil over the bottom of a cast iron skillet and turn the heat to medium. When hot but not smoking add the cooked rice to the pan, pressing it in for maximum contact with the bottom and sides of the hot skillet. Let it brown, undisturbed, for 10 – 15 minutes, or until it forms a crisp crust. (Lift the edge carefully to check it after 10 min)
*While the rice is browning, cook the eggs, the rest of the veggies and the beef in a separate pan:
Fry the eggs: You can keep them warm on a baking sheet in a 200ºF oven.
Cook the Zucchini: Heat 1 teaspoon canola oil over medium-high heat in a wok or skillet and stir-fry the zucchini with garlic for 5 minutes or so, until cooked through. Transfer to a bowl and sprinkle with some toasted sesame seeds, if you like.
Cook the Carrots: Add 1/2 teaspoon canola to the wok or skillet and stir-fry the carrots for 3 minutes or so, until crisp-tender. Transfer to a bowl and sprinkle with a pinch of salt.
Cook the Beef: Heat 1 teaspoon canola oil in the same pan, over high heat. Stir-fry half the beef for 1 1 1/2 – 2 minutes or until it's just cooked through. Transfer to a plate and repeat with remaining beef.
Assemble the bowls: divide rice between 5 large bowls. Divide beef and vegetables and arrange on top of rice. Put a fried egg on top of each bowl. Sprinkle with sesame seeds and nori, if you like. Pass the sauce around.
This post contains affiliate links