Disclosure statement: This post is sponsored by The UNCLE BEN'S® Brand. Although I received compensation in exchange for this post, all opinions are my own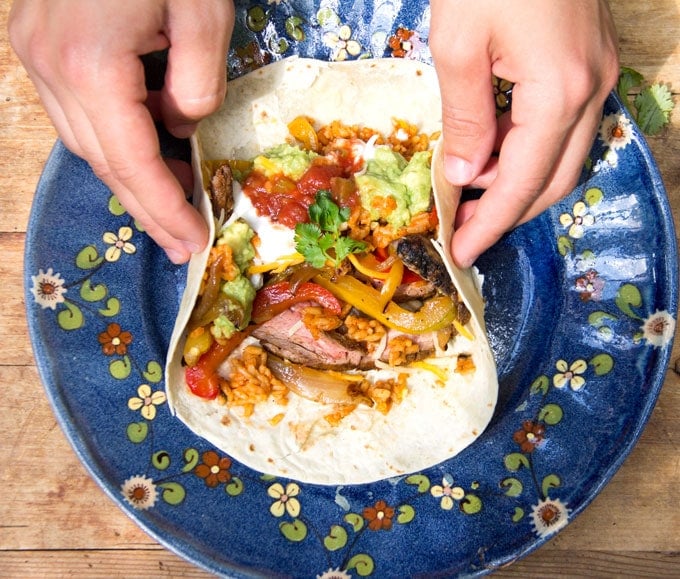 I'm so happy to be partnering with UNCLE BEN'S®Brand in their campaign to stress the importance of families eating and cooking together, which is something I'm very passionate about! Later in this post I'll tell you about the good stuff Uncle Ben's is doing to get kids cooking, and I'll show you how you can enter Ben's Beginners™ Cooking Contest. Now, here's a recipe that I love to cook and eat with my family.
Fajita night is a long-standing favorite family dinner in my house. It's hard not to love a big pile of warm tortillas waiting to be stuffed with strips of spicy steak or chicken, sautéed onions and peppers, guacamole, salsa, sour cream and Spanish rice. Whether we're firing up the grill in the summer or heating up the cast iron skillet in the winter, there's always a festive feeling at the dinner table when we're having fajitas. Our family often cooks together when we're making fajitas, which I love. A couple of us take care of the grilling while others are inside making rice and sautéing the peppers and onions. There's nothing gourmet or difficult about this meal - just lots of different elements. When everyone pitches in the whole dinner comes together with ease.
It's ironic that I'm writing about family dinners at this point in time, when things are about to be very different at my dinner table (sniff). Paul, my youngest, heads off in a week, to start his freshman year of college. Eddie and I still plan to sit down to dinner every night, but dinner for two will be an adjustment. I love cooking for a crowd and have found it especially rewarding to cook for hungry (starving) teenagers. I'm trying to embrace the concept of cooking for two adults with normal appetites. If I don't figure out a way to rescale my cooking soon, Eddie and I will be expanding rapidly or I'm going to have to start feeding the neighbors.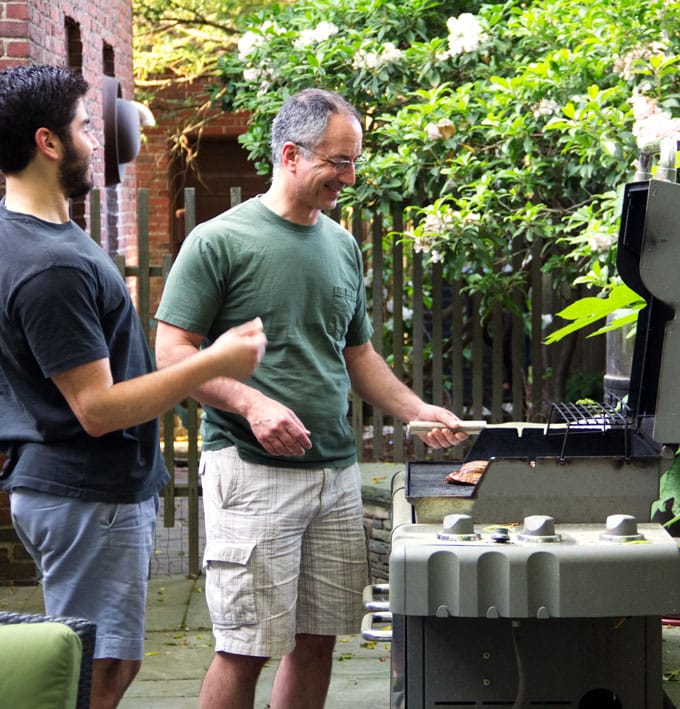 My nest was full this summer - Paul and Brian (middle son) were home and Alex (my oldest) flew in from LA for a few days. Having all my boys home and the whole family together is a rarity these days. I savored every minute. Sitting around the dinner table is where our family most often connects. It's my favorite time of day. Work stops. Computers are closed up. Cell phones are turned off (mostly). However busy we are in the chaos of our daily lives, dinner is a time for us to all check in with each other, catch up, enjoy each other's company and a delicious healthy meal.
From the time our kids were in high chairs our family has sat down together almost every night for dinner. Eddie's great in the kitchen and helps out a lot. I think our love of cooking has rubbed off on our boys and I'm really happy about that. Cooking with the kids has so many benefits. It's quality time together, everyone feels appreciated for contributing to the meal, and I know that when they participate in making delicious healthy meals, they're gaining skills and knowledge that will serve them well as they go off on their own to college and beyond.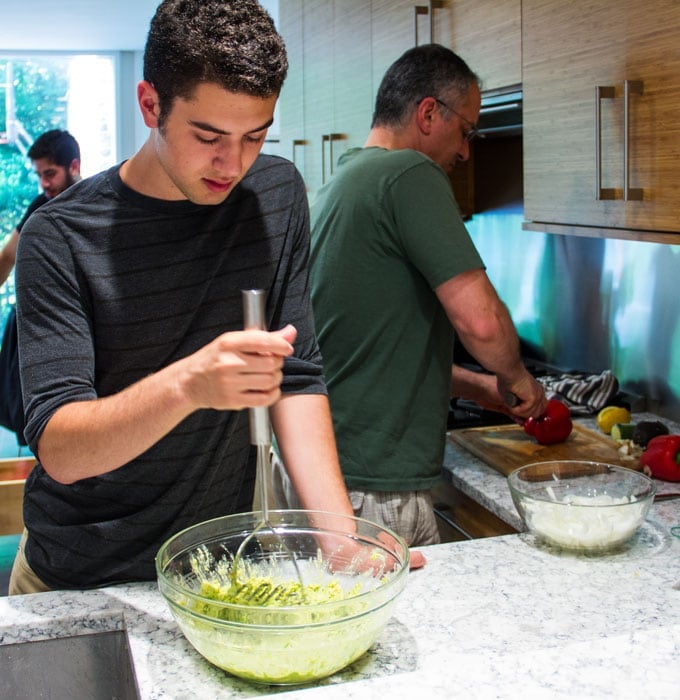 Fajitas are the perfect meal to cook with kids - healthy, easy, fool-proof and family-friendly. This version is about as quick and easy as it can get. The 4-ingredient spice rub for the meat takes about two minutes to mix up and sprinkle on. The rice takes 2 ½ minutes!
Just squeeze the packs to separate the rice grains, tear open the bags, and pop them in the microwave.
And voila! The rice is ready.

I used two packs of UNCLE BEN'S® READY RICE® Spanish style. Everyone loved it so much that I don't think I'll ever go back to making Spanish rice from scratch.
Add to that some slicing and dicing, 10 minutes of sautéing peppers and onions, 8 minutes of grilling the steak, and a few minutes to put all the condiments in bowls, and you can get an amazing meal on the table in 45 minutes....even quicker (and more fun) if everyone pitches in.
The UNCLE BEN'S® Brand is passionate about encouraging parents and kids to cook together, because families that eat and cook together have children who make healthier meal choices. Because of this, the UNCLE BEN'S®Brand is hosting the fifth annual Ben's Beginners™ Cooking Contest to encourage children to get interested in cooking.
Ben's Beginners™ provides a platform for parents to connect with their children one meal at a time, and makes cooking an enjoyable activity for every member of the family.
To help families get meals to the dinner table quickly, the UNCLE BEN'S® READY RICE® offers a wide variety of white, whole grain brown, specialty and flavored rice products that cook in just 90 seconds. People interested in UNCLE BEN'S® READY RICE® can find it widely available at most grocery stores nationwide. It costs about $3.00 for a package that serves 2-3 people.
To enter the Ben's Beginners™ Cooking Contest, parents with children in Kindergarten through eighth grade can submit photos of their families' preparing a rice-based together. More information about Ben's Beginners™ is located at unclebens.com. What do you enjoy cooking with your kids? I would love to know!
Here's the recipe for Chipotle Steak Fajitas with Spanish Rice.
Print
Chipotle Steak Fajitas
---
Author:

Lisa

Total Time:

45 mins

Yield:

5

-6

1

x
Description
Quick and easy Fajitas with Spanish rice is a delicious no-fail family-friendly dinner.
---
For The Steak:
2 ¼

pounds

flank steak

1 tablespoon

chipotle chili powder (If you don't like the heat, use

½ tablespoon

)

1 tablespoon

ground cumin

1 teaspoon

salt

¼ teaspoon

black pepper
For the Peppers and Onions:

2 tablespoons

olive oil

3

red or yellow bell peppers or a combo, ribs and seeds removed, thinly sliced

2

yellow onions, peeled, halved and thinly sliced
Kosher salt
Freshly ground pepper
Accompaniments:
12

8-inch flour tortillas
Guacamole recipe here or store-bought guacamole
Your favorite salsa
A small container of sour cream or plain yogurt

6

ounces

of shredded Monterey jack or cheddar cheese
Lime wedges, optional
---
Instructions
Make The Guacamole If making homemade guacamole, here's my favorite recipe for guac
Cook The Peppers and Onions: Heat the oil in a large cast iron skillet over medium-high heat. Sauté the peppers and onions for 10 minutes or so, tossing occasionally, until softened and browned in spots. Sprinkle with a pinch of salt and a few grinds of black pepper.
Rub and Grill the Steak Mix the spices in a small bowl. Sprinkle spices evenly over the steak, patting them to make sure they adhere. Set aside until ready to grill. Preheat the grill to medium-high. Cook the steak for 4 minutes per side for medium rare. Let it rest for 5-10 minutes, and slice thinly, across the grain.
Make The Rice: Cook the rice in a skillet or the microwave per the package instructions and transfer to a serving bowl.
Heat The Tortillas: Stack the tortillas on a microwave-safe plate, with a square of paper towel between each tortilla. Just before dinner, heat them in the microwave for 30 seconds.
To Serve: Put everything out in the middle of the table or on the counter: The tortillas, sliced steak, peppers and onions, Spanish rice, small bowls with cheese, sour cream, salsa, guacamole, and lime wedges (if using). Everyone can grab a tortilla, add fillings, roll up and enjoy!
Prep Time:

25 mins

Cook Time:

20 mins

Category:

Dinner

Method:

Sauté

Cuisine:

Tex-Mex

Connect with UNCLE BEN'S® Brand on social media to find more great family-friendly recipes be the first to learn about new products and innovations. Uncle Ben's Facebook Uncle Ben's Twitter Uncle Ben's Pinterest Uncle Ben's YouTube