Mango salsa adds instant elegance to simple broiled salmon. Sweet and tangy with the subtle heat of jalapeños and the bright fresh flavors of lime juice and cilantro, it's the perfect complement to this rich savory fish.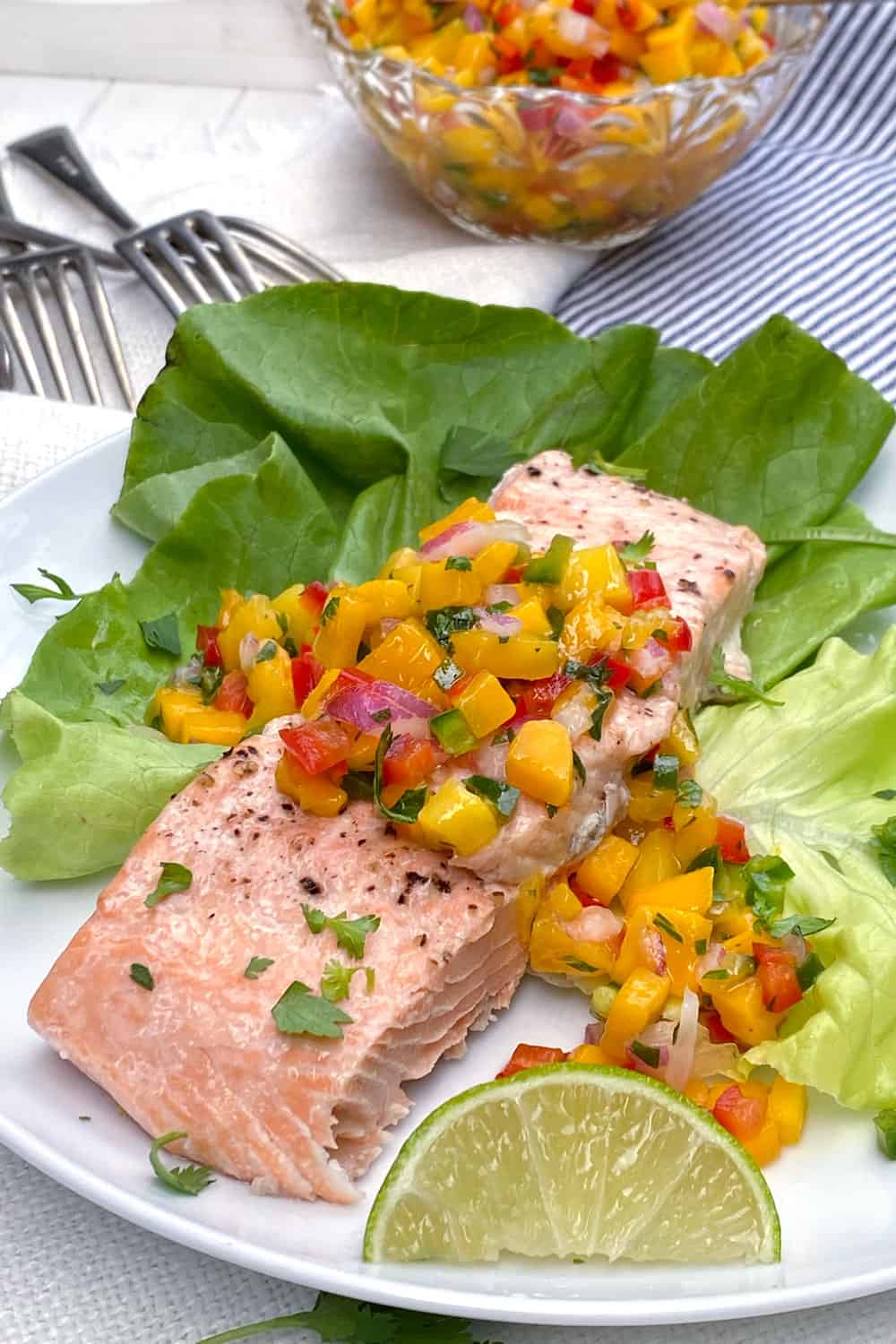 For the quickest weeknight salmon dinner, the broiler works wonders. With the addition of a vibrant salsa to spoon on top, broiled salmon is easily transformed into a great dinner party entree.
I've nicknamed this dish "Party Salmon" because It ticks off all the boxes for a great party recipe: festive, absolutely delicious, and most of the preparations can be done in advance. In fact you can make the entire dish ahead of time. The salmon can be served either warm from the oven or it can be cooked several hours ahead, refrigerated, and served chilled.
How to make this broiled salmon and salsa recipe
Cut the salmon into individual serving pieces and refrigerate it, covered, until ready to broil. This can be done several hours ahead.
Make the mango salsa and refrigerate it, covered, until ready to serve. This can be done several hours ahead.
Broil the salmon. This takes 5-7 minutes and can be done just before serving or up to 24 hours ahead of time, if you're serving the salmon cold.
Two Steps to Making Perfect Broiled Salmon
Broiling salmon fillets in the oven, under high heat for a short amount of time, is a great method for cooking salmon. If you follow two simple steps, the salmon will be cooked through, moist, and tender every time.
Undercook the salmon: If you want tender, perfectly cooked salmon, it's crucial that you remove it from the oven before it's cooked through. Salmon will continue to cook even after you take it out of the oven, which is great if it's undercooked. However if you cook it all the way through in the oven, it will be dry and overcooked by the time it gets to your plate.
Tent the baking pan with foil: To ensure your salmon comes out tender and juicy, immediately tent the roasting pan with foil when it comes out of the oven. The salmon will finish cooking in the gentle heat that emanates from the roasting pan.
How long should you broil salmon?
Salmon fillets can differ in thickness and require a slight adjustment in timing under the broiler, depending on their size. The ideal salmon for broiling is thicker, fattier farmed salmon. If using wild salmon, which is thinner and less fatty, you will have to adjust for a shorter cooking time.
A salmon fillet that is one inch at its thickest needs no more than 5 minutes under the broiler.
A salmon fillet that is 1 ½ to 2 inches thick may need 6 or 7 minutes under the broiler.
Start checking the salmon at 4 minutes and keep checking it every minute to be sure it doesn't overcook and dry out.
To check for doneness, make a small slit in the thickest part of a piece of salmon and pull back gently. If the salmon is mostly light pink (over ¾ of the fillet) with a small area of uncooked translucent pinkness in the middle, it's ready to come out of the oven. For details on how to check for doneness using a thermometer, see the notes in the recipe below.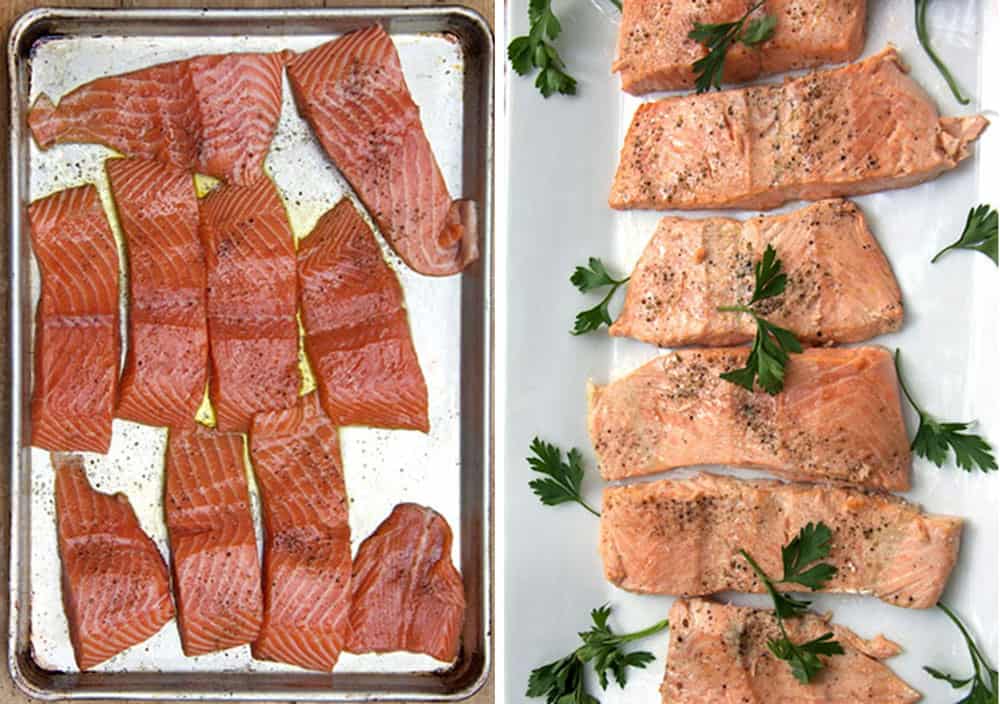 The salsa!
First of all, can we agree that there's nothing quite like the flavor and texture of a ripe mango to transport you instantly to the tropics? Juicy, sweet and tangy, the flavors of sunshine and palm trees. I love the explosion of flavors in this salsa - the sweetness of the mango and red bell pepper, the tanginess of the lime juice, the spicy bite of jalapeño and red onion, and the exotic essence of cilantro.
This salsa works beautifully on broiled salmon but it's also great on grilled swordfish or chicken or even as a dip for tortilla chips.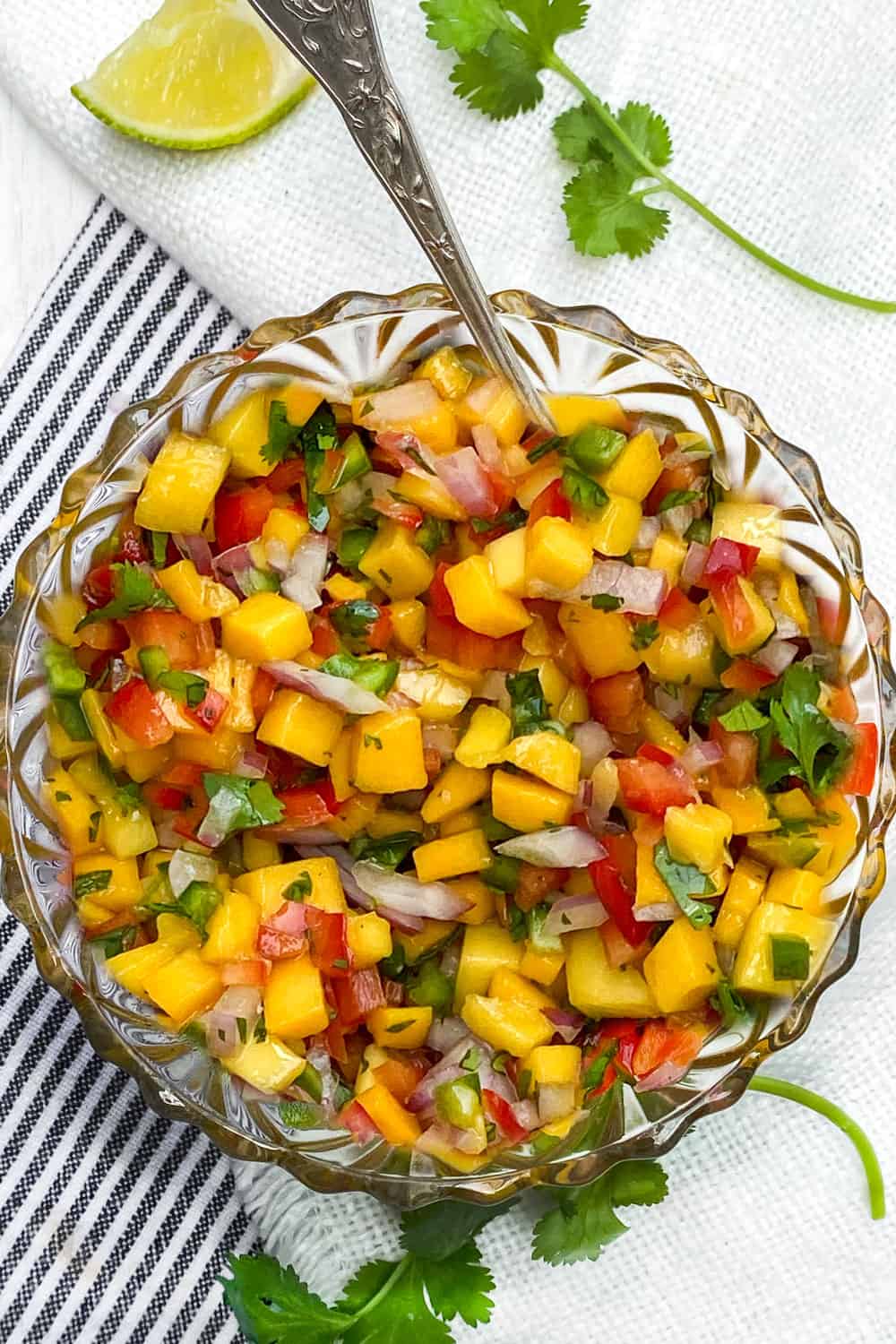 How to serve salmon and salsa:
For a buffet, arrange the salmon on a big platter, set out a bowl of salsa nearby, and let people help themselves.
For a seated dinner, divide the salmon among individual plates, spoon the salsa over the salmon and serve.
Whether you are serving this as part of a large buffet or on its own, a crisp green salad would work well alongside.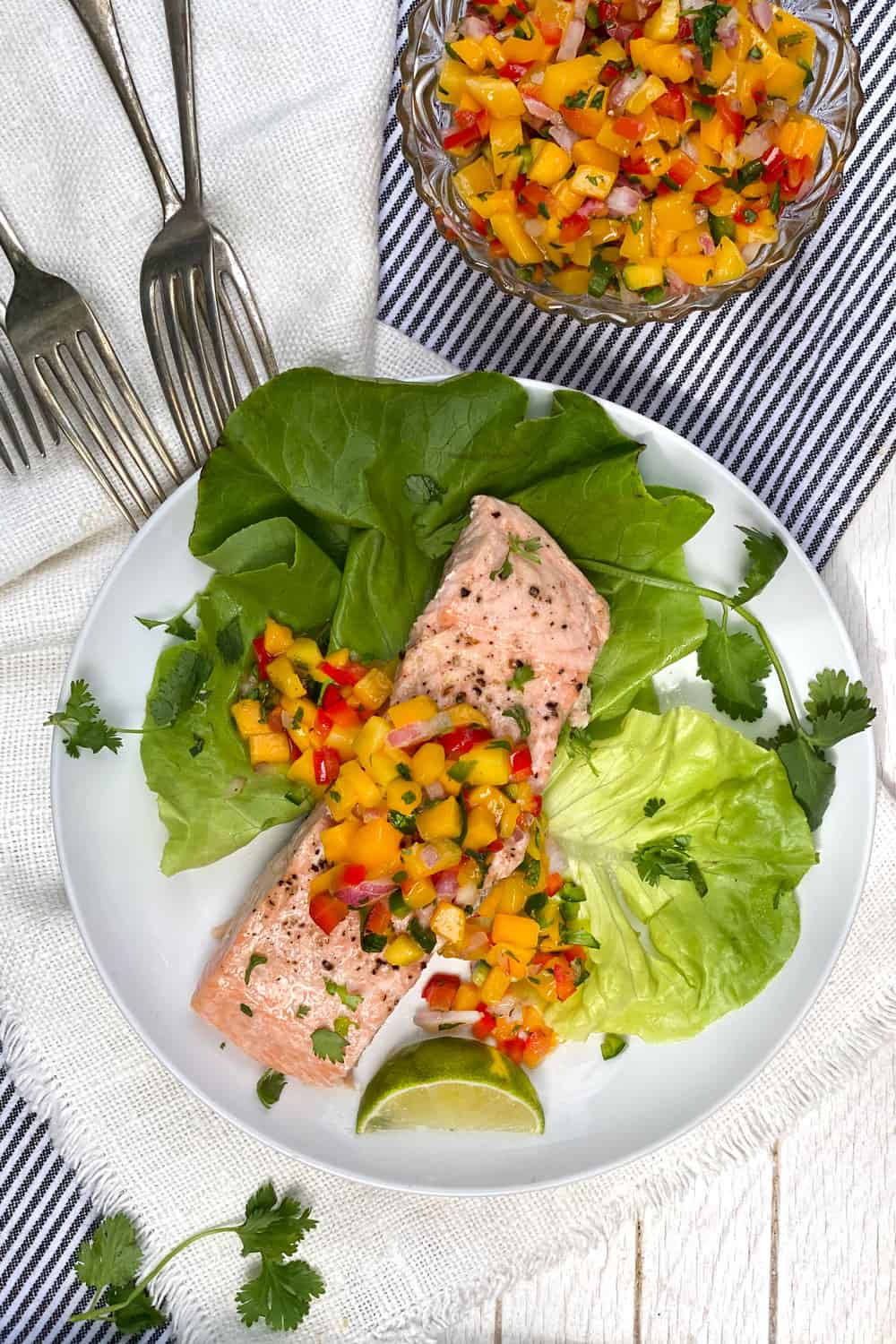 Other Great Recipes for Entertaining:
Here's the broiled salmon with mango salsa recipe. If you try this recipe I hope you'll come back to leave a star rating and a comment. I'd love to know what you think.
Print
Broiled Salmon with Mango Salsa
Tender broiled salmon, served warm or chilled, topped with tropical mango salsa. An easy make-ahead recipe that's perfect for entertaining.
Author: by Lisa
Prep Time:

35 mins

Cook Time:

5 mins

Total Time:

40 minutes

Yield:

10

1

x
Category:

Main Course

Method:

Broil

Cuisine:

Caribbean
For The Salsa
2 ½ cups

finely diced mango (

3

large mangoes)

1 ½ cups

finely diced red bell pepper, 1 ½-2 peppers (seeds and membranes removed)

1 cup

finely chopped red onion

4 tablespoons

chopped cilantro leaves

3 tablespoons

fresh lime juice

2

jalapeño peppers, seeds and membranes removed, finely chopped

1 teaspoon

kosher salt
For The Salmon
3

pounds salmon fillet, skin on, cut into

10

2-inch wide serving pieces.
Extra virgin olive oil
Kosher salt
Fresh ground black pepper
Instructions
Make The Salsa: Mix all of the ingredients together in a bowl. Cover and refrigerate until ready to use. Can be made several hours ahead.
Broil the Salmon: Position an oven rack 6 inches from the top heating element of the oven and preheat the oven to Broil (450-500ºF). Place the salmon fillets, skin side down, on a rimmed baking sheet. Brush the tops of the fish generously with olive oil and season with salt and pepper, to taste. Cook for 5 minutes, or until salmon is ¾ of the way cooked through. Check for doneness by making a small slit along the natural grain, in the fattest part of a fillet, and gently pull back to see if the and Remove the pan from the oven, immediately tent it with foil and allow the salmon to gently finish cooking for 5 minutes, in the heat emanating from the roasting pan. Remove the foil after 5 minutes.
Serve warm, topped with salsa or allow the salmon to cool for 5-10 minutes and refrigerate it, covered, until ready to serve.
Salmon can be cooked up to a day ahead of time. Can be made up to a day ahead. Allow salmon to sit out at room temperature for 10-15 minutes before serving.
Notes
How to know when broiled salmon is ready?
If you are using a thermometer to determine doneness, the FDA recommends cooking salmon to an internal temperature of 145°F, measured in the thickest part of the fillet, however I have found it to be dry at that temperature. If you're comfortable eating salmon cooked to a lower internal temperature, I suggest you remove it from the oven at 125-130ºF. It will continue to cook a bit more after it comes out of the oven and will be tender, juicy and delicious.
If you're determining doneness by eye, check it after 5 minutes. Make a small slit in the thickest part of a fillet. Gently pull the flesh apart. It's ready to come out of the oven when the fish is mostly opaque pink with a very small area in the center that's raw-looking and translucent. The salmon will finish cooking under the foil, from the heat of the roasting pan and will be tender, juicy and delicious.
Keywords: how to make broiled salmon, broiled salmon topped with mango salsa
This recipe first appeared on Panning The Globe in May 2013. The post was updated on July 22, 2020 with a new name to more accurately describe the dish (it was previously titled "roasted salmon with tropical salsa), with new photos, added nutritional information, and a more detailed explanation of how to achieve perfectly tender, juicy broiled salmon.