Grilled Swordfish steaks with Italian salsa verde is a delectable combination. The bright and briny lemon-caper-parsley sauce is a perfect complement to the rich savory fish. Very little time or effort is needed to make a truly spectacular meal.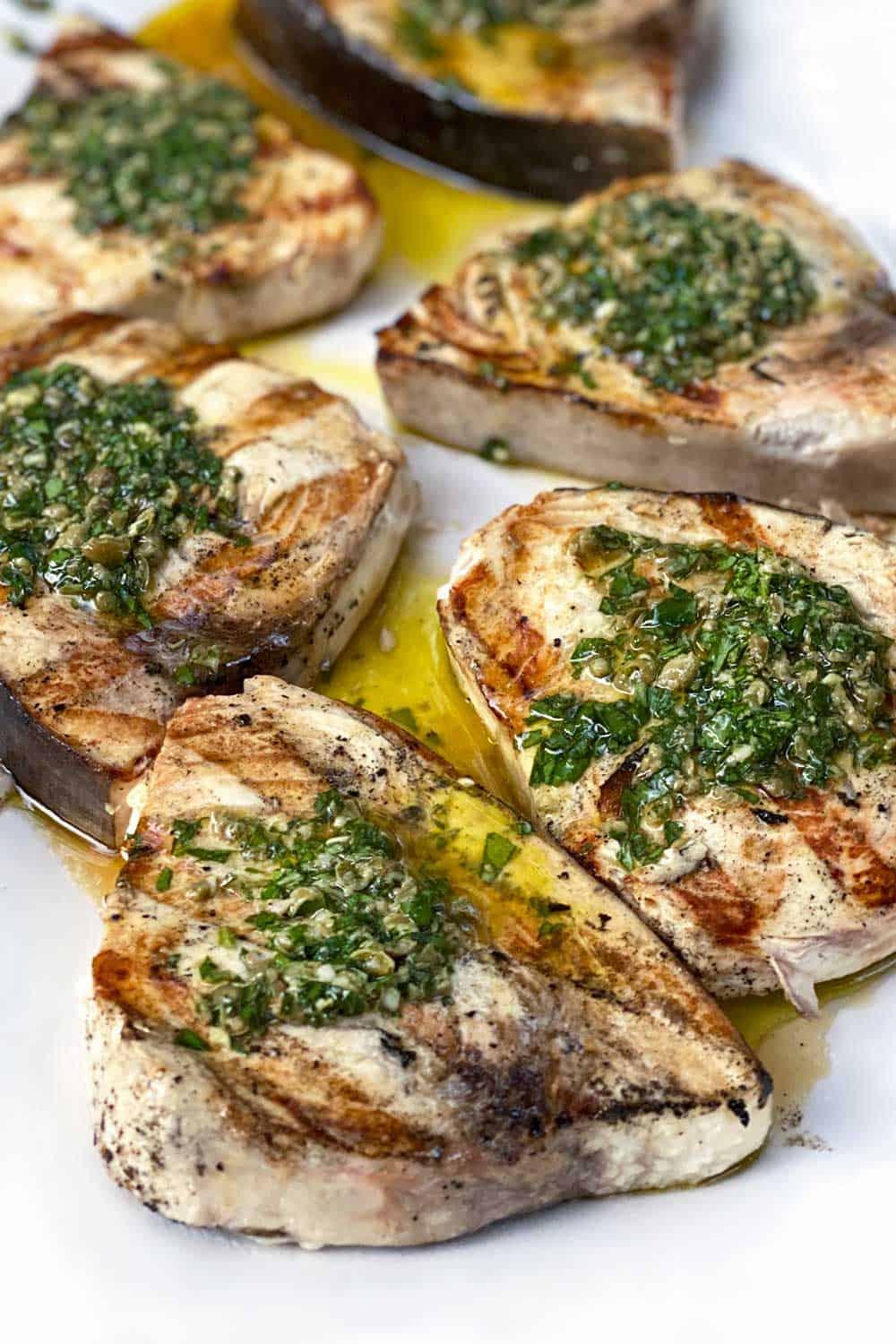 This is one of my favorite recipes for summer entertaining. Swordfish is the fillet mignon of fish - on the expensive side, but easy to prepare and absolutely delicious.
How to Cook Swordfish
Swordfish is a firm, lean, meaty fish that's ideal for grilling. When it's cooked just right, swordfish is wonderfully moist, tender and flavorful. But because swordfish is a relatively lean fish, it's easy to overcook. With these two tips, you can avoid this very disappointing outcome.
Marinate: It's a great idea to marinate swordfish for 15-30 minutes before grilling. In addition to infusing the fish with flavor, a marinade that includes oil or mayonnaise will keep the swordfish tender and prevent it from drying out. If your marinade contains lemon juice or vinegar, don't leave the fish in the marinade for more than 30 minutes or the acid will start to cook the fish and compromise its texture.
Undercook: Swordfish will continue to cook even after you take it off the grill. If you cook it all the way through on the grill, it will end up dry and overcooked by the time it gets to your plate. The strategy that works is to check the fish for doneness early and often, and to remove it from the heat source when it's mostly cooked through but still slightly pink in the center. Tent it with foil and allow it to finish cooking for 5 minutes in the gentle heat that emanates under the foil. With this tactic, you'll have deliciously juicy and tender, perfectly cooked swordfish every time.
How To Make Swordfish Steaks Salsa Verde
For this recipe, the swordfish marinates for 30 minutes in olive oil, lemon juice, garlic and salt. Then it cooks on a hot grill for about 7 minutes. Marinate and cook the fish just before serving. The salsa verde, a mix of chopped parsley, garlic, capers, anchovies, mustard, olive oil and lemon juice, can be prepared several hours ahead.
If you don't have a grill, the swordfish steaks can be cooked inside on a grill pan, in cast iron skillet or in the oven, under the broiler. Follow the same basic instructions for marinating the fish and cooking it over medium-high heat. Most importantly, remove the fish from the heat source when it's slightly undercooked, tent it with foil, and leave it for 5 minutes to finish cooking.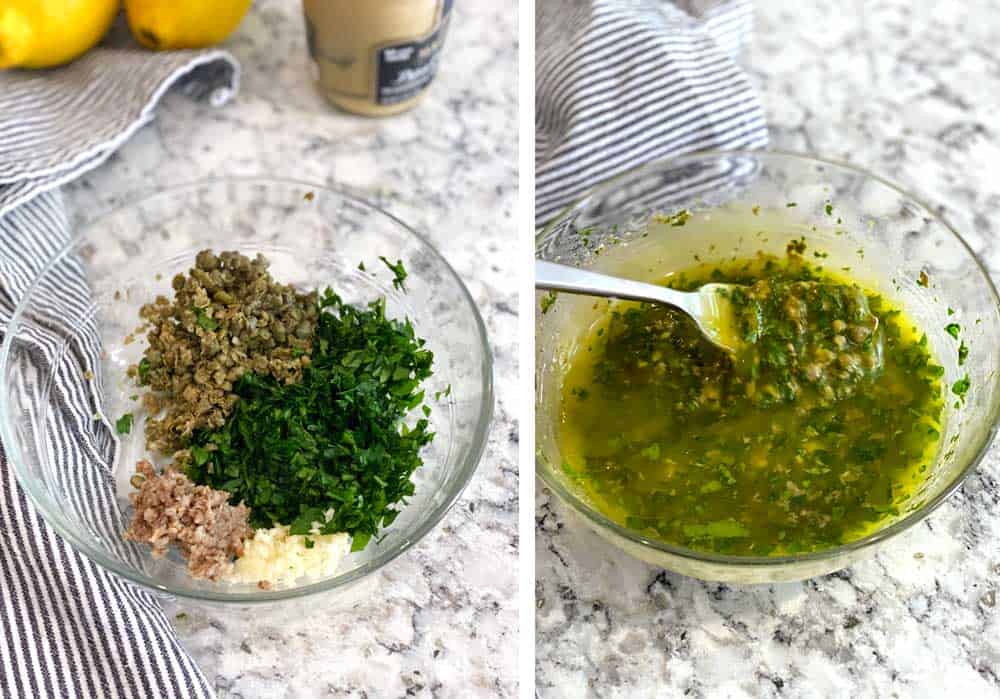 What To Serve on The Side
To accompany grilled swordfish, choose side dishes that feature summer's fresh seasonal produce. Start the meal with a Caprese Salad or Grilled Artichokes. If you want to go super simple, corn on the cob and baked potatoes are great accompaniments. Here are some of my other favorite side dishes to serve with grilled swordfish.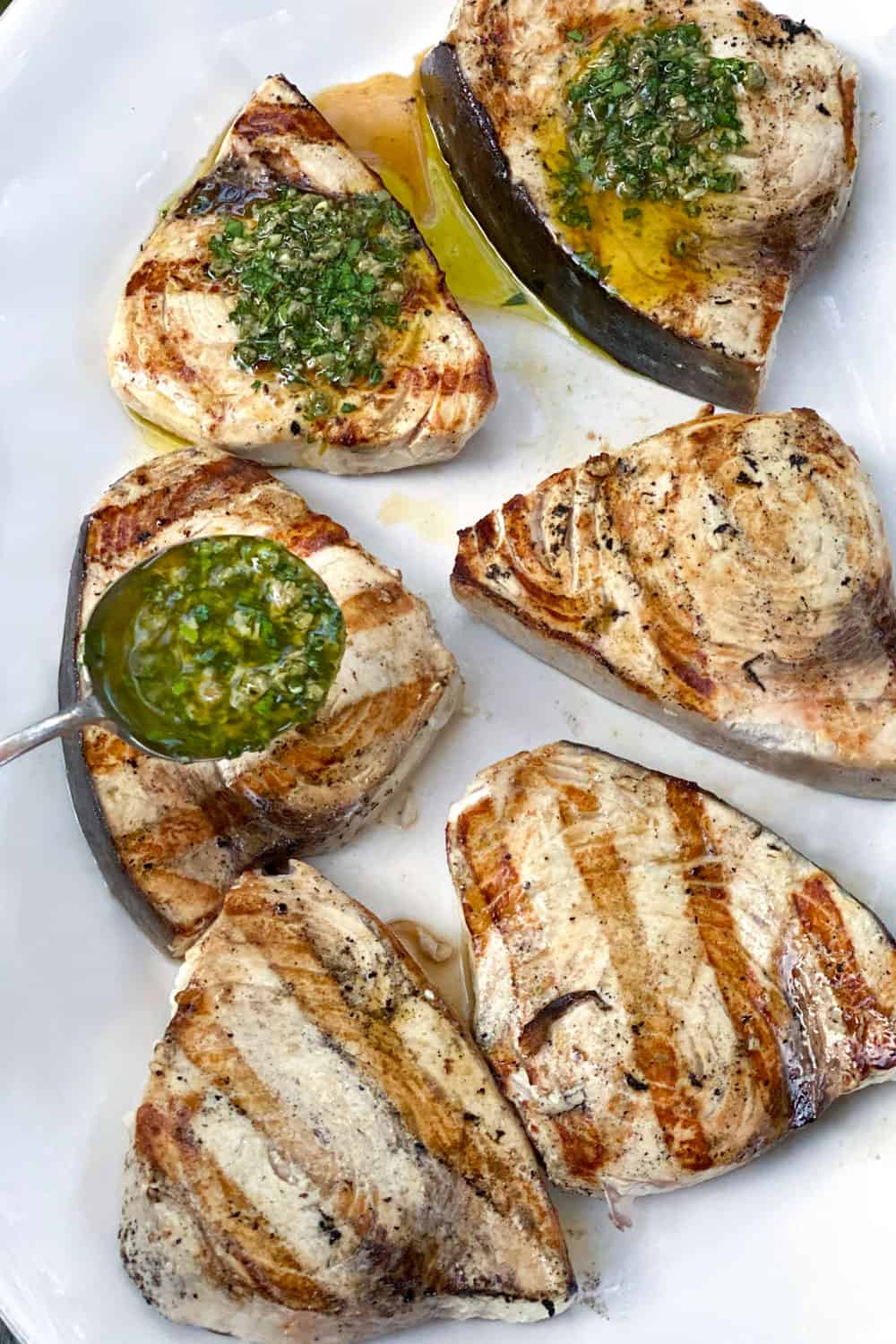 If you have questions or concerns about the healthiest swordfish for you and for the environment, you'll find good information on the Monterey Bay Aquarium's Seafood Watch site.
Here's the Grilled Swordfish Recipe. If you try this, I hope you'll come back to leave a star rating and a comment. I'd love to know what you think.
Print
Grilled Swordfish Steaks Salsa Verde
---
Author:

Lisa

Total Time:

20 minutes

Yield:

6

servings

1

x
Description
Grilled swordfish steaks topped with parsley-lemon-caper sauce. A simple recipe with exceptional flavors.
---
6

swordfish steaks (

6

-

8

ounces per person)

1 ¼ cups

extra virgin olive oil, divided

⅓ cup

plus 2 teaspoons fresh lemon juice, divided

¼ cup

finely chopped flat-leaf parsley (an equal amount of fresh basil leaves can be substituted)

3 tablespoons

small capers, rinsed, drained and finely chopped

6

oil-packed anchovy fillets, finely chopped and then mashed using the back of a fork.

2 teaspoons

finely minced garlic, divided

1 teaspoon

Dijon mustard

¼ teaspoon

kosher salt plus more, to taste
---
Instructions
In a small bowl, whisk together a marinade of ½ cup olive oil, ⅓ cup lemon juice, 1 teaspoon of the minced garlic and ¼ teaspoon of salt. Place the swordfish in a non-reactive bowl or a plastic container and toss with the marinade, to coat. Leave to marinate for 30 minutes.
To make the salsa verde, place the parsley (or basil), capers, anchovies, 1 teaspoon garlic, mustard and 2 teaspoons of lemon juice in a small mixing bowl. Stir to combine. Gradually pour in the remaining ¾ cup olive oil while whisking. The salsa verde can be made several hours ahead and refrigerated, covered. Bring to room temperature before using.
Preheat the grill to medium-high. Grill the fish for 4 minutes on the first side and 2-6 minutes on side two, depending on the thickness of the steaks. The pink flesh will turn white as the fish cooks. To prevent over-cooking, check the fish after it cooks for 1 minute on the second side and every minute thereafter (make a small cut to check for doneness). When it's mostly cooked through but still slightly pink in the center, it's ready to come off the grill. Transfer it to a platter, tent it with foil, and leave it for 5 minutes to finish cooking in the gentle heat under the foil.
Serve immediately with the salsa verde spooned on top.
Prep Time:

10 min

Cook Time:

10 min

Category:

Fish

Method:

Grill

Cuisine:

Italian
Keywords: Grilled marinated swordfish steaks with salsa verde