This outstanding meatloaf was a sensation from the moment it appeared on the menu at Venice Beach Restaurant 72 Market Street. A remarkably juicy and flavorsome meatloaf recipe made with ground beef and pork sausage, caramelized vegetables and vibrant spices. The crowning touch is the sweet and tangy glaze of tomato paste, vinegar and brown sugar.
As meatloaf recipes go, this one is hands down the best meatloaf I've ever tasted.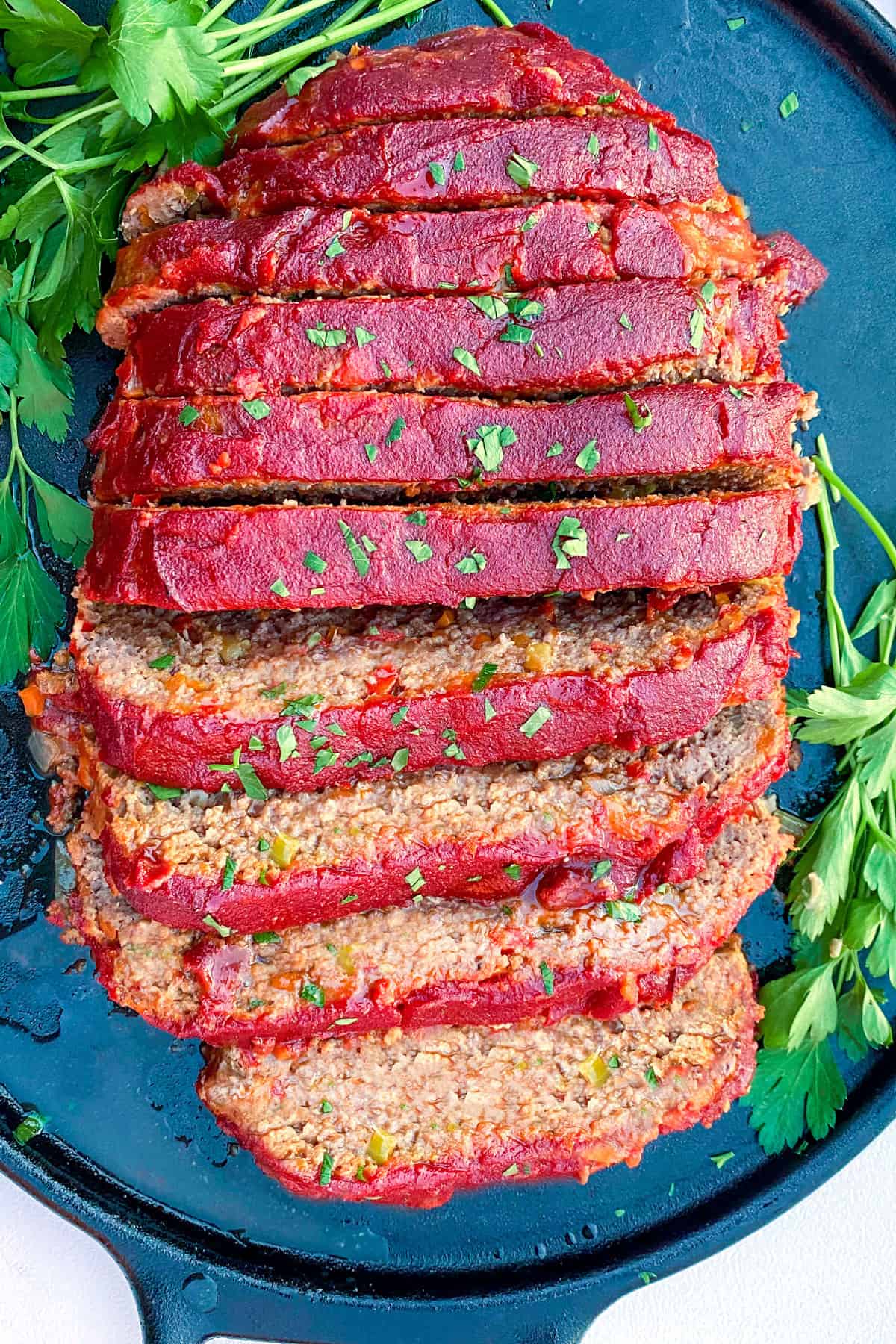 I was never a huge fan of meatloaf until I found this
Market Street Meatloaf
recipe in
The New Basics Cookbook
and gave it a try. That was 20 years ago and this has been my go-to favorite classic meatloaf recipe ever since. To my taste buds, this meatloaf is pure perfection - tender, juicy, perfectly spiced and bursting with robust meaty flavor. In addition to loving this meatloaf, I also love the story of how it came to be and why it's so good.
THE MARKET STREET MEATLOAF STORY
72 Market Street was a restaurant in Venice Beach, California, a hot spot for celebrities, co-owned by celebrities: actor
Dudley Moore
and actor/producer
Tony Bill
.
The story goes that when owner Tony Bill asked chef Leonard Schwartz to put meatloaf on the menu, Schwartz rolled his eyes and said meatloaf is boring. But he then decided to take on the challenge of changing that.
He succeeded beyond his wildest dreams.
Lenny's meatloaf, as it was nicknamed, became a phenomenon in the food world. When d
iners raved, newspapers, magazines and TV shows caught on and came out to share the news of this amazing new meatloaf.
Vogue magazine called it "The Ultimate Meatloaf," Good Morning America flew chef Schwartz to New York to cook it live on national television. Craig Claiborne, New York Times food editor and restaurant critic, flew to California to sample the extraordinary meatloaf and then shared the recipe in the food section of The New York Times magazine. Gourmet Magazine dubbed Lenny "The Mozart of Meatloaf."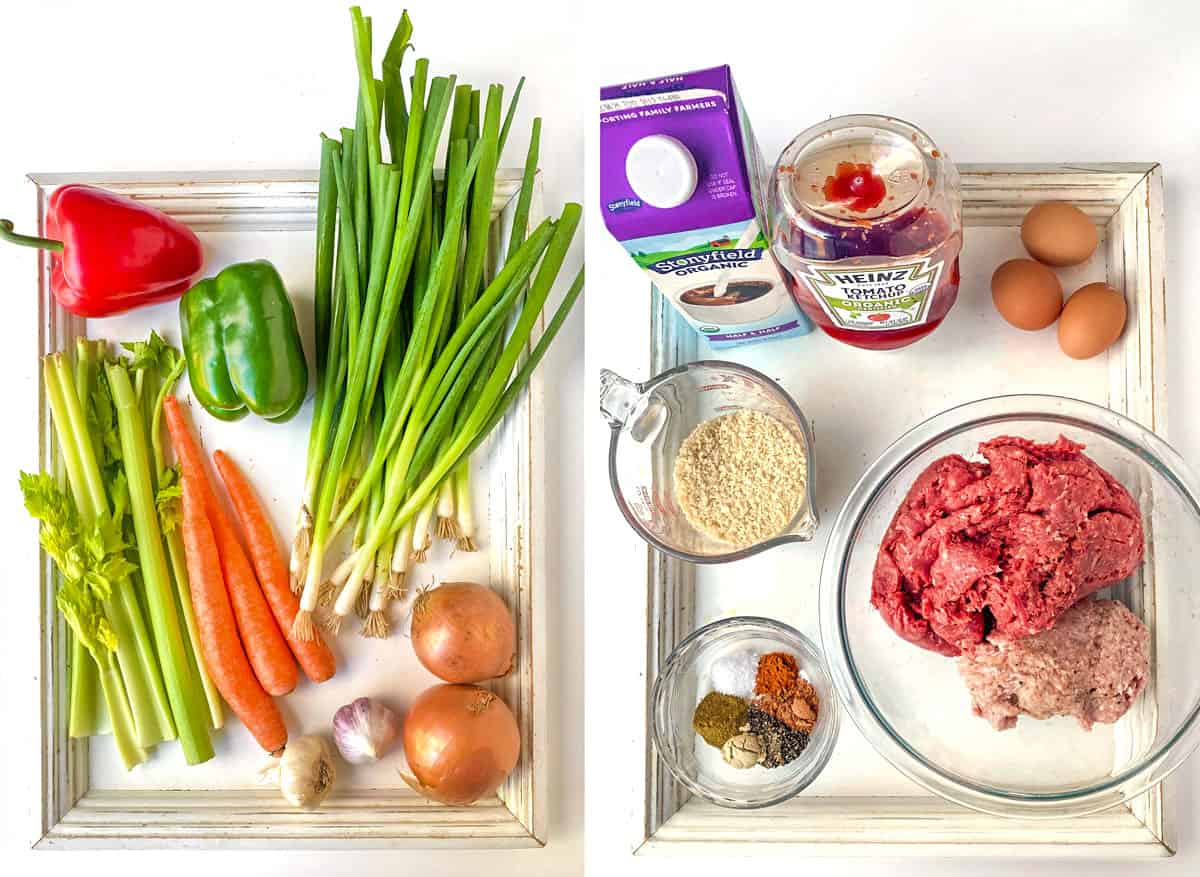 WHAT MAKES THIS MEATLOAF RECIPE SO GOOD?
When Chef Schwartz was interviewed about why his meatloaf tastes so good, he pointed to his selection of meats, the way he precooked the vegetables and the spices he chose.
THE MEAT - Market Street Meatloaf uses a combination of ground beef and pork sausage.

Sausage, with its delicious seasonings and good proportion of fat, brings lots of great flavor to this meatloaf. In addition, the sausage fat melts into the meatloaf as it bakes, basting it and keeping it tender and juicy.

THE VEGETABLES - While most classic meatloaf recipes use raw chopped onions as the sole vegetable component, this meatloaf recipe uses 6 different vegetables: red and green peppers, onions, scallions, carrots, celery and garlic. And they don't go into the meatloaf mixture raw. They are finely chopped and sautéed in butter to bring out their best and sweetest flavors.
THE SPICES - Most classic meatloaf recipes are seasoned with salt, pepper and Worcestershire sauce - a decent way to intensify the natural meaty flavor of meat but, in my opinion, nothing to write home about. This meatloaf goes outside the box with three different types of pepper - black, white and cayenne, nutmeg, cumin, and salt, with cumin predominating. The result is bright, vibrant flavors with a spicy kick - the perfect kind of seasoning for this rich meaty loaf.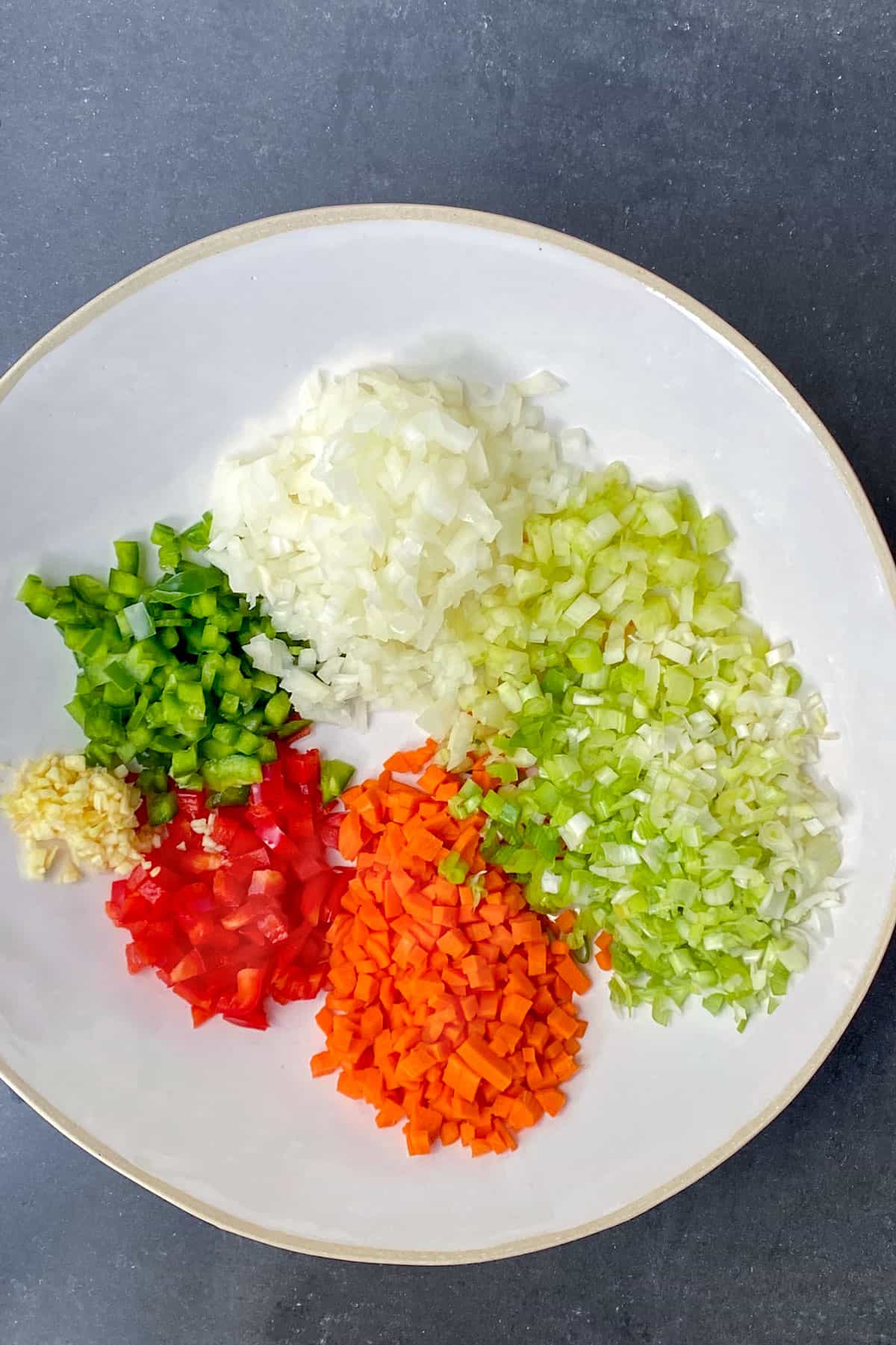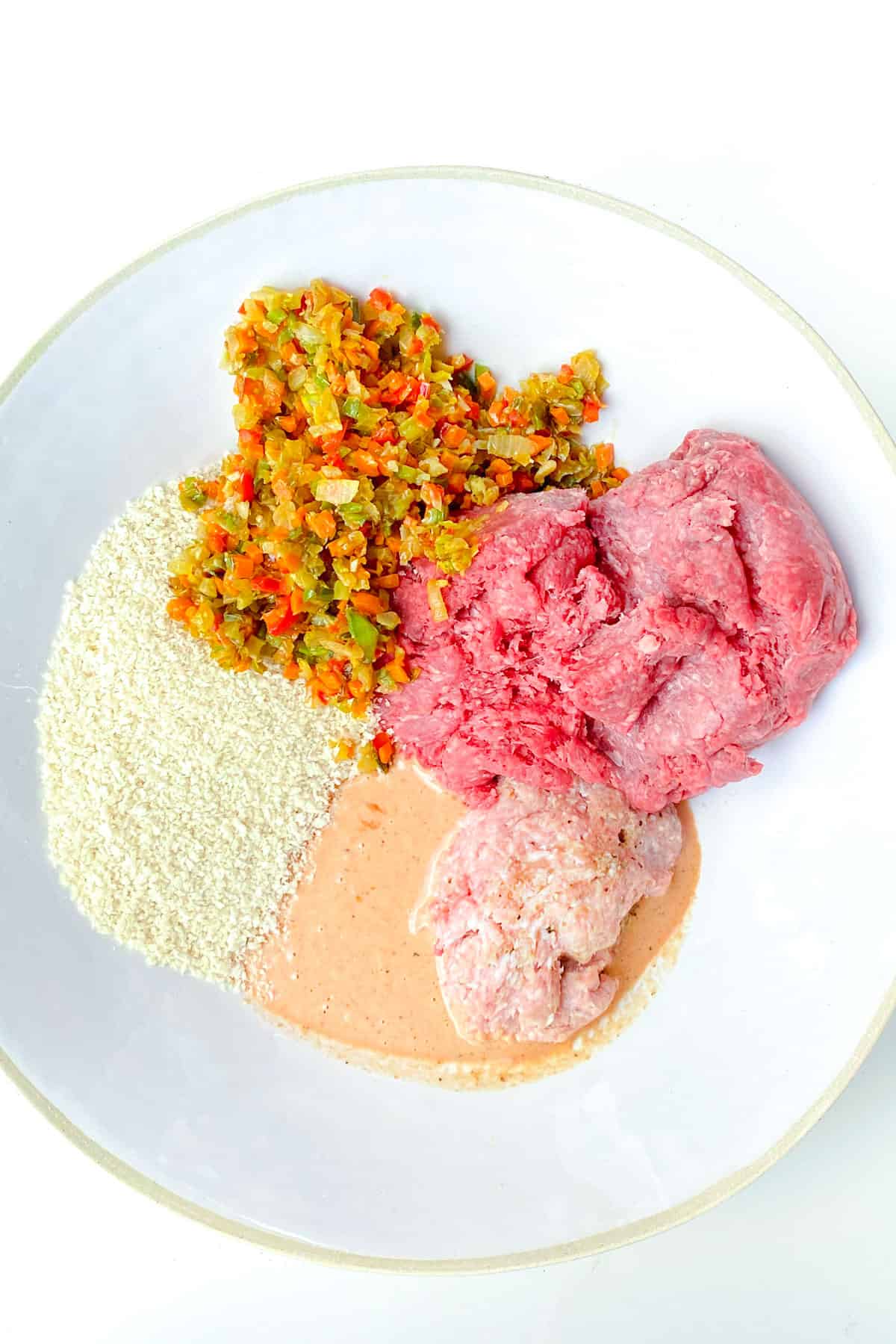 HOW TO COOK MEATLOAF SO IT'S JUICY AND DOESN'T DRY OUT
This Market Street Meatloaf Recipe uses a water bath to create gentle, even, moist heat in the oven, for an extra juicy tender meatloaf.
The water bath is nothing more than a smaller pan, which contains the meatloaf, inside a larger pan that is filled with boiling water. Set the smaller pan into the larger one and pour boiling water into the larger pan using a tea kettle or a pyrex measuring cup. Then carefully transfer the two pans to the preheated oven.
Water baths are most commonly used when baking delicate custards and cheesecakes to ensure that they don't dry out, crack or fall apart. This same technique works beautifully for meatloaf.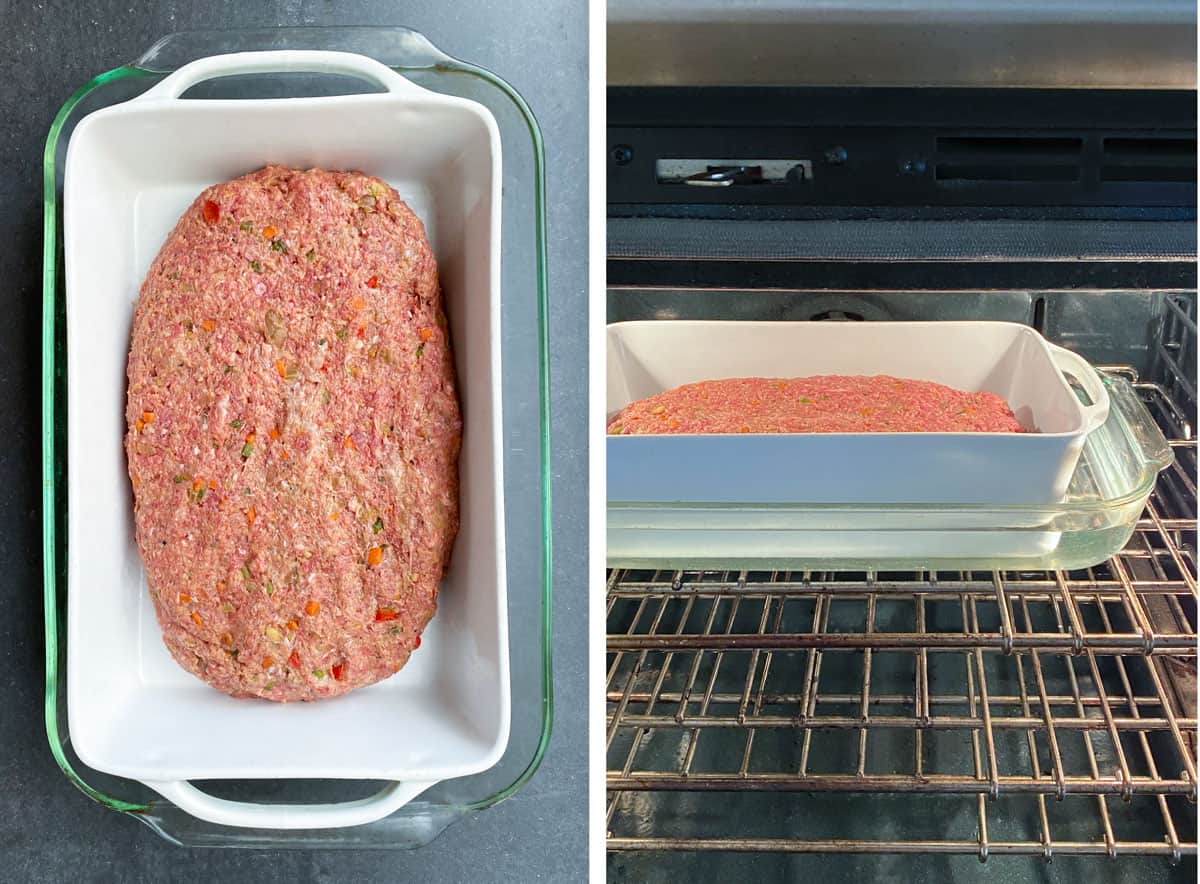 MEATLOAF GLAZE
I've adapted the original Market Street meatloaf recipe very slightly but the biggest change I made was to add a glaze. The New Basics recipe doesn't include gravy or a glaze and though I've enjoyed this meatloaf, unglazed, for decades, I also love how meatloaf tastes with a sweet and tangy tomato glaze slathered on top.
Feel free to omit the glaze if you wish - this meatloaf is wonderful with or without it. But if you like glazed meatloaf, this is a fantastic glaze.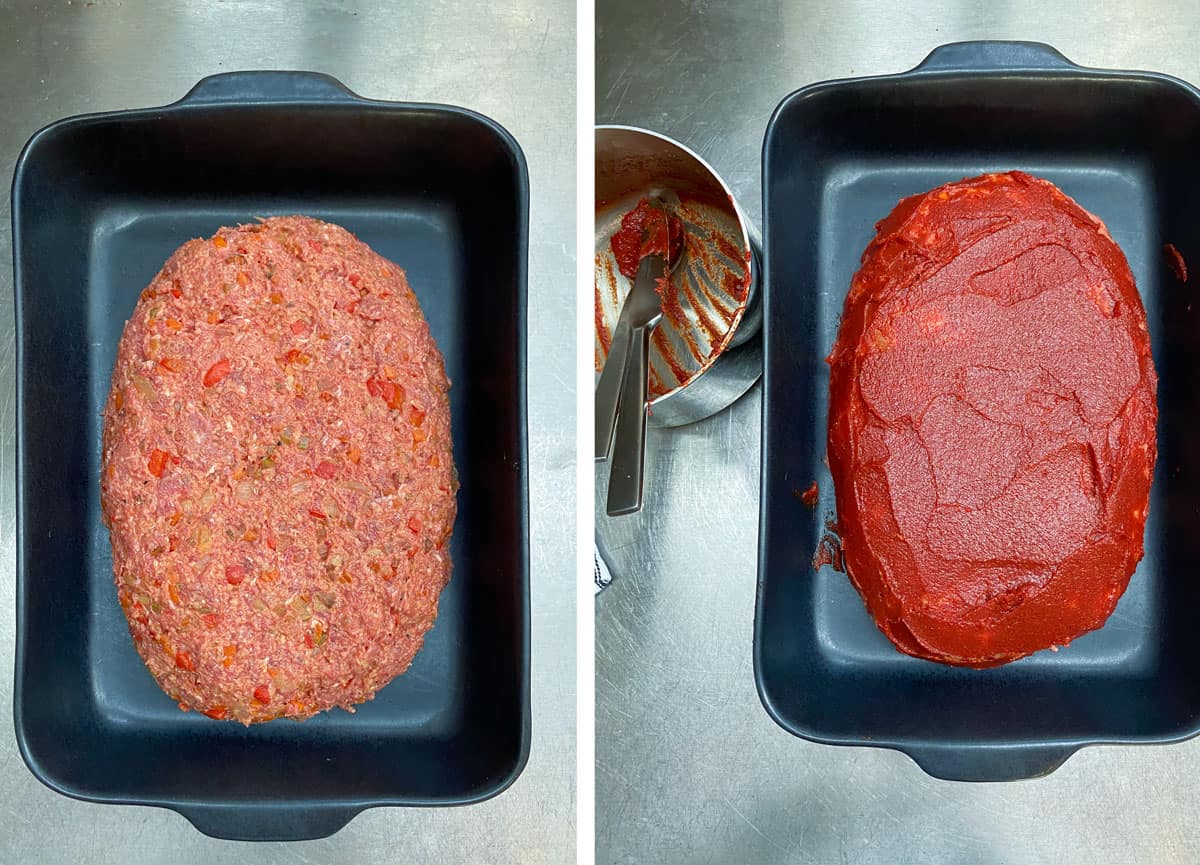 I waited a long time to share this recipe on the Panning The Globe, mostly because I worried that the internet is too oversaturated with meatloaf recipes and that you all might already be set on your favorite meatloaf recipes and have no interest in yet another.
But when I looked around at the top classic meatloaf recipes trending on Google, most of them are made with a pretty standard formula of ground beef, raw onions, salt, pepper and Worcestershire sauce, plus eggs, ketchup and bread crumbs as a binder.
I'm sure all these meatloaves are fine and good, but I would put this Market Street Meatloaf up against all of them
. I have never found a meatloaf as juicy and flavorful as this one.
WHAT TO SERVE WITH THIS MEATLOAF
At the restaurant, Chef Schwartz served this meatloaf with garlic mashed potatoes and sautéed spinach. I highly recommend that you do the same!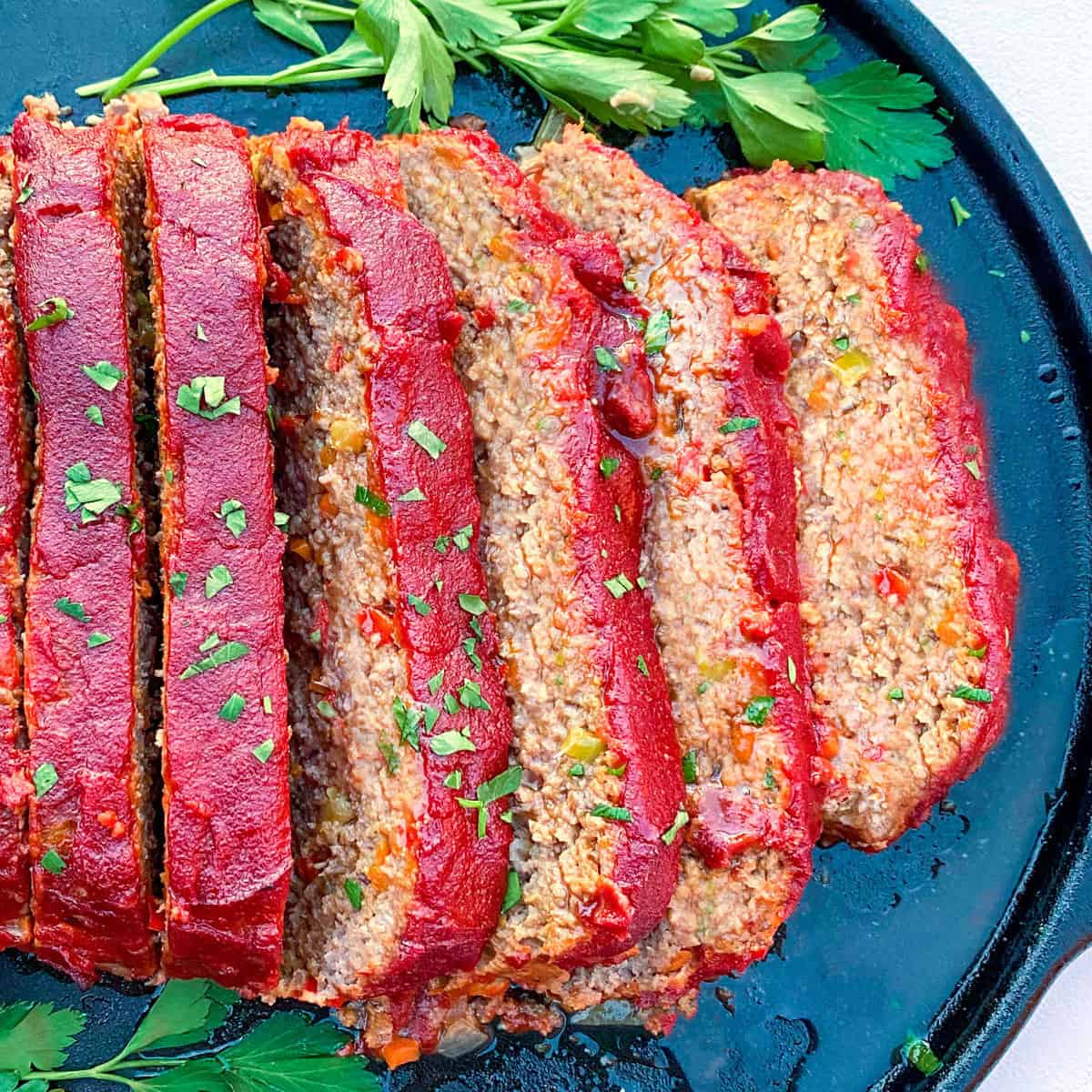 Here's the Market Street Meatloaf Recipe. If you cook this, I hope you'll come back to leave a star rating and a comment. I'd love to know what you think.
Print
The Best Ever Meatloaf Recipe
---
Author:

Lisa

Total Time:

1 hour 50 minutes

Yield:

8

-

10

servings

1

x
Description
The ultimate tender, juicy, flavorsome meatloaf. A recipe designed by a restaurant chef who was determined to make the best meatloaf ever - and succeeded.
Adapted from a The Market Street Meatloaf recipe created by Chef Lenny Schwartz and published in The New Basics Cookbook.
---
1

6

-

ounce

can of tomato paste

2 tablespoons

dark brown sugar

2 tablespoons

cider vinegar

1 tablespoon

onion powder

½ teaspoon

kosher salt
Meatloaf
3 tablespoons

unsalted butter (or olive oil)

¾

cup

finely chopped yellow onion - 1 medium onion

¾

cup

finely chopped scallions (1 bunch, ends trimmed)

½

cup

finely chopped carrots - 1 large carrot

¼

cup

finely chopped celery -

1

stalk

¼

cup

minced red bell pepper - ⅓ of a pepper

¼

cup

minced green bell pepper - ⅓ of a pepper

2 teaspoons

minced garlic

2 teaspoons

Kosher salt, or to taste

1 teaspoon

freshly ground black pepper

½ teaspoon

ground white pepper

½ teaspoon

cayenne pepper

1 teaspoon

ground cumin

½ teaspoon

freshly grated nutmeg

3

large eggs, well beaten

½

cup

ketchup

½

cup

half-and-half

2

pounds

lean ground beef

12

ounces of pork sausage (not flavored with fennel)

¾

cup

breadcrumbs or panko
---
Instructions
Preheat the oven to 375ºF/190ºC. Arrange a rack in the center position. Select two large rectangular baking pans - one slightly smaller than the other, so the small one can fit into the larger one. 
To make the glaze (if using) combine all the glaze ingredients in a small saucepan and whisk while heating over medium heat, for a few minutes, until the sugar is melted and all the ingredients are combined. Set the glaze aside while you prepare the meatloaf.
Melt butter in a heavy skillet and add the onion, scallions, carrots, celery, bell peppers, and garlic. Cook, stirring often, over medium heat, until the moisture from the vegetables has evaporated, 8-10 minutes. Chill the vegetables for a half hour or so in a covered bowl in the fridge or for ten minutes in the freezer.
Combine the salt, black pepper, white pepper, cayenne, cumin, nutmeg, and eggs in a mixing bowl, and beat well, then whisk in the ketchup and half-and-half.
Add the beef, sausage, and bread crumbs and chilled vegetables to the egg mixture and mix with your hands for several minutes, until ingredients are smooth and throughly combined.
Add the mixture to the smaller baking pan and shape it, with damp hands, into a long low oval that measures 13 x 6 x 1 ½ inches or  17 x 4 ½ x 1 ½ or something along those lines, so it fits into your pan. 
If glazing, spread the glaze evenly over the top and sides of the meatloaf.
Place the smaller baking dish inside the larger pan and pour boiling water into the larger pan until it reaches halfway up the sides of the smaller baking dish. (see notes below)
Place the pans in the oven and bake for 45 minutes to an hour, or until the meatloaf is no longer pink in the middle or the internal temperature has reached at least 160ºF when tested with a food thermometer.
Remove the smaller baking dish from the water bath and let the meatloaf rest for 20 minutes before slicing and serving.
Notes
Cooking Method For this Meatloaf: This meatloaf recipe uses a water bath to create gentle, even, moist heat in the oven, for an extra juicy tender meatloaf.
Make This Meatloaf with Oats for Gluten Free: Switch out the bread crumbs in this recipe for an equal amount of gluten-free quick cooking oats. Or if you can't find quick oats that are gluten-free you can use gluten-free rolled oats, pulsed in the food processor a few times, to make them into crumbs.
Prep Time:

30 mins

Chill time:

30 mins

Cook Time:

50 mins

Category:

Dinner

Method:

Baked

Cuisine:

American
Keywords: classic meatloaf recipe