Jambalaya is New Orleans party food at it's best. Hearty, flavorful and perfect for feeding a crowd during Mardi Gras or anytime. This spicy chicken jambalaya recipe includes green beans for a well-rounded chicken, rice and veggie dinner, all in one pot.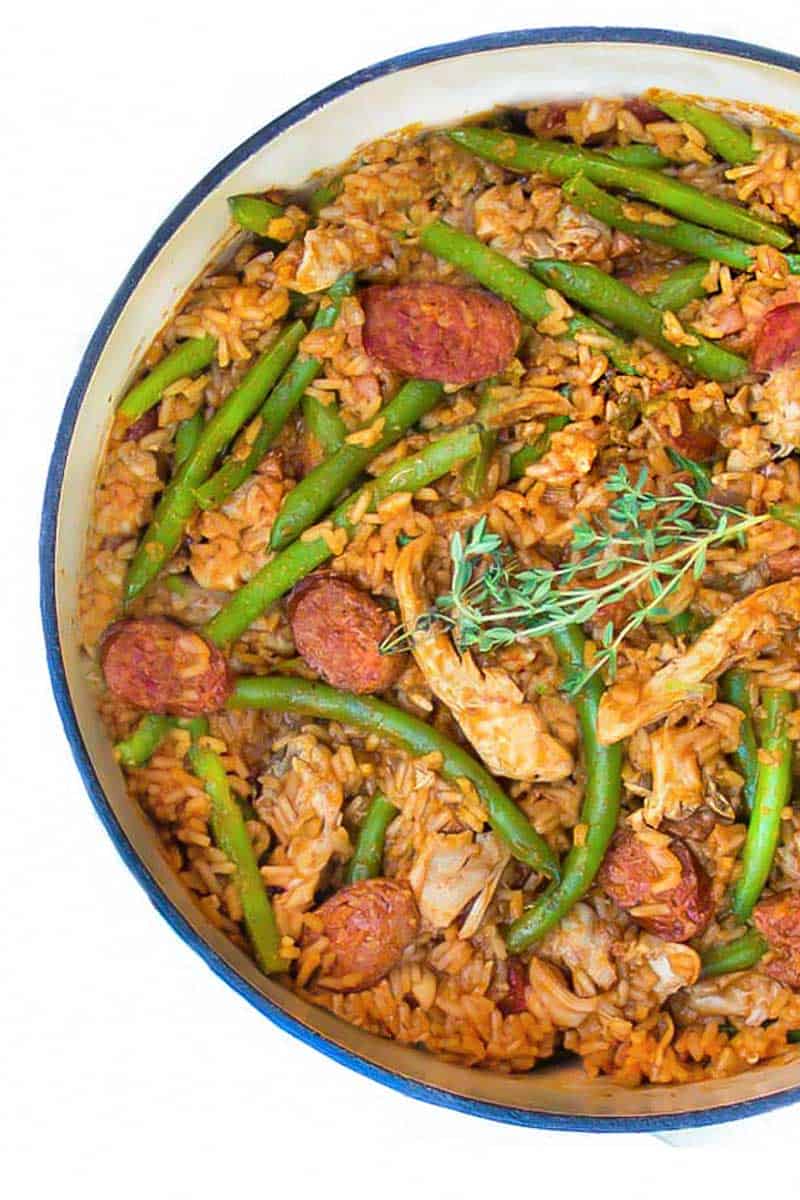 I've been traveling to New Orleans at least once a year for the past six years, ever since two of my sons went off to college there at Tulane. It's such a fun town, with its amazing jazz scene and a celebratory atmosphere everywhere you turn. The main attraction for me (beyond seeing my boys) is the food. How can I describe the unique deliciousness of NOLA cuisine? Comforting, exciting, festive, sophisticated yet totally unpretentious, and (there's really no other word for it) delicious!!
During carnival season and culminating with Mardi Gras the fun and festivity intensifies, with colorful parades, dazzling floats, masked balls, secret societies with kings and queens, beads flying through the air, all-day cocktail parties, and the best food you can imagine. Jambalaya is a signature dish of New Orleans and it is a particular favorite around Mardi Gras since it's perfect for parties.

Authentic Jambalaya Recipe
There is no official recipe for jambalaya. Every cook has his or her own twist. Jambalaya most often includes rice and either chicken, shrimp, sausage or all three. There are limitless creative ways to reinvent this delicious dish. I decided on boneless chicken thighs, smoky sausages and ham, for a nice balance of flavors and textures. I added green beans because I always love to find delicious ways to include healthy vegetables in my recipes.
Jambalaya Holy Trinity
One of the keys to fine New Orleans cooking is known as the "holy trinity" – a sauté of chopped onions, green peppers and celery that creates the essential flavor component of most creole and cajun dishes. What makes the holy trinity even better is that it's usually sautéed in the fat rendered from the meats that have been sautéed first!
Another critical component of New Orleans deliciousness is the wonderful use of spices. For this recipe I used a Creole seasoning mix from Zatarain's. The flavor profile is smokiness, saltiness, garlic, onion, and a spicy kick from ground chili peppers. If you can't find the spice mix or prefer to make your own, here's a good creole spice mix recipe.
How To Make Spicy Chicken Jambalaya
There is such a delicious depth of complex flavors in this chicken jambalaya: creole seasoning, the trinity, the smokiness of the ham and sausages…
Roast the Chicken: Season chicken thighs with creole spice mix and roast for 20 minutes, then shred.
Blanch the Green Beans: Plunge them into boiling water and let them soften and brighten for a few minutes. Drain and set aside.
Cook the Jambalaya: Brown the sausages and ham. Then sauté the holy trinity in the rendered fat from the sausages and ham. Add tomato paste, rice, broth, more creole spice and simmer for 12 minutes. Stir in shredded chicken and sliced sausages. Cover and simmer for 6 minutes longer. Stir in blanched green beans. Cook for another minute or two, uncovered, tossing to heat the beans and bring it all together.
Serve Jambalaya hot, topped with a generous sprinkling of green onions, and pass the hot sauce around.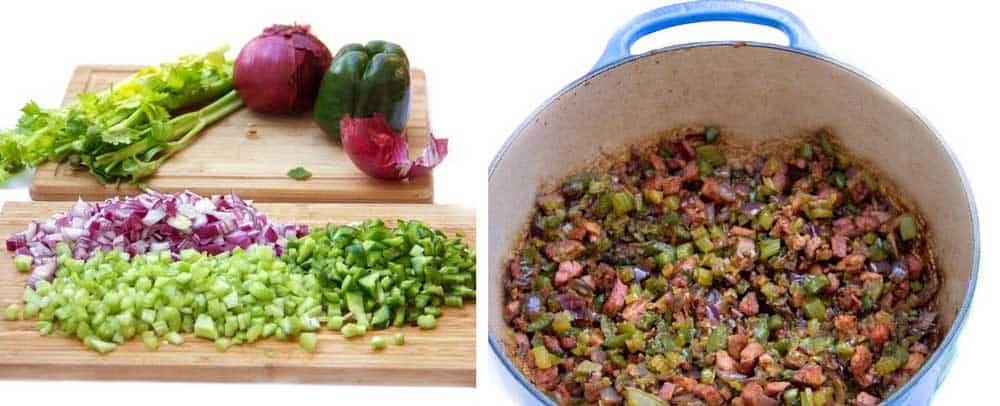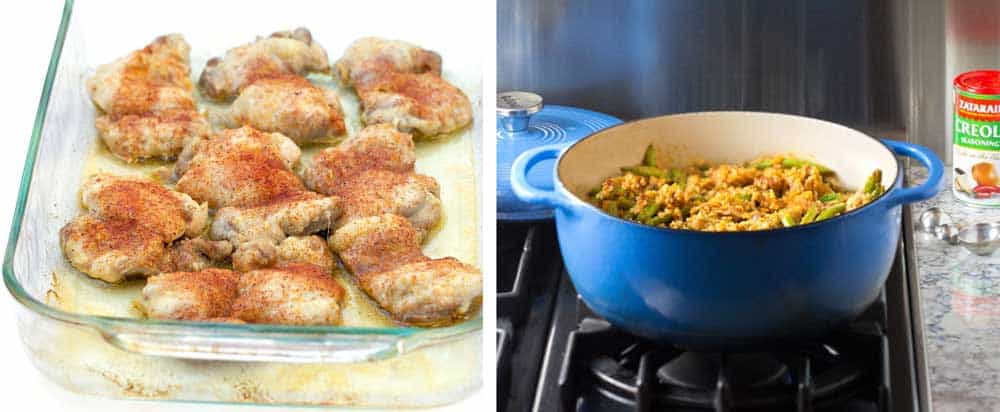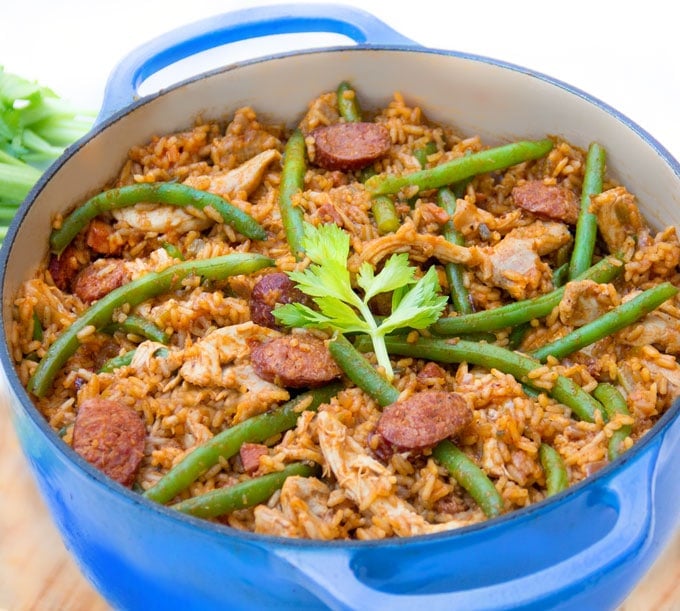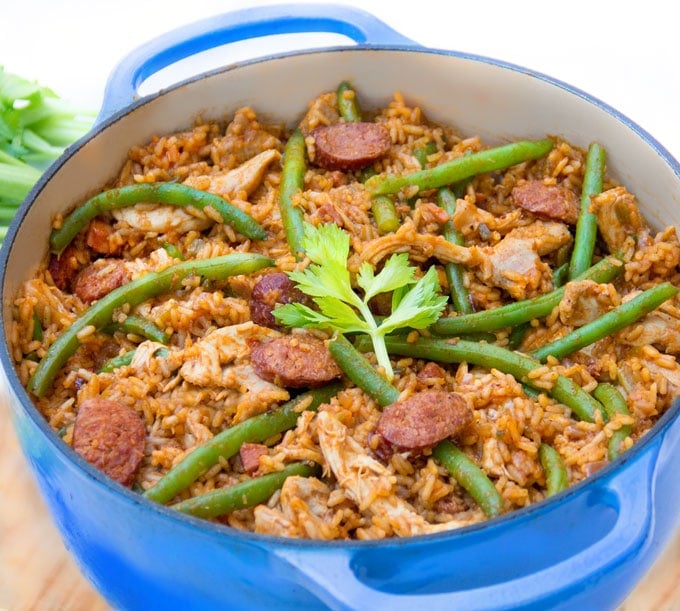 By the way, despite my kids attending college in New Orleans for the last six years, I've never visited during Mardi Gras. Our kids always talked us out of it, bringing up the crowds, the debauchery, the issue of safety – I think the real reason is they can have enough fun without us there or perhaps they can have more fun without us there?
I hope to experience Mardi Gras some day, but in the meantime I'm going to cook up some spicy chicken jambalaya and get into the carnival spirit. Food is a major focus of Mardi Gras and whether you celebrate in New Orleans or anywhere else in the world, you can cook up a big pot of insanely delicious New Orleans style jambalaya and get your own party started!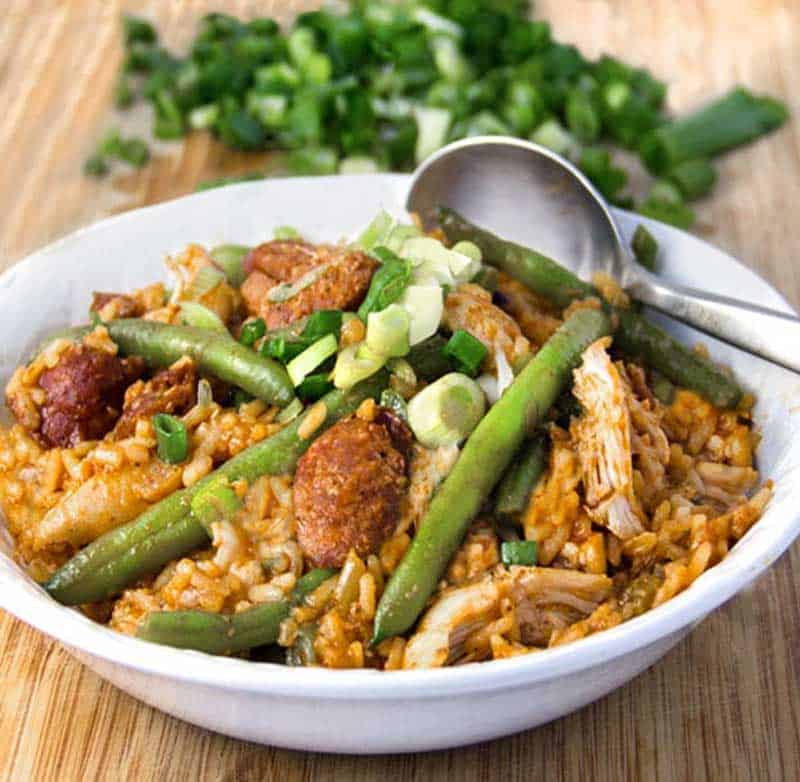 Here's the Chicken Jambalaya recipe. As always, I'm hoping that if you cook this, you'll come back to leave a star rating and a comment. I'd love to know what you think!
Print
Spicy Chicken Jambalaya with Sausages and Green Beans
A smoky, comforting, deliciously spiced one-pot wonder with rice, chicken, sausage, and green beans.
Author: Lisa
Prep Time:

20 mins

Cook Time:

1 hour

Total Time:

1 hour 20 mins

Yield:

8

-

10

1

x
Category:

Dinner

Method:

Simmer

Cuisine:

Creole
2

pounds boneless skinless chicken thighs

3 tablespoons

olive oil, divided

1 tablespoon

plus 2 teaspoons Zatarain's Creole Seasoning, divided (or make your own spice mix)

1

pound smoked andouille sausages, 1 sausage diced, the rest sliced into

1/4

-inch rounds

8 ounces

smoked ham, such as Black forest, diced

2 cups

diced red onion (

2

medium or

1

large)

1 1/4 cups

diced green pepper (

1

large)

1 1/2 cups

diced celery (

4

stalks)

2 tablespoons

minced garlic (

4

cloves)

1

6-oz can tomato paste

1

pound green beans, trimmed

2 1/2 cups

long grain white rice, rinsed and drained

6

–

8

cups low-salt chicken broth, divided

1/2 teaspoon

dried thyme

6

green onions, chopped or thinly sliced
Your favorite hot sauce, optional
Instructions
Preheat the oven to 425ºF
Roast the Chicken: Place chicken in a large roasting pan. Drizzle with 2 tablespoons olive oil. Flip each piece to coat and sprinkle evenly with 2 teaspoons Zatarain's Creole seasoning. Roast for 20 minutes. Shred and set aside.
Blanch the Green Beans: Bring a large pot of salted water to a boil. Add the green beans. When the pot returns to a boil, set the timer for 2 minutes. Drain the beans and plunge them into a big bowl of ice water to stop the cooking process and preserve their bright green color. Drain and set aside.
Cook the Jambalaya: Heat 1 tablespoon of oil in a large Dutch oven or paella pan with a cover. Brown the sliced sausages over medium-high heat, 6 minutes or so. Transfer them to a plate. Add the chopped meats, sausages and ham, to the pot and sauté for 5 minutes, stirring often, until browned. Add the onions, green pepper, celery and garlic the pot. Cook, stirring frequently, for about 8 minutes, until the vegetables soften and start to brown. Add the tomato paste and cook, stirring constantly, for 2 minutes or so, until the tomato paste starts to darken and caramelize. Pour in the rice and cook, tossing to coat, for a minute. Add 6 cups of broth, 1 tablespoon of Zatarain's Creole seasoning, and thyme. Stir to combine. Bring to a boil. Lower to a simmer. Cover and cook for 12 minutes. Stir in shredded chicken and sliced sausages. Cover and simmer for 6 minutes longer. Stir in blanched green beans. Cook for another minute or two, uncovered, tossing to heat the beans and bring it all together. Thin with additional broth, if you like.
Serve hot, topped with a generous sprinkling of green onions. Pass the hot sauce around.
Keywords: Chicken, sausage and green bean jambalaya