Fish In Crazy Water is a classic Neapolitan dish of fresh fish poached with vegetables and water. A wonderfully simple, healthy and delicious recipe that yields tender fish and vegetables in sweet flavorful broth.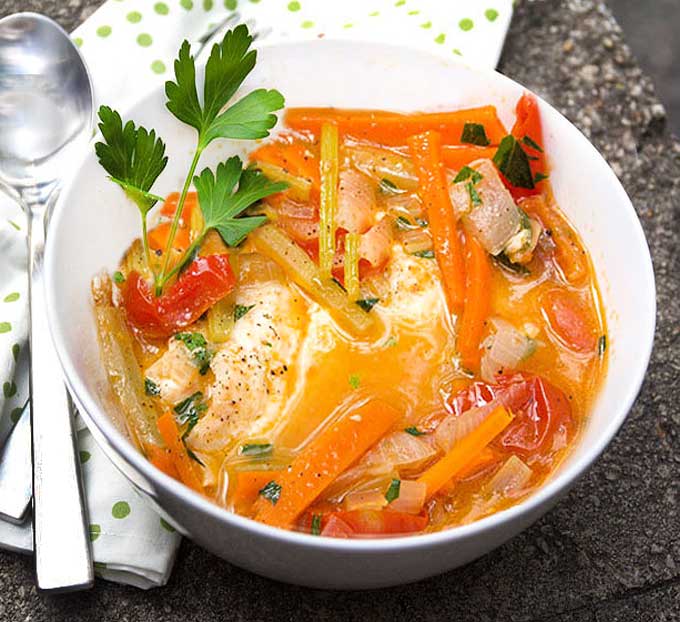 In Italy they call it Pesce All'Acqua Pazza. I discovered this amazing Neapolitan poached fish dish while traveling in southern Italy. It has since become a regular favorite in our weeknight dinner rotation.
I promised I would share some of the great recipes I learned on my Italian cooking vacation, so here we go!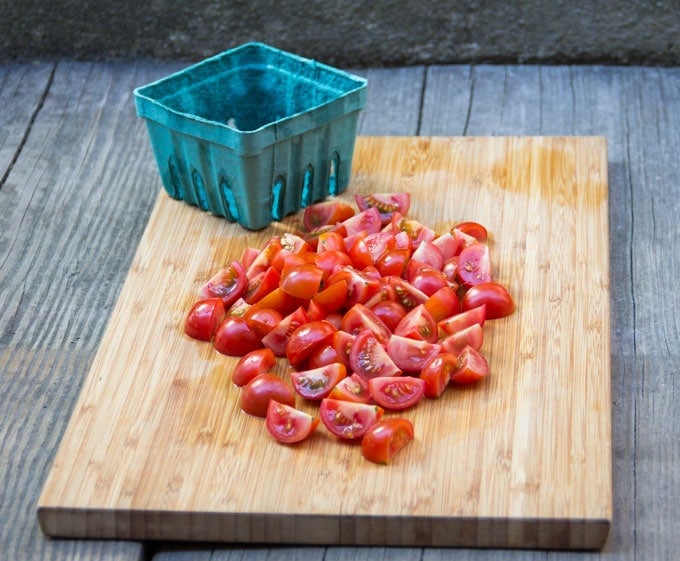 HOW TO COOK FISH IN CRAZY WATER
The recipe for fish in crazy water is stunningly simple. The beauty of this dish is in the delicate sweet and savory flavors of the fresh ingredients.
Use the best ripe cherry tomatoes you can find to flavor the broth.
Use white fish fillets - your favorite or whatever is fresh. I've had great success with snapper, halibut and sea bass. I've listed a few other types of fish that will work well in this recipe.
The only other ingredients you'll need is olive oil, garlic, carrots, celery, onions, parsley and, of course, water. I like cutting the carrots and celery into matchsticks but chopping them is fine, too. Whatever suits you.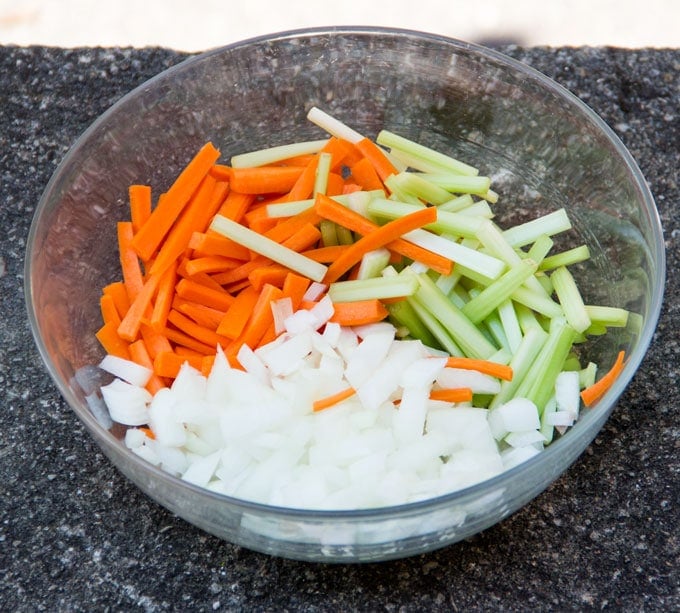 Everything cooks in one pot. I like to use my large cast iron skillet.
First sauté the garlic, carrots, celery and onions in a little olive oil, to soften them.
Tuck the fish fillets down into the veggies and add the water.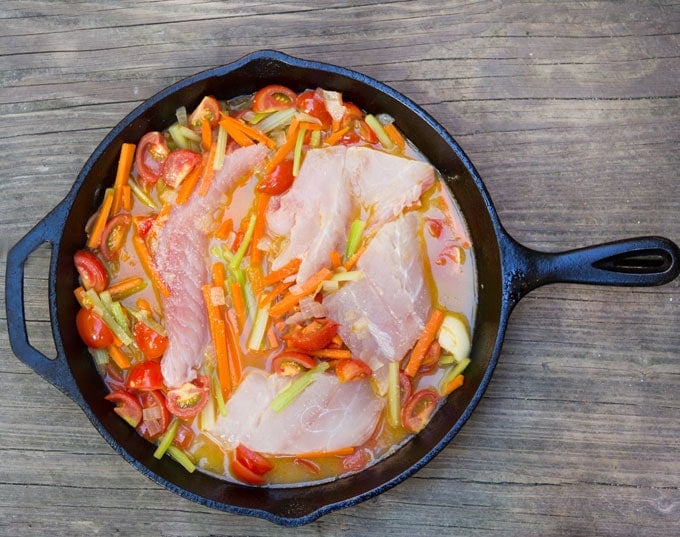 Cover the pot and simmer for 10 minutes or so, to gently poach the fish and vegetables and to infuse the water with all the wonderful flavors of the fish and vegetables.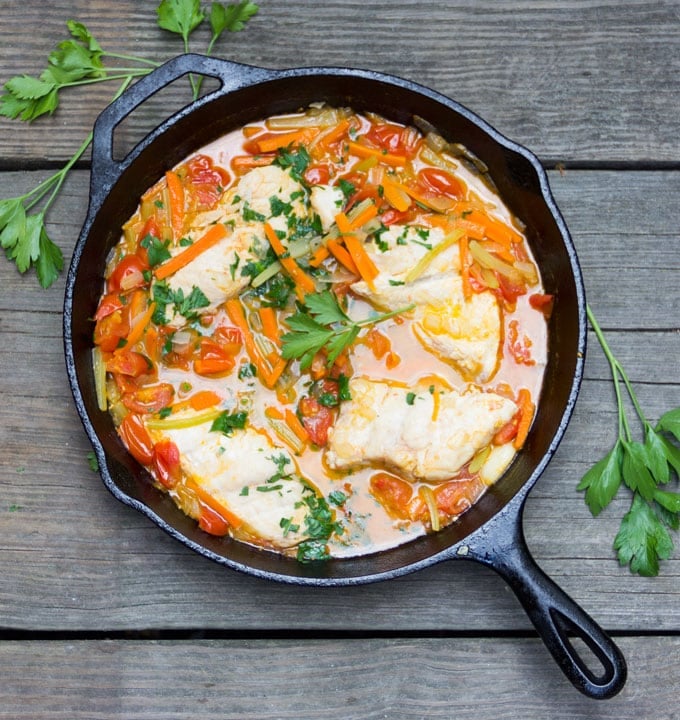 Take off the lid and dinner is ready!
I love the freshness and simplicity of this dish, tender fish and vegetables in a sweet fresh broth.
If you're like me, you'll be dazzled by the simplicity and deliciousness of this wonderful recipe.
And it's so healthy!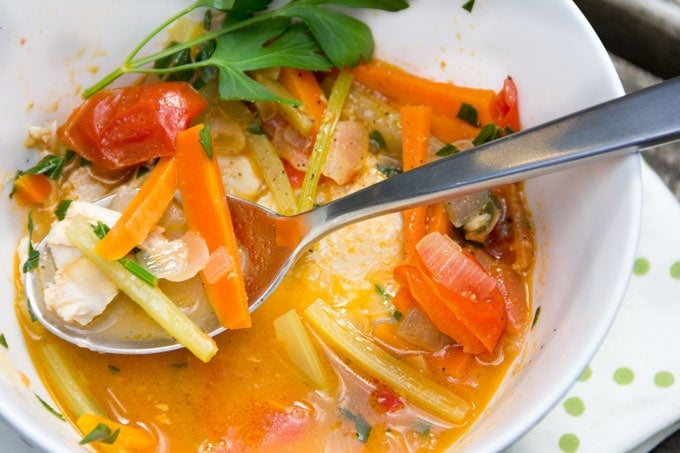 Be sure to follow Panning The Globe on Facebook, Pinterest and Instagram for daily cooking inspiration.
Here's the recipe for Fish In Crazy Water. If you try this recipe I hope you'll come back to leave a rating and a comment. I'd love to know what you think.
Print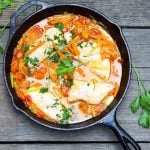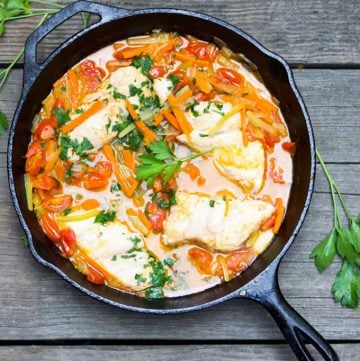 Fish In Crazy Water
---
Description
Quick, easy, healthy recipe for fish poached with fresh vegetables and tomatoes.
---
For this recipe you'll need a large skillet with a lid

1 ½

pounds

fresh fish fillets, such as snapper, sea bass, Branzino or Orata, cut into 4 portions.

¼

cup

extra virgin olive oil

1

large garlic clove, slightly smashed and peeled (see how to smash garlic here)

1

medium yellow onion, chopped (

1 ½ cups

)

3

celery stalks, washed, ends trimmed, cut into matchsticks or chopped (

1 ½ cups

)
2 or 3 carrots, peeled and cut into matchsticks or chopped (

1 ½

cups

1

pint

of ripe cherry tomatoes, washed and cut into quarters (10-11 ounces)

¼

cup

chopped parsley leaves

1 ½

cups

water
Coarse salt and fresh ground pepper, to taste
---
Instructions
Heat olive oil and garlic in a large skillet over medium heat for a minute or so, until the garlic starts to sizzle a bit. Add the carrots, celery and onions. Sauté, stirring, for 2 minutes or so, until the vegetables start to soften (regulate the heat so they don't brown)
Add the cherry tomatoes and cook, stirring, for a minute or so, to heat the tomatoes. Add the fish, tucking it down into the vegetables. Add ¼ teaspoon salt and 1 ½ cups water. Bring the liquid to a simmer. Cover and cook over medium low heat (gentle simmer) for 10 minutes or until the fish is just cooked through and the vegetables are softened. Stir in half the parsley.
Divide fish, veggies and broth among 4 shallow bowls. Season with black pepper, to taste. Serve right away, while hot, with additional chopped parsley sprinkled on top.
Prep Time:

15 mins

Cook Time:

15 mins

Category:

Lunch or Dinner

Method:

stove top

Cuisine:

Italian
Keywords: poached fish, fish poached with vegetables, Italian fish recipe