This homemade vegetarian chili is thick, satisfying and deliciously spiced. It's loaded with veggies, beans and a special ingredient that makes it "meaty." My absolute favorite!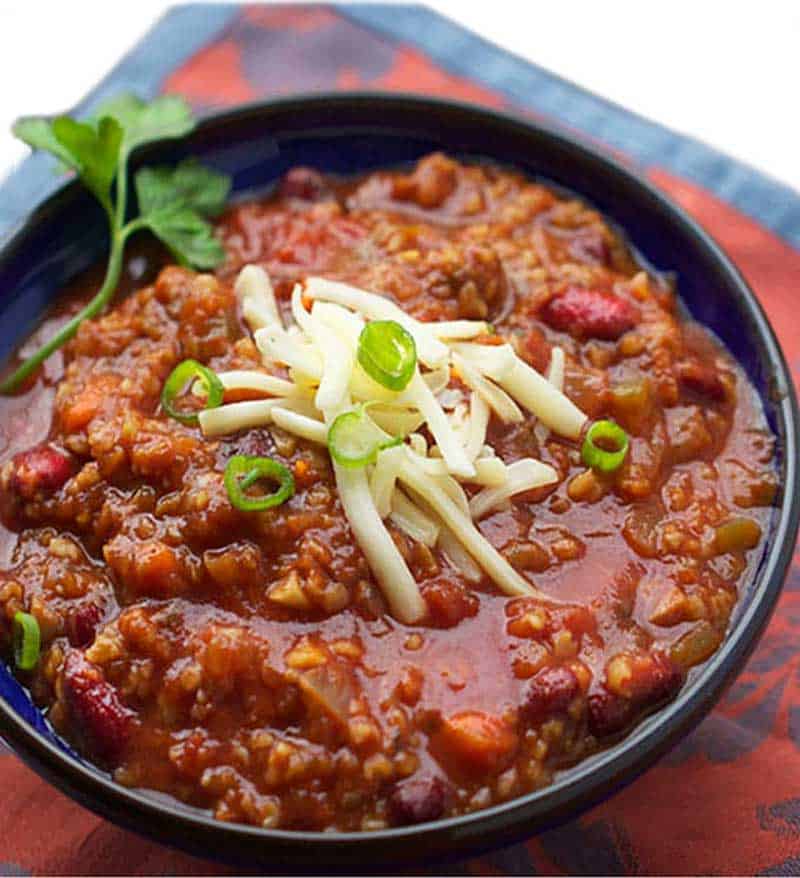 I've tried many veg chili recipes over the years. Some are heavy on the beans. Others are more about the vegetables. This one, made mostly from finely chopped vegetables and tomatoes, has a thick and satisfying base with just enough beans, and the perfect amount of heat. It wins the best vegetarian chili award, as far as I'm concerned. I live in a house of meat lovers and they (miraculously) look forward to veggie chili night. Hopefully the carnivores in your house will love it too.
On the theme of healthy and delicious, I recently got an invitation to join Cooking Light's community of food bloggers called "The Cooking Light Blogger's Connection." I'm honored and thrilled to be connected with this incredible brand. I've been a subscriber to Cooking Light Magazine for as long as I can remember. In fact several of the recipes on my blog were inspired by Cooking Light.
Their brand represents values that I hold dear: a focus on family, friends, community and cooking exciting and delicious food that's also healthy and wholesome. This is not a financial relationship. The perks for me are the endorsement by a brand that I admire and the exposure to Cooking Light's large and growing audience. For my part I look forward to sharing relevant and inspiring content from Cooking Light.
How To Make This Vegetarian Chili
Once you've chopped the vegetables and have all the ingredients in the pot, the chili will be ready in 25 minutes.
Chop the carrots, onions, mushroom, celery, green peppers and garlic. drain the canned beans, measure out the spices, have the other ingredients at the ready: canned tomatoes, tomato juice, lemon juice, wine, Worcestershire sauce, tabasco, canned beans and canned chilies.
In a large heavy Dutch oven sauté the vegetable and spices in oil for a few minutes. Add the rest of the ingredients. Cover and cook for 20 minutes.
Done!
You might be surprised to hear that this chili cooks for just 25 minutes but that's all it need for great texture and flavor, and to get maximum nutritional benefits from all those fresh vegetables.
The BEST time saving tip for making this veggie chili
Use your food processor to chop the veggies!
There are LOTS of chopped vegetables in this dish: mushrooms, onions, carrots, celery, green peppers and garlic. They create a wonderful texture for the chili. I used to do all the chopping by hand but I've discovered that the food processor does a great job in a fraction of the time. If you want to give it a try, here's what to do:
Set up your food processor with the chopping blade, also called the S-blade.
Cut the vegetables into chunks so they fit nicely into the bowl of your food processor.
Pulse the veggies until they are uniformly chopped (but not pulverized)
For best results, chop each type of vegetable separately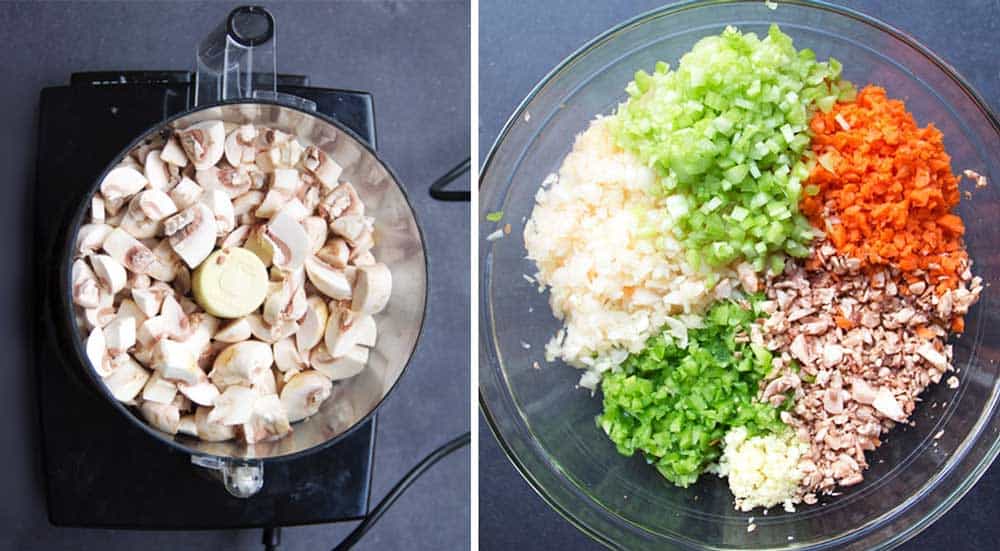 My secret for making the BEST vegetarian chili
Whether you're making this vegetarian chili or any chili, this little tip will take your chili to higher heights of delicious.
Use a mix of chili powders to add a wonderful depth of flavor to any chili.
If a recipe calls for 3 tablespoons of chili powder, use three different types, one tablespoon of each.
In this vegetarian chili recipe I like to use a mix of New Mexican chili powder, chipotle and ancho.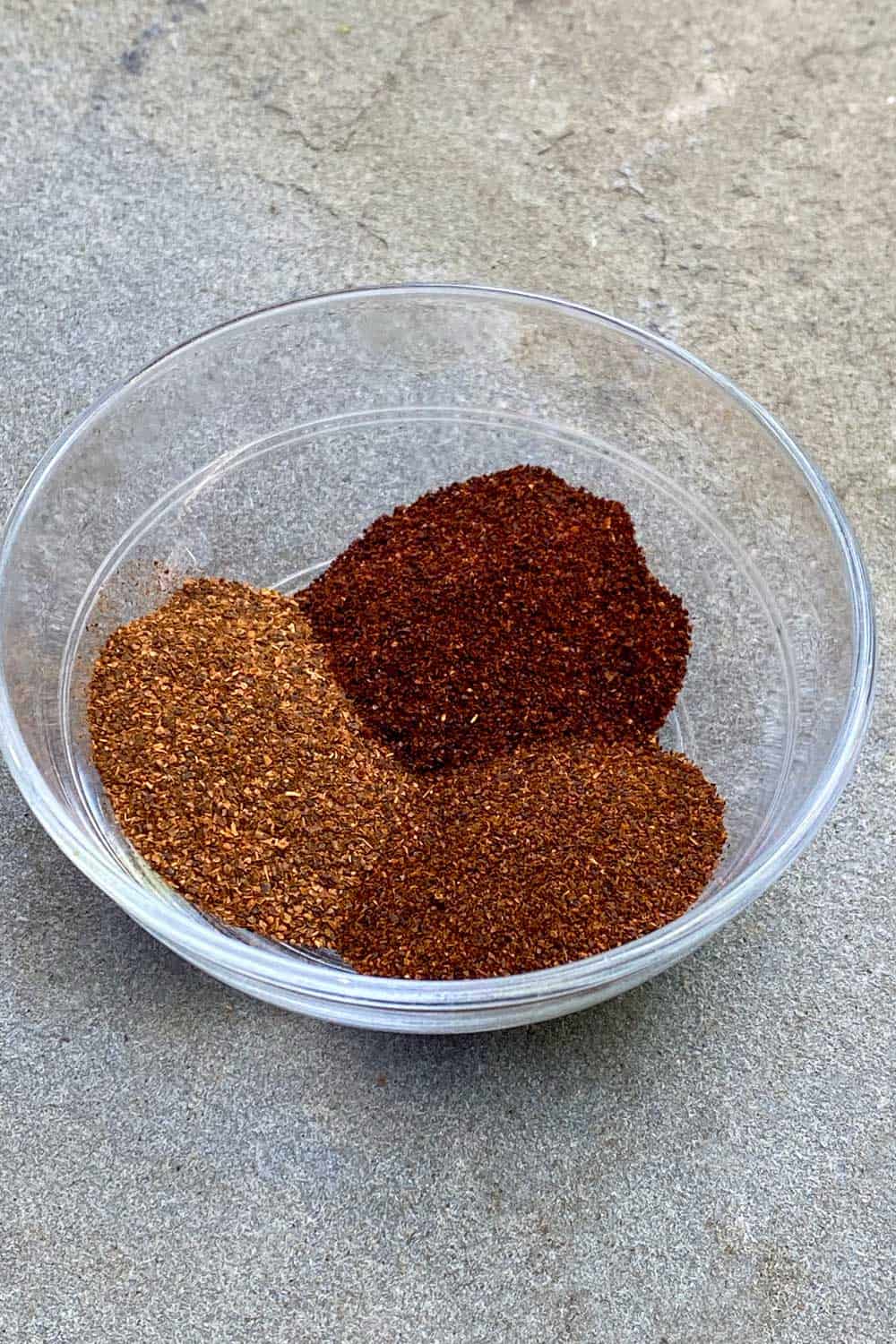 I ALWAYS make a double batch of vegetarian chili and freeze half. I highly recommend doing this. For very little extra effort, you'll get another dinner or two cooked and ready. (See recipe notes for freezing instructions.)
Those times when you want something healthy and satisfying for dinner but you don't feel like cooking, just pull out a container of veg chili from the freezer and heat it up. Sprinkle on some cheese and chopped scallions and you've got a fantastic meal.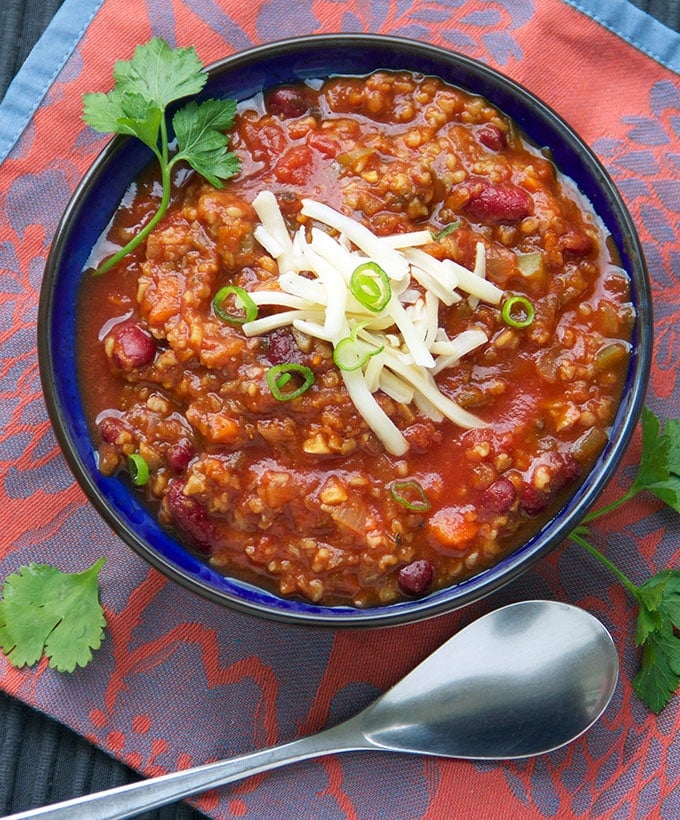 This vegetarian Chili recipe comes from one of my most falling-apart old cookbooks called The Frog Commissary Cookbook. By the way, the secret ingredient that adds a meaty texture to this dish is a cup of bulgar wheat. If you want to keep it gluten-free substitute an equal amount of raw quinoa.
You might also like:
Here's My Favorite Vegetarian Chili Recipe. If you cook this I hope you'll come back to leave a star rating and a comment. I'd love to know what you think!
Be sure to follow PANNING THE GLOBE on FACEBOOK, PINTEREST and INSTAGRAM for daily cooking inspiration.
Print
My Favorite Vegetarian Chili
---
Author:

Lisa

Total Time:

52 mins

Yield:

8

1

x
Description
An all around excellent vegetarian chili, with great flavor and texture and just the right amount of heat.
Adapted from a recipe in The Frog Commissary Cookbook
---
For The Veggies
⅓ cup

olive oil

3 cups

chopped yellow onions (

1 ½

-

2

large)

3 cups

chopped mushrooms (

15

-

16

ounces)

1 ½ cups

chopped carrots (

4

-

5

medium)

1 ½ cups

chopped green pepper (

1

large)

1 cup

chopped celery

2 tablespoons

chopped garlic
For The Spices
1 tablespoon

plus 1 teaspoon ground cumin

½ teaspoon

crushed red pepper flakes

1 teaspoon

dried basil

1 teaspoon

dried oregano

3 tablespoons

chili powder (mix different types for added depth of flavor)

1 tablespoon

kosher salt

½ teaspoon

fresh ground black pepper
Other ingredients
1

28-ounce can crushed tomatoes

1

6-ounce can tomato paste

1

-

3

cups tomato juice (Start with

1.

Add more at the end to thin, if necessary)

1 ½ cups

water

1 cup

bulgar wheat (substitute

1 cup

quinoa for gluten free)

⅓ cup

dry white wine

3 tablespoons

fresh lemon juice

1 tablespoon

Worcestershire sauce* Note for strict vegetarians: some brands of Worcestershire sauce contain anchovies. If you omit the Worcestershire sauce, the chili will still be delicious.

½ teaspoon

tabasco sauce

2

15-ounce cans undrained red kidney beans

3 tablespoons

canned chopped green chiles
Suggested Garnishes
yogurt or sour cream
chopped scallions
grated cheddar cheese
chopped cilantro
cubed avocado
---
Instructions
Have all of the ingredients ready: chopped veggies in one bowl, spices measured out in a small bowl, cans opened.
Heat olive oil over medium heat in a large pot or dutch oven. Add the chopped veggies: onions, mushrooms, carrots, green pepper, celery and garlic, and the spices: cumin, red pepper flakes, basil, oregano, chili powder, salt and pepper. Sauté, stirring, for 4-6 minutes, just to soften the veggies a bit and toast the spices a bit.
Add the rest of the ingredients, using only 1 cup of the tomato juice to start. Bring to a boil. Lower to a simmer and cook, stirring occasionally, for 20 minutes, uncovered. Add additional tomato juice if you want to thin the chili. Season to taste with salt and fresh pepper. Serve with assorted toppings.
Notes
How To Save Time: Use your food processor to chop all the vegetables.
How To add even more great flavor: use 2 or 3 different types of chili powder.
How to Freeze and reheat This Chili: Freeze chili in an airtight container. It will last for at least 4 months in the freezer. Defrost before reheating or transfer frozen chili to a large heavy pot with a lid. Add ½ cup of water. Bring to a simmer. Cover and simmer over low heat, until defrosted and heated through.
How To Make This Vegan: Omit the Worcestershire Sauce or find a brand that doesn't contain anchovies.
Prep Time:

30 mins

Cook Time:

22 mins

Category:

Soup, lunch, dinner

Method:

Simmer

Cuisine:

American
Keywords: vegetarian chili recipe, best vegetarian chili
Originally published January 2014. Updated October 2018 with added nutritional information and some tweaks to the written post.