There's nothing like a great stew to satisfy and warm you from the inside. Here's a heavenly lamb stew with extremely tender lamb, loads of fresh veggies, and rich savory flavors. It's a whole dinner in one pot that's worthy of any occasion.
St. Patrick's Day is a few weeks away and so is spring. I'm excited for both! I'm all for celebrating every possible occasion and St. Patrick's Day is a particularly fun one: corned beef, potatoes, green beer, Irish stew!
According to my research lots of people agree – census stats show nearly 45% of people in the United States celebrate St. Patrick's day. So here's a great recipe in honor of St. Patrick's Day and the coming of spring: lamb stew with spring vegetables.
There really isn't a definitive modern day Irish stew recipe. (I'd love to know if you disagree) Way back when, before the potato famine, Irish Stew – ballymaloe – was a peasant dish composed of the most simple, cheap and readily available ingredients: mutton (older, tougher sheep meat), root vegetables (carrots, potatoes, parsnips), parsley and water. Today there are endless variations – some with lamb, some with beef. Potatoes can be cooked with the meat or mashed and served on the side. Some versions include wine, others contain Guinness stout.
I experimented a bit and ended up with a recipe that achieves extremely tender lamb in a beautiful savory sauce with bright fresh spring vegetables. This lamb stew is a complete (and completely delicious) meal.
Blanching the green beans is an extra step but it's so worthwhile. The beans are cooked to bright green, crunchy perfection and then added to the stew at the end.
I personally enjoy trimming meat – finding pathways along the bones, slicing off the fat, and cutting the cubes just the way I want them. But if butchering isn't your thing, buy precut lamb stew meat.
If I can find lamb shoulder, I like to cook the stew with the bones, for added flavor. I don't worry about cutting all the meat off – it falls off easily after the stew is cooked. And even if you don't use the bones, your dish will still be delish!
Spread the meat out on a wax paper-lined baking pan so you can easily season it and toss it with flour.
Just before browning, shake the cubes in a colander to remove the excess flour.
IS LAMB STEW BETTER WITH WINE OR BEER?
I wondered about this so I cooked two identical pots of stew with only one variable – I used dry white wine for one batch and Guinness stout for the other.
There were subtle differences in flavor – the stew with wine had a more French flavor. But both pots of stew were excellent.
Guinness is a great choice for St. Patrick's Day but the the stew will be delicious with either wine or beer.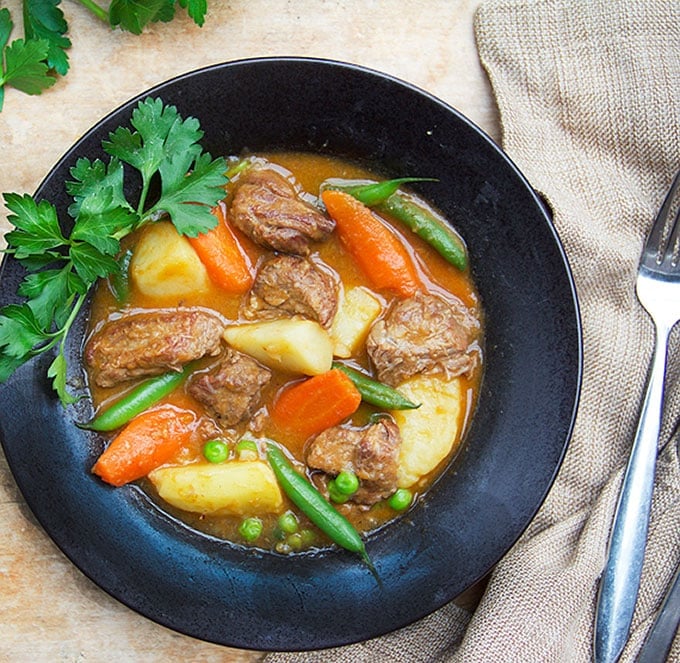 If you'd like to serve a salad on the side, you might enjoy this citrusy butter lettuce salad.
It's been a particularly cold winter here in New England and, though I'm excited for spring, I also feel the need to grab onto the last weeks of winter and cook up some cozy comforting stews while there's still snow on the ground.
Here's the recipe for Lamb Stew with Spring Vegetables. If you try this recipe, I hope you'll come back to leave a star rating and comment. I'd love to know what you think.
Print
Lamb Stew with Spring Vegetables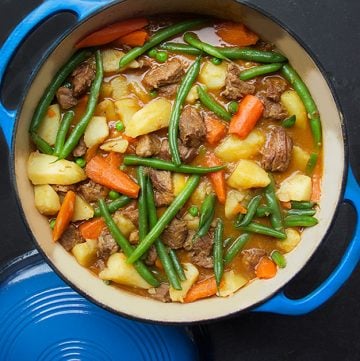 A tender, hearty, healthy lamb stew for any occasion.
Author: Panning The Globe
Prep Time:

30 mins

Cook Time:

1 hour 45 mins

Total Time:

2 hours 15 mins

Yield:

6

1

x
Category:

Main Course one-pot-wonder

Method:

stovetop

Cuisine:

Irish
Scale
Ingredients
4

pounds lamb shoulder chops with bone or 2 1/3 pounds boneless lamb stew meat, trimmed of fat and cut into

1

to

1 1/2

inch pieces. Meat that clings to the bones is fine – it will come off easily after cooking.
Kosher salt
Fresh ground black pepper

1/2 cup

all purpose flour
Olive oil or other cooking oil

1

large onion, peeled, halved and thinly sliced (

1 1/2 cup

s)

1 cup

Guinness Stout or dry Vermouth (based on your preference)

2

large garlic cloves, peeled and roughly chopped

1

heaping tablespoon tomato paste

4 cup

s low salt chicken broth, divided
A

6

-inch sprig of fresh rosemary or

1/2 teaspoon

dried rosemary

8

medium carrots, sliced on the diagonal into wedges

5

boiling potatoes – yukon golds or white potatoes (

2

–

2 1/2

pounds) cut into wedges (set aside in a bowl of cold water to prevent browning)

1 1/4

pounds green beans, trimmed

1 cup

frozen green peas, defrosted
Instructions
Brown meat Pat the meat dry. Spread it onto a wax paper-lined baking pan in a single layer. Sprinkle with salt and pepper, toss. Sprinkle with flour and toss to coat. Shake off excess flour by tossing meat in a mesh colander or strainer before browning. Heat 2 tablespoons oil over medium heat in a large skillet until hot. Brown lamb on all sides in two or three batches, 3-4 minutes per batch, adding more oil if necessary. Transfer browned lamb to a large stew pot or Dutch oven.
Assemble Stew Add onions to the skillet and sauté, stirring, for a few minutes, until lightly browned. Add them to the stew pot. Pour the Guinness or Vermouth into the skillet and deglaze, stirring with a wooden spoon to get off any browned bits of meat or onion. Pour the liquid into the stew pot along with the garlic, tomato paste, 3 cups of chicken broth, and rosemary. (ingredients should just barely be covered with liquid) Bring to a simmer, cover and cook for 1 hour.
Blanch Green Beans Bring a large pot of salted water to a boil over high heat. Drop the beans in and cover to help bring the water back to boil quickly. Remove the cover and boil beans for about 3 minutes, until just crisp tender. Drain and plunge beans quickly into a big bowl of ice water to keep them crisp and green.
Finish the Stew Remove bones (if using) and degrease cooking liquid by letting the fat rise to the surface for a few minutes and skimming it with a spoon or by cooling the stew in the fridge for several hours or overnight, and scraping the fat off the top. Stew can be made ahead to this point and stored in the fridge for up to two days.
Bring stew back to a simmer before continuing. Season broth with salt and pepper, to taste. Bury carrots and potatoes in the stew, adding 1 extra cup of broth if necessary. Bring to a boil. Quickly lower to a simmer. Cover and cook for 25-30 minutes, until vegetables are tender. Drain beans and bury them in the stew along with the peas. Cover and cook for 5 minutes, until beans and peas are hot. Correct seasoning. Enjoy!
Keywords: Lamb stew with vegetables and potatoes, lamb and vegetable stew