Here's my absolute favorite lamb stew recipe with tender flavorful lamb that practically melts in your mouth, luscious rich savory sauce, hearty chunks of carrots and potatoes, sweet peas and fresh crisp green beans.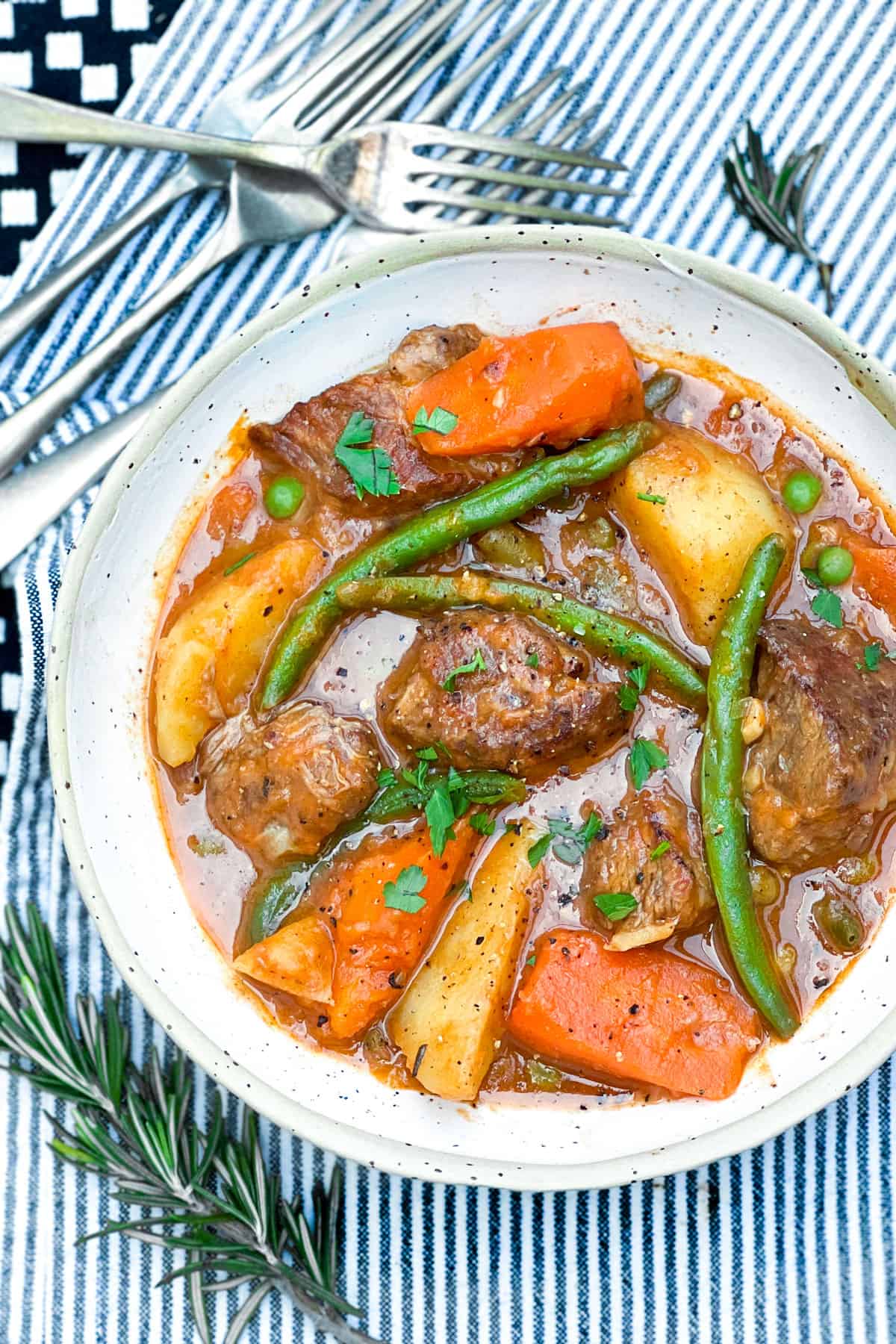 The French call this type of lamb stew navarin printanier. Navarin means stew and printanier means spring. This classic French Lamb stew is traditionally made in the spring when peas and green beans are fresh and tender, but I make it all year long.
Lamb is an excellent meat for stew. Whether you're making a rustic Georgian Lamb Stew, a spicy Indian Lamb Stew or any of the other umpteen lamb stews that are popular across the globe, the earthy flavor of lamb works well with a wide variety of spices and vegetables. And because lamb is a relatively tender meat, it breaks down easily during the long, slow stewing process, to an irresistible melt-in-your-mouth consistency.
The Best Way to Make Lamb Stew
Of the many lamb stew recipes I've tried over the years, this is the one I keep coming back to. It's a simple, hearty and satisfying stew with no overpowering spices or hard-to-find ingredients - just lamb, potatoes and fresh spring vegetables, cooked really well.
I always consult the experts when I'm trying to perfect a recipe and in this case it was none other than Julia Child's master lamb stew recipe from her book The Way To Cook that provided the best advice, which got me to this delicious recipe.
What I Love About This Lamb Stew Recipe
Perfect melt-in-your-mouth tender juicy lamb
Lots healthy vegetables
Plenty of potatoes to soak up the delicious sauce
Everything you want for dinner in one pot
Made with every day, easy-to-find natural ingredients
Fills up your house with the most amazing aromas while it cooks
Can be prepared ahead for a dinner party
Always a real crowd-pleaser!
Ready to try this lamb stew recipe?
You'll need to gather these ingredients: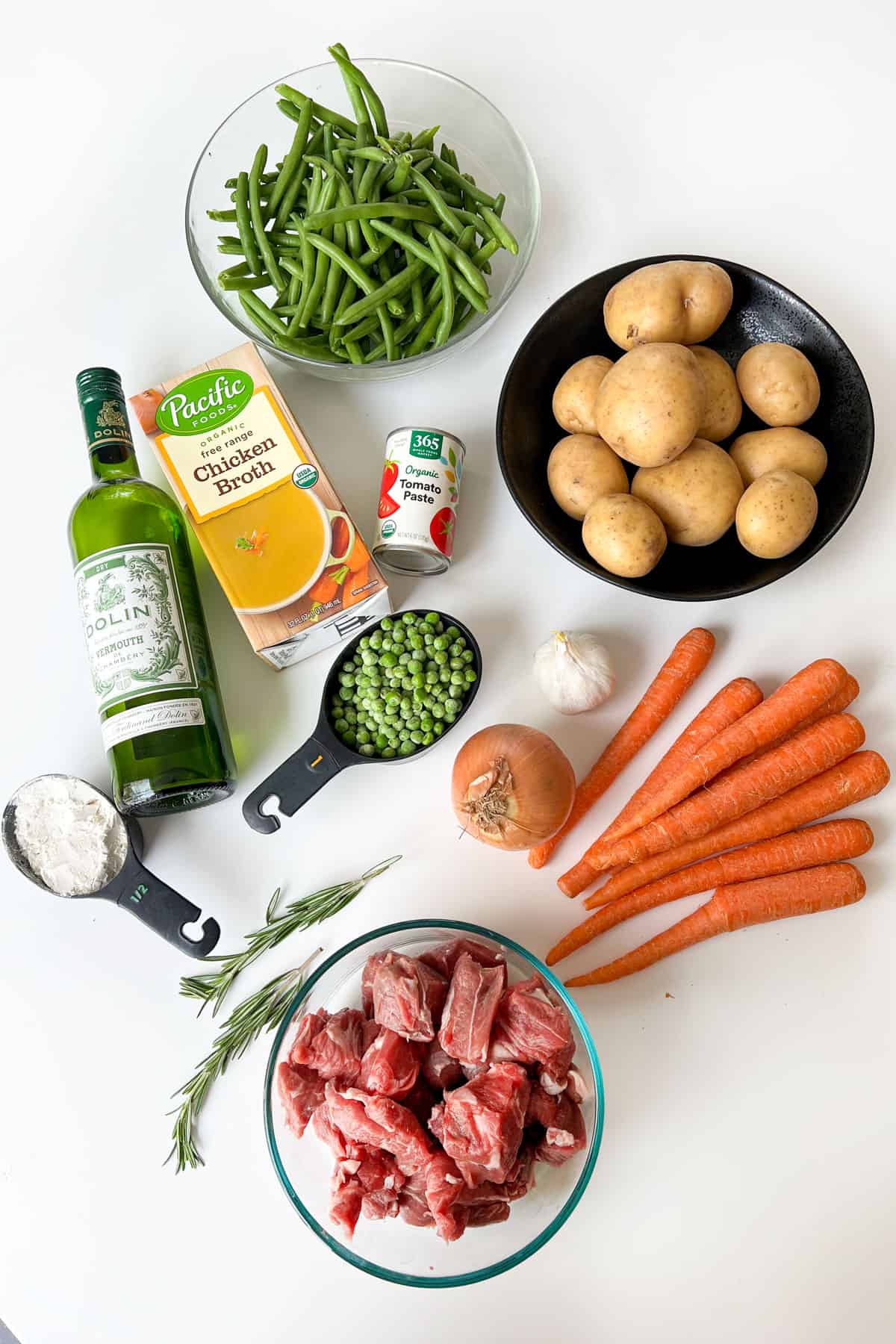 Lamb - Almost any cut of lamb will work for this stew but lamb shoulder is my favorite. It's nicely marbleized and gets extremely tender when braised low and slow. You can use shoulder chops with the bone in or boneless lamb stew meat. The bone adds extra flavor to the sauce so I recommend that option if it's available.
All purpose flour - for coating the meat before browning it
Vegetable oil - used to brown the lamb.
Onion and garlic - these aromatic vegetables are sautéed for a delicious flavor base
White wine or dry Vermouth - Julia Child recommends Dry Vermouth for her lamb and beef stews. I've followed her advice and I love it. (Also, we usually have it on hand for making martinis and manhattans). A dry white wine such as a sauvignon blanc or Pinot Grigio will also work well.
Tomato paste - adds rich savory flavor to the stew
Low salt chicken broth - homemade or store-bought will work
Fresh or dried rosemary - fresh is best if you can find it but dried will be just fine
Carrots - healthy, colorful and delicious
Potatoes - Yukon gold are best because they retain their shape in a stew whereas russets tend to dissolve. For best results, I recommend that you peel the potatoes. Larger potatoes are less work to peel. If using baby gold potatoes, they have a very delicate skin and don't need to be peeled. Just slice them in half and pop them into the stew, skins and all.
Fresh green beans - the fresher the better
Fresh or frozen green peas - I always use frozen peas and they're perfect!
So let's do this!
Start by getting all the veggies peeled, chopped and at the ready.
Keep the potatoes submerged in a bowl of water to prevent them from discoloring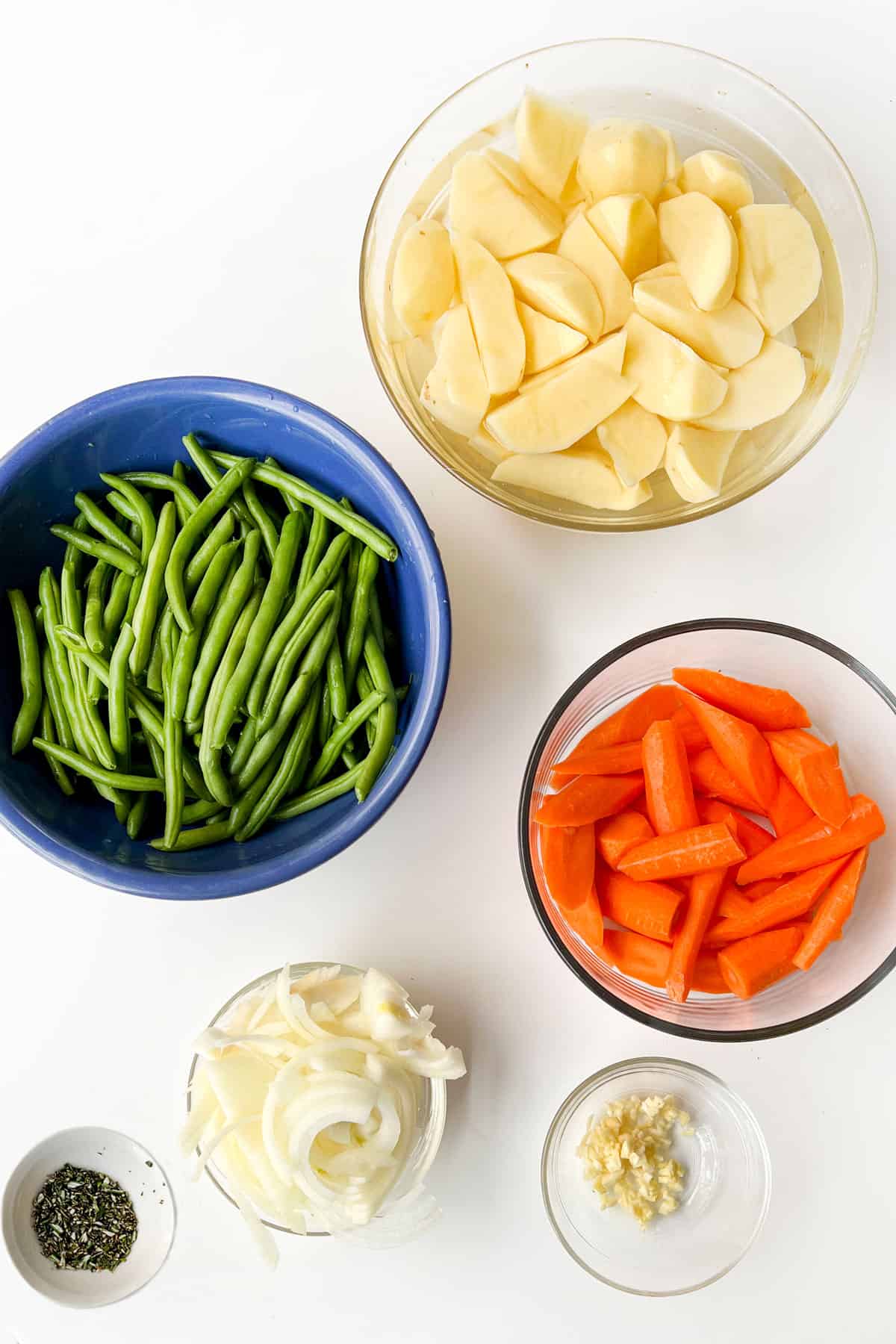 How to make lamb stew - step by step
Cut the lamb into bite-sized pieces, season them with salt and pepper.
Add flour and toss to coat.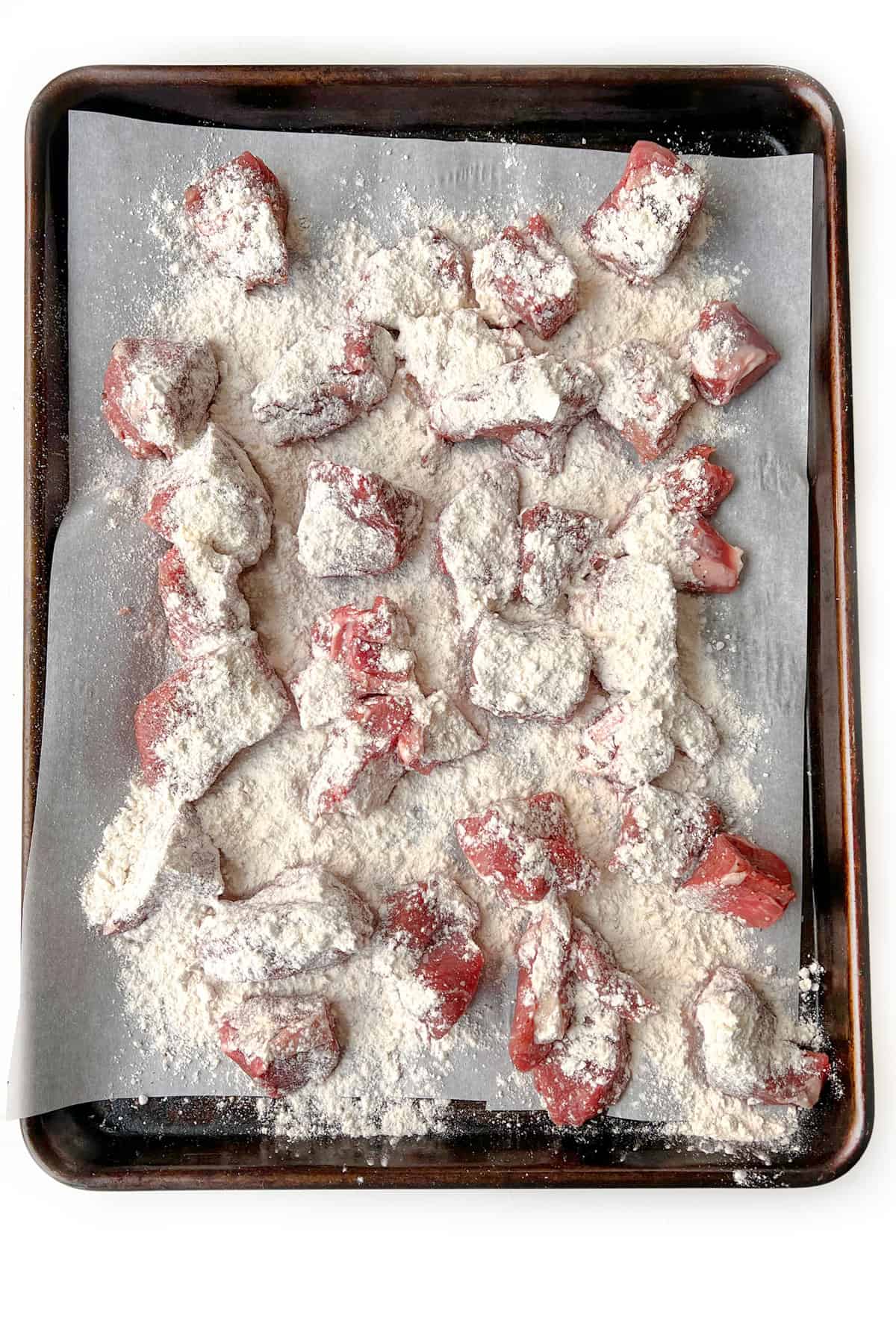 Before browning the cubes of lamb, shake them gently in a colander to remove the excess flour.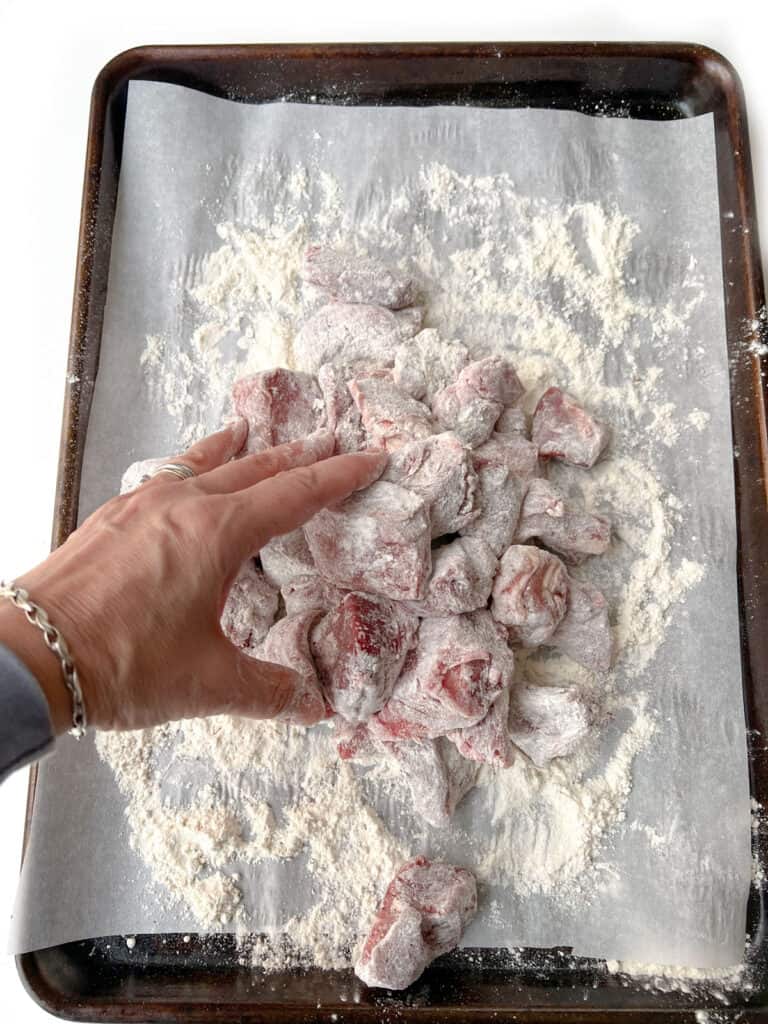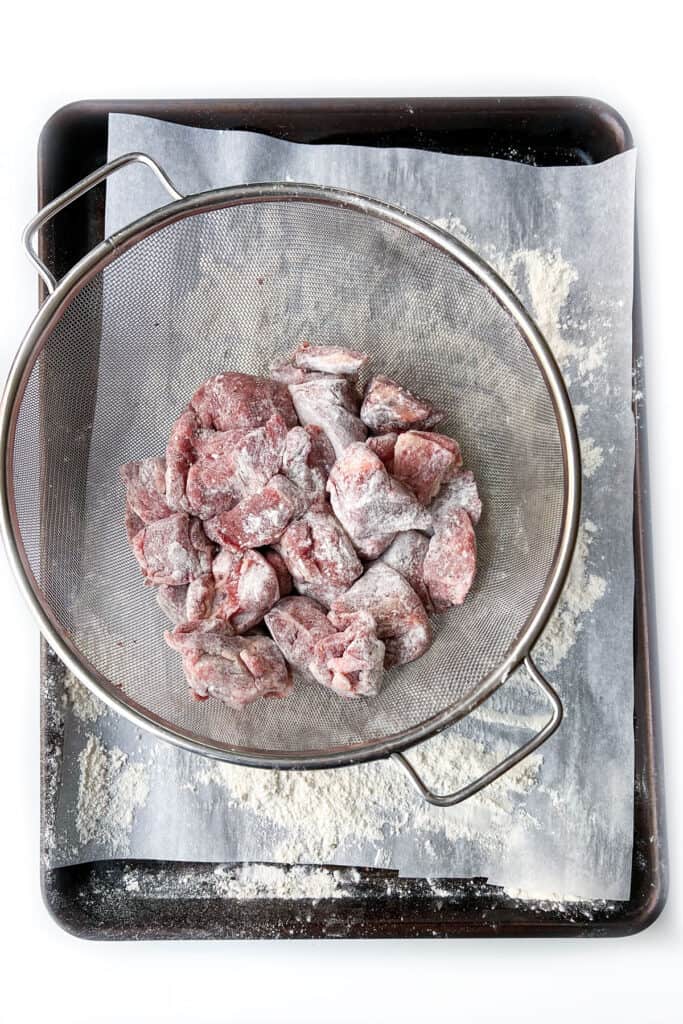 Brown the lamb in batches, taking care not to crowd the pan.
When all the meat is browned, remove it from the pot and sauté the onions, then stir in the garlic.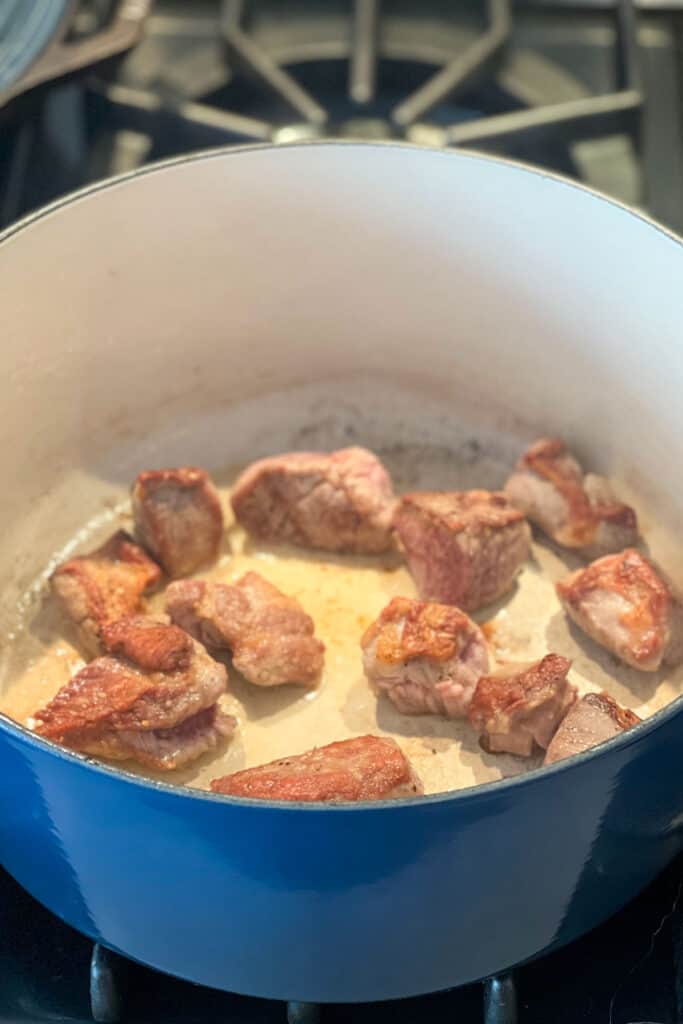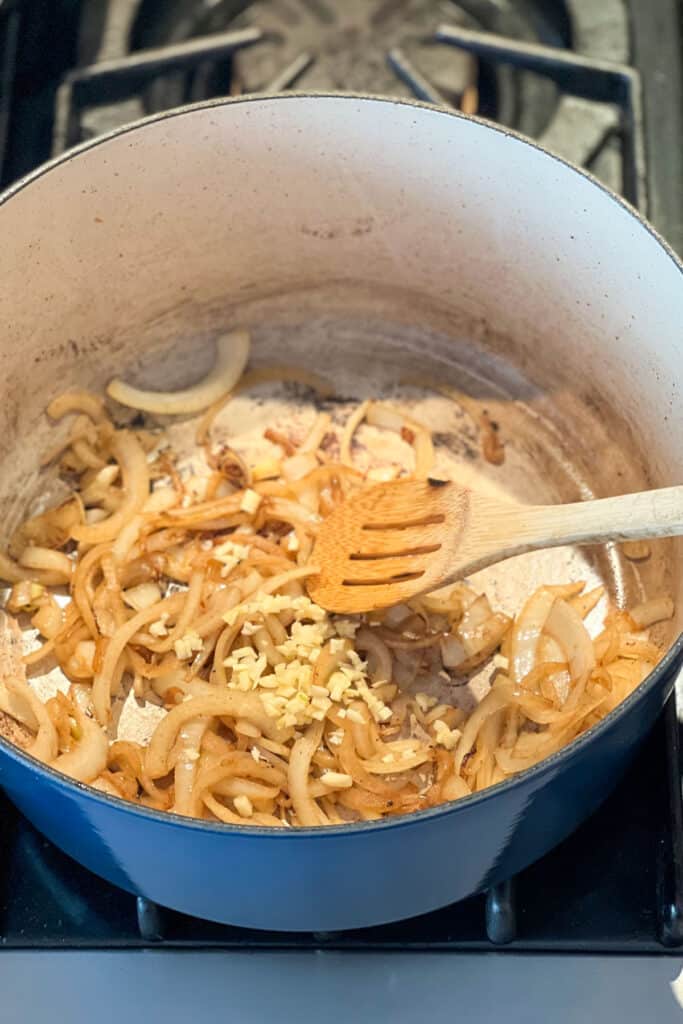 Pour in the wine (or vermouth) and stir with a wooden spoon to release any stuck bits of meat from the bottom of the pot.
Next stir in the tomato paste and then add the broth and rosemary.
Bring the pot to a simmer, cover it and let it cook for an hour. Be sure to check that it stays at a simmer and doesn't boil vigorously.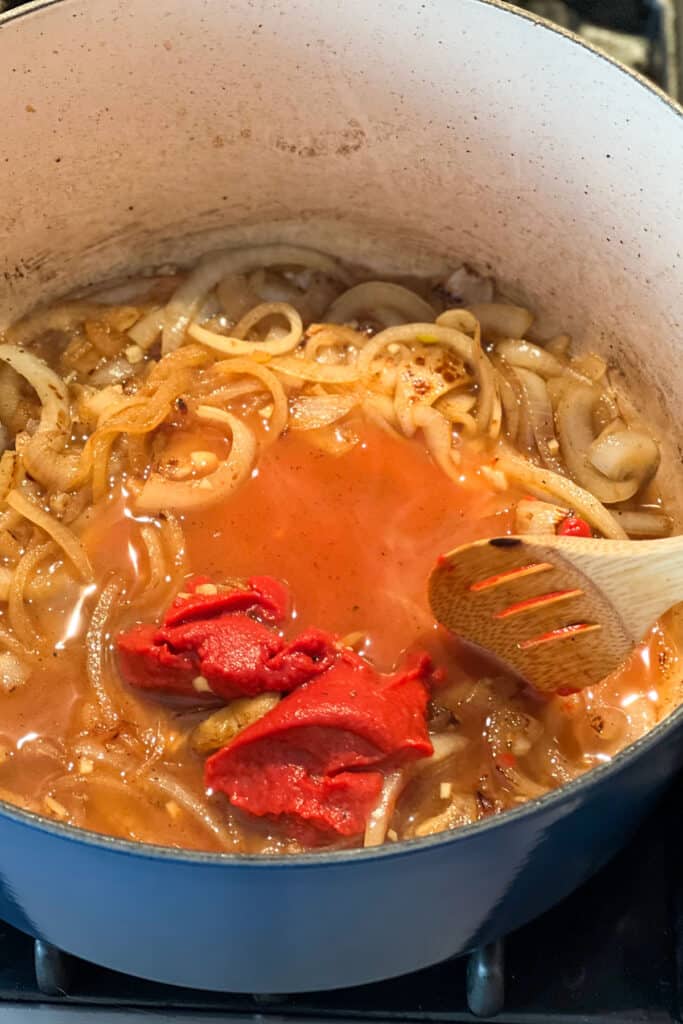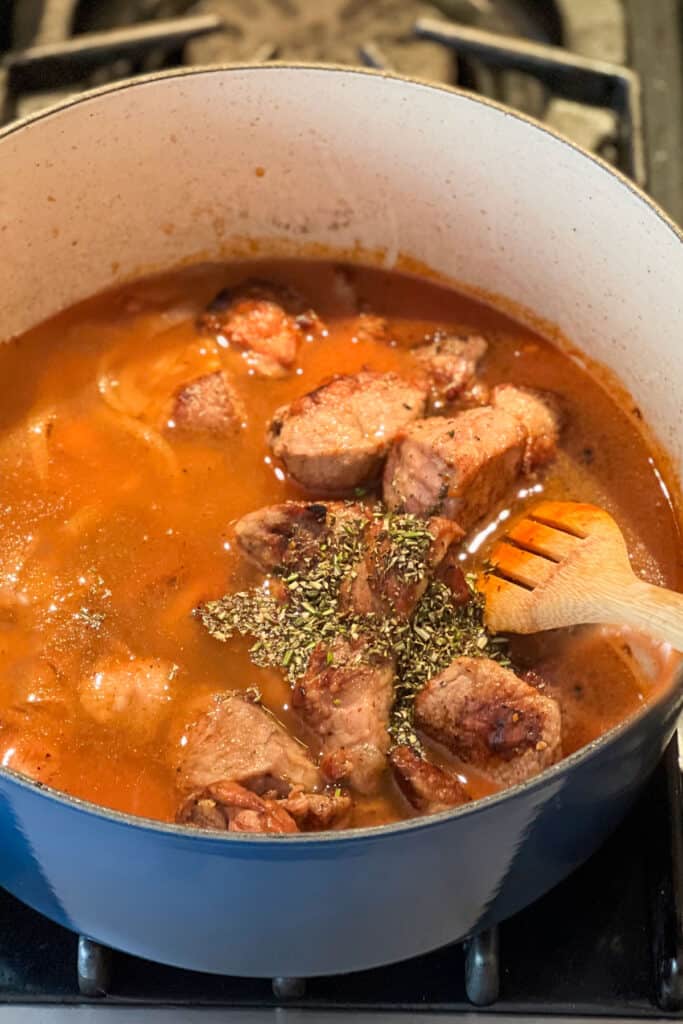 While the stew simmers, blanch the green beans and shock them in ice water to preserve their bright green color. You can drain them later - just before you add them to the stew.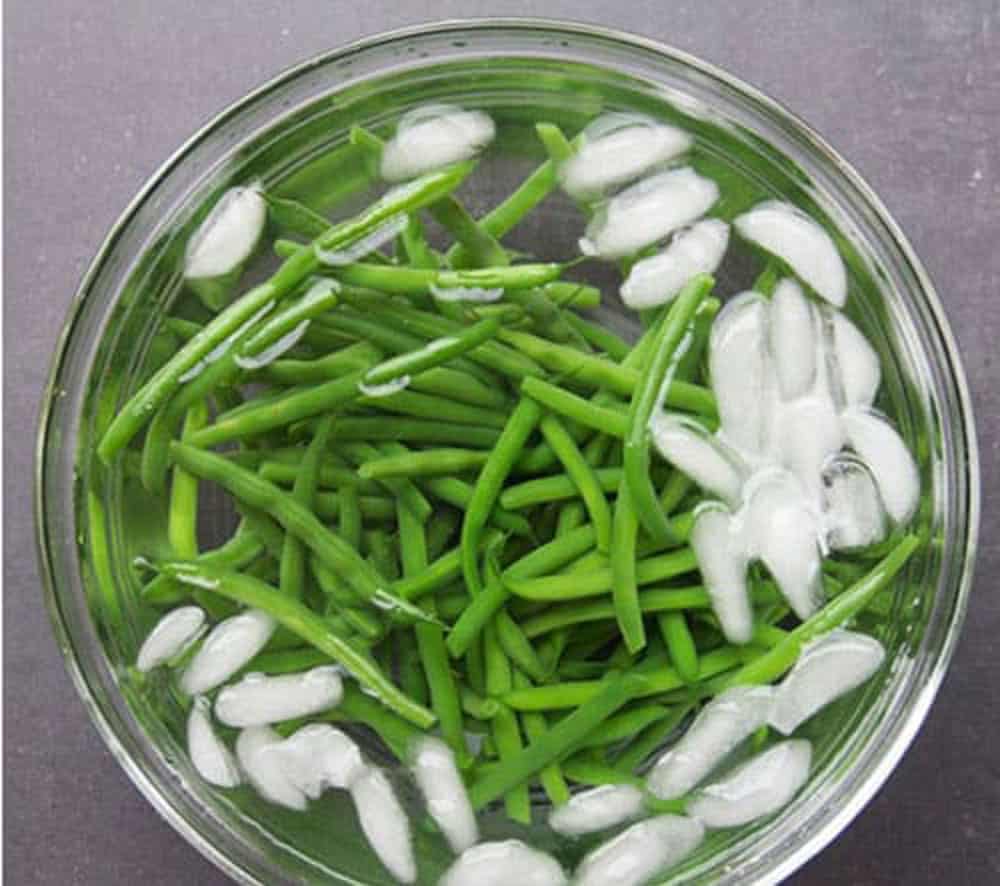 After an hour, bury the carrots and potatoes into the stew, cover the pot, and simmer for 25-30 minutes more, until the vegetables are tender.
Finally, stir in the green beans and peas. Cover and cook for a few minutes, in order to warm the fresh vegetables.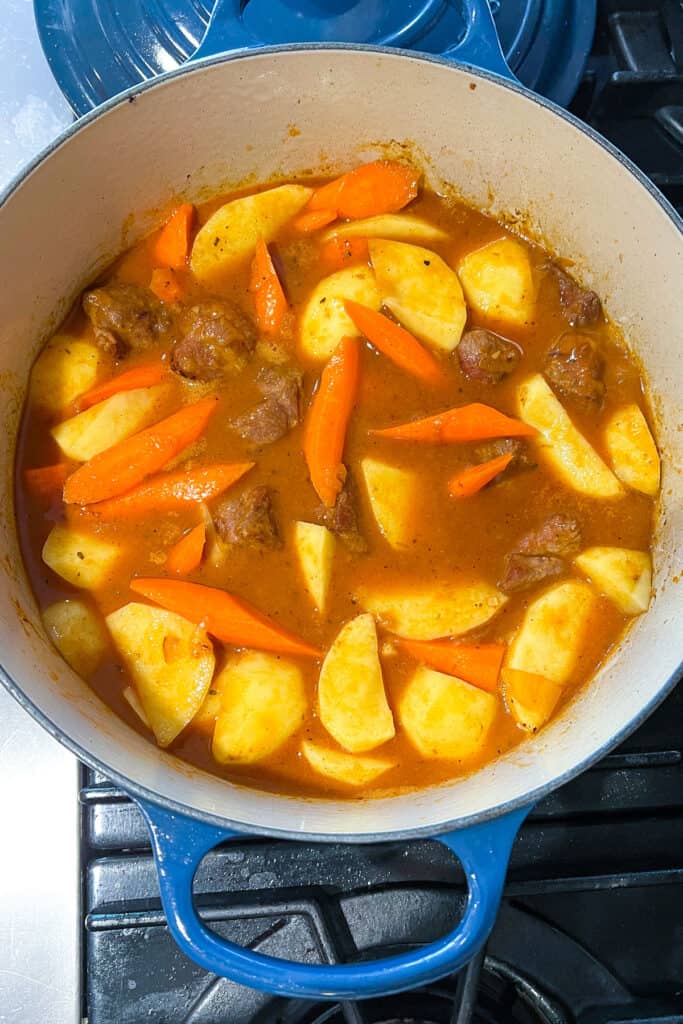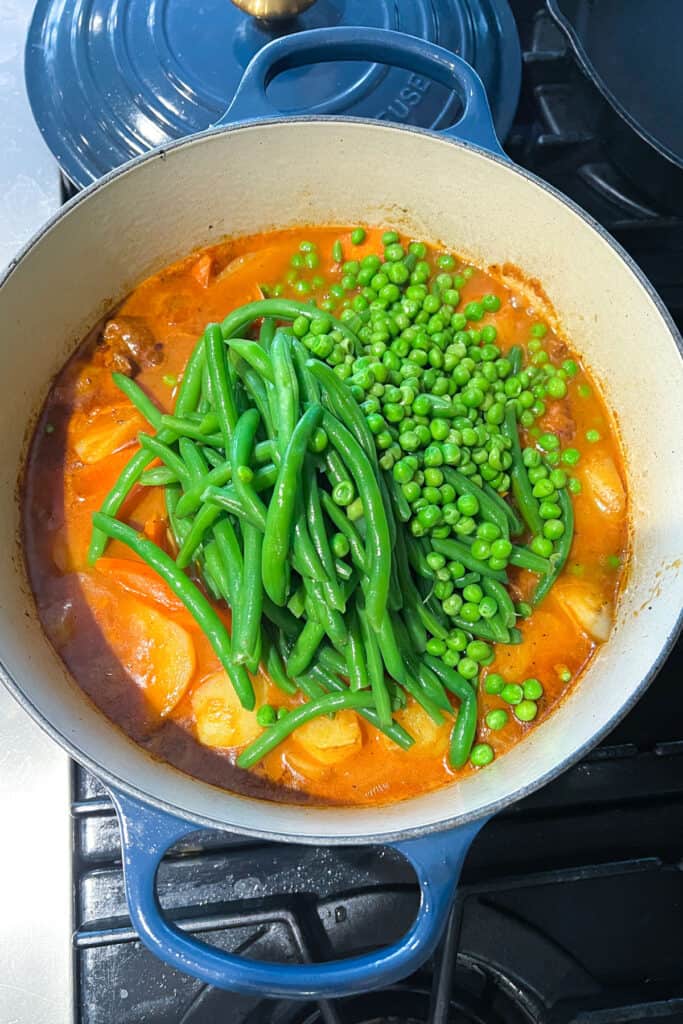 Serve the stew right away, while the peas and green beans still have their bright green color.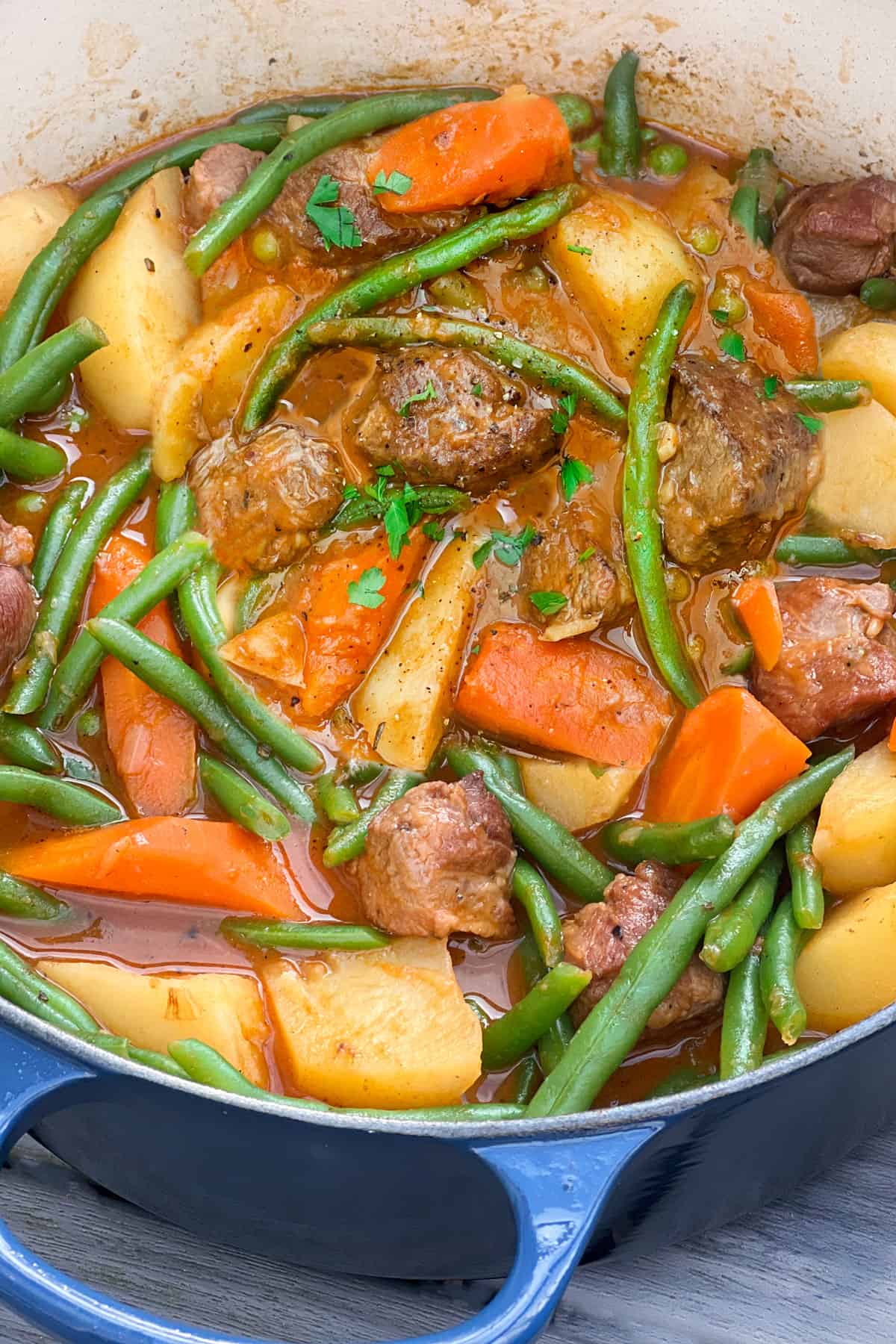 French stew vs Irish stew
In case you're wondering if you can turn this recipe into Irish lamb stew, I wondered the same thing so I cooked two identical pots of this stew with only one variable - I used dry white wine for one batch and Guinness stout for the other. Both stews were absolutely delicious. The lamb stew made with wine had a more of a French flavor and the one made with Guinness tasted like the best Irish lamb stew!
5 Tips For Making The Best Lamb Stew
Dry the lamb well before browning it. Wet meat doesn't sear and get brown - it steams and gets gray. Browning is critical.
Toss the lamb with flour before browning it. Flouring the meat for a stew has a twofold purpose. Firstly, the starchy flour helps the meat get extra brown and flavorful when you sauté it. Secondly, as the stew simmers, the flour seeps out into the broth and thickens the sauce. The French call this type of sauce that makes itself as the stew simmers a ragout sauce.
Don't crowd the pan - brown the lamb in batches. When lots of cold meat is added to a hot pan, the temperature drops and the meat doesn't brown well. Also, because meat releases some of its juices as it sears, less meat in the pan means less liquid and a better sear. Though searing in small batches takes extra time, it's worthwhile to get all those tasty crusty browned bits - this is the step where the stew starts to build its deep, rich, flavor.
Simmer the stew low and slow. Don't let it boil. Boiling meat makes it tough whereas gentle simmering slowly breaks meat down and tenderizes it.
Add potatoes and vegetables later in the cooking process. The lamb takes a lot longer to cook than the veggies. Root vegetables take a good deal longer to cook than green vegetables. Carefully timing when to add each type of vegetable to the pot will produce the best lamb stew, with tender meat and perfectly cooked vegetables.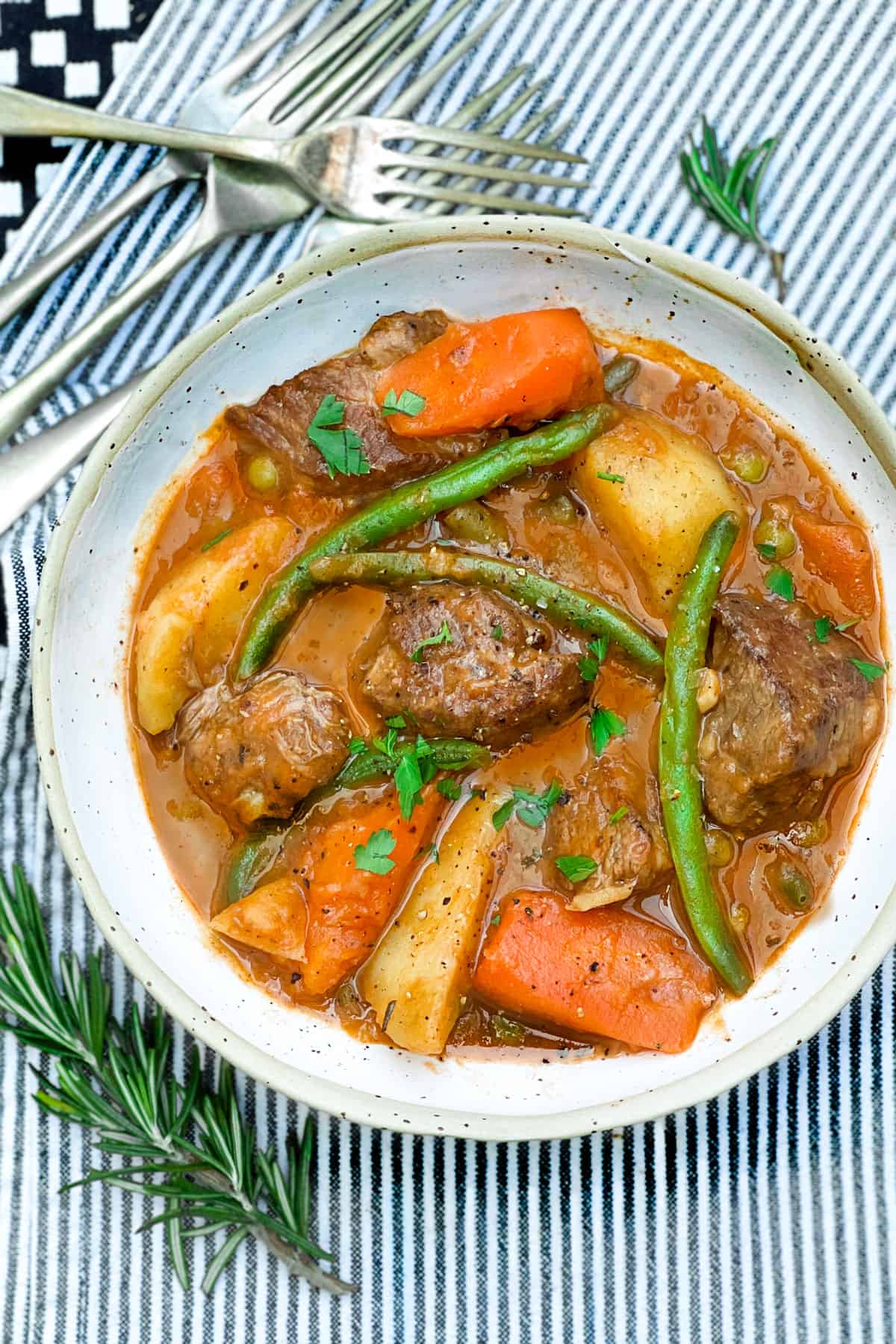 What to serve with lamb stew
This stew is a full meal with enough of meat, potatoes and vegetables to satisfy everyone. You might consider serving it with some crusty bread or a green salad. I recommend this butter lettuce salad with citrusy dressing or this green salad - another favorite of mine.
If you try this lamb stew recipe, I hope you'll come back to leave a star rating and comment. I'd love to know what you think!
Print
Lamb Stew with Spring Vegetables
---
Author:

Lisa

Total Time:

2 hours 20 minutes

Yield:

6

1

x
Description
This delicious lamb stew is filled with tender lamb, potatoes, carrots and spring vegetables. Serve it for a casual supper or a fancy dinner party - it's a real crowd pleaser!
---
2

pounds

Yukon gold potatoes

4

pounds

bone-in lamb shoulder chops or 2 ⅓ pounds boneless lamb stew meat
Kosher salt
Fresh ground black pepper

⅓

cup

all purpose flour
Light olive oil or vegetable oil such as peanut or canola oil

1

large yellow onion, peeled, halved and thinly sliced (

1 ½ cups

)

2

large garlic cloves, roughly chopped (

1 tablespoon

)

1

cup

dry vermouth or dry white wine such as Pinot Grigio or sauvignon blanc

4 tablespoons

tomato paste

4

cups

low salt chicken broth, divided
Leaves from a 6-inch sprig of fresh rosemary, finely chopped (or ½ teaspoon dried rosemary)

1

pound

fresh green beans, ends trimmed

8

medium carrots (about

1

pound), sliced on the diagonal into wedges

1

cup

frozen green peas, defrosted (or fresh peas)
---
Instructions
Peel the potatoes, slice them into bite-sized wedges and put them in a bowl of cold water, to prevent discoloration. Baby gold potatoes or baby fingerlings can be left unpeeled. 
Trim excess fat from the lamb and cut it into approximately 1 ½ inch pieces. If using bone-in lamb, cut as much of it as you can into cubes but any meat that remains on the bones is fine. It will come off easily after cooking, 
Pat the meat dry with paper towels and lay it on a wax paper-lined baking sheet in a single layer. Sprinkle with 1 teaspoon of salt and a few grinds of pepper and turn the pieces, to coat them. Sprinkle on the flour and toss to coat. Shake off excess flour by tossing meat gently in a colander before browning.
Heat 2 tablespoons oil over medium heat in a large Dutch oven or other heavy lidded pot. Brown lamb on all sides in two or three batches (don't overcrowd the pot), 3-4 minutes per batch, adding more oil if necessary. Transfer lamb to a plate as it is browned, and set aside.
Add onions to the pot and sauté, stirring, for about 3 minutes, until lightly browned Add garlic and cook, stirring, for 30 seconds. 
Pour in vermouth (or wine) and cook for 30 seconds, stirring with a wooden spoons, to dislodge any browned bits of meat and onion stuck to the bottom of the pot. Add tomato paste and stir until blended with the wine. 
Return lamb to the pot along with any accumulated juices. Add the rosemary and 3 cups of the chicken broth (meat should just barely be covered with liquid). Bring the contents to a simmer, cover and cook for 1 hour. Be sure to check that it stays at a simmer and doesn't boil vigorously. 
While the stew is simmering, bring a saucepan of salted water to a boil. Drop the green beans in and boil for about 3 minutes, until just crisp-tender. Drain the beans and quickly transfer them to a bowl of ice water to cool them quickly and ensure they stay crisp and bright green. 
After the meat has simmered for an hour, remove the bones (if using). The stew can be made ahead to this point and stored in the fridge for up to two days before continuing.
Bring stew back to a simmer and season broth with salt and pepper, to taste. Submerge the carrots and potatoes in the stew, adding the remaining 1 cup of broth, if necessary. Bring to a simmer. Cover and cook for 25-30 minutes, until vegetables are tender.
Drain the green beans and submerge them in the stew along with the peas. Cover and simmer 5 minutes more, to warm the beans and peas. Serve hot.
Notes
Make ahead strategy: This stew can be prepared up to two days ahead through step #9. Store it in the fridge, covered. If preparing this ahead, better to hold off on slicing the potatoes and blanching the green beans until you are ready to proceed with the recipe. 
Prep Time:

45 minutes

Cook Time:

1 hour 35 minutes

Category:

Stew

Method:

simmer

Cuisine:

French
Keywords: Lamb stew with vegetables and potatoes
This post was first published on March 3, 2014. It has been improved and was republished on April 17, 2023 with new photos, step-by-step instructions with photos added to the post, and clearer instructions in the recipe card. It's the same delicious recipe!