The Mumbai Sandwich (also known as the Bombay Sandwich) is a too-good-to-believe-it's-vegetarian Indian street food where chutney, juicy tomatoes, cucumber, onion and gooey melted cheese meet a heavy dose of spice mix to make a final product that is out of this world delicious.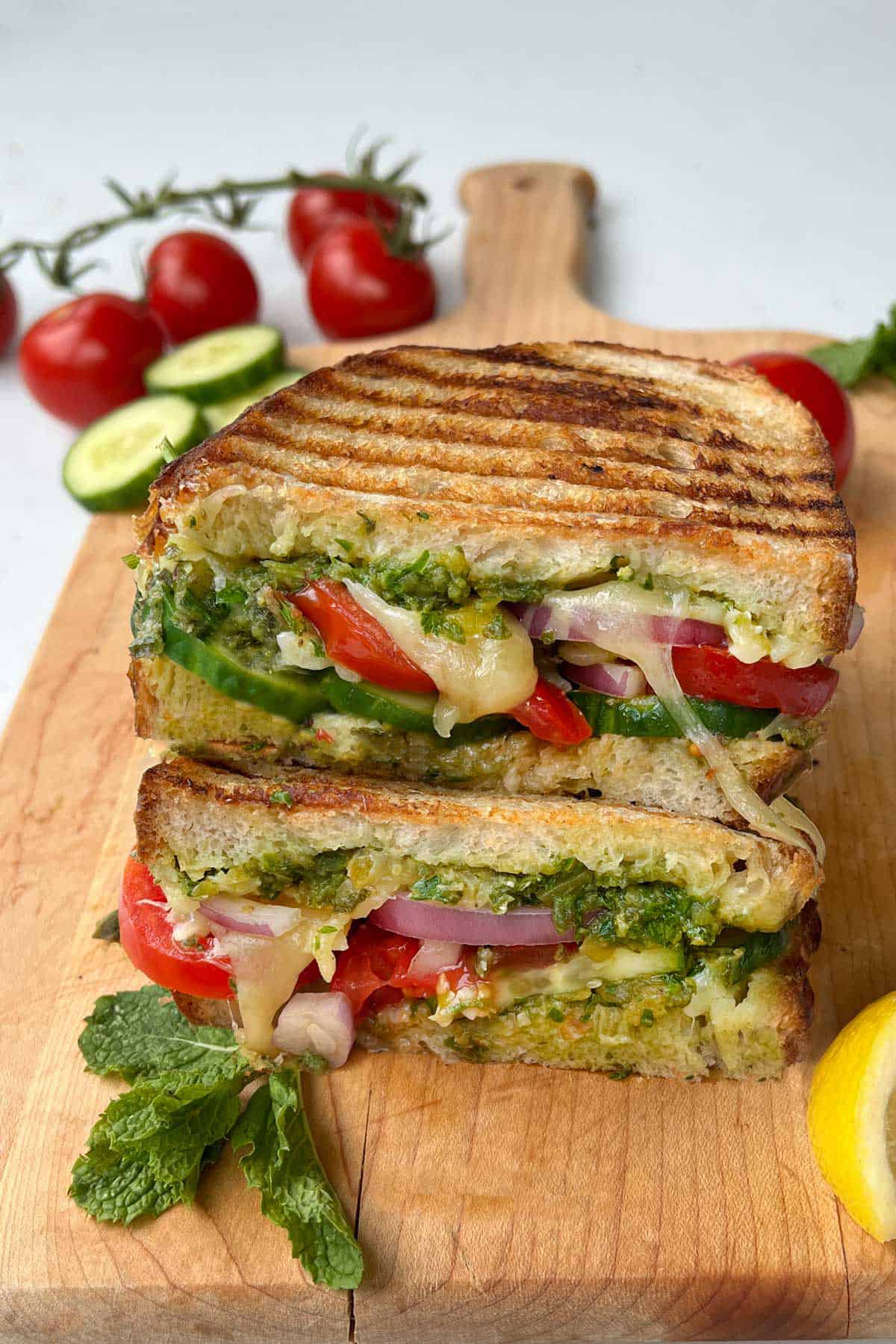 As summer days go peacefully by and the sweet smell of morning rain wafts through my open kitchen window, there's no greater treat I can imagine than the Mumbai Sandwich…just kidding. I don't know how to write like a blogger so I'll just be doing my best. Hi, it's mom's (Lisa's) son Alex here to tell you about a sandwich special enough that I was given the honor of guest-posting it on Panning The Globe.
The Mumbai Sandwich is unlike any other sandwich I've eaten.
The Story
I stumbled upon the Mumbai sandwich while looking through GreatBritishChefs, a website full of chef-recipes that I highly recommend.
I don't know if I've ever used a recipe to make a sandwich before but this one looked special so despite the annoyingly long ingredient list (for a sandwich) I decided to give it a shot…and then made it again and again and again.
The recipe is by London-based freelance food and travel writer Helen Graves and in her introduction she calls it "Mumbai's most famous street food snack."
A light Googling confirmed that this is indeed a popular Indian street food said to originate in Mumbai in the 1960s and clearly good enough that it has lasted through the decades.
In fact, according to one website it can now "be found on every street, with everyone from college kids and labourers to swanky cars awaiting takeaway."
Key Ingredients for the Mumbai Sandwich
Please note I have taken some liberties in my approach to this recipe. In addition to some of the revisions I point out below, I have not included a few of the traditional accoutrements such as beets, potatoes and ketchup. Please accept these interpretations not as any slight to the original version, but just my own ideas of creating deliciousness within the framework of the classic formulation.
The Chutney
This is where I've veered the furthest away from the original recipe and I'll tell you why: I'm one of those people who can't stand cilantro. I have nothing against those of you who may be cilantro lovers, but please know that if it tasted to you how it tastes to me you'd be smelling the Italian parsley in the grocery store to double-check it isn't cilantro too.
The original recipe calls for a large amount of cilantro mixed with a handful of mint but here I've switched it to all mint with very positive feedback received from even those who are cilantro-philes.
Another change is that I've swapped the fresh green chilis for a can of hot diced chilis. The reason? Without mayonnaise or excessive cheese I feel this sandwich calls for something to help bind it, and canned chilis along with their juices fulfill that need.
To make the chutney, start by filling a blender with mint. Add a pinch of salt and squeeze in the juice of half a lemon. Add the peeled ginger and then the can of chilis a little at a time, pulsing until you have a chunky verdant mixture.
(A note: If you over-mix and get a puree don't worry about it. It will still taste amazing.)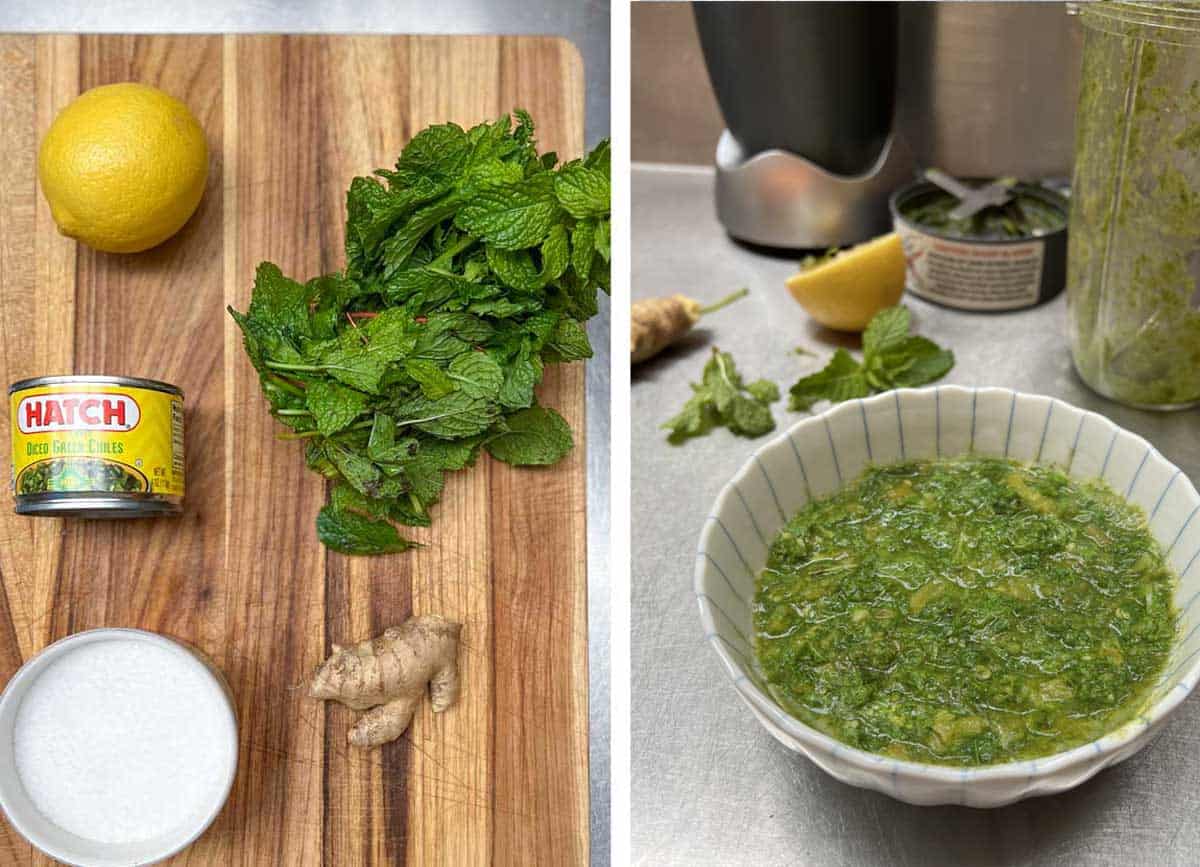 The Spice Mix
I've slipped a little onion powder into a grilled cheese before and I've seen those "sandwich sprinkle" jars in the spice section of the grocery store but the Mumbai was my first time using a full-blown spice mix in a sandwich. It works beautifully and the sandwich can handle a ton of it. Use a heavy hand.
First, a note about "a pinch". Google claims a pinch is 1/16 of a teaspoon. I'm not sure what ingredient is so flavorful that 1/16 of a teaspoon will make much of a difference but perhaps when salting individual shrimp this definition of a pinch can come in handy. When I use the word "pinch" below, just imagine the biggest amount you can fit between three fingers.
Get a little bowl out and mix together:
A pinch ground cinnamon

A pinch ground coriander

A pinch black pepper

A slightly smaller pinch salt

And two pinches cumin (cumin is just so good)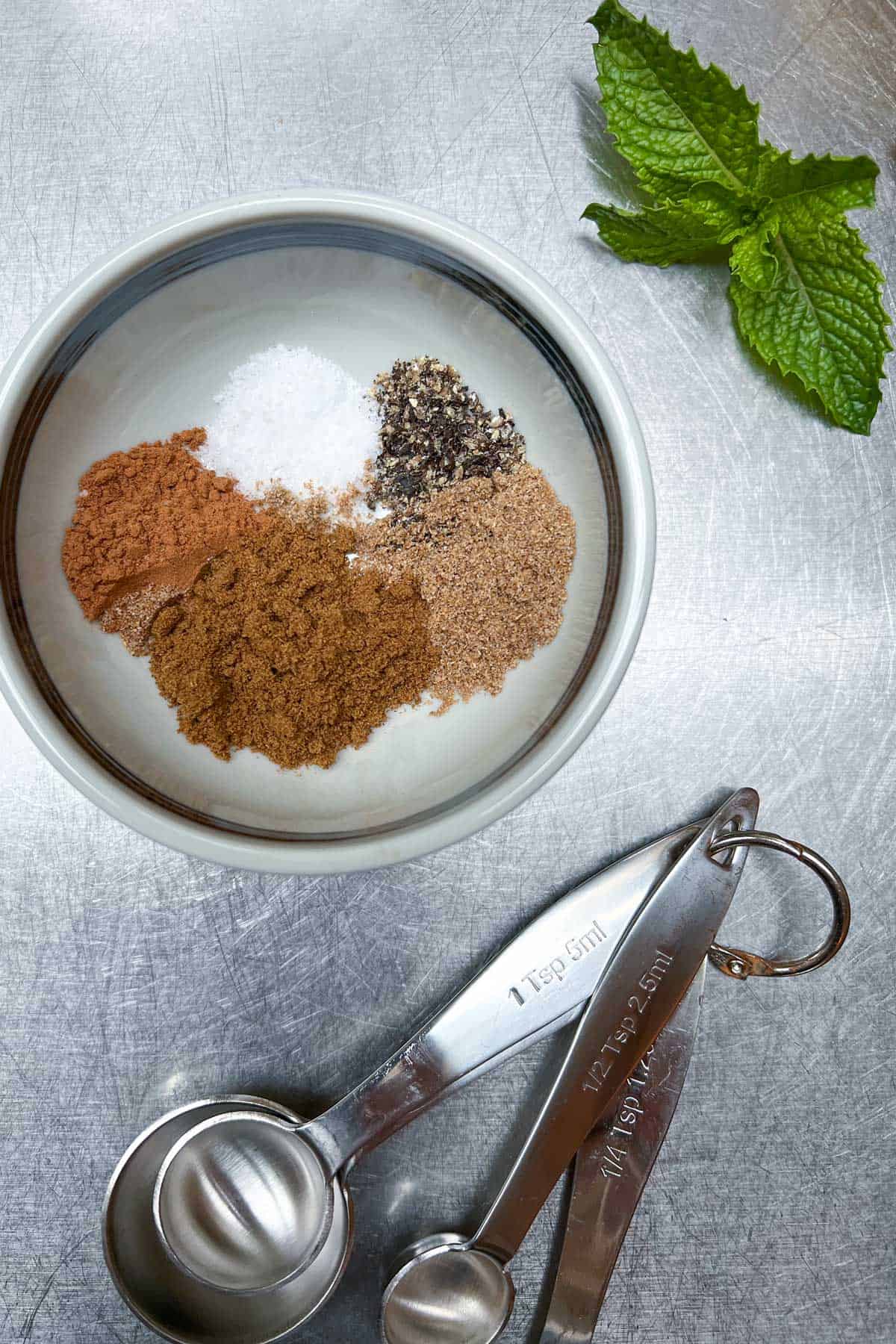 The Veggies
Prepare all of your vegetables before you start so that you can quickly assemble the whole sandwich.
Cucumber — Slice half an English cucumber into thin rounds. I like them to be thin enough that they're slightly floppy but not so thin that they're see-through.
Red Onion — Cut into half rings that are very thin. For these I do like them to be translucent so that when assembling the sandwich they cover a larger surface area and the spice mix can be poured all over them (instead of falling through the gaps between them). You can also do them thicker or dice them, if you prefer.
Tomatoes — I use those little golf-ball sized tomatoes on the vine that my mom says are called cocktail tomatoes. They're still delicious and juicy and because of their small size they avoid what I will refer to as tomato-in-a-sandwich problems. If you can't find those then I suggest you cut your regular tomatoes super thin.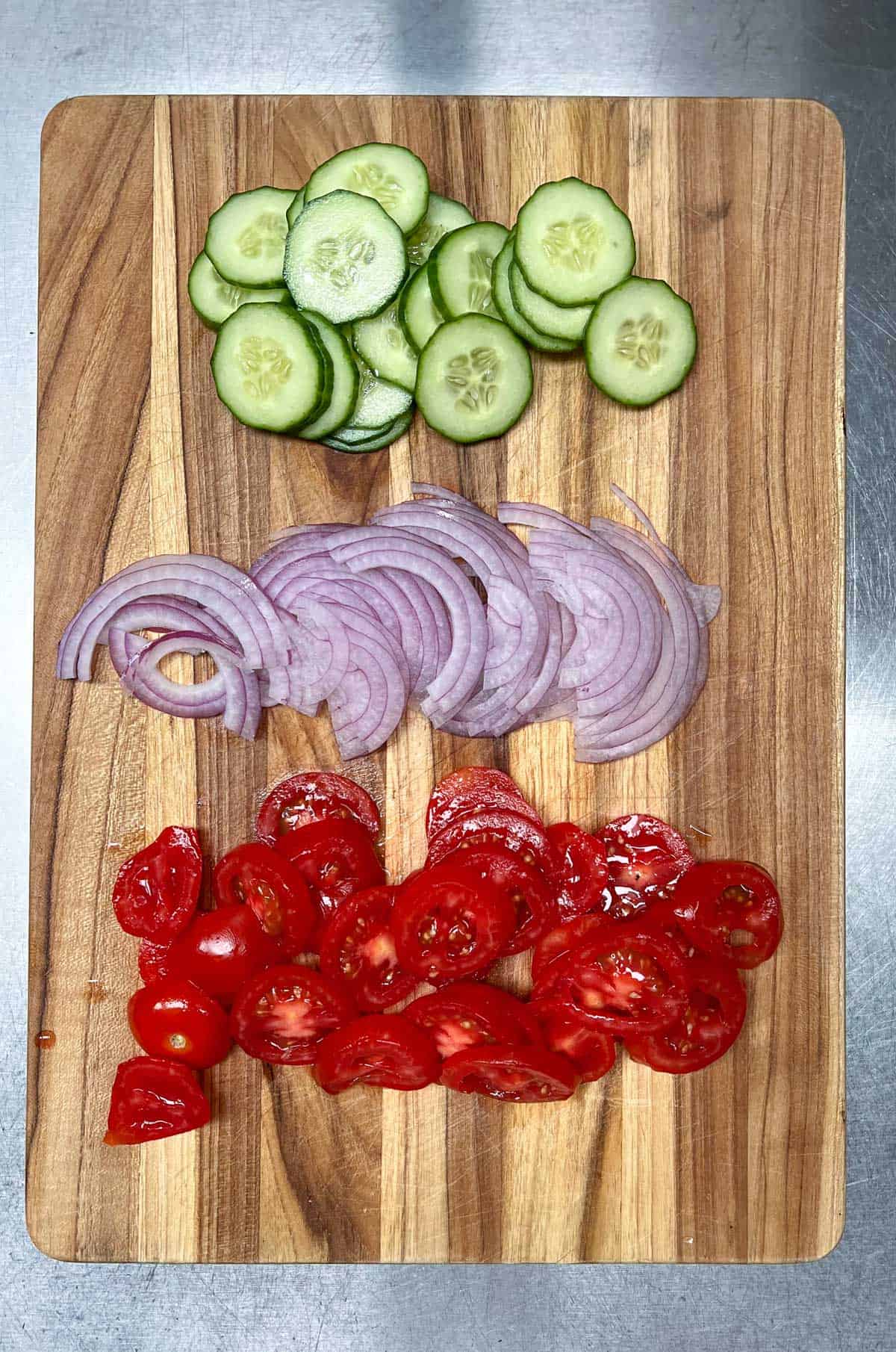 Assembling The Mumbai Sandwich
Start with slices of softish white bread. I like sourdough.

Peel and halve a clove of garlic then rub on the bread to give it a little garlic flavor.

You can now lightly butter both pieces of bread before adding the ingredients (if you're into that kind of thing).

Spoon the chutney in a generous layer over both slices of bread.

Add a layer of cucumber, sprinkle spice mix on top.

Add a layer of tomato, sprinkle more spice mix on top.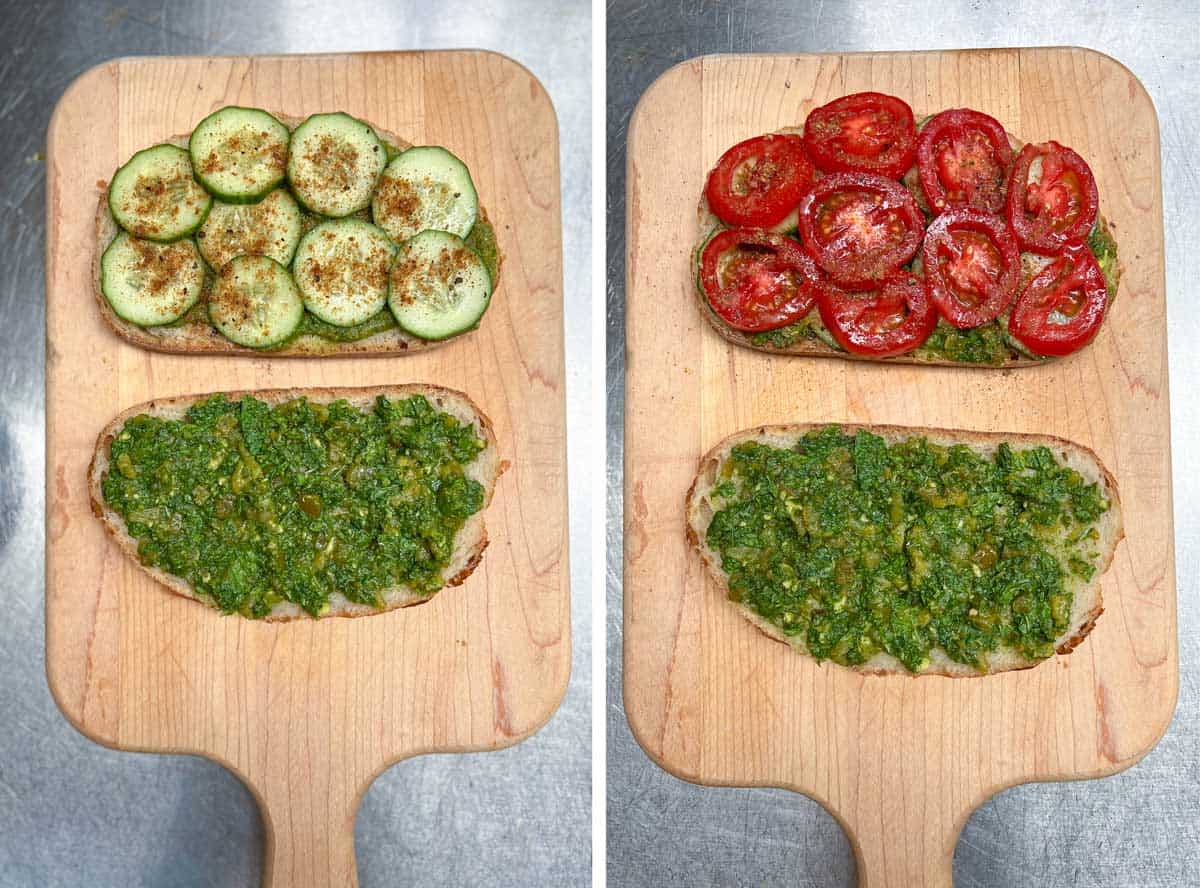 Add a layer of cheese. I used grated sharp cheddar but any melting cheese should do. You can use as much of this as you like. Sprinkle more spice mix on top.

Add a layer of onion, sprinkle more spice mix on top.

Close the sandwich and butter the bread on both sides.
Cooking The Mumbai Sandwich
Now for the easy part. If you have a panini maker, fire it up, put in the sandwich and let it sear until the cheese is melted.
If you're cooking this on the stove, heat up a cast iron skillet over medium heat, add some butter and cook it (flipping once) until the cheese is melted.
Enjoy!
Don't forget to check out the other delicious Indian recipes my mom has on this blog!
Here's the Mumbai Sandwich Recipe. If you make this, we hope you'll come back to let us know what you think!
Print
Mumbai Sandwich
---
Description
The Mumbai Sandwich (or Bombay Sandwich) is irresistible Indian street food that's easy to cook at home. This beautifully-spiced, healthy vegetarian grilled sandwich with mint chutney, fresh veggies, and cheese, makes a terrific vegetarian lunch or brunch. 
---
For the chutney
2

cups

mint leaves, loosely packed (or 1 cup mint and 1 cup cilantro)

2 tablespoons

chopped green chilies from a 4-ounce can (I prefer the spicy ones)
The juice of half a lemon

¼

inch piece of ginger root, peeled and roughly chopped
A pinch of salt
For the masala mix (makes more than you may need)
½ teaspoon

ground cumin

½ teaspoon

ground cinnamon

½ teaspoons

ground coriander

½ teaspoon

freshly ground black pepper

½ teaspoon

kosher salt
For The Sandwich
4

slices sourdough bread or other white sandwich bread

1

garlic clove, cut in half
Butter

½

an English cucumber, sliced into thin discs

6

ripe cocktail tomatoes or

two

small ripe tomatoes, thinly sliced

2

ounces

(or more) grated sharp cheddar or other melting cheese such as Monterey Jack

½

red onion, thinly sliced
---
Instructions
Place the chutney ingredients in a blender and pulse until fully combined. I like a roughly-chopped texture, but a puree is fine, too. Transfer chutney to a small bowl.
Combine all the spices in a small bowl, to make the masala mixture.
Rub one side of each piece of bread with the cut side of the garlic, lay the bread out on a work surface, garlic side up and spread each piece with a generous layer of chutney.
Set aside half the bread (the tops of the sandwiches) and, to the bottom pieces add cucumbers in a single layer. Sprinkle with a few pinches of masala spice mix. Repeat with a layer of tomatoes, then spice mix, then cheese, then more spice mix, then the onions and a final sprinkling of spice mix.
Top with the other slices of bread. Butter the tops if you wish, and grill the sandwiches in a panini maker or in a heavy pan such as a cast iron skillet, with a little butter, flipping once, until the cheese is melted and the bread is crisp and golden brown.
Serve the sandwiches warm and enjoy!
Prep Time:

25 min

Cook Time:

5 min

Category:

Sandwich

Method:

grill or toast

Cuisine:

Indian
Keywords: Vegetarian sandwich with cheese, masala and chutney
[This recipe was first published on August 20, 2022. It was updated on March 1, 2023 with a small change to the recipe, reducing the amount of canned chopped green chilies by half for improved texture.]