There are just 3 main ingredients in these scrumptious Ecuadorian potato patties – potatoes, cheese and scallions. Serve them with a fresh tomato avocado salad for a wonderfully satisfying vegetarian lunch or dinner. Add a fried egg on top for even more excitement.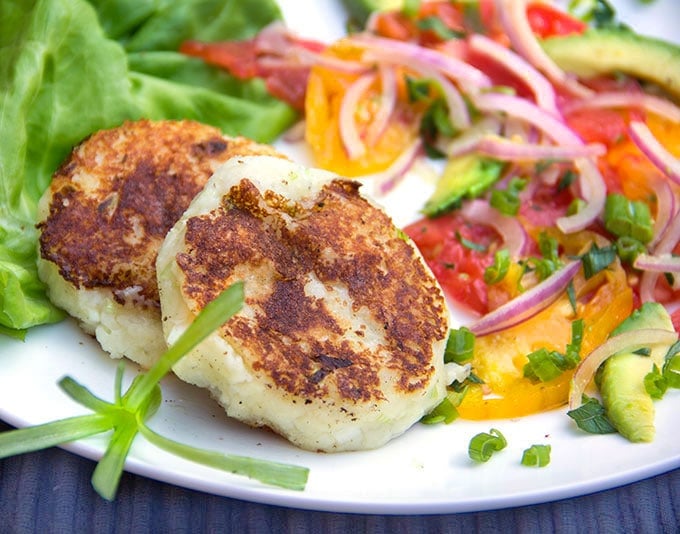 There are all sorts of ways to eat these popular Ecuadorian cheese and potato patties. In Ecuador they're called Llapingachos, pronounced (yah-peen-GAH-chos), and you might find them served on their own, as an appetizer, or for breakfast lunch or dinner with a fried egg on top and chorizo sausages on the side. Or they might be slathered with creamy peanut sauce and topped with tomato-onion salad and sliced avocado.
The good thing is that Llapingachos are already amazing before you even add anything to them: mashed potatoes, scallions and cheese formed into a thick pancake and cooked on a griddle or skillet until they're brown and crisp on the outside and tender inside. If you like that kind of thing – that oniony potato pancake kind of dish – these will win you over!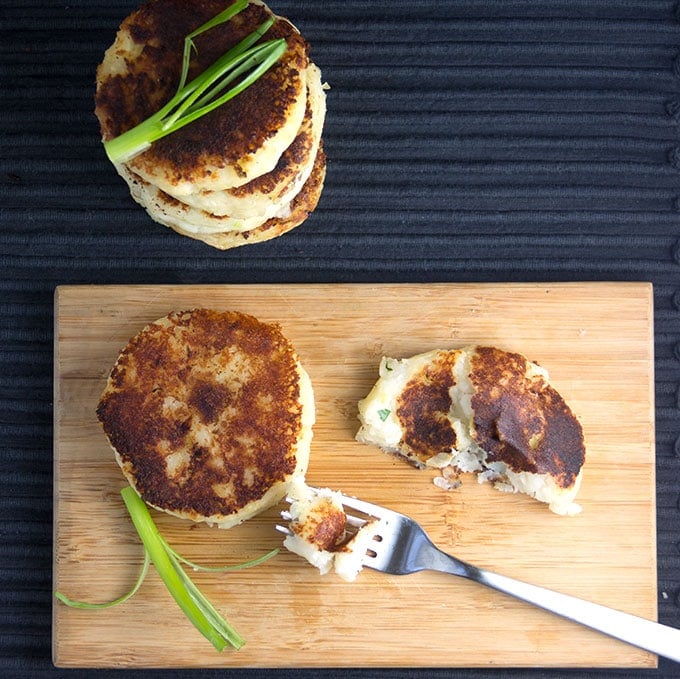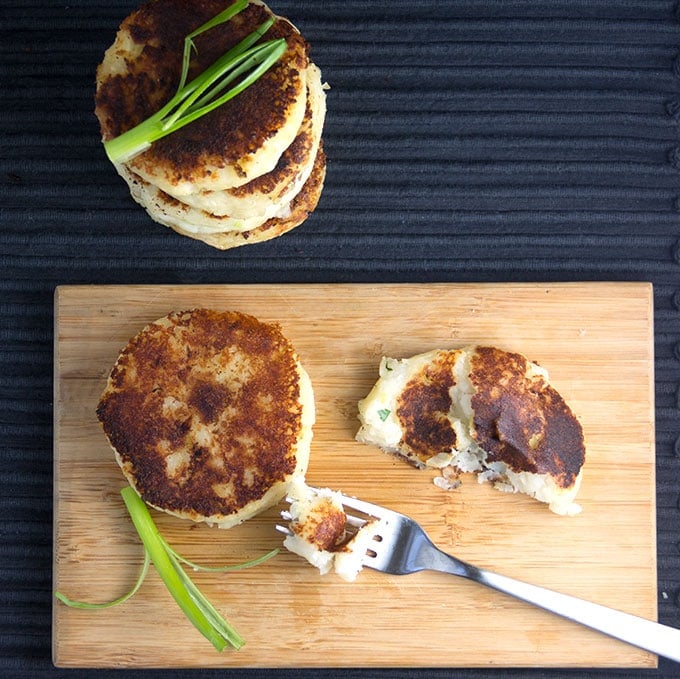 I tested out these potato patties on my family last week with tomato avocado onion salad on the side. I love the pairing of the potato patties with colorful, juicy tomatoes, red onion, avocado and a light lime-garlic dressing.
It was a perfect satisfying vegetarian meal. Having said that, I also sautéed up some sliced spicy chicken sausage for my son, because he's not a fan of tomatoes. The sausage and Llapingacho combo is also pretty great. Depends on what kind of mood you're in.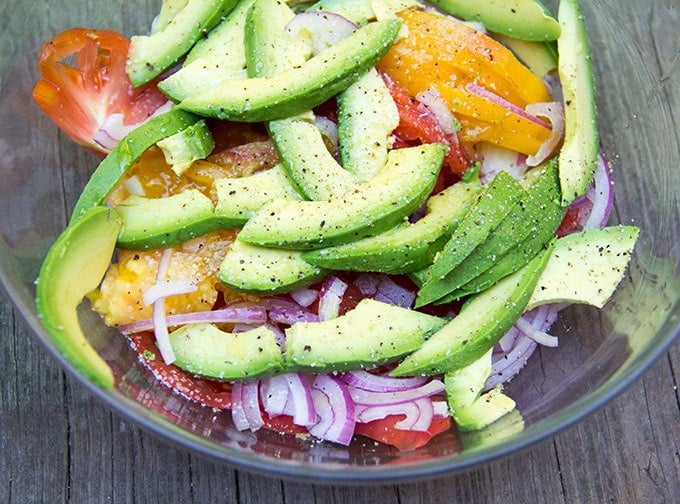 I could not have named a single Ecuadorian recipe before researching this post. You don't hear a lot about Ecuadorian cuisine. Ecuador has other claims to fame: it contains The Galapagos Islands which is one of the worlds best destinations for viewing wildlife; it's got the equator running through it (hence the name Ecuador).
Now that I've tried Llapingachos I think it's definitely a claim to fame that the rest of the world should know about.
This recipe is adapted from a recipe in Cooking Light Global Kitchen
Here's the recipe for Ecuadorian Cheese and Potato Patties with Tomato Onion Avocado Salad. If you try this recipe please come back to leave a rating and a comment. I'd love to know what you think!
Print
Ecuadorian Cheese and Potato Patties with Tomato Onion Avocado Salad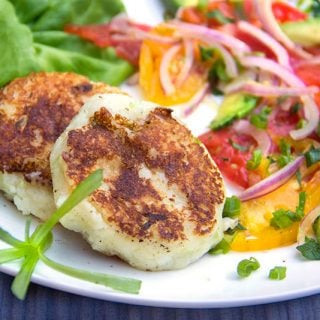 These sautéed cheese and potato patties are simple and scrumptious. They make a delicious vegetarian meal served with a fresh salad of tomato, avocado and red onions. Perfect for brunch, lunch or dinner. [gluten-free]
Author:
Prep Time:

45 mins

Cook Time:

30 mins

Total Time:

1 hour 15 mins

Yield:

5

Category:

Breakfast, lunch, brunch, dinner

Cuisine:

Ecuadorian
Ingredients
2 tablespoons or so of cooking oil such as canola (or for authenticity use annatto oil if you can find it or make it)
2 pounds russet potatoes, peeled and quartered (4 medium sized potatoes)
1 cup of farmer cheese or substitute shredded queso fresco or Monterey Jack cheese
6-7 green onions, minced, white and light green parts only, mince the dark parts separately to sprinkle on the finished dish.
Kosher salt
Fresh ground black pepper
Tomato Onion Avocado Salad
1 head butter lettuce, washed and torn (optional)
1 1/2 -2 pounds of ripe tomatoes, halved and thinly sliced – I suggest heirloom tomatoes, if you can find them
2 ripe avocados, thinly sliced (wait until the last minute to slice the avocados, so they don't turn brown)
1 small red onion, halved, thinly sliced, soaked in cold water for 10 minutes, and drained
1 1/2 tablespoons fresh lime juice (the juice of 1 lime)
1 tablespoon olive oil
1 small garlic clove, peeled and pressed or finely minced
Instructions
Place potatoes and 2 teaspoons of salt in a large pot and fill with water to cover potatoes. Bring to a boil, reduce to a simmer, and cook for 20 minutes or until tender. Drain and mash with a potato masher. Set aside to cool.
Add cheese, green onions, 2 teaspoons salt and 1/2 teaspoon pepper to potatoes, stirring well to combine. Scoop up about 1/2 cup of the mixture and form it into a patty that's about 3 inches in diameter and 1/2 inch thick. Set it on a baking sheet. Repeat with remaining mixture. You should get about 10 patties. Cover and refrigerate patties until firm – for at least 1/2 hour. (note: you can make them ahead up to this point and keep them in the fridge overnight, if you like)
Make the Salad While the potatoes are chilling make the salad. In a small bowl whisk oil, lime juice, garlic, a pinch of salt and a few grinds of black pepper. Place tomatoes, avocado, onion and lettuce (if using) in a bowl. Toss gently with dressing.
Cook the Patties: Heat a large cast iron or non-stick skillet over medium heat. Add a tablespoon of oil to the pan and swirl to coat. Cook patties in two batches. Let them to brown on one side for 4-5 minutes, then turn and brown on the other side for 3-4 minutes.
Serve patties with tomato-avocado salad. Sprinkle patties and salad with reserved minced green onions.