Here's how to make delicious Easy Potato Latkes without the usual mess and fuss.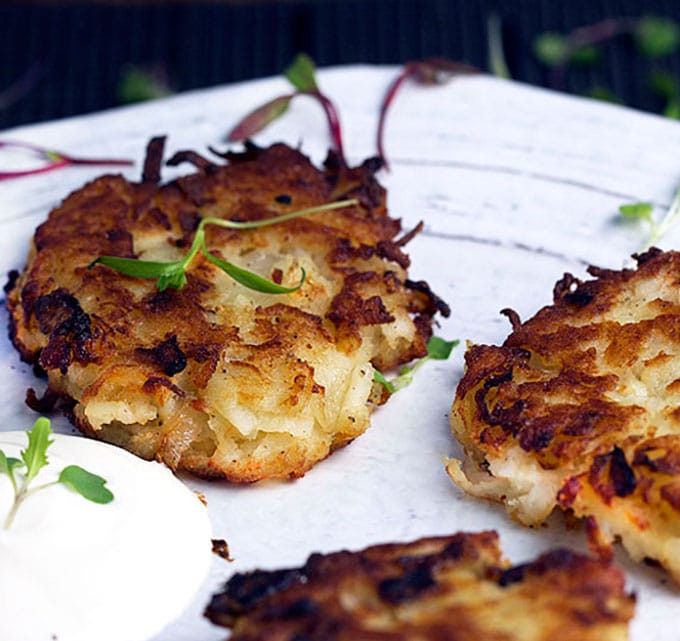 You don't often (ever?) hear the word "easy" associated with making potato latkes, but I'm happy to share this recipe for delicious, oniony, crunchy-on-the-outside, tender-on-the-inside potato latkes that are easy to make!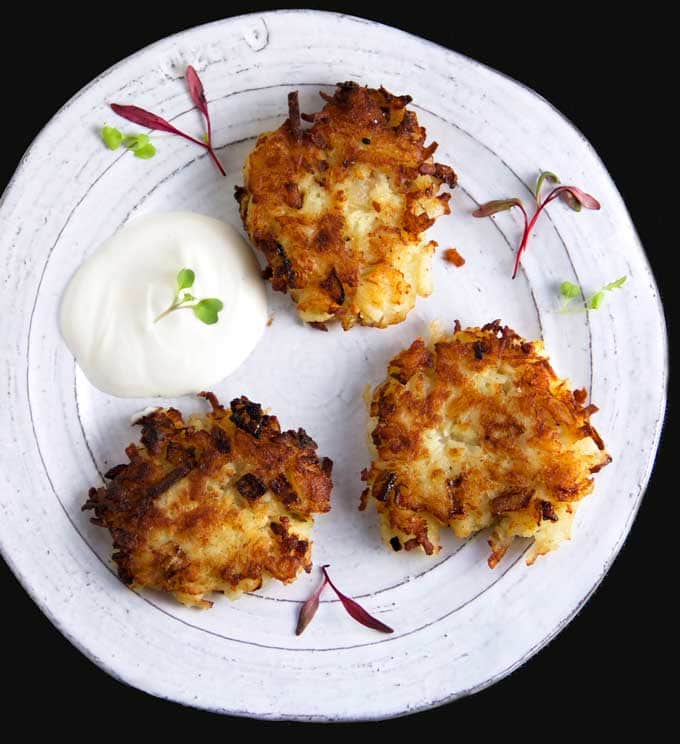 Making Latkes the traditional way is a bit of an ordeal
I almost feel guilty at the thought of not having to work so hard to make latkes for Hanukah. I feel like I'm breaking with tradition. Sweating it out over the latke production is what I've always done.
For decades I've used a technique that my own family and every other Jewish person I've known uses - a technique that I would call "an ordeal." It involves a lot of work, a lot of oil, and a big mess!
Raw potatoes are peeled, grated, then squeezed by the handful - in clean dishtowels - to get rid of the excess water and starch. Then they're quickly mixed with lemon juice to prevent them from turning brown. Onions are grated and added to the potatoes, along with eggs and flour. To avoid more liquid seeping out of the onions and potatoes, you have to work quickly and in batches - grating and squeezing and lemoning, frying, grating, squeezing, lemoning, frying.... As I said - it's an ordeal.
How To Make Easy Potato Latkes:
Less mess, less stress!
Throw potatoes - skin and all - into boiling water and cook them for a half hour.
Chill cooked potatoes for a few hours or over night.
When the potatoes have cooled, they are easy to peel and grate, and they don't need to be squeezed or lemoned!
Mix the grated potatoes with sautéed onions, eggs, salt, pepper and a bit of flour or matzo meal.
Shape them into latkes and fry them. That's it - done!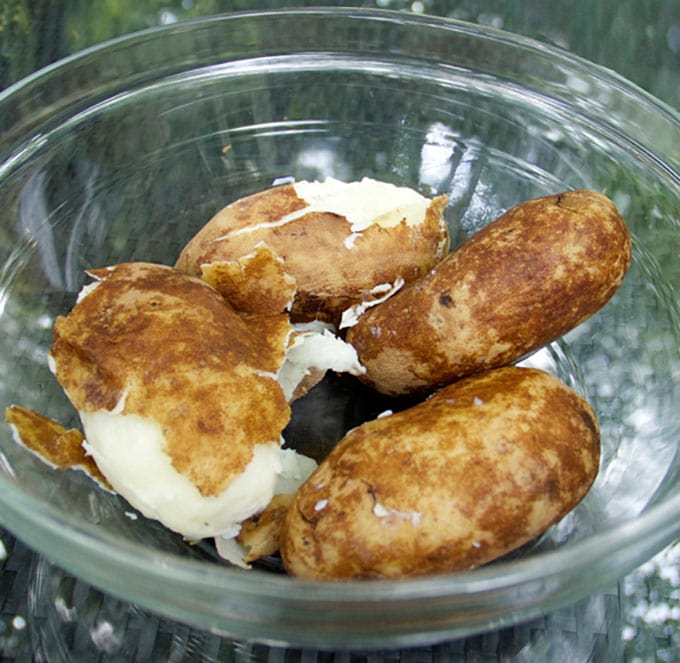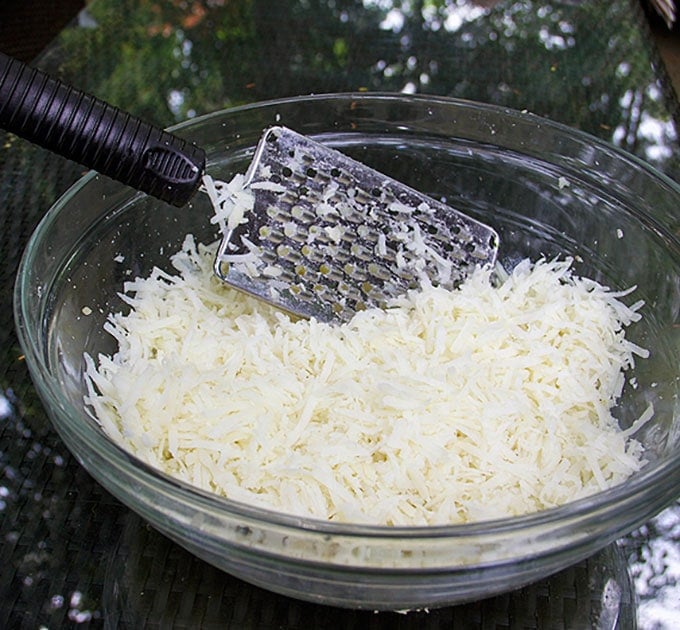 I love this technique so much
Because the potatoes are precooked, they absorb less oil and brown faster than raw potatoes, when you fry them.
If you follow Panning The Globe, you might know about this wonderful brunch recipe: Swiss shredded potato casserole recipe. It uses a similar technique of boiling the potatoes before shredding them.
I had an epiphany when that shredded potato casserole came out of the oven all browned and beautiful - I knew at that very moment that I had found a new and exciting and easier way to make latkes.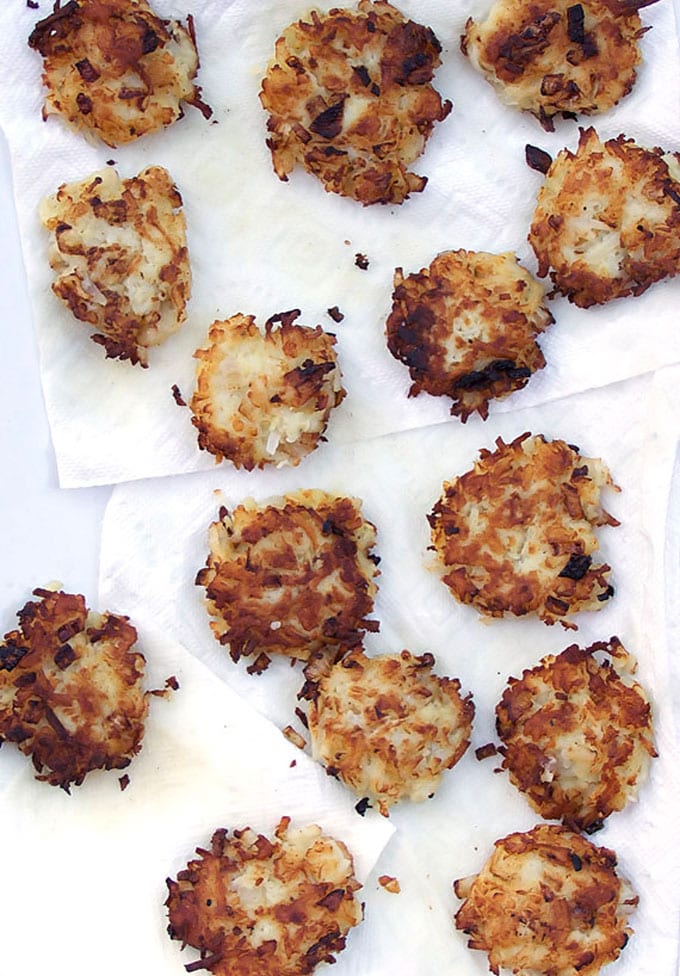 Chanukah is one of my favorite holidays. It's a time to reflect on Jewish survival and faith - a time to enjoy family and food, to share gifts, to feel grateful, and to relish our yearly rituals - one of which is to eat delicious fried potato latkes!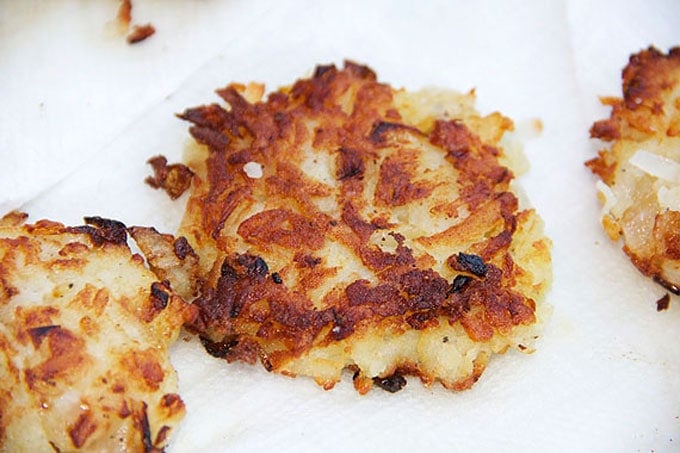 Potato Latkes Make a Great Appetizer!
You don't have to celebrate Hanukkah to enjoy these. They make a killer appetizer that everyone loves!
Shape them into small, bite-sized pancakes - about 1 ½ inches in diameter.
Serve potato pancakes topped with creme fraiche and caviar or with smoked salmon, sour cream and chives
Or make larger pancakes and serve them as a side dish with brisket, pork, chicken or fish.
How to Get Creative with latkes
It's fun to go beyond potatoes when you're making homemade latkes.
Try using a mix of shredded potatoes with shredded parsnips. Parsnips add a sweet earthy nuttiness.
Or go for color and mix half shredded potatoes and half shredded carrots or butternut squash.
Add zucchini and leeks to the mix for more intense oniony flavor.
If you want more great latke ideas plus an explanation of why we eat fried foods on Hanukkah, check out this article with links to 8 Cooking Light Latke recipes.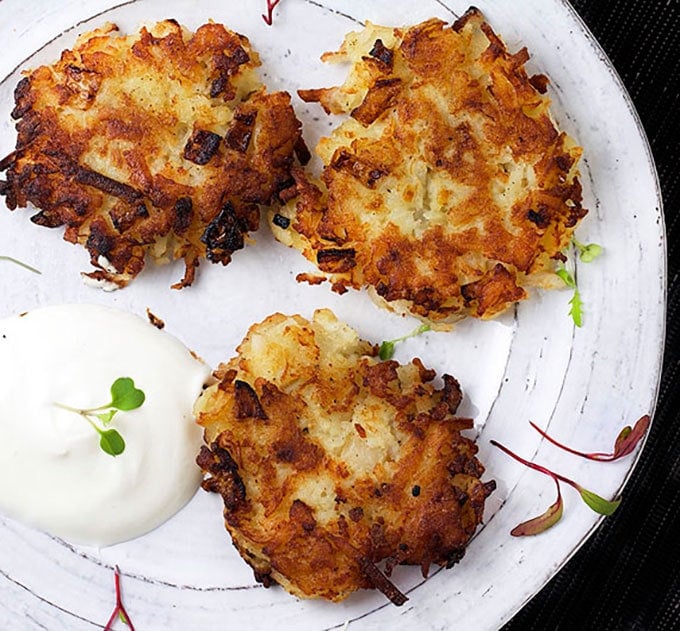 More Recipes that are Perfect for Chanukah:
Here's the Easy Potato Latkes Recipe. If you try this recipe, I hope you'll come back to leave a star rating and comment. I'd love to know what you think!
Print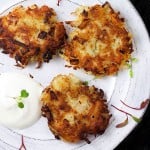 Easy Potato Latkes
---
Author:

Lisa

Total Time:

1 hour 45 minutes

Yield:

30

latkes

1

x
Description
An easy technique for making Potato Latkes that are crisp and delicious without the usual fuss and mess. Serve these as an appetizer or side dish for Hanukkah or any time.
---
3

pounds russet (Idaho) potatoes (

4

large)

2 tablespoons

olive oil

1

large white onion, peeled and chopped

2

large eggs, lightly beaten

2 teaspoons

kosher salt

¼ teaspoon

white or black pepper

4 tablespoons

all-purpose flour (for glu

ten

free substitute rice flour)
Canola or grape seed oil for frying
Optional Accompaniments:
Apple sauce
Sour Cream
---
Instructions
Boil the Potatoes Bring a large pot, halfway filled with water, to a boil. Add the potatoes. When the water returns to a boil set the time for 30 minutes. Remove potatoes from the pot. Let them cool for 15 minutes, then put them in the fridge - covered with foil - for at least 2 hours or over night.
Make the Latkes Line a baking tray with two layers of paper towels and set aside. Heat 2 tablespoons olive oil in a large heavy (preferably cast iron) skillet over medium heat. Sauté the onion for about 7 minutes, stirring occasionally, until softened and just starting to brown. Transfer onions to a clean plate and leave them to cool. Don't wash the onion pan - you'll use it to fry the latkes.
While the onions are cooling, peel the potatoes. You can peel them by hand, with a vegetable peeler or with a knife. The skin will come off easily. Grate the potatoes into a large bowl, using the large holes in a hand or box grater. They're extremely easy to grate. (Or you can shred them in the food processor, using the shredding attachment) Add the beaten eggs, salt, pepper, flour and cooked onions. Toss gently to combine everything.
Pour enough oil into the skillet to come up to about ⅛ of an inch. Heat the pan over medium-high heat until the oil wrinkles - hot but not smoking. Form the latkes into any size you like by scooping with a tablespoon and using your hands to gently pat them into the desired shape. Lay each latke carefully into the hot oil after you form it, working in batches so you don't crowd the pan. Cook for about 2 minutes per side or until they are golden brown. Adjust the heat so they don't burn and add more oil, as needed. Transfer cooked latkes to a paper-towel-lined tray. You can keep them warm in a 225ºF oven until ready to serve.
Serve latkes alone or with apple sauce, sour cream or ketchup. This recipe makes about 30 2 ½-inch latkes.
Prep Time:

45 min

Cook Time:

1 hour

Category:

Side Dish

Method:

Sauté

Cuisine:

American
Keywords: easy latkes, easy potato pancakes