This Smothered Chicken recipe uses a cooking method that yields incredibly tender chicken. The chicken is browned and then braised under a blanket of vegetables in a fragrant vinegary broth with rosemary and garlic. It's falling-apart-tender and drenched in a wonderfully rich gravy.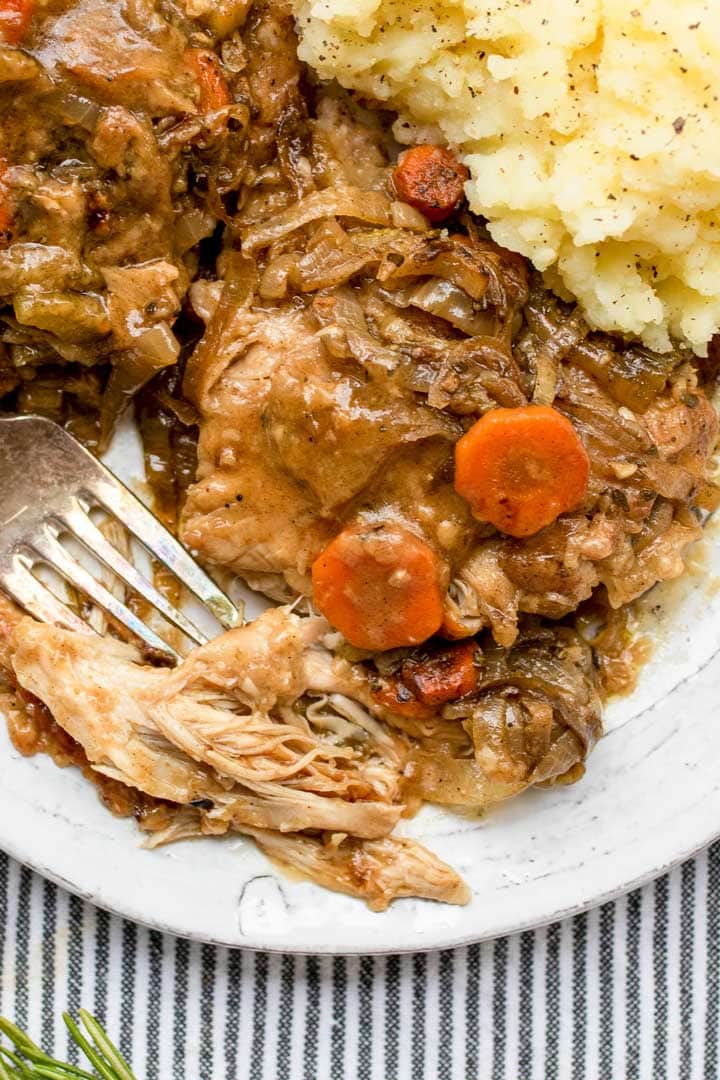 As the smothered chicken braises, it soaks up all the fabulous flavors of garlic, rosemary, vinegar and anchovies. All the flavors of the chicken and the vegetables commingle, resulting in an intensely rich savory sauce that will leave everyone wanting more. Pure heaven!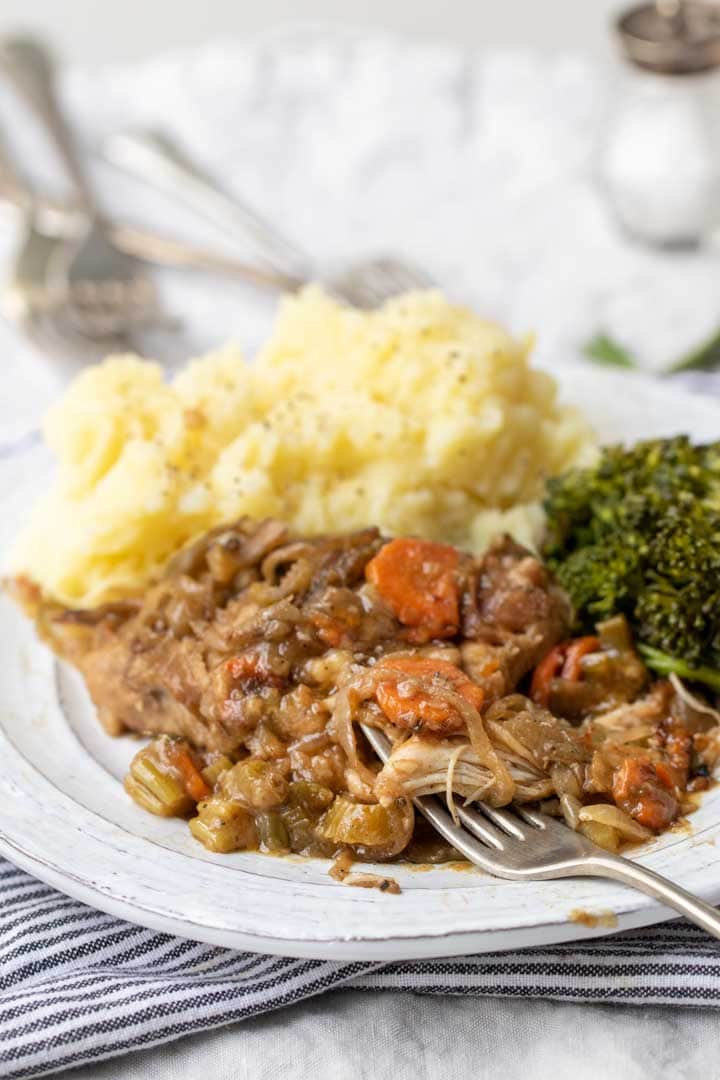 This smothered chicken with vinegar recipe combines two of my long time favorite chicken dishes into one: Smothered Chicken from The Joy of Cooking and Fricaseed Chicken with Vinegar from Marcella's Italian Kitchen.
I hope you are as thrilled with the results as I am when you taste Smothered Chicken with Vinegar!
How to Make Smothered Chicken:
There are three stages to this recipe: first brown the chicken in a skillet, then sauté the vegetables and aromatics, finally arrange the chicken in a large pot or Dutch oven, add the vegetables, the broth and the vinegar, cover the pot and braise the chicken in the oven for an hour and a half.
Brown the chicken in a skillet: Start by coating the chicken with seasoned flour and sautéing it. Mix the flour, salt and pepper in a large ziplock bag, add the chicken, seal the bag and give it a few good shakes to coat. Heat the oil in a heavy skillet and sauté the chicken in two batches, for about three minutes per side, until golden brown. Remove the chicken from the skillet and set aside.
Sauté the Vegetables Herbs and Anchovies: Add the chopped rosemary, garlic and anchovies to the skillet for a one minute sauté, just until they're fragrant. (The aroma is amazing!) Transfer them to a small dish and add the carrots, celery and onions to the skillet. Sauté the veggies for ten minutes or so, until they're tender and starting to brown. Mix in the reserved rosemary, garlic and anchovies.
Braise The Chicken: Heat the oven to 350ºF. Arrange the browned chicken in the bottom of your large pot or Dutch oven. Scoop the vegetable mixture on top. Pour in chicken broth and vinegar. Bring the liquid in the pot to a boil on the stovetop, cover the pot and set it in the oven to braise for 1 ½ hours.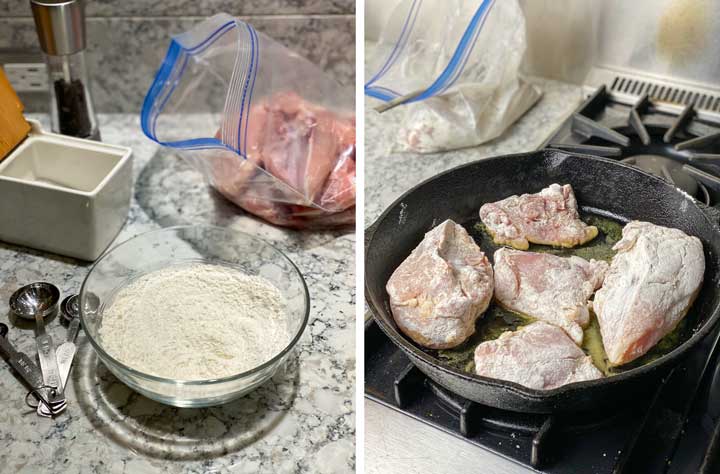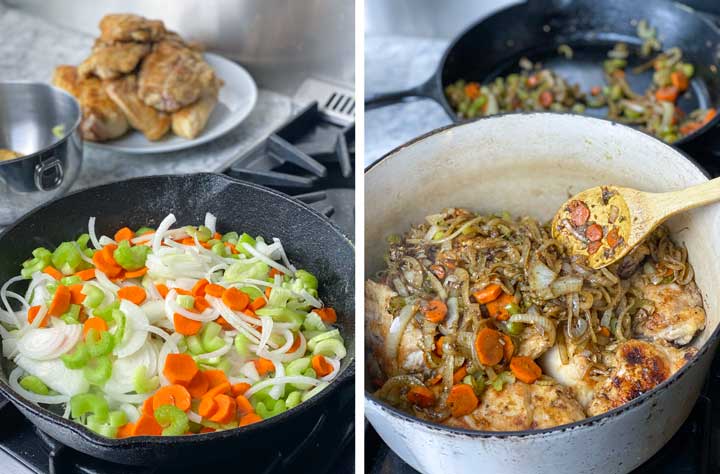 WHAT'S SO GREAT ABOUT ANCHOVIES?
I love this quote about anchovies from Kenji Lopez of Serious Eats: "Everybody loves anchovies...it's just that some people don't know it yet.
Anchovies are not universally beloved. I've actually seen people shudder at the sight of them. Admittedly, I'm one of those people who doesn't like whole anchovy filets staring at me from the top of my Caesar salad. But over the years I've come to appreciate their powerful flavor-enhancing properties.
Anchovies are a wonderful, magical secret ingredient in cooking - secret because you don't have to see them or even know that they are present, but you're likely to be wowed by the way they bring out the savory flavor, known as "umami," in a dish.
Marcella Hazan says, in her book The Essentials of Classic Italian Cooking: "Of all the ingredients used in Italian cooking, none produces headier flavor than anchovies...Chopped anchovy dissolving into the cooking juices of a roast divests itself of its explicit identity while it contributes to the meat's depth of taste..."
Still not sure you want to use Anchovies? You're going to have to trust me on this. Remember, I was once a non-believer too!

I think you'll enjoy the incredible aroma that fills the kitchen when you sauté the rosemary, garlic and anchovies. It's memorable.
What to serve with smothered chicken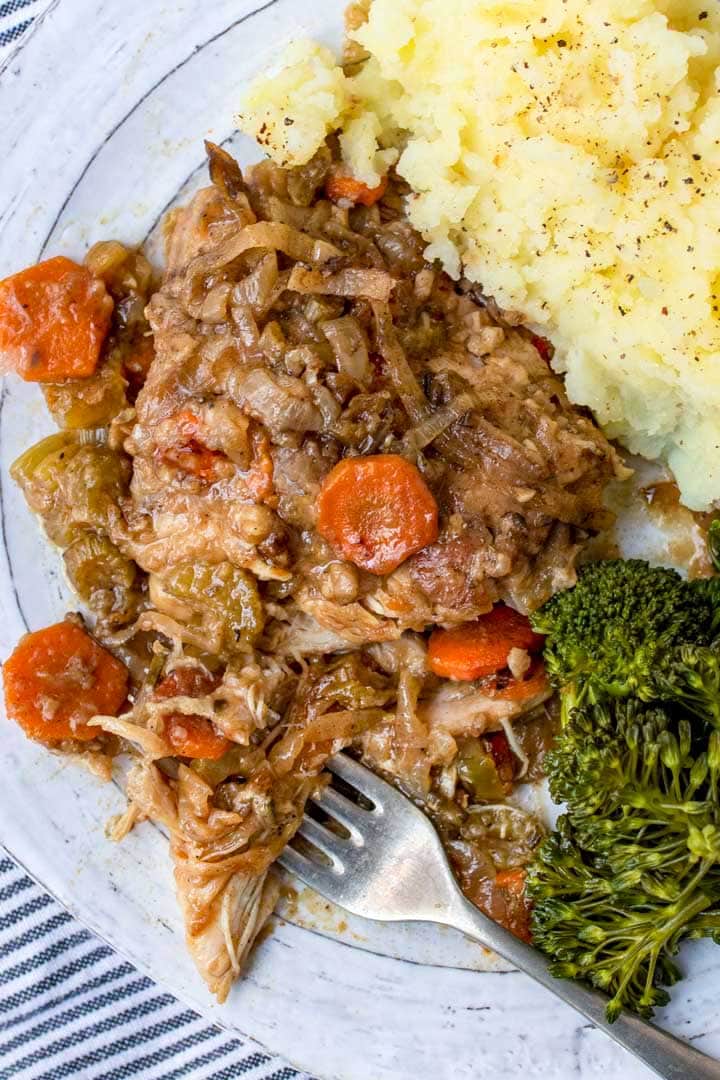 Here's the Smothered Chicken Recipe. If you cook this, I hope you'll come back to leave a star rating and a comment. I'd love to know what you think!
Print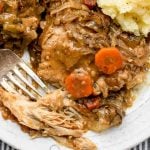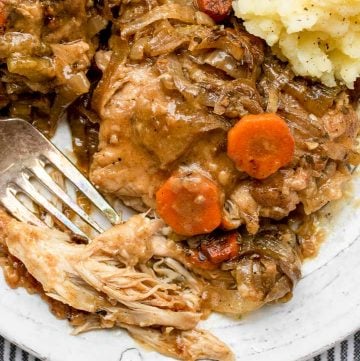 Smothered Chicken Recipe
---
Author:

Lisa

Total Time:

2 hours 50 mins

Yield:

5

-6

1

x
Description
The most fall-off-the-bone tender chicken, smothered with vegetables and flavorful rosemary, vinegar garlic sauce.
---
Equipment: A heavy bottomed non-stick or cast iron skillet and a large heavy cast iron pot or Dutch oven with a lid.
4 ½

pounds

chicken parts with bones, skin removed (I use a mix of breasts and thighs)

¾

cup

all purpose flour

2

-

3

teaspoons kosher salt, divided
Freshly ground black pepper

6

-

7

tablespoons cooking oil such as light olive oil, canola or rapeseed, divided

8

flat anchovy fillets, finely chopped (from a tin of flat anchovies in olive oil)

2 tablespoons

finely chopped garlic

1 tablespoon

finely chopped fresh rosemary leaves

5

-

6

stalks celery, thinly sliced (

2 cups

)

1 ½

-

2

medium yellow onions, halved and thinly sliced (

2 cups

)

2

small carrots, thinly sliced (

1 cup

)

1 ½

cups

chicken broth (I recommend Swanson's low salt)

½

cup

red wine vinegar
---
Instructions
Equipment: Large heavy lidded pot or Dutch  oven and a large cast iron or non-stick skillet
Preheat oven to 350ºF.
Make seasoned flour by mixing ¾ cup flour with 1 teaspoon of salt and ¼ teaspoon of pepper. Put seasoned flour into a large plastic ziplock bag and add the chicken pieces. Seal and shake vigorously to coat chicken.
Heat 3 tablespoons oil in the skillet over medium heat and brown the chicken, in two batches, shaking off excess flour before adding it to the skillet, sautéing pieces about 3 minutes per side, until golden brown. Add more oil, if needed, and regulate the heat so the flour doesn't burn. Transfer the chicken to the heavy pot or Dutch oven, and season with ½ teaspoon of salt and a several grinds of pepper.
Pour off the fat from the skillet and wipe it out so there is no flour residue. Add 2 tablespoons of oil and turn the heat to medium-low. Sauté anchovies, garlic and rosemary, stirring constantly, for a minute, until fragrant. Scrape the mixture into a small bowl and set aside. Add 2 more tablespoons oil and cook celery, onions and carrots for 10-12 minutes over medium heat, stirring from time to time, until softened and starting to brown. Remove skillet from heat and stir in the rosemary garlic mixture.
Spoon the vegetable mixture over chicken. Combine the chicken broth with the vinegar and pour it over the chicken and vegetables. Turn the heat up to high and when the liquid comes to a boil shut off the heat, cover the pot, set it in the middle of the oven and leave the chicken to braise for 1½ hours.
Season with salt and pepper, to taste. Serve hot.
Notes
Make this ahead: Smothered chicken is only better the next day. If you want to make this a day head, cook it fully, let it cool in the pot, uncovered, for an hour or so and then put it in the fridge uncovered for an hour or so. Then cover it.
To Reheat: Take it out of the fridge an hour or so before dinner. Heat it slowly on the stove, covered, over low heat for 15-20 minutes or until it's heated through. If the sauce is too thick, add a few tablespoons of water.
[This post first appeared on Panning The Globe in Feb 2013. It was updated in November 2019 with new photos, added nutritional information, more clarifying details in the written post and clearer instructions in the recipe.]
Nutrition Information: The information shown is an estimate provided by an online nutrition calculator and is not a substitute for the advice of a professional nutritionist.
Prep Time:

30 mins

Cook Time:

2 hours 20 mins

Category:

Main Dish

Method:

Braise

Cuisine:

Italian
Keywords: braised chicken with vinegar, smothered chicken, oven braised chicken with onions garlic and rosemary