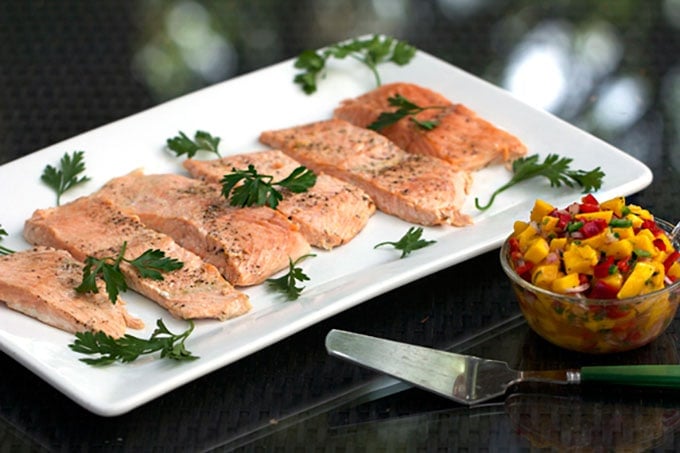 Sometimes simple is best.  In this recipe the goal is to bring out the naturally-delicious savory flavors of fresh salmon and top it with a bright, festive salsa.  The  roasted salmon can be chilled and served later at room temperature – great for a weeknight dinner or for entertaining.  My nickname for this dish is "Party Salmon," because it possesses all the qualities of an excellent party recipe: easy, festive, tasty, healthy, and can be made ahead.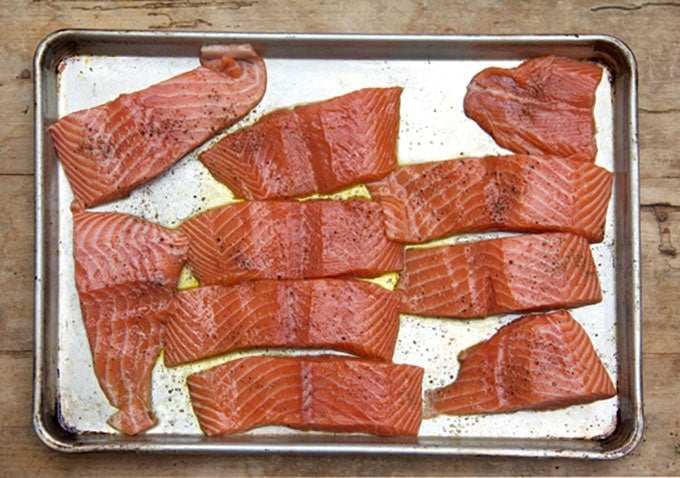 There are two things that are crucial here for achieving excellent results:  start with fresh salmon and don't overcook it.  Salmon can differ in thickness.  A fillet that is one inch at its thickest needs no more than 5 minutes in the oven.  If your fillet is thicker, it may need a few minutes longer.  Start checking it at 5 minutes and keep checking it every minute to be sure it doesn't overcook and dry out.
Mango dominates this salsa.  There's nothing quite like a ripe mango – velvety, juicy, sweet, and tropical-tasting.  I know tropical isn't really a flavor, but eating fresh mango reminds me of sunshine and palm trees and balmy weather, so it really does taste tropical.  I love the explosion of flavors in this salsa – the sweetness of the mango and red pepper, the tanginess of the lime, the spicy bite of jalapeño and red onion, and the distinctive kick of cilantro.  Simple roasted salmon is an ideal palate for this exciting topping.  If you want some help choosing a perfectly ripe mango and cutting one, click here.
Serve the salmon on a platter with the salsa on the side or plate it with the salsa on top.  Whether you are serving this as part of a large buffet or on it's own, a simple green salad with  lemony dressing would be a nice accompaniment.  There are lots of exciting possibilities for entertaining, but I'm always extra pleased when I serve something that is as healthy as it is delicious.  That's how I feel about this roasted salmon with tropical salsa.  Hope you enjoy.
Roasted Salmon with Tropical Salsa
Tender roasted salmon can be served warm or at room temperature. Top with tropical fruit salsa. An easy make-ahead recipe - perfect for entertaining.
Ingredients
Salsa
2½ cups diced mango (3 large mangoes)
1½ cups diced red bell pepper, 1½-2 peppers (seeds and membranes removed)
1 cup finely chopped red onion
4 tablespoons chopped cilantro
3 tablespoons fresh lime juice
2 jalapeño peppers, finely chopped, about 2 tablespoons (seeds and membranes removed)
1 teaspoon salt
Salmon
3 pounds salmon filet, skin removed
Extra virgin olive oil
Kosher salt
Fresh ground pepper
Instructions
Salsa Mix all of the ingredients together in a medium bowl. Can be made 24 hours ahead. Store tightly covered in the fridge.
Salmon Preheat oven to 450ºF. Slice salmon filets into serving pieces (about 2 inches wide). Place filets on a jellyroll pan. Brush both sides of fish generously with olive oil and sprinkle generously with salt and pepper, to taste. Cook for 5 minutes, or until salmon is just cooked through. If salmon needs more time, check every minute to ensure it doesn't overcook. Remove pan from oven. (If you want salmon to cook a bit more, cover pan tightly with aluminum foil as it cools - 5-10 minutes)
Serve immediately with salsa or see below, if you're preparing this for later.
If serving cold or at room temperature, allow salmon to cool for 5-10 minutes. Cover with foil and put in the fridge. When completely cool, cover tightly with saran wrap. Can be made up to a day ahead. Allow salmon to sit out at room temperature for 10-15 minutes before serving.