Bobotie is South Africa's delicious meat pie. It's basically the best meatloaf ever, packed with great curry flavor, topped with custard. A little decadent. Totally delicious.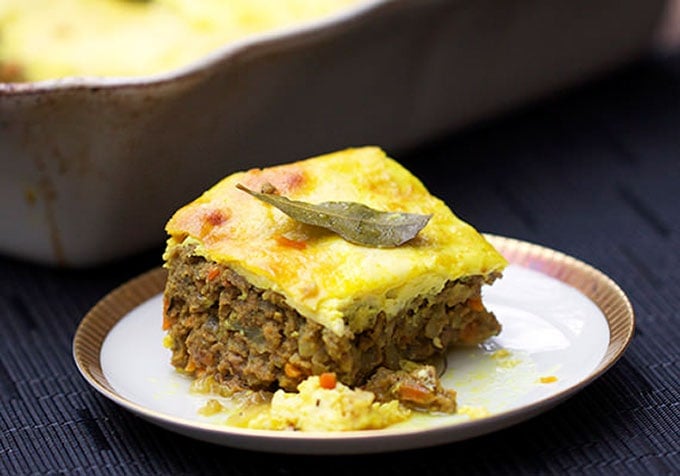 At a party recently, my sister-in-law Jen introduced me to a couple of friends of hers  from South Africa – Adine and Shelley.  Our conversation quickly turned to food and before long they had me drooling and asking for their emails.  First we chatted about the homemade sausages they had recently made.  I was impressed, never having made sausages from scratch. Then they described a meaty pie with custard on top called Bobotie – very popular, unique to South Africa, and utterly delicious.  I was sold. I promise to get the sausage recipe too, but for now I bring you Bobotie.
Bobotie is considered a national dish of South Africa. It resembles the Brit's Shepherd's Pie and the Greek's Moussaka.  One thing that sets bobotie apart from the others is the richly flavored meat. Ground lamb and beef are mixed with shredded apples, carrots, and fruit chutney or preserves. All of that is balanced by a wonderful mix of spices, dominated by curry – it is an intoxicating combination – plus custard!
Meat plus custard is a rich combo and I was determined to lighten up the recipe. My goal was to pour off the rendered fat once the meat had cooked for a while. The problem was the meat shrank so much that when I poured the custard on, it pooled around the meat instead of on top. I solved the problem by removing the bobotie from the oven one third of the way through the cooking process. At this point you can pour off the rendered fat and use a spatula to press down on the meatloaf to spread it out so it fills the pan, making nice platform for the custard. Then tuck the bay leave in, pour the custard on top, and return the bobotie to the oven.
Bobotie originated in the Cape Malay community on the western cape of South Africa. In 1652 Dutch ships brought slaves from southeast Asia (modern day Indonesia) to work for the Dutch East India Company – a big trading company that was using Cape Town as their resupply station for shipping between Europe and Asia. These slaves are credited with shaping the local food culture with the interesting spices and cooking techniques they brought with them from home.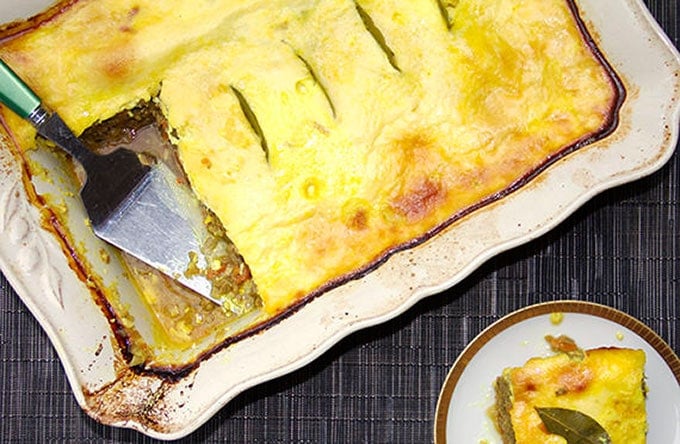 If you're craving meatloaf – you might want to try Bobotie instead. Same kind of comfort with some added excitement. There is one thing about Bobotie that I should warn you about that was a problem for me – I couldn't stop eating it. Lost all my resolve about moderation and portion control.  But it's a worthwhile splurge!
Here's the recipe for Bobotie. If you make this I hope you'll come back to leave a comment and a rating and let me know what you think.
Print
BOBOTIE
Deliciously spiced meat pie with custard topping
Author:
Prep Time:

30 mins

Cook Time:

1 hour 30 mins

Total Time:

2 hours

Yield:

8-10

Category:

Main course, comfort food

Cuisine:

South African
Ingredients
3 slices white bread, crusts removed, roughly chopped or pulled into small pieces
1 cup low fat milk
2 tablespoons cooking oil
2 onions, halved and thinly sliced (about 4 cups)
4 garlic cloves, minced (about 4 teaspoons)
Dried Spices
1 tablespoon plus 1 teaspoon curry powder
1 teaspoon coriander
1 teaspoon ginger
1/2 teaspoon thyme
2 teaspoons turmeric
1 teaspoon cinnamon
pinch of cayenne pepper
Other Ingredients:
1 pound ground lamb
1 pound ground beef
1 large or 2 medium carrots, grated (about 1 cup)
1 granny smith apple, peeled, cored, and grated
1/3 cup golden raisins (optional)
3 tablespoons apricot preserves
2 tablespoons lemon juice (1 lemon)
1 teaspoon salt
1/2 teaspoon fresh ground pepper
5 bay leaves
Custard
1 1/2 cups Buttermilk
3 eggs
1/2 teaspoon salt
pinch of pepper
optional topping
toasted slivered almonds
Instructions
Preheat over to 350ºF. Put chopped bread into a small shallow bowl and pour milk on top. Press bread into milk and set aside.
Measure out all of the spices, except bay leaves, into a small bowl and set aside.
Heat oil in a large skillet. Sauté onion on medium low heat for 10-12 minutes, until lightly browned. Add garlic and cook, stirring, for 1 minute. Add spices and cook, stirring, for 30 seconds. Remove from heat. Add a tablespoon or two of water if the spices are sticking to the bottom of the pan. Scrape mixture into a large bowl and allow to cool for a couple of minutes.
Gently squeeze most of the milk from the bread and add bread to onions. (leftover milk won't be used for this recipe) Add lamb, beef, carrots, apples, raisins (optional), apricot preserves, lemon juice, salt and pepper. Mix everything together (best to use your hands) until just combined. Press mixture evenly into a casserole dish (2-3qt) Bake for 25 minutes.
Remove casserole from oven, leaving oven on. Carefully pour off fat that has rendered. Meat will have shrunken and pulled away form the sides of the casserole. Using the back of a spatula, press meat down so it expands to touch the sides of the casserole. Insert bay leaves evenly across surface (slit meat with a knife if necessary), tucking them halfway in so they flavor the meat but are still visible for easy removal before serving. Beat custard ingredients and pour over meat. Bake in the center of the oven for 50 minutes to an hour longer, until the custard is set and starting to brown.
Serve with rice or sweet potatoes. Top with toasted almonds, if you like. Enjoy!