This potato leek soup has just two ingredients, potatoes and leeks, plus water and salt. The delicate flavors of potatoes and leeks are so delicious, there's no need for added cream or chicken stock. For a special occasion, dress it up with a garnish of sour cream and frizzled leeks.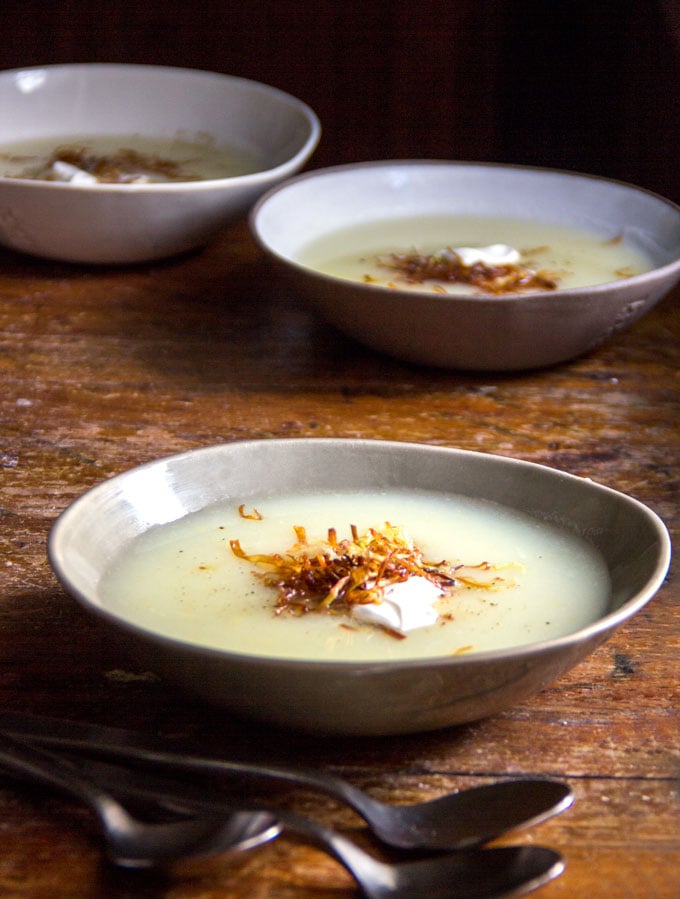 Julia Child explains it well in her cookbook The Way To Cook: "Leeks and potatoes simmered in lightly salted water make a perfect soup..."
Nothing could be more inspiring for a potato leek soup recipe than a trip to Idaho. A few weeks ago I stepped off an airplane in Idaho Falls and before I knew it (still wearing my gray cashmere sweater) I had a shovel in my hand and I was digging up spuds. I'm incredibly grateful to the Idaho Potato Commission for inviting me to attend their 2016 Idaho Potato Harvest Tour. The trip was an immersive education in potatoes and an incredibly fun four days. Every year the Idaho Potato Commission invites a group of bloggers to Eastern Idaho for a close up and behind-the-scenes look at the amazing activities involved with growing and harvesting 13 billion pounds of potatoes and getting them to market.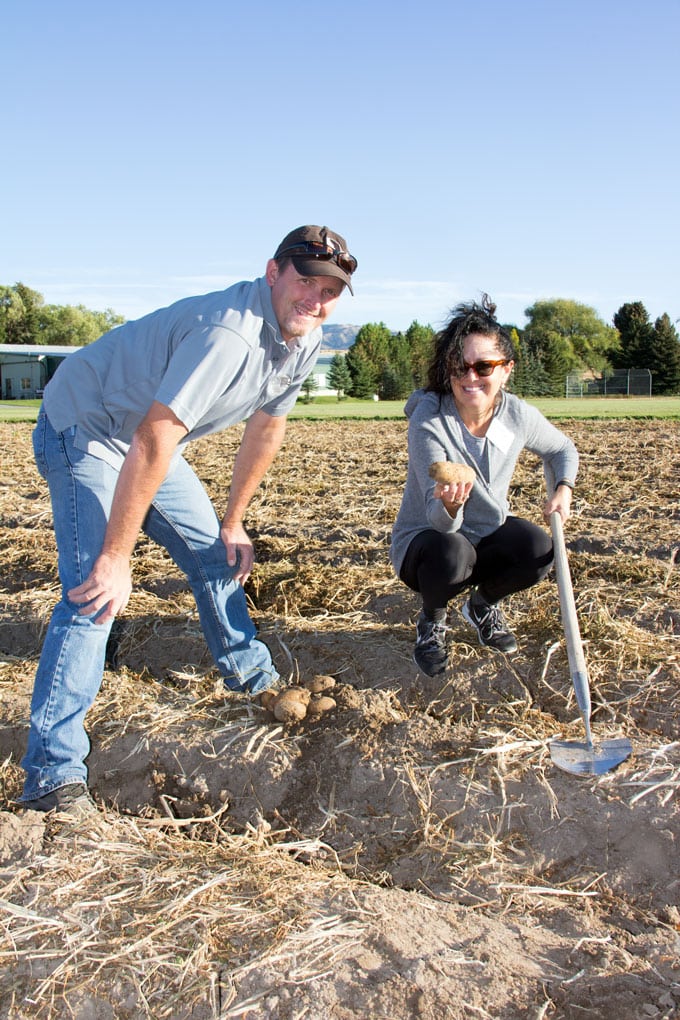 The education (and fun) began at Hoff Brothers' Farm, which dates back to 1910. Fourth generation family member James Hoff runs the daily operations. He spoke to our group about growing Idaho potatoes and life on the farm. He let us dig potatoes, and then he gave rides in his vintage airplane.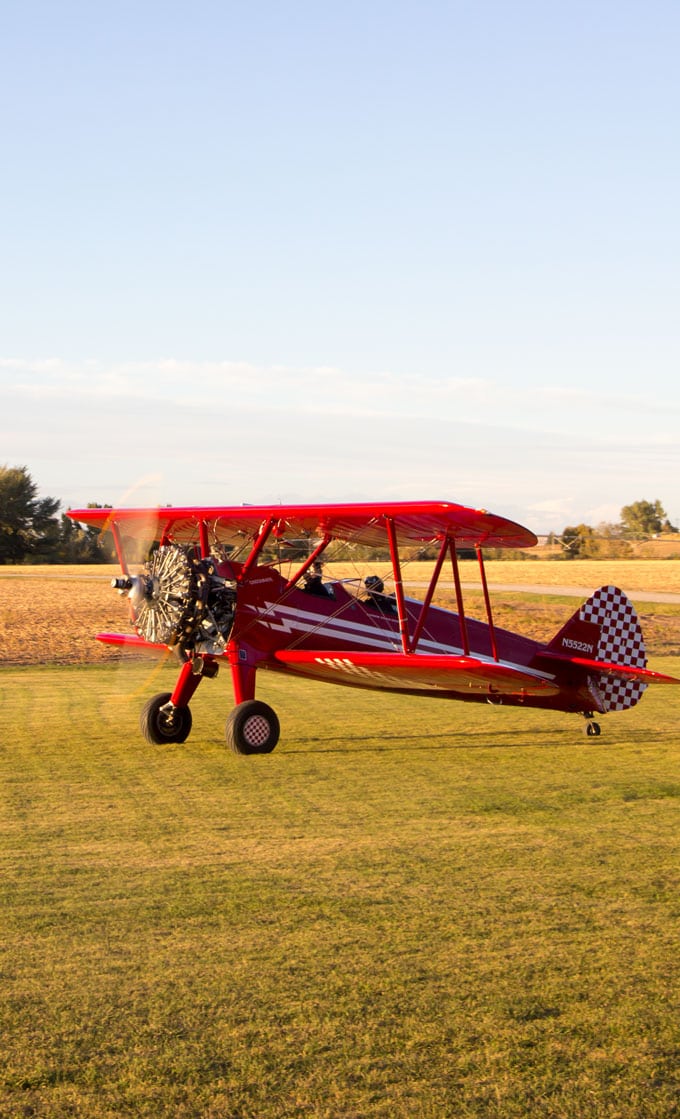 Afterwards were were treated to a home cooked dinner prepared by the Hoff family and served in their airplane hanger. By this time, all of us - bloggers, Hoffs, and commission folk - were excitedly connecting with each other, discussing potatoes, airplanes, our blogs, life....
The Idaho-grown wine and the Idaho-potato vodka were flowing. My plate was piled high with a mouthwatering potato feast. I could tell I was in for a very big treat on the potato harvest tour. And I was right. The folks at the Idaho Potato Commission really pulled out all the stops to make this trip special.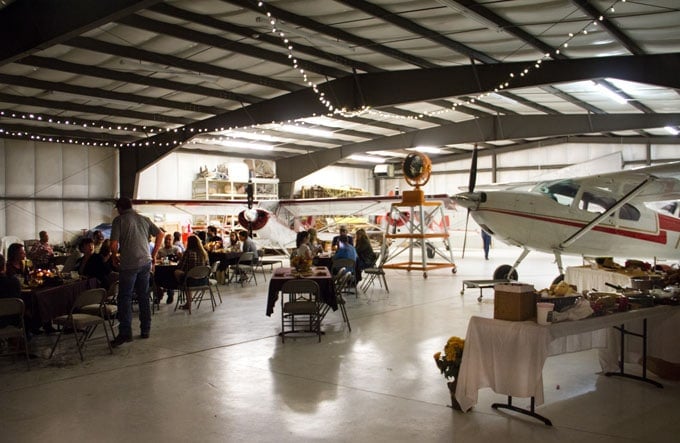 The next morning we boarded a big comfy bus. While we drove to our first destination our potato commission host Don Odiorne, also known as Dr. Potato, gave us some potato history and fun facts.
He explained that the geography and climate in Idaho is tailor-made for growing great potatoes. High desert, rich volcanic soil, warm days and cool nights are what give Idaho Potatoes their unique texture and taste.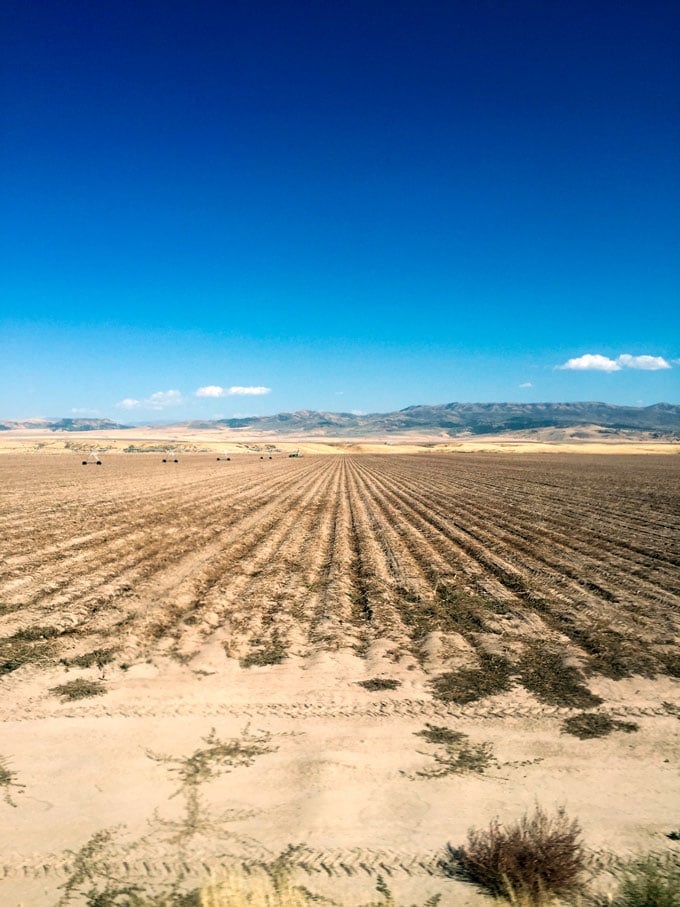 I saw and learned sooo much about potatoes in four days. I'll tell you about the things that amazed me the most. Firstly, I was awed by the process of how the potatoes are dug out of the ground. I watched two giant harvester trucks make their way across a potato field, each truck unearthing four rows of potatoes at a time, and dumping them all into one central row.
Another enormous truck followed behind scooping all the potatoes up onto a giant container. I was stunned by how quickly they could get those taters out of the ground and into that truck! I suppose it has to be an efficient process considering the fact that 13 billion pounds of potatoes are harvested in a matter of weeks!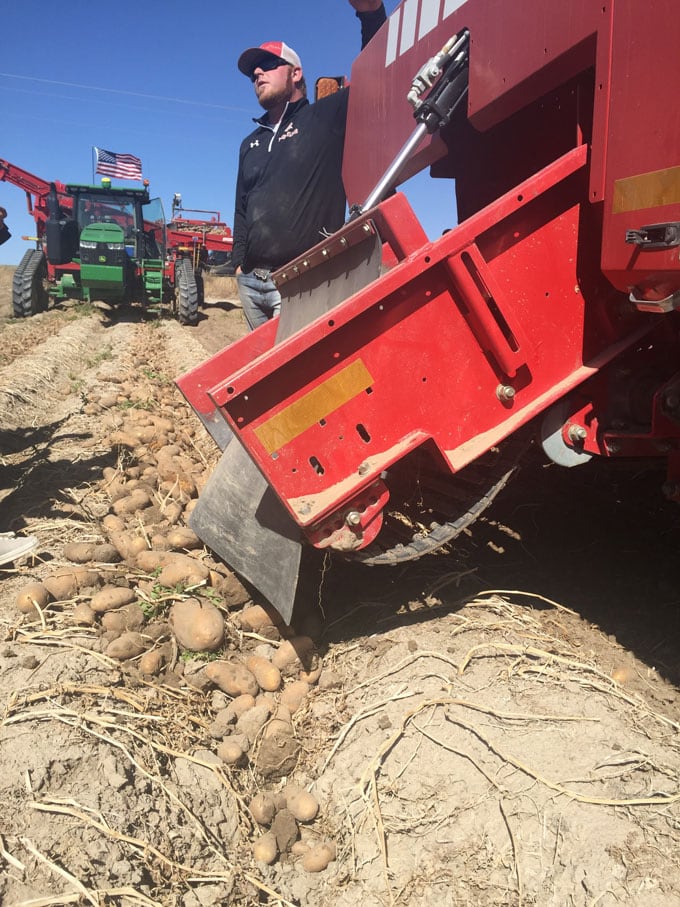 Once the potatoes are out of the ground, in order to provide Idaho potatoes to consumers year round, billions of them go to cold storage, where carefully controlled temperature and humidity keeps them fresh for up to a year. Others go off to factories and processing plants.
We toured several different facilities to see how potatoes are processed and packaged for various uses. At Wada farms, one of the largest fresh potato packing facilities in the country, conveyor belts carry potatoes by the gazillion from trucks or storage to inside the plant, where they are ferried up and down and all around, to get washed, sorted, inspected and conveyed to other machines for boxing. We saw russet, reds, fingerlings, golds and organics. It's a beautiful facility and it was exciting to watch the technology at work.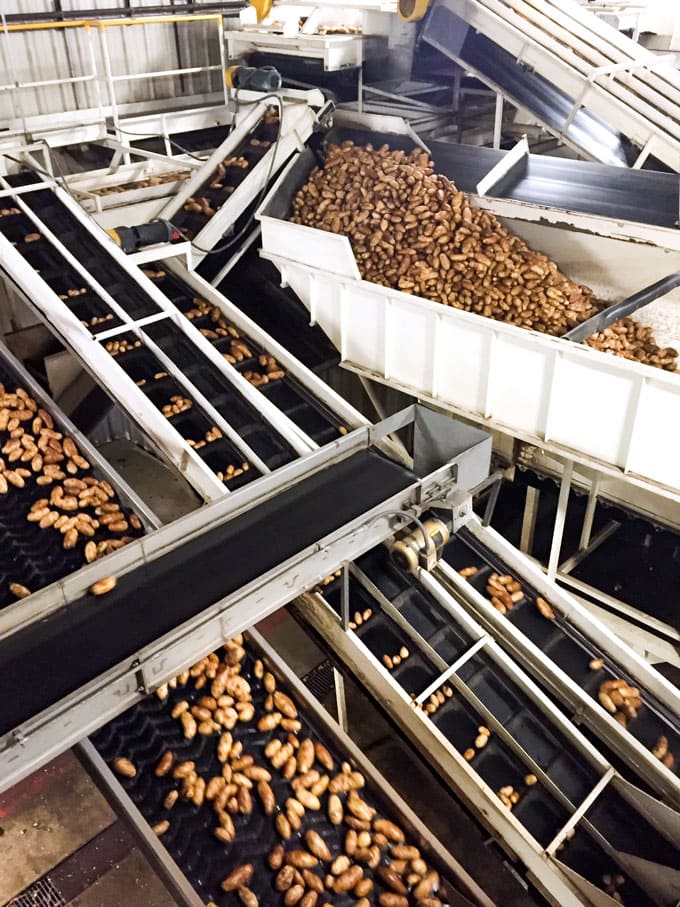 We also toured Lamb Weston, an industry pioneer in frozen potato products. They take fresh potatoes and turn them into yummy things like french fries and tater tots. We watched a bunch of potatoes transform into french fries that were destined for McDonalds.
Some of Wada's processing methods are mind blowing! For example, McDonalds fries are made from peeled potatoes. So the folks at Lamb Weston explained how they can peel 800 potatoes in 12-23 seconds. It has do with the the fact that potatoes are 80% water and 20% solids. The potatoes go into a heated pressure chamber that quickly causes the water under the potatoes' skin to boil. The skin explodes off of the potatoes and they come out of the chamber peeled, bright white, and ready to be cut into fries. Then the potatoes are shot, at high speed, through a grid of sharp blades. Out come fries. There's more. Machines then scan the fries and remove any parts that have imperfections and send them away. Only the perfect fries that are long and unblemished get through.
At the end of the tour we got to sample some delicious, freshly made fries and tots.
We also toured Idahoan, a company best known for their instant mashed potatoes. They are a world leaders in producing dehydrated potato products. The most stunning sight of the trip was to see tons of wet mashed potatoes go onto a giant roller and, a short time later, come off the roller as a thin sheet of potato paper. Those sheets are what then get crumbled into flakes or powder for various types of mashed potatoes, soups and other dehydrated potato products.
In addition to our factory tours we visited the Idaho Potato Museum for some spud history and nostalgia and an ice cream sundae that was a dead ringer for a baked potato!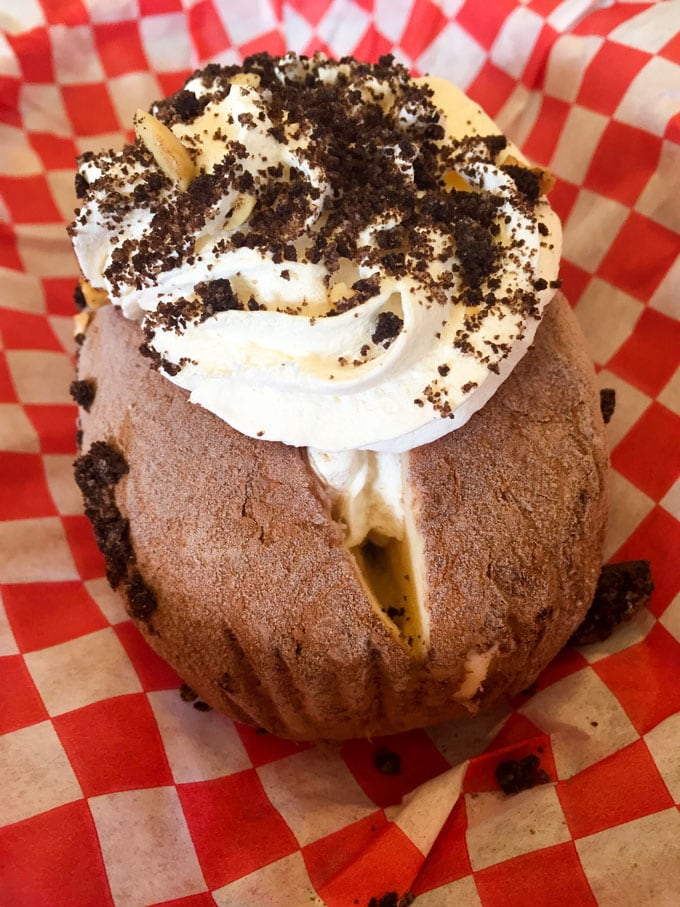 We also had lots of plain old fun on the tour - horseback riding, scenic bus rides, morning walks, lovely dinners, a night at gorgeous Teton Springs Lodge with dinner and a bonfire at Linn Canyon Ranch. It was quite a trip.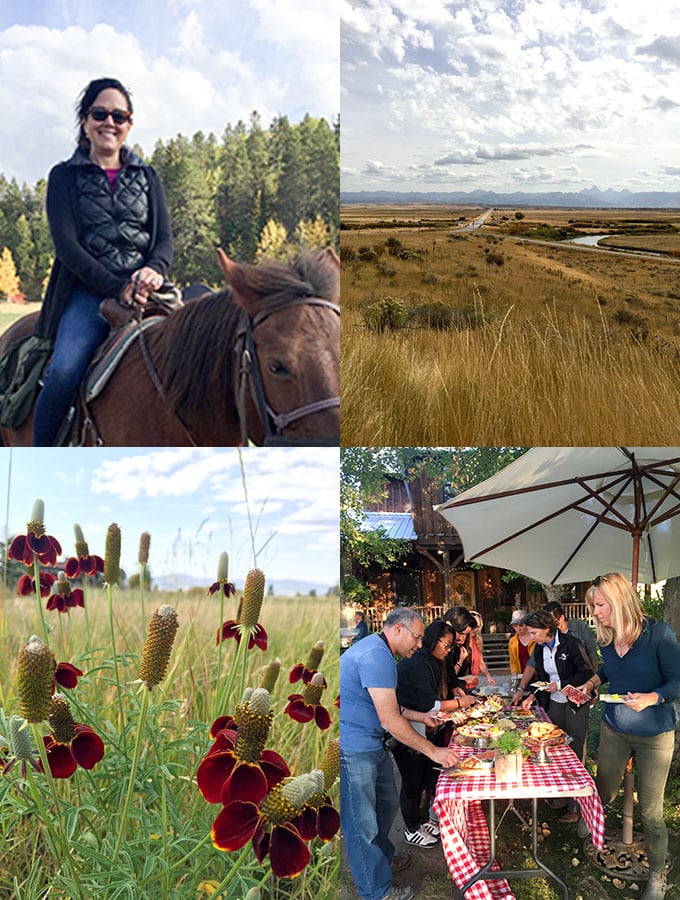 Now I'd like to tell you about this recipe for potato leek soup. It's a simple and delicious soup, based on a Julia Child recipe. I chose this dish because it has just two ingredients, potatoes and leeks. You can really appreciate the excellent flavors of fresh Idaho potatoes in this soup. I added a garnish of sour cream and frizzled leeks for a delicious finishing touch.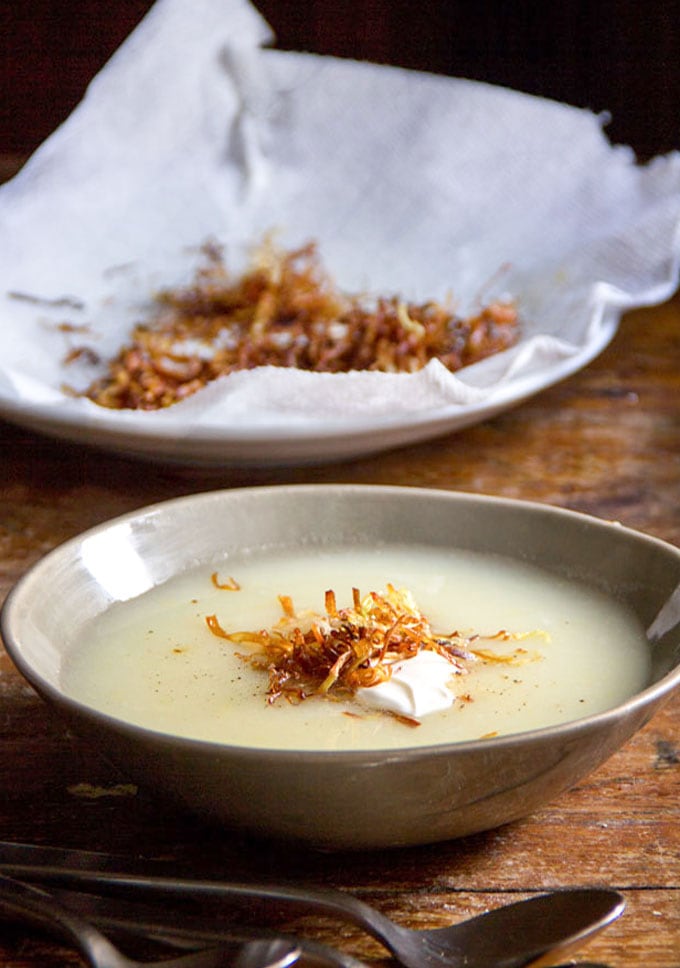 HOW TO MAKE POTATO LEEK SOUP
This recipe is as easy as can be.
Cube the potatoes slice the leeks.
Throw then in a pot and add water
Cook for 20 minutes and puree
Add salt and pepper, to taste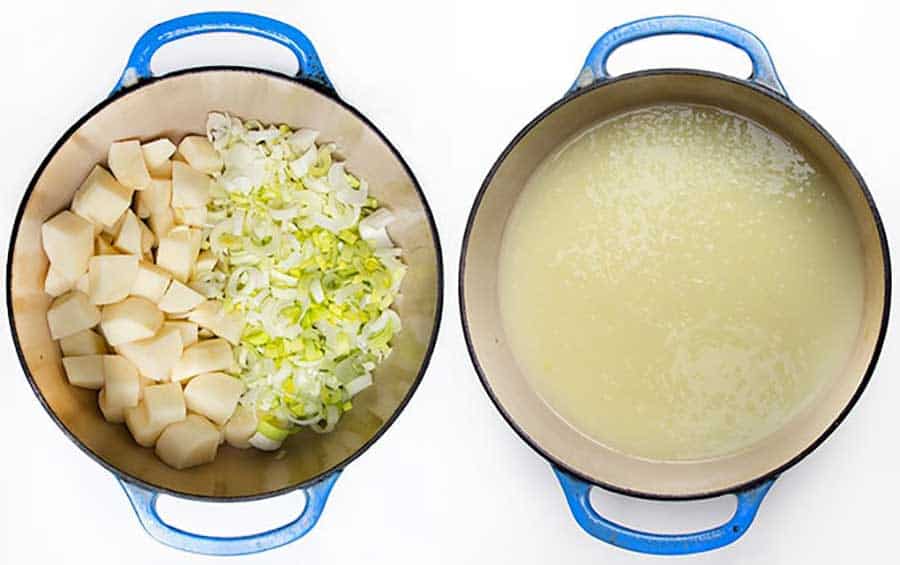 How to Cut Leeks
The leeks are cut crosswise for the potato leek soup and into long slivers for the frizzled leeks topping.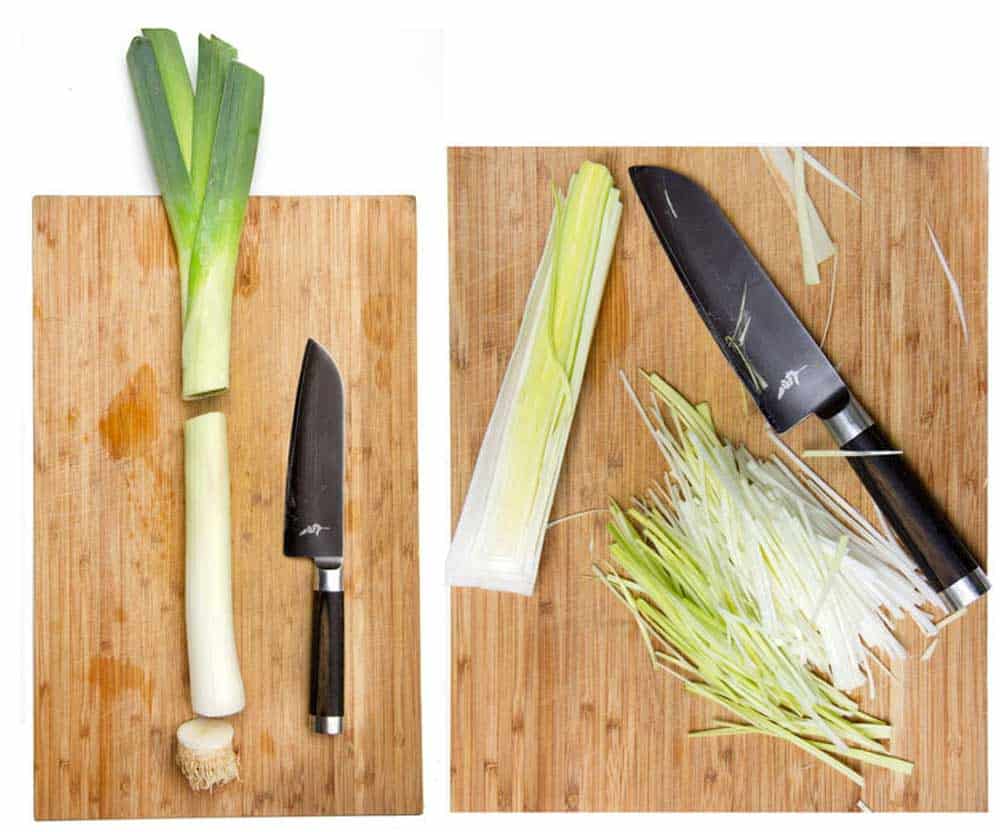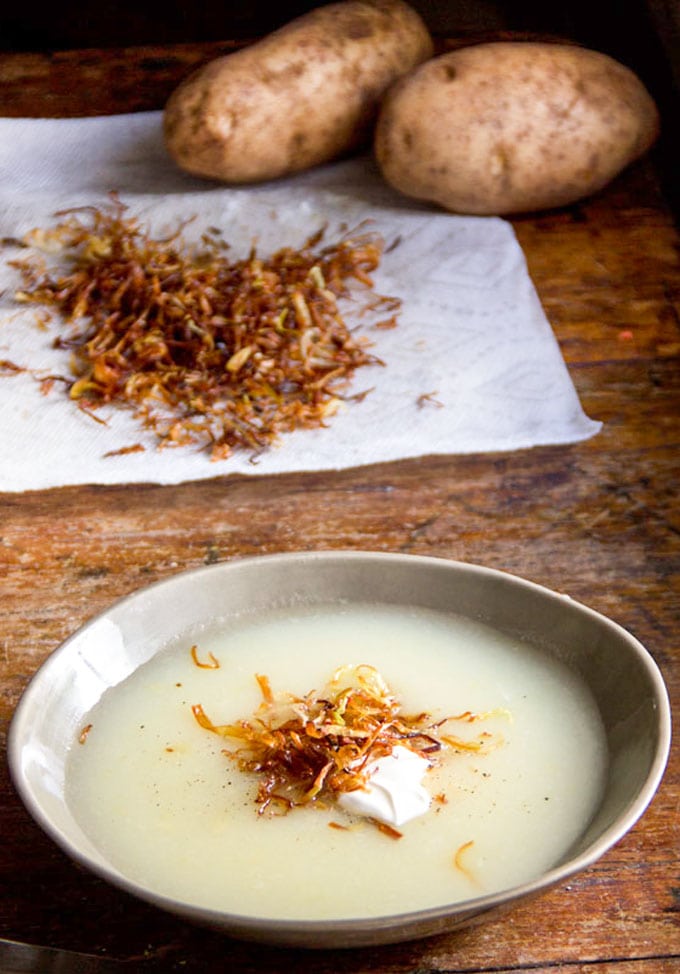 Great food is first about the quality of the ingredients and then what you do with them in the kitchen. But the pleasure derived from a dish or meal is enhanced by experiences, stories, history, culture or anything that else that enriches our understanding and appreciation of what we're eating. From here on, when I eat a bowl of potato leek soup or a delicious baked Idaho potato, I'll think about Eastern Idaho's breathtaking landscape, warm days, cool nights, great friends, and an unforgettable trip.
Here's the potato leek soup recipe. If you make this, I hope you'll come back to leave a star rating and a comment. I'd love to know what you think.
Print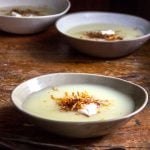 Two Ingredient Potato Leek Soup
---
Author:

Lisa

Total Time:

45 mins

Yield:

6

-8

1

x
Description
A simple elegant delicious soup made by boiling potatoes and leeks in salted water.
---
Special Equipment: An immersion blender, blender or food processor to puree the soup
For The Soup
2

-

3

large leeks, white and light green part only, (enough to make

4 cups

thinly sliced leeks)

4 cups

peeled and cubed russet potatoes (

2 ¼

pounds or so,

3

large or

4

medium potatoes)

6 cups

water

1

-

2

teaspoons kosher salt
Freshly ground black pepper, to taste
For The Frizzled Leeks Topping
2

large leeks

6 tablespoons

canola oil

½ cup

or more sour cream, for topping
---
Instructions
Make The Soup: Slice the leeks in half lengthwise. Then slice them crosswise into thin slivers until you've got about 4 cups of thinly sliced leeks. Wash them well by swishing them in a bowl of water and then draining them in a mesh strainer, to be sure all the sand and grit is washed away.
Place cubed potatoes, sliced leeks, 6 cups water and 1 teaspoon of salt in a large heavy soup pot or Dutch oven. Bring to a boil. Lower to a simmer. Cook, partially covered (to avoid splattering) for 20 minutes or until potatoes and leeks are nice and tender. Puree with an immersion blender or in your food processor. (Don't over process). Season with salt and pepper to taste.
Make the Frizzled Leeks: Line a plate with a paper towel. Cut the leeks crosswise, into 2 ½ or 3-inch pieces. Then cut each piece lengthwise into thin slivers (see instructional photo in post). Wash and drain the leeks in a mesh strainer to remove any sand or grit.
Heat oil over medium heat until hot enough to sizzle a sliver of leek. Add leeks and cook for 8-10 minutes, stirring from time to time, until they're light golden brown. Be very careful to monitor the heat so they don't burn. Transfer the leeks to the prepared plate to cool. Sprinkle with a pinch or two of salt. You can make them up to a day ahead and keep them at room temp in a tightly sealed container.
To Serve: Serve the soup hot with salt and pepper on the side. If using the toppings, add a dollop of sour cream, frizzled leeks and fresh cracked pepper to each bowl.
Prep Time:

15 mins

Cook Time:

30 mins

Category:

Soup

Method:

simmer

Cuisine:

French
Disclosure: The Idaho Potato Commission paid all of my expenses to attend the 2016 Idaho® Potato Harvest Tour. All opinions express in this post are my own!