Here are my favorite recipes for Grilled Cheese and Tomato Soup. The soup recipe is from one of my favorite chefs. It's intensely tomatoey with a spicy kick. The grilled cheese is open faced, cooked in the oven, and has some secret ingredients that make it extra special.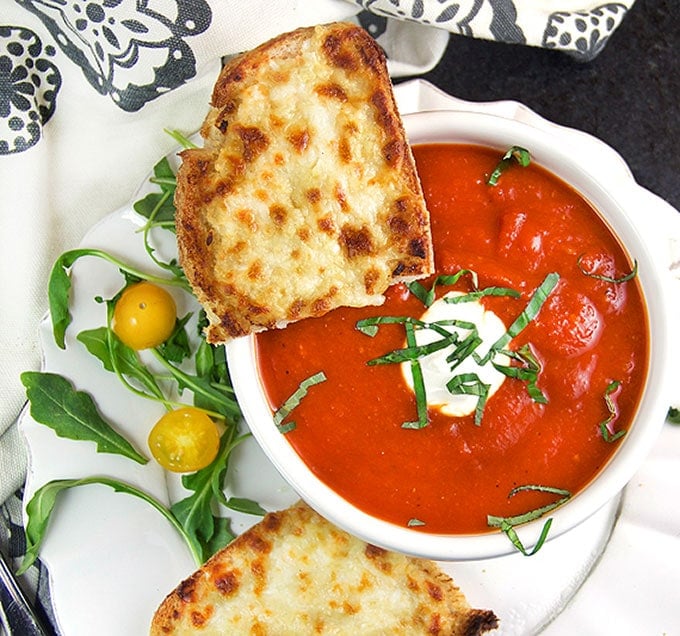 Here's Why Oven Grilled Cheese is a Great Idea:
There are so many good reasons to make grilled cheese in the oven.
You don't have to stand over a hot stove.
No additional oil or butter is needed
You can prep ahead. Assemble the sandwiches and get them onto a baking sheet.
It's easy to cook grilled cheese for a crowd. Load up all your baking sheets with open faced grilled cheese sandwiches and just before serving, pop them into the oven. They'll all be perfectly hot and melty and ready at the same time!

Grilled Cheese and Tomato Soup – A Iconic Comforting Combo:
Tomato soup with grilled cheese is a famous pairing. I remember when I was a kid, they served grilled cheese and tomato soup in my elementary school cafeteria. White bread with melted American cheese was not too bad by my pre-teen standards. I'm sure the tomato soup came from a can of Campbells, and I remember it being salty and kind of good. I guess I didn't know what I was missing.
Food is so much better now.
This oven grilled cheese has BIG flavor. In addition to grated sharp cheddar cheese, there's grated onion, dijon mustard and a bit of mayo to hold it all together. The combination of flavors is incredible.
As I mentioned, this soup recipe comes from one of my favorite chefs, Barbara Lynch. I've adapted the tomato soup recipe from her cookbook Stir. It's really good.
And the recipe couldn't be easier. There are just 2 main ingredients: on onion and canned tomatoes, plus olive oil and spices and a garnish of fresh basil.
If you have an immersion blender (one of my favorite kitchen gadgets) you can puree the soup right in the pot rather than having to transfer it to a food processor or blender. It will save you lots of time and messy clean up.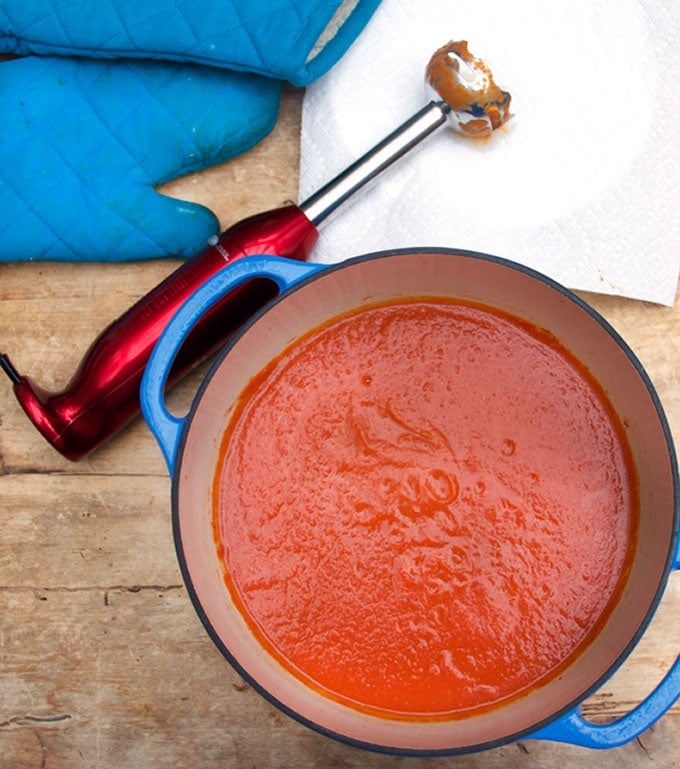 What I love about open-faced grilled cheese sandwiches is the higher cheese-to-bread ratio.
It's why I prefer thin crust pizza to thick and why I hollow out my bagel before toasting it and topping it with cream cheese and salmon.
It's not that I'm super calorie-conscious. It's more that I don't want to dilute the delicious flavors of sandwich fillings and pizza toppings, with too much bread or dough.
The other benefit of the open-faced grilled cheese is that you don't have to stand over a frying pan and you can cook six or more sandwiches at once, in just a few minutes.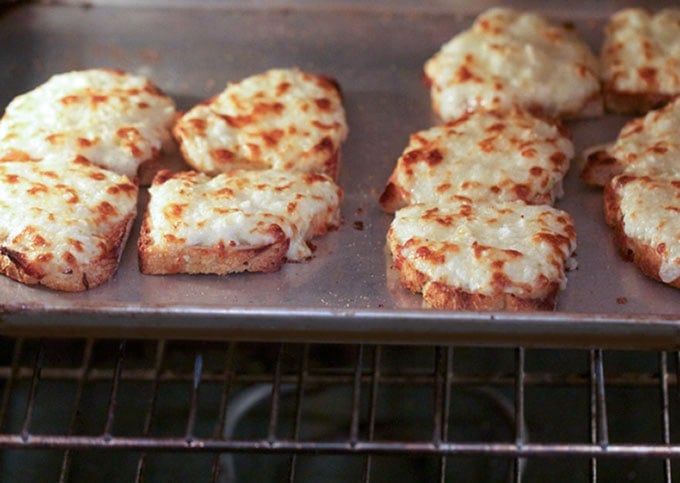 My inspiration for this oven grilled cheese comes from a vintage recipe my mother used to make when she entertained. She called it "cheese grille." It's a sinfully delicious appetizer consisting of equal parts grated parmesan, grated onion, and mayonnaise, mixed together and mounded onto small triangles of white bread, and broiled.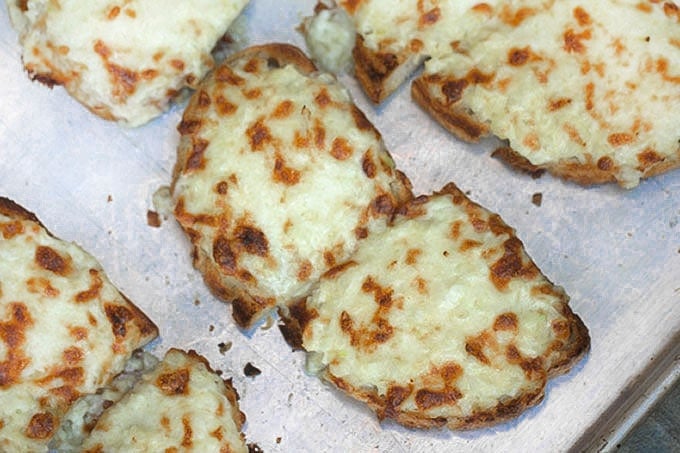 I went way lighter on the mayo for this recipe and it's still sublime!
And the perfect partner to this wonderful spicy tomato soup.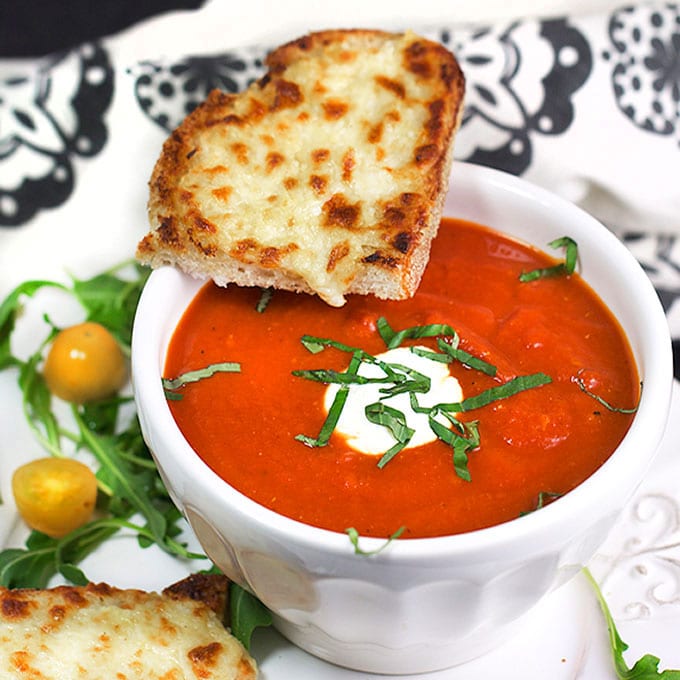 If you want to add something green to this meal, I suggest a butter lettuce salad with Citrus dressing or a this raw kale salad with honey lemon parmesan dressing.
Here's the recipe for oven grilled cheese and tomato soup. If you try this recipe, I hope you'll come back to leave a rating and a comment. I'd love to know what you think.
Print
Oven Grilled Cheese and Tomato Soup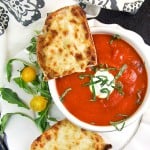 Grilled cheese and tomato soup is the ultimate comfort food pairing and the perfect lunch combo. Here are two easy and super delicious recipes for this dynamic duo.
Author: Panning The Globe
Prep Time:

15 mins

Cook Time:

30 mins

Total Time:

45 mins

Yield:

6

1

x
Category:

lunch or dinner

Cuisine:

American
Scale
Ingredients
Tomato Soup

2 tablespoon

s olive oil

1 teaspoon

crushed red pepper flakes

1 cup

chopped yellow onion (

1

medium onion)

2

28-ounce cans Italian plum tomatoes (San Marzano or Muir Glen Organic is best)

1 1/2 cup

s water

1/2 teaspoon

salt
fresh ground pepper, to taste
Garnish

18

–

24

fresh basil leaves, slivered
Plain yogurt, sour cream, or creme fraiche
Grilled Cheese

6

slices of sour dough bread cut in half (or your favorite sandwich bread)

6 ounce

s grated extra sharp cheddar cheese (I used Cracker Barrel Extra Sharp)

3/4 cup

very finely chopped or grated yellow onion (you can use a food processor)

2 tablespoon

s mayonnaise (I recommend Hellman's)

1 tablespoon

dijon mustard (I recommend Grey Poupon)
Instructions
Preheat oven to broil. For soup, in a large pot or Dutch oven, heat oil over medium heat. Add chopped onion and red pepper flakes. Sauté for 8-10 minutes until onion is softened and just starting to brown. Add tomatoes and their juice, water and salt. Bring to a boil. Reduce heat to a simmer and cook for 30 minutes.
Meanwhile for the grilled cheese put bread onto a jellyroll or sheet pan. Toast lightly in the hot oven with the door slightly ajar for 2-3 minutes, watching carefully to avoid burning. Remove pan and set aside to cool. (Keep the oven on)
In a medium sized bowl, stir grated cheese, onion, mayonnaise and mustard to combine. Flip bread over so the toasted side is facing down. Divide the cheese mixture evenly onto the bread, using a fork to press it down and spread it out to the edges. Set aside.
Allow soup to cool for 5 minutes. Puree to your desired consistency using an immersion blender, blender or food processor. Season with salt and pepper, to taste.
Right before serving, broil the sandwiches in the center of the preheated oven for 3 minutes. Continue cooking for 1-2 minutes longer with oven door slightly open, watching the sandwiches as they start to get brown and bubbly. When you see brown spots covering about 1/3 of each sandwich, remove them from the oven and tent with foil while you divide the soup among 6 bowls. Top soup with a dollop of yogurt or sour cream and some slivered basil. Serve with sandwiches alongside. Enjoy!
Note: Both the soup and the cheese mixture can be made up to 2 days ahead, each stored in an airtight container in the fridge.
Disclaimer: On occasion I provide links in my posts to cookbooks or other products, available for purchase on Amazon. If you purchase a product through these links, I receive a small commission with no extra cost to you.