This lemon asparagus risotto recipe is perfect for spring and summer - a creamy and satisfying risotto full of bright fresh seasonal ingredients - lemon juice and zest, basil, zucchini, asparagus and just enough rich parmesan cheese melted through to bring it all together. Not only is this risotto delicious, it's also easy to make thanks to a unique cooking method that eliminates the need for constant stirring.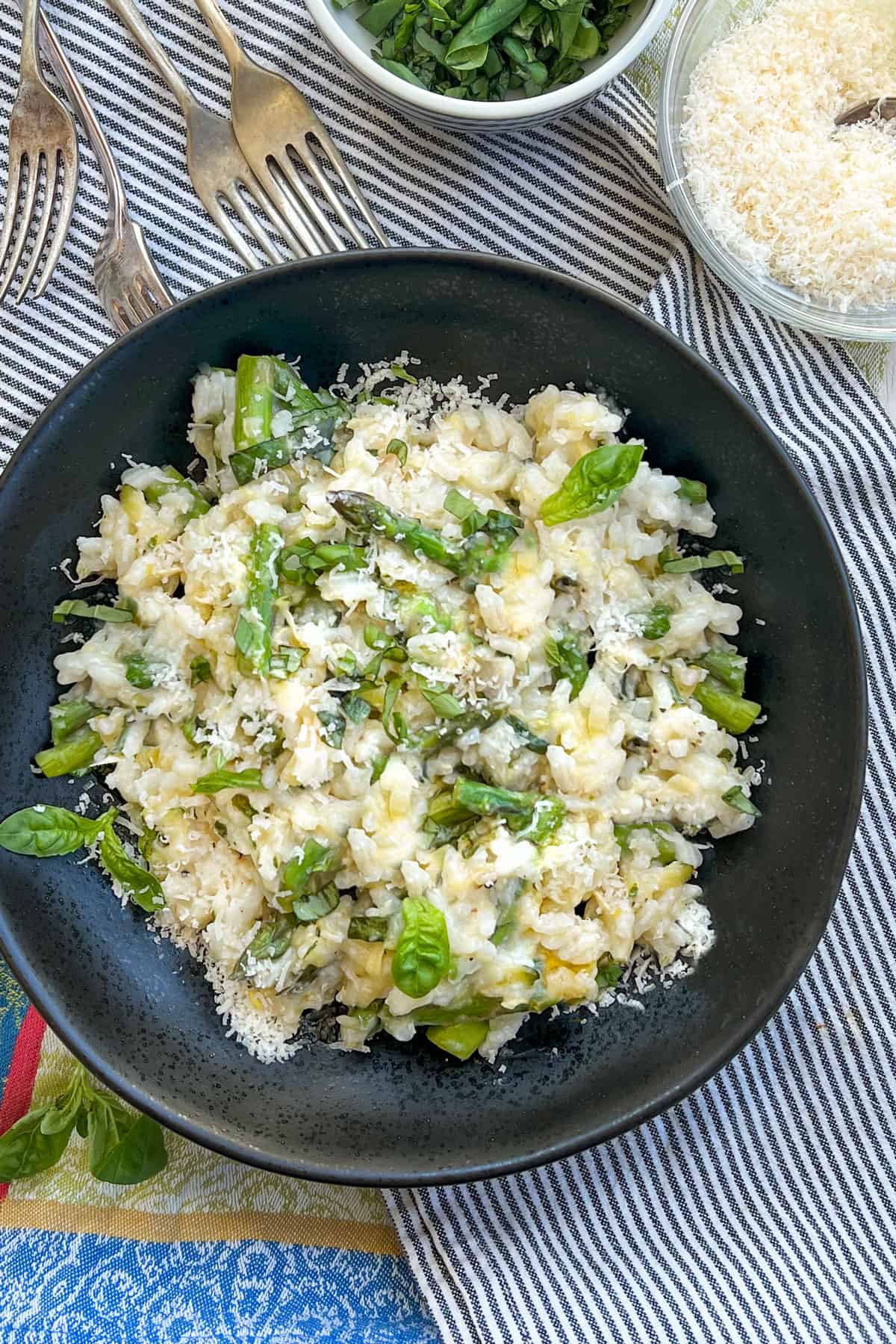 No-Stir Risotto, really?!
Maybe you're thinking this can't be risotto if you don't stand over the pot and stir constantly. Most of us define risotto as that labor-intensive dish that requires at least 20 minutes of non-stop stirring in order to get the rice to absorb the liquid and become creamy. But happily - as I recently discovered - that's not the case!
Risotto is still risotto even if you don't have to work so hard to make it.
What is Risotto Anyway?
Risotto is a classic Italian rice dish that's known for its creamy texture. The reason risotto has this unique texture is that it's made with a special type of short grain rice that is high in starch and able to soak up lots of liquid without becoming mushy. In fact when risotto rice is fully cooked, while the overall texture is creamy (from the released starch), the individual rice grains are al dente (firm to the bite).
Risotto is a versatile dish with so many possible add-ins to take it from a simple side to a robust main course and everything in between.
The traditional method of making risotto can be quite time-consuming and labor-intensive. That's why I'm excited to share with you this new, no-stir risotto recipe that may forever change the way you make risotto!
Here's what I love about this risotto recipe
The flavors are light, fresh and bright - because this risotto is cooked with water instead of broth, it has a lovely lightness that allows the flavors of the vegetables, herbs and lemon to shine through.
No standing over the pot! The bubbling water cooks the rice to perfection in 17 minutes.
Even with this simpler cooking technique, you get perfect creamy risotto.
It's loaded with fresh veggies and uses olive oil instead of butter - this is the healthiest risotto recipe!
The vegetables are stirred through only at the last minute, adding fresh flavor and crunch that complements the rich creamy texture of the risotto perfectly.
The lemon, lemon zest and basil create amazing flavor
While the rice simmers, there's time to set the table, make a salad or just kick back and relax - this is the most relaxing risotto recipe!
Ready to make lemon asparagus risotto?
To start, you'll need the following ingredients: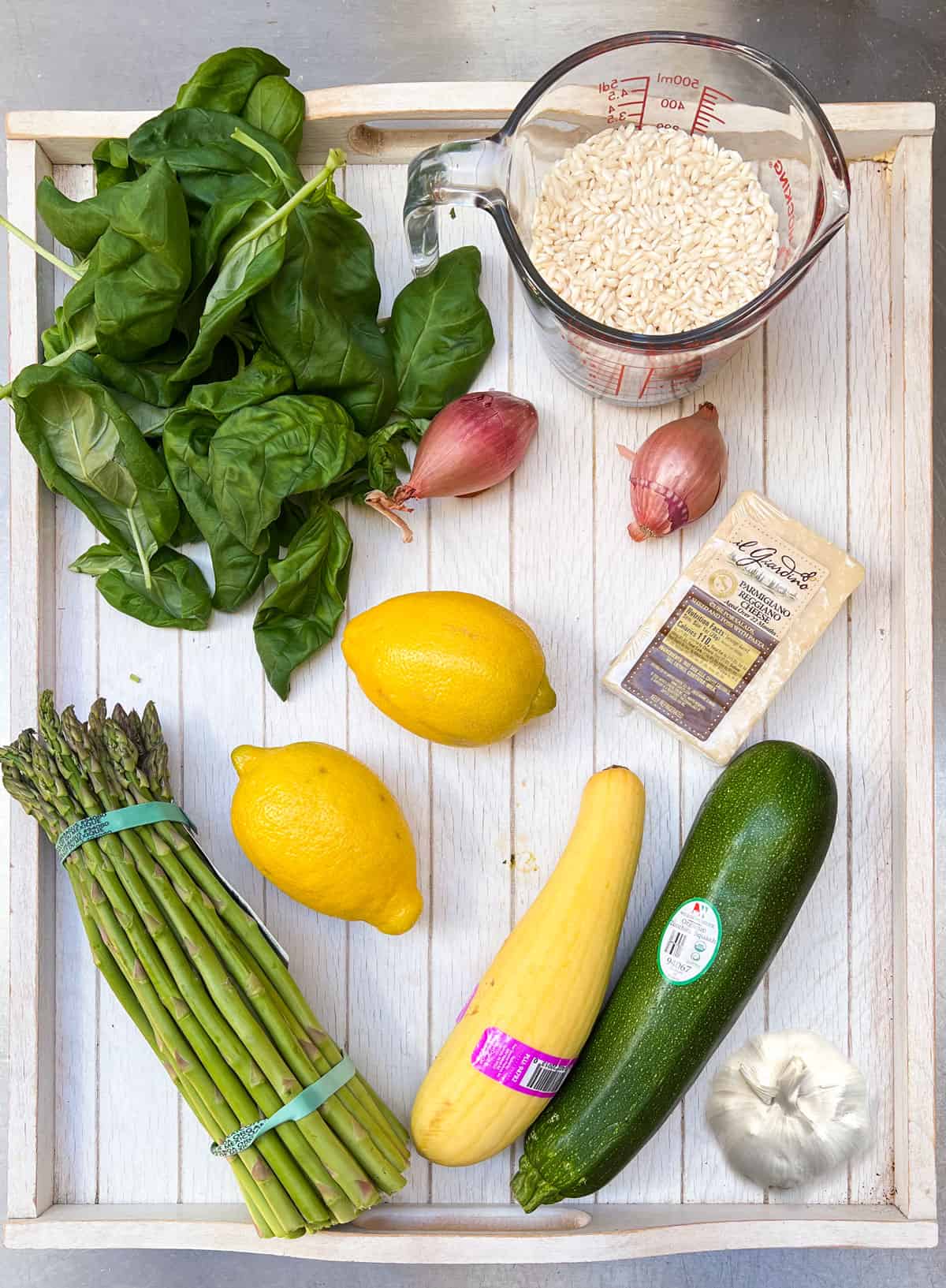 Carnaroli or Arborio rice - this type of Italian short grain rice is used for making risotto because it absorbs lots of liquid and produces a creamy risotto with al dente texture.
Water - while most risotto recipes call for broth that's heated in a separate pot and added slowly to the rice while stirring, this risotto recipe uses water and a little salt, in the same pot as the rice. Not only does this approach make the cooking process easier, but it also creates a lighter dish.
Shallots and Garlic - a foundational flavor combo for Italian risotto
Zucchini - fresh zucchini is shredded and lightly sautéed. When stirred into the risotto, it disperses into the rice, adding healthy fiber and infusing this dish with sweet fresh flavors.
Asparagus - fresh asparagus are sautéed in olive oil for about a minute to bring out their best flavor, crisp texture and bright green color - a delightful contrast to the rich creamy rice.
Lemon - lemon zest and juice are used to add bright fresh flavors to this dish
Basil - fresh basil is stirred through the rice just before serving
Parmigiana cheese - the star of any risotto recipe is the cheese. I recommend that you use the best parmigiana you can get your hands on. Parmigiana Reggiano is my go-to favorite.
How to make this creamy lemon asparagus risotto
I suggest you start by getting all of the ingredients mise-en-place (prepped and ready) before you start cooking. It makes for a more relaxed cooking experience.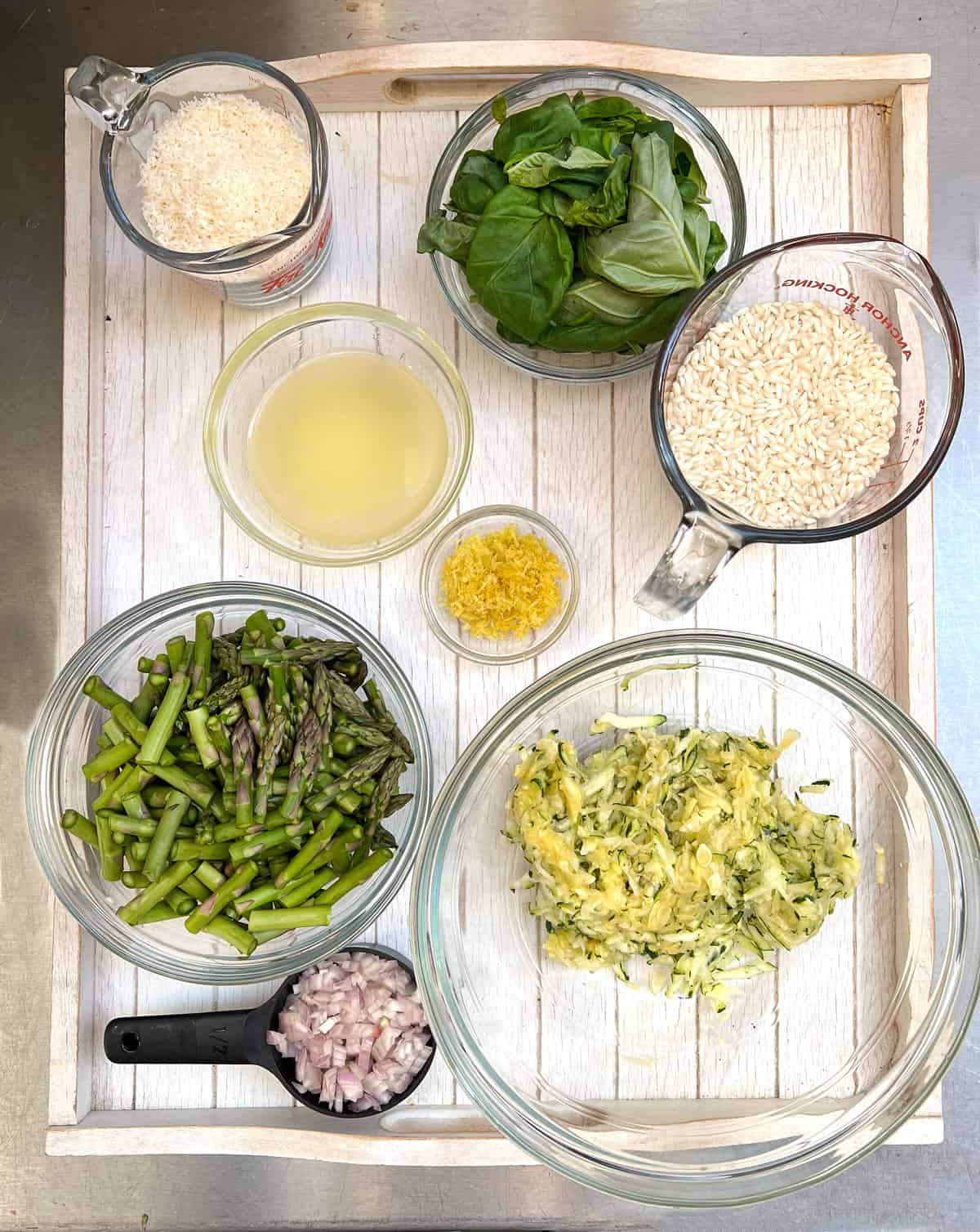 Grate the zucchini and/or summer squash using the large holes of a box grater or the course shredding blade of your food processor.
Toss the squash with salt and let it sit in a mesh strainer for a few minutes.
Then place the squash into a clean dish towel and squeeze it, over the sink, to wring out the moisture.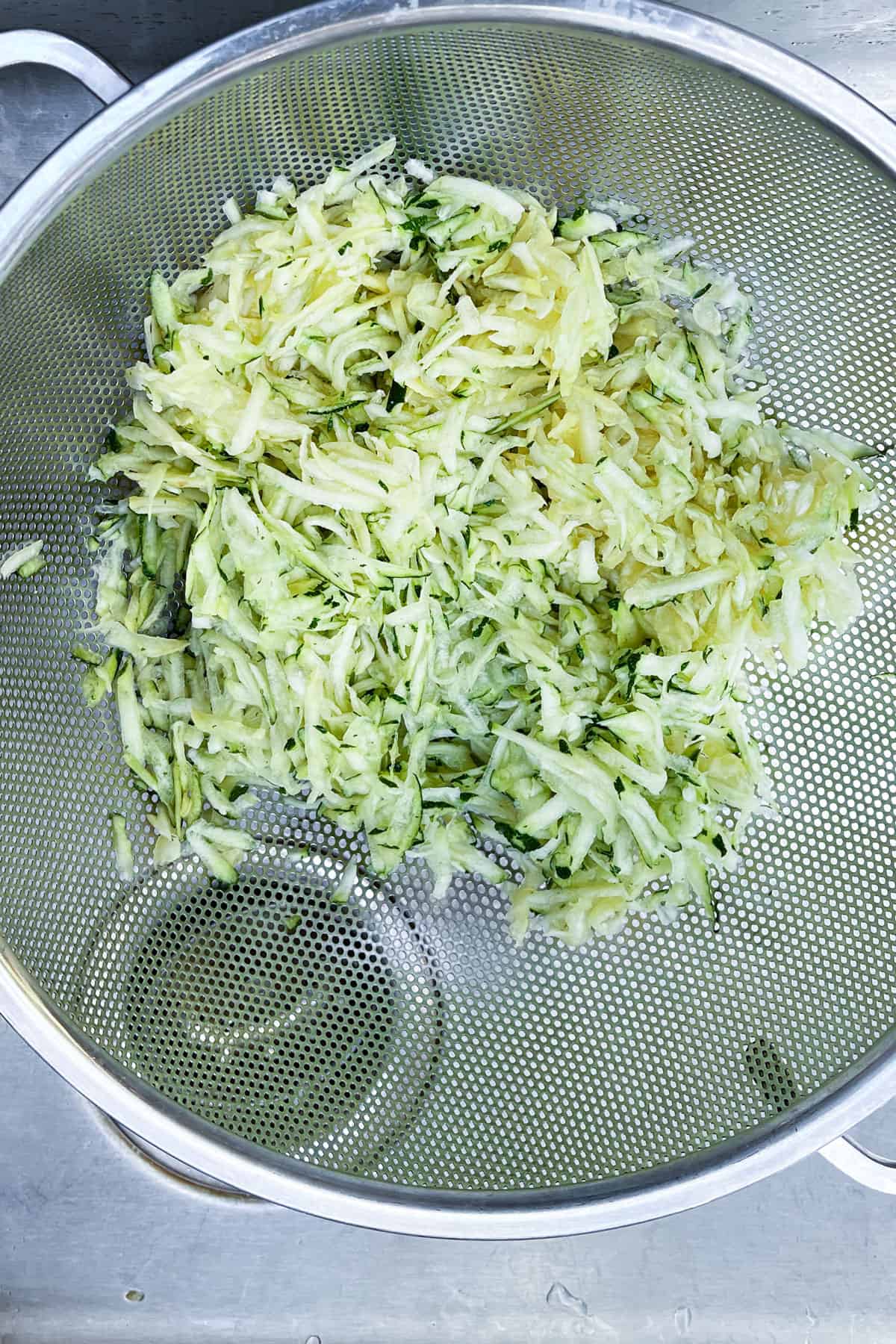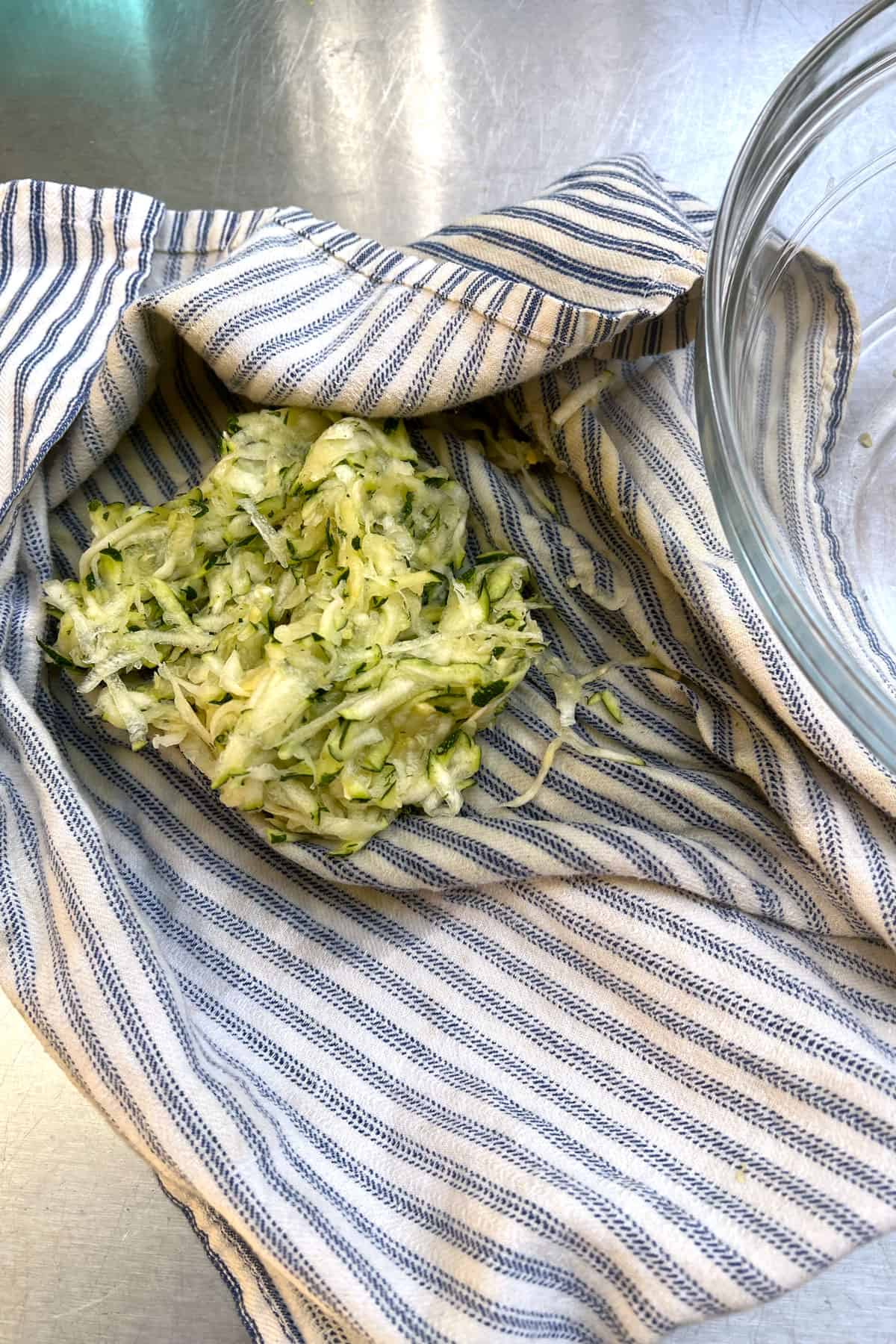 Sauté the asparagus for a minute or so until bright green and crisp-tender.
Remove the asparagus from the skillet and sauté the shallots and garlic until translucent. Then add the shredded squash to the skillet and cook it for two minutes.
Set the vegetables aside while you cook the rice.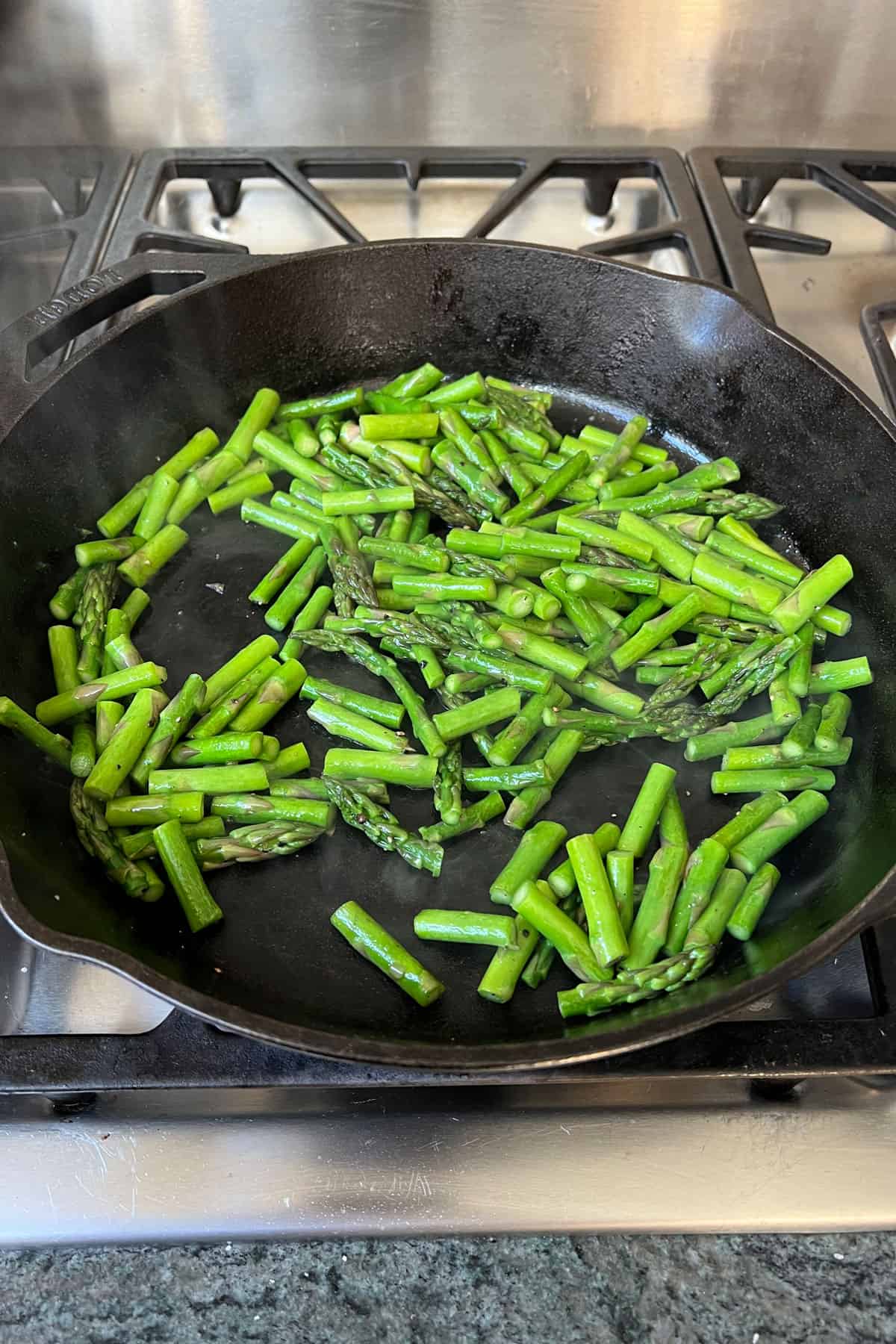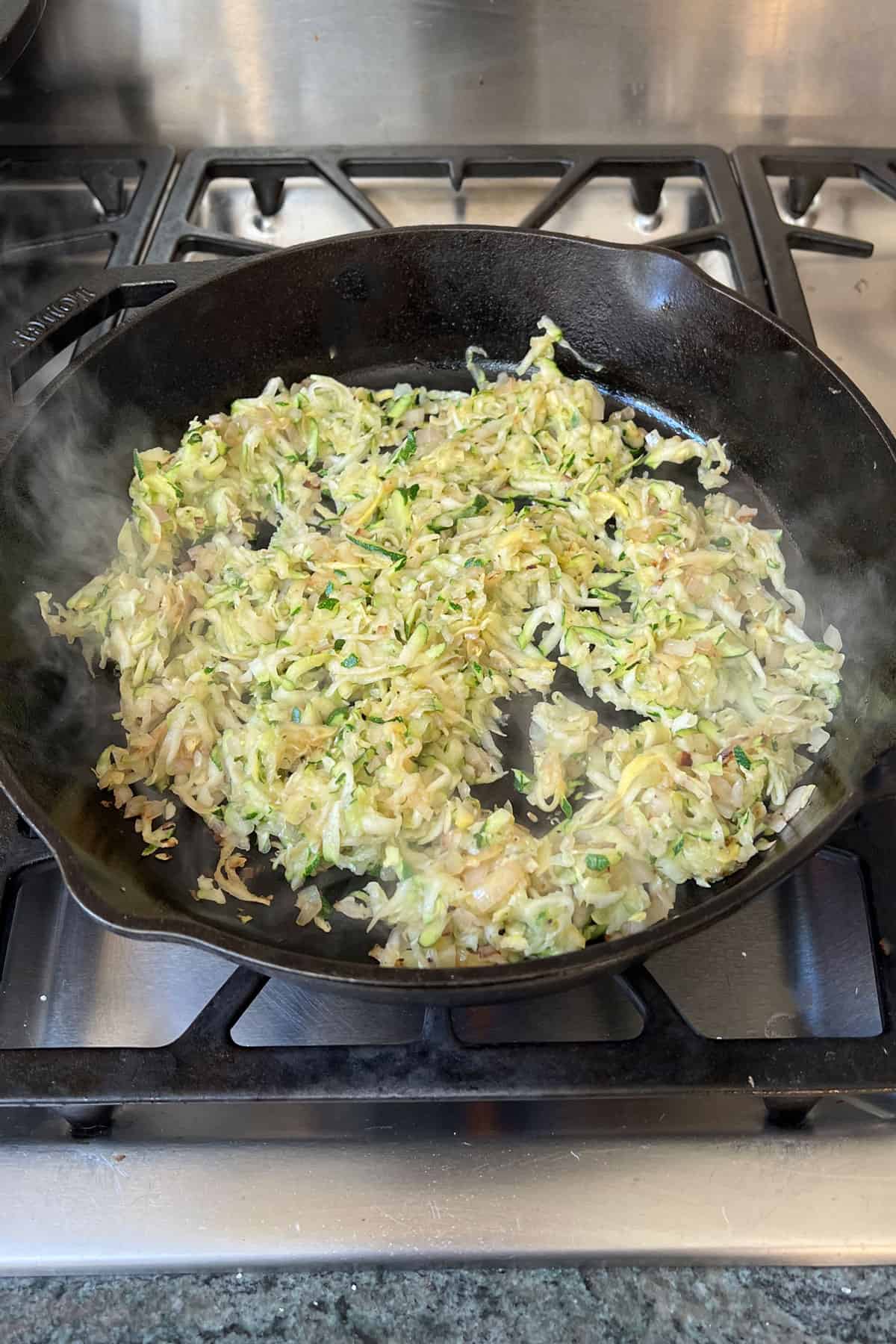 Bring the water to a boil in a large heavy pot such as a Dutch oven, pour the rice in and let it cook at a bubbling simmer for seventeen to twenty minutes.
You don't need to pay much attention to this risotto as it cooks, other than to stir the rice occasionally to keep it from sticking to the bottom of the pot.
The movement of the bubbling water does the stirring and results in perfectly cooked, creamy risotto.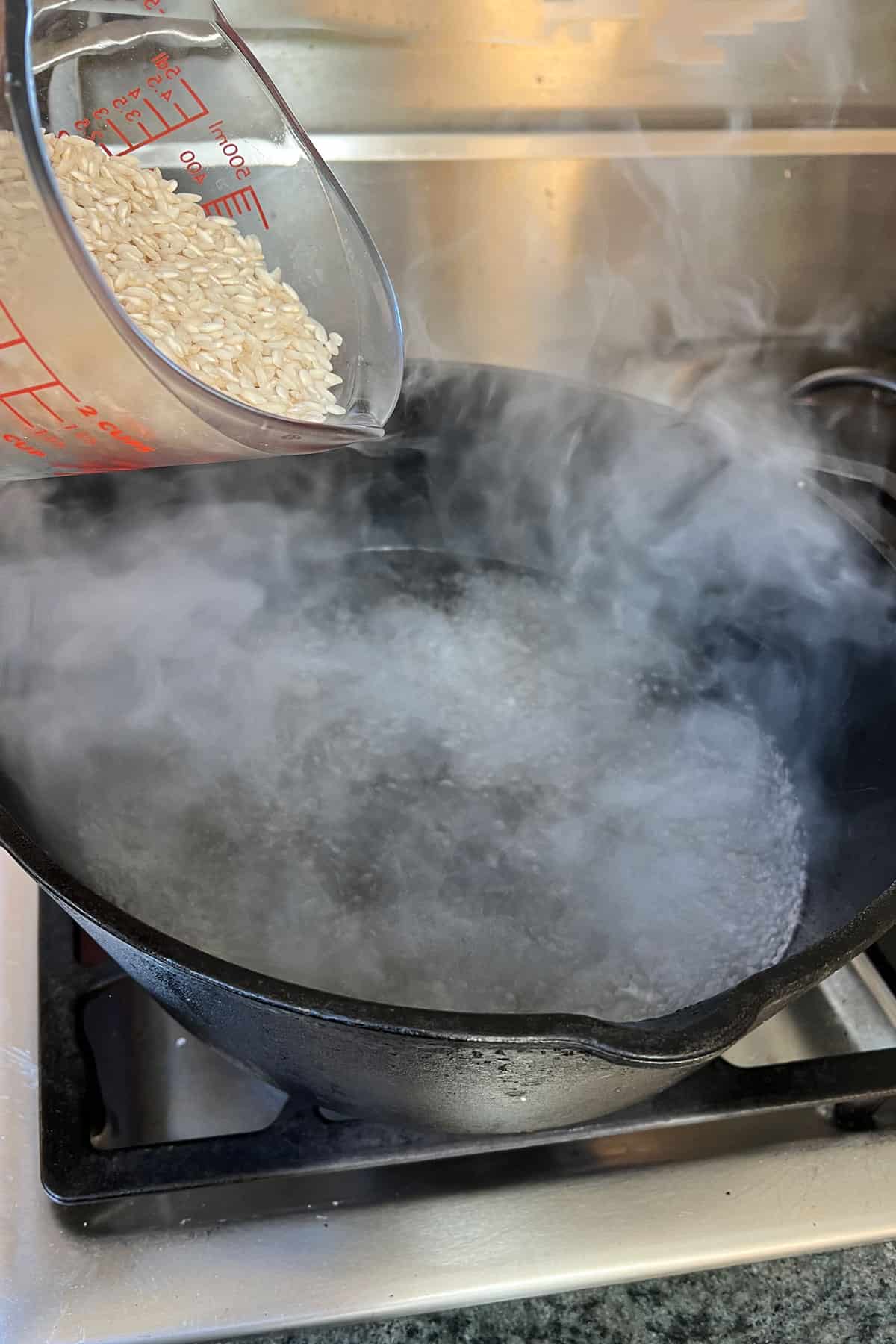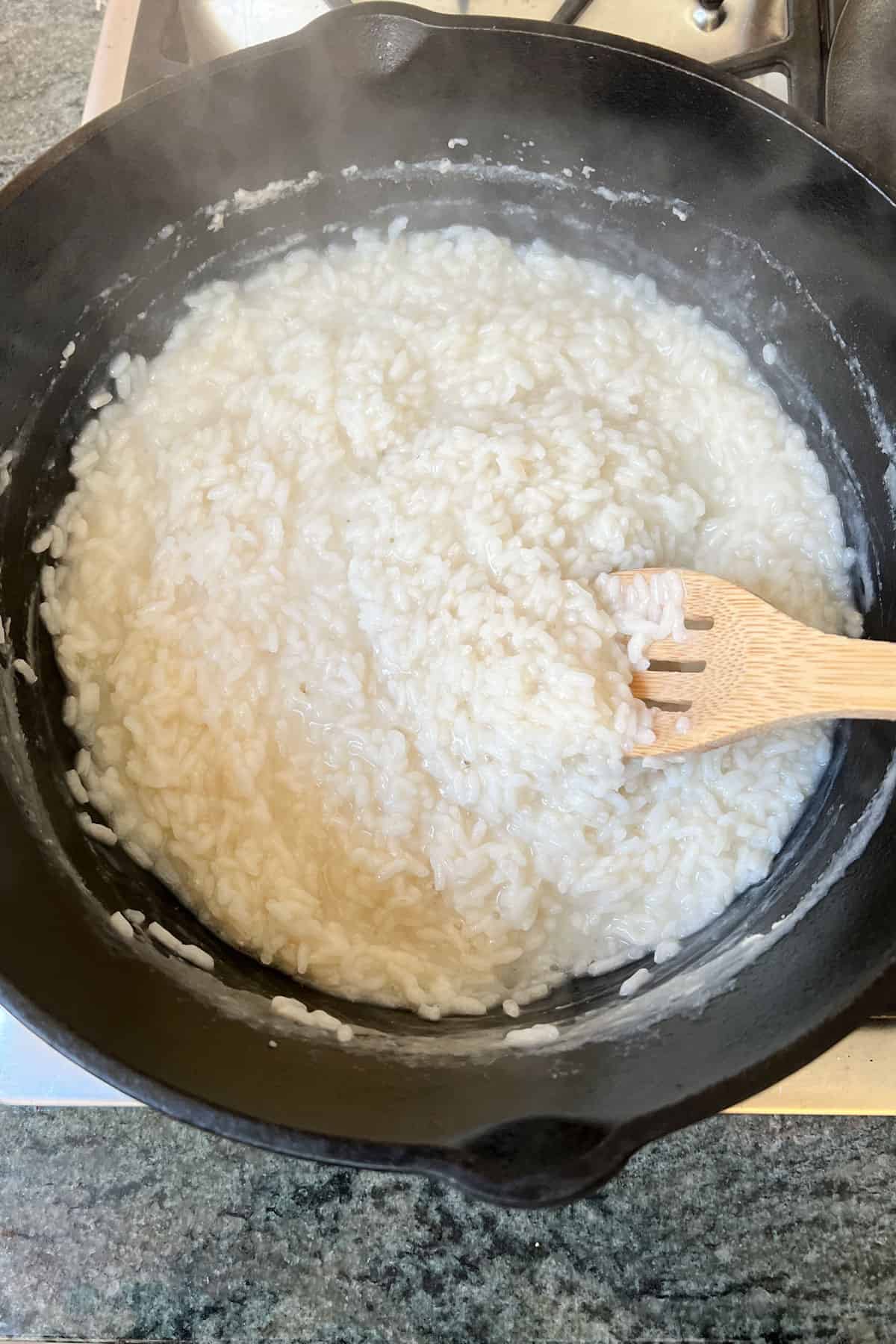 Once your risotto is cooked, stir in the shredded zucchini and asparagus followed by the lemon zest and juice.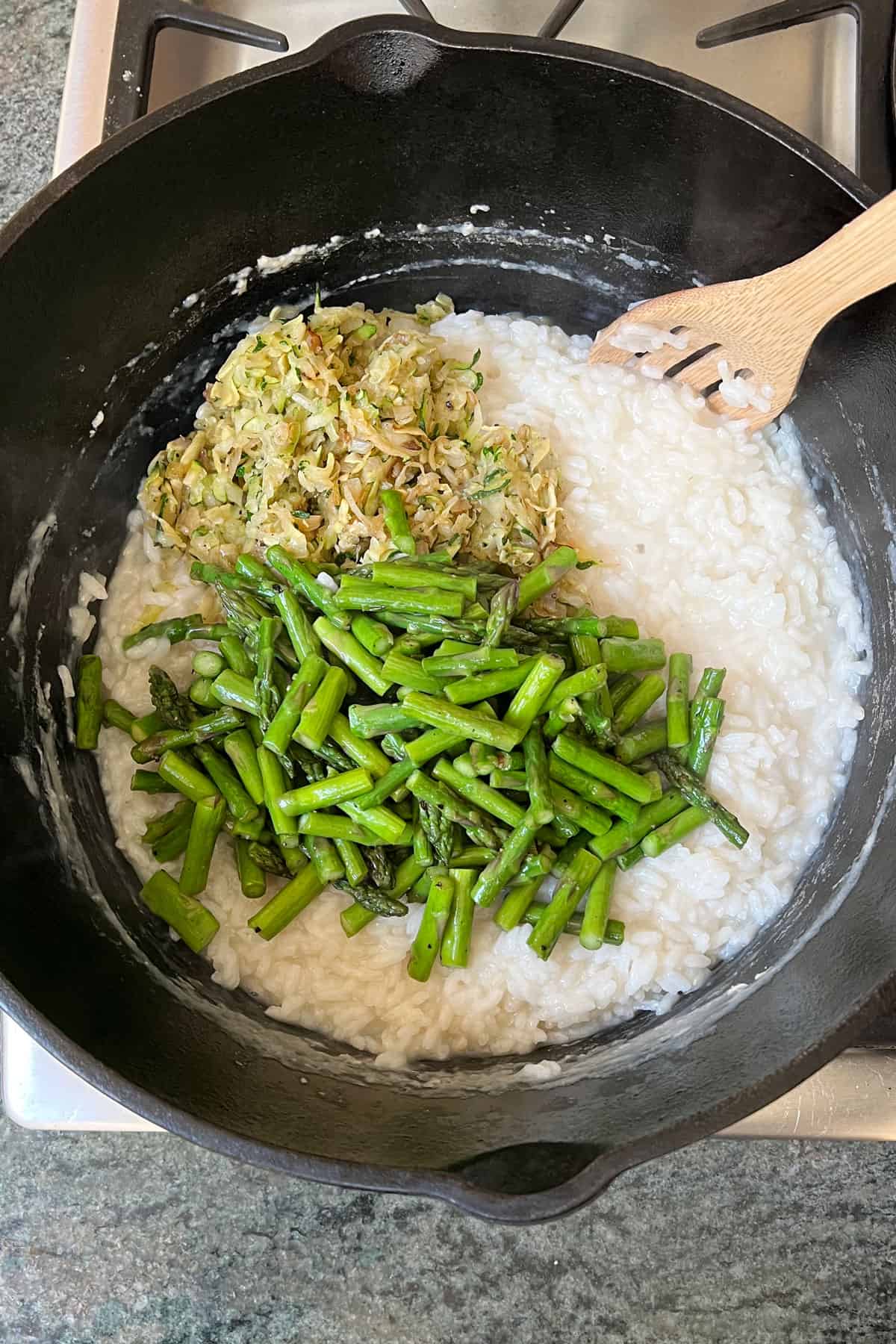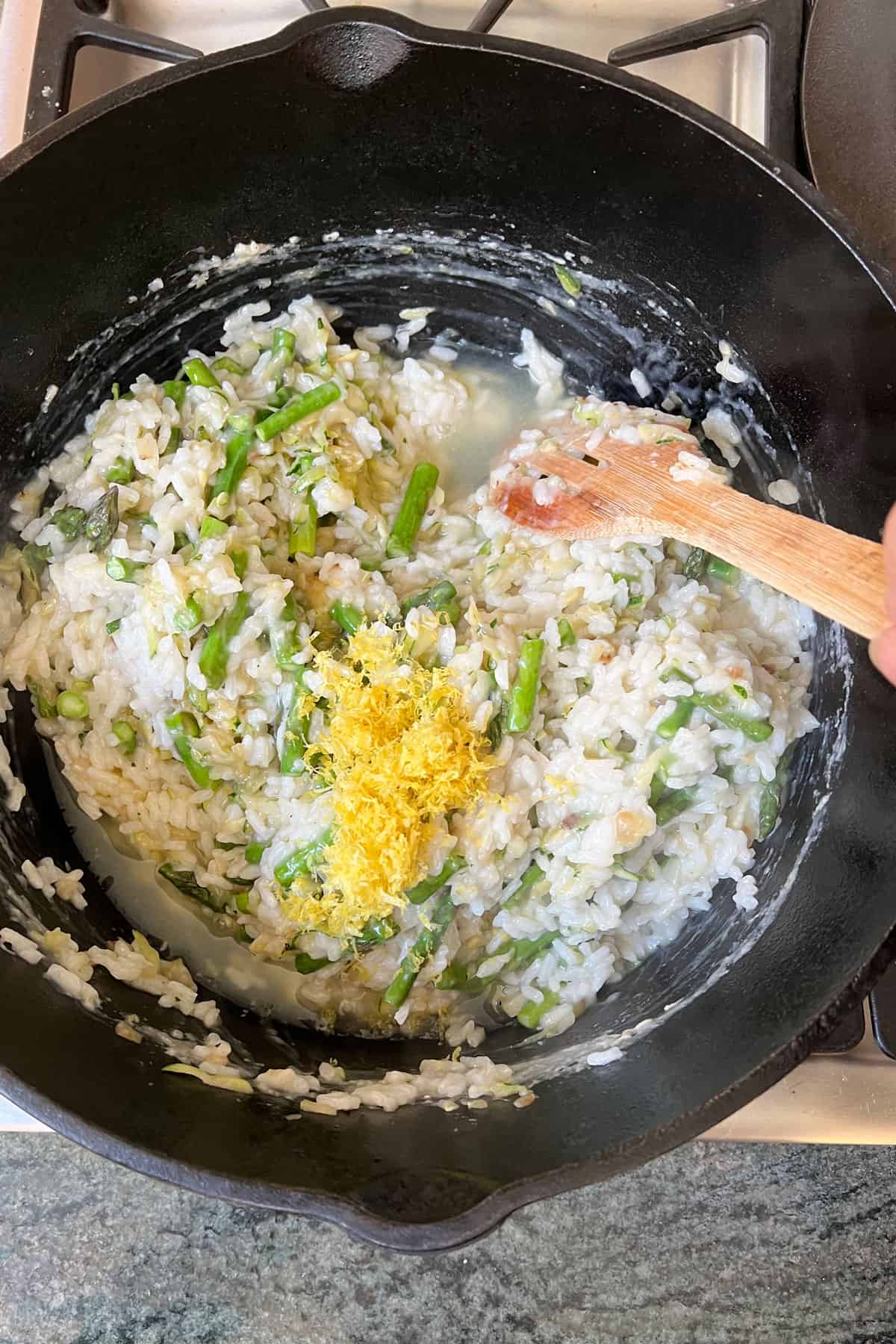 Next add the finely grated parmesan cheese, olive oil and, lastly, the fresh basil.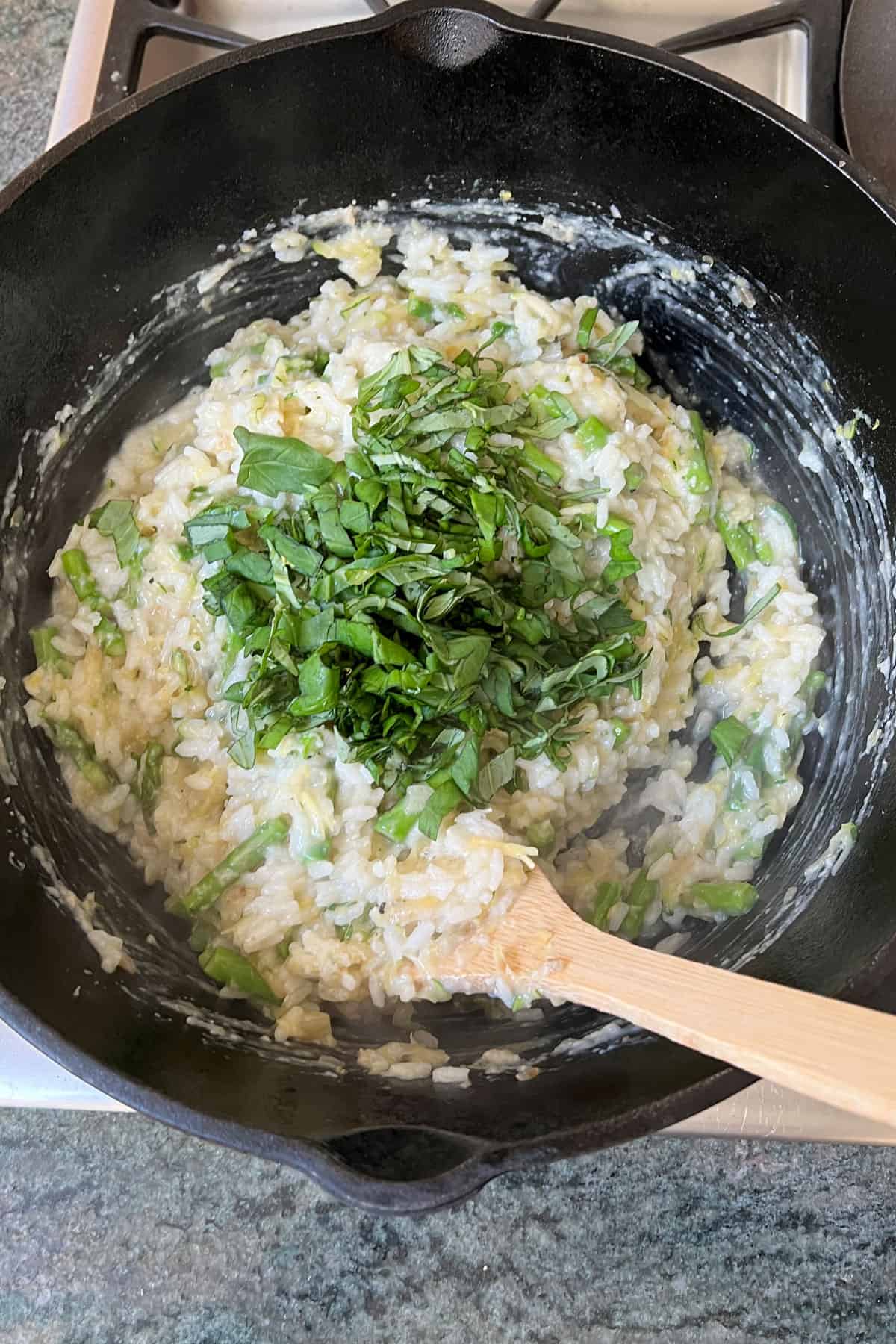 To Serve
Serve risotto as a main dish or a side. Extra parmesan cheese on the side is always appreciated. I also like to offer the pepper mill and a small bowl of finishing salt.
If you're interested in serving a salad with the risotto, I recommend this Italian Insalada Tricolore. It's beautiful, delicious and perfect with any Italian meal.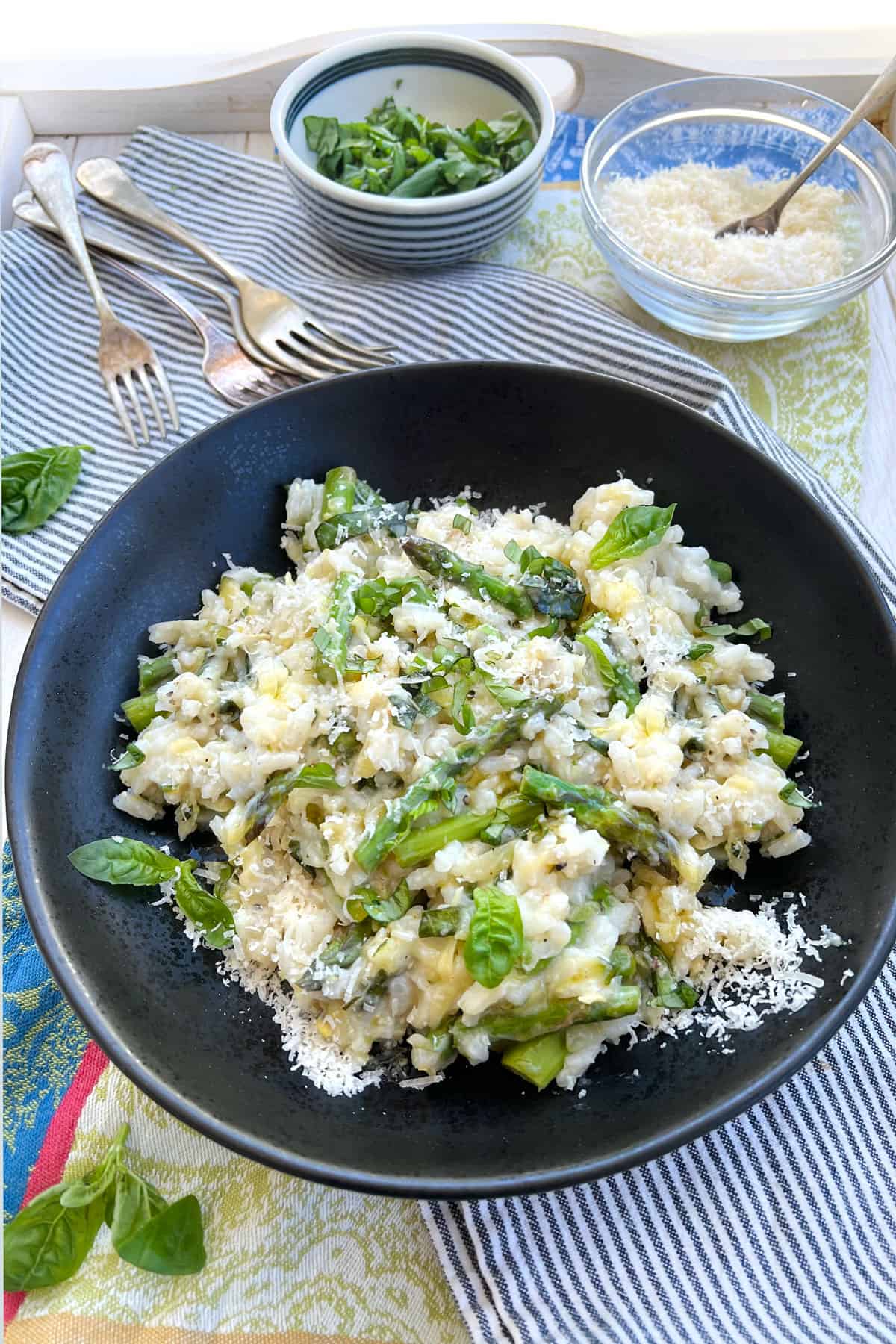 I was so excited to learn that no-stir risotto is a thing - and that it really works! A big shout out to cookbook author Sarah Grueneberg and her wonderful cookbook "listen to your vegetables." My risotto recipe is inspired and adapted from two recipes in her book that use the no-stir technique. For me, this new way of cooking risotto is a game-changer.
I hope you enjoy the fresh flavors of spring and summer in this creamy and satisfying dish. If you cook this lemon asparagus risotto, I hope you'll come back to leave a star rating and a comment. I'd love to know what you think!
Print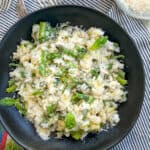 Lemon Asparagus Risotto
---
Description
This is the perfect spring and summer risotto - creamy rice with fresh seasonal vegetables, basil and lemon. And it's easy to prepare, using a simple no-stir method. Serve this risotto as a main dish or a side - either way, it's sure to be enjoyed by all!
---
2

medium zucchini or summer squash (about

1

pound)

1 ½

cups

Carnaroli rice (or arborio rice)

3 tablespoons

light olive oil

1

large bunch of thin asparagus (about

1

pound), cut into

1

½-inch segments (see notes)
Kosher salt
Fresh ground black pepper

½

cup

finely chopped shallots (2-3 shallots)

1 tablespoon

minced garlic (

2

large cloves)

2 tablespoons

freshly grated lemon zest (from

2

lemons)

¼

cup

fresh lemon juice

3 tablespoons

extra virgin olive oil plus more for drizzling

1

cup

freshly grated Parmigiano Reggiano (2 ounces), plus more for topping

1

cup

of fresh basil leaves, slivered (chiffonade)

¼

cup

toasted pine nuts, optional garnish
---
Instructions
Grate the zucchini (see notes), put it into a colander and toss with ¼ teaspoon of salt. Leave for 3 minutes and then pile onto a clean dish towel, bring the corners of towel together to make a pouch, and squeeze the pouch (over the sink) to wring out the liquid. You may have to do this in two batches. Transfer to a bowl and set aside.
Heat 1 tablespoon light olive oil in a skillet over medium high heat. When hot, add the asparagus and season with a couple pinches of salt and a few grinds of pepper. Sauté for about a minute and a half, until bright green but still crisp. Transfer to a bowl and set aside.
Add another tablespoon of oil to the skillet, then add the shallots and cook, stirring, for a minute or two, until translucent. Add the garlic and cook, stirring for 30 seconds. Add the shredded squash and season with pinch of salt and some pepper. Cook, stirring, for 2 minutes, transfer to a bowl and set aside.
Bring 6 cups of water to a boil in a large heavy pot such as a Dutch oven. Add the rice and ½ teaspoon of salt. Cook the rice at a bubbling simmer over medium heat for 17 to 20 minutes, stirring occasionally with a wooden spoon to prevent rice from sticking to the bottom of the pot.
When the rice is creamy, the kernels al dente, the water absorbed, reduce the heat to low and stir in the zucchini and asparagus. Cook for a minute, stirring to warm the vegetables. Stir in the lemon juice, lemon zest and parmigiana cheese.
Remove from heat and stir in the 3 tablespoons extra virgin olive oil and three quarters of the basil.
Serve the risotto topped with a drizzle of extra virgin olive oil, some of the remaining basil, and toasted pine nuts, if using. Pass around the pepper mill and extra grated cheese, if you like.
Notes
To grate the zucchini, the quickest and easiest method is to use the grating attachment on your food processor. Or you can use the large holes in a box grater.
If using thick asparagus, you will need to sauté them a minute or two longer in step #3.
Reheating Risotto: Risotto can be chilled and reheated. It thickens as it cools so you will need to add water, a little at a time, while heating and stirring, until you get the desired consistency. 
Prep Time:

30 minutes

Cook Time:

20 minutes

Category:

Main dish, Side dish

Method:

Simmer

Cuisine:

Italian
Keywords: spring risotto, summer risotto, vegetarian risotto, easy risotto