This roasted fennel, tomatoes and white beans dish has become a favorite weeknight dinner in our house. Sliced fennel is sautéed in olive oil, mixed with cherry tomatoes and lots of garlic and oregano, and roasted in the oven until tender and caramelized. Canned white beans are added for the last five minutes of cooking time, yielding a hearty and nutritious vegan meal that will have everyone going back for seconds.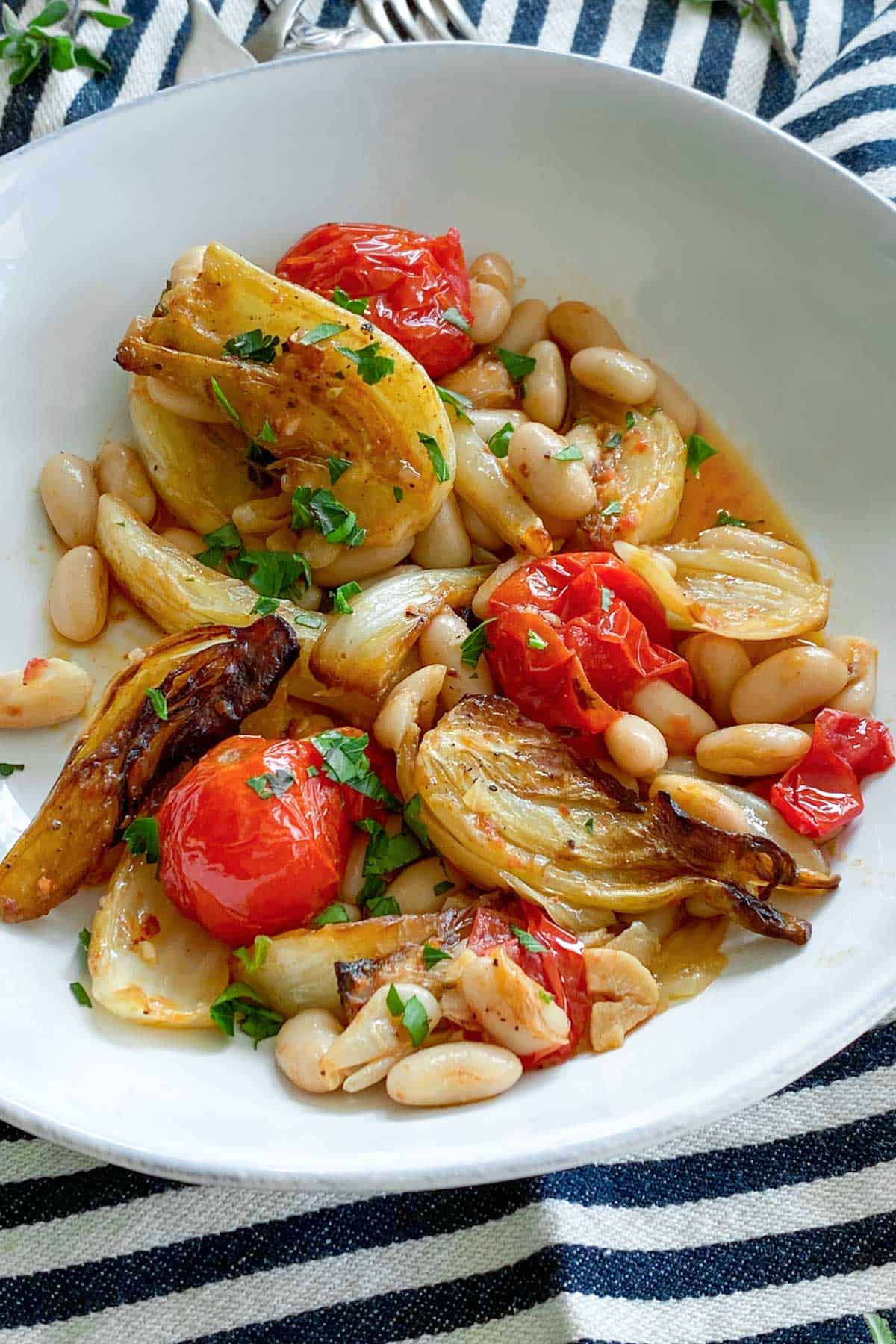 I can't stop making this dish. It's a cinch to throw together and so incredibly satisfying.
When fennel is bathed olive oil and roasted, it gets tender and caramelized and its strong anise flavors mellow to just a hint of licorice with buttery overtones - wonderful! The roasted fennel and beans soak up the flavors of garlic and oregano and the tomatoes bring sweetness and brightness to this otherwise rich dish.
While this roasted fennel dish is excellent on its own, a generous sprinkling of parmesan cheese will not disappoint.
A note on how to trim fennel
Fennel consists of a white bulb plus several long greens stems with delicate fronds. This recipe uses the fennel bulbs. You can chop the fronds and use them to garnish the finished dish if you wish, but it's not essential.
If the bottom of the fennel bulb is discolored, cut off a very thin slice from the bottom.
If the outer leaves of the bulb are discolored, you can use a vegetable peeler to gently shave off the discolored parts (see photo below left).
Cut off the long green stems and slice the white bulb in half vertically, from the root to the top (see photo below right).
Slice each half bulb into wedges, cutting through the triangular core. The core will hold the wedges together, which looks appealing and makes it easier to turn the wedges in the pan. But no worries if some of the leaves become detached, which is bound to happen.
If you want to use the fronds as a garnish, pull off and chop enough of them to produce about 3 tablespoons.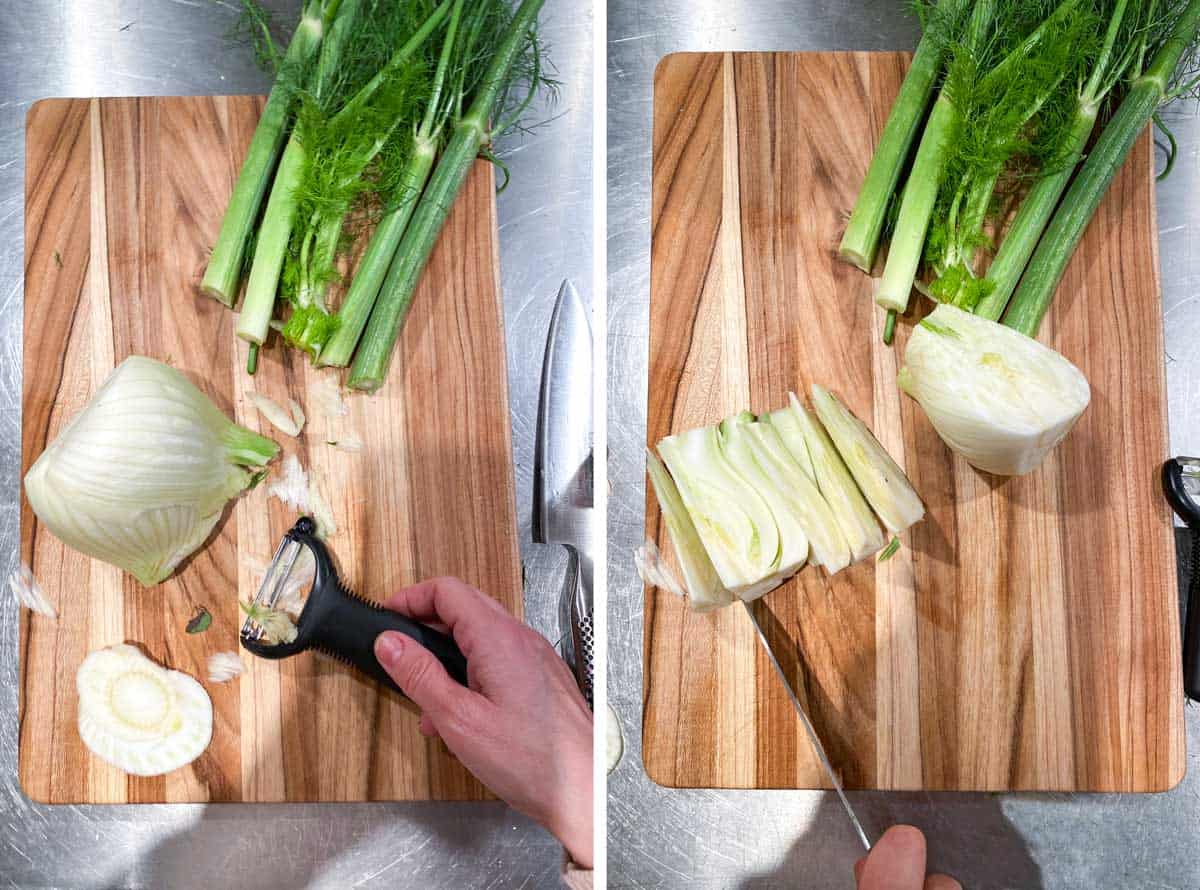 What are white beans?
When a recipe calls for 'white beans,' are you ever uncertain about which type to use? There are many choices of canned white beans at the grocery store: cannellini, navy, great northern, white kidney...and they all look similar, but are they? The quick answer is 'yes,' they are all close enough in size, flavor and texture that you can use any of them in a recipe calling for 'white beans,' with good results.
However, for the best results, stay with regional culinary traditions whenever possible to elevate a dish to its very best. Cannellini beans, also called white kidney beans, are ideal for Italian dishes such as minestrone soup or this roasted fennel dish. Here's a great article about types of white beans, If you want to learn more about their subtle differences.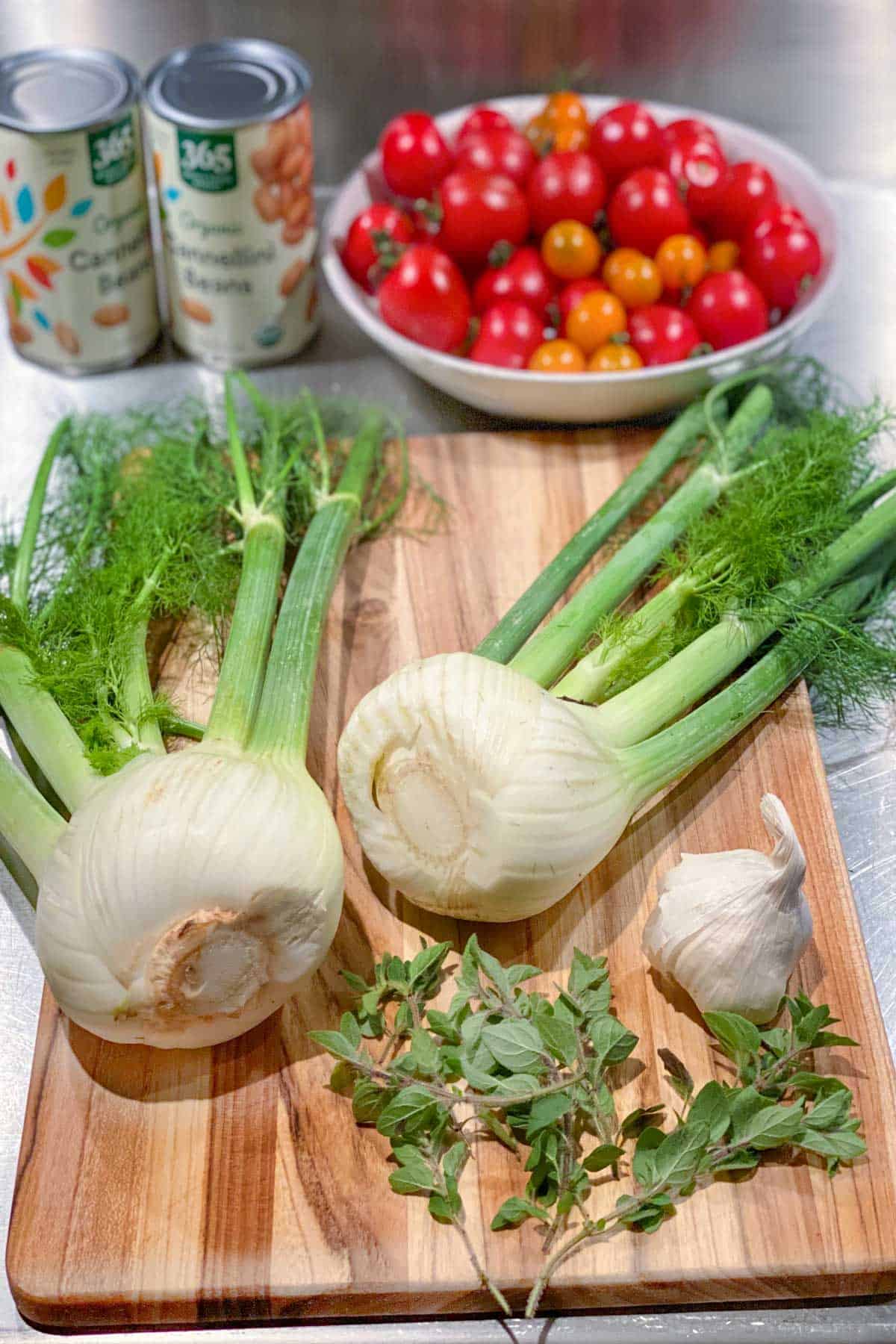 How to make this roasted fennel dish:
You'll need these five main ingredients: fennel, tomatoes, canned white beans, garlic and oregano, plus olive oil, salt, crushed red pepper and black pepper.
Cut the fennel into wedges and sauté it in olive oil, in an oven-proof skillet, until it starts to brown and tenderize, about 10 minutes.
Add to the skillet: two pints of cherry tomatoes, 5 sliced garlic cloves, and 2 tablespoons of chopped fresh oregano (or 2 teaspoons of dried oregano), and pop the skillet into a 425ºF oven to roast for 20 minutes.
Pull the skillet out of the oven briefly, and stir in two cans of drained white beans, then return the pan to the oven to cook for 5 minutes more, until everything is heated through.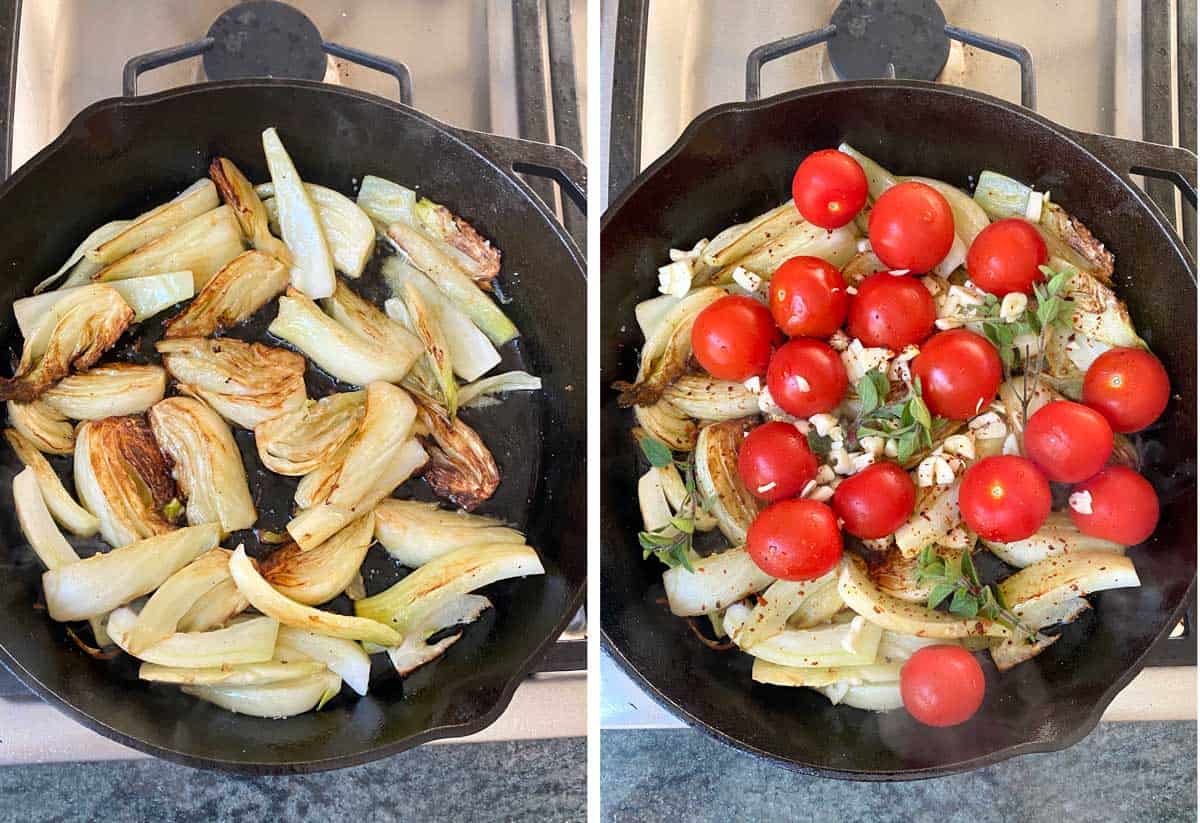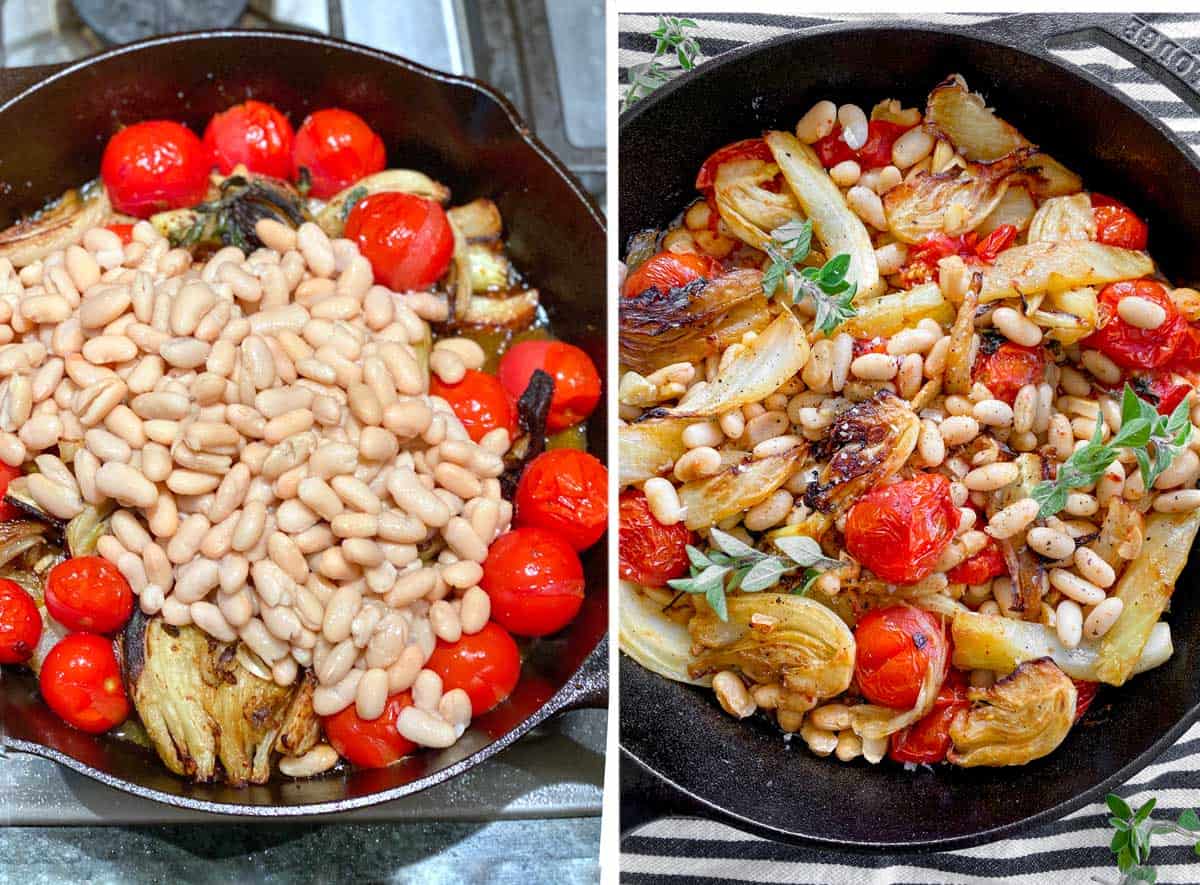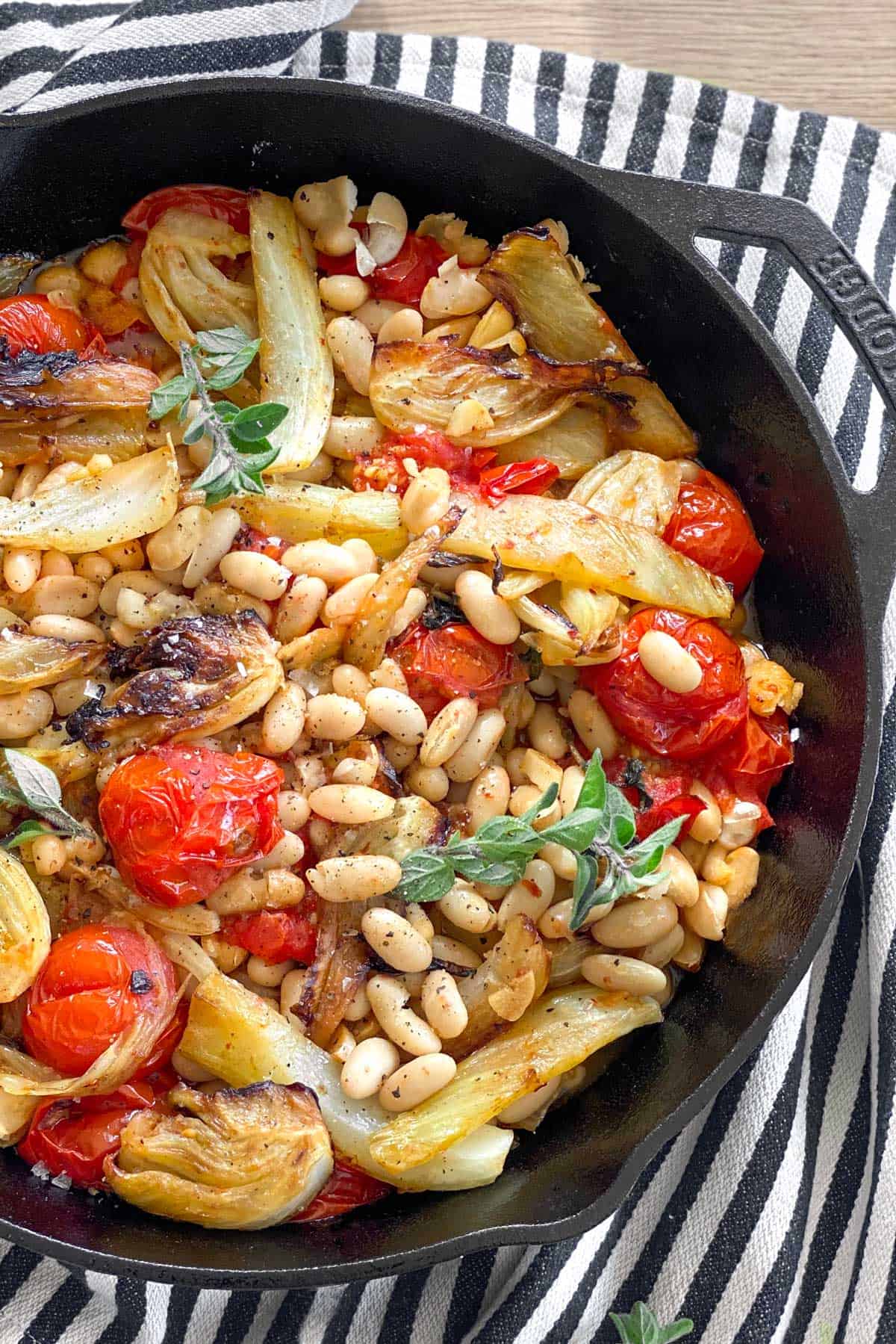 how to serve roasted fennel, tomatoes and white beans
Divide the roasted fennel mixture between large shallow bowls. Drizzle each bowl with some good quality extra virgin olive oil and sprinkle chopped fennel fronds or parsley on top. Season with salt and fresh ground pepper, to taste. Serve warm or at room temperature.
If you don't finish the whole pot, you'll enjoy it the next day for lunch or dinner. It's even better reheated, after the flavors have had time to meld.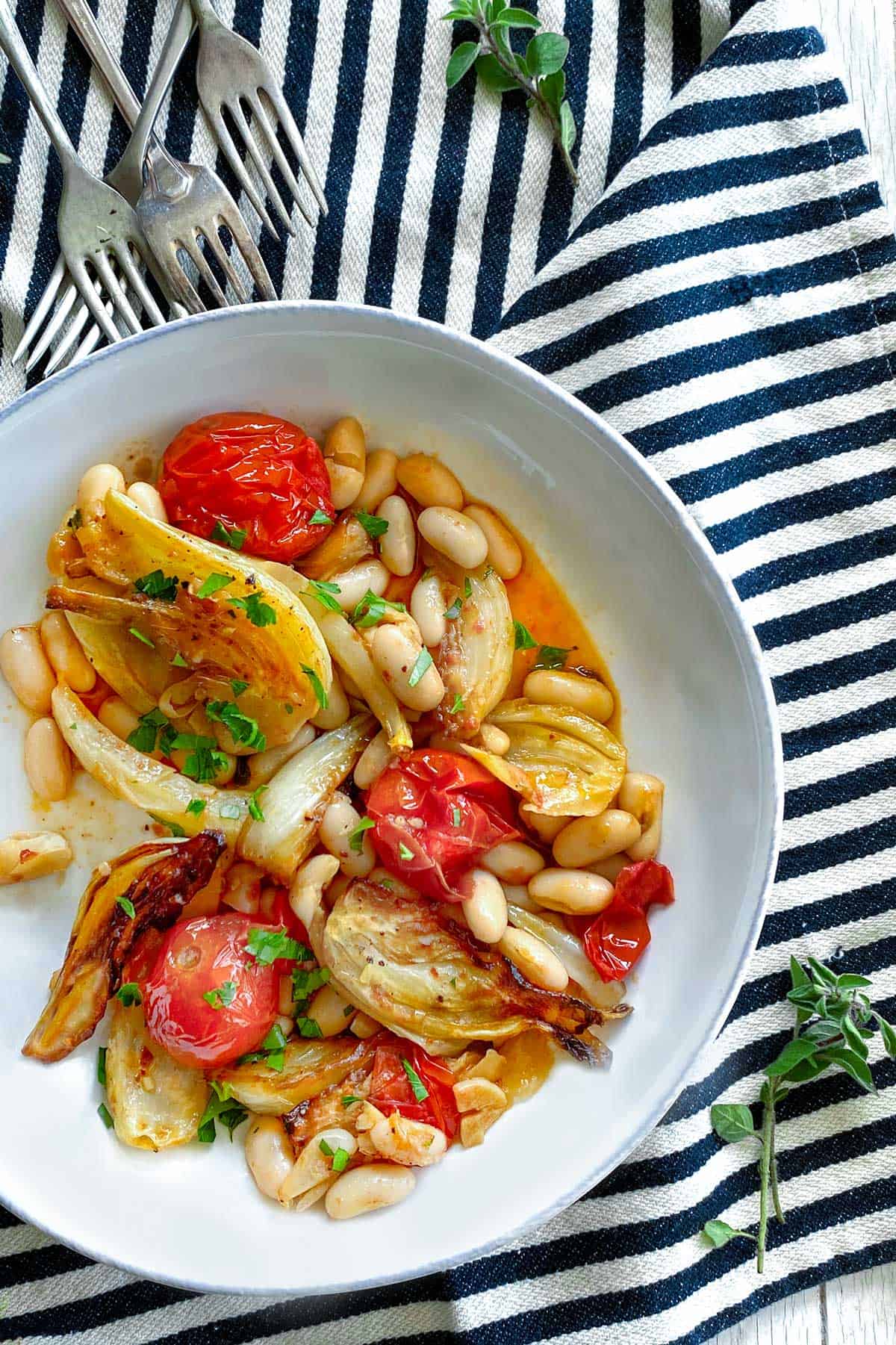 Here's the Roasted Fennel Recipe. If you try this recipe, I hope you'll come back to leave a star rating and a comment. I'd love to know what you think.
Print
Roasted Fennel Tomatoes and White Beans
---
Author:

Lisa

Total Time:

35 minutes

Yield:

4

servings

1

x
Description
Adapted from a 2010 Recipe in Bon Appetite Magazine
This hearty, flavorful roasted fennel dish comes together quickly and all in one pot, with fresh fennel, cherry tomatoes and canned white beans, along with olive oil, garlic, oregano and crushed red pepper. A vegan dish that the whole family will love.
---
2

large fennel bulbs (fronds not needed but can be chopped and used to garnish, if desired)

⅓ cup

extra-virgin olive oil plus more for drizzling

2 teaspoons

coarse kosher salt, divided

2 pints

cherry tomatoes or other small tomatoes (whatever is sweetest and ripest)

2 tablespoons

chopped fresh oregano leaves, from 4-5 stems (or

2 teaspoon

dried oregano)

5

large garlic cloves, thinly sliced

¼ teaspoon

Aleppo pepper or dried crushed red pepper flakes

¼ teaspoon

freshly ground black pepper

2

15-ounce cans Cannellini beans (white kidney beans), drained

3 tablespoons

chopped flat-leaf parsley leaves or chopped fennel fronds, optional garnish
---
Instructions
Preheat oven to 425°F. Trim the fennel so you are left with just the white bulb. Cut the bulb in half vertically, from bottom to top, and then cut each half into ½-inch-wide wedges, slicing through the core, which will help keep the leaves attached to the wedge. If your fennel has fronds, you can chop them up to use as a garnish. (see photos in the post for how to trim fennel)
Heat oil in large ovenproof skillet over medium-high heat until very hot, about 3 minutes. Add fennel wedges, arranging them in single layer. Sprinkle with 1 teaspoon of salt and cook, turning occasionally, until fennel begins to brown and soften, 10 minutes or so. Add tomatoes, oregano, garlic, red pepper, remaining teaspoon of salt and black pepper. Fold together gently using a spatula.
Transfer the skillet to the oven. Bake fennel and tomatoes until soft, about 20 minutes. Remove the skillet and gently mix in the drained beans; then bake for 5 minutes longer, to heat through.
Divide the mixture among large shallow bowls. Drizzle each bowl with a teaspoon of extra virgin olive oil, and sprinkle with coarse salt, black pepper and chopped fennel fronds or parsley. Serve warm or at room temperature.
Prep Time:

10

Cook Time:

25

Category:

Dinner

Method:

roast

Cuisine:

Italian
Keywords: one-pan roasted fennel tomatoes and white beans