Caponata is one of the world's best eggplant dishes. Eggplant, peppers, onions, celery and garlic are sautéed to perfection and then simmered with vinegar, sugar and tomatoes until the vegetables tenderize and become infused with irresistible sweet and sour flavors. I love serving caponata as an appetizer on toasted bread for a beautiful and uniquely delicious bruschetta.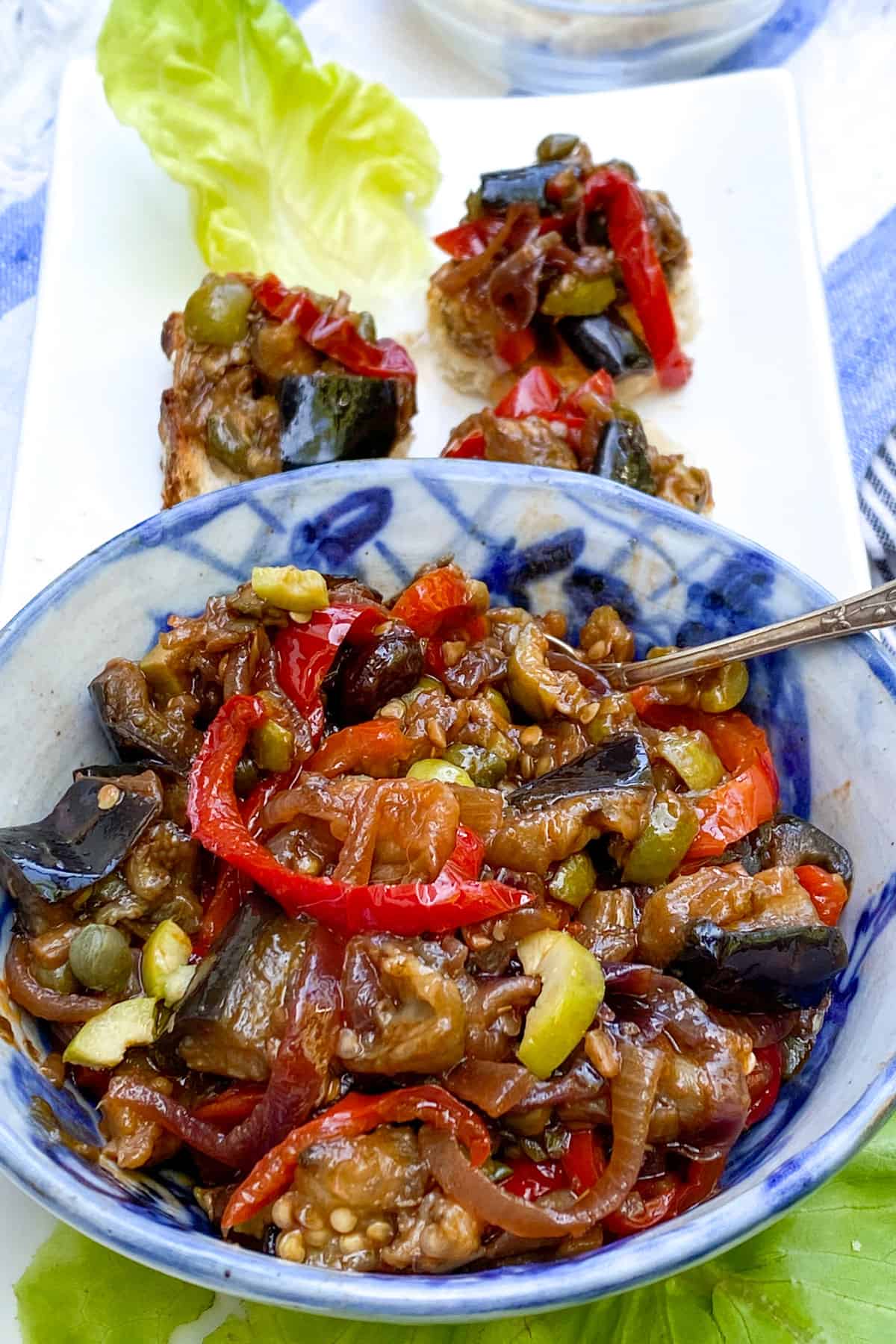 This caponata is one of my favorite recipes for entertaining because all the preparation can be done ahead and it tastes even better the next day.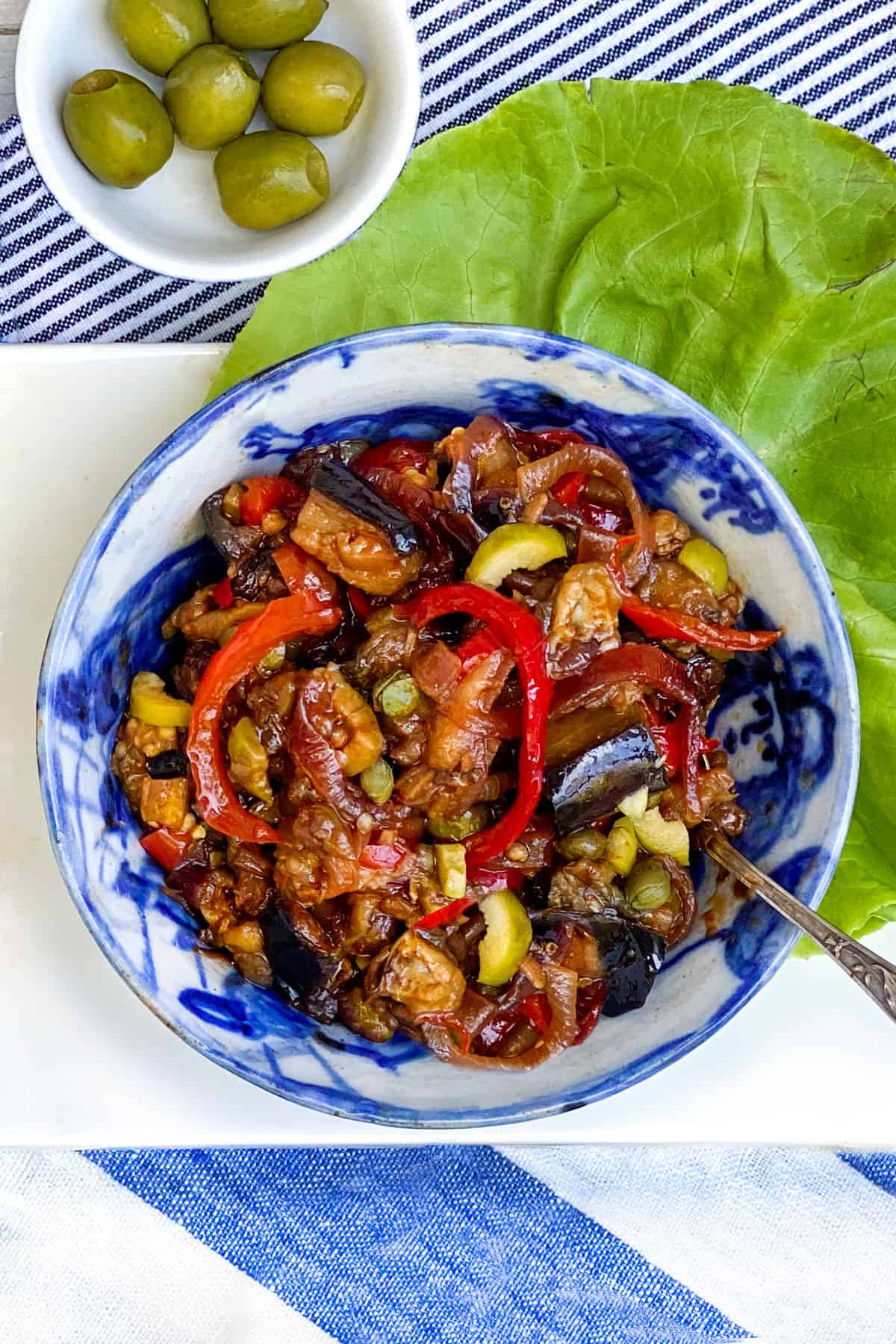 What is Caponata?
Caponata is a Sicilian sweet and sour vegetable stew that resembles ratatouille. It features diced sautéed eggplant, peppers, onions and celery plus a variety of salty and sweet ingredients such as olives, capers and raisins. Sugar (or honey) and vinegar give caponata its distinctive sweet and sour taste.
There are many variations of the caponata recipe but at its core is eggplant and other diced and sliced vegetables cooked in agrodolce sauce (sweet and sour vinegar-based sauce).
You'll find that Caponata is sometimes celled "eggplant relish.'' That's because, like relish, Caponata is often used as a condiment to add a burst of flavor to a dish.
Most often you will find Caponata served as an antipasto (Italian for "first course"), on bruschetta.
Here's what you need to make Sicilian Caponata
Eggplant - keep the skin on and dice it into bite-sized pieces
Red onion - thinly sliced
Celery - use the tender inner stalks and dice them 
Garlic - minced
Red bell peppers -  cut into thin strips
Tomato paste (tomato concentrate) - this adds rich umami flavor
Pitted green olives - for nutty salty flavor
Yellow raisins - for little bursts of sweetness
Capers - for brininess
Red wine vinegar - the sour component
Sugar (or honey) - the sweet component
Salt - to season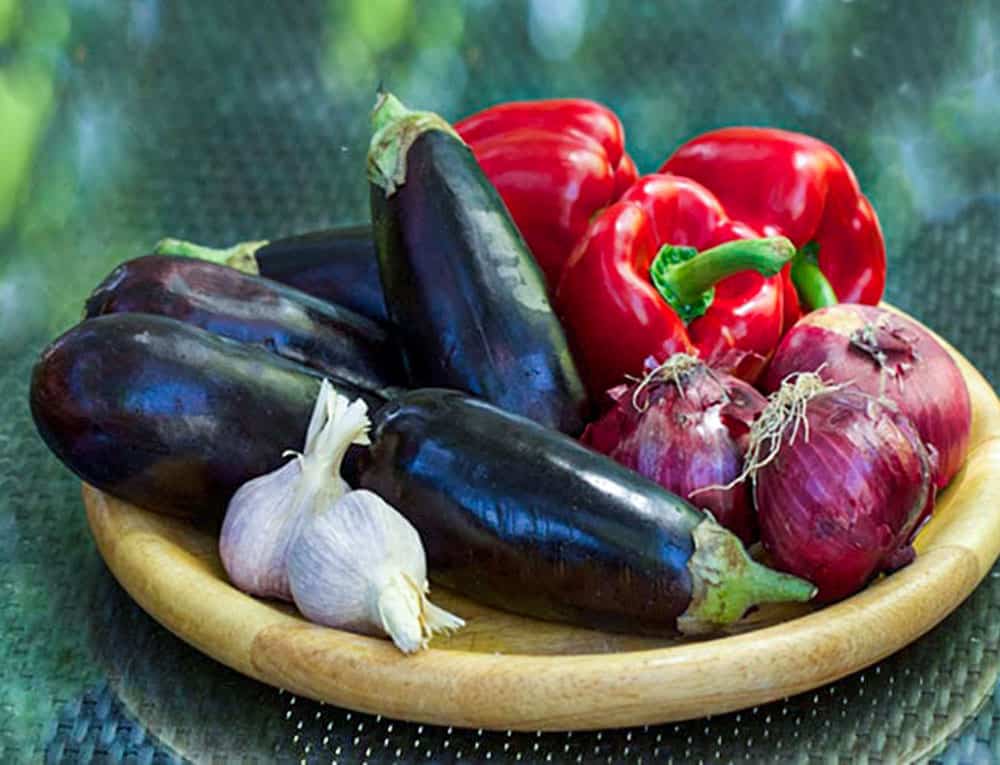 How to make Caponata
Sauté diced eggplants until they are golden brown and then mix them with sautéed onions, celery and bell peppers. Add additional sweet, salty, briny ingredients such as olives, capers and raisins. Simmer the mixture in a sauce made of thick tomato paste, vinegar and sugar until the vegetables are tender and have become glazed in the sauce.
Step-by-step
Spread the eggplant cubes out on a rimmed baking sheet and sprinkle them evenly with salt. Top with a layer of paper towels and then another baking sheet and then a heavy weight such as a pot or skillet on top. The goal here is to press down on the salted eggplant and help it purge its bitter juices.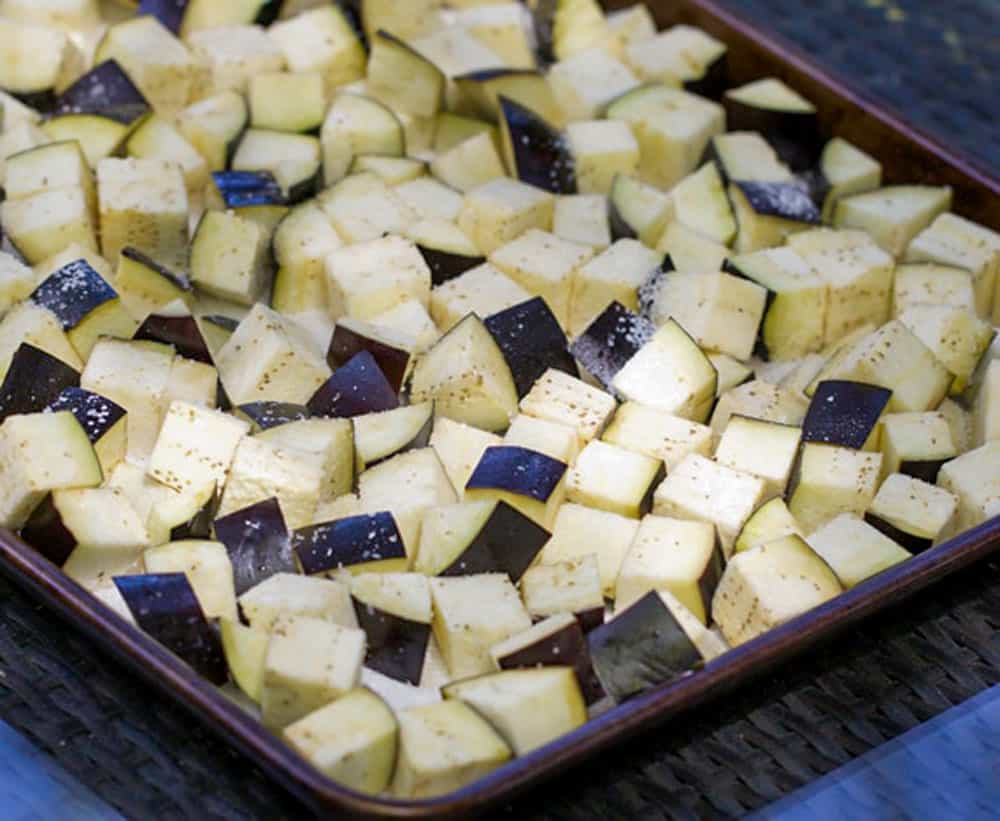 After 30 minutes or so, rinse the eggplant in a colander to remove any excess salt. Pat it as dry as you can using paper towels or clean dish towels.
Sauté the eggplant in a little olive oil until golden brown and drain it on paper towels. No need to clean the skillet - you'll continue to use it.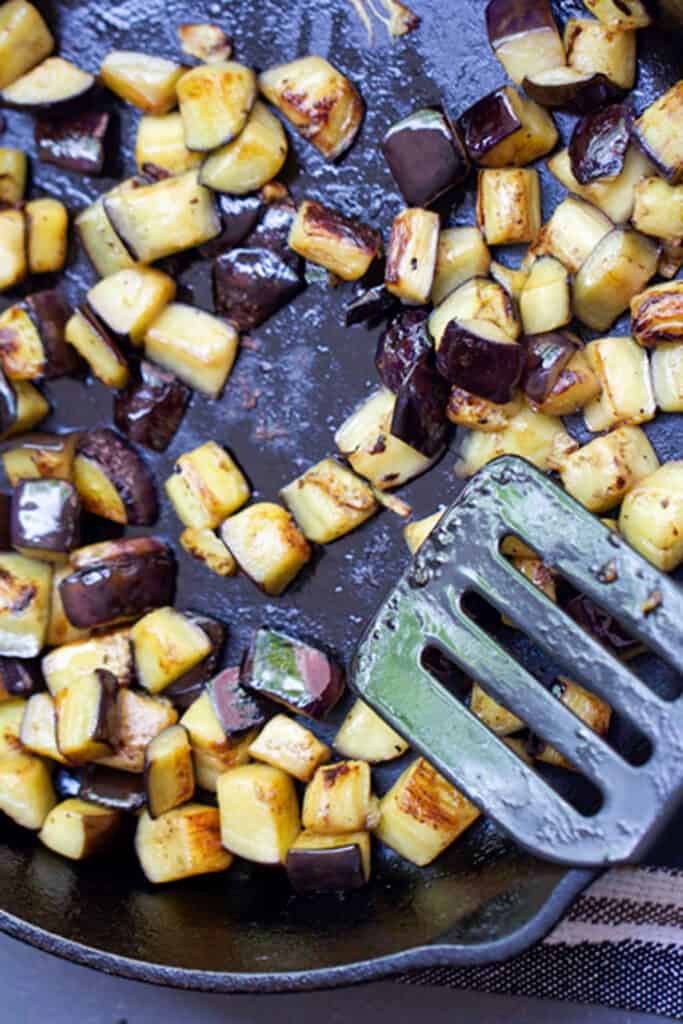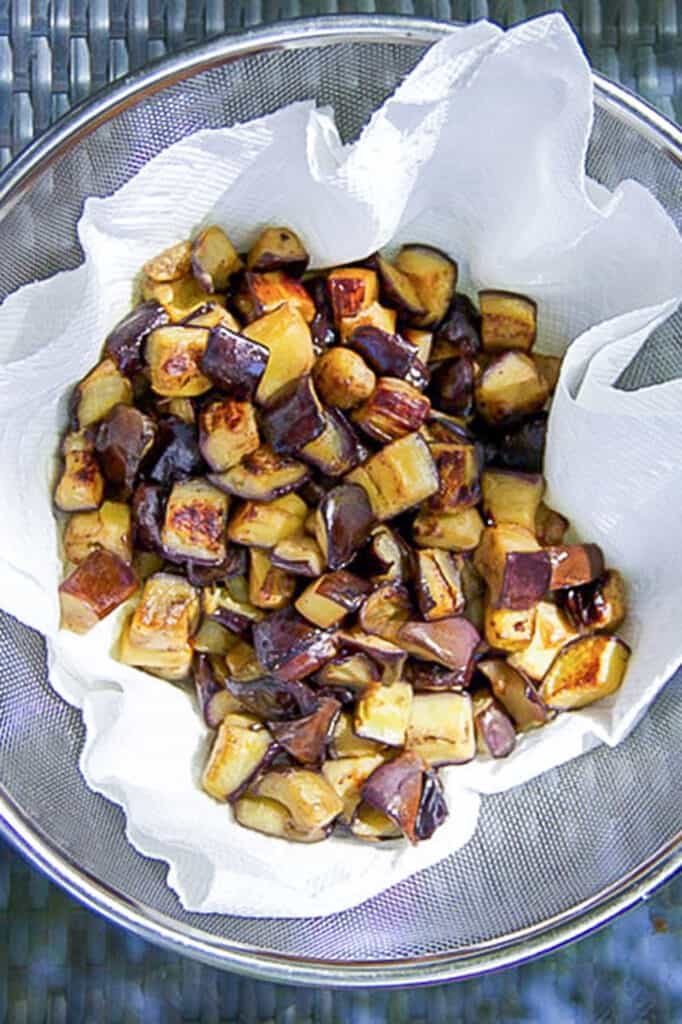 Have all remaining ingredients chopped, sliced and readily accessible.
Add the onions, celery and garlic to the skillet and sauté until tender. Add the bell peppers and cook, stirring, for 5 minutes.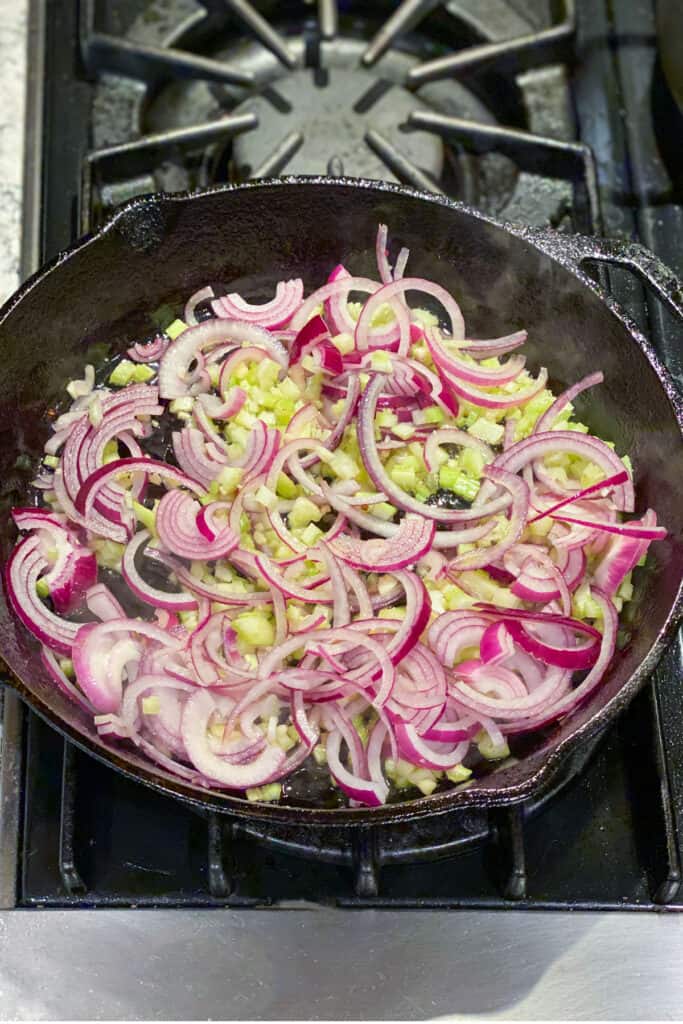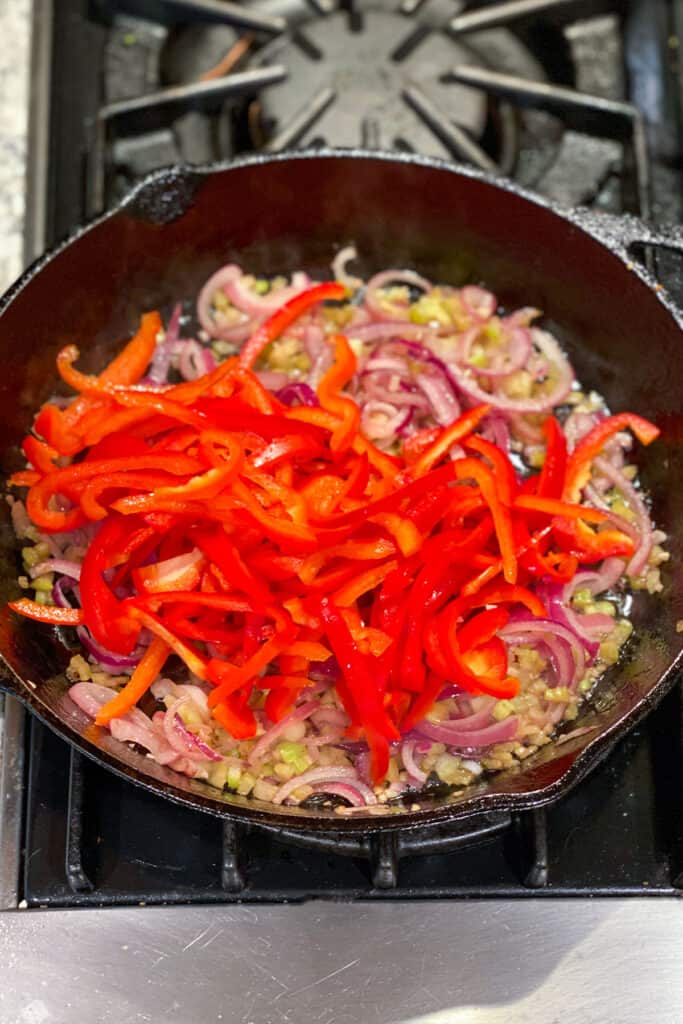 Add the raisins, olives, capers, tomato paste and a few tablespoons of water. Simmer the mixture for about 8 minutes.
Return the sautéed eggplant to the skillet along with the vinegar and sugar.
Simmer the vegetables in the sweet and sour sauce for 15 minutes, stirring occasionally, until the vegetables are tender and the pan is nearly dry.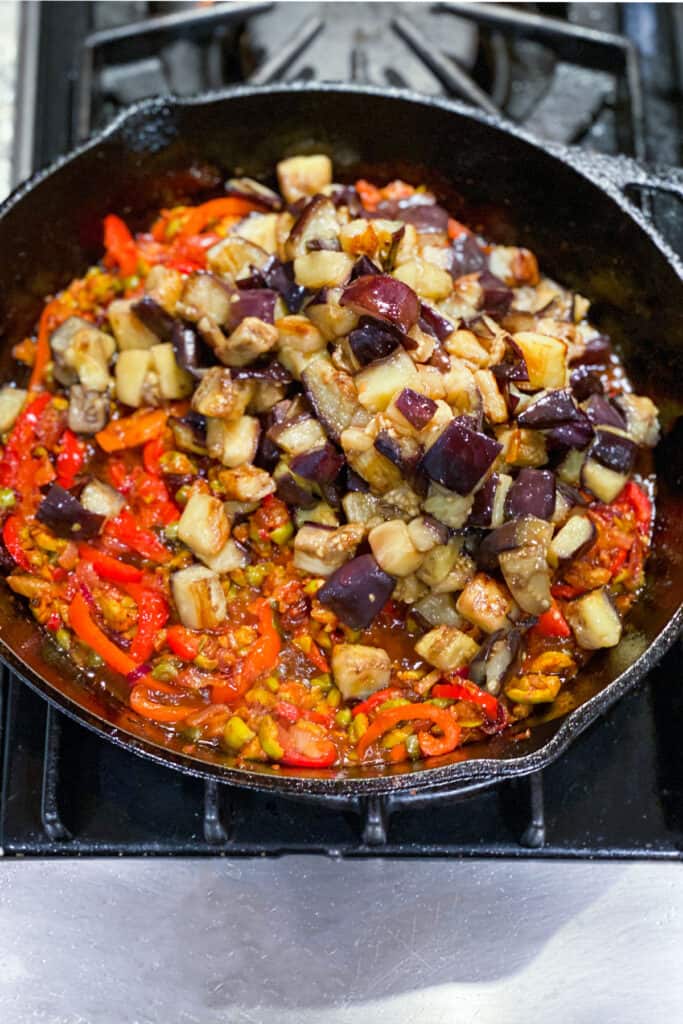 The caponata is ready!
For best results, give it a few hours to rest so the flavors have a chance to meld. Even better, make caponata a day ahead and keep in in the fridge overnight.
Like most stews, it will be even more delicious the next day.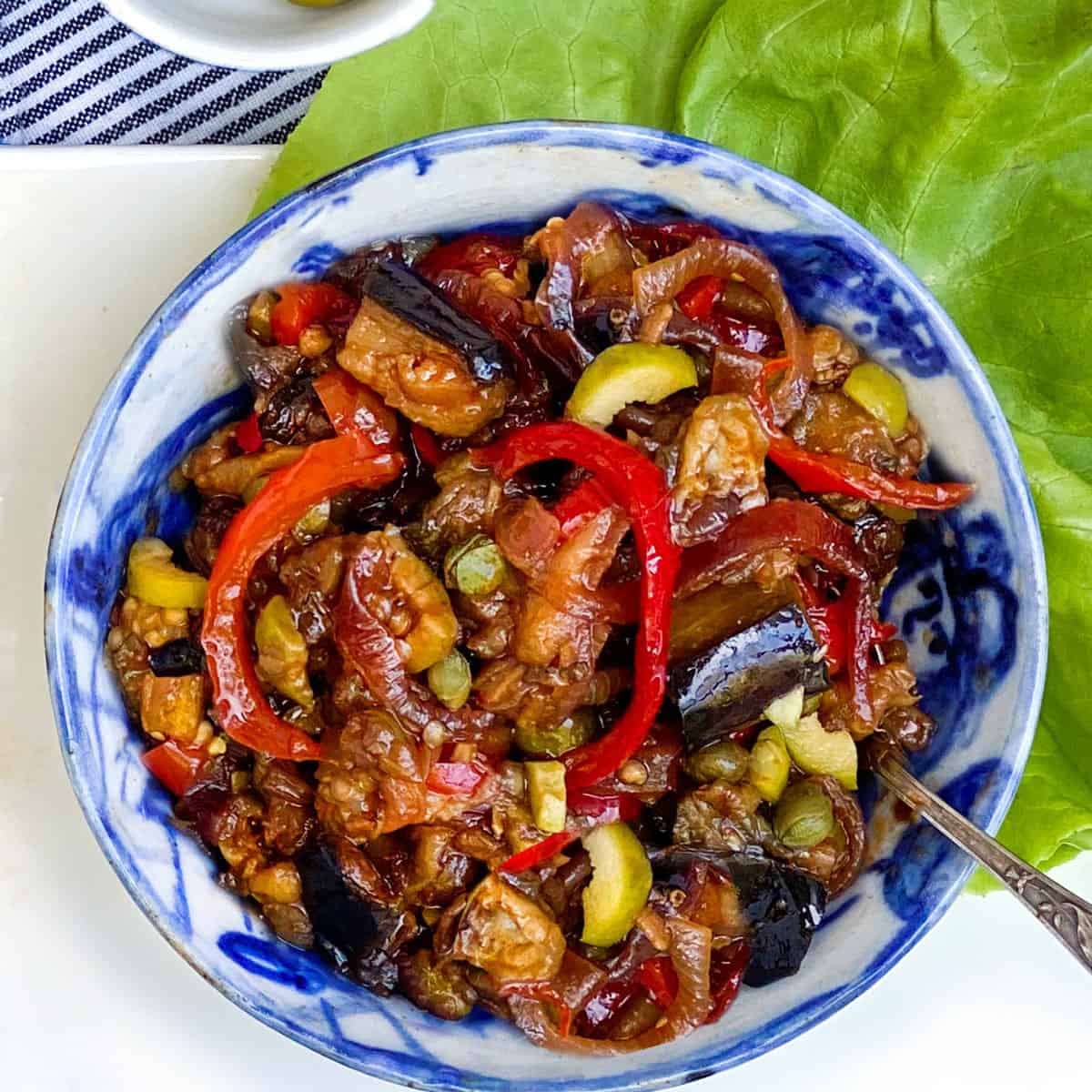 Sicily is an island in the central Mediterranean just off the toe of Italy's boot. Due to its strategic location, it's been a melting pot of the different ethnic groups that have landed on its shores: Greeks, Romans, Arabs, French, Germans, Spanish, Italians and British. And of course all these diverse cultures have brought their culinary influences along with them.
In Sicilian caponata we can credit the Arabs for the raisins and sugar, the Spanish for the tomatoes and peppers, and the Greeks for the olives.
As I look down into my bowl of caponata, I see Sicily's cultural history, with all of its rich and complex flavors and bold colors and textures.
Questions you might have about this dish
What kind of Eggplant is best for caponata?
If available, I love to use Italian or Sicilian eggplants for authenticity, but larger globe eggplants or any type of eggplant will work in this dish. When shopping for eggplant, just be sure to choose an eggplant that is smooth and firm. Avoid eggplant that has wrinkles or soft spots.
Do I have to salt the eggplant?
Yes. Eggplant is full of water and salt helps draw that water out. If you sauté eggplant without salting it, the water will seep out into the pan and the eggplant will steam in its own juices. But if you salt it first, the eggplant will brown up nicely.
How to serve caponata
One of the great things about caponata is that it's so versatile. It can be served hot, cold or at room temperature, as a an appetizer, a side dish, or even as a main course when tossed with pasta.
My favorite way to serve caponata is to scoop it onto fresh baguette slices or toasted bread for bruschetta. In the summertime, I love making caponata to serve as a side dish or topping for grilled fish, chicken or kebabs.
Like many stews, caponata is even better the next day so it's a perfect dish to prepare ahead of time for a dinner party or family gathering.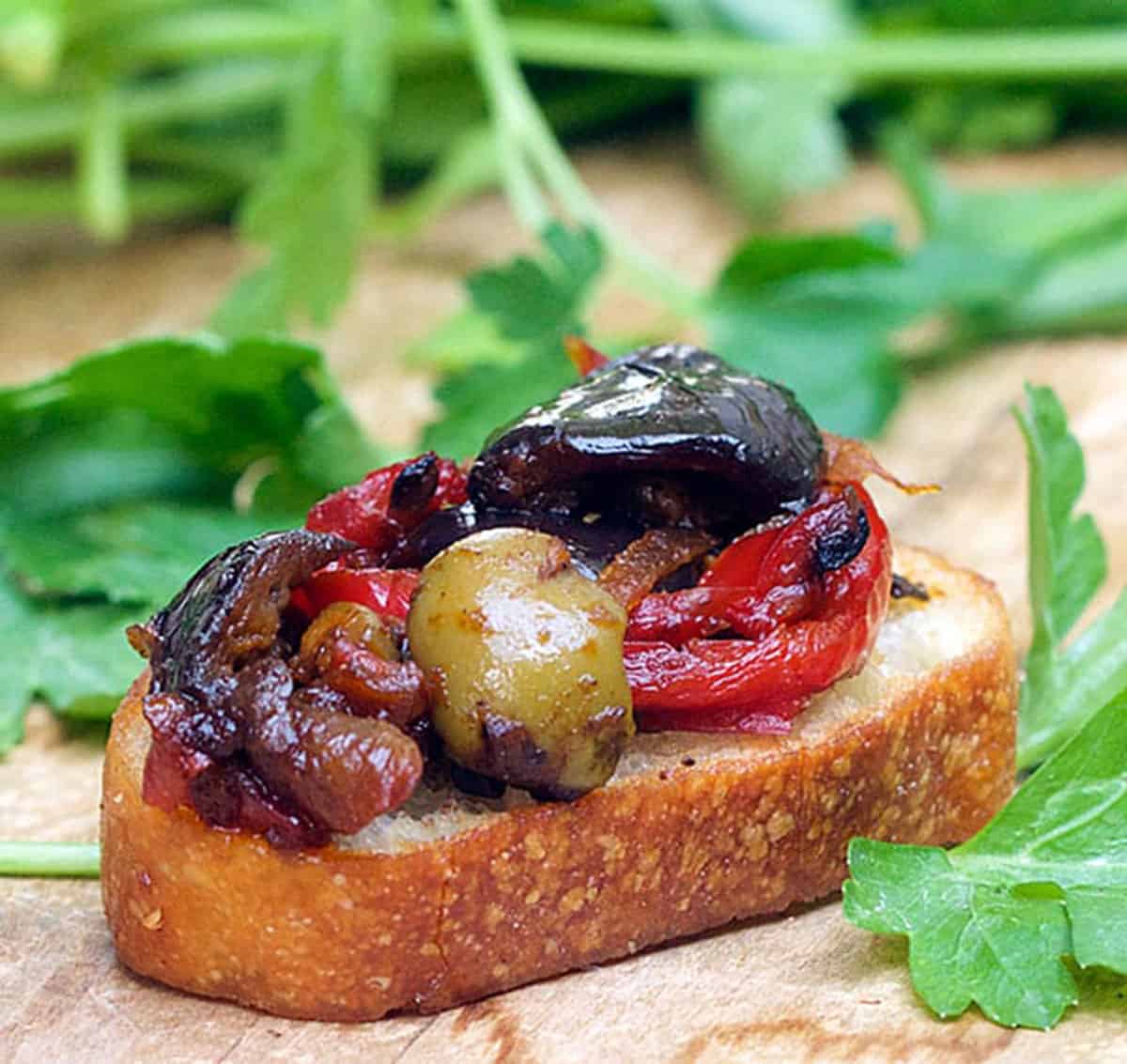 If you try this Caponata recipe I hope you'll come back to leave a star rating and a comment. I'd love to know what you think!
Print
Caponata (Sicilian Sweet and Sour Eggplant Relish)
---
Author:

Panning The Globe

Total Time:

1 hour 40 mins

Yield:

8

-

10

appetizer servings

1

x
Description
This Sicilian caponata is a flavor-packed vegetable dish which is traditionally served as part of an Italian antipasto (appetizer course). It's a fantastic make-ahead dish with eggplant and other vegetables stewed in a sweet and sour tomato sauce. Serve this as an appetizer scooped onto bruschetta or as a side dish or topping for grilled fish or chicken.
---
2

pounds

of eggplant (4 small Italian eggplants or 2 medium globe eggplants) washed and cut into ¾-inch cubes (skin on)

2 tablespoons

kosher salt

¾

cup

good quality olive oil, divided

1

large red onion, halved and thinly sliced

4

-

5

tender inner stalks of celery, roughly chopped (about

1 cup

chopped)

3

large garlic cloves, minced

2

red bell peppers seeds and ribs removed, cut lengthwise into thin strips

3 tablespoons

tomato paste (tomato concentrate)

4

ounces

pitted green olives, coarsely chopped (about a cup chopped)

⅓

cup

yellow raisins

¼

cup

capers, drained

6 tablespoons

red wine vinegar

3 tablespoons

granulated sugar
Kosher salt, to taste
---
Instructions
Line a rimmed baking sheet with paper towels, add the eggplant cubes in a single layer and sprinkle evenly with 2 tablespoons salt. Cover with another layer of paper towels and then place another baking sheet on top and add a weight, such as heavy skillet. Let that all stand for 30 minutes to an hour. Rinse the eggplant in a mesh colander to remove the salt. Line the baking sheet with a fresh layer of paper towels and add the rinsed eggplant in a single layer. Pat it dry with another layer of paper towels or with a clean dish towel.
Heat ¼ cup of the oil in a large heavy skillet (cast iron works well) over medium heat until hot but not smoking. Add half the eggplant in a single layer. Leave it undisturbed for two minutes until it gets browned on the bottom, then turn and continue to cook, stirring often, for another 5 minutes, until eggplant is browned in spots and starting to soften. Transfer to a paper-towel-lined mesh colander. Add another ¼ cup of the olive oil to the skillet and cook the rest of the eggplant in the same manner.
Add another ¼ cup olive oil to the skillet, add the onions, garlic and celery. Cook, stirring occasionally, for 5 minutes, until the onions are softened. Add the bell peppers and cook for 5 minutes, stirring occasionally, until the peppers are softened. Add the tomato paste, olives, raisins, capers and 3 tablespoons water. Cook, stirring frequently, for 8 minutes. Return the eggplant to the skillet.
Whisk the sugar and vinegar together in a small bowl and pour into the skillet. Lower the heat to medium-low and simmer the mixture for 15 minutes, stirring occasionally. Season with salt, to taste.
Caponata will keep for a week covered in the fridge and is best served at room temp after a day of letting the flavors meld.
Prep Time:

20 mins

eggplant salting time:

30 mins

Cook Time:

50 mins

Category:

Appetizer

Method:

Simmer

Cuisine:

Italian
Keywords: Sicilian eggplant appetizer recipe
[This recipe was first published on May 31, 2014. It was refreshed and updated on Feb 28, 2023 with several new photos, added nutritional information and step-by-step instructions added to the written post. The same delicious recipe!]