This hearty minestrone soup verges on a stew, with fall-apart tender beef, white beans, lentils and lots of fresh veggies. Delicate red lentils melt into the broth giving this soup a rich creamy texture. It's a wonderful meal onto itself, all cooked in one pot.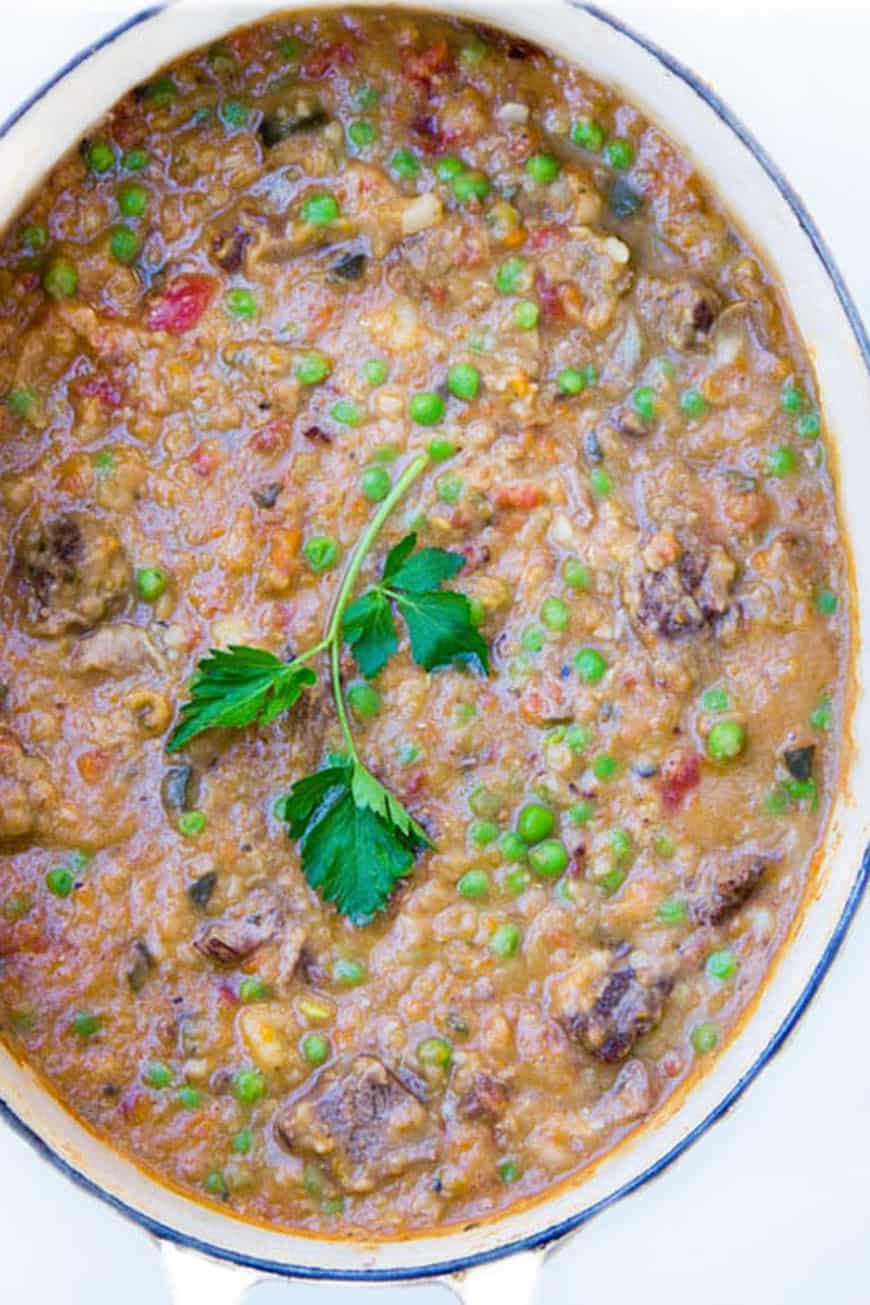 Minestrone, the quintessential Italian vegetable soup, can vary from season to season and from cook to cook. But what you'll almost always find in a pot of minestrone is abundant fresh vegetables, beans and fresh grated parmesan to sprinkle on top. Some cooks even throw a parmesan rind into the pot to flavor the broth. In this version, bone-in beef short ribs do that job. Not only is the meat incredibly tender and tasty, but the bones create a rich, intoxicating broth.
On a personal note, this recipe and post is a tribute to my late mother-in-law Barbara. She was an amazing person in so many ways, and her cooking was legendary. Barbara's family and friends will always fondly remember the dinners she lovingly served us.
Shortly after Barbara passed away, I published a cookbook of her recipes to honor her and to distribute among her loved ones, so we could continue to celebrate her life by cooking and enjoying her wonderful recipes. This minestrone soup was one of Barbara's signature dishes. She would typically make two giant pots of it to divide into portions and freeze - one pot of vegetarian minestrone soup for herself and one with beef for her meat-loving husband Steve.
When I tasted Barbara's "famous" minestrone with beef for the first time, I was blown away. It's incredible! I'm so grateful to have the recipe and so glad to be sharing it here with all of you.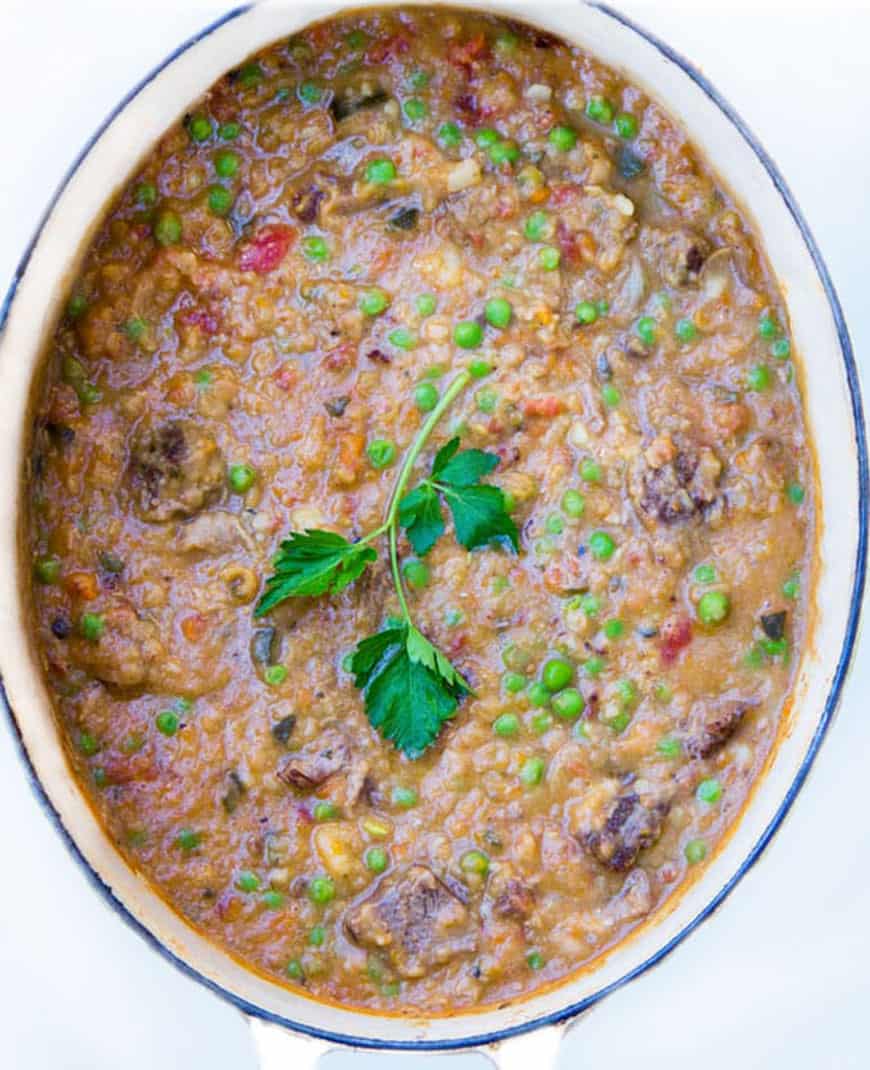 How to Make Minestrone Soup with Beef:
The meat is browned, removed from the pot, and chopped vegetables are sautéed: leeks, carrots, onions, celery and garlic. The beef is returned to the pot along with tomatoes, beans, lentils, parsley and chicken stock and the soup is is simmered for 80 minutes. Diced zucchini and potatoes are added and the soup is cooked for another hour. To finish, the meat is removed from the bone, cut into bite-sized pieces, and returned to the pot, along with peas. 5 more minutes over the heat and the minestrone soup is ready to serve.
Barbara never specified the cut of beef she used for her soup and I wasn't blogging back then or I'm sure I would have asked. But from what I remember it had that exquisite, fork-tender quality of braised short ribs. Just to be sure, I tested both short ribs and shanks to see which cut worked best. Short ribs won. They became meltingly tender after about two hours of simmering, whereas the shanks were a bit tough.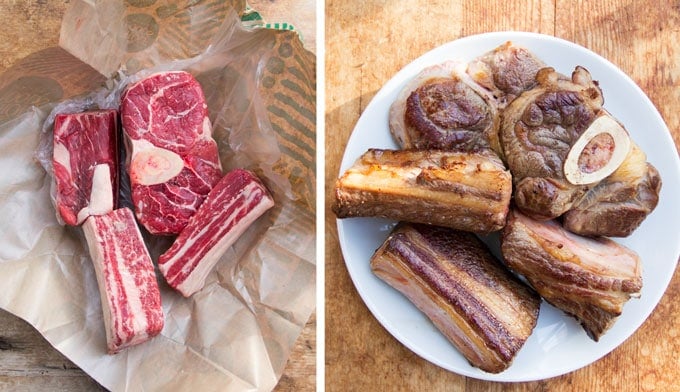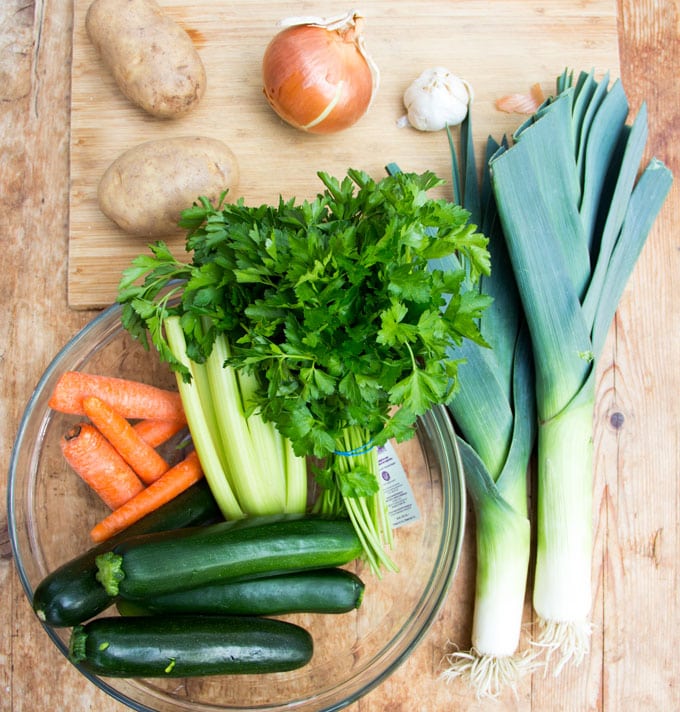 Sautéed leeks, carrots, onions, celery, and garlic create the flavor base of the soup.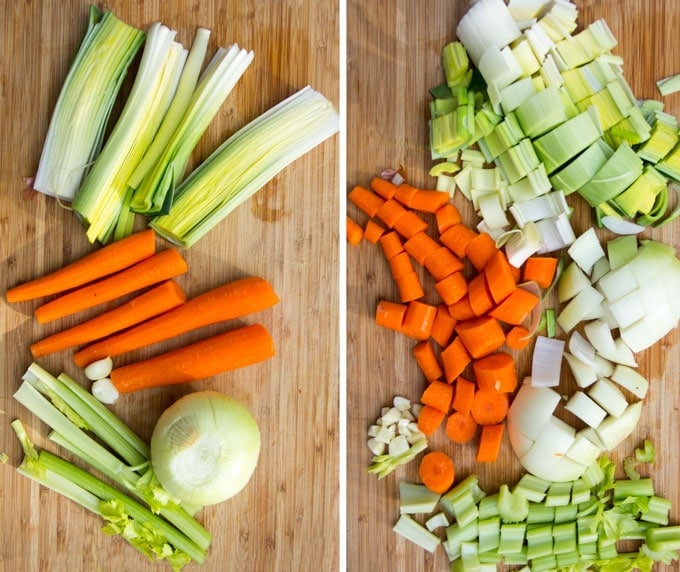 Save time and chop the vegetables in a food processor
I love chopping veggies in the food processor. It saves a ton of time. Cut the carrots, celery, leeks and onions into chunks. Add them to the food processor, along with the garlic, and pulse them a few times until you achieve a fine chop.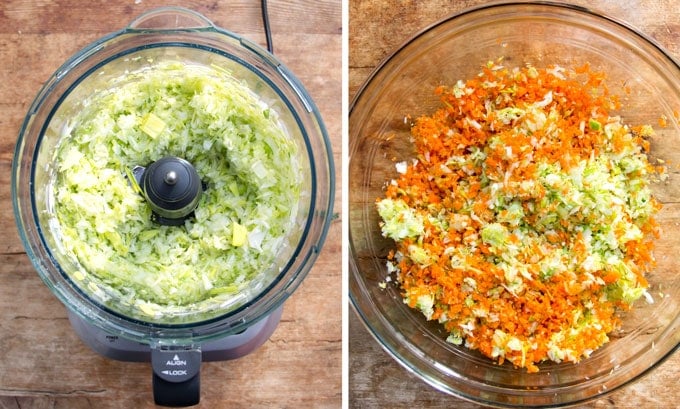 Potatoes and zucchini are added to the pot after the minestrone has simmered for 80 minutes.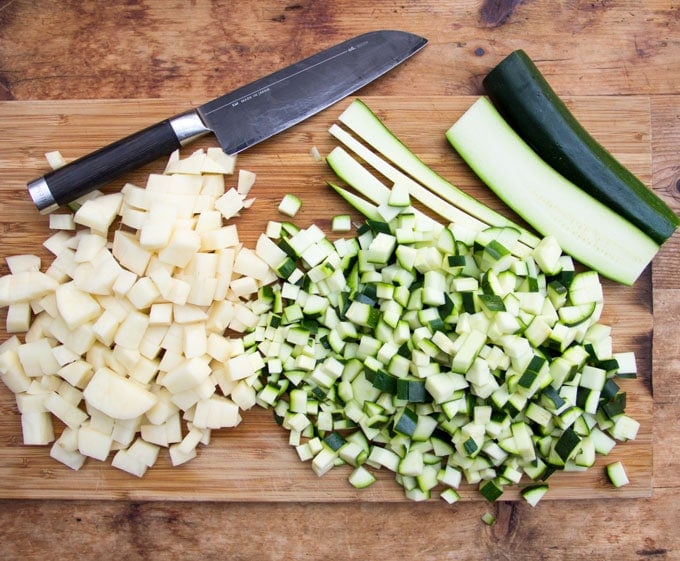 Peas are added at the very end to keep them bright green and fresh tasting.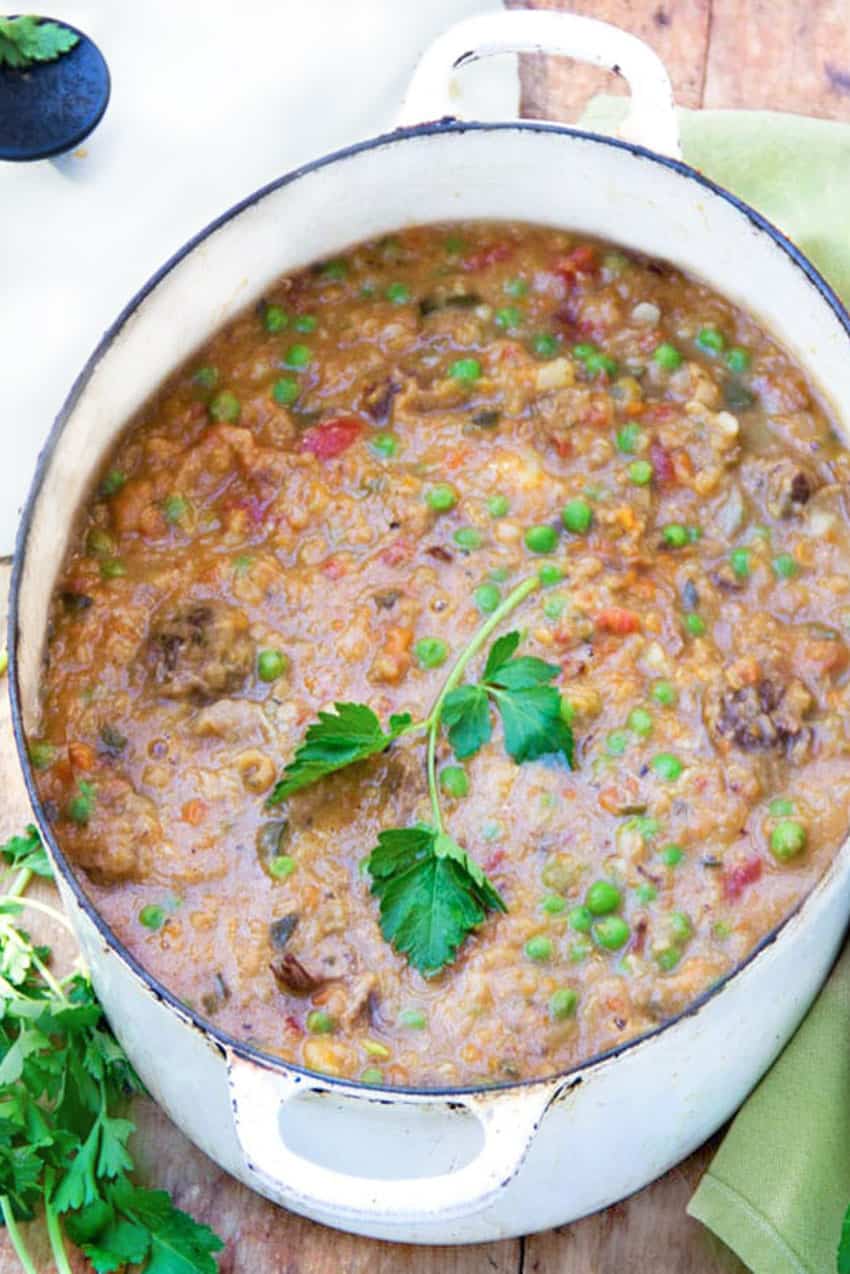 Pasta for minestrone soup, yes or no?
It's traditional to use pasta in minestrone soup however I've opted for omitting pasta in this version. For my taste, there's plenty of excitement in the pot already, with all the veggies, potatoes, lentils, beans and meat. Feel free to add pasta, if you want to. It does add a fun textural layer and it makes the minestrone even more hearty and filling.
If you do decide to use pasta, I suggest you choose a small pasta shape such as ditalini or acini de pepe.
Don't add the pasta directly to the soup pot or it will get soggy over time. This minestrone soup reheats really well, and if you want fresh-tasting leftovers, I suggest that you cook the pasta separately and portion it out into the individual soup bowls as you serve.
How to Serve Minestrone Soup
Divide the soup among large bowls. If you like, add a few tablespoons of hot cooked pasta to each bowl and stir through. Garnish each bowl with a drizzle of good olive oil, a generous sprinkling of grated parmesan cheese and a little chopped parsley.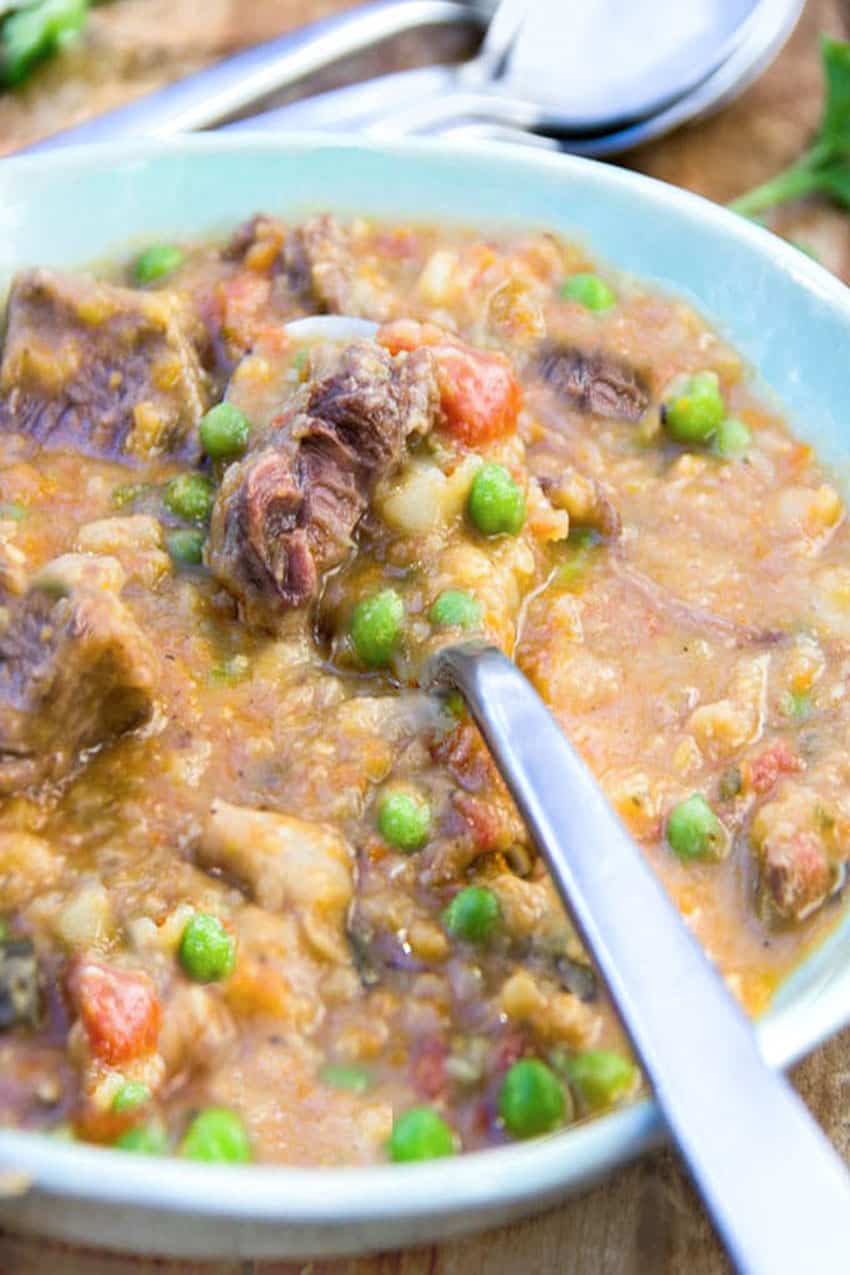 I want to thank My brother-in-law Michael for inspiring me to share this recipe on Panning The Globe. He pulled out his copy of the "Barbara Cookbook" a couple of weeks ago and made this minestrone with beef for his family. They raved and raved about how good it was. I have to agree. This soup is something else - hearty, satisfying, and incredibly delicious - just as I remember it when Barbara cooked it.
You may also like these hearty soup recipes:
Here's the recipe for Minestrone Soup with Beef. As always, I'll be excited to hear back from you if you make this. I hope you'll come back to leave a star rating and a comment. I'd love to know how it turned out!
Print
Minestrone Soup with Beef
---
Author:

Lisa

Total Time:

3 hours 20 mins

Yield:

6

-

7

servings

1

x
Description
A soup of fresh vegetables, beans, lentils and tender beef. A hearty one pot wonder that makes a perfect meal for a cold winter night.
---
4

pounds of beef short ribs, on the bone (the bones add great flavor)

½ teaspoon

salt
Several grinds of freshly ground black pepper

5 tablespoons

vegetable oil, divided

2

leeks, white and light green part, finely chopped and washed (see notes below)

4

medium carrots, peeled and finely chopped

2

stalks of celery, finely chopped

1

large yellow onion, peeled and finely chopped

2

medium cloves of garlic, minced (

2 teaspoons

)

2 tablespoons

of minced fresh parsley, plus more for garnishing

1

28-ounce can imported Italian plum tomatoes

8 cups

of low-salt chicken broth, divided

1

can cannellini beans, drained

1 cup

of dried red lentils, rinsed

4

zucchini, cut into ½-inch dice (

4 cups

)

2

large russet potatoes, peeled and cut into ¾-inch dice (

3 cups

) Note: Peel and cut the potatoes right before adding them to the soup, so they don't discolor. Or cut them in advance and keep them in a bowl of water with a teaspoon of lemon juice. Drain before adding them.

1

pound fresh or frozen (defrosted) green peas
Kosher salt, to taste
Freshly ground black pepper, to taste
Optional Add In:

2 ounces

of cooked pasta, such as ditalini, acini de pepe, or alphabet noodles.
Optional Garnishes:
Chopped fresh parsley leaves
Extra virgin olive oil
Grated imported parmesan cheese, such as Parmigiana Reggiano
---
Instructions
Season meat on both sides with salt and pepper. Heat 1 tablespoon of oil over medium high heat in a large (5-6 qt) soup pot or Dutch oven. Brown the beef in two batches, for 2-3 minutes per side. Set the beef aside and pour all the fat out of the pot.
Add remaining 4 tablespoons of oil and sauté chopped vegetables over medium-low heat: leeks, carrots, celery, onion, and garlic, for 6-7 minutes or until tender and starting to brown.
Return meat to the pot. Add canned tomatoes and their juice, tearing each tomato into pieces by hand as you add it to the pot.(If you're not up for hand-tearing the tomatoes, roughly chop them before adding). Add beans, lentils, parsley, and 6 cups of chicken stock (reserve remaining two cups of stock to thin the soup later, if needed.)
Bring soup to a boil over medium-high heat and immediately reduce the heat to low. Cover the pot mostly, leaving a very small opening. Simmer for 1 hour and 20 minutes.
Add the zucchini and potatoes and 1 teaspoon of salt. Cook the soup for another hour, uncovered.
Remove the meat and bones from the soup. Cut the meat into bite-sized pieces and return it to the pot. Add the peas. Cook the soup for 5 minutes longer, until everything is heated through. Season, to taste, with salt and pepper.
Serve in deep bowls. If you like, add a few tablespoons of cooked pasta to each bowl and stir through. Garnish each bowl with a drizzle of good olive oil, a sprinkle of chopped parsley and grated parmesan cheese.
Notes
How to wash leeks: Leeks have multiple layers that tend to trap dirt and sand. To remove the grit, slice the leeks and wash them several times in a salad spinner. If you don't have a salad spinner, put the leeks into a mesh colander sitting in a bowl of water. Swoosh the leeks in the water, lift the colander, pour out the water.  Refill and repeat until the leeks are free of grit and the water is clear.
Time Saving Tip: Use a food processor with the chopping blade attachment to finely chop the vegetables. First cut them into chunks. Then pulse them in the food processor until you get a fine chop.
Prep Time:

20 mins

Cook Time:

3 hours

Category:

Lunch or Dinner

Method:

stovetop simmer

Cuisine:

Italian
Keywords: minestrone soup with beef,
Originally published February 8, 2017. Updated December 5, 2020 with added nutritional information, a couple of new photos and clarifying details in the written post. Same delicious recipe!