Italian Wedding Soup is simple, satisfying and beloved across the globe. This lighter, healthier version with turkey meatballs has plenty of garlic and parmesan cheese for flavor, with veggies taking the place of breadcrumbs and pasta. A super delicious, nutritious, gluten free, keto-friendly soup that you can call dinner.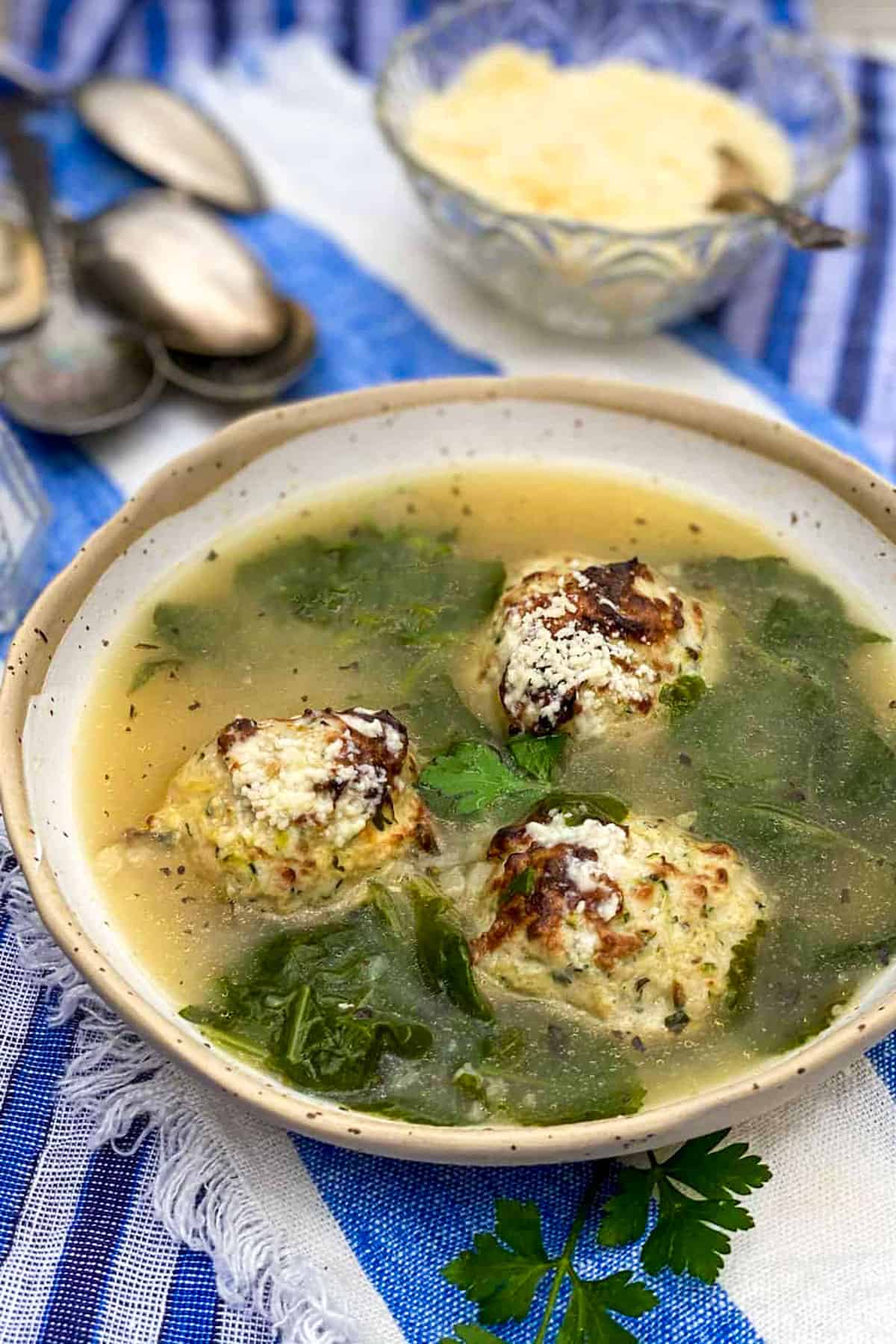 Is Italian wedding soup served at Italian weddings?
Italian wedding soup is such a great name for a dish. For me it evokes images of an elegant reception with gourmet Italian soup eaten from china bowls - a delightful picture even if it's not the way the story goes. In reality, 'minestra maritata,' the Italian translation of 'wedding soup,' refers to the marriage of meat and greens and how compatible they are in broth. Not nearly as romantic, but they truly are a great match.
Italian Wedding Soup Recipe
Every chef has his or her own version of this dish, the common ingredients being meatballs, greens, broth and pasta.
The meatballs can be made from any kind of ground meat or poultry, such as beef, pork, turkey, chicken, sausage or a combo.
The meatball mixture generally includes grated parmesan cheese or pecorino or both.
Soup greens vary in this dish, with es

carole, chard, spinach and kale being the most popular choices.

Tiny shaped pasta is traditional for Italian wedding soup, such as acini de pepe, dittalini or orzo. (This version subs in cauliflower rice for pasta)
3 Tips for the best Italian wedding soup
It's hard not to love Italian wedding soup no matter how you make it. (Any dish with meatballs makes me happy). But here are three pro tips to take Italian wedding soup from good to great.
Use lots of greens and don't chop them. A hefty portion of nutritious leafy greens makes this soup a delicious, nutritious one pot meal. If you chop the greens they'll float off your spoon when you try to scoop them up. Throw the leaves into the pot whole or, if using kale, tear the leaves into large pieces. This makes it easy to scoop up a satisfying mouthful of wilted greens with every spoonful.
Infuse the meatballs with flavor. Use plenty of garlic, parsley and good quality finely grated parmesan or pecorino cheese in the meat mixture. Flavorful meatballs are the star of the show in this dish!
Don't skip the toppings - that final drizzle of oil, squeeze of lemon and sprinkle of parmesan - game changers!
How to make this Italian Wedding Soup with Turkey Meatballs and Cauliflower Rice
I love this lighter, low carb version of Italian wedding soup. Whether you're on the keto diet or not, you'll appreciate that there's nothing but nutritious ingredients in this soup. The meatballs are bound with shredded zucchini and herbs in place of bread crumbs, and the broth is flecked with cauliflower rice instead of pasta. This dish comes together easily, especially if you can find riced cauliflower at the grocery store.
Get a big pot of broth and spices heating on the stove while you make the meatballs.
The meatballs are browned in the oven and then added to the hot broth, along with the cauliflower rice. The soup is simmered for a few minutes to heat everything through.
The soup is removed from the heat and the greens are stirred in.
Soup's on! A bowl of comfort and goodness with well-seasoned broth, brimming with tender meatballs, packed with healthy veggies and delicious fresh flavors!
A note about the turkey meatballs
Using shredded zucchini in turkey meatballs is an ingenious trick I learned from chef Ottolenghi when I tried his turkey zucchini meatball recipe. In addition to loving the fresh flavors of the meatballs, I was amazed that they held together with no breadcrumbs to bind them. I use the same technique in this recipe and they're great!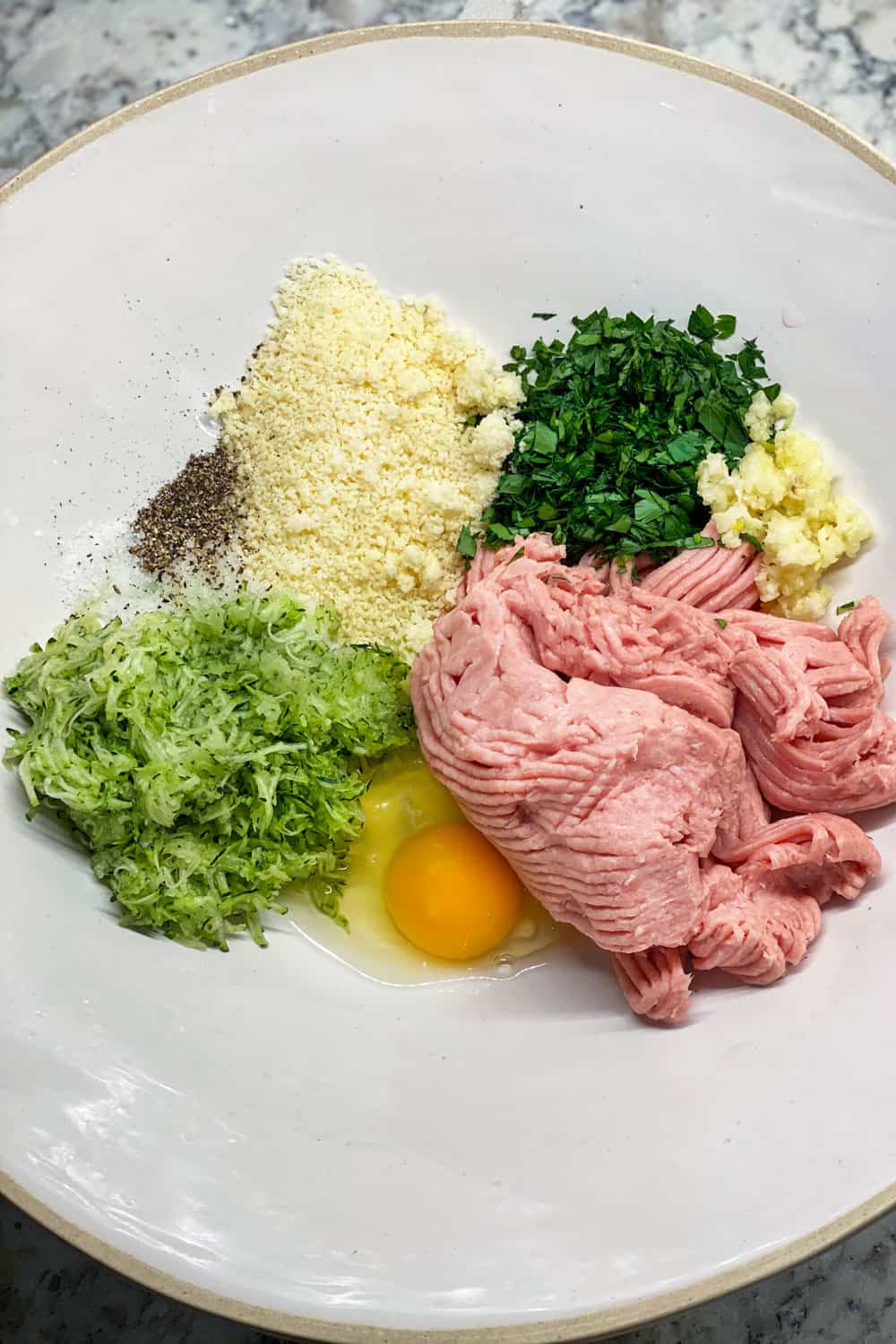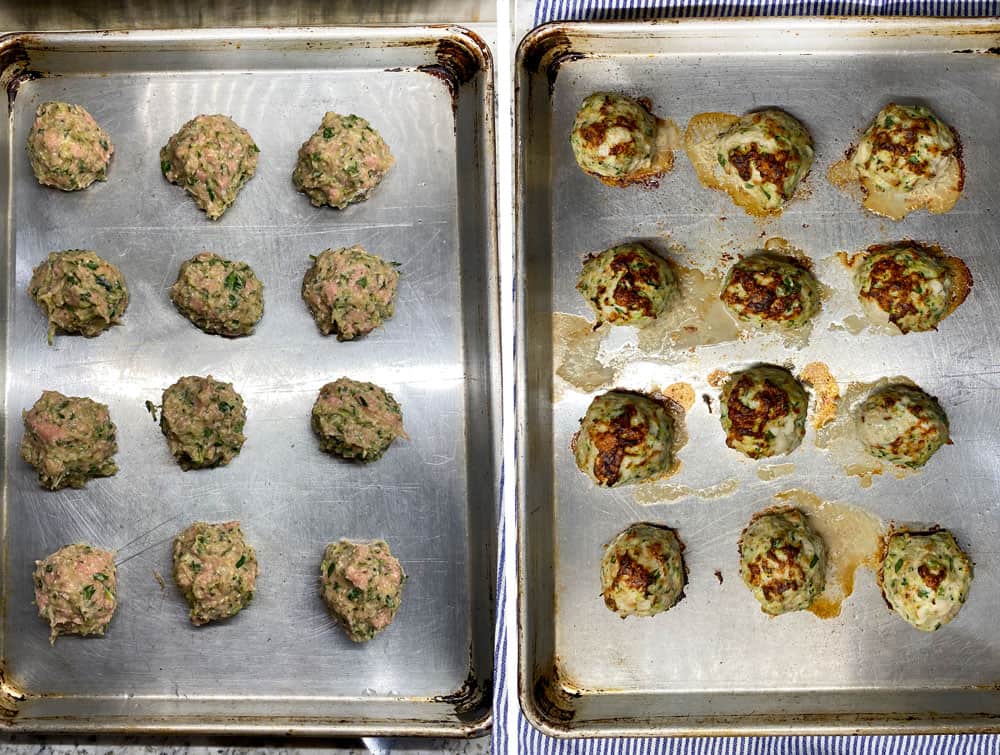 What kind of greens to use in Italian Wedding Soup
I love to pack this soup with greens, especially dark leafy greens. The more the merrier for my taste. They add so much to the texture of the soup as well as the nutritiousness. Curly kale is my favorite choice here but it does take some effort to pull the leaves from the thick stems and wash them. My second choice is baby spinach, and that you can find pre-washed. Baby kale works well here, too. You can even use frozen spinach. Defrost it and squeeze out the excess liquid before adding it to the soup.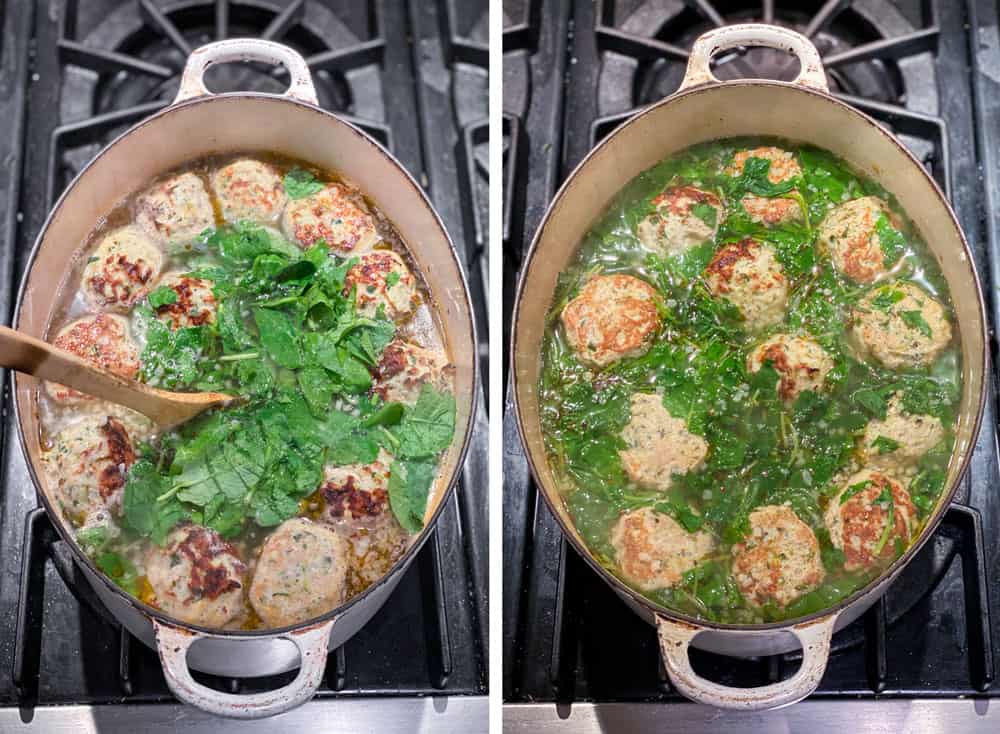 You might also enjoy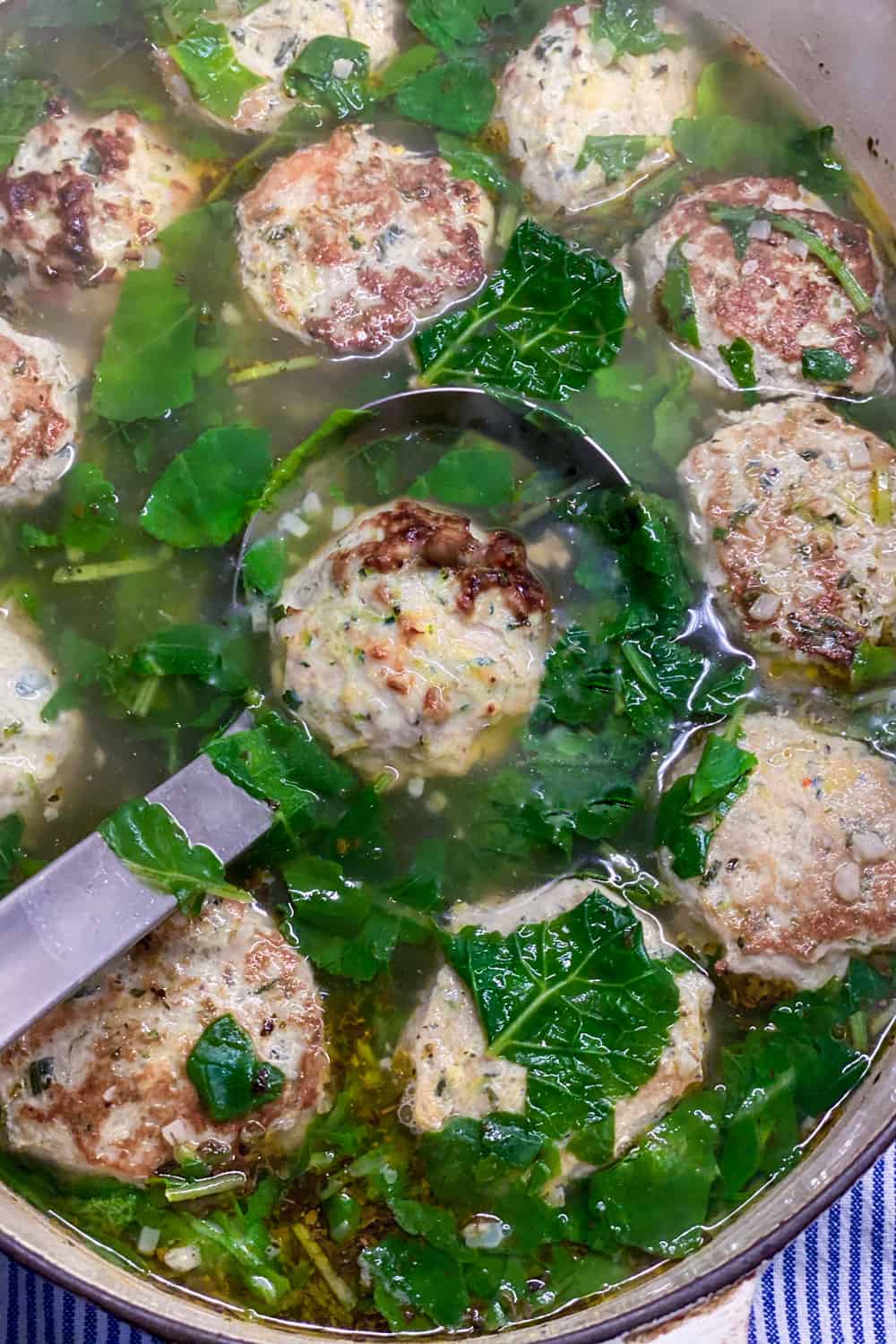 Here's the Italian Wedding Soup Recipe. If you try this recipe, I hope you'll come back to leave a star rating and a comment. I'd love to know what you think.
Print
Italian Wedding Soup with Turkey Meatballs and Cauliflower Rice
---
Author:

Lisa

Total Time:

45 minutes

Yield:

4

-

6

servings

1

x
---
For the Soup:
10 cups

low salt chicken broth

2 tablespoons

olive oil plus more for serving

½ teaspoon

dried basil

½ teaspoon

onion powder

¼ teaspoon

garlic powder

¼ teaspoon

Aleppo chili flakes or crushed red pepper flakes
For The Turkey Meatballs:
1

pound ground turkey

1

medium zucchini, grated (see notes below)

⅓ cup

packed fresh parsley, finely chopped

1

large egg

3

garlic cloves, finely minced or pressed through a garlic press

1 teaspoon

kosher salt

½ teaspoon

black pepper

½ cup

finely grated good quality parmesan cheese, plus more for sprinkling on top

3 cups

(

12 oz

) riced cauliflower, store-bought or homemade (see notes below for how to make riced cauliflower)

7

-

8

packed cups greens (

10 ounces

): baby kale, spinach or curly kale with the thick stems removed

1

lemon, zested and cut in half

¼ cup

fresh basil leaves, slivered, optional topping
---
Instructions
Combine the chicken broth, 2 tablespoons oil, dried basil, onion powder, garlic powder and chili flakes in a large pot and bring to a boil. Lower to a simmer.
Set an oven rack 6 to 8 inches from the heat source and heat the broiler to high. Line a rimmed baking sheet with foil and lightly oil it. In a large bowl, combine the turkey, zucchini, parsley, egg, garlic, salt, pepper and ½ cup Parmesan. Mix with hands until just combined. The mixture will be too loose to roll. Form the meatballs by gently squeezing and tossing the mixture from hand to hand. Place meatballs on prepared pan and broil for 5-6 minutes or until lightly browned. Makes  12 medium (2-inch) or 20 small (1 ½-inch) meatballs.
Add the meatballs to the broth along with the cauliflower and simmer gently for 3 minutes, stirring occasionally, until the meatballs are heated through and the cauliflower is tender.
Turn off the heat, add the greens and lemon zest, and stir to wilt the greens. Season with salt and pepper to taste.
Divide the soup among bowls. Drizzle each with a little olive oil, sprinkle with grated Parmesan and squeeze a bit of lemon juice on top. Scatter slivered basil over the top, if using.
Notes
Tip for rolling the meatballs: If you have trouble forming the meatballs, put the mixture into the fridge for 20-30 minutes, to firm it up and make it easier to handle.
How to grate the zucchini: Hold the zucchini by the stem end and grate it on a box grater or hand-held cheese grater. Or you can use the shredding blade of a food processor.
How to make riced cauliflower: A 1-pound cauliflower should yield 3-4 cups of cauliflower rice. Cut the cauliflower into 4 or 5 chunks so that you can easily hold them in your hand. Shred them using a box grater or the shredding blade of your food processor. You can also pulse the cauliflower with the chopping blade of your food processor, but take care not to over process.
Prep Time:

35 min

Cook Time:

10 min

Category:

Soup

Method:

simmer

Cuisine:

Italian
Keywords: meatball soup, gluten-free Italian wedding soup, wedding soup with turkey meatballs