A berry shrub has a tangy flavor that is at the same time sweet, acidic and fruity. Shrubs are delicious and refreshing when mixed with seltzer and they add that "je-ne-sais-quoi" taste element to cocktails. For about ten years now, shrubs have been surging in popularity on the craft cocktail scene, but their origin goes back over three hundred years. It's time we all learned how to make a shrub.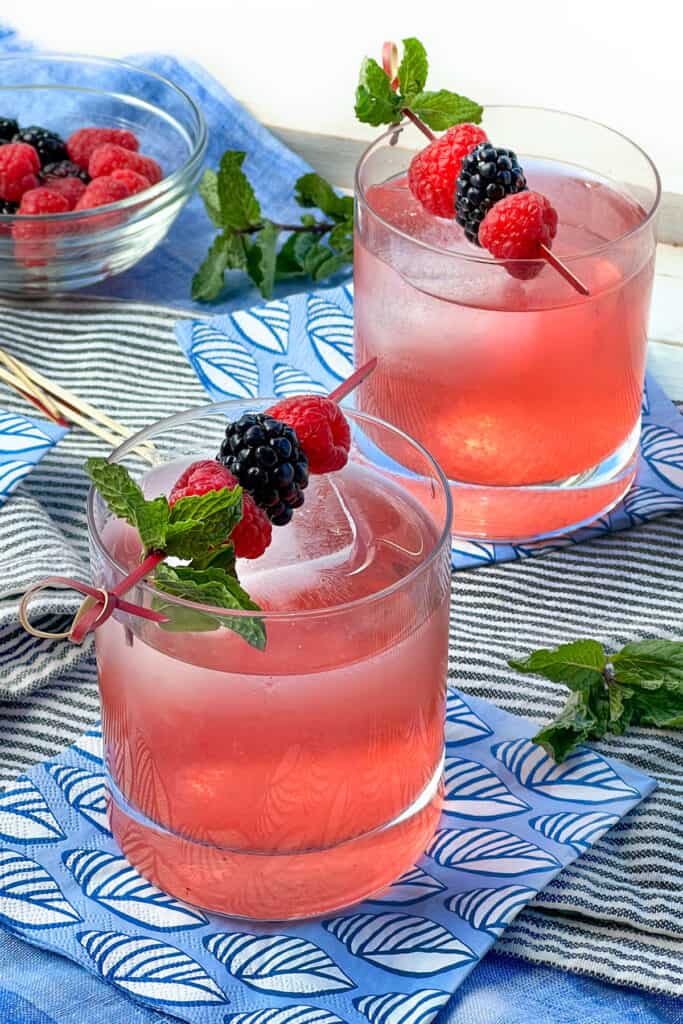 My introduction to shrubs - Dry January
Hello everyone. This is Eddie, Lisa's husband and sometime guest blogger at Panning the Globe. Over the last few months I've become enamored with making berry shrubs and shrub drinks. I'm going to explain why and also share my favorite shrub recipe with you.
I had been hearing about shrubs for years, but had never taken the time to learn much about them despite my longstanding interest in cocktails.
Lisa and I were at a restaurant with friends during "Dry January", and I ordered a mocktail drink that contained a shrub. I confessed to the table that I didn't even really know what a shrub was.
Fortunately, one member of our dinner party not only knew what shrubs were; he'd been making them obsessively for years. He shared with me the basics and I spent the next several weeks researching and experimenting with shrub recipes.
One of the things I really love about a shrub is that, just by adding seltzer, it substitutes beautifully for that glass of wine or cocktail you might have otherwise have had. It feels like you are treating yourself to something special. I even go so far as to use garnishes on a weekday night for Lisa and me, because you know, we're worth it!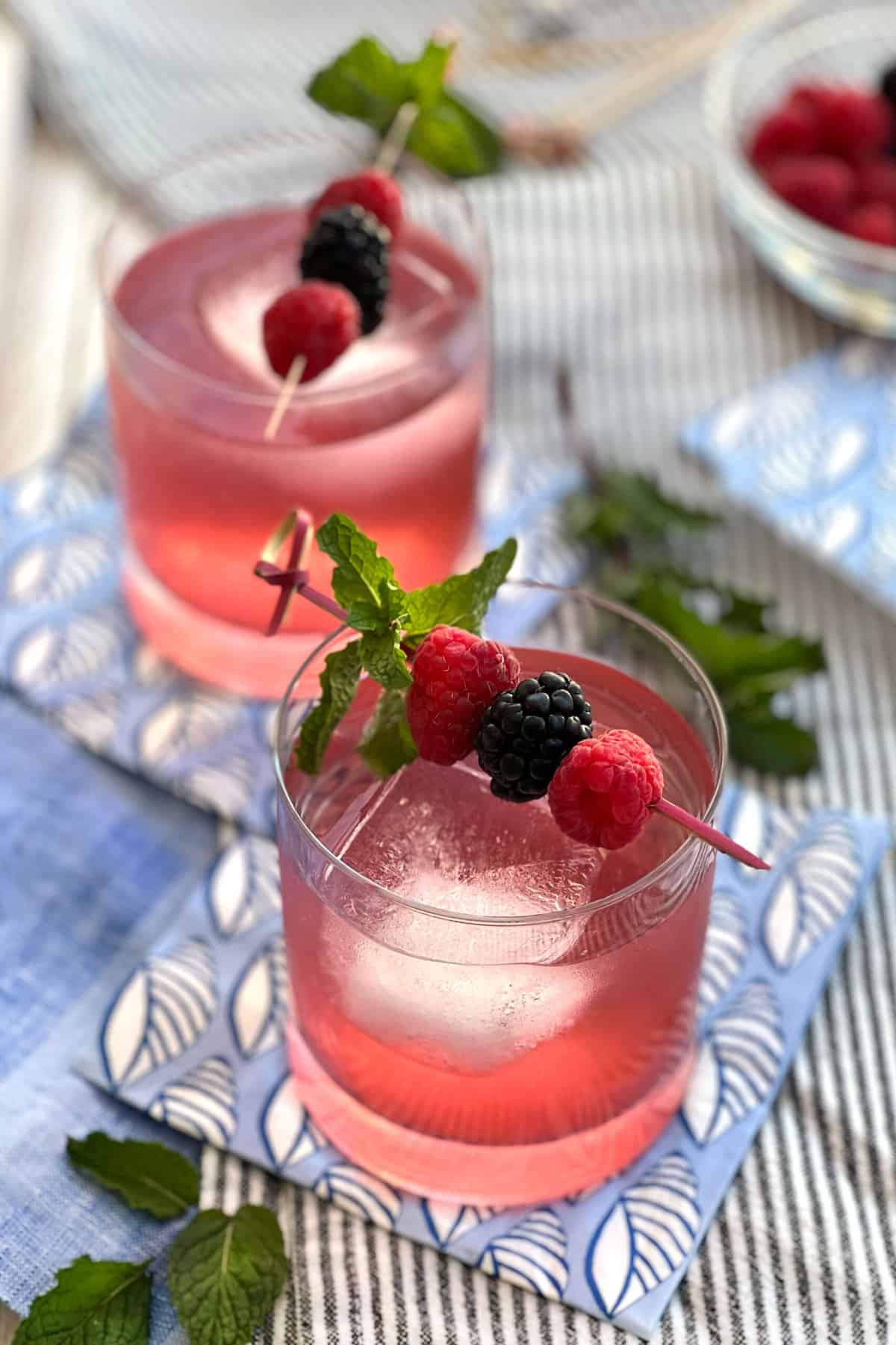 What is a shrub and since when?
A shrub, sometimes called 'drinking vinegar,' is essentially a syrup made from fruit, sugar and vinegar. Other ingredients, such as spices and herbs, can also be used during the infusion process.
Shrubs existed in colonial times in America and are said to date back to 17th century England, when vinegar was used as a preservative for fruits. The word shrub is originally from the Arabic word "sharāb", which means: to drink.
Here's what you'll need to make a berry shrub
Fruit (I use blackberries and raspberries in this recipe)
Granulated sugar
Vinegar (I use distilled white vinegar)
Optional: other aromatics (I use ginger root in this recipe)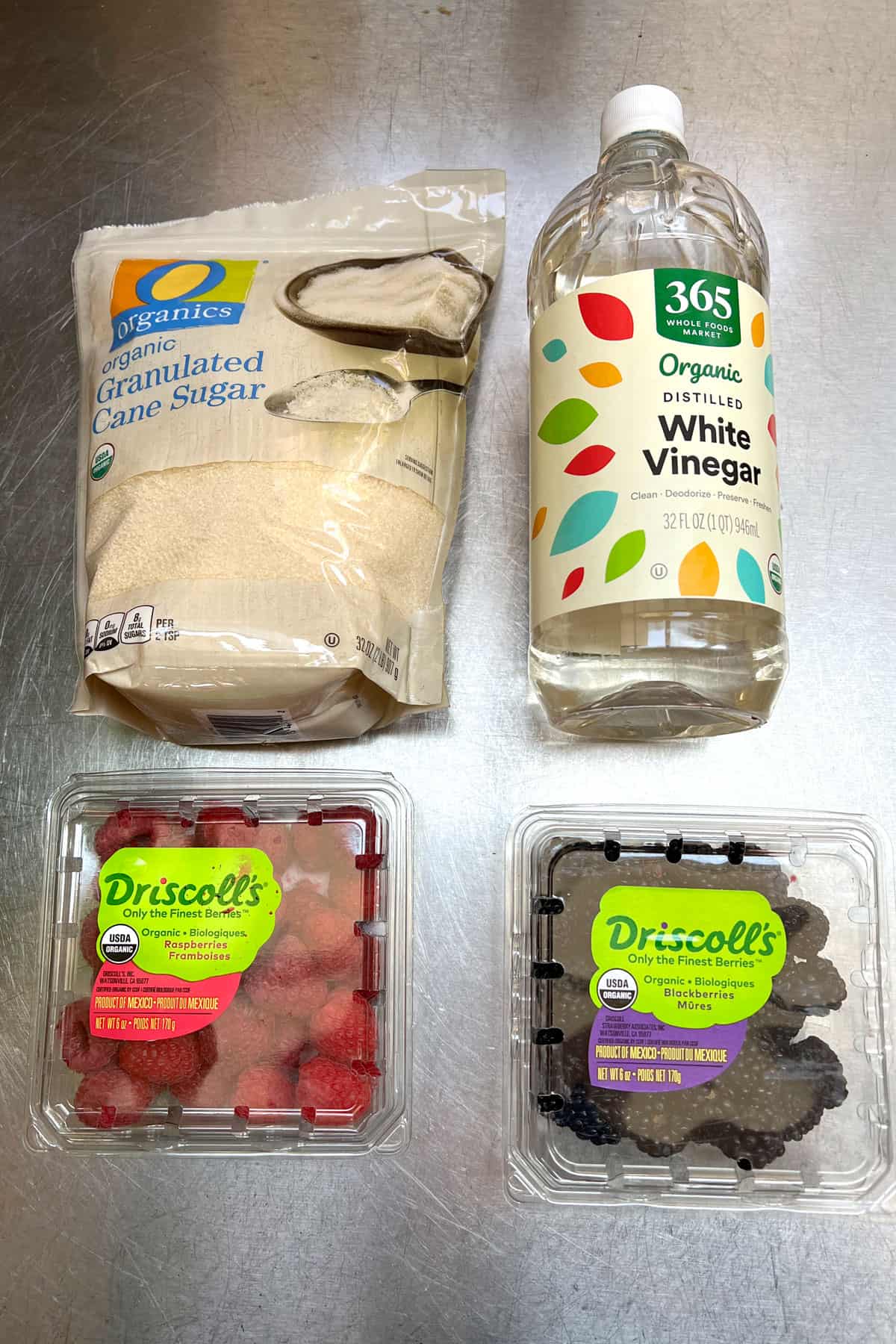 Variations
The possible combinations of fruit, sugar and various types of vinegar are endless. I love that about a shrub: it allows you to create something that makes your drinks unique in the world!
I experimented with a number of variations before I came upon the shrub recipe I am sharing. I found that keeping the vinegar simple allows the other flavors more room to contribute. I made one recipe with apple cider vinegar and that was essentially all I could taste. But that's me. I encourage you to explore and if you find a combination you love, please come back and share it with us at Panning the Globe.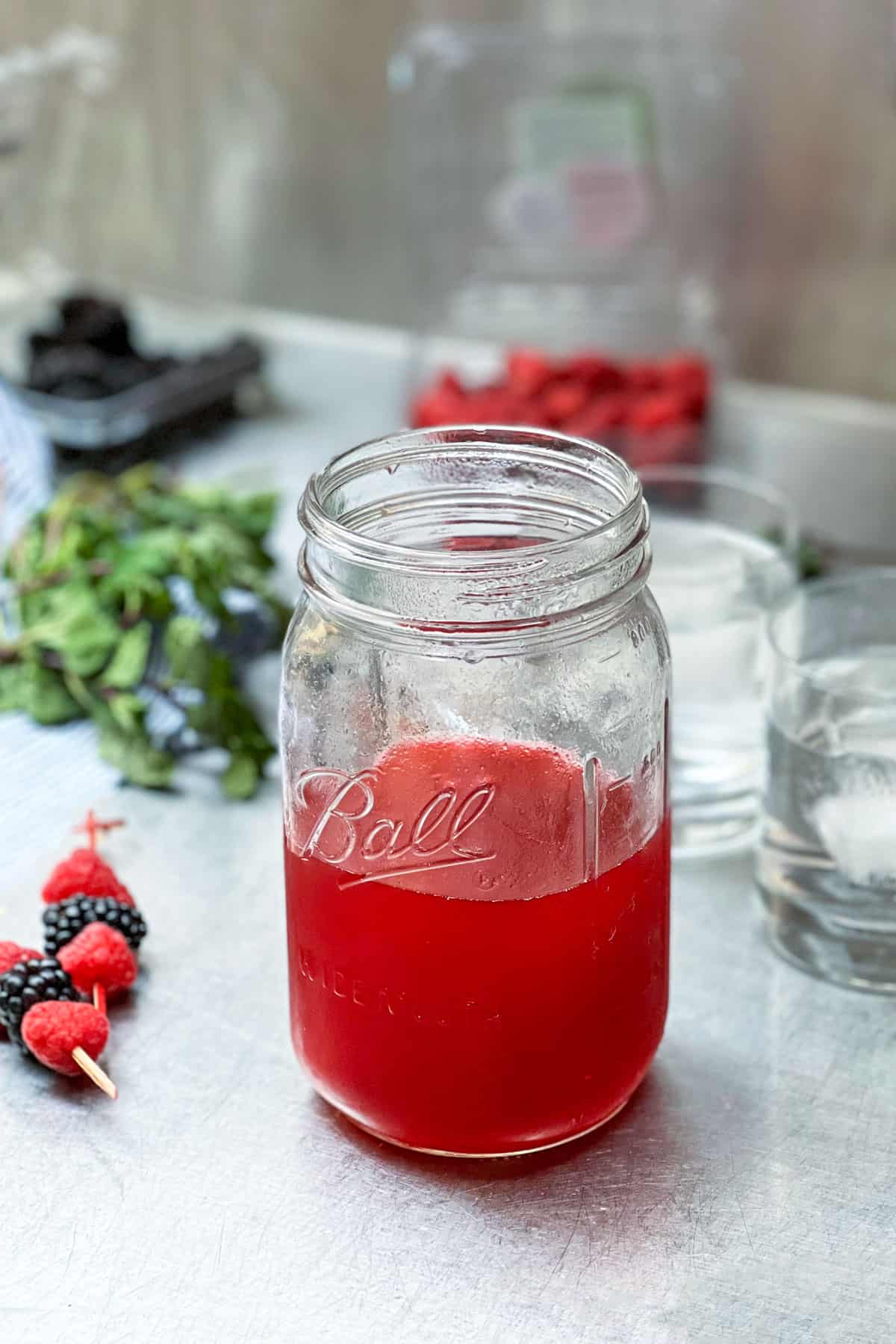 How to make a berry shrub
The basic process for making a shrub is so easy and takes so little time, it almost feels unfair to other foods and drinks where so much work is required for only half the flavor.
Bruise the fruit and mix it thoroughly with the sugar.
Let this sit for 24 hours at room temperature. The berries will release their juices.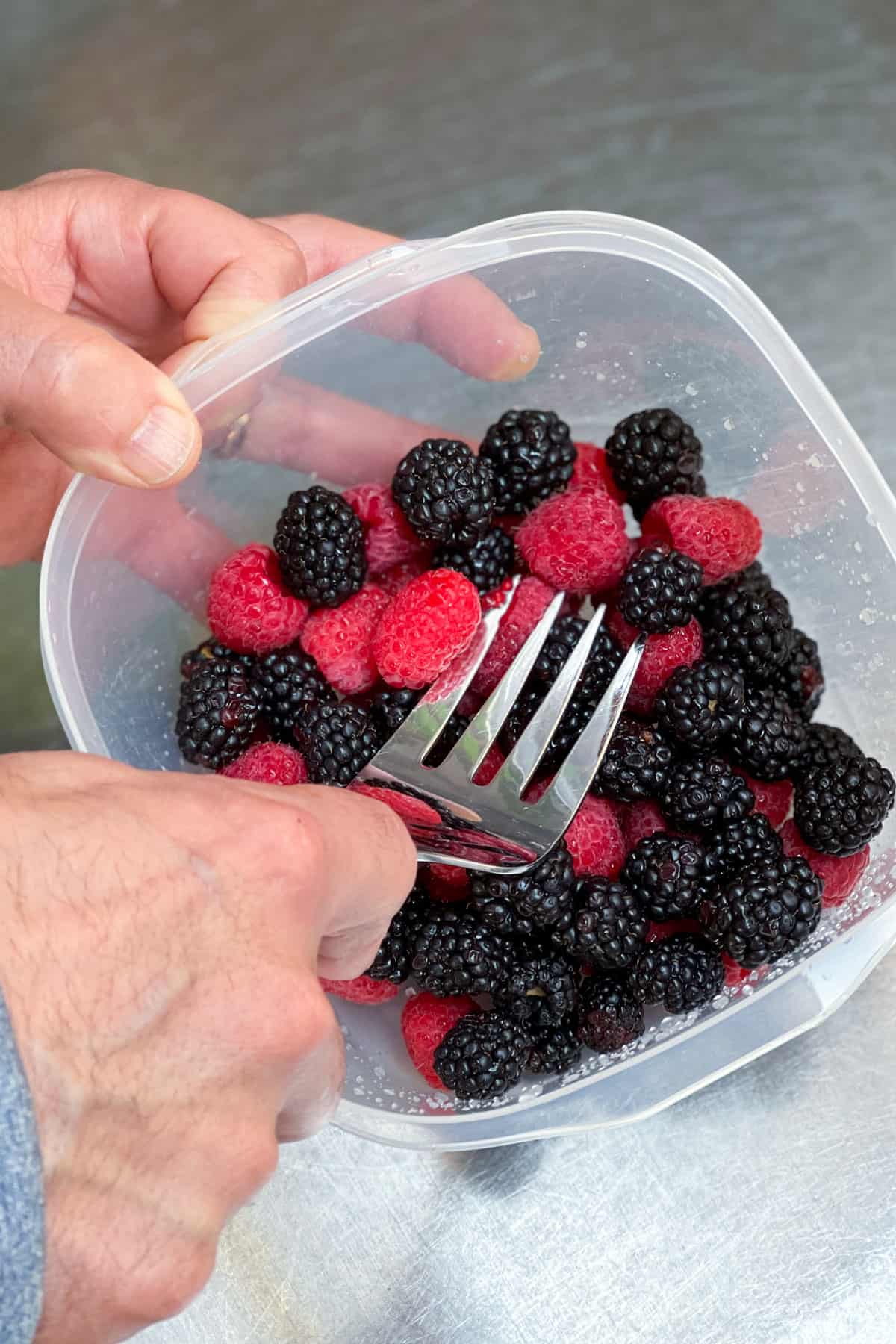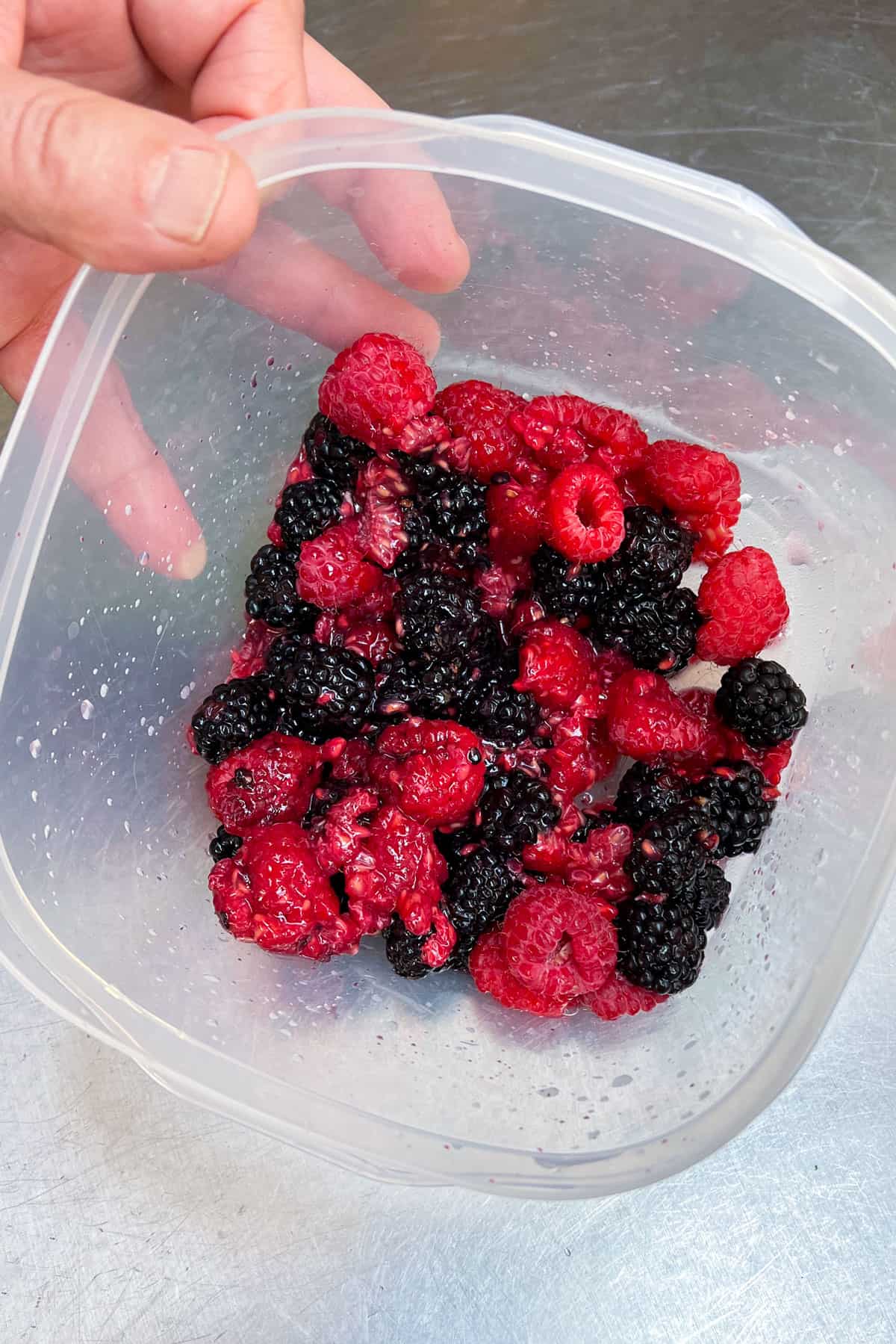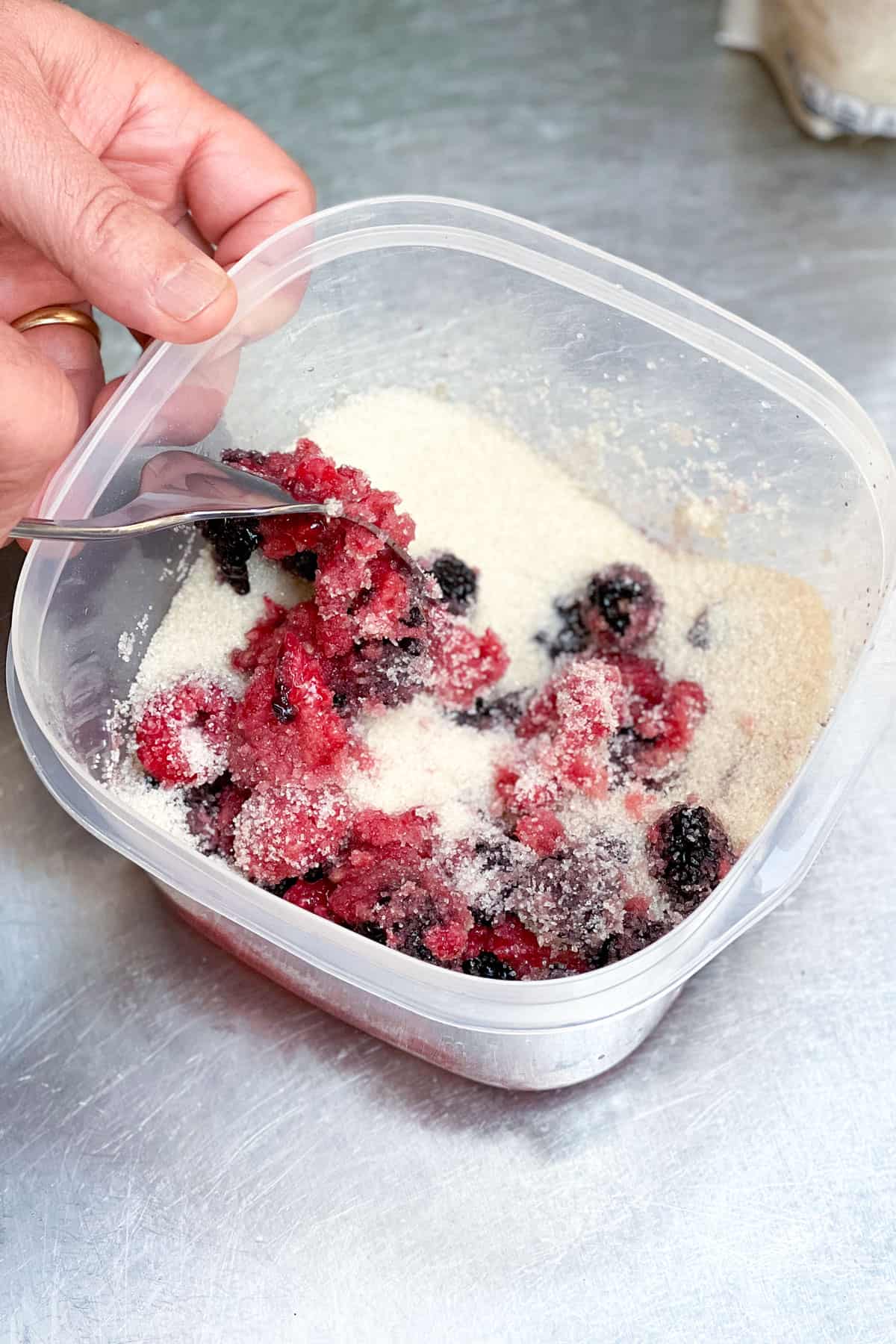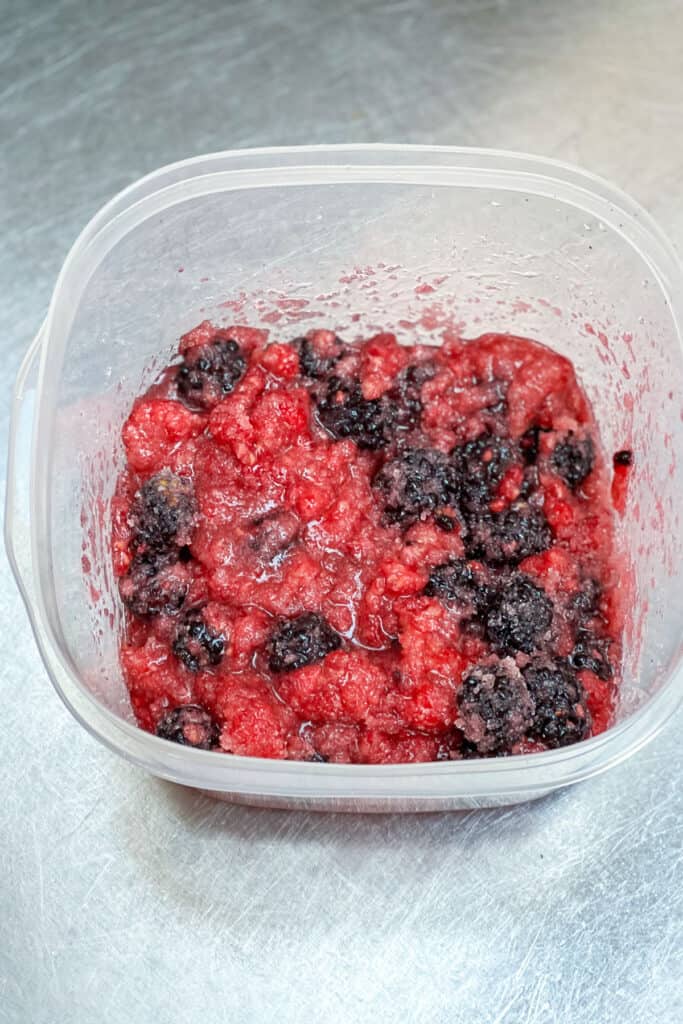 After 24 hours, strain the resulting berry syrup into a plastic container.
Reserve the macerated berries. They're absolutely delicious with yogurt and granola in the morning!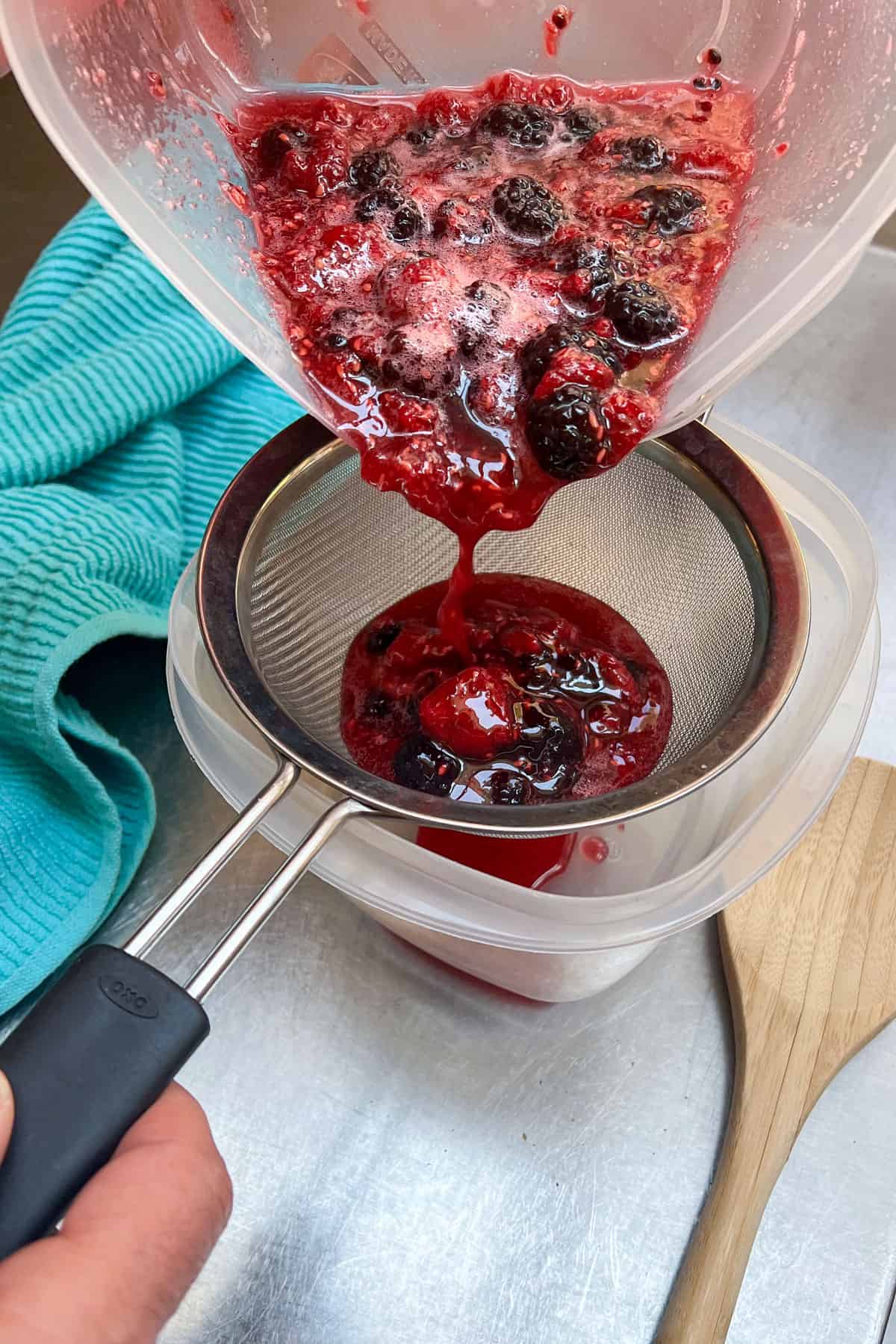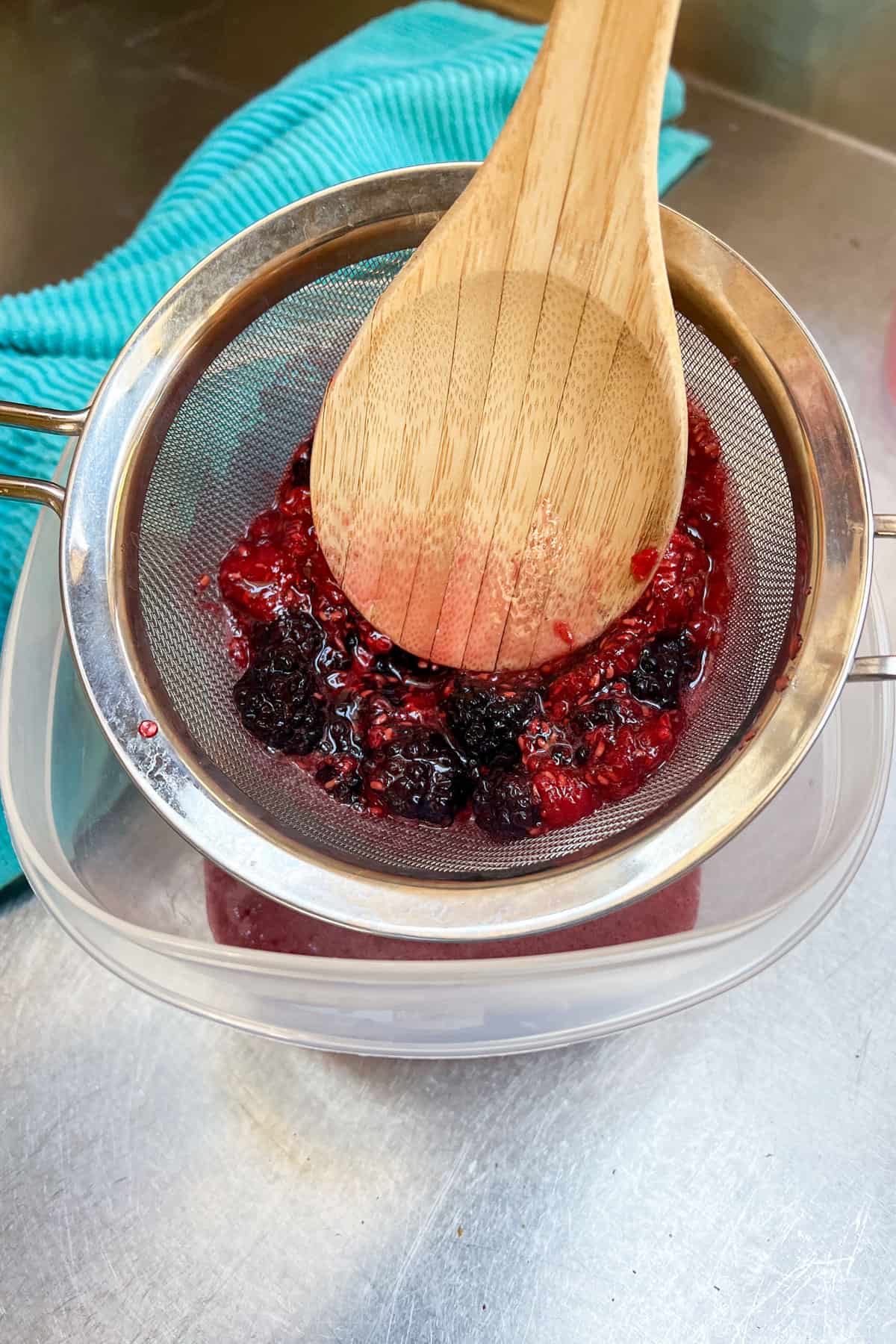 Combine the syrup from the berries along with a cup of distilled white vinegar into a mason jar or other sealable container.
Add a piece or two of smashed, sliced ginger root and refrigerate for at least 24 hours. The flavor develops further and mellows over time and is even better after about a week or two.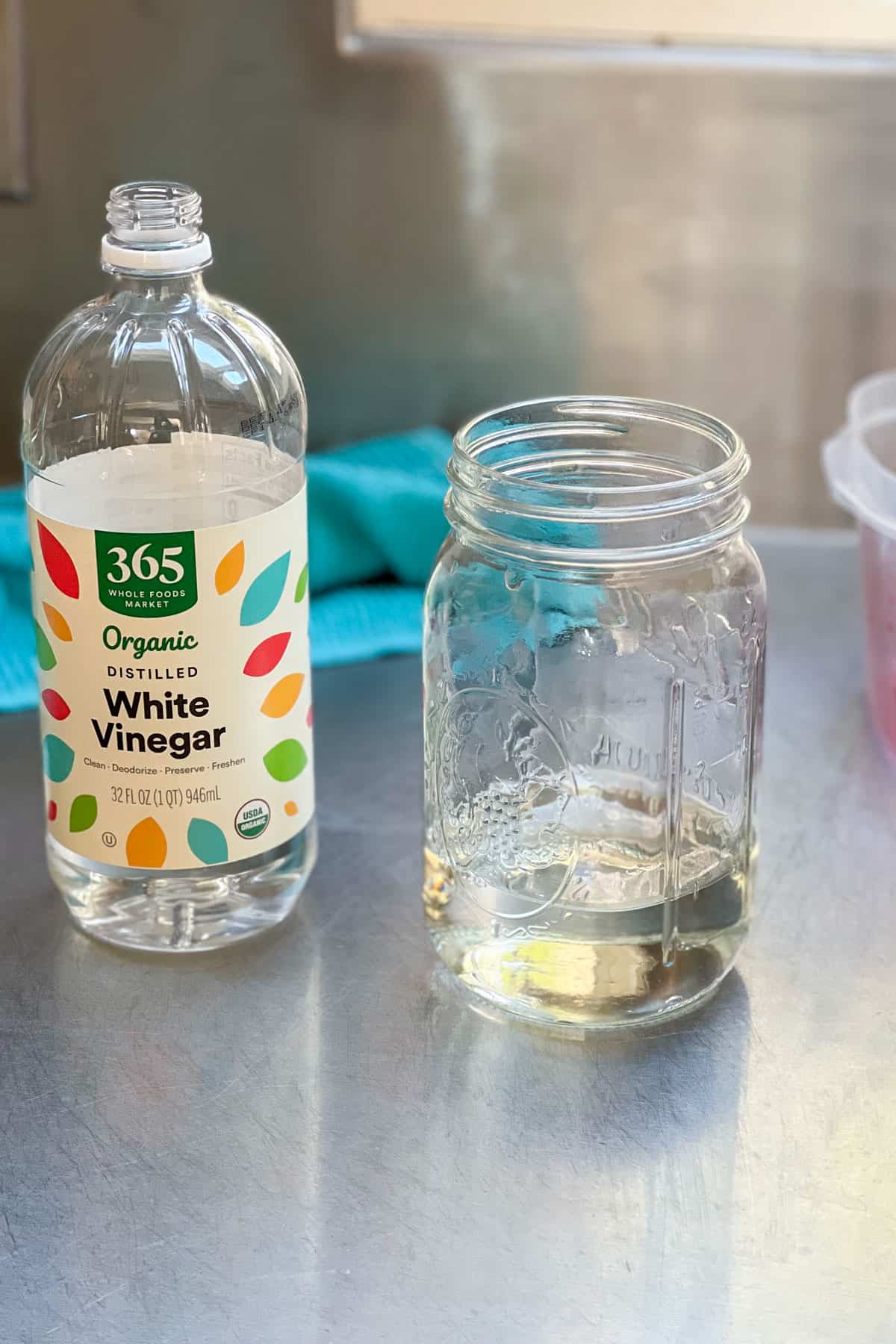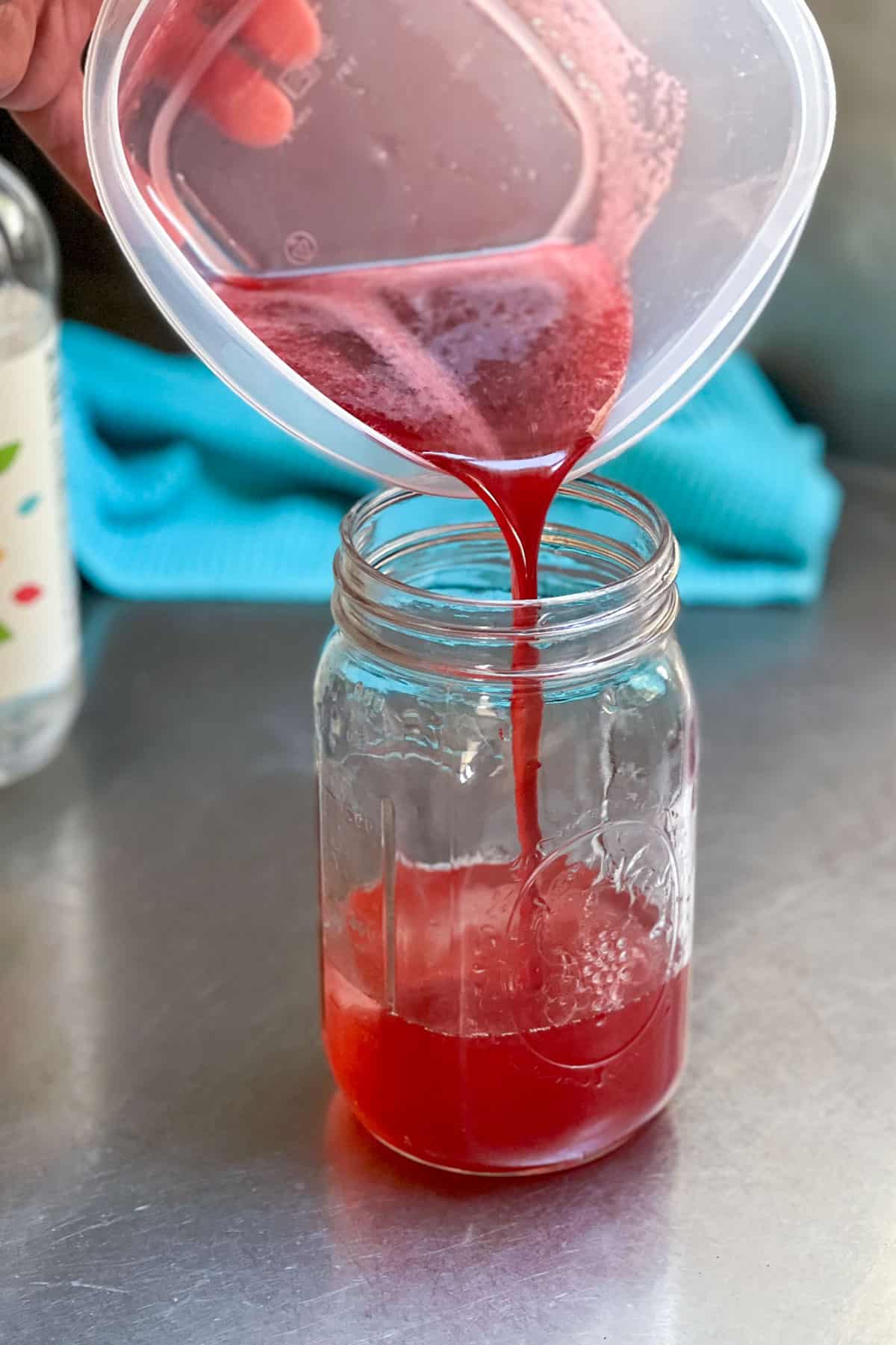 How to make shrub drinks
Once you have a shrub in house, making a shrub drink is just a matter of combining some of the flavorful berry syrup with seltzer and ice. Or shake up a shrub cocktail with vodka or gin, ice and shrub.
If you want dive into making delicious cocktail shrubs, here's an article where bartenders share their trade secrets for making the best shrubs.
We've actually found the non-alcoholic shrub drink so compelling that we've been drinking it long after Dry January ended. Here's how to make our favorite recipe.
Fill any size glass with seltzer and ice and add shrub to taste. I find about two tablespoons works well for 5-6 oz. of seltzer.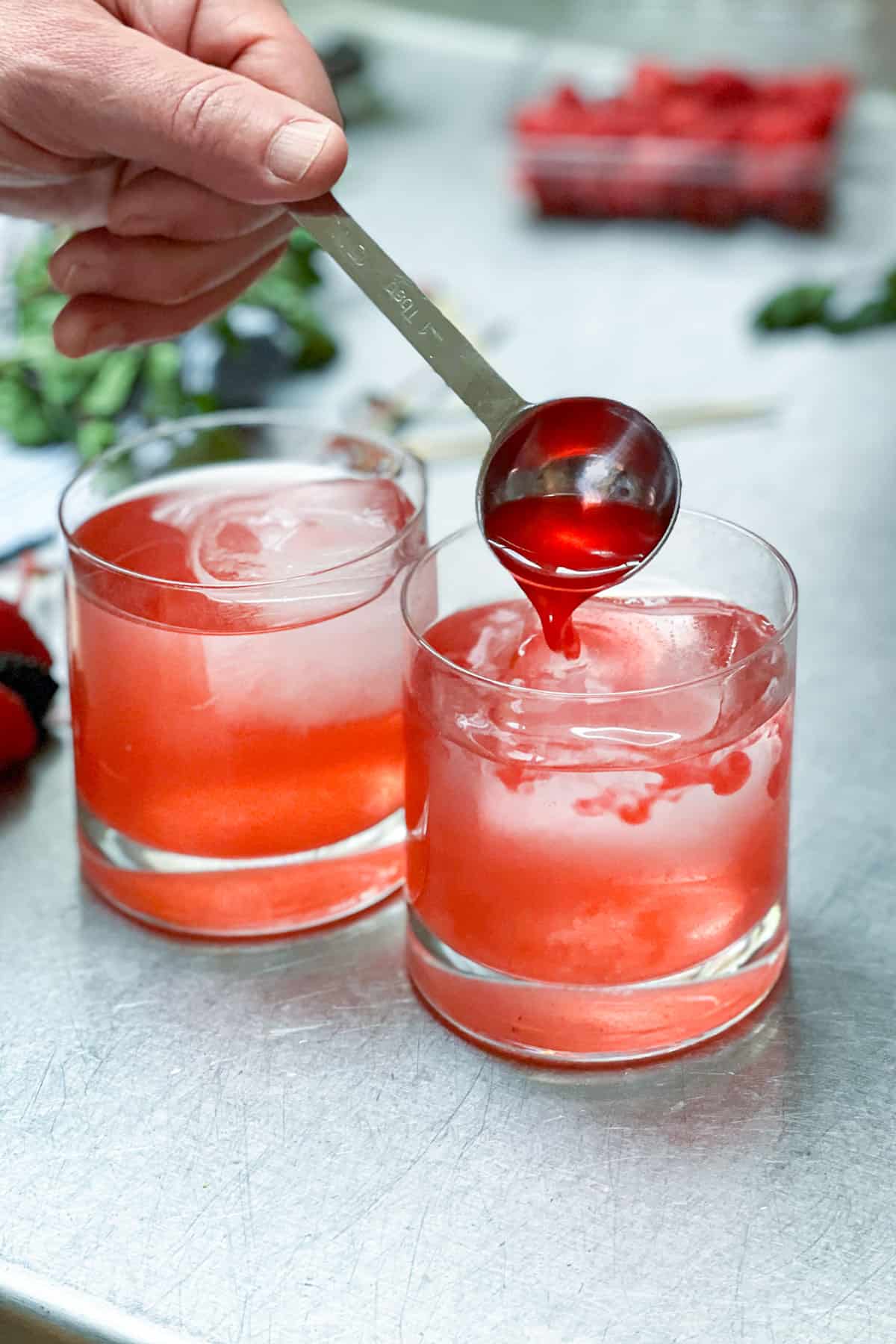 Add a garnish and serve!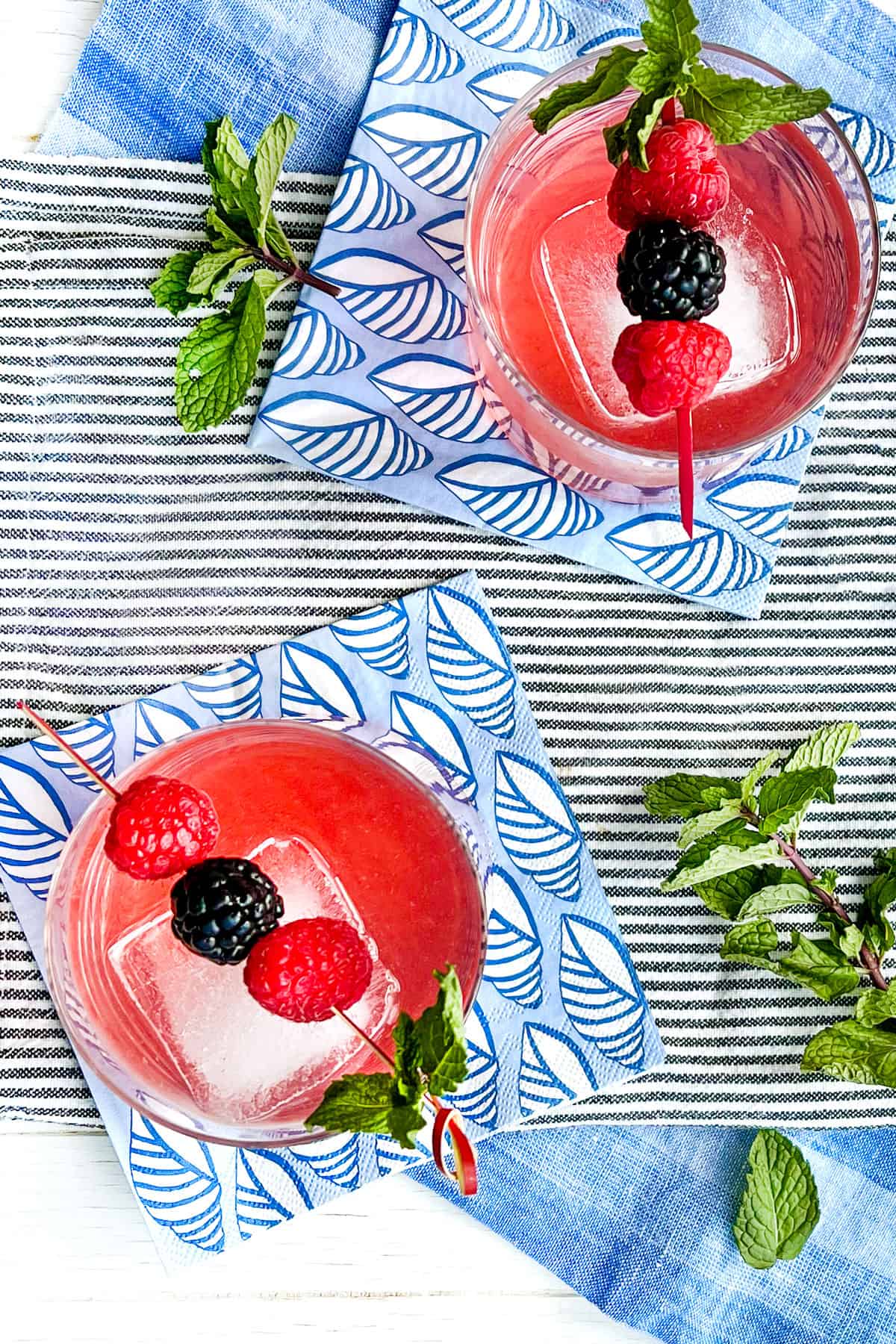 If you try this berry shrub recipe, I hope you'll come back to leave a star rating and a comment. Lisa and I would love to know what you think!
Print
How To Make A Berry Shrub (Drink)
---
Author:

Ed Goldfinger

Total Time:

48 hours 10 minutes

Yield:

15

servings

1

x
Description
This perfectly balanced berry shrub is easy to make and has a unique tart and sweet flavor that will please every palate. This shrub will last up to six months in the fridge and can be used to make refreshing non-alcoholic shrub drinks or delicious shrub cocktails.
---
For the berry shrub:
6

ounces

raspberries

6

ounces

blackberries

1

cup

granulated sugar

1

cup

distilled white vinegar

1

-

2

thin cross-sections of sliced ginger, lightly bruised
For the berry shrub drink:
6

ounces

seltzer

2 tablespoons

berry shrub
Optional garnish (berries, citrus peel, herbs, etc.)
---
Instructions
For the berry shrub:
Rinse the raspberries and blackberries, then add to a midsize sealable container and bruise them lightly with a fork.
Add sugar and mix thoroughly with the berries. Cover and leave at room temperature for 24 hours, stirring occasionally.
Strain the berry mixture through a fine sieve or cheesecloth into a plastic container. Reserve berries for other use - they go great with yogurt and granola.
Mix the syrup from the berries with vinegar and the vinegar in a glass or plastic container. 
Add in sliced ginger and seal.
Refrigerate for at least 24 hours. The flavor will continue to develop for weeks to come.
To make a non-alcoholic berry shrub drink:
Pour seltzer into a glass filled with ice.
Add berry shrub to taste - I recommend 2 tablespoons for 6 ounces of seltzer
Finish with a garnish of fresh berries or herbs (optional) and serve immediately.
Notes
Storage: keep the shrub refrigerated in a well-sealed container for up to six months. Macerated berries should also be refrigerated.
Prep Time:

10 minutes

maceration and refrigeration:

48 hours

Category:

Beverage

Method:

Cold press
Keywords: berry shrub recipe, raspberry blackberry shrub