Mezcal cocktails are all the rage these days. Here's one that will make you understand why. Smoky, spicy, refreshing - there's just nothing better than this Mezcal Bone Crusher on a summer night! Actually, they're delicious any time of year.
Hi, this is Lisa's husband Eddie, guest blogging about one of my new favorite drinks - the Mezcal Bone Crusher. I first came across this drink at the superb Boston restaurant, Taberna de Haro, which is owned by a friend of ours, Deborah Hansen. She recommended it to me one night and after one mind-blowing sip I asked her for the recipe.
The entire flavor palette was new to me - what was this thing?! A little smoky, a little sweet, a little sour, a little spicy? And totally refreshing. I knew it was ultimately destined for Panning the Globe.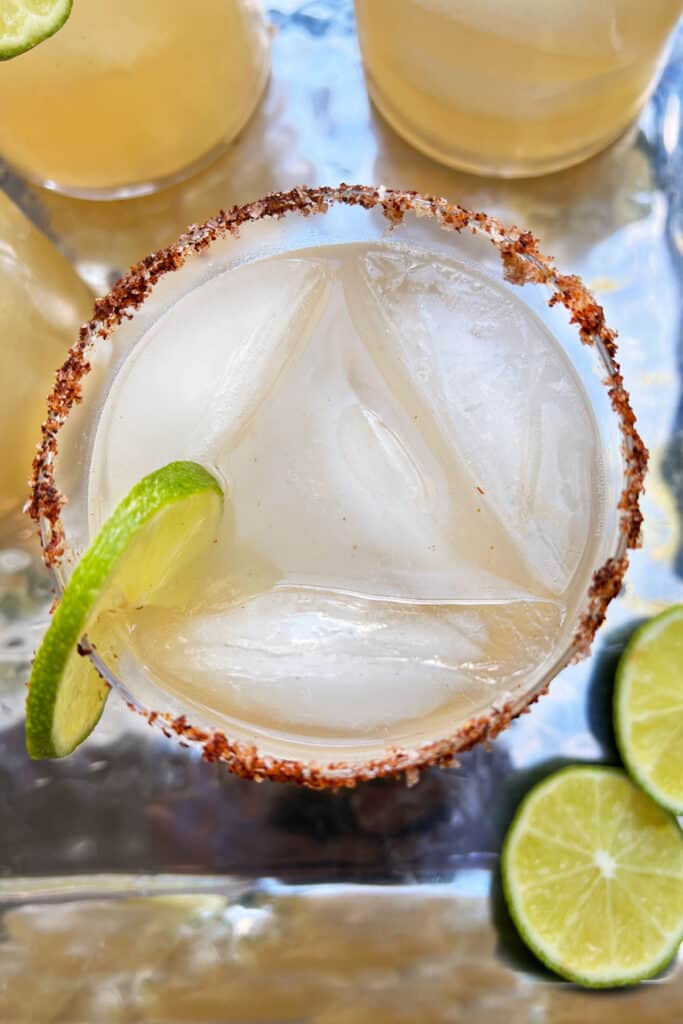 What's in a name?
We should probably talk about the name. Bone Crusher may sound like a drink you wake up the next morning wishing you hadn't had. Don't worry - you'll be fine! Think about this drink as being in the family of a margarita but with a more distinctive flavor.
I will say that the drink name Bone Crusher is often used to describe a very different kind of drink - one that mixes a variety of liquors including vodka, gin, rum, tequila as well as triple sec and champagne all together. I have never tried that drink other than perhaps back in high school when the sister of a friend used to mix everything in her parents' liquor cabinet together as a special nightcap. Trust me, this Mezcal Bone Crusher is a much better choice!
Speaking of the old days, the first time I every came across mezcal was in my 20s at Lucy's Retired Surfers Bar & Restaurant on the Upper West Side in Manhattan. They sold a T-shirt there proudly stating "I Ate the Worm" with a picture of a drunk looking worm on it, but they would only let you buy it if you downed a shot of mezcal with an actual worm in it.
Without getting into details, you will understand if I tell you I abandoned Mezcal after that night and didn't think about it much for decades until I gave it a new chance that night at Taberna de Haro in a Mezcal Bone Crusher Cocktail.
What is Mezcal?
Mezcal has established itself over in recent years as a credible high-end spirit, commanding prices at the high end in the $60-100 range and even more. It is sometimes referred to as tequila's smoky cousin.
Both liquors are derived from the agave plant, but tequila can only be distilled from blue agave plant whereas mezcal is harvested from over 50 different types of agave. This means that, like gin, there are many "varietals" of mezcal and you can explore from a range of offerings to find the ones that appeal to your taste.
And yes, there are mezcal bars or "mezcalerias" in the world to assist you on this journey. The smokiness in mezcal comes from cooking the agave in underground pits, a process I would recommend you watch on youtube to fully appreciate.
Which mezcal to buy
My general advice for liquor going into cocktails is to select one that's "good-enough" quality, and to save the super expensive ones for sipping straight. I have a "workhorse" brand for each spirit, all of which are available for under $40. For bourbon it's Makers Mark or Bulleit, for vodka I use Tito's, for gin I go with Tanqueray and for mezcal, I have been using Del Maguey Vida. This brand is widely available and will not break the bank.
How to make this Mezcal Bone Crusher cocktail
Making a Mezcal Bone Crusher is straightforward. Combine four parts mezcal with one part fresh lime juice and one part simple syrup. Add a squirt of sriracha sauce, shake well with ice, and pour into an ice-filled tumbler and sprinkle a pinch of chipotle chili powder over the surface. Hang a lime wheel off the rim for a garnish.
For a rimmed glass, you can use a combination chili powder and sea salt. (Note: this adds a bit of flair but I have learned it is not for everyone.) I have served this drink now to numerous friends and family members and have had many requests for the recipe. So, here it is! (see below for the full version).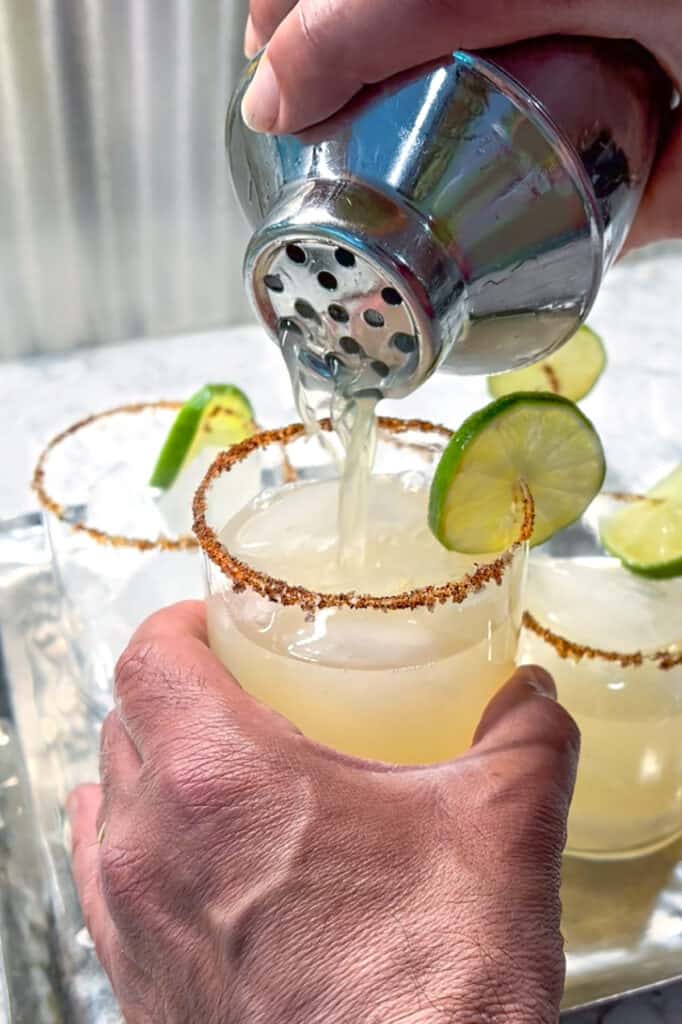 If you like this drink and want to try some of my other favorites, we have posted quite a few on this site including The Perfect Manhattan, Negroni, Basil Dazzle, and Paper Plane.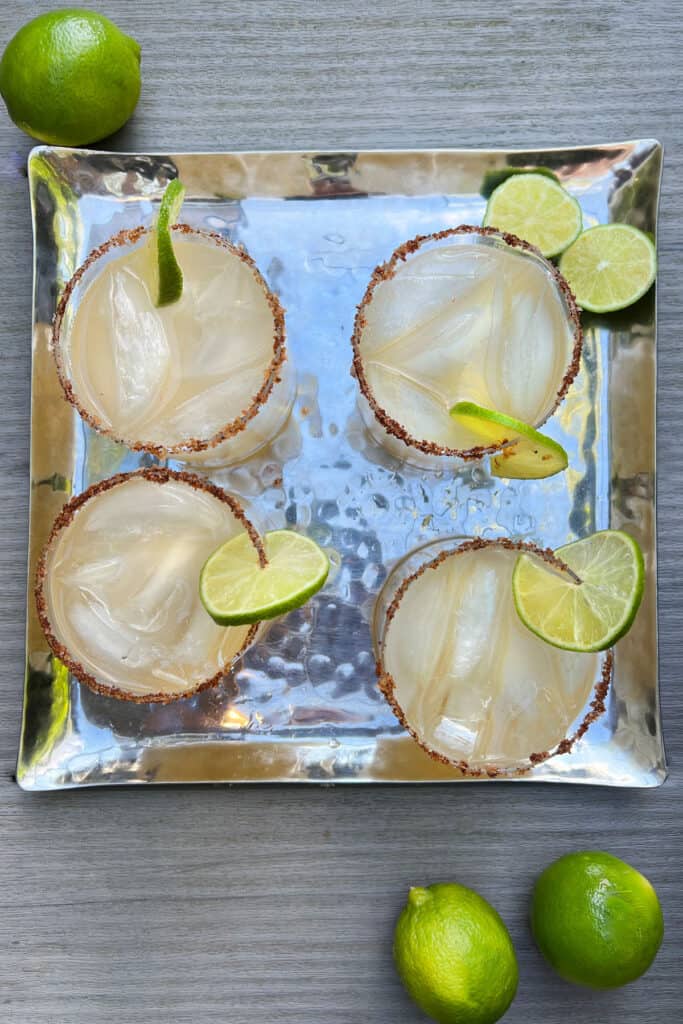 Here's the bone crusher recipe. If you try this, I hope you'll come back to leave a rating and comment. Lisa and I would love to know what you think.
Print
Mezcal Bone Crusher
---
Description
This Mezcal cocktail has a unique flavor profile that is at the same time smoky, spicy, tangy, a little sweet and totally refreshing.
---
8

ounces

Mezcal (I recommend Del Maguey Vida)

2

ounce

fresh lime juice

2

ounce

simple syrup

2

squirts of Sriracha
Ice, for the shaker and the glasses
Salt, for the rim
Chipotle chili powder (or other mild chili powder), for the rim and to sprinkle on the surface
Lime wheels for garnish
---
Instructions
Fill two 12 oz tumblers with ice (rim first with salt and chili powder if desired)
Fill a cocktail shaker halfway with ice, add Mezcal, lime juice, simple syrup and sriracha, shake well and pour into iced glasses
Sprinkle a small pinch of chili powder over the surface of each drink, and hang a lime wheel on each rim
Prep Time:

5 min

Cook Time:

0 mins

Category:

Cocktail

Method:

Shake

Cuisine:

Mexican
Keywords: Mezcal cocktail with lime juice and simple syrup