Here's a fabulous technique for cooking sweet potato wedges to perfection without frying them. Crisp and caramelized outside, sweet and tender inside, firm enough to hold up to a salad or to grab in hand and dip into a tasty dressing or aioli. These are some seriously great grilled sweet potatoes!
I adore sweet potatoes and I especially love making thick-cut fries out of them – in the oven – not fried. If you've tried making oven roasted sweet potato wedges or thick-cut fries, maybe you've had the same challenges I've had with trying to get them browned and crisp on the outside and still firm enough to call "fries"? If so, you might share my excitement about these grilled sweet potato wedges. 
First, how to make them. Then I'll share some of my favorite things to do with them.
Here's How To Make Grilled Sweet Potatoes:
Scrub the sweet potatoes and pop them in the oven. Bake them partially, until they're soft enough to slice easily. (this step can be done up to a day ahead) Cut them into wedges, brush them with olive oil, and set them on a hot grill. Ten to fifteen minutes on the grill yields sweet potato wedges that are stripy, crisp and caramelized on the outside, sweet and tender inside, and firm enough for grabbing and dipping.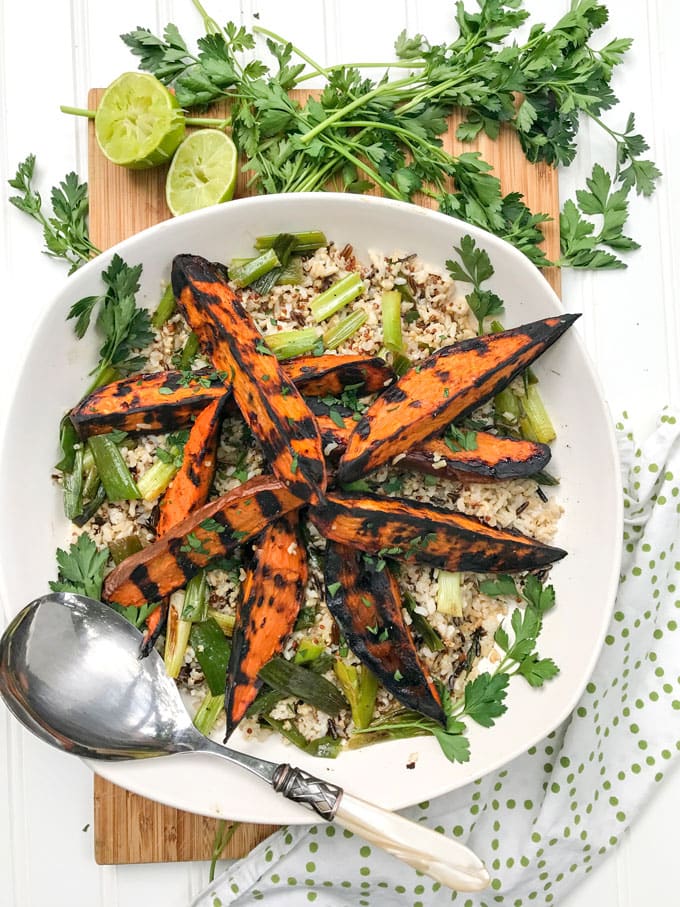 HERE ARE SOME GREAT THINGS TO DO WITH GRILLED SWEET POTATOES
GRILLED SWEET POTATOES SIDE DISH
The simplest thing to do with these delicious sweet potato wedges is to heap them on a platter. Drizzle them with some good olive oil. Sprinkle them with salt and pepper, and you've got a fantastic side dish. For extra zing, spice them up with onion powder, garlic powder, paprika or a little of your favorite chili powder.
GRILLED SWEET POTATOES SALAD WITH RICE AND GREENS
I keep coming back to a simple vegan grilled sweet potato salad with brown and wild rice or quinoa or all three mixed together (a great use of left over rice and grains), plus something green. Blanch or steam your favorite green vegetable or, if you've got the grill going anyway, try grilling up some scallions. Take a whole bunch of scallions, chop off the ends, brush them with olive oil, and grill them for a few minutes until they soften a bit and get some grill marks.
Season them with salt to bring out their flavor, slice into bite sized pieces and toss them with whatever rice or grain you're using. Add the sweet potato wedges, olive oil, salt and pepper. Serve with lime wedges or splash on some soy sauce or coconut aminos.
GRILLED SWEET POTATO SALAD WITH RICE, BROCCOLI AND EGG
My favorite variation on the grilled sweet potato salad theme is grilled sweet potatoes with brown and wild rice, blanched broccoli florets, and a sunny side up egg on top. For those of you who have anti-vegetarians in the family, give this dish a try. It was a happily devoured for dinner by my husband and sons, who are avid carnivores. 
I dressed this salad with a few glugs of good quality extra virgin olive oil, fresh lemon juice, sea salt and fresh ground black pepper. Simple and delicious.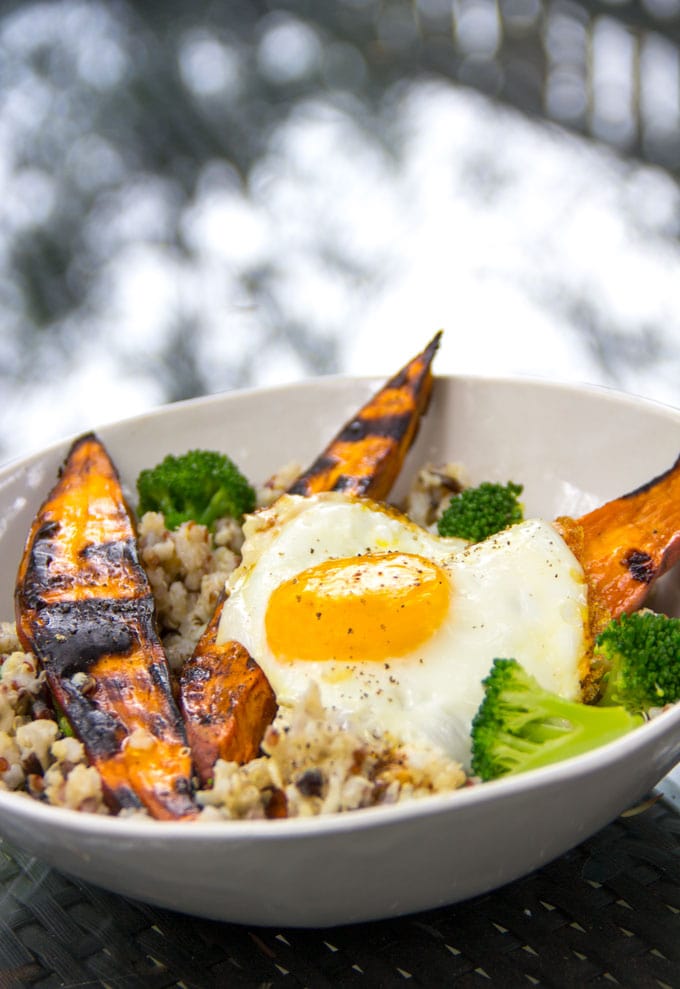 If you want to get a bit more exotic, a light tahini-ginger dressing (recipe below) is great on grilled sweet potatoes. Big thanks to my sister-in-law Jen for this delicious dressing.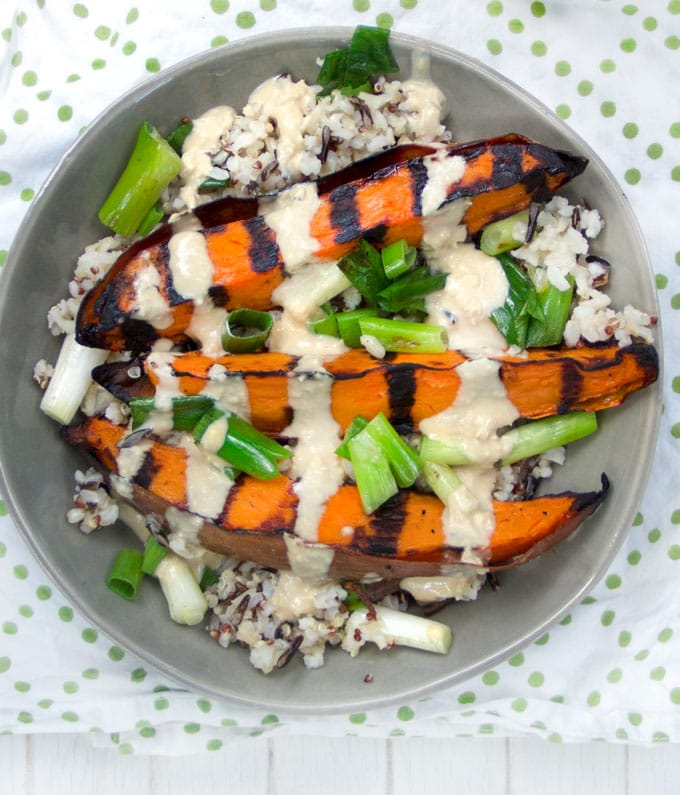 GRILLED SWEET POTATOES APPETIZER WITH CHIPOTLE AIOLI DIPPING SAUCE
One of my all time favorite appetizers is chili and brown sugar baked sweet potato wedges with chipotle aioli dip recipe. It's also delicious with sweet potatoes made this way. The aioli has garlic, lime juice and chipotle chile powder, an insanely delicious combo that's super easy to make and always gets raves. Just pile the grilled sweet potatoes onto a platter with a little bowl of dip in the middle, you've got an outstanding appetizer. If you have any leftover aioli, try it on a sandwich – sooo gooood! (aioli recipe below)
AIOLI PICTURED BELOW WITH OVEN-ROASTED SWEET POTATO FRIES

Grilled sweet potatoes are the best kind of comfort food – totally delicious with the added comfort of knowing that the food your enjoying is healthy.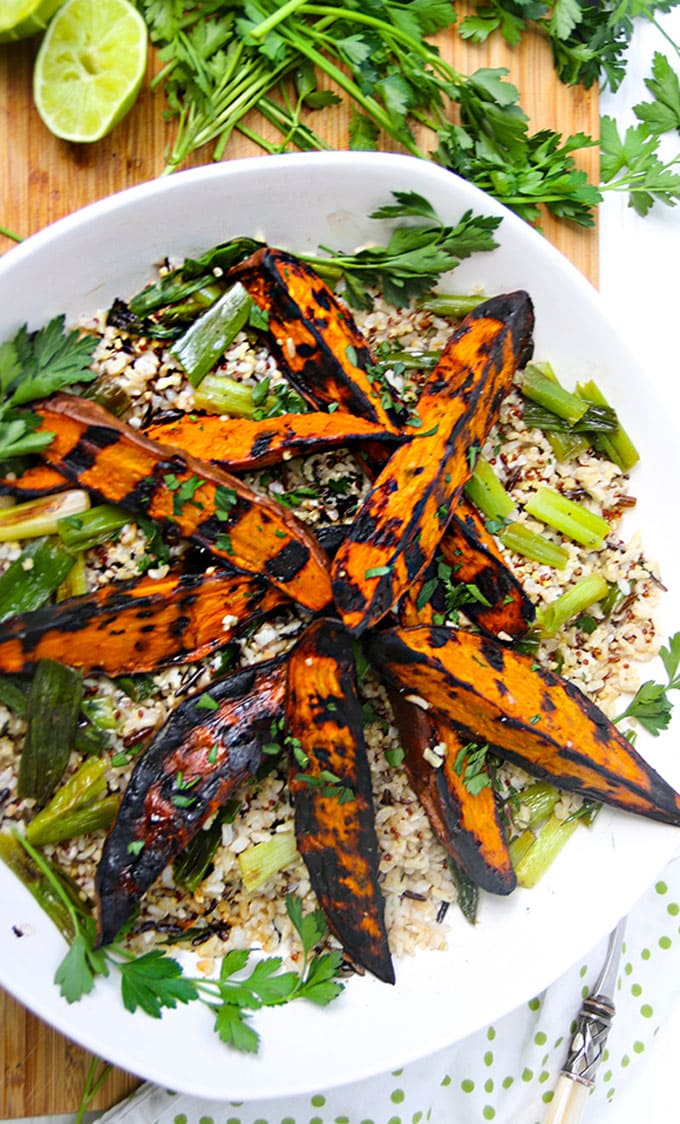 Here's the recipe for grilled sweet potatoes. If you make them I hope you'll come back to leave a comment, a rating and to let me know what you did with them and how you like them.
Print
Grilled Sweet Potatoes Recipe
Sweet potatoes are partially baked, sliced into wedges and grilled to perfection. Striped with brown and crisp on the outside, tender and sweet inside. Perfect for a side, a salad, or for a grab and dip appetizer.
Author: Panning The Globe
Prep Time:

5 mins

Cook Time:

1 hour

Total Time:

1 hour 5 mins

Yield:

6

-

8

1

x
Category:

Vegetable side dish, main dish, or appetizer

Cuisine:

Mediterranean
Scale
Ingredients
3

large sweet potatoes of similar size. Garnet yams are my favorite. (

2 1/2

pounds)

1/4 cup

of extra virgin olive oil
Optional Dressings and Dips:
For The Ginger Tahini Dressing:

1/4 cup

tahini (sesame paste)

2 tablespoon

s extra virgin olive oil

4 tablespoon

s roughly chopped ginger root

3

medium cloves of garlic, roughly chopped

2 tablespoon

s Tamari, soy sauce or coconut aminos

1/4 cup

water
For The Chipotle Aioli Dip

1 cup

of mayonnaise (I recommend Hellman's)

2 teaspoon

s finely minced garlic (

2

medium cloves)

2 teaspoon

s fresh lime juice

1 teaspoon

chipotle chile powder
Kosher or sea salt, to taste
Other Optional Ingredients For Making Rice Bowls or Salads:
Cooked brown and wild rice or cooked quinoa or a combination (1/3 cup or so per person)
A bunch of scallions, trimmed, brushed with olive oil, grilled for a 3-4 minutes, salted and sliced
One head of broccoli, cut into bite sized florets, blanched and drained (cook florets for 2 minutes or so in boiling water and drain)
Fried or poached eggs (1 per person)
Instructions
To Make The Grilled Sweet Potatoes: Preheat the oven to 400ºF. Scrub the sweet potatoes, pierce with a fork a few times and set them on your oven rack. Bake them for 40-45 minutes or until they are cooked enough so that if you push your thumb in firmly, you can make an impression. Baking time will differ depending on the size of the potato but you can always adjust later with more or less time on the grill, to get the desired result.
Let the potatoes cool until you can handle them. (At this point you can store the partially cooked sweet potatoes wrapped in foil or plastic in the fridge for up to 24 hours) Slice each potato in half lengthwise, then cut each half into wedges, lengthwise. (6-8 wedges per potato)
Preheat the grill to medium-high. Place the potato wedges, skin-side down, on a large tray or platter. Brush the cut sides generously with olive oil. Arrange them on the hot grill, cut side down, and cook, with the grill cover down, for four to six minutes per side, flipping them over to the other cut side half way through. Leave them to cook until they get nice grill marks and are cooked to your desired consistency. The longer you cook them, the more tender and sweet they will be, with more crisp browned parts.
Let them rest for 5-10 minutes, tented with foil. Serve them warm or at room temperature.
As A Side Dish: Dress them with extra virgin olive oil, salt and pepper. Add onion powder and/or chili powder, if you like.
As A Salad or Rice Bowl: Fill bowls with rice, quinoa, grains or a combo. Add blanched broccoli florets or grilled scallions. Dress with olive oil, lemon or lime juice, salt and pepper. Add a fried or poached egg, if you like. Drizzle with ginger tahini dressing, if you like.
As an appetizer or game day snack: Season grilled sweet potatoes with salt and pepper. Serve with chipotle aioli dip.
To Make The Ginger Tahini Dressing: Blend all the ingredients together in a blender or small food processor. Add more water, a teaspoon at a time, to thin to desired consistency.
To Make The Chipotle Aioli Dip Whisk mayo, garlic, lime juice and chili powder. Add salt, to taste. Keep covered in the fridge until ready to serve.