Hi, this is Lisa's husband Eddie, guest blogging my award winning chili based on popular demand (mostly from my wife).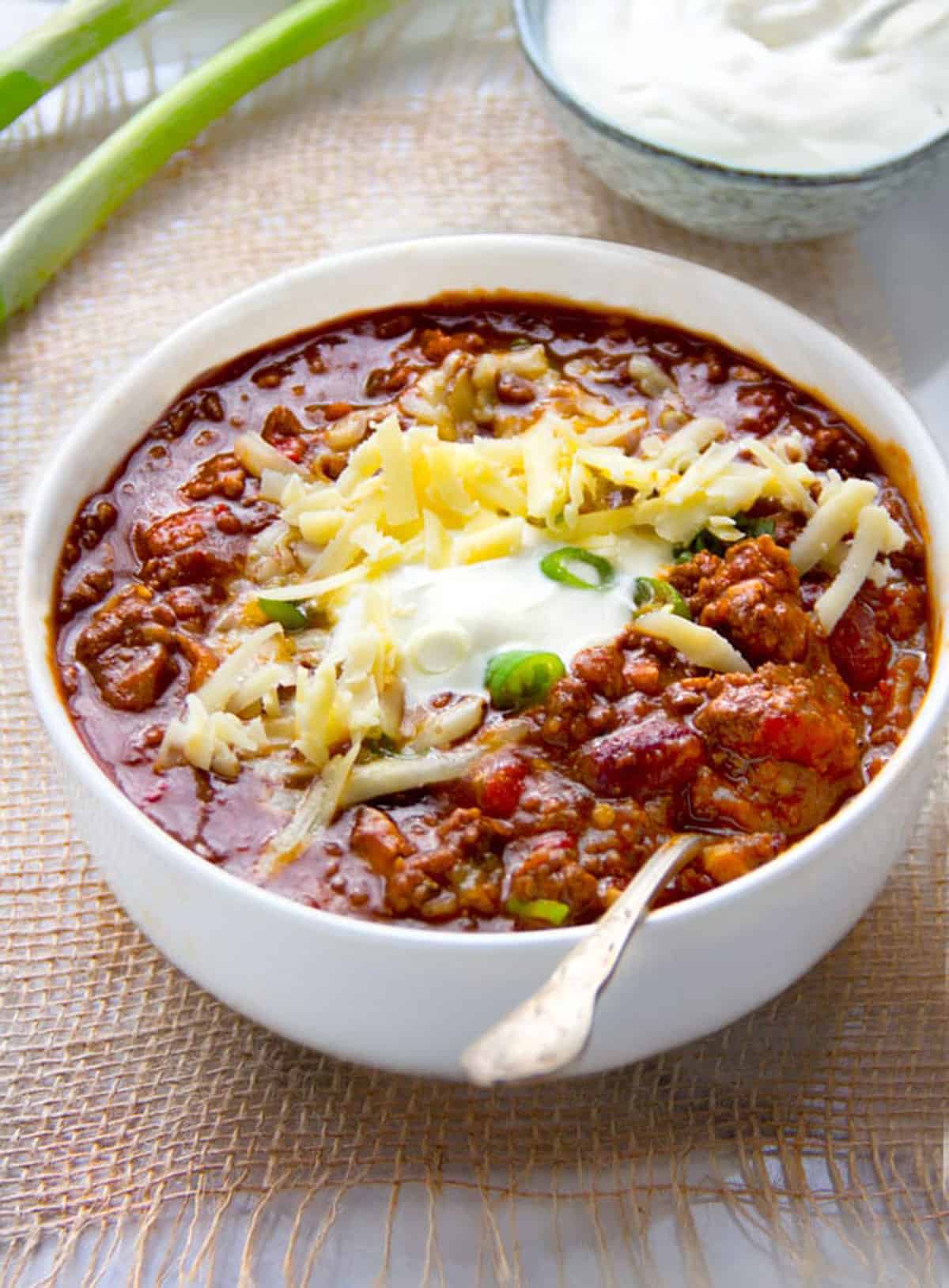 I'll never forget the first chili cook-off I ever attended. It was an office event and it hadn't even occurred to me to submit my own entry. There were about a dozen chilis to choose from ranging from incredible to inedible (the latter being heat related – it was called "The Five Alarmer" and it passed its time at the cook-off largely undisturbed).The ultimate winner, whose chili I had voted for, was a young woman just starting her career. I was an executive at the time, which I mention only to emphasize how awkward it was when I asked her if she would share her recipe with me and she just looked at me and shook her head.I suddenly understood the competitiveness involved in these things – there would be another chili cook-off at some point and she wasn't giving away any secrets. Thus began my personal quest to win a chili contest!
I tried a number of different approaches in the following years, including a purist Texas style chili that shunned beans and ground beef in favor of unadorned hunks of stew meat simmered in what I thought was an excellent balance of chiles and spices. "Delicious", someone told me after I placed third, "but it's not really chili".
The award winning chili had beans in it. And I had to admit it was much better than mine, in part because it had three different kinds of meat in it, including sausage.
Determined to come up with an award winning chili, I narrowed my sights to multiple-meat chilis and came upon Guy Fieri's Dragon Breath chili, which is the recipe I'm adapting here.
This chili contains chuck meat, Italian pork sausage and ground beef plus three different kinds of peppers (poblano, Anaheim and jalapeño) which results in excellent flavor, texture and heat. And my version has a little something extra! Fieri's recipe calls for either bacon grease or canola oil to sauté the aromatics. Easy choice I thought, but it's not as if you can buy bacon grease so I got a 12-oz package of bacon, cut it into small pieces and rendered the fat myself. It produced just about the right amount of fat, but also an interesting byproduct. As I looked at those cooked bits of bacon I thought "who am I kidding? Those are going into my chili!"
Also Lisa advised that I use three different kinds of chili powder to add a depth of flavor to match up against the three (now four actually) kinds of meat and three types of chili pepper. Finally, my taste in beer steered me toward an IPA rather than the lager suggested by the original recipe.
Aside from those differences and the fact that I brown the meat separately instead of in with the sautéed vegetables, the credit goes to Fieri for an amazing recipe, especially his use of spices which generates a level of heat that is just on the edge, which in my view is where a chili should be.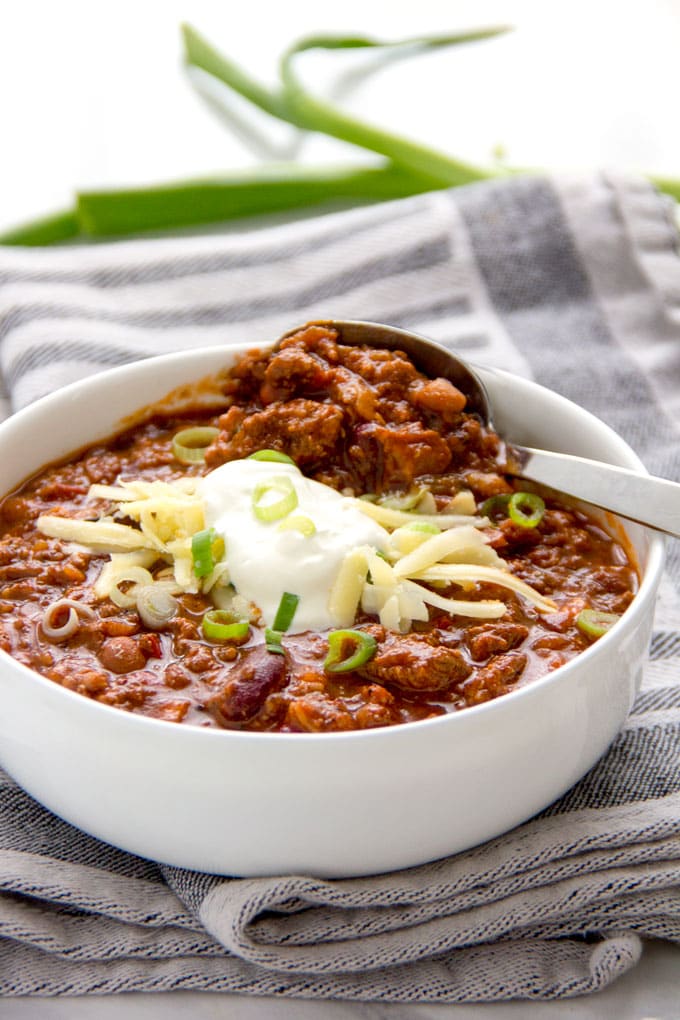 My chili won two cook-offs outright including one against Dean's award winning white chicken chili.
It also took best meat chili in a third competition (lost to a vegetarian in the all-around that year) and came in a very close second to Dean's white chicken chili in another cook-off that was heartbreaking for me.
Against a field of roughly 20 chilis and with hundreds of votes tallied, Dean and I were counted up exactly even to tie for the win and the medal was awarded jointly to us. In what has since become known as Chili-gate, I later that day discovered that unlike the previous competition, the cooks were not allowed to vote. I conceded that I had in fact voted and presented sole ownership of the blue ribbon to Dean. I kidded him that my vote was for his chili (it wasn't).
HERE'S HOW TO MAKE EDDIE'S AWARD WINNING CHILI:
This chili takes time to prepare and involves numerous ingredients, but it's totally worth it and the basics are straightforward.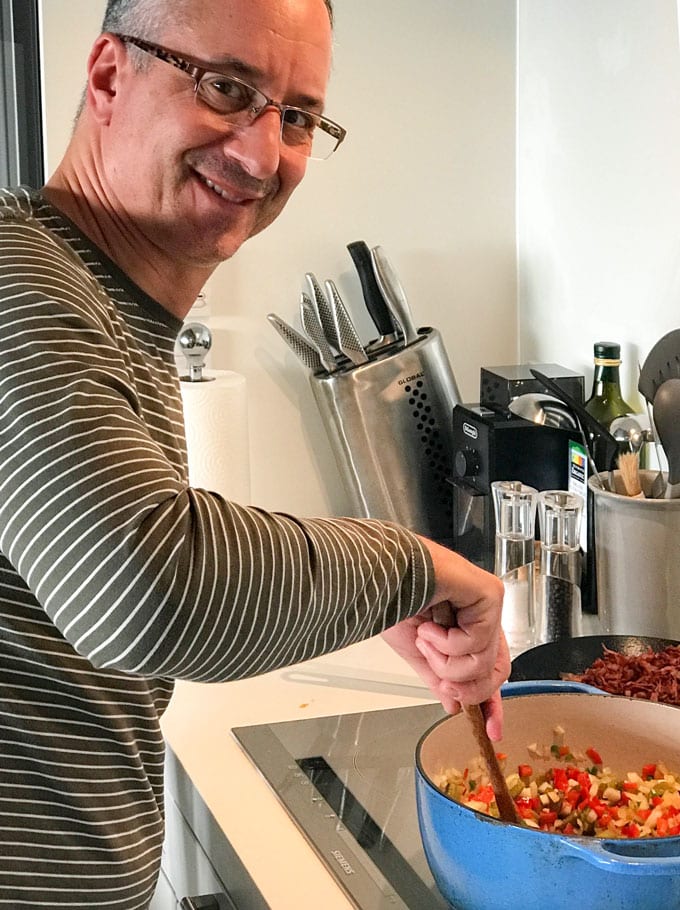 Start by roasting, peeling and chopping the chiles. Keep a close eye on them while they are roasting - things can escalate quickly.
In the meantime, cut up and fry down the bacon to provide the grease to use for sautéing (and the bacon itself!). You then sauté the chiles and vegetables in the bacon fat, remove them and brown the meat in the same pot.
Then add the spices, the tomato sauce and paste, chicken broth and beer and simmer for two hours.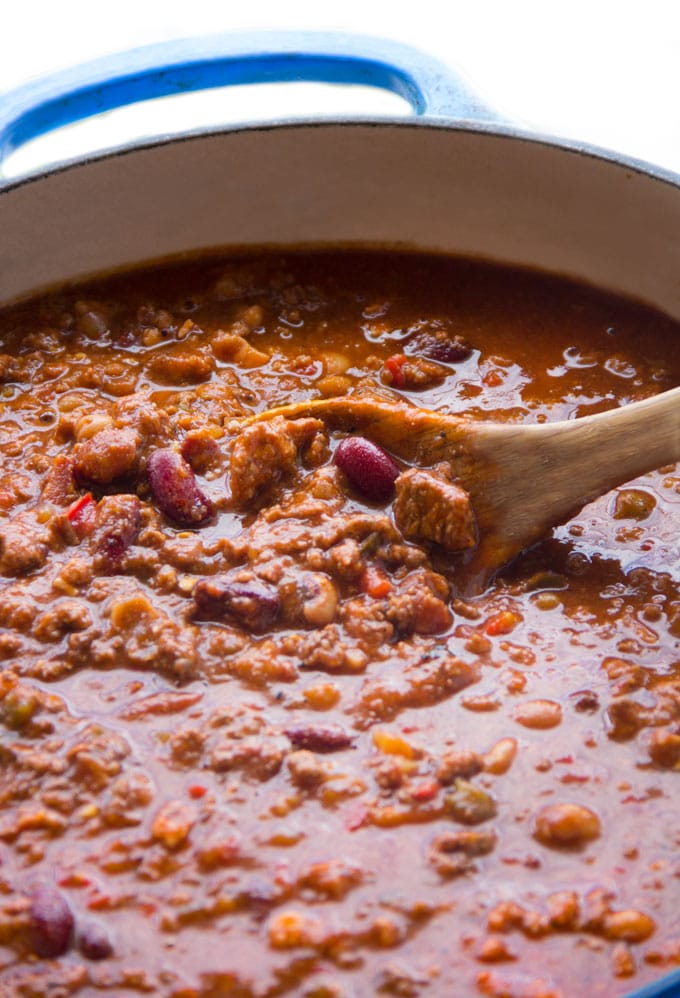 Lisa asked me to advise you that if you want to be a little healthier you can skim the fat off the surface periodically which, in my opinion, for this dish is sort of like saying that if you want to be a little safer when you go cliff diving, wear knee pads. But anyway consider it mentioned.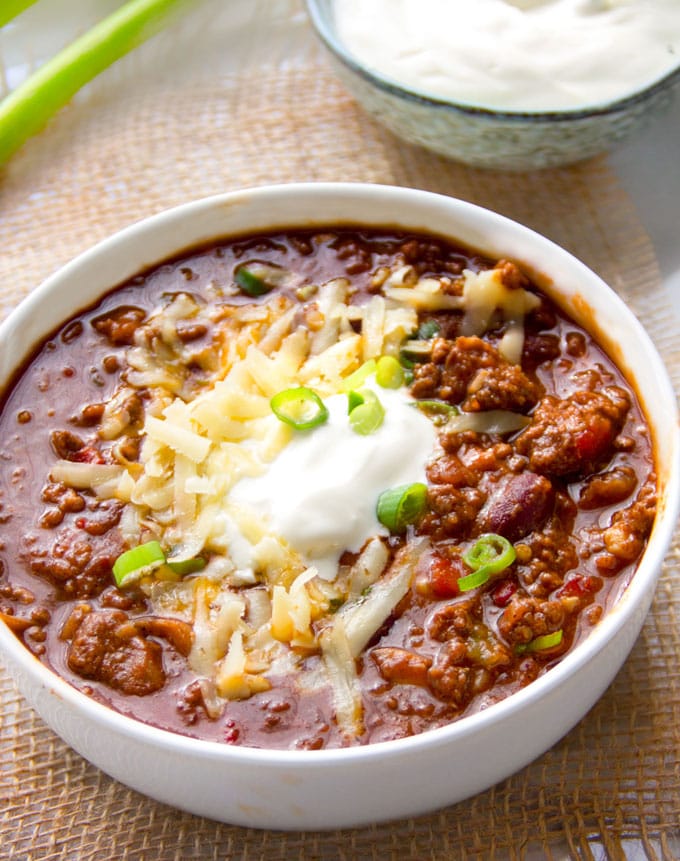 No skimming was involved when I took first place in the cook-offs. And if you really want a healthy chili option, try this vegetarian chili or this Turkey Chili.
I also want to say that it is great to have a sous chef alongside when you prepare this chili, preferably Lisa.
One final note: for my taste the heat level is perfect, but if you want to tone it down, the best way is by reducing the amount of cayenne pepper.
Here's my award winning chili recipe. If you make this please come back to leave a comment and let me know what you think.
Print
Eddie's Award Winning Chili
---
Description
A fantastic award winning chili con carne, with beef, pork, three kinds of chilis, a perfect balance of spice and heat.
---
3

Anaheim chiles, roasted, peeled, chopped

3

poblano chiles, roasted, peeled, chopped

12

ounces

of bacon, cut crosswise into ¼-inch strips and sautéed until almost crisp. Reserve 3 tablespoons of bacon fat.

3 tablespoons

bacon fat (rendered from the bacon)

2 tablespoons

vegetable oil (canola, grape seed or your favorite)

2

red bell peppers, seeds and ribs removed, diced

2

jalapeno peppers, seeds and ribs removed, minced

2

yellow onions, peeled and diced

1

head garlic, peeled and minced (

10

-

12

garlic cloves, 6 tablespoons minced garlic)

1

pound

boneless beef chuck, trimmed of fat and gristle, cut into ½-inch cubes

2

pounds

ground beef

1

pound

sweet Italian sausage, casings removed

3 tablespoons

chili powder (Try using

3

different chili powders for great depth of flavor - I use ancho, chipotle and Mexican)

2 teaspoons

cayenne pepper (Half this amount for less heat)

2 teaspoons

ground coriander

2 teaspoons

ground cumin

2 teaspoons

granulated garlic

2 teaspoons

granulated onion

2 teaspoons

hot paprika (not smoked)

2 teaspoons

kosher salt

2 teaspoons

freshly ground black pepper

2

cups

tomato sauce (passata, not ketchup for those in the UK)

8

ounces

tomato paste

12

ounces

of your favorite beer (I use an IPA because I like the hoppy flavor)

1

cup

chicken stock
2

15

-

ounce

cans kidney beans, with juice
2

15

-

ounce

cans pinto beans, with juice
Optional Garnishes:

1

bunch green onions, thinly sliced or

1

red onion, finely chopped
Shredded cheddar cheese or Monterey Jack
Sour cream
---
Instructions
Roast the Chilies: Preheat the oven to broil (500ºF) Set an oven rack at the top, directly under the broiler. Spread the chiles out on a low-sided oven tray and roast for 15-20 minutes, turning peppers with tongs every five minutes, until their skins are about 60-70% blackened on all sides. Put the hot peppers directly into a paper bag. Roll down the top of the bag so they're tightly contained. Let them sit and steam for 15-20 minutes until the skins are loosened and easy to peel off. Peel off skins, remove seeds and membranes, and chop.
Sauté Chilis and Aromatics: Add the bacon grease and oil to a large heavy pot or Dutch oven (6-quart), over medium-high heat. Add the chopped chiles, red bell peppers, jalapeño peppers and onions. Cook for 5 minutes or until the vegetables just start to become translucent. Add garlic and cook 1 minute longer. Transfer all the sautéed vegetables to a bowl and set aside. No need to wash the pot, you'll use it to brown the meat.
Brown the Meats: Add the cubed beef chuck to the pot and cook, stirring often, until lightly browned on all sides, about 4 minutes. Add the ground beef and sausage and cook for 7-10 minutes, stirring to break up the sausage and ground beef, until the meat is no longer pink. Return the cooked vegetables to the pot along with the reserved bacon.
Add Spices: chili powders, cayenne, coriander, cumin, granulated garlic, granulated onion, paprika, salt and black pepper. Cook, stirring, for 1 minute, until fragrant.
Add the Rest of the Ingredients: Add the tomato sauce and paste. Cook, stirring, for 2 minutes, to combine. Add beer, chicken stock, kidney beans with their liquid and pinto beans with their liquid. Bring to a boil, lower to a simmer, and cook for 2 hours, uncovered, stirring occasionally.
To Serve: Ladle chili into bowls. Top with garnishes or put garnishes into small bowls for self serve.
Notes
Should you drain and rinse the beans? In my experience draining and rinsing the beans is not required. If you're someone who feels otherwise, by all means drain and rinse - the outcome will still be terrific!
Prep Time:

1 hour 45 mins

Cook Time:

2 hours

Category:

Main Dish

Method:

stovetop

Cuisine:

Tex-Mex
Keywords: chili con carne, meaty chili, chili with beef and pork