Ratatouille is a famously delicious French vegetable stew that contains eggplant, zucchini, bell peppers and herbs simmered in richly spiced tomato sauce. This exceptional French Provençal dish should be a staple for every home chef but many ratatouille recipes are overly complicated and time consuming.
For those of us who want ratatouille in our regular dinner rotation, here's an extremely easy, no-fail ratatouille recipe that's so good it's the only ratatouille recipe you will ever need!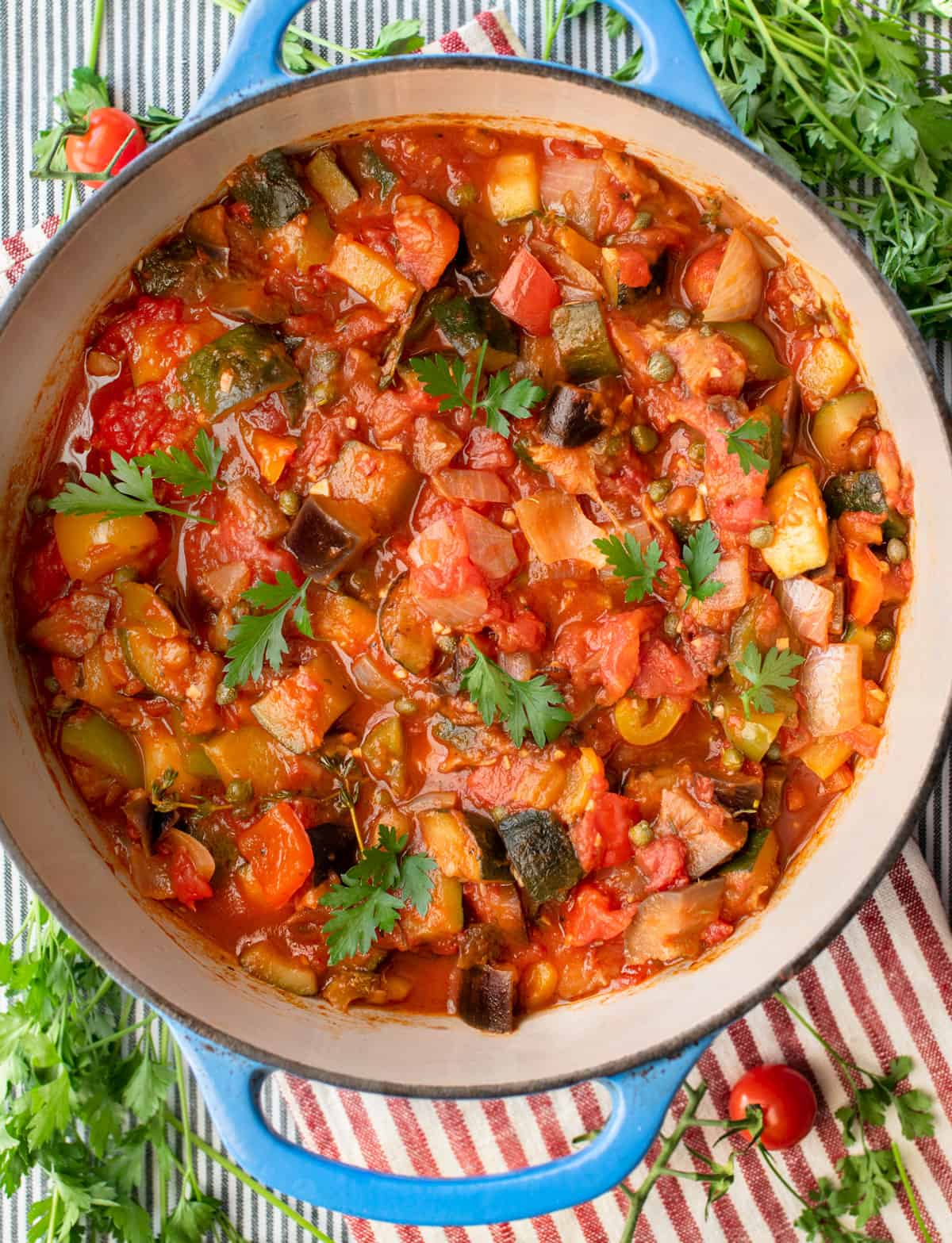 Ratatouille
It was back in the 1700s in the French countryside that ratatouille came to be, a rustic stew that Provençal farmers made from leftover vegetables and herbs to create a cheap and affordable meal.
From its humble beginnings, this hearty dish eventually found its place on French restaurant menus and ultimately has become known and beloved worldwide.
Ratatouille is rich and comforting with a winning combination of vibrant sweet peppers, sweet tangy tomatoes, savory eggplant and zucchini along with bright fresh herbs, making a hearty and extremely flavorful vegetable stew.
You've got to love a recipe that turns simple vegetables into such an irresistibly delicious dish!
Though I've enjoyed many different ratatouille recipes over the years, this recipe has become my one and only because it makes extremely good ratatouille and it's easy. No salting of the eggplant, no pre-roasting, no fussy arrangement of veggies.
This recipe will take you about 30 minutes to prep and then the stew will continue to simmer for an additional 30 minutes. All the excitement happens in one pot so clean-up is a breeze.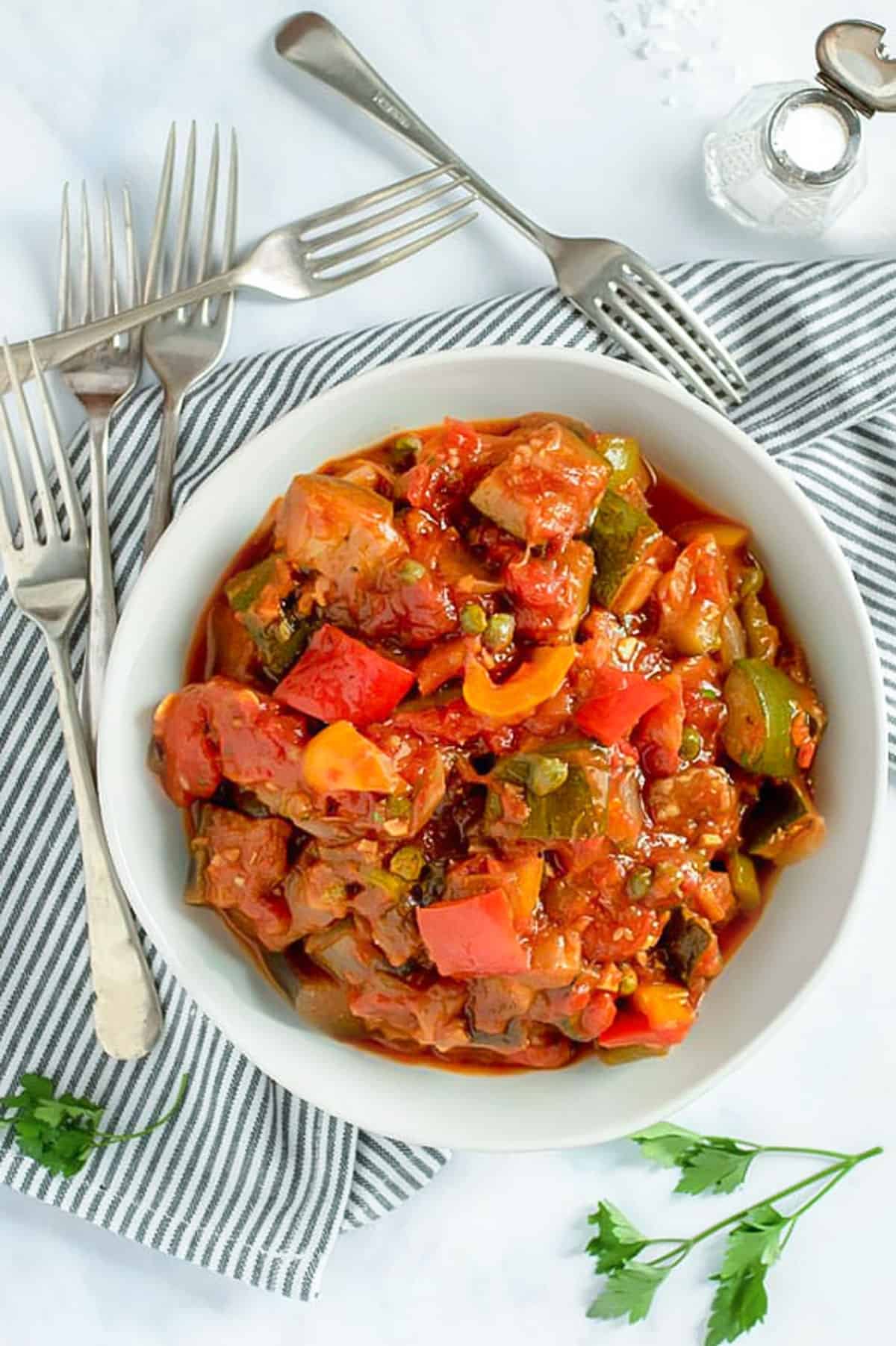 Ingredients for ratatouille
Here's what you'll need:
Eggplant, zucchini and bell peppers - these are the staple vegetables of ratatouille. They create the substance of this stew.
Olive oil - the oil of choice for sautéing the vegetables with the added benefit of adding rich fruity olive flavor to the stew.
Onions and garlic - these aromatic vegetables are essential flavor-building ingredients of ratatouille.
Tomato puree and tomato paste - The best canned tomatoes = the best ratatouille. I recommend San Marzano D.O.P tomatoes. For the best quality and flavor, buy canned whole tomatoes and puree them yourself.
Fresh thyme - a delightful earthy, minty, woodsy, punchy flavor component of this rustic vegetable stew.
Salt, pepper, bay leaf and herbs de Provence - The classic seasonings for ratatouille.
Capers - while olives are more traditional than capers for classic French ratatouille, I prefer capers. They add just the right touch of salt and acid to brighten this dish without overpowering the delicate sweet flavors of the vegetables.
How to cut eggplant for ratatouille
There are two effective methods for cutting eggplants into cubes.
Method one: Cut the eggplant in half lengthwise, then cut each half into long 1-inch wide strips. Then cut each strip crosswise into 1-inch cubes.
Method two: Slice the eggplant crosswise into 1-inch thick rounds. Lay each round on a cutting board and slice into 1-inch cubes.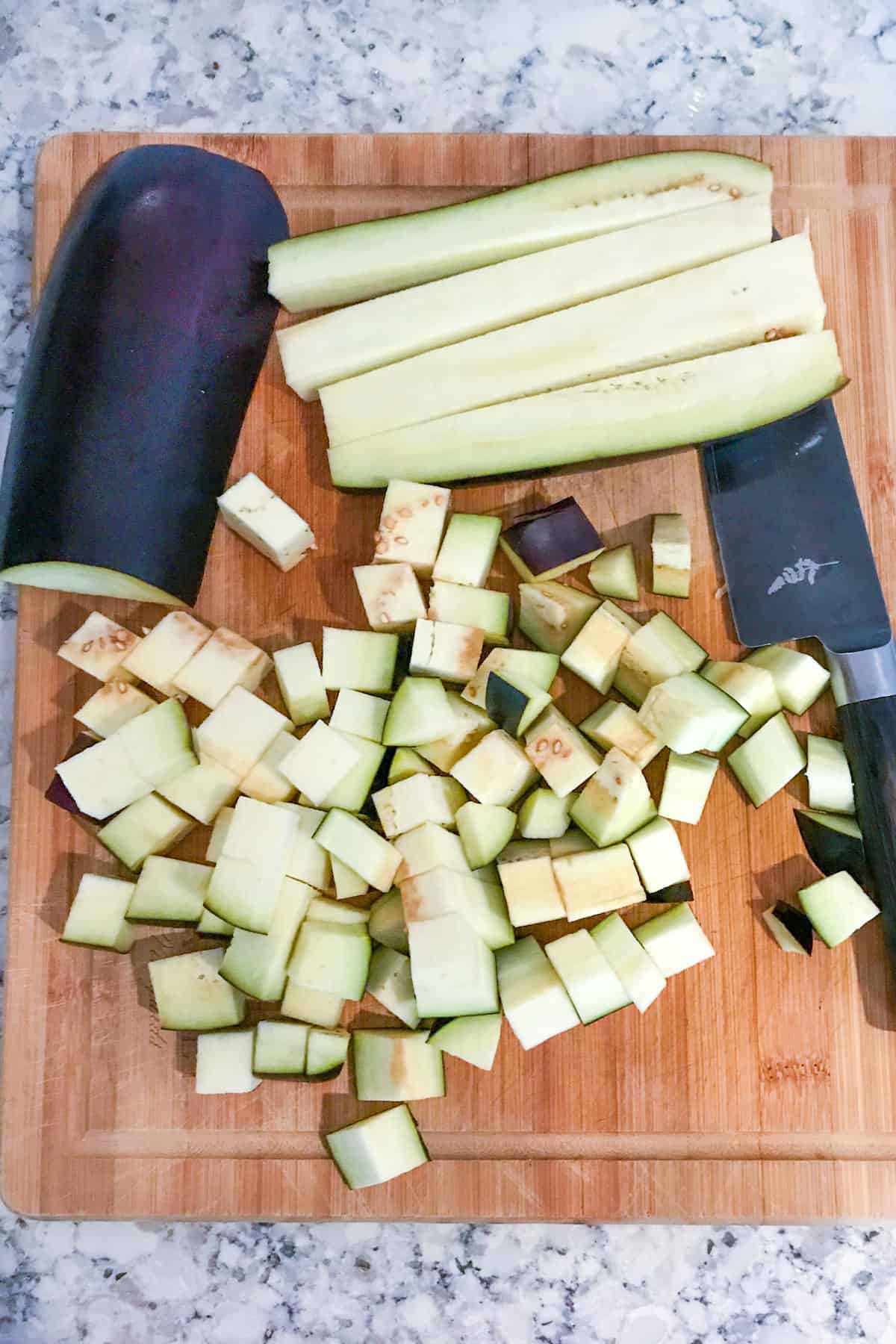 How to make ratatouille
Heat the olive oil in a large heavy lidded pot or dutch oven and sauté the eggplant and zucchini for about five minutes, just until the veggies begin to soften.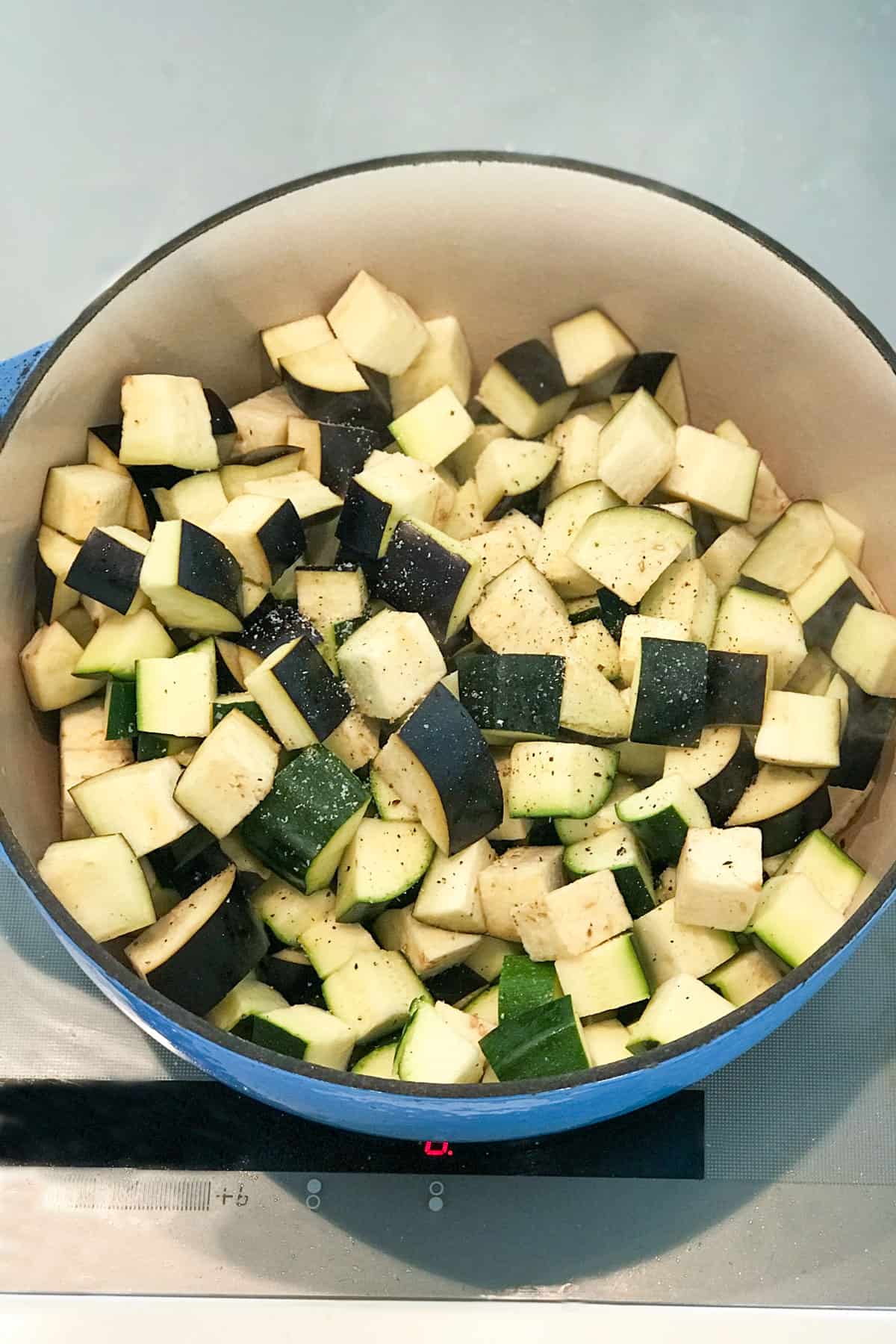 Add the peppers, onions and garlic to the pot and cook, stirring, for a few minutes longer.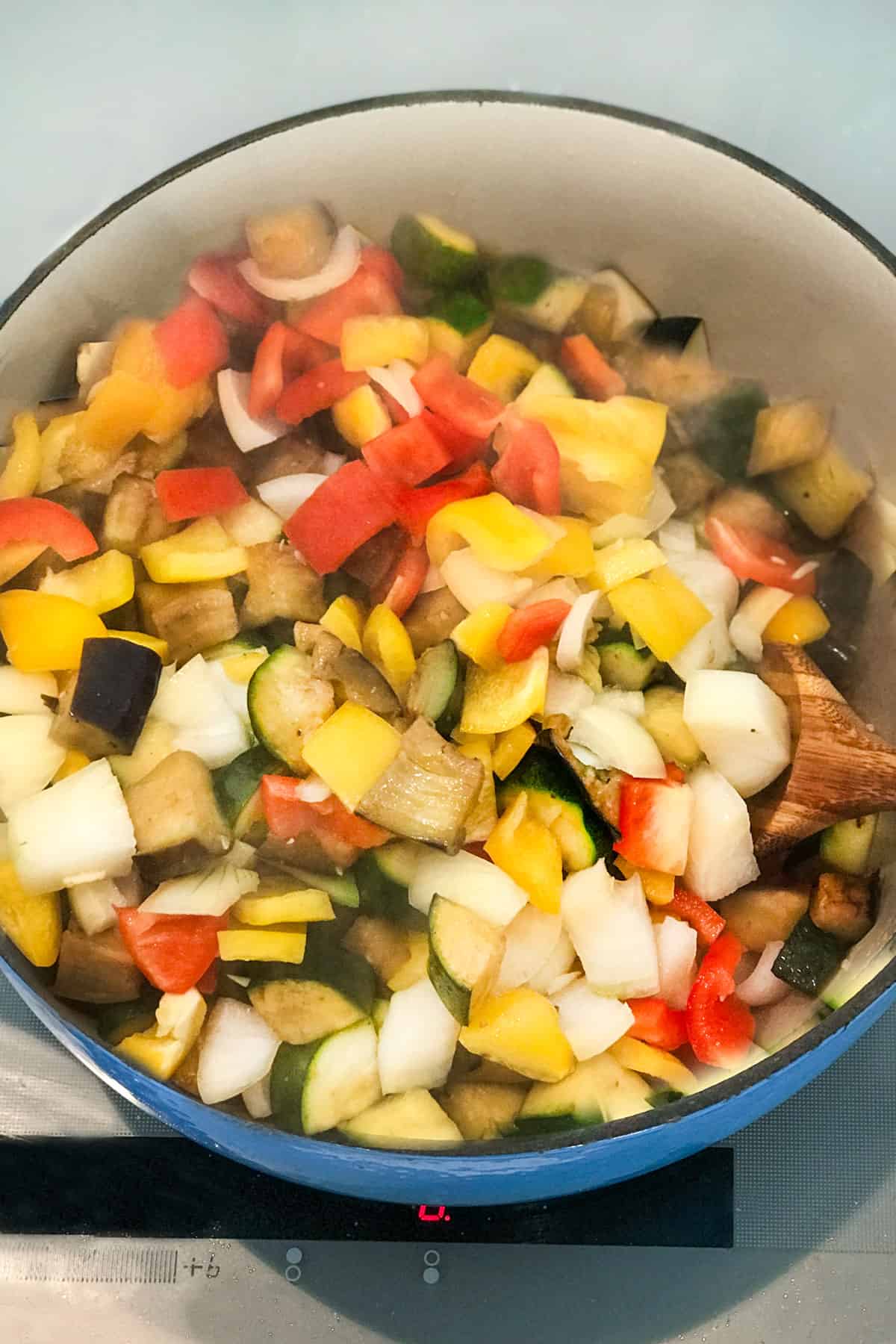 Add the tomato puree and the tomato paste and give it all a good stir.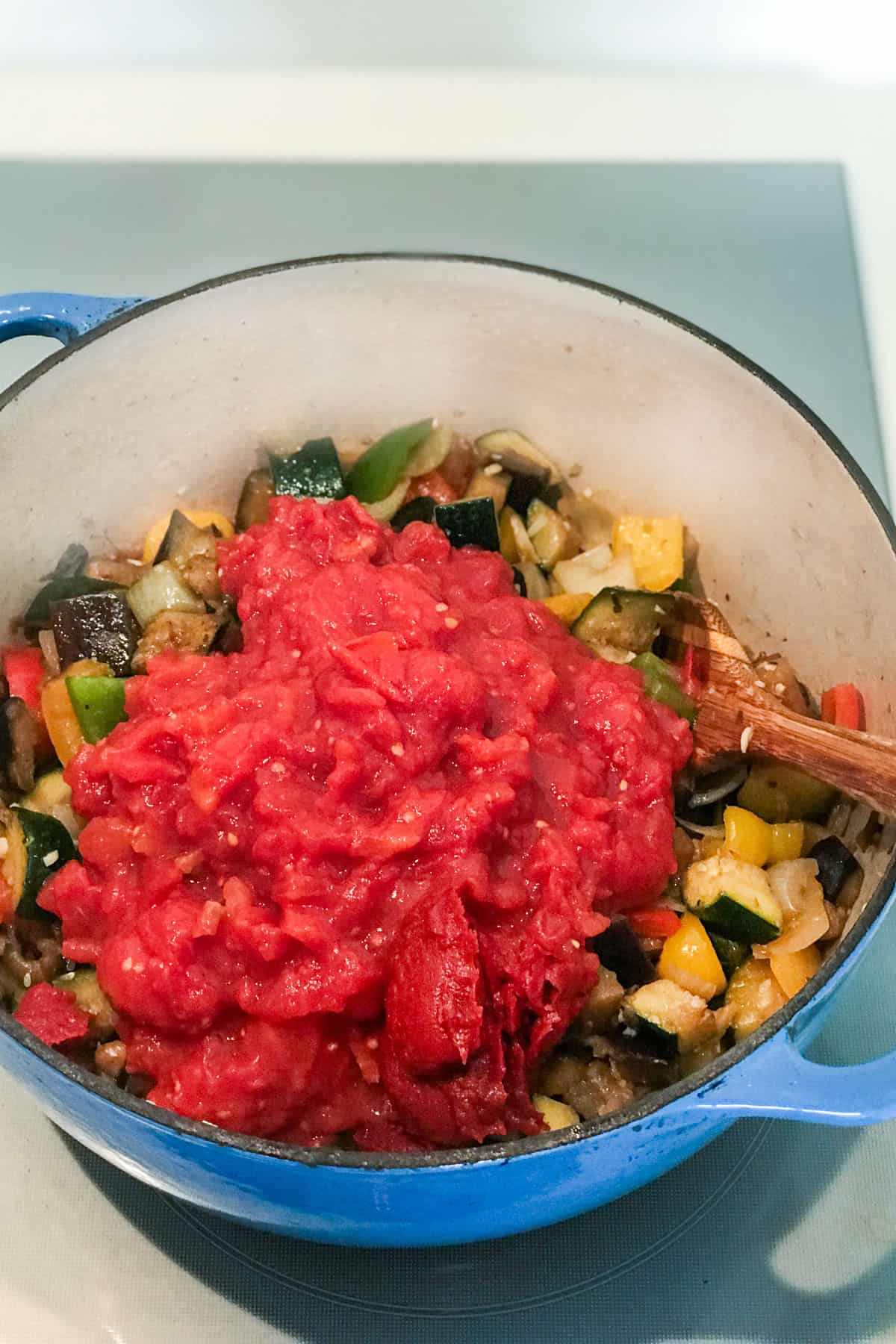 Add the fresh thyme, herbs de Provence, bayleaf, salt, pepper and capers and gently stir to combine all of the ingredients.
Cover the pot, and simmer gently for 25-30 minutes, until the sauce has thickened and all the delicious flavors have melded.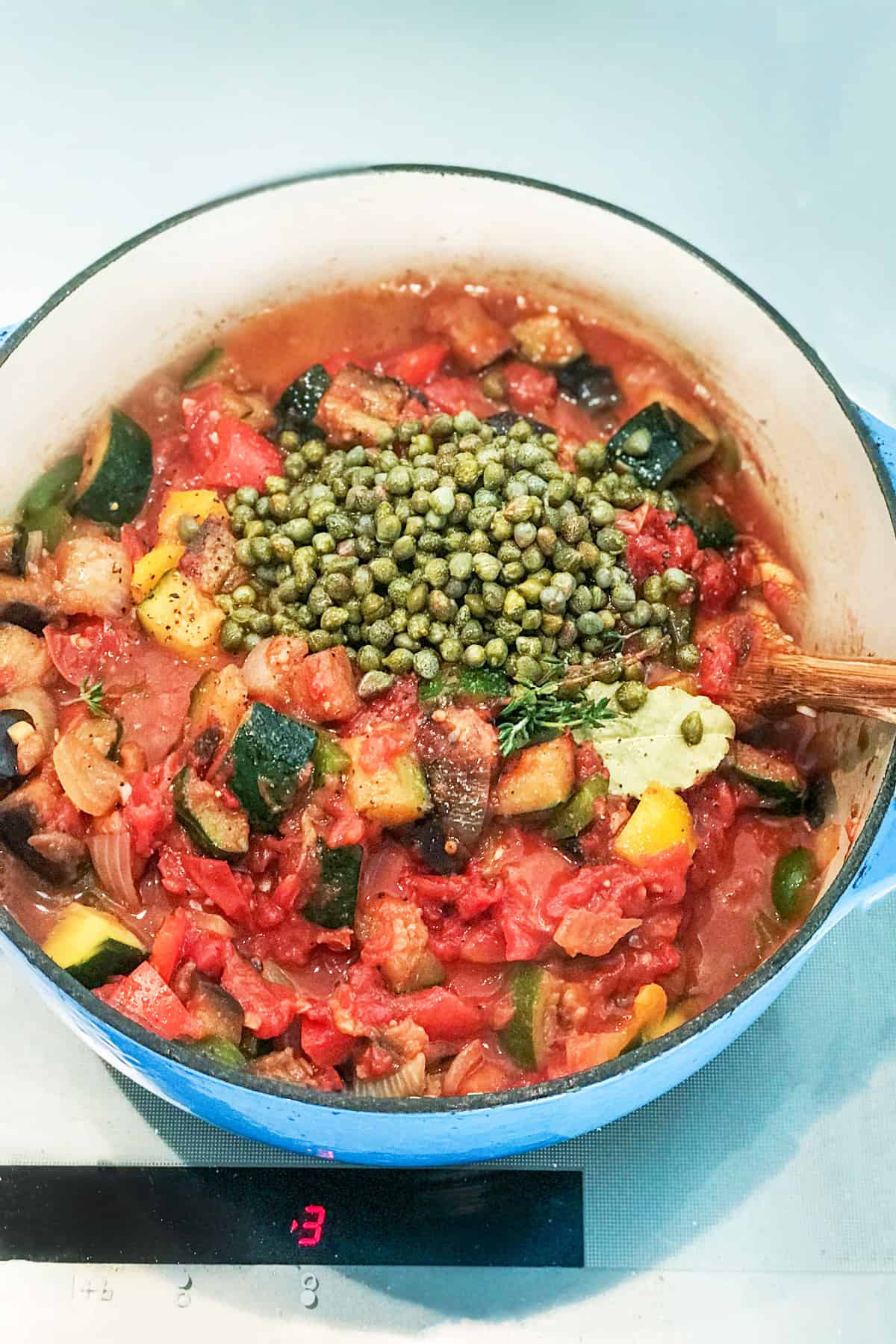 Done!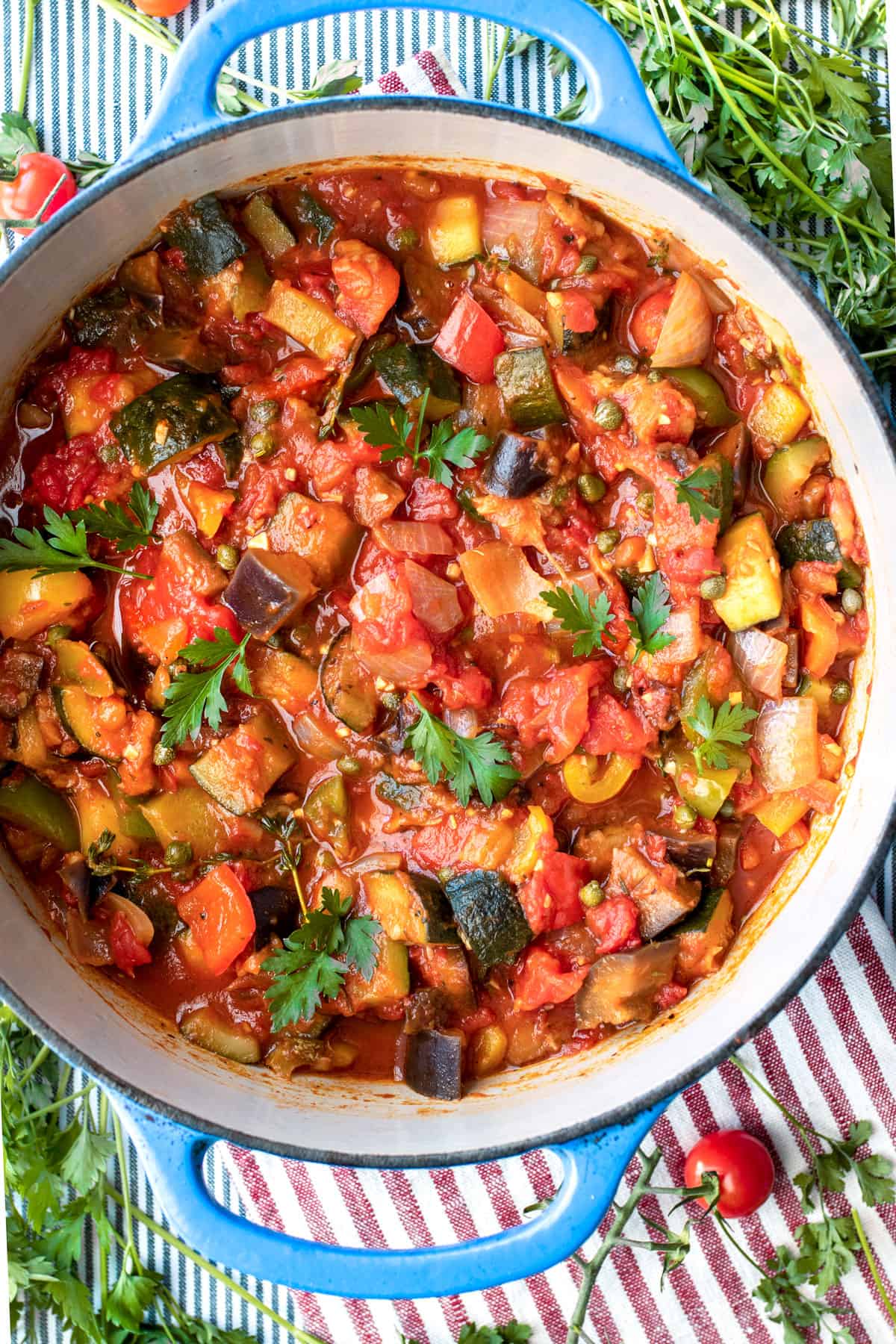 When you're wondering what to make for dinner, don't forget about ratatouille. It can be the foundation for a delicious meal.
How to serve ratatouille:
As a fantastic vegetarian main dish - scoop a generous portion of ratatouille onto a plate and top with a fried or poached egg. Drizzle with extra virgin olive oil. Sprinkle with sea salt and chopped fresh herbs. Yum!
As a hearty vegan main dish with crusty bread to soak up all the delicious sauce.
As a side dish with roasted chicken, grilled meat or fish.
As a filling for omelettes - Add gruyere cheese or goat cheese and some fresh herbs such as chives, tarragon or parsley.
As a primavera sauce for pasta - sprinkle with fresh slivered basil and parmesan cheese for a tasty finishing touch.
As a bruschetta appetizer - spread a thin layer of goat cheese on crostini and top with ratatouille.
To accompany pan-seared or broiled salmon - One of my favorite weeknight dinners! Every bite is comforting, delicious and nutritious, and nobody misses the carbs. While the ratatouille is simmering there's plenty of time to set the table and cook the salmon.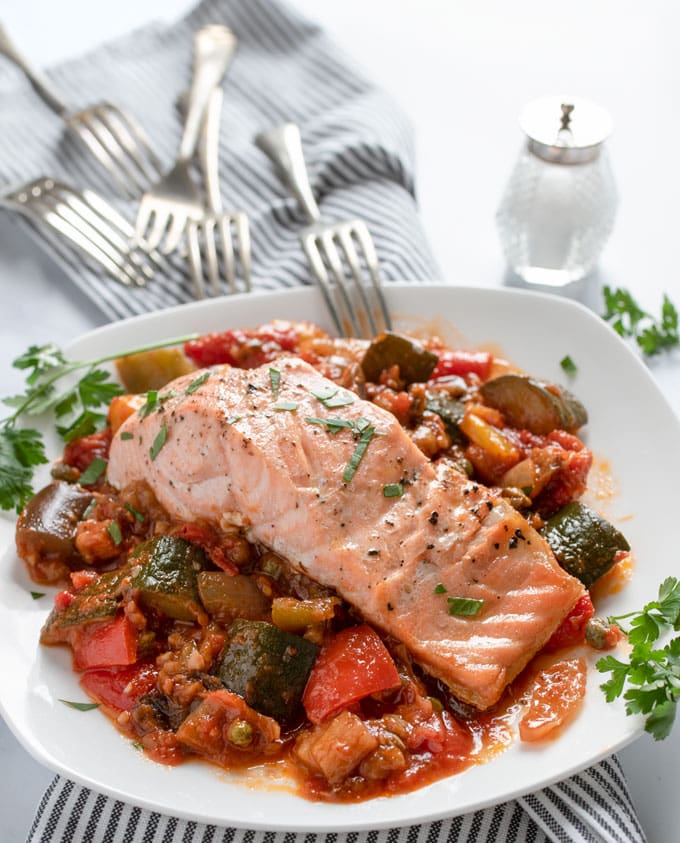 Ratatouille The Movie
I can't write about ratatouille, the dish without referencing Ratatouille, the movie. Remy the rat and French chef extraordinaire drew the world's attention to this amazing dish. If you want to get fancy with your ratatouille, check out this recipe from a blogger who did a great job recreating Remy's gorgeous rainbow ratatouille.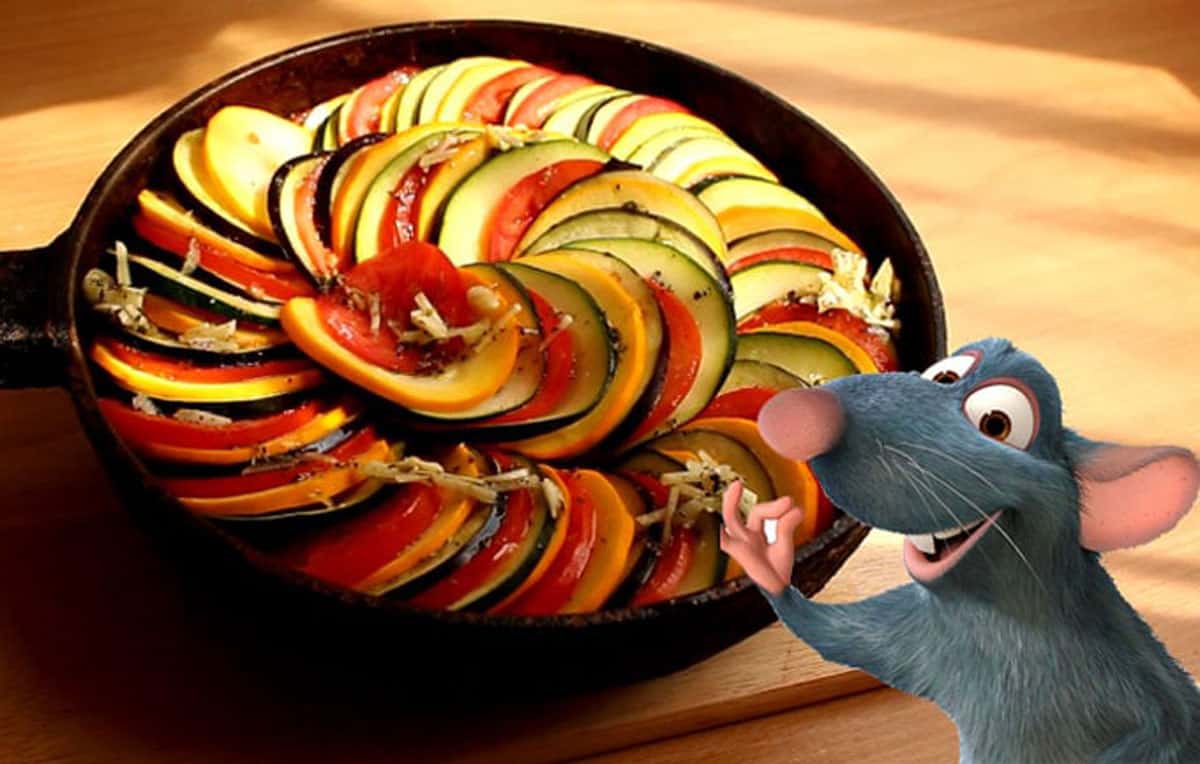 If you try this easy ratatouille recipe, I hope you'll come back to leave a star rating and comment. I'd love to know what you think.
Print
The Best Easy Ratatouille Recipe
---
Description
This flavorsome French vegetable stew contains zucchini eggplant and bell peppers simmered in garlicky tomato sauce and herbs and can be ready in an hour. Serve ratatouille as an appetizer on crostini, a side dish with meat, poultry or fish, or as vegetarian main dish.
Adapted from Craig Claiborn's Recipe
---
1

large eggplant or 2 small (

1 ½

pounds)

3

zucchini ( about 1 ½ pounds)

1

large yellow onion

3

bell peppers, any color you like

½

cup

olive oil
Salt to taste
Freshly ground pepper to taste

2 tablespoons

finely minced garlic

4

cups

drained, canned tomatoes, chopped or crushed*

4 tablespoons

tomato paste

1

bay leaf

4

sprigs of fresh thyme (or

1 teaspoon

dried)

2 teaspoons

herbs de Provence

½

cup

drained non-pareil capers (the small ones)
---
Instructions
Wash the eggplant and zucchini and trim off the ends but leave the skin on. Cut them  into 1-inch cubes. There should be about nine cups of eggplant cubes and six cups of zucchini. (For directions on how to slice eggplant into cubes, refer to photos in the post)
Peel onions and cut into half-inch dice. There should be about one and one-half cups.
Core, seed and devein the bell peppers  and cut them into one-inch pieces.
Add oil to a large heavy lidded pot or dutch oven and set the pot on the stove over high heat. When the oil is hot, add the eggplant and zucchini. Sprinkle with a pinch of salt and a few grinds of pepper. Cook, stirring often, until the vegetables soften and start to brown, about five minutes.
Add onions, bell peppers and garlic to the pot. Cook, stirring, over high heat, for about two minutes. 
Add  tomato puree and tomato paste and stir to blend. 
Add the bay leaf, thyme, herbs de Provence and capers. Season with  another pinch or two of salt and black pepper to taste. Bring to a boil over high heat and once bubbling, lower the heat and  simmer gently, covered, for 30 minutes.
Notes
Canned tomatoes for ratatouille: For this recipe or any recipe that calls for chopped or crushed tomatoes, I prefer buying whole canned tomatoes and chopping or crushing them by hand. The quality of the whole tomatoes is superior. The best canned whole tomatoes are San Marzano tomatoes with D.O.P on the can. Whichever canned tomatoes you use for this recipe, whole or crushed, if there's a lot of liquid, drain them in a colander and then measure out 4 cups. If using canned whole plum tomatoes, you will need one 28-ounce can plus one 14-ounce can.
Prep Time:

30 mins

Cook Time:

30 min

Category:

Side dish

Method:

Simmer

Cuisine:

French
Keywords: Ratatouille recipe, easy ratatouille recipe
This recipe was first published on October 2, 2018. It has been updated with clearer recipe instructions and addition helpful information added to the post.