Orange chicken is a Chinese restaurant classic that's surprisingly easy to cook at home. I love this recipe! It was given to me by a friend and Chinese food expert Maggie Zhu. I'm excited to share what I learned – a couple of simple steps that result in extremely tender chicken with a crispy coating and an irresistible sticky sweet, sour, intensely orange glaze.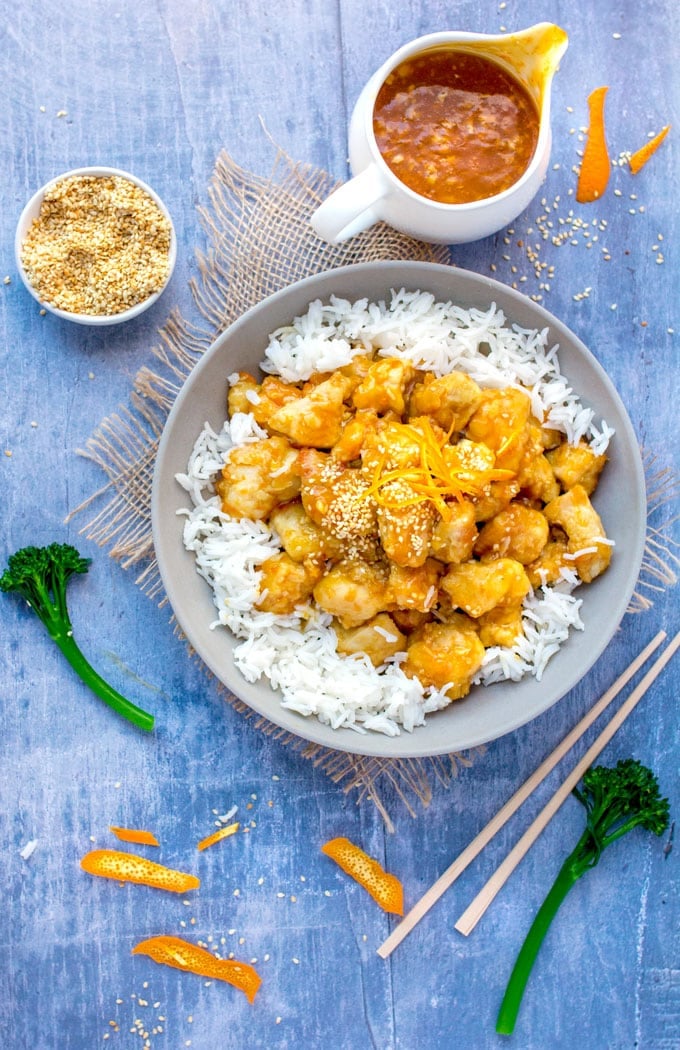 Another great benefit of homemade Chinese orange chicken is that it's lighter and healthier than takeout because it's not deep fried.
And for those of you who are not eating wheat, you'll be happy to know that this Chinese orange chicken recipe is is made with a light cornstarch batter and no flour, so it's naturally gluten-free.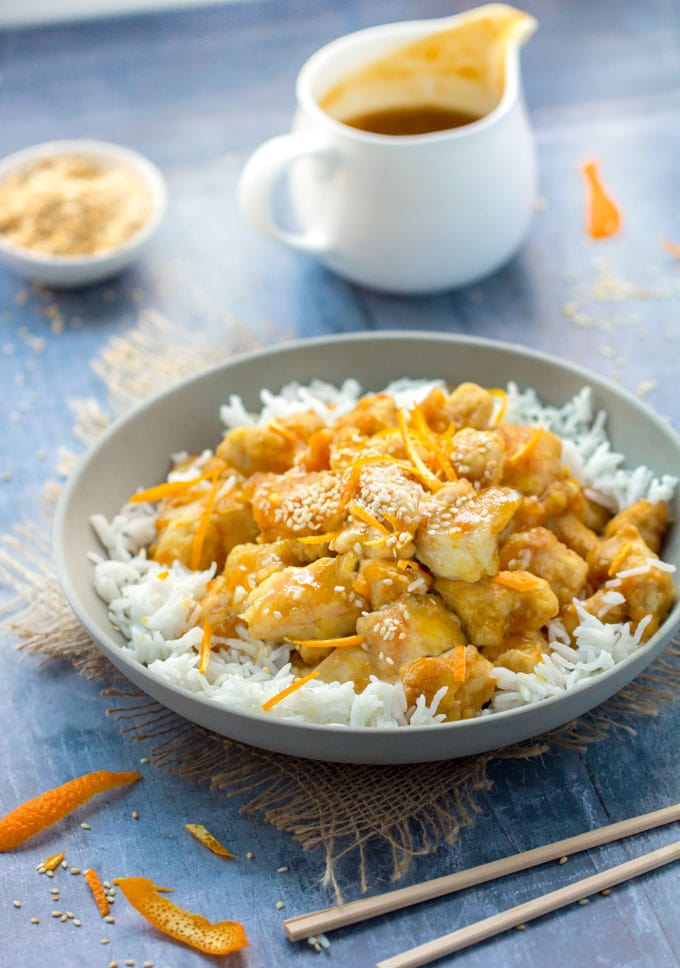 If you love cooking Chinese food head over to Maggie's food blog Omnivore's Cookbook  where she shares authentic Chinese recipes we all love and crave, adapted for easy home cooking.
Maggie's e-Cookbook – The Chinese Stir Fry Sauce Cookbook – zooms in on the art of the Chinese Stir Fry. There are 9 essential sauces, from sweet and sour to Kung Pao, and 41 easy recipes to help you cook real-deal Chinese food that tastes better than takeout. The recipes are short and fast – 16 recipes require less than 20 minutes to put together. 21 recipes call for 6 ingredients or less. All the sauces can be pre-made, frozen, and used later.
Maggie was kind enough to allow me to pick a recipe from her book to share on Panning The Globe. I fell in love with her Chinese Orange Chicken recipe. I've made it three times in the past month. It's quick and easy and totally delicious.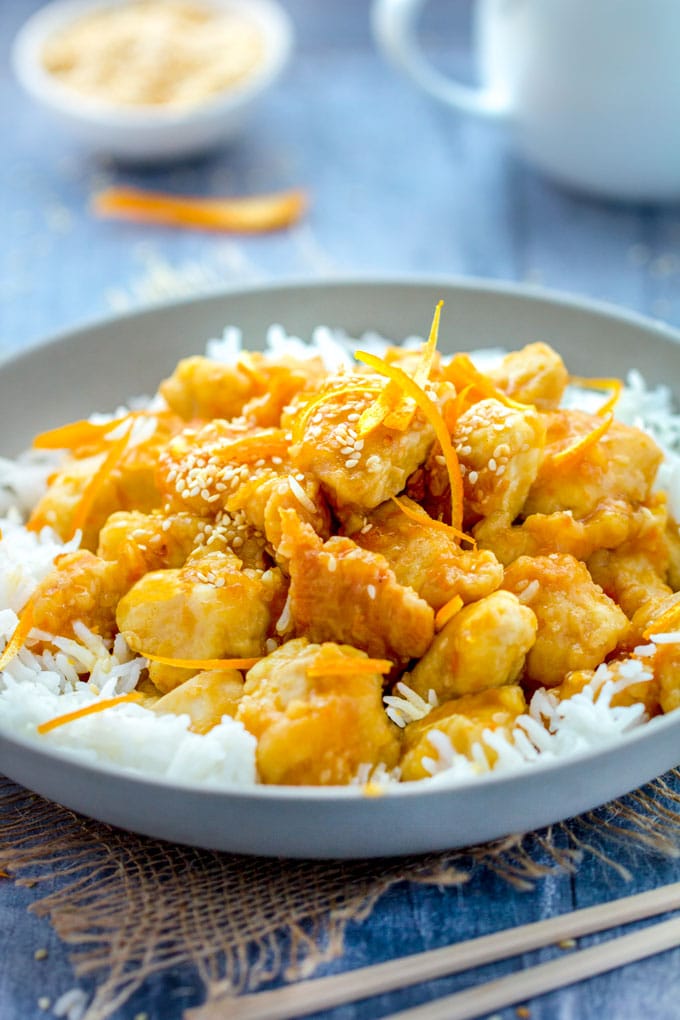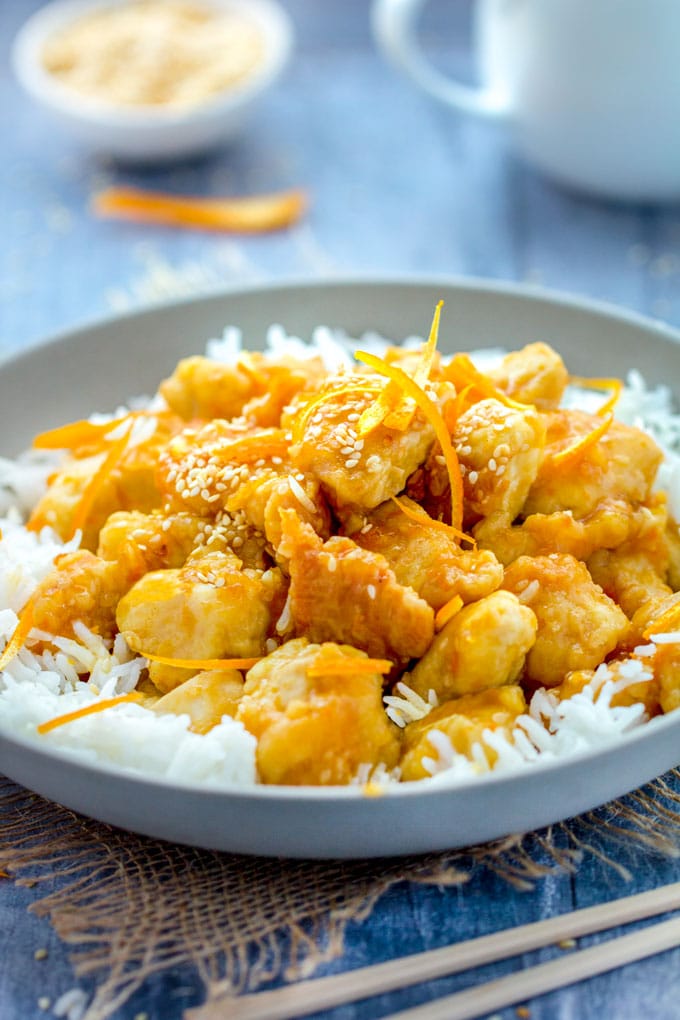 HOW DO YOU MAKE A GREAT STIR-FRY?
I used to think of a stir-fry as something that didn't require a recipe. I've made plenty of Chinese style stir-fries over the years, starting back in my college days, just a wok full of meat and veggies with an improvised sauce comprised mainly of bottled soy or hoisin sauce – a haphazard approach with unreliable results.
Decades later it feels good to know what I'm doing. I have a growing collection of delicious Chinese stir-fry recipes on Panning The Globe. Two of my favorites are Chinese Beef and Broccoli and Moo Shu Pork. And now, I have  Maggie's book which is a fantastic resource.
Try this Chinese orange chicken recipe and you will be hooked!
HOW TO MAKE CHINESE ORANGE CHICKEN
Orange chicken gets its orange flavors from orange juice and rehydrated aged tangerine peal (found in Asian markets) or orange zest. Once the peels are chopped (or the oranges zested) orange sauce takes 5 minutes to put together. It's worthwhile to cook up a big batch of orange sauce and freeze it in portions. Then anytime you're craving orange chicken or orange shrimp, dinner is 20 minutes away.
The stir-fry technique for orange chicken is simple: marinate the chicken for ten minutes with oil and salt, then toss with a whisked egg and cornstarch to create the batter. Sauté the coated chicken pieces in vegetables oil for five minutes, turning halfway through.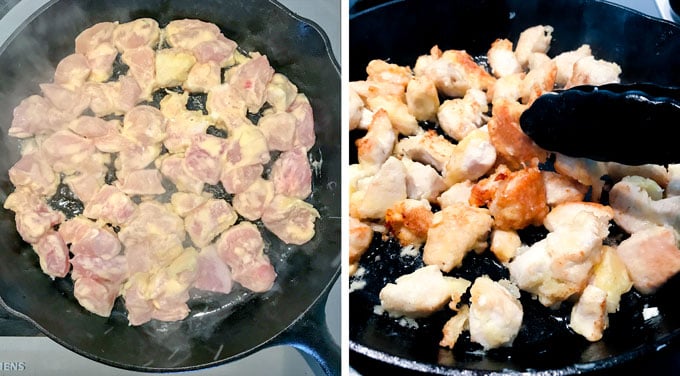 Add the orange sauce, heat for a minute or so and dinner is ready.
Serve orange chicken over white or brown rice or quinoa.
Add a sprinkle of toasted sesame seeds or scallions or strips of orange zest to garnish.
Steamed broccoli is a perfect accompaniment.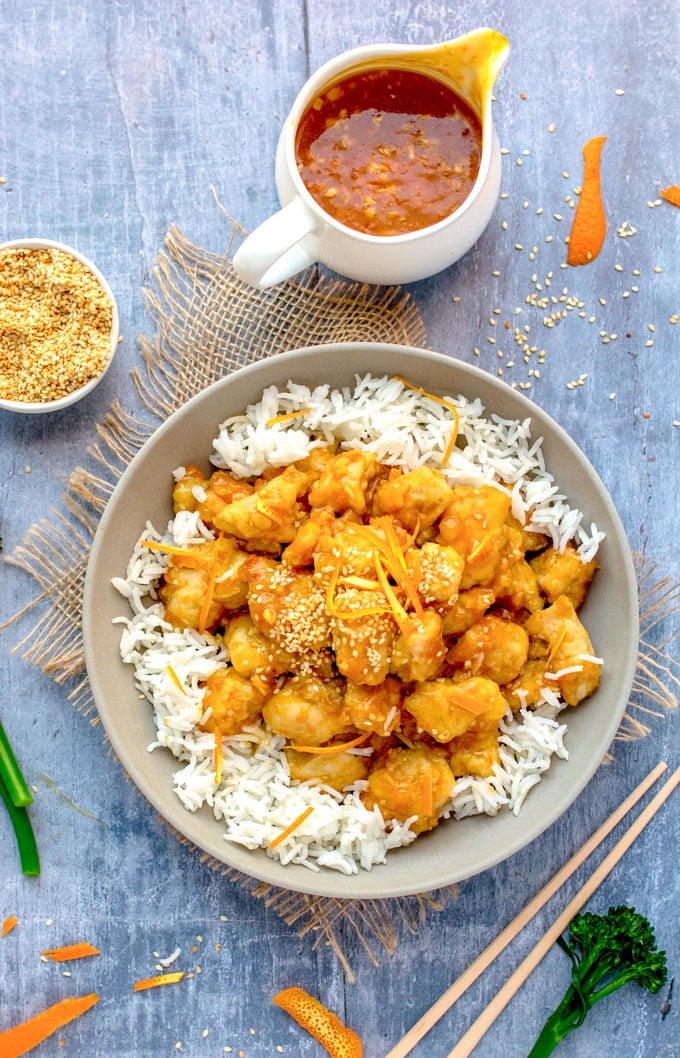 Here's the recipe for Chinese Orange Chicken.
If you try this recipe I hope you'll come back to leave a rating and comment. I'd love to know what you think.
Print
Chinese Orange Chicken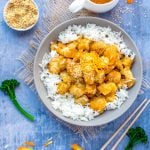 Tender chunks of lightly-battered chicken in sweet, sour, orange glaze. A homemade Chinese classic that's tastier and healthier than take-out [not deep fried] [naturally gluten-free]
Prep Time:

25 mins

Cook Time:

10 mins

Total Time:

35 mins

Yield:

3

1

x
Category:

Main Dish

Cuisine:

Chinese
Scale
Ingredients
For The Orange Sauce:
Zest of

4

oranges (about

2 tablespoon

s) or

½ cup

dried tangerine peel (found in Asian markets) soaked in a small bowl of hot water for 20 minutes, drained, and minced.

1 cup

orange juice

¾ cup

unseasoned rice vinegar

¼ cup

light soy sauce (use Tamari for gluten-free)

¼ cup

Shaoxing wine (or substitute dry sherry)

½ cup

white sugar

2 ½ tablespoon

s cornstarch

1 teaspoon

salt

1 tablespoon

peanut oil [see notes]

4

garlic cloves, minced

2 tablespoon

s minced ginger root
For The Marinade:

1

pound boneless skinless chicken breasts (or thighs) cut into 1-inch pieces

1 tablespoon

peanut oil [see notes]

½ teaspoon

salt

1

large egg, beaten

½ cup

cornstarch
For The Stir Fry:

⅓ cup

peanut oil [see notes]

1 cup

Orange Sauce (from above)

2 teaspoon

s toasted sesame seeds for garnish, optional

1/4 cup

chopped scallions for garnish, optional
Slivers of orange zest for garnish, optional
Instructions
Make The Orange Sauce: In a large bowl combine orange zest (or minced tangerine peel) with the orange juice, rice vinegar, soy sauce, wine or sherry, sugar, cornstarch and salt. Mix until the cornstarch is fully dissolved.
Heat oil in a large skillet over medium high heat. Add garlic and ginger and cook, stirring, until fragrant, about 1 minute.
Give the sauce ingredients a stir and pour into the pan. Once it comes to a simmer, cook, stirring, until the sauce thickens enough to coat the back of a spoon, 30 seconds to a minute. Transfer sauce to a bowl quickly to stop the cooking process. Set aside to cool. When cool, the sauce can be stored in an airtight container in the fridge for 1 week or in the freezer for up to 2 months.
Marinate The Chicken: In a large bowl combine chicken pieces with the 1 tablespoon oil and ½ teaspoon salt. Mix well and let the chicken marinate for 10-15 minutes.
Pour the beaten egg into the bowl with the chicken and mix well. Add cornstarch and toss to form an uneven coating with little bits of dry cornstarch left unincorporated.
Stir Fry The Chicken: Heat oil in a large nonstick skillet or wok over medium-high heat until hot. Add all the chicken to the pan, spreading it out into a single layer. Use tongs to separate the pieces of chicken if they're sticking together.
Cook the chicken undisturbed for 2-3 minutes, or until the bottom turns golden. Flip to brown the other side and cook for another 2-3 minutes, until golden and cooked through. Transfer chicken to a plate. Remove the pan from the stove and let it cool for 2-3 minutes. Wipe out the extra oil from the pan using a couple of layers of paper towel attached to a pair of tongs. Return the pan to the stove over medium-high heat. Return chicken to the pan and pour in the sauce. Stir for 30 seconds or until chicken is coated with sauce and heated through. Add garnishes if you like. Serve hot.
Notes
Peanut oil is delicious in this dish and it has a high smoke point which is ideal for stir frying. If you can't find peanut oil or you have an allergy, other oils that work well in this dish are avocado oil, sunflower oil or grape seed oil.