It's easy to make the most delicious Chinese Beef and Broccoli stir fry at home that's lighter and healthier than takeout: tender beef, crisp-tender broccoli, delicious sauce. Serve with fluffy white rice.
OXO provided a wok in exchange for this post but all opinions are my own, always.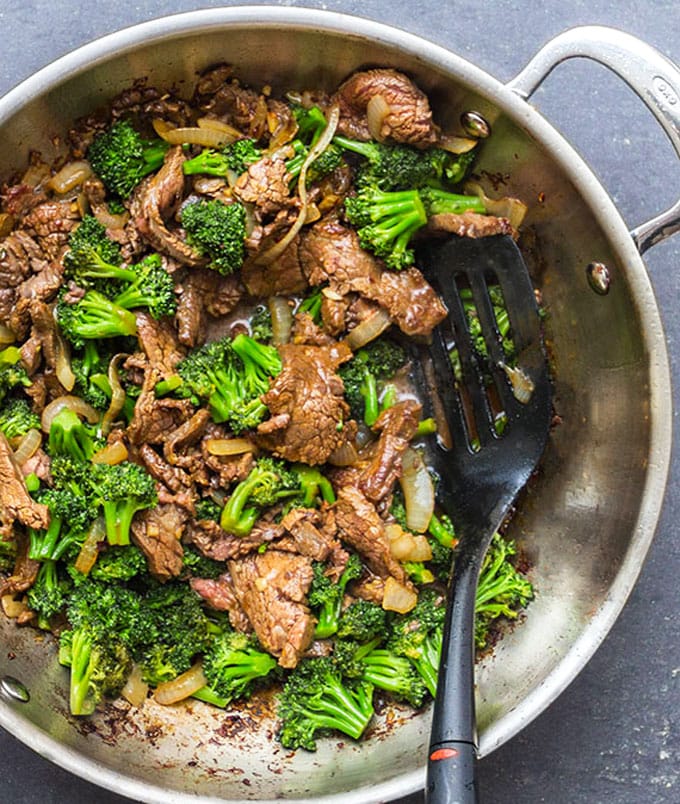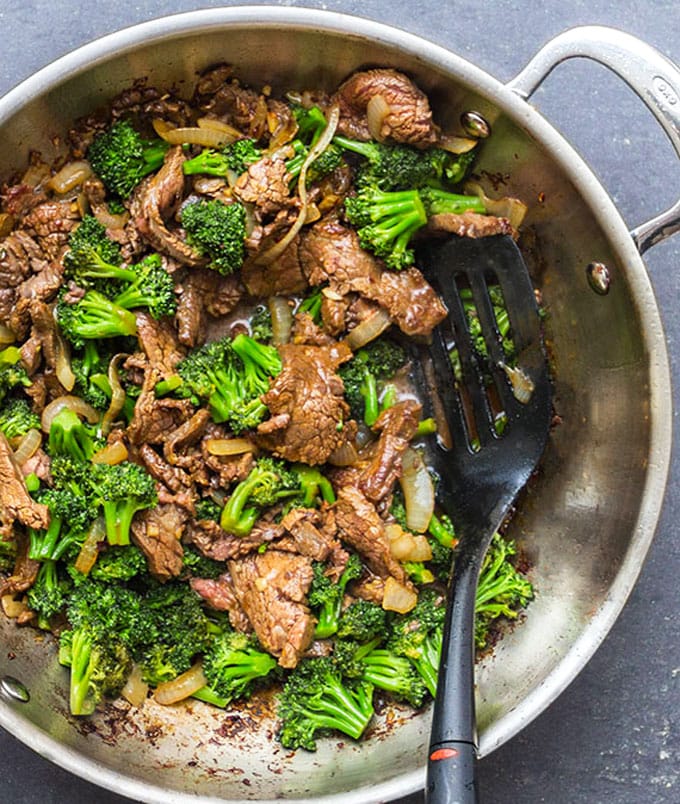 Chinese beef and broccoli stir-fry. It brings me back to when I graduated from college and was living alone on the upper West Side of Manhattan. I didn't do a lot of cooking then. I would grab a bite with friends after work or bring in something from Silver Palate, which was down the street from my apartment. When I did cook, I usually made a stir-fry. I had an old wok – inherited from my mom's kitchen. I always loved lots of onions, garlic and broccoli in my stir-fry. Often I'd throw in other assorted veggies like carrots or snow peas, and either beef, chicken, or tofu. My cooking technique was totally haphazard back then. The recipe was: "Chop up a bunch of stuff and throw it in the wok with a little oil.  Finish with soy sauce."
It's funny to reflect on that and think about how discerning (picky? crazy?) I am now, spending days perfecting this recipe, which is largely the same as the one I used to love way back when: onions, garlic, broccoli and beef.
I don't remember when or why my wok disappeared, but I haven't owned one since the 90's. So I was extra excited when I was offered the opportunity to test out OXO's new line of cookware, and one of the options was their  Stainless Steel Pro 12 Inch Wok + Cover.
The cooking technique of stir-frying originated in China during the Ming Dynasty. Chinese culinary historian Barbara Tropp explains that it was "the product of a labor-rich, fuel-poor country…lots of hands ready to chop…few Chinese twigs or lumps of coal available to burn…a never-ending quantity of oil capable of being heated to hellishly hot degrees, and one arrives at stir-frying."
For the past few years I've been using my cast iron skillet to stir-fry. It's worked pretty well, but now that I have a wok, I realize what I've been missing. The wok, with it's unique curved bottom, is designed to best conduct heat, so things cook quickly and evenly. High heat is crucial for the initial searing and sealing-in of flavor. Tropp says to Listen for the "merry sizzle" to tell you if the heat is high enough. She says that listening to the sizzle and responding to it and manipulating the heat is the essence of the "stir-fry dance"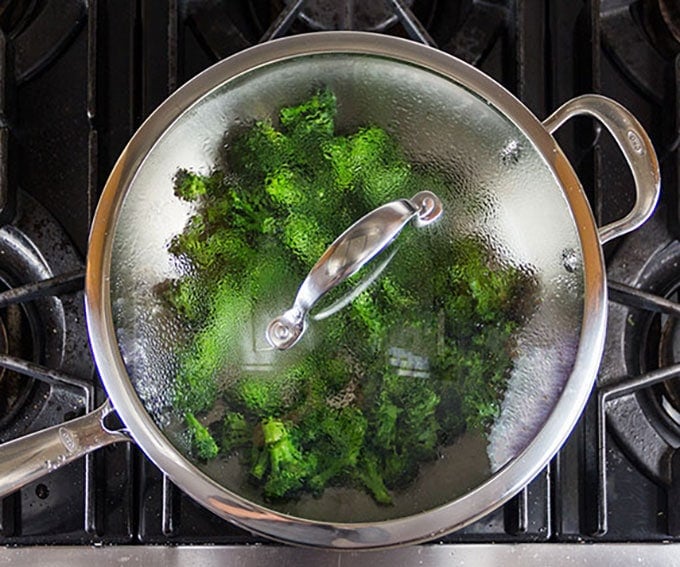 Woks are also designed to be tall enough and spacious enough for free and vigorous tossing or "stir-frying," without things flying out of the pot. The lid is for keeping the steam in. I use it in this recipe to get perfectly crisp-tender broccoli.
This wok is a treat to cook in! The science behind good cookware has come far since the 90's.  Here's what this OXO wok has to offer:
• Heat-radiant aluminum core fused between two layers of stainless steel ensures even cooking from every side
• Rolled edges designed for drip free pouring
• Contoured handles designed to stay cool to the touch for a comfortable grip
• Durable, all-metal construction allows cookware to move directly from stovetop to oven and broiler. Glass lids are oven safe up to 430°F
• Works on all stovetops, including induction
• Dishwasher safe
When we order take-out Chinese food, I always get one of my three favorites: Moo Shu Pork, Chicken and broccoli, or beef and broccoli stir fry. I'm not sure I'll be ordering in Chinese any time soon.
Chinese beef and broccoli stir fry is a favorite Chinese classic and it's surprisingly easy to make at home. If you're like me, this recipe will become a regular in your repertoire.
MORE DELICIOUS CHINESE RECIPES
This recipe is adapated from a recipe in The Modern Art of Chinese Cooking by Barbara Tropp
Here's the Chinese Beef and Broccoli Stir Fry recipe. If you try this, I hope you'll come back to leave a rating and comment. I'd love to know what you think.
Print
Chinese Beef and Broccoli Stir Fry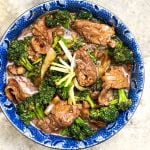 Perfect Chinese Beef and Broccoli – tender beef, crisp-tender broccoli, delicious sauce. Serve with fluffy white rice.
Author: Panning The Globe
Prep Time:

30 mins

Cook Time:

10 mins

Total Time:

40 mins

Yield:

4

1

x
Category:

Main Course

Cuisine:

Chinese
Scale
Ingredients
For the Beef:

1

pound beef round steak or flank steak, sliced lengthwise into 2 1/2 inch wide pieces and then crosswise (against the grain) into 1/8 inch thick slices. Try freezing the beef for an hour or two to firm it up for easier slicing.
Marinade:

2 tablespoon

s soy sauce (available gluten-free)

1 teaspoon

brown sugar

4 teaspoon

s cornstarch

1 tablespoon

peanut oil
Sauce Ingredients:

2 tablespoon

s rice wine or dry sherry

4 teaspoon

s brown sugar

4 teaspoon

s soy sauce

1 tablespoon

hoisin sauce (available gluten-free)

1 teaspoon

Chinese or Japanese sesame oil
Broccoli:

8 cup

s bite-sized broccoli florets (from

2

crowns – reserve stems for another use)
For Stir-frying:

4 tablespoon

s peanut oil or canola oil, divided

1 teaspoon

kosher salt

1/2 teaspoon

sugar

4 Teaspoon

s Chinese Rice Wine or dry sherry

5 tablespoon

s water
Aromatics for the Stir-fry:

1

small onion, peeled, halved and thinly sliced

4 teaspoon

s finely minced ginger

2

large cloves of garlic, minced (about

1 tablespoon

)

1/2 teaspoon

crushed red pepper flakes
Instructions
Marinate the Beef: Combine marinade ingredients. Put beef and marinade ingredients into a plastic bag. Massage the meat, through the bag, to coat it with marinade. Press out the air and seal shut. Set aside to marinate for 30 minutes at room temp or up to 24 hours in the fridge.
Make the Sauce: Combine sauce ingredients in a small bowl. Set aside.
Blanch the Broccoli: Bring a quart of water to a boil in a large saucepan. Add broccoli and leave it for 1 minute. Transfer to a colander. Run cold water over broccoli to stop the cooking process and set aside to drain.
Stir-Fry Broccoli: Heat a wok (or large heavy skillet) over high heat until hot enough to instantly evaporate a drop of water. Add 2 tablespoons oil to the wok and swirl to coat. Reduce heat to medium-high. Add the broccoli and stir-fry for a minute, constantly turning and tossing the florets to sear them and coat them with oil. Lower the heat if they start to burn. Sprinkle broccoli with 1 teaspoon salt and 1/2 teaspoon sugar. Toss to coat. Add the wine. After it hisses, stir everything around. Add water and bring liquids to a simmer. Cover the wok and let the broccoli steam for about 40 seconds. Remove the cover and scrape broccoli into a large bowl and set aside. Wipe out wok.
Stir-Fry Beef and Finish the Dish: Return wok it to high heat. Add 2 tablespoons of oil and swirl to coat. Reduce heat to medium high. Add onion and stir fry for a minute. Add ginger, garlic and red pepper flakes. Stir fry for about 10 seconds, until aromatic. Add beef and stir fry actively, until 90 percent of the pink color is gone, adding more oil, if necessary, to prevent sticking. Give the sauce a stir and pour it into the wok. Toss to combine. Return the broccoli to the wok and cook, stirring, to reheat the broccoli and finish cooking the beef. Scrape the stir-fry onto a large platter and serve hot, with white rice, if you like.
There are affiliate links in this post. When you click on a link to an Amazon product and make a purchase, a small percentage is payed to Panning The Globe, at no cost to you. Your support is greatly appreciated.