Chinese Chow Fun Noodles with Beef, also called Beef Chow Fun, is an easy recipe to cook at home, with restaurant quality results. You don't even need a wok. The key to this rich flavorful steak and noodles dish is Dark Soy Sauce.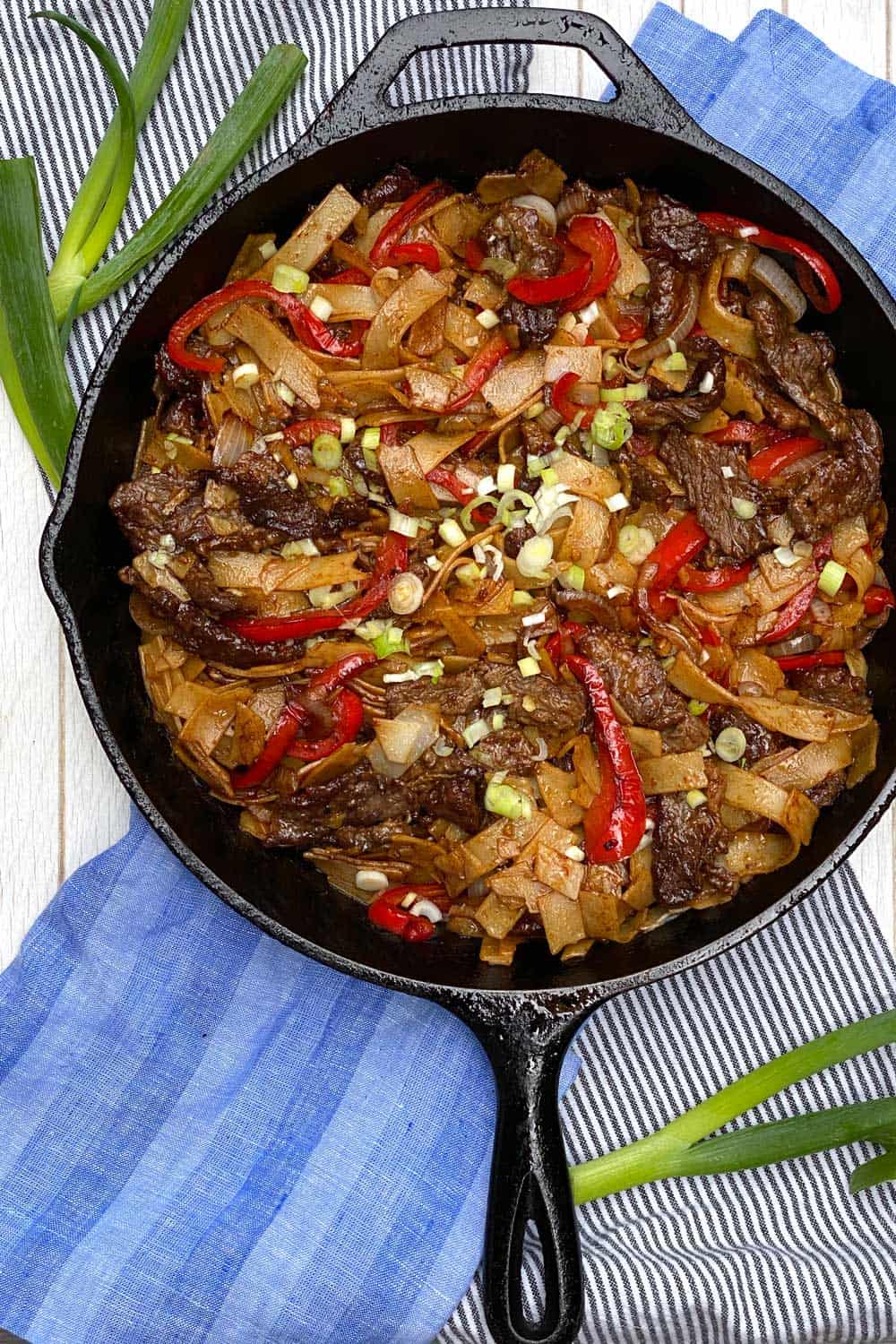 If you're looking for a new favorite weeknight dinner recipe, this one might do the trick. It comes together in about 35 minutes start to finish, and it drums up lots of excitement and happiness at the table.
What is beef chow fun?
Beef Chow Fun is a staple Cantonese dish, a stir-fry made with flat wide rice noodles , marinated steak, onions, scallions, bean sprouts and dark soy sauce. The word "fun" perfectly describes this delicious Chinese noodle dish which is fun to cook and even more fun to eat. However the enjoyment factor has nothing to do with the name. "fun" comes from the name of the wide rice noodles, called hor fun, that are traditionally used in this dish.
How to make it
Chow Fun Noodles is a a quick stir fry that can be made in a wok or a skillet. Thinly sliced steak is marinated for 15 minutes in a mixture of corn starch, sugar and salt, which flavors and tenderizes the beef. Dried rice noodles are softened in boiling water. The marinated beef is stir-fried over high heat until cooked through and removed from the wok (or pan). The vegetables are stir-fried for a minute or two, until softened. The beef is returned to the wok, along with the noodles, dark soy sauce, salt, sugar and sesame oil. The beef and noodles are tossed over high heat until everything is piping hot and ready to serve.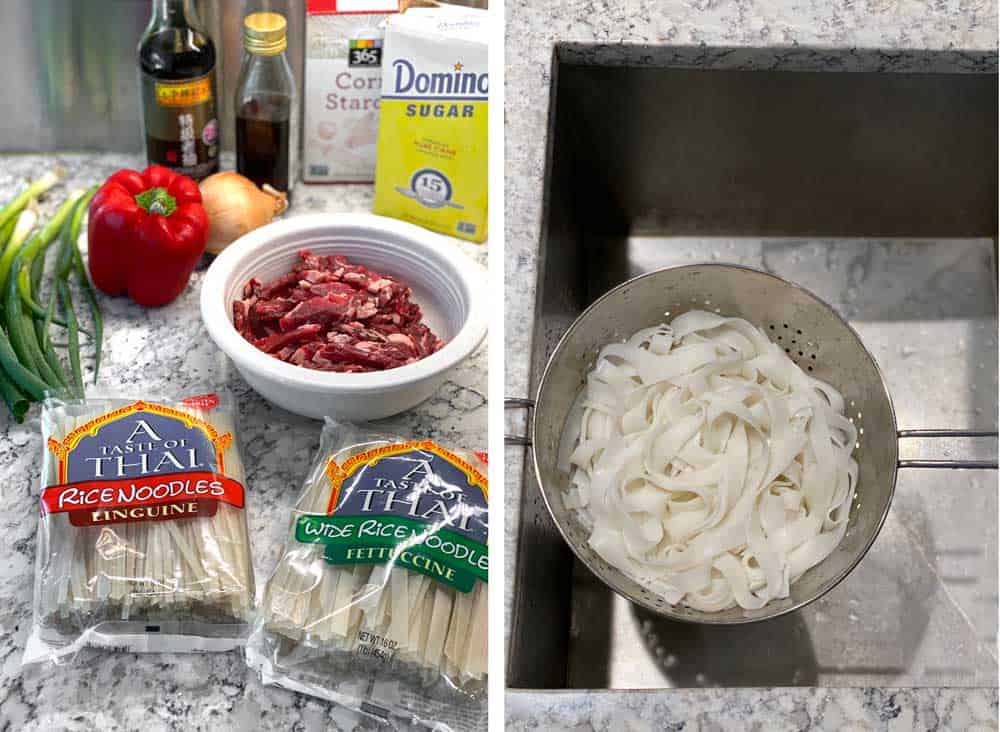 I took some liberties here and added thinly sliced red bell peppers because I love their color and fruitiness this dish. Feel free to experiment with other vegetables. Beef chow fun is a versatile dish and you can use whatever veggies you have on hand. What's important is that you include some kind of crunchy vegetable to contrast with the tender beef and silky noodles.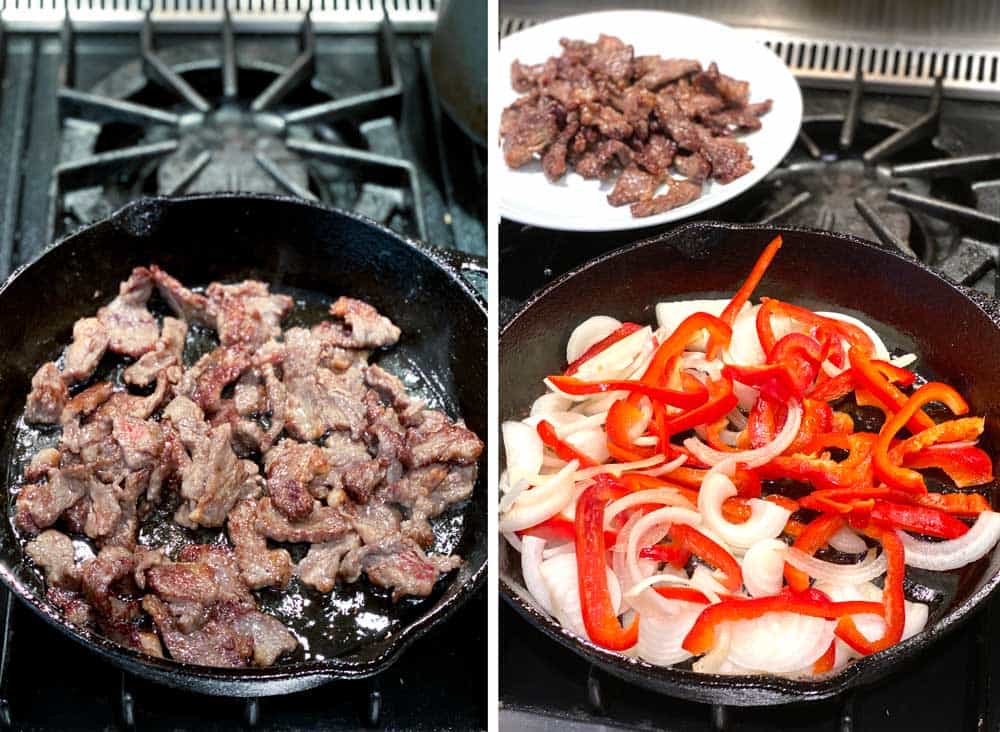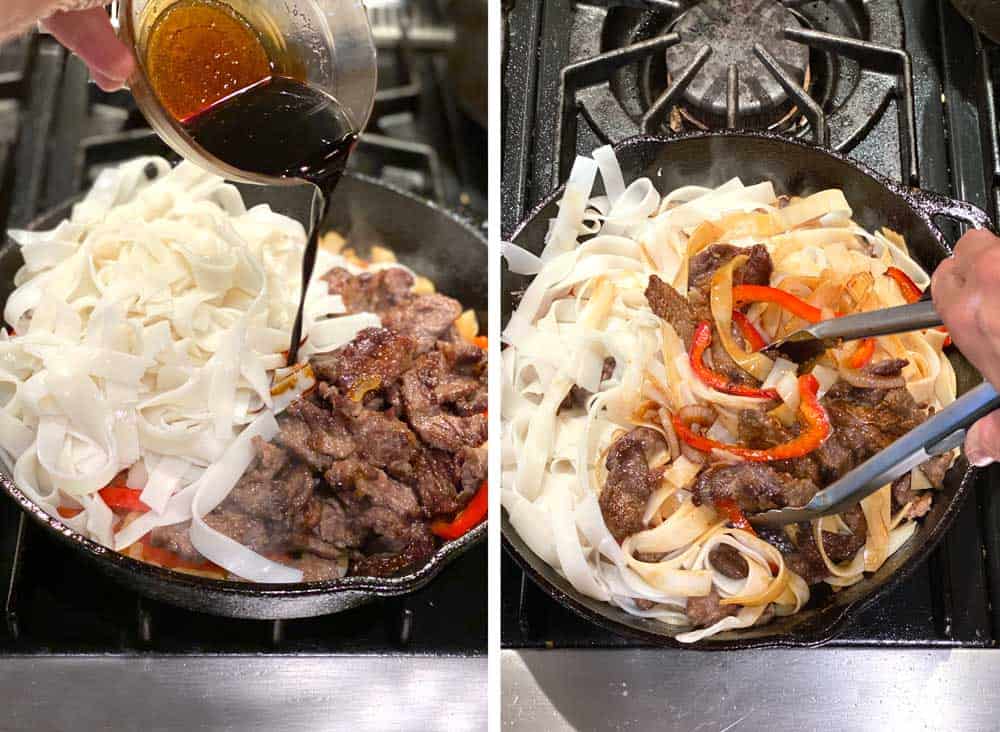 What is dark soy sauce?
Dark soy sauce is what gives the signature rich brown color to fun noodles with beef. Dark soy sauce is aged longer than regular soy sauce, making it thicker, sweeter, less salty and more viscous. It's widely used in Chinese cooking, mostly to add a deep dark caramel color to a dish. Dark soy sauce is widely available at Asian grocery stores and in many mainstream grocery stores in the Asian foods section. I've been able to find it at stop and Shop and Wegmans. It's also available to purchase online.
What if you can't find Hor Fun noodles?
You can use thinner rice noodles. I originally had a difficult time sourcing wide rice noodles for this dish. I tried 4 different grocery stores and the widest noodles I could find were ¼-inch pad Thai noodles. So I used them and the result was absolutely delicious. (see photo below). I've made beef chow fun noodles many times since, and eventually I was able to find wide rice noodles on Amazon. If you can find wide noodles, great, but if not, I encourage you to make beef chow fun anyway, using thinner, easier-to-source rice noodles.
You might also like: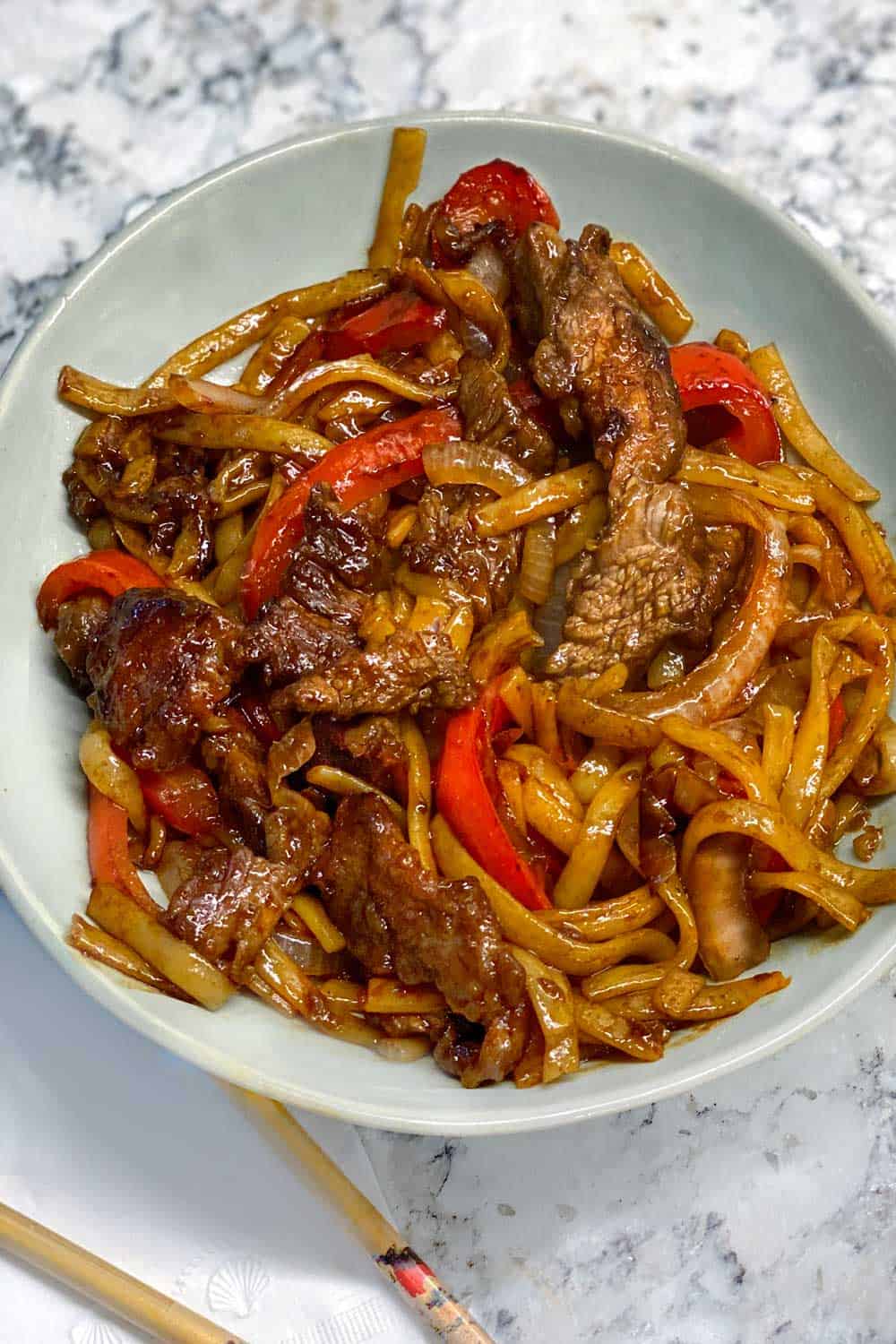 I want to give a big shout out to sisters Helen and Lisa Tse, authors of The Sweet Mandarin Cookbook
. In the book they share 100 recipes, many of them family treasures that have been handed down over generations. There are so many great-looking dishes, it was hard to choose. I decided on this noodles with beef dish because it looked like something my kids would love. And they do!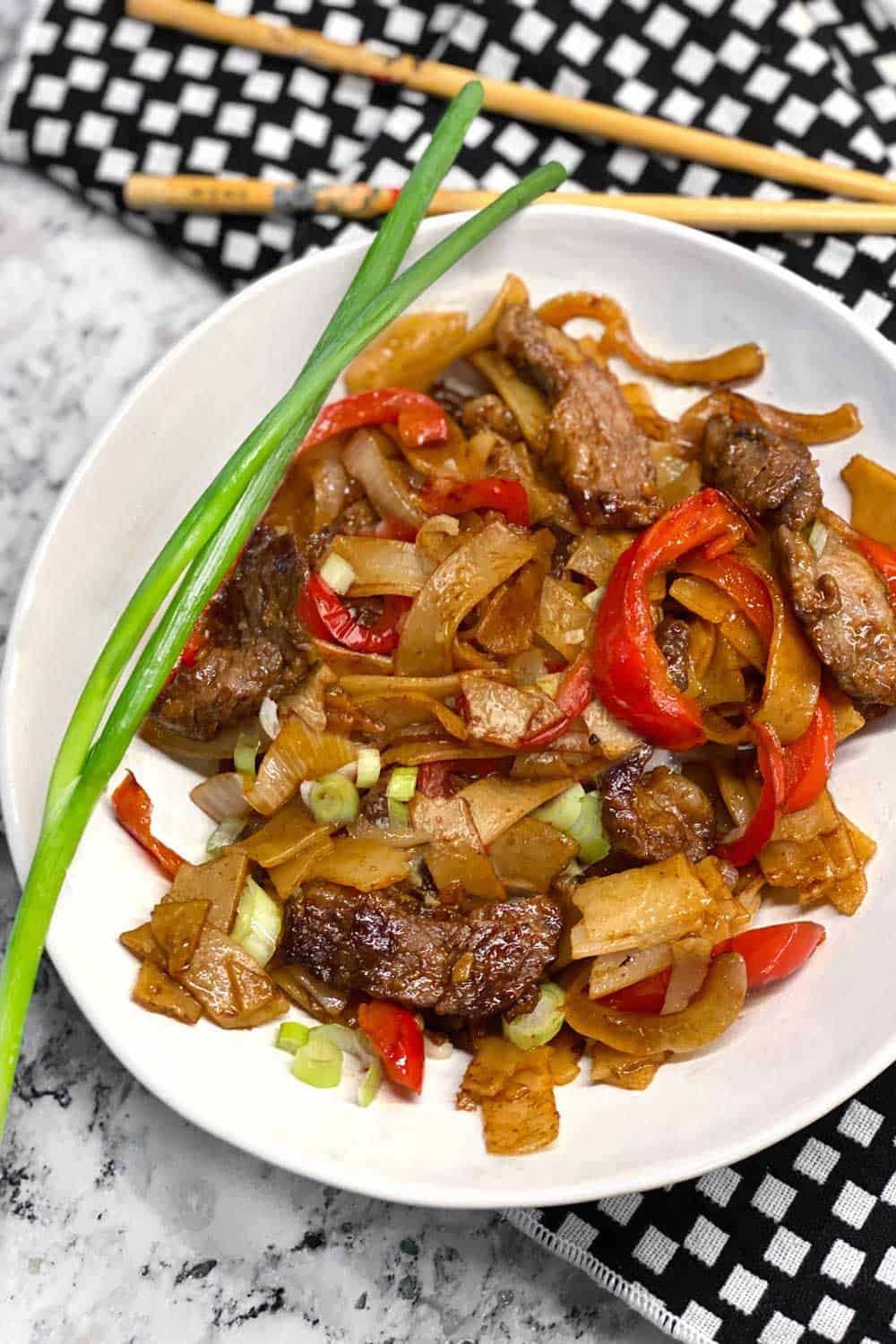 Here's the Beef Chow Fun Noodles recipe. If you try this, I hope you'll come back to leave a star rating and a comment. I'd love to know what you think.
Print
Chinese Chow Fun Noodles with Beef
---
Author:

Lisa

Total Time:

35 mins

Yield:

3

-

4

servings

1

x
Description
An easy Chinese beef and noodle stir fry with rich dark flavorful sauce.
Adapted from a recipe in The Sweet Mandarin Cookbook
---
For the Beef and marinade
¾

pound

beef sirloin or sirloin tips or (if you want to splurge) beef tenderloin, cut diagonal to the grain, into ⅛-inch slices. (see notes below for tips on how to slice beef thinly)

2 tablespoons

potato starch or corn starch

1 teaspoon

white sugar

½ teaspoon

kosher salt
For the Noodles and Vegetables
8

ounces

dried rice noodles (see notes)

3 tablespoons

peanut oil or vegetable oil

1

medium yellow onion, peeled and sliced thin

1

small red bell pepper, seeded and thinly sliced

1

bunch scallions (5-6), thinly sliced crosswise (white and light green parts)
For The Sauce
3 tablespoons

dark soy sauce

1 teaspoon

sesame oil

1 teaspoon

white sugar
---
Instructions
In a small bowl, combine sliced beef with marinade ingredients: corn starch, sugar and salt. Toss to combine and set aside to marinate for 15 minutes.
Boil water in a wok or pot. Remove it from the heat and drop in the dried rice noodles. Allow the noodles to soften in the hot water. Follow the package instructions for timing.  Some rice noodles require only a 5 minute soak, others need up to 30 minutes. Drain the noodles in a colander, rinse with cold water, drain again and set aside.
Combine the sauce ingredients in a small bowl: soy sauce, sesame oil and sugar. Heat the 3 tablespoons of oil in a Wok or large skillet over high heat. When hot, add the beef in a single layer. Cook the beef for 3 minutes or so, allowing it to brown on one side and then tossing it over to brown on the other, leaving the center medium rare. Transfer beef to a plate, add the onions and peppers to the pan and stir-fry for 3-4 minutes, until they start to soften. Return the beef to the pan, along with the noodles and sauce. Stir-fry everything for 2 minutes or so, tossing gently so you don't break the noodles, until everything is piping hot. Remove from the heat, add most of the scallions and toss to combine. Serve immediately, topped with remaining chopped scallions.
Notes
Tip: Freeze the beef for 25-30 minutes before slicing it. It won't freeze solid, but it will firm up just enough to be stable and much easier to slice.
Note: Any rice noodles between ¼-inch and 1-inch wide will work well in this dish. The wider the better for more traditional beef chow fun.
Note on doubling the recipe: Cook the beef in two batches, to insure quick and successful browning.
Prep Time:

15 mins

Cook Time:

20 mins

Category:

Dinner, Main Course

Method:

Stovetop

Cuisine:

Chinese
Keywords: Chinese rice noodles with beef, beef and noodles stir fry
This recipe first appeared on Panning The Globe in September 2014. The post has been updated to be even more delicious, with added scallions, and the post has now includes more relevant information, new photos and nutritional information.