This easy Chinese chicken and vegetable stir fry has everything you want for dinner in one skillet (or wok). A weeknight dinner favorite with chicken, veggies and noodles all tossed with a flavor-packed sesame soy ginger sauce.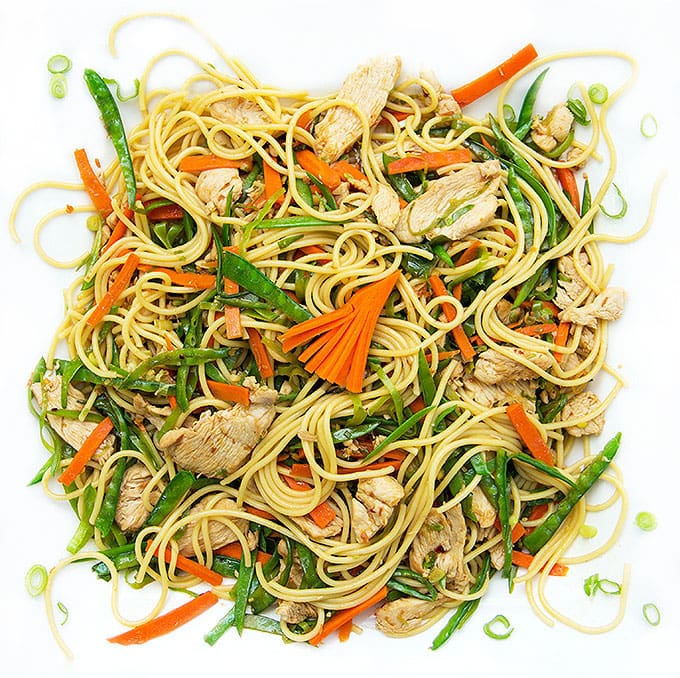 I adapted this dish from a recipe called 7 Flavor Precious Chicken which I discovered many years ago at the checkout counter of my grocery store.
It was in a little recipe booklet published by
Kikkoman
that I browsed through as I waited for my turn to check out. There were lots of tasty looking, easy looking recipes in there, all calling for Kikkoman products (of course).
I bought the booklet and I cooked a bunch of the recipes. This chicken and vegetable stir fry with noodles became an instant favorite. It's ridiculously easy, packed with flavor, and a huge hit with my whole family. It quickly earned a place in our weeknight dinner rotation.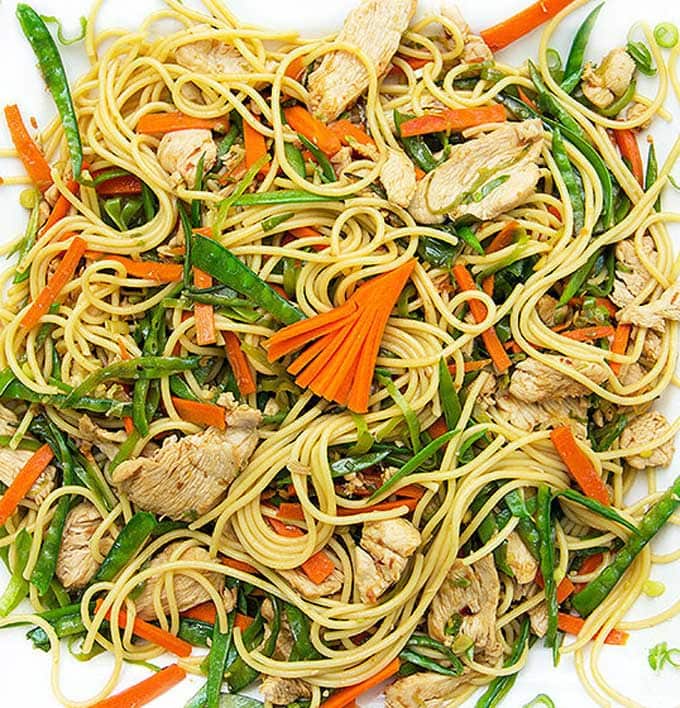 How to make Chinese Chicken and Vegetable Stir Fry (7 Flavor Precious Chicken)
The main ingredients in this dish are chicken, noodles, snow peas, and carrots. The 7 flavors are: soy sauce, sesame oil, vinegar, sugar, scallions, ginger, red pepper flakes.
Marinate the Chicken: Slice the boneless chicken breasts thinly and toss with the 3-ingredient marinade of soy sauce, sesame oil and corn starch. Set aside and let the chicken marinate for ten minutes.
Make the Sauce: While the chicken marinates, whisk soy sauce, sesame oil, white vinegar and sugar in a small bowl.
Slice and dice the veggies: I like to cut the carrots and snow peas into thin, long pieces but feel free chop them, if that's easier. Slice the scallions thinly, crosswise. Finely chop or grate the ginger root
Cook the pasta in salted boiling water.
Stir Fry: While the pasta is boiling, heat up the oil in a large skillet or wok. Stir-fry the chicken for about 3 minutes and transfer it to a plate. Add carrots and snow peas to the pan and stir-fry them for a minute or so. Add scallions, ginger and red pepper. Stir-fry for one more minute. Return the chicken to the pan and pour in the sauce.
Finish: When the pasta is ready, drain it and put it in a large bowl. Heat the chicken and vegetables mixture, pour it over the pasta, toss and serve.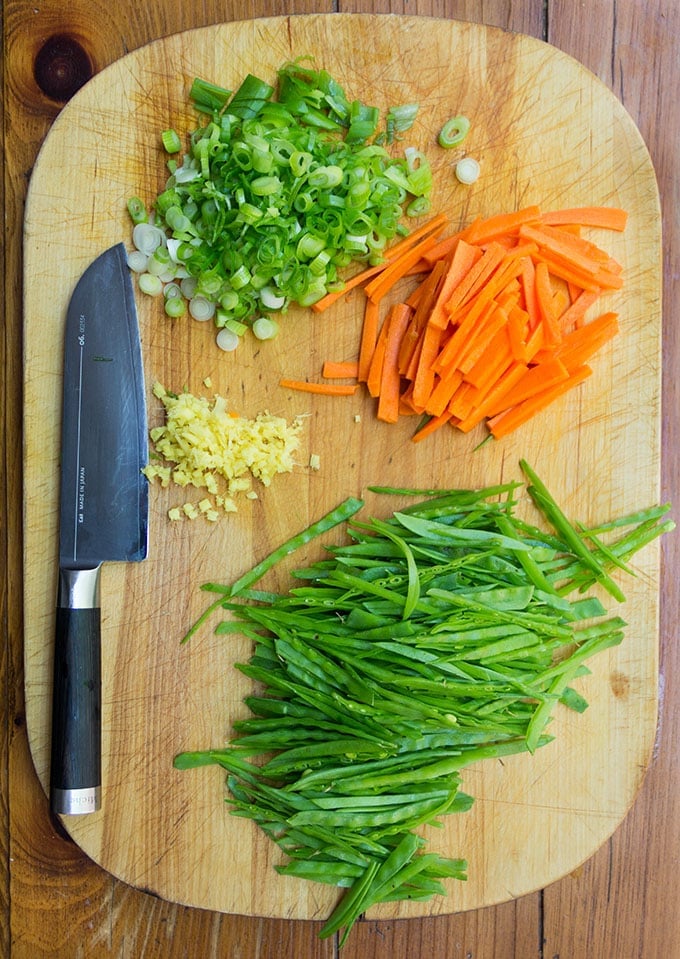 Have you ever noticed how the names of dishes on Chinese restaurant menus often evoke scenes or emotions, rather than describing what's in them?
In contrast American restaurants are often extremely literal in describing the dishes on their menu. American restaurant menus
often include details like the name of the farm that the meat or vegetables were sourced from, plus every ingredient in the sauce, accompaniments and even the garnish.
I'm not knocking the American way. I like knowing all those things. But I'm also charmed by Chinese dish titles that tell a little story or set a little scene, like "Ants Climbing a Tree," bits of ground beef or pork clinging to bean thread noodles, or "Buddha Jumps Over the Wall," a shark fin soup that is said to be so delicious that it can entice monks to give up their vow of vegetarianism or "Lion's Head Meatballs," over-sized meatballs (the lion's head) cooked with long shreds of cabbage (the mane).
I love the name "7 Flavor Precious Chicken." It evokes the sense of a very special chicken dish with lots of exciting flavors. And this dish is all that.

Other easy recipes for delicious Chinese dishes
Here's the recipe for this Quick Chicken and Vegetable Stir Fry with Noodles (7 Flavor Precious Chicken). If you try this recipe I hope you'll come back to leave a rating and a comment. I'd love to know what you think!
Print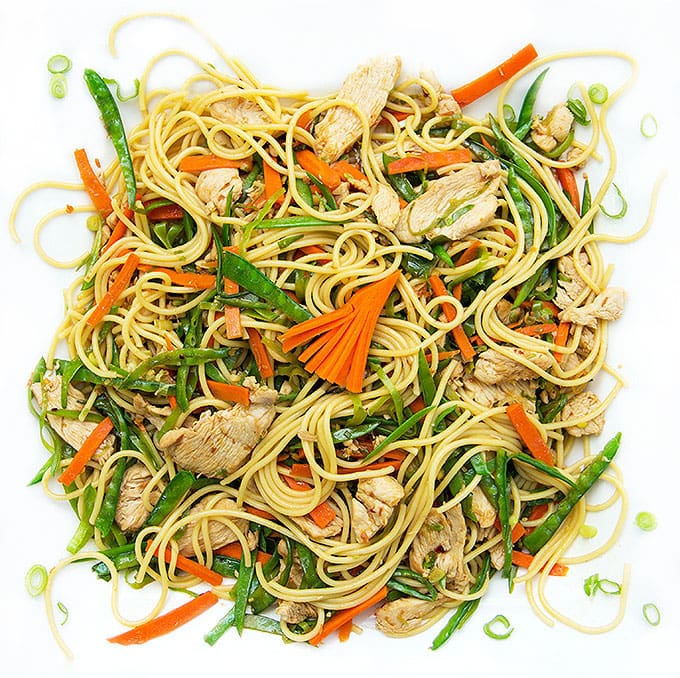 Quick Chicken and Vegetable Stir Fry
---
Description
A quick, easy, flavorful Chicken and Vegetable Stir Fry with Noodles. A whole balanced meal the whole family will love.
---
4 tablespoons

soy sauce (divided)

2 tablespoons

Asian sesame oil (divided)

1 tablespoon

cornstarch

1 tablespoon

Sugar

2 tablespoons

distilled white vinegar

8 ounces

vermicelli, linguini or spaghetti
Salt, for the pasta water

2

large boneless skinless chicken breast halves (

1 ¼

lbs total), thinly sliced (¼-inch)

2 tablespoons

vegetable oil

1

carrot, cut into matchsticks

1⁄2

pound snow peas, stringed and thinly sliced, lengthwise

6

scallions, thinly sliced, crosswise

1 tablespoon

minced fresh ginger root

1⁄2 teaspoon

crushed red pepper flakes
---
Instructions
Marinate the chicken Whisk 1 tablespoon soy sauce, I tablespoon sesame oil and 1 tablespoon cornstarch. Toss chicken with marinade. Set aside for 10 minutes or so.
Make the sauce In a small bowl, mix sugar, 3 tablespoons soy sauce, 1 tablespoon sesame oil, and 2 tablespoons vinegar. Set aside.
Cook the Pasta: Cook pasta al dente in salted water, per package instructions. Drain and transfer to a large bowl. Tent loosely with foil to keep warm.
Cook the Chicken and Vegetables: While the pasta is boiling, heat 1 tablespoon oil in a large wok or skillet over high heat. Add chicken and stir-fry for about 3 minutes, until cooked through. Transfer chicken to a plate or bowl. Add another tablespoon of oil to the wok. Stir fry carrots and snow peas for a minute or two. Add scallions, ginger and red pepper. Stir-fry 1 minute longer. Remove the wok from the heat. Add chicken and sauce to the wok. Set aside until the pasta is ready.
Once the pasta is cooked and drained and in a big bowl, set the wok over medium heat. Cook, tossing, until the chicken and vegetables are just heated through. Pour over the pasta and toss. Serve immediately.
Prep Time:

15 mins

Cook Time:

15 mins

Category:

Main Couse

Method:

Stovetop

Cuisine:

Chinese
Keywords: Weeknight dinner, Chinese, Chicken, noodles