This Moo Shu Pork Lettuce Wraps recipe is a stir fry of pork, vegetables and eggs, wrapped in tender bibb lettuce leaves. A delicious healthier home-cooked version of the Chinese restaurant classic.
I always order moo shu pork when I go to a Chinese restaurant. It's such a delicious dish, with thin strips of pork and eggs and loads of shredded veggies all soaked in delicious sauce and wrapped in a thin pancake. I was determined to develop a great moo shu pork recipe to cook at home and here it is!
How to make moo shu pork:
Marinate the Pork: Slice the pork thinly and marinate it for 30 minutes or up to 24 hours. The marinade is soy sauce, sherry, sugar and cornstarch.
Stir Fry: First stir fry the eggs, cut them into strips and set them aside. Next sauté the garlic, ginger, shiitake mushrooms and cabbage and transfer the veggies to a separate plate. Then stir-fry the pork and scallions. Add everything back to the wok with some soy sauce and sherry and toss over the heat until hot.
Serve the moo shu pork hot, with lettuce for wrapping and hoisin sauce to spoon on top.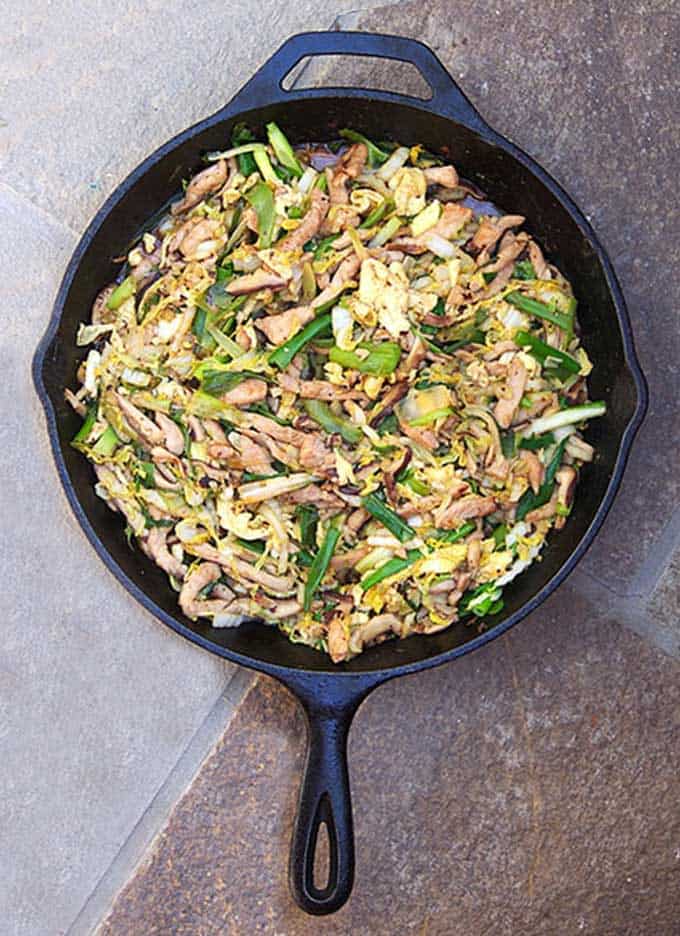 I made a few changes from tradition moo shu pork, in order to make this recipe easier and healthier.
I've discovered that tender bibb lettuce is a great substitute for Mandarin Pancakes (which are difficult and time consuming to make). For me, the wrapper is a means to an end - getting a thick delicious roll-up that you can bite into.
I omitted lily buds and tree ear mushrooms. Traditional Moo Shu Pork generally contains lily buds and tree ear mushrooms. I thought about including them. In fact I looked for them in a few stores and couldn't find them. My research tells me that they don't contribute much to the flavor, but are used to add texture and visual appeal to the dish, which is supposed to resemble a rain forest.
My version may not be 100% authentic but it's mighty tasty! And you can easily find all of the ingredients.
Make Ahead Tips:
There's quite a bit of chopping for this recipe, but all of it can be done up to 24 hours ahead.
Store the vegetables in baggies, loosely-wrapped in paper towel.
Put the ginger and garlic in a tiny dish covered with plastic wrap.
Store the marinated pork in a tightly sealed container or a bowl sealed with plastic wrap.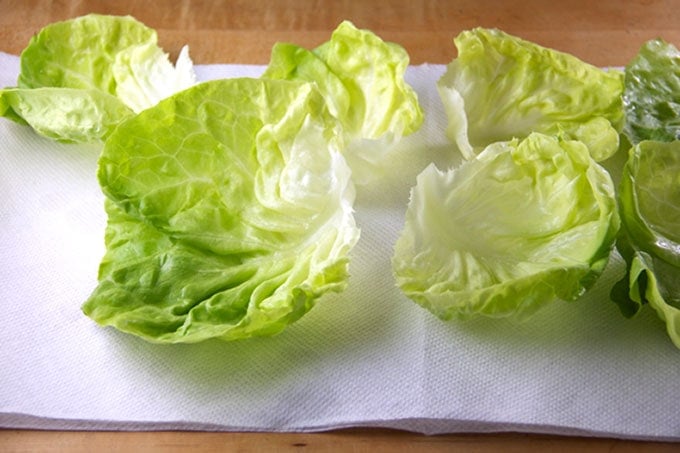 The lettuce can be washed and rolled up between two sheets of paper towels. Be gentle so you don't damage the leaves.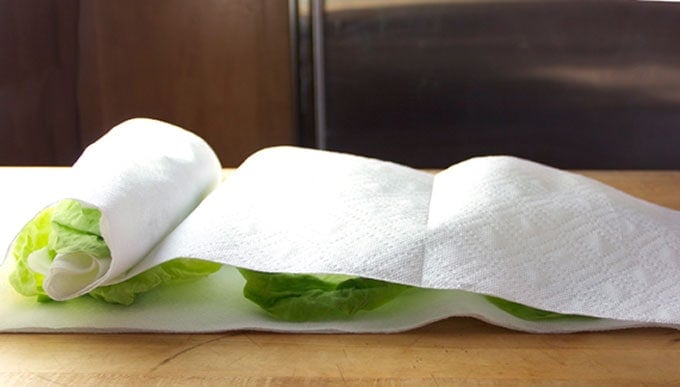 Carefully place the roll into a large baggie, seal, and store in the fridge until right before dinner. You will have cold, crisp, delicious lettuce leaves. I use this technique for all of my salads when I want to prep them a day ahead.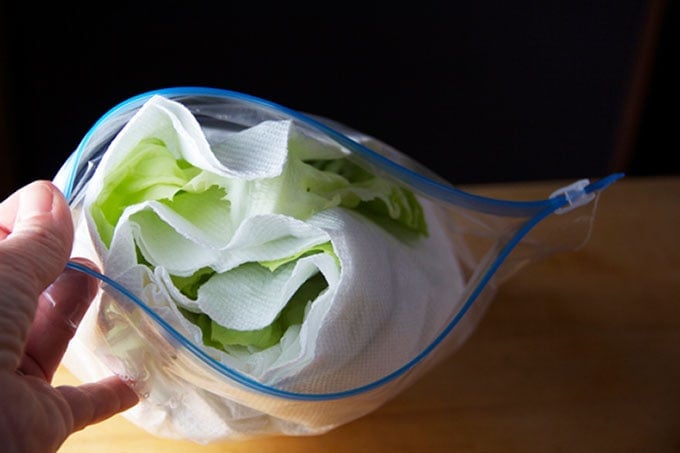 Once you have everything washed and chopped, the moo shu pork stir fry will be ready in 15 minutes.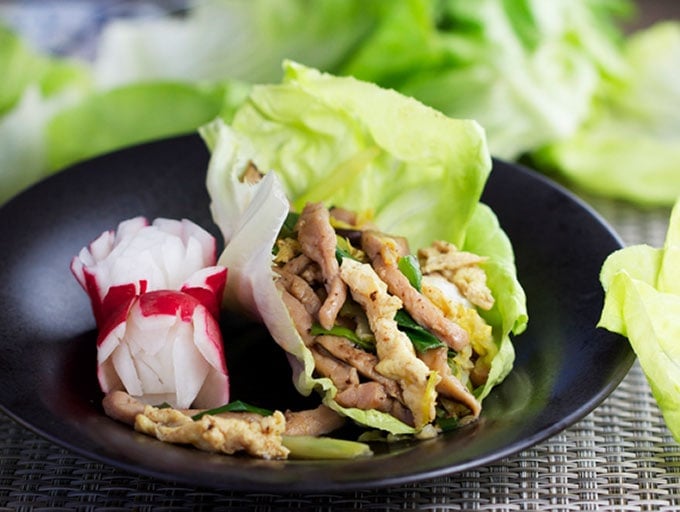 More Delicious Chinese Recipes:
Here's the recipe for Moo Shu Pork Lettuce Wraps. If you try this recipe I hope you'll come back to leave a star rating and a comment. I'd love to know what you think!
Print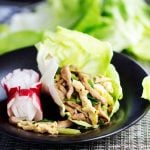 Moo Shu Pork Lettuce Wraps
---
Description
A flavorful stir-fry of pork, cabbage, mushrooms and aromatic vegetables. Serve with Bibb lettuce leaves to wrap up.
---
1

pound of boneless pork loin. I like to use boneless loin chops. (If you have time, put pork in the freezer for

1

to

1½

hours and it will be easier to slice)

2

heads of Bibb or Boston lettuce, core removed, leaves separated and rinsed.
For The Pork Marinade:
2 tablespoons

soy sauce

2 tablespoons

dry sherry

2 teaspoons

sugar

2 teaspoons

cornstarch
Other ingredients
4 tablespoons

peanut oil (divided)

3

eggs lightly beaten

1 tablespoon

minced garlic

1 tablespoon

minced fresh ginger root

4 cups

thinly sliced shiitake mushrooms, first remove stems and rinse. (

¾

pound or about

25

mushrooms)

5 cups

thinly sliced or shredded Napa cabbage (about

½

of a large cabbage)

1 teaspoon

Salt

2

bunches of scallions (12-14), washed and trimmed. Cut in half lengthwise, then crosswise into 1 ½ inch pieces.

3 tablespoons

soy sauce

3 tablespoons

dry sherry
Serve with
Hoisin sauce (purchase in the Asian section of your grocery store)
---
Instructions
Cut pork into ¼-inch slices. Then cut each slice into ¼-inch strips. Cut the strips in half, if need be - you want them to be about 1½ inches by ¼ inch.
Mix the marinade ingredients in a bowl: soy sauce (2  tablespoons), sherry (2 tablespoons), sugar (2 teaspoons) and cornstarch (2 teaspoons). Toss with the pork. Cover or seal with plastic wrap and set aside for 30 minutes at room temperature or store in the fridge up to 24 hours. (Let it sit out at room temp for 30 minutes before stir-frying).
Heat 2 tablespoons peanut oil in a wok, cast iron or non-stick skillet until hot, but not smoking. Pour in the eggs. Let them set for 10-15 seconds. Tilt the pan or use a spatula to push the cooked part aside and let the wet part slide out onto the hot pan. Cook another 10 seconds or so. Flip to cook the other side for just a few seconds. Quickly transfer eggs to a plate. Cut into strips and set aside.
Add garlic, ginger and shiitake mushrooms to the oil left in the hot pan. Cook over medium high heat, stirring occasionally, for about 3 minutes, until mushrooms soften. Add cabbage and 1 teaspoons salt, and stir-fry for 3 minutes or so, until cabbage is just wilted. Scrape everything into a large bowl and set aside.
Add the 2 remaining tablespoons of oil to the pan. Let the oil heat up a little. Add the pork and stir-fry for 2-3 minutes just until it loses all of its pink color. Add the scallions and stir-fry with the pork for a minute more, until they release their flavor. Add cabbage mixture and eggs back to the pan. Sprinkle on 3 tablespoons soy sauce and 3 tablespoons sherry. Toss everything together for a minute to heat. Serve hot with lettuce cups and hoisin sauce to spoon on top.
Notes
Time saving tip: You can prep the lettuces a day ahead. Wash the leaves and store the slightly damp leaves between sheets of paper towel, loosely rolled. Place rolls in plastic bags, sealed and in the fridge until ready to use.
Prep Time:

30 mins

Cook Time:

15 mins

Category:

Main Course

Method:

stir fry

Cuisine:

Chinese
Keywords: mu shoo pork, pork lettuce wraps